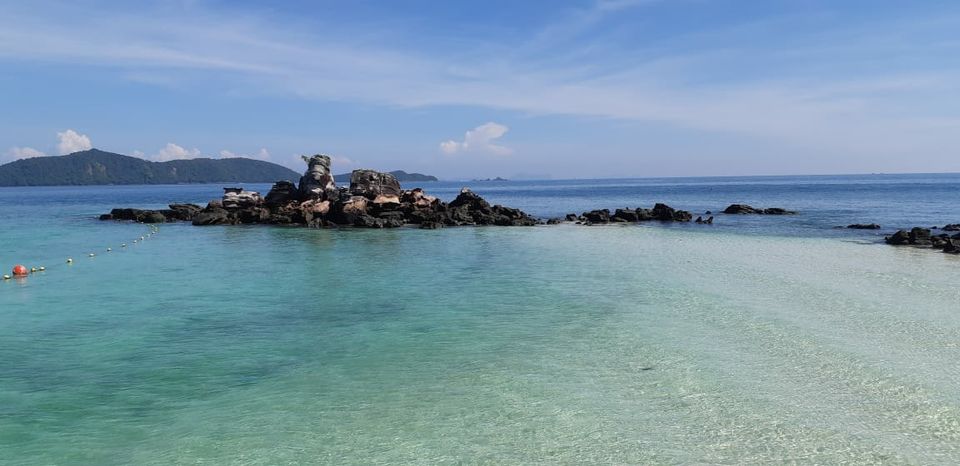 Please note, this trip has been divided into four short articles.
Flights - Indigo (Delhi - Phuket - Delhi)
Cost - INR 39,000 for 2 adults
Hotel - Baan Laimai Beach Resort
Cost - INR 28,200 for a Deluxe Garden View Room with breakfast for 2 adults for 4 nights
Day 1
We landed at 6:30am and were welcomed with a water cannon salute since it was Indigo's first direct flight from Delhi to Phuket. After spending 10 minutes in the queue for visa, we managed to leave the airport by 9:00am. The airport isn't huge, so collection of baggage is quite easy.
Transfers
Cheapest way to reach Patong was to hire a shared minibus. We agreed to pay ฿250 per person and reached our hotel in 1.5 hours.
Pros
You end up seeing one quarter of the city while dropping others to their respective hotels :)
Cons
They let people enter on a first come, first serve basis.
The minibus will make a pitstop at a travel agency office where agents will convince you to take a city tour or island packages at exorbitant prices. Do not fall into that trap.
Coming to the hotel, even after writing an email requesting them to allow an early check-in, we could not get a room before the official time. To kill time and hunger, we left our luggage with the management and stepped out for breakfast. Had a hearty English Breakfast Platter each along with a coffee and beer from Molly's Tavern, Patong Beach.
After an hour of rest, we dressed up and took a Tuk Tuk from Patong Beach to The Bird Sanctuary. The driver ended taking us to The Tiger Kingdom instead - we figured they have a set commission with the management. We decided to make a move from the Tiger Kingdom in the next 20 minutes and reached Old Phuket Town.
This side of Phuket is all about brightly painted houses and stores/kiosks selling artisanal ice creams. While walking through these lanes, we stumbled upon a quaint li'l ice cream parlour called Torry's Ice Cream.
The place has hues of pink everywhere. Fascinated, we ordered their Signature Coconut Ice Cream with caramel bits, served with crispy pancakes. With this, we also tried their mango-lychee cold tea which was served in a glass bottle - the bottle I still I have with me, it's one of my souvenirs from this place.
Moved further to find another kiosk selling the local coconut ice cream. I couldn't resist myself and tried a scoop with 3 toppings - black bean jelly, candied pineapple and raisins for ฿60.
Most of these shops had closed by 6:00pm which is why we decided to head back to Patong for dinner. However, could not find any cab or Tuk Tuk for the next 2 hours. After walking around - all tired and frustrated, we finally managed to get a cab for ฿500. It was an expensive deal but we just had to go back.
With little to no energy left to visit a place for dinner, we picked up a dinner meal from a local eatery in Patong. Fried Rice, Pad Thai Noodles, Spring Rolls and Chicken Satay for ฿700 was not a bad deal at all.
Lastly, booked a tour for Phi Phi Island for the next day before going back to our room.
To be continued...