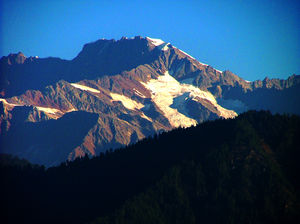 Things to do
Road Trip, communication, transportation
Daranghati - Mashnoo Rd
Daranghati - Mashnoo Rd is a 10 km link-road which is one of the Important route to reach Daranghati Sanctuary in Shimla District.
Reviews of
Daranghati - Mashnoo Rd
•
1
There is only one, non descript, over a hundred year old, HP PWD rest house here for accommodation. Daran is actually a pass perched at 2900mts, on the original (read old) Hindustan Tibet road. The views are commanding and numerous trails and bridle paths ideal for hiking. The natives rever the place for the Saraikoti temple located here. Daranghati is a declared sanctuary and boasts oof a variety of flora and fauna. The best part is getting to Daranghati. From Narkanda (65 kms from Shimla) take the road leading to Baghi. From Baghi its a ridgle line drive through Khadrala, Sungri, Bahli, Taklech and finally a 29 kms uphill offroad to Daranghati. If you cannot find accommodation at the rest house take the outdoors and camp. the road further leads to Mashnu and then Kinnu village and Sarahan, famous for its Bhimakali temple. And yes, be still for at night the sounds you hear in Daranghati will have you spellbound for long.
Attractions near
Daranghati - Mashnoo Rd