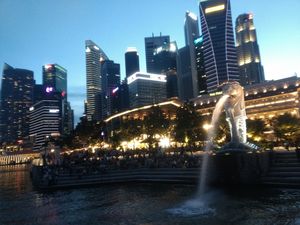 Places to stay near
Merlion
Single room with pool/gym near Town
Nice room,MRT 1mins,downtown area
MET A Space Pod @ Boat Quay
Reviews of
Merlion
•
3
5. Get a souvenir photo with the Merlion in the backdropWant to get clicked with Singapore official mascot? You're all set!
3PM: Leave Universal Studio, take Sentosa express, go to Merlion Park, Singapore landmark and major tourist attraction, located at One Fullerton, Singapore, near the Central Business District (CBD).
Head to Merlion Park for a photo-op: Take a quick taxi or the Downtown MRT to Merlion Park. Great views of the city, any time of day.