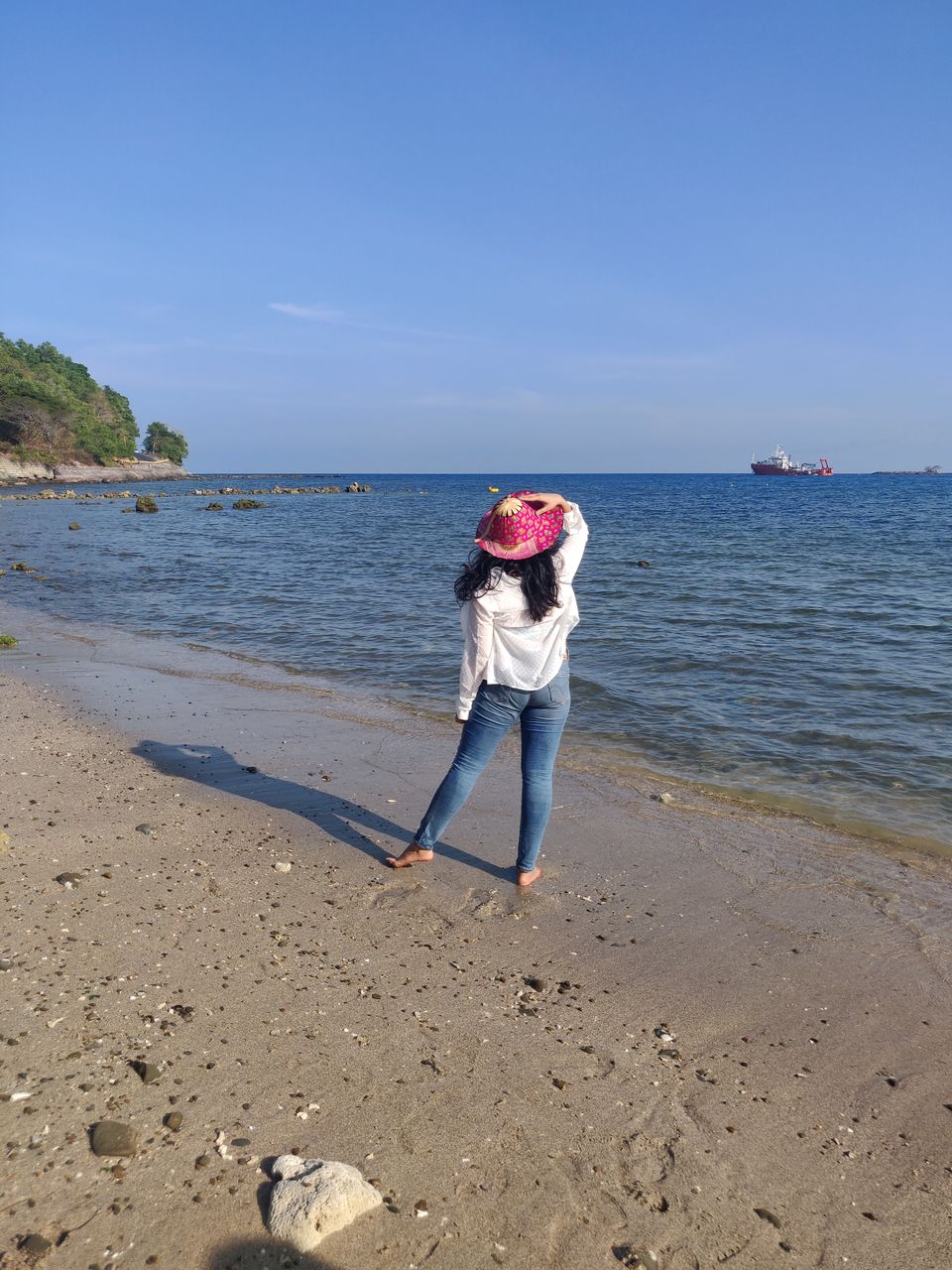 What comes to your mind when you think of paradise? To me, it is pristine beaches with white sand and endless view of the sea. Well, I am still quite divided on the whole mountain Vs beach debate but I believe my recent trip to Andaman Islands has made me
totally biased.
One word for the group of Islands: Heavenly
I did a solo trip to the Andaman Islands for a week and what I came back with was more than just priceless memories. I feel like I left a piece of my heart there and I want to share with you some of the many experiences I had there as a solo woman traveler.
Let's begin...
I began my journey at Port Blair which is where you will land first as it is the sole destination with an airport. As the flight was landing, I had the first glimpse of the islands from the window and I knew in that moment that this place will be mesmerizing.
On my first day there, I visited the Cellular Jail, Corbyn's Cove beach and then the light and sound show towards the end of the evening.
Now to someone who is not even so much into history, you will still experience a lump in your throat at the end of the light and sound show. It is the perfect tribute to our freedom fighters and a saga of their hardships, struggle and willpower. As you sit at the lawn of the jail and experience this show, you are sure to feel the pain and plight of our heroes. So, my first day at Andamans ended on a high note with patriotism being the key flavor of the day.
I experienced something quite magical the next day. I went to Ross and North bay islands by a ferry. As soon as I stepped on the Ross Island, I was welcomed by a bunch of deer, rabbits and peacocks. The animals and birds were roaming in all their glory unperturbed by the tourists around. It was, as if, they knew that it is their kingdom and we were merely temporary guests there.
Once we were done exploring Ross island and the ancient ruins from the British era, I could not believe my eyes on what happened next. It was about 4 in the afternoon and close to a 100 deer came walking towards the ferry bay. We were told that it is their feeding time and so they have all gathered there. I was surrounded by sheer beauty of nature and I will never forget this moment. Needless to mention, I was quite sad about leaving Ross island.
North Bay is a small island known for the multiple adventure activities and a scenic view of the main lighthouse. For the adrenaline junkies, there are activities like Snorkeling, Scuba diving and for others, you can opt for glass bottom rides to see the marine world closely. It was a decently sunny day and we were lucky to witness a great variety of corals and fishes while Snorkeling as also during the glass bottom ride. Some of these corals are only found in Andamans and nowhere else in the world which makes it unmissable and rare.
I ended the day at Chidiya Tapu as I watched the sun go down on the horizon. Surrounded by thick forests and a wide range of birds (as the name suggests), this place has all the feels enticing you to stay a bit longer. It is undoubtedly one of the best sunsets I witnessed on the trip and otherwise.
I headed to the Havelock islands the next morning.
Havelock will always hold a special place in my heart for this is where I had my first ever scuba diving experience. Now, I am a non-swimmer and it would really be an understatement that I was just scared to do this. It was more a fear of the mind though since Scuba diving does not need any swimming skills whatsoever. If anything, it needs a few breathing skills which you are trained and equipped with before you jump in. I had the best team with me and once I dove, I think I did not want to come back. I was surrounded by the beautiful rich corals, colorful rare fishes and quite the best of marine life all around me. I wanted to soak it all in before I got back to the shore. It is a life in Slow-mo and everyone should experience it once at the very least.
Now, I had read quite a lot about Radhanagar beach at Havelock island which is ranked as the best beach in Asia (also among one of the seven best beaches in the world) and rightly so. It has the most stunning view with white sand and rainforest trees all around giving it a refreshing, tropical vibe. I sat there for hours absorbing the beauty of the place and captured the scenic golden sunset on the glowing white sand.
I boarded on a ferry to Neil island the next day. From a natural coral bridge at Laxmanpur, where 2 live corals meet surrounded by hundreds of small pockets of marine life to Bharatpur beach which has all shades of blue, there is nothing ordinary about Neil island. You can cover most of it in a day but choose to extend the stay for a relaxed stretch, as per convenience. Since I had relatively less days on hand, I decided to head back to Port Blair for my next destination.
A special mention for what is up next...
A zero-waste zone, a no-man's land literally and thriving marine life like nowhere else. This place is pure magic and a must-do if you ever visit Andamans.
Jolly buoy island is an absolutely rare gem. It is completely maintained by the Government of Andamans and tourism department. They allow a maximum of 350 people on the island and it is operational only 6 months in a year to maintain the marine life. I boarded a government ferry and when I reached there, it was a virgin beach with absolutely zero commercial activity. In fact, even before boarding the ferry, we were asked to give away any food articles or plastic bottles away. They give a reusable bottle by paying a deposit here which you have to return them on arrival.
I would like you to now pick up a 20 rupee note and look at the backside of the note. What you see there is the North bay islands and a small lighthouse as seen from the highest peak in Andamans Mt.Harriet National park. That is where I went the next day. You can in fact see all the islands with a bird-eye view and it is an absolute visual delight. You can trek at the National park and also see many different bird species. Or just sit there and enjoy the view of the islands from the top.
One of the best evenings spent in solitude was at Jogger's park at Port Blair. It is situated at one of the highest points in town overlooking an illuminated city. But the best part is the sight of the lit runway of the adjacent airport which makes it the most relaxing place in the town to unwind after a long day. I sat there in peace on that breezy evening (my last one in Andamans) and tried to cherish all that I could discover in the past week spent there. This place may not have a mention on most of the travel blogs but I would really suggest you spend an evening there so as to experience some calm.
Now, let me get to the elephant in the room. One question that every reader especially girls travelling solo would have on their mind. Is it safe to travel solo here? In my opinion, it is a 100% yes. I cannot stress enough on the fact that I have met the most kind, warm locals all through my journey and have not faced any unpleasant situations while travelling in public transport or even while walking on the streets. So, my girl tribe, be assured of a stress-free trip if you decide to go solo.
So, to everyone reading this, you should experience this heavenly place once in life. Every frame is picturesque and you would come back a changed person knowing so much beauty and peace exists in some part of your world. Bliss!!
Total Cost: 48,000 for 6 nights all inclusive (Flight, stay, food, adventure activities)
Stay:
Andaman galley resort: Port Blair (5 nights)
Dolphin resort by Andaman tourism: Havelock islands (1 night)
Adventure sports:
Scuba dive @Havelock islands: 3500-5500rs with Dive Andamans (There are various packages for shore dive/boat dive and you can choose as per your convenience) Though in my opinion, a boat dive is what you should go for since the marine life at that depth is simply breathtaking. Also, I recommend you do your dive at Havelock since this has the most beautiful marine life amongst the other islands at Andamans.
A special tip here is that you should try to join a group of 3 to 4 divers which will essentially bring down your cost of dive.
Jet ski ride: 800-1000rs
Snorkeling: 1000rs
Glass bottom ride: 800-1000rs
Key note:
The islands have been recently renamed by Govt of India.
Ross island is now called Netaji Subhash Chandra Bose island
Neil island is now called Shaheed dweep
Havelock island is now called Swaraj dweep
I wish you a wonderful stay at the divine islands(I believe it would be an apt name for Andamans) Be prepared to leave a piece of your heart there 😊