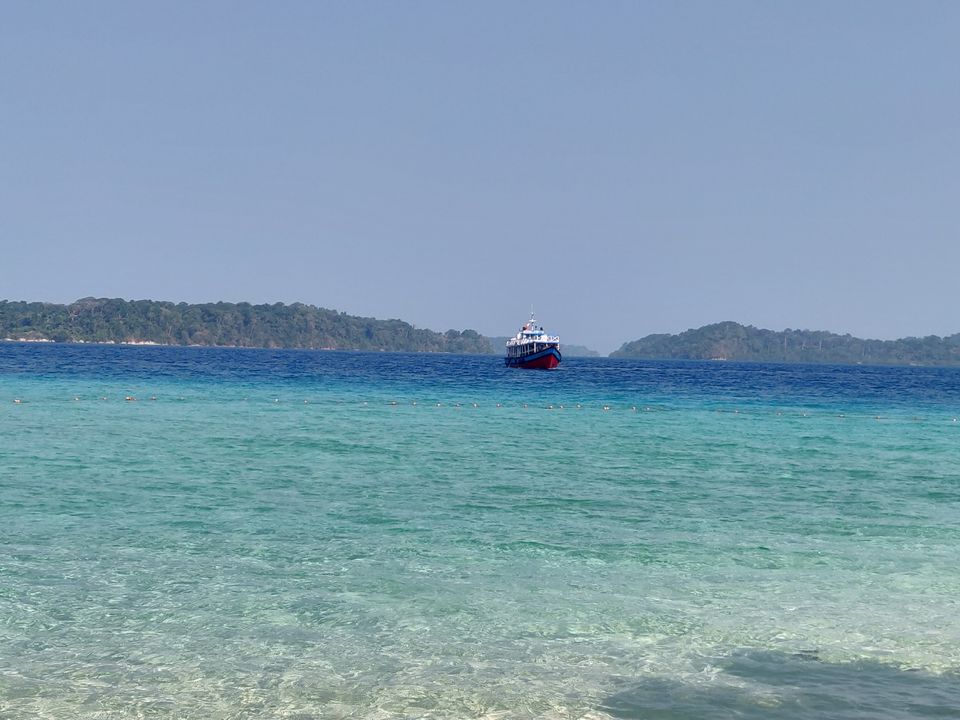 Amidst of our super busy hectic life, this Anniversary we planned to go offline for few days in some exotic place. The only place came into our mind was Andaman. As it was the month of February , it offers a pleasant weather to sooth your mind.
So we took our early morning flight to Andaman.It is of 7.15 a.m. Indigo flight.We choose this as it will help you to fit into a scheduled itenary plan which I planned earlier very carefully.
The rule of thumb to explore Andaman is to be very punctual. So we reached Port Blair (PB)by 9.30. and checked into our hotel at Dollygunj. You can find a lots of hotel in this area which is near to airport as well not very far from the main city or market area.
If you are a true traveller, then you can utilise the time before lunch to visit the naval museum. After lunch we went to the foremost attraction of PB ,The Cellular Jail.Take some time in hand as it is not only a place of mere visit but to feel the pain of our freedom fighters who spent years with unbearable tortures. Before the light and sound show begins we had our small visit ro Corbyn's cove beach. It us a small beach with few water sports activities like jet skiing,paraseiling. After L& S show we came back to our hotel.
We packed our breakfast and started for the junglihat jetty. After reaching there you will find some agents who will be booking for your scuba, snorkeling, ride in Andaman dolphin( glass boat). It is not necessary to book from them ,you can go to North bay and then book.
Our boat name was Silver sea. All the persons in that boat will be called by that boat name only fir that day. A nice guide namely Arumugam was accompanying us. Our big boat was stopped 100 meters away from the island. We were further carried in small boats to reach the island.
On reaching we first did our Andaman dolphin ride, where we came to know about many corals and fishes through the glass boat. This ride helps you to recognise corals while diving afterwards.Then we went for scuba diving. It is a life time experience I must say. We were given a 20 mins practice session. Afterwards we dived underwater to experience a splendid marine life. What I experienced there , can't be expressed in words.
After that our boat took us to Viper Island instead of Ross ,as there was heavy rolling in sea. British had their court in that island and a hanging room for freedom fighters. Once you reach there you will be overwhelmed with the serenity of the place.
Our Havlock journey started in the early morning as we had our Makkruzz cruise timing at 9.45. you can book it through their website. In your whole trip you shouldn't miss the Makkruzz ride. It is a very sophisticated cruise ride.They have premium and royal category took one and half hour to reach Havlock. In the meantime if you want to re fill yourself, they offer snacks and beverages which is payable.
As you reach the shore,you will be amazed to see the blue and green water. And small white boats float in that contrast water makes the view picturesque. Here is one tip. If u reach there at the luch time Don't miss the continental delicacy at Bare Foot cafe at the right side of the jetty.
Here we booked Dolphin beach resort,which is associated with a private beach. People who love to relax in sea breeze must stay here atleast for 2 days. Food quality is average. After lunch we enjoyed our we time relaxing in the and green water,white sand and mangroves standing in the middle ,make a complete scenary.
At around 3 we started for The Radhanagar Beach, most beautiful beach in Asia. You have carry a second set of garments if u want to take bath as this beach is safe for bathing.clear water waves will be beckoning at you. We enjoyed the sunset and returned back.
The day we sailed for Neil. Another islands that makes you spellbound by its serenity and multiple shades of blue colour of water. We started by our 10.45 am cruise. We reached there by 12 am. Another hotel I must mention is pearl park resort ,if you want to be on the beach all day long. As this hotel itself is situated over laxmanpur beach. After lunch we spent some time over there to see the sunset from there.
Most exciting day of my trip. I never imagined the natural coral bridge to be so picturesque. You can take a guide to know deeply about the fishes and marine animals found in the reef there. But to witness the real beauty of that spot you have to know the proper timings of low tides. Our driver guided us in this matter nicely. One of the best places to shoot your dp.Next we went to Bharat pur beach beside which the jetty is located. You can do lots of water sports there like scuba, snorkeling,jet skiing,boat ride and banana boat ride etc. We went for banana boat ride. Aftervdoing lunch there we reached the jetty for our cruise at around 3. In this context I must tell you that we kept our big luggage at our hotel and carried just a small one for these 2days trip to Havelock and Neil. If you can arrange such it will be smooth trip. After reaching PB we spent our day by hopping aroud the city.
The most hectic and tiring day.
We started at 2.30 am at midnight for Baratang. As we wanted to enter the 6 am gate through the Jirkatang ,jarwa reserved area. Next gate opens at 9am .you have to be very punctual. It is 2 hours jouney through Jirkatang, where you can witness Jarwa if you are lucky. This journey ends in a jetty from where we landed into Baratang, crossing a small backwater. Next you will be taken to the limestone cave by small speed boats through the mangroves. This place will give you a feeling of Amazon jungle safari. While traveling by boat keep your hands away from water as backwaters are habitat of crocodiles. After reaching the island you have to walk for 1 km to reach the natural cave. This cave has no light,hence you have to carry torch or mobile light. Beautiful abstract formations can be seen out of limestone. Only one opening for light and oxyzen exists for this cave in the middle. After returning again to Baratang ,you can go to visit a mud volcano. While returning through the same route, we witnessed four jarwas( 2 women and 2 children), standing by the side.
Our Last day was my favourite day as we visited wandoor beach and jolly buoy. You need to get your permit done 3 days prior, 172 persons per day are only allowed. Jolly buoy is the most coral reserved beach,so maintain the beauty of ecosystem,plastics are not at all allowed there. It falls under Mahatma Gandhi National. Total 14 islands are there,out of which 2 islands are within human access, jolly buoy and Red skin.They
are opened alternatively in 6 months to provide the corals healthy environment to grow. The most exotic island of this trip. The colour gradient of that water was flattering.such clear water I have never imagined even. We took a long glass boat ride around andcaway fron the island. It was an awesome experience. We saw sea anemon,sea lily,clone fish, bolder coral,staghorn coral,brain coral so on and on. Parrot fish will awestruck you with its colour. We also took bath in safe swimming zone there. Better you carry one extra dress.