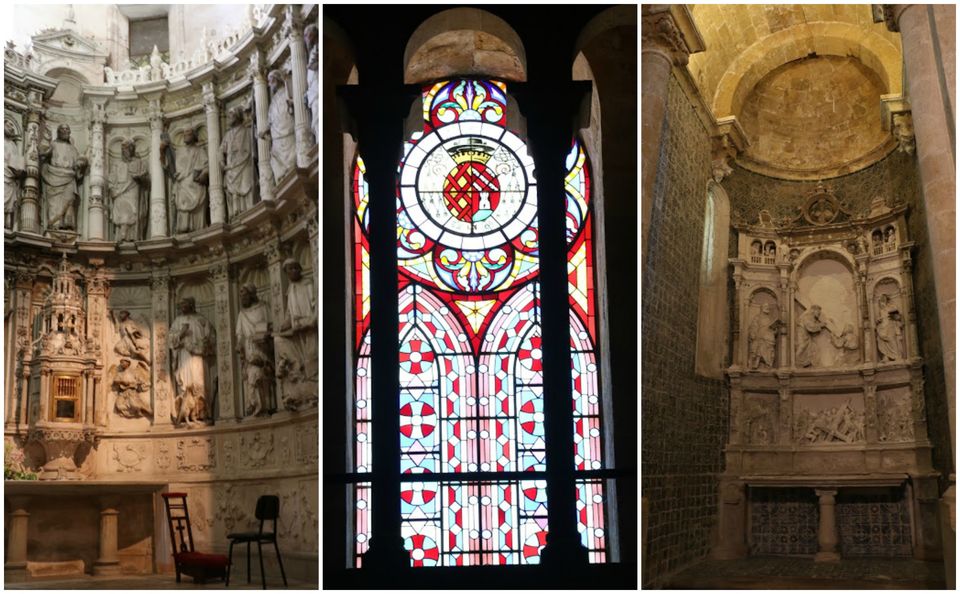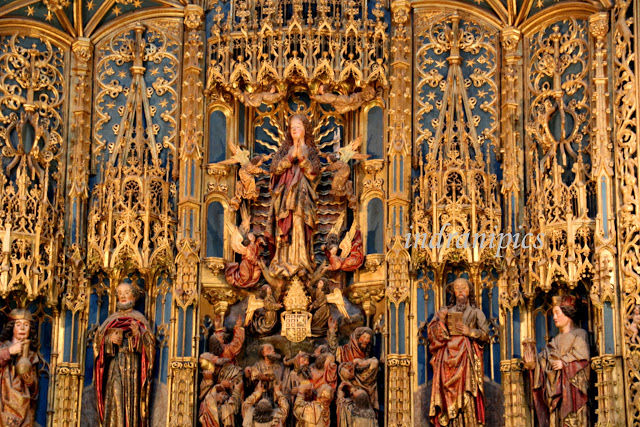 We stumbled upon the Old Cathedral of Coimbra by chance. Having finished the tour of Library we started our hunt for a good restaurant to have lunch and maneuvering through the sloping lanes we landed right in front of this Old Cathedral of Coimbra. Surrounding it were several restaurants; though we were hungry we chose to visit the cathedral first as we were not aware of its timings. And it was a very good experience!
Old Cathedral of Coimbra, History

Old Cathedral of Coimbra was built in 1139 by King Afonso Henriques. Almost 10 centuries old, it is ancient now! The cloisters were added in 1218. Construction was on for some years. In 16th century several additions like the chapels, walls and pillars of the nave covered with tiles were made. The monumental Porta Especiosa was built in the north side of the façade. Though the later additions were Gothic and Renaissance style the basic style of the cathedral was Romanseque. Master Robert, a French architect who was directing the building of Lisbon Cathedral at that time, visited Coimbra regularly and saw through this construction too.
Facade

The façade looked very simple with arches over the door and over its window. It had a golden sandstone hue. The pillars at the entrance had some designs of Moorish architecture carved on them. It is believed to be an unbreakable façade. Some of the blocks have mason's mark and Arabic writing on them. The northern and western façade of cathedral of Coimbra are equally interesting. It is a different world inside the cathedral; dark, calm and peaceful! I love visiting cathedrals for this.
Interiors

The interior is lit by sunlight filtering in through the series of stain glass windows. Not very bright and I had to struggle with my camera settings. I was grateful they allowed photography. The main altarpiece of the Old Cathedral of Coimbra is a sight to behold! It is one of the most prestigious creations of its time. This imposing Portuguese-Flemish altarpiece (13m high) exhibits the color scheme of the 16th century. There is abundant use of gold and blue, typical of flamboyant Gothic. It has been totally or partially coated four times over the five hundred years of its existence.
We strolled through the cloister. This is the oldest Gothic cloister of Portugal. The lawns are maintained so well, and the patch of green looked soothing. The tomb here is of Coimbra's first governor and dates back to 1064. Each of the Gothic pointed arches that face the courtyard encompass two twin round arches in Romanesque style.
Another eye catching object here is a huge shell holding holy water. It is a 19th century gift from Sri Lanka. The three altars too are worth a second look. The walls are covered with colorful tiles, all with beautiful designs. They date back to 16th century and are believed to be from Spain.
Tickets and Timing
Entrance and visit to Church and cloister id 2 Euros. It is open Monday to Saturday 10.00 to 18.00 hrs and on Sundays after mass.
This trip was originally published on 'i Share'.