One of the main reasons I put Mirissa on the list of places to visit during my trip to Sri Lanka this year was the whale watching cruise. According to the internet, whale watching season starts in November/December and ends in March. Our cruise was booked for the 24th of March.
But the internet has no say when it comes to mother nature.
It started the evening before, when we told our host at the home-stay that we would be going on a whale watching cruise the next morning. "Ohhh… Three days, no whales," he said. I was crestfallen. Of course, I didn't let him see it. "We will pray," my mother said confidently, and we left to have dinner on the beach.
At Ocean Moon restaurant, when our waiter came up to take our order, we had a little conversation with him about our trip so far. Naturally, he asked us how we were liking Mirissa and when he learnt of our plans for the next morning, he decided to put a damper on it, "I'm sorry to disappoint you but there have been no whales for three days."
He didn't sound very sorry to me. But I knew how sorry I would feel if I didn't see that whale. Oh the tantrums I threw with God that night.
The waiter even told me that March end was advertised as end of season but whale sightings usually stop a little earlier. I don't know if he's right but I certainly didn't want to believe him.
The next morning, we left for the Mirissa harbour at 6:00 AM. We found our boat and climbed up to the upper deck. There are limited seats but cushions are laid out on the sides and front, so you can sit on the floor too. We sat on the floor by choice. It gave us a better view of the ocean and was quite comfortable too.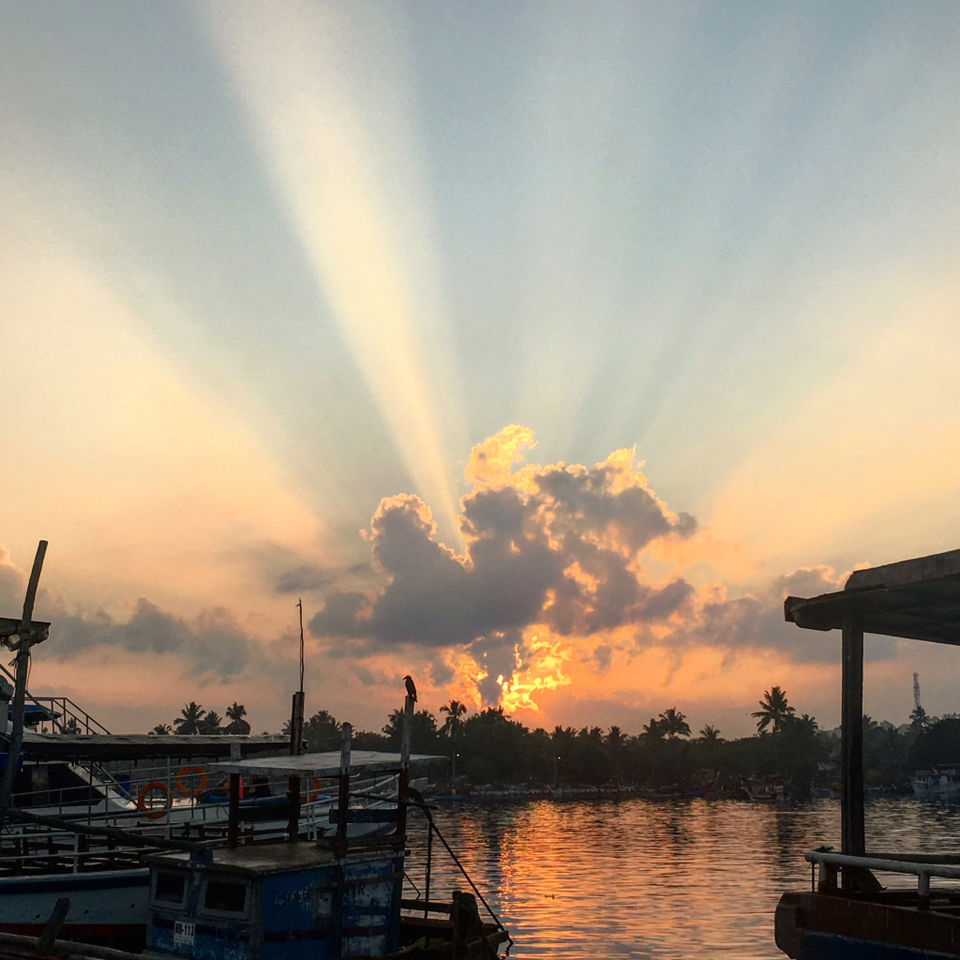 People on board, life jackets on, we headed out into the ocean. The water, a steely blue giving no sign of life underneath, was in a frivolous mood. It was a good 30 minutes before we slowed down, well into the ocean, far away from the shore.
No sooner were the engines off, the crew became alert. They began talking fervently in Sinhalese. The second I noticed this, my eyes widened with hopeful excitement. Was a whale out there? Was it finally going to show? Was I going to see it? Were my prayers going to be answered?
The answer to all those questions, it turned out, was a big fat yes.
Blue whales come up for air every 15 minutes. So after the first sighting, we were all on tenterhooks – all except this guy next to me (it's not important but he had really cool tattoos on his face) who seemed too calm for my comprehension. He also almost always knew where to look.
We eagerly waited, eyes peeled and without a clue as to where the big guy would show up again. But show up he did. Four more times.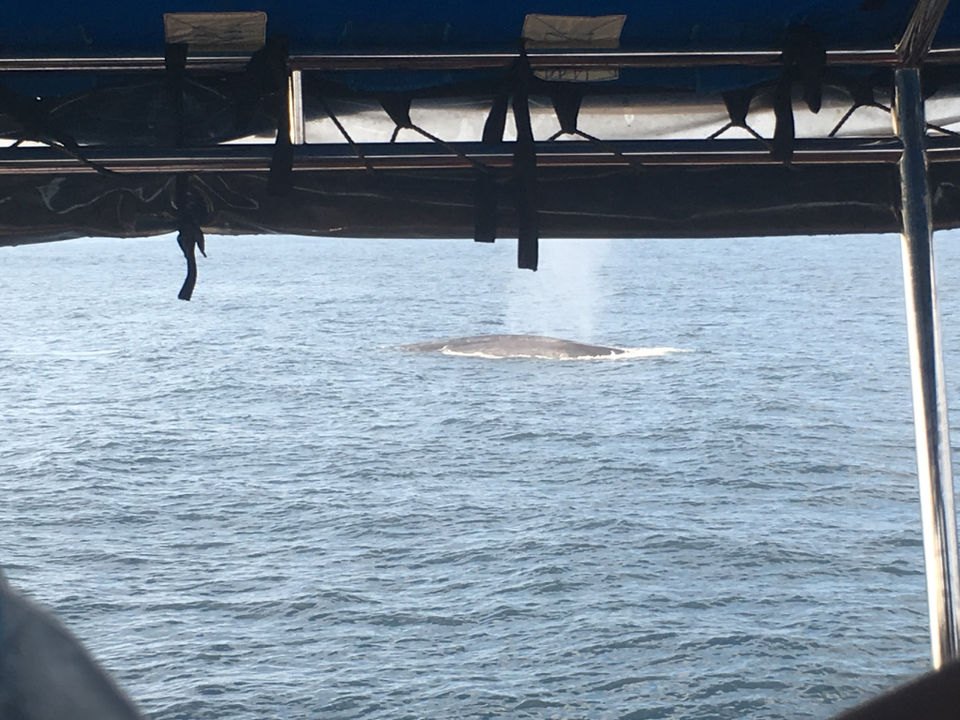 Whale watching in Mirissa is bound by a lot of ethical laws and standards. Since whales are sensitive creatures, the crew ensures the boat never gets too close to them. They take added efforts to not disturb them or the comfort of their habitat. Diving is an absolute no-no.
Sadly, there are a few rule-breakers every now and then, and these have led to some pretty ugly incidents, including a murder – of a man, not a whale – couple of years back.
On the whale watching cruise, one almost always ends up spotting dolphins. The friendly creatures that they are, they sometimes swim right alongside the boat. I saw a pod of dolphins really, really far away but that was about it. Since the whale showed up after a three-day hiatus, the dolphins didn't get too much priority. I'm not disappointed, I'll come back for you dolphins.
To learn about the whale watching cruise company I booked, costs and other details, click here.
Frequent Searches Leading To This Page:-
Sri Lanka tour best time to visit, Best Sri Lanka places to visit, Sri Lanka tour itinerary, Sri Lanka honeymoon trip, 4 days tour packages Sri Lanka, Sri Lanka beach tour packages