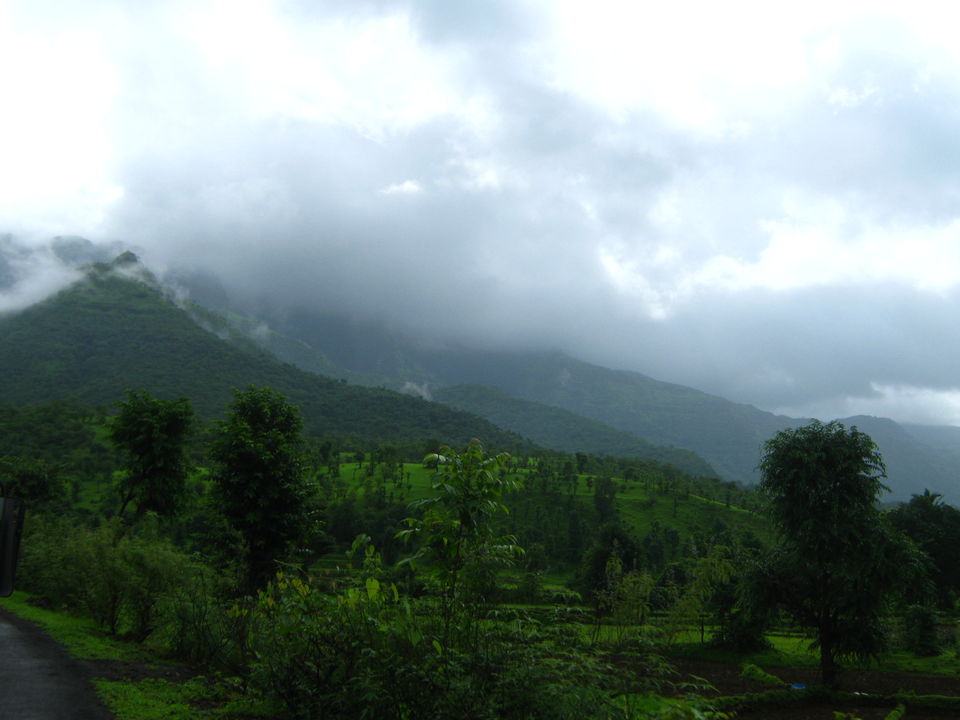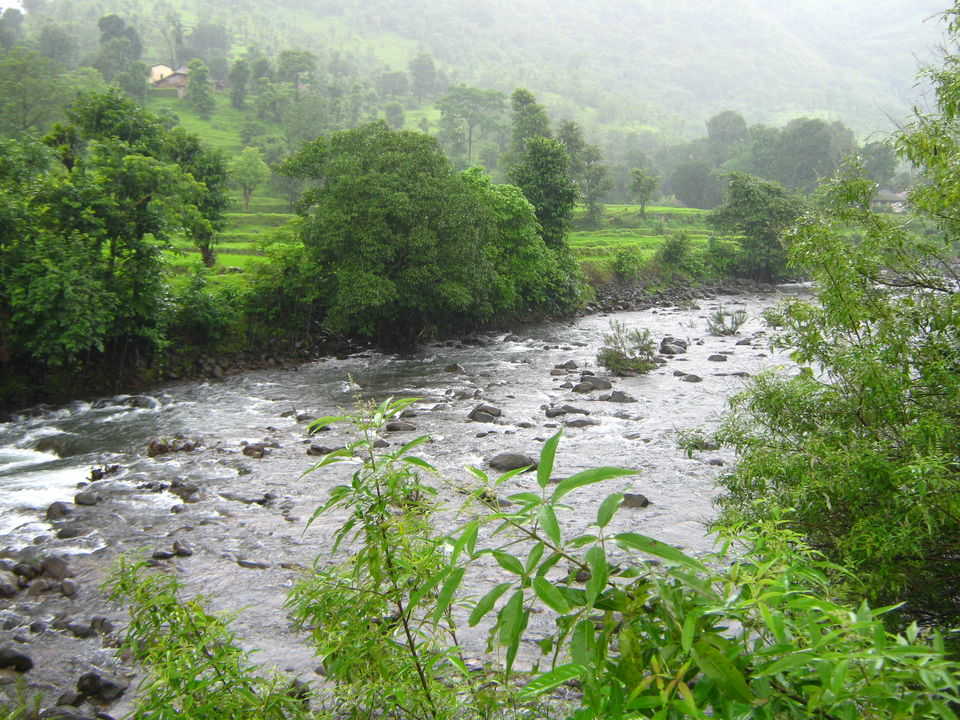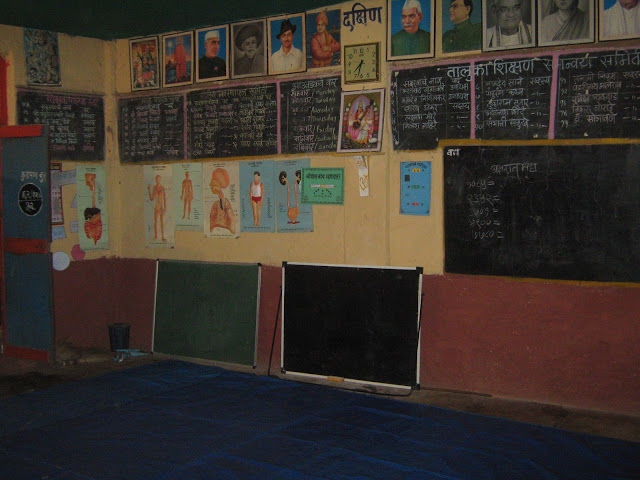 It is way too late for a good travelogue, blame it on the bruised knees and aching muscles, but I finally got around to writing a namesake draft of how I spent my weekend.
We reached Pune in the middle of the night. I, for one couldn't wait for our ST pick-up bus to arrive so I could resume my sleeping from where I left it off in the train. I woke up only after the bus halted in Poladapur. Personally, waking up this early on a weekend is a blasphemic thing to do, but I had no choice. Taking consolation that everyone else was up…it didn't seem very lame and the piping hot tea almost made up for it. After that we set out to Vadgaon and reached the place around 9.30 am where the trekking began. Just before which it started raining. And while everyone brandished their mint-new plastic covers (which everyone had brought earlier in roadside stores while I was busy clicking away) and transmogrified into ET's and Caspers, I had to make do with my bulky raincoat and hoping that my bag was water-proof. In my defense, I had my own backpack and didn't use plastic.
Having picked up our share of energy bars and lunch packets and such, we set out to trek with much gusto. It was raining hard, but we were too excited to care. Thanks to our super-fast trek instructors, we walked like mad people and soon reached an iron bridge. Our instructor told us that it was the Savithri river flowing below and last year it was so furious that it even flooded the bridge that we were standing on. Instinctively, I calmly got down the bridge and busied myself with flora and fauna of the surrounding place. Suddenly, green seemed like the most beautiful colour. Mostly because that's the only colour you could see everywhere in all hues that were available.
Then comes some heavy-duting trekking and climbing up and climbing down. At one point, I wished my shoes had laser jets under them to magically fly me from tricky slope to safe places. But I didn't. So sometimes when the slope got more wicked, even the agnostic in me took all the Gods names I could and prayed fervently to see my loved ones' faces again. Add to the slopes, that Savithri river who made more entries in the trek than I liked. It was full of slippery rocks and having this penchant for slipping, I garnered two bruises which will act as my trek souvenirs for a week at least. But I have to grudgingly agree that river-crossing using ropes was great fun. Truly thrilling experience. One good tug and all would land pretty on their backsides :D
But the best part has to be the last river-crossing. Boy, those thirty minutes are unparalleled, pure madness and fun. Simple pleasures like water-splashing and floating seemed like great water sports after our strenuous day.
After getting out of the river, I was so sogging wet that I would have given anything for a hot bath. Dreaming about hot bath and other such luxurious dreams, we reached the Kudpan village where we changed into warm clothes(bliss!) and had a sumptuous dinner prepared lovingly by our hosts. After ghost story-sessions and wonderful live music, it didn't matter that we had less than a foot space each to sleep – everyone slept soundly. Did I mention that our accommodation was a one-room Vadgaon government school? Yes! We slept off looking at badly painted freedom fighters and digestive systems.
Next day morning we woke up all fresh and bright and it was still raining. We were served fresh adrak chai and Poha.
After which, we set out to trek again. After some strenuous hours, we hopped onto a bus and it turned out to be a good decision because we had all the time in the world to get down and actually see water-falls, little hamlets on the hills, peacocks, wild fowl, on the way. We got down from the bus whenever we could and photographed like crazy. Sometimes losing track of time that the bus driver started driving and we'd all run behind like school-kids begging him to stop.
We also shopped a bit in Poladpur. Beat that :P Anyhow we reached Pratapghad Fort. One thing I understood upon reaching the hilltop that Sunday is – visiting such places should be done as early as possible if you want to avoid the family mobs and newly-wed folks who flock to such places. Or you should be patient enough to wait behind them when they photograph themselves with every rock and flower they can lay their eyes upon.
After another simple-but-delicious meal, we started for Hyderabad… tired-but-happy souls.
The best part about group treks is that your fellow trekkers have always got your back. At the tricky slopes of the Kudpan Valley, the slippery riverbeds of Saraswati River, and when your energy levels have hit an all-time low - there are people waiting for you to catch up and help you make that last steep climb.


Frequent Searches Leading To This Page:-
weekend trip from pune, weekend treks from pune, weekend destination from pune, weekend holidays from pune, weekend getaways from pune