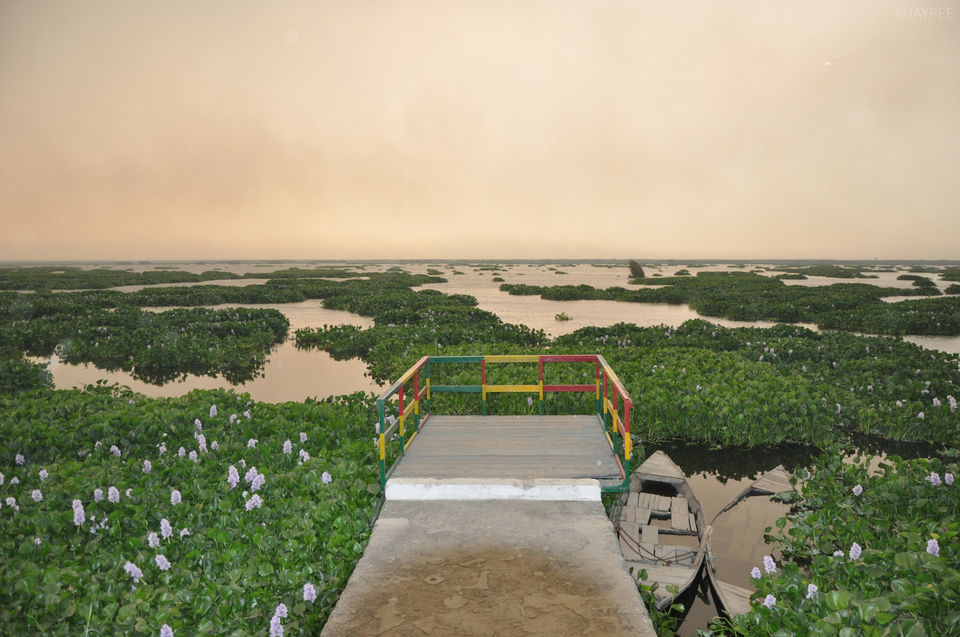 What's the first thing that comes to your mind when I use the words wetland and India in the same sentence? Sunderbans, right? Wait, there's more!

Punjab is a land that constantly brims with joy owing to its people, whose hearts are as big as their glass of lassi. But what many of you might not know, is that the land of sunflower fields and tandoori chicken is also home to Harike, the largest man-made wetland in the northern part of India.
ABOUT HARIKE WETLAND
The Harike Wetland came into existence in the year 1952 after the construction of barrage near the confluence of rivers Sutlej and Beas. The Harike ecosystem, spread across a massive 285 square is a significant adobe to innumerable species of flora and fauna. This makes it significant not only in India, but also globally, for preserving this biodiversity. That is why the wetland was declared a Ramsar site (A Ramsar Site is a wetland site designated of international importance under the Ramsar Convention and it provides for national action and international cooperation regarding the conservation of wetlands, and wise sustainable use of their resources) by the International Body of Wetlands under the United Nations Development Programme (UNDP) in 1990, and a section of the wetland was declared a wildlife sanctuary in 1999. The deeper end of this muddy land, which shares its borders with Tarntaran, Kapurthala and Ferozpur, is best known for the famous Harike Lake, a popular tourist spot.
WHAT TO DO HERE
Situated less than 100 km away from the hustle and bustle of the city of Amritsar, there's plenty that one can do in and around Harike, apart from soaking in the glory of nature.
Here's a quick rundown of all that you can do on your next trip to Harike.
WATER BUS TOUR - The best way to experience the Wetland of Harike is to take a guided tour on specially designed water buses that are suited for both land and water. The wetland is home to one of the biggest populations of ducks in the country with as many as 45,000 ducks being recorded in the peak season. And if you're lucky, you might also be able to spot rare species of turtles, fishes and the magnificent river-water dolphin. Harike is considered to be an absolute treat for birdwatchers with over 386 species recorded in migrating season. So if bird watching is your thing, don't forget to pack your binoculars!
TAKE A HOLY DIP - No trip to Amritsar is complete without visiting the Shri Harmindar Sahib, more popularly known as the Golden Temple. The city owes its popularity to this holy shrine. The word Amritsar translates to "pool of the nectar of immortality". This name was given to the tank around the Golden Temple excavated in 1577 CE. The city of Amritsar subsequently grew around the pool. Even though the temple is visited by around 1,00,000 people every day, a trip to the Golden Temple is always a personal, holistic and rejuvenating experience.
WITNESS THE COLOURS OF FREEDOM - Yet another must-do day trip near Amritsar is a visit to the Wagah Border to witness the famous flag retreating ceremony which takes place every evening at sunset, and attracts almost a thousand people on both sides of the border. The ceremony is a glorious celebration of freedom, making for a real once-in-a-lifetime experience.
GO MARKET HOPPING - The city of Amritsar has some of the most lively bazaars in the region. Go check them out if you want to stock up on authentic garments, souvenirs and jewellery. And for all you women out there, be on the lookout for Amritsar's colourful embroidered phulkari dupattas, available in abundance in the city's best market - Hall Bazaar.
CUISINES ON OFFER
If you've ever been to Amritsar, you'd know why the city is called the food capital of India. Be it the famous kulchas, lassis, dal makhnis or tikkas, Amritsar's food is easily the best in the country and a wholesome treat to all your senses. Here are a few spots in the city that will give you a gastronomical high.
HOW TO GET HERE
The closest major city to Harike Wetland is Amritsar, situated at a distance of 80 km. It can be covered by road in approximately 1 hour and 45 minutes. Here's how one can reach Amritsar from New Delhi.
By Air - One can take a direct hour-long flight from New Delhi to Amritsar.
By Road - Amritsar is connected to New Delhi by the AH1. It takes approximately 8 hours to cover the distance of 450 km.
By Train - There are more than 20 daily trains which connect Delhi to the Amritsar Junction Railway Station. It takes about 11 hours to cover the distance.
ACCOMMODATION
Amritsar has a hoard of hotels that suit travellers on all kinds of budgets. Here are a few options that you can consider for your next trip to Harike.
Share your experience of travelling to Harike in the Tripoto community and get answers to all your travel-related queries.