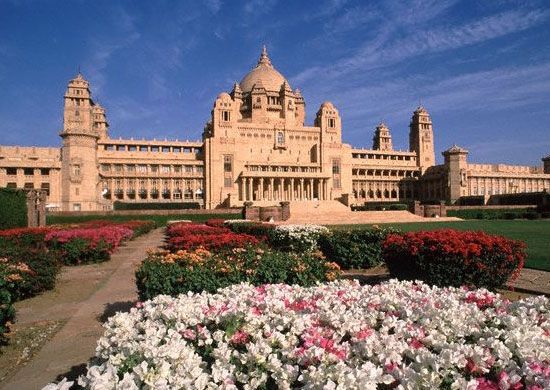 Jodhpur is the second largest Thar Desert city in Rajasthan. Jodhpur is a historical Place where there so many beautiful palaces, forts and Temples such as Mehrangarh Fort, Jaswant Thada, Umaid Bhavan Palace, Umed garden, Rai ka Bag Palace,Kaylana Lake, Balsamand Lake, Mandore Garden, Ghanta Ghar, Rao Jodha Desert Rock Park, Sardar market, Chamunda Mata Temple, Achal Nath Temple and Government museum.
Mehrangarh Fort built in around 1459 by Rao Jodha, the fort is situated 410 feet (125 m) above the city. It is the largest fort in Rajasthan. In this Mahrangarh Fort there is a very well maintain Museum. This Fort having 7 Gates.
Opening Time- 09:00 am to 17:00 pm
Entry Fees- For International Guest: 600 Rs. , For International (Student Guest): 400 Rs. , For Domestic Guest: 100 Rs. , For Domestic Student, Senior citizen and Kids Guest: 50 Rs.
Jaswant Thada was built by Maharaja Sardar Singh in 1899. In the memory of his beloved father, Maharaja Jaswant Singh. It has the cremation ground for the royal family of Marwar. It has a beautiful garden and lake. There has paintings and pictures of the deceased ruler of Maharaja.
Umaid Bhavan Palace one of the largest royal residance in the world.
This Palace has three parts – first where the royal family residence, second a luxuries Taj Palace Hotel, and Third one is a Museum which basically focus on 20th-century history of the Jodhpur Royal Family. This Hotel having 347 luxury rooms, where Room fare for one day start from 21,000 Rs. to 3,75,000 Rs.