The morning focuses on the grand City Palace, which is the official residence of the Maharajah of Jaipur. The palace is centrally located and takes around 2 hours to fully explore all the staterooms, museums and art exhibitions. Highlights of the city palace include; The highly decorative Peacock Gate, the massive silver vessels in the Diwan-I-Khas and the armory, with its collection of gruesome and opulent weapons spanning the history of Jaipur.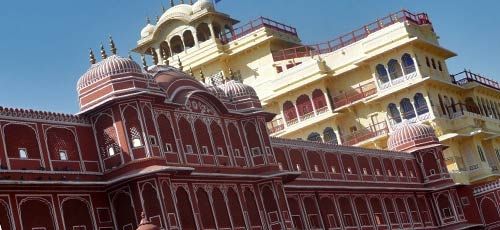 The afternoon explores the pink city, the historic center of Jaipur and the area surrounding the City Palace. This is busy, hectic and chaotic Jaipur, expect to be hassled by touts, chocked by pollution and worn down by the heat but there are some great monuments. If all the hassle gets too much head to Jantar Mantar for a moments peace and calm. The afternoon concludes by watching the sunset at the sun temple.
Highlights of the afternoon walk include.
The stunning Hawa Mahal, (Palace of Winds) - where the Maharajah's wives would spy on daily life of Jaipur hidden by the lattice work screens.
The Jantar Mantar astronomical observation instruments.
The pink city gates and walls.
The busy atmosphere of central Jaipur's markets and shops.
Watch the sunset over Jaipur from the sun temple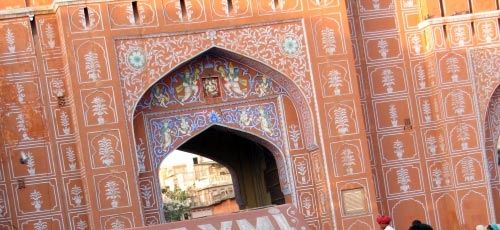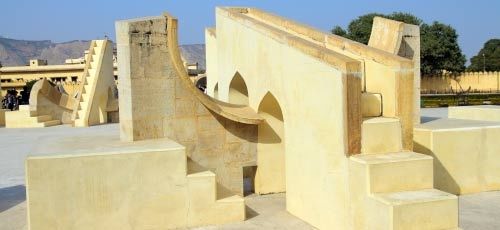 The morning is spent at the Amer fort, which lies 7km to the north of Jaipur. This mighty fort combines massive defensces with delicate artistic details and is often a highlight to Jaipur. The fort stands at the top of a high ridge and elephants transport visitors up to the main courtyard.
The road to the Amer fort passes the Jal Mahal which is one of the most photographed buildings in Jaipur. The palace appears to float in the center of Lake Mansagar and this stunning building was once the shooting lodge of the Maharajah.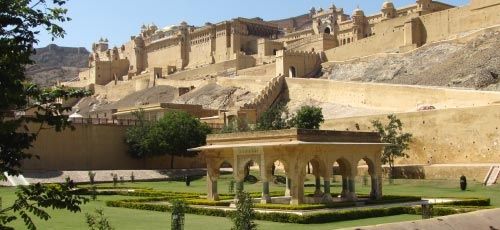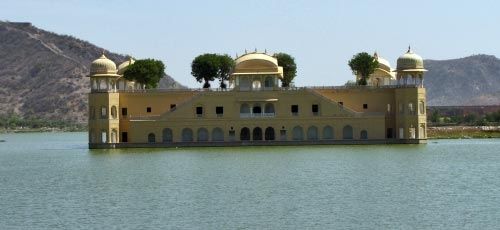 The afternoon is split equally between the Galta Jitemple and the Nahargarh Fort. The Galit Ji temple is commonly known as the monkey temple and is a series of structures that are set around a natural spring and are home to around 100 monkeys. Nahargarh Fort is the fortified castle that once protected the whole of Jaipur, this a great location to watch sun set.