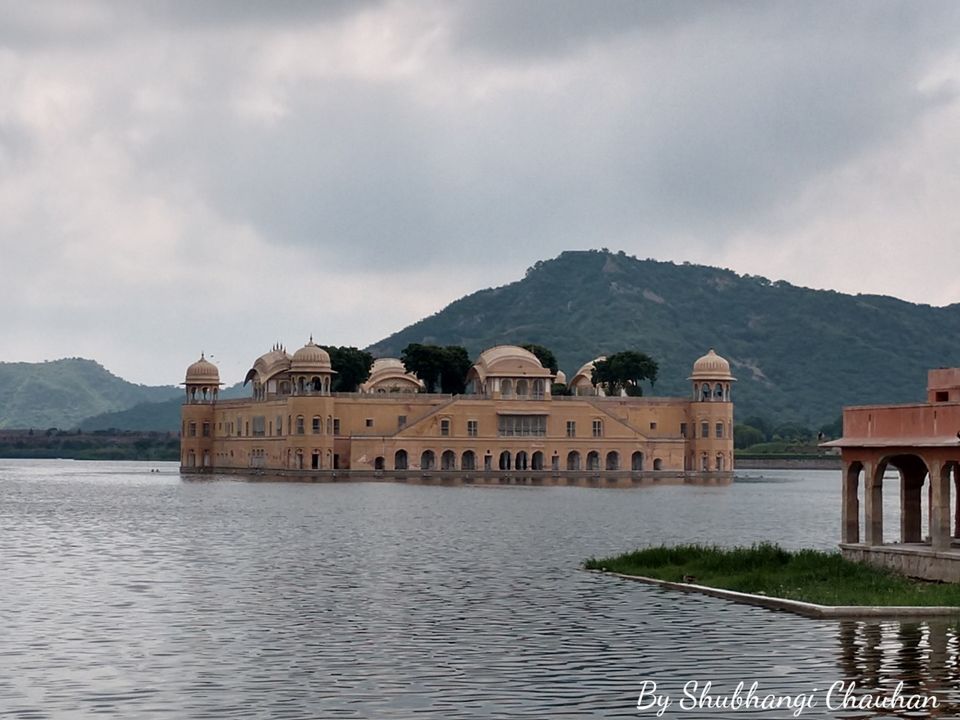 Jaipur the pink city is the capital of the largest indian state (by area), Rajasthan. Rajasthan as the names says is the land of kings.
Jaipur is named after the ruler Jaisingh. Many of the avenues are painted in pink colour in the city and that is the reason behind giving it another name "the pink city".
Jaipur is one of the most popular tourist destinations in India. It's also a part of the "Golden triangle" circuit. Rajasthan is all about royalty , culture and history.
Best time to visit:
During monsoon from July to September is the best time to visit any city of Rajasthan. During this season weather is cool, cloudy and pleasant. You will be saved from scorching sun and unbearable heat of Rajasthan.
Winters is also good but ensure you carry your sunscreen, cap and water bottle because in afternoon days are too sunny.
Never ever plan your trip during summers. The state has it's own records of reaching extreme high temperatures during summers.
Places to visit:
Many popular and historical places. Amer fort and Jantar Mantar are the two UNESCO Heritage sites in Jaipur. The city is also popular for shooting of some famous Bollywood movies like Jodha Akbar (shot in Amer Fort) and controversial Padmavat (Shot in jaigarh).
Must Visit places:
1. Jal Mahal
2. Amer Fort
3. Jaigarh Fort
4. Nahargarh Fort
5. Jantar Mantar
6. Hawa Mahal
7. City Palace
8. Birla mandir
Trip Duration : 2 Days.
Can be covered in 1 day also if you start early in the morning with a private cab. But you have to be really quick in covering all the spots. You will have to compromise even on your breakfast and lunch breaks.
Here starts my Jaipur visit.
I reached Jaipur early morning and started for Jal Mahal at 9.00am.
1. Jal Mahal :
This red sand stone palace is built in Man Sarovar lake and completely surrounded by water. When the lake is full 4 floors of this palace remain inside the water and only the top fifth floor is exposed.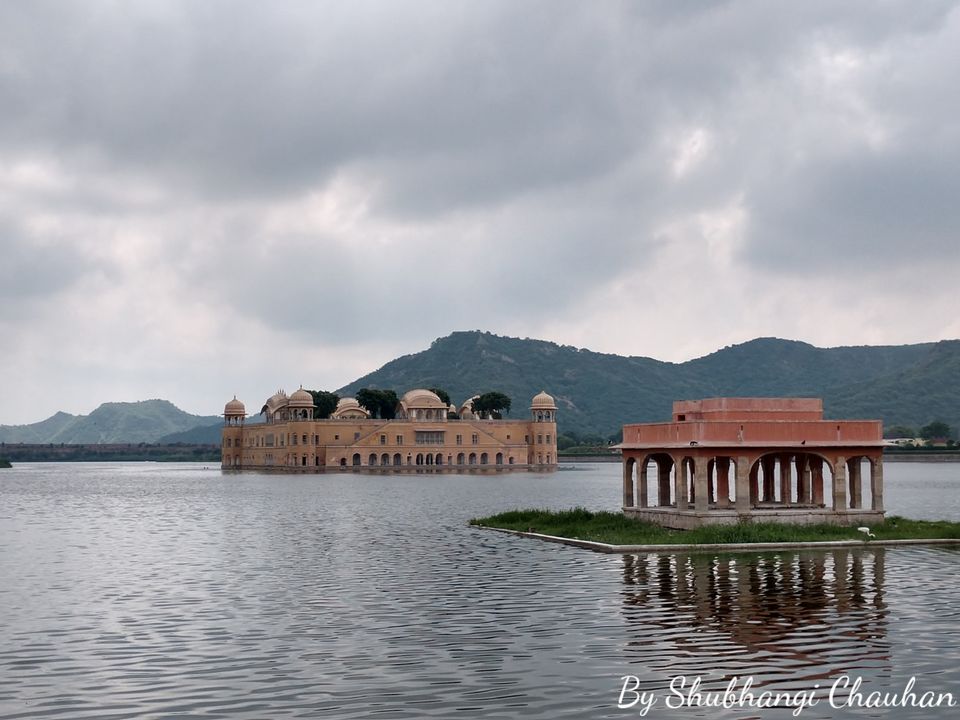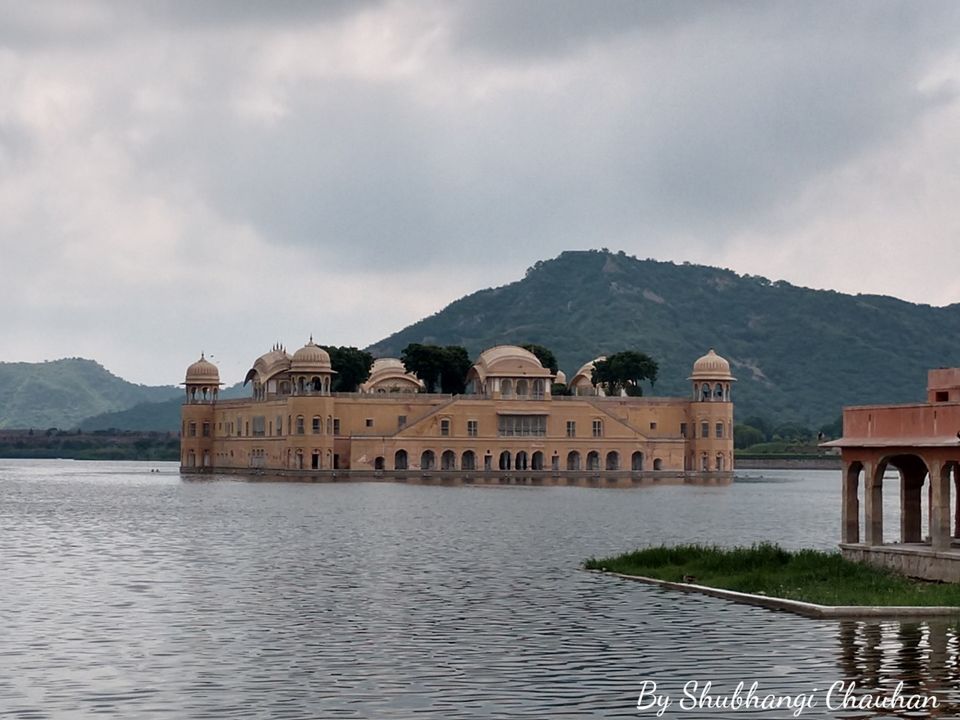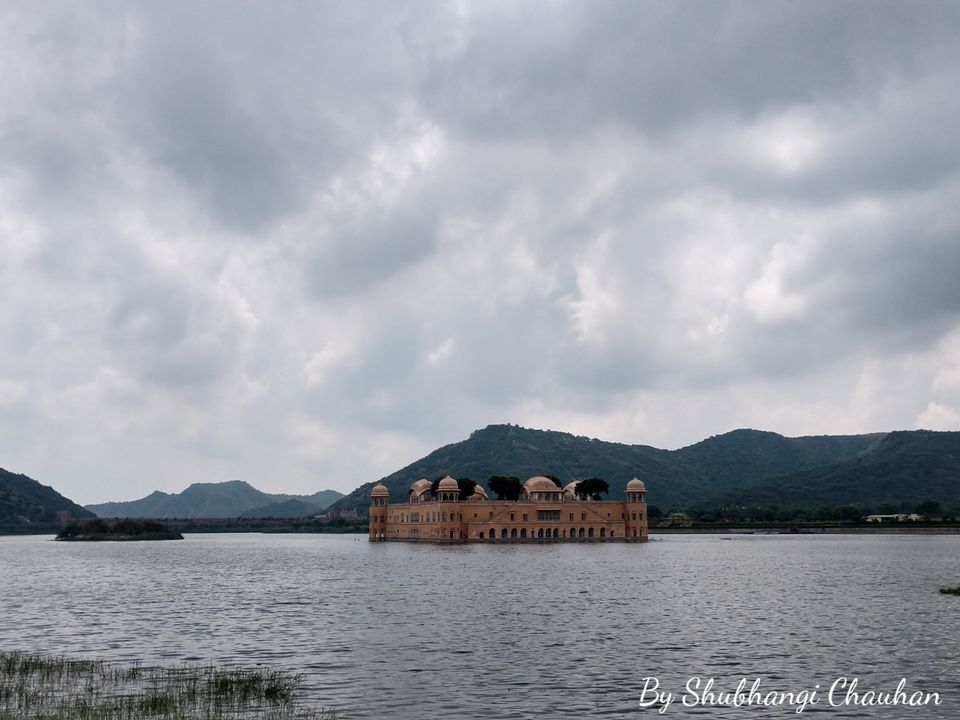 This palace is 5 Km from centre of the city and on the way to Amer Fort. You can board any eco rickshaw and can get there in Rs 10 or 20 depending on your location.
There is nothing much to do at this spot because you can not enter the palace. You can enjoy the beauty of this palace from the road a distance view. Some 15 years back it was accessible and tourists were allowed to go inside the palace but now as it has become very old entry is restricted. Even the boats are not allowed near the palace.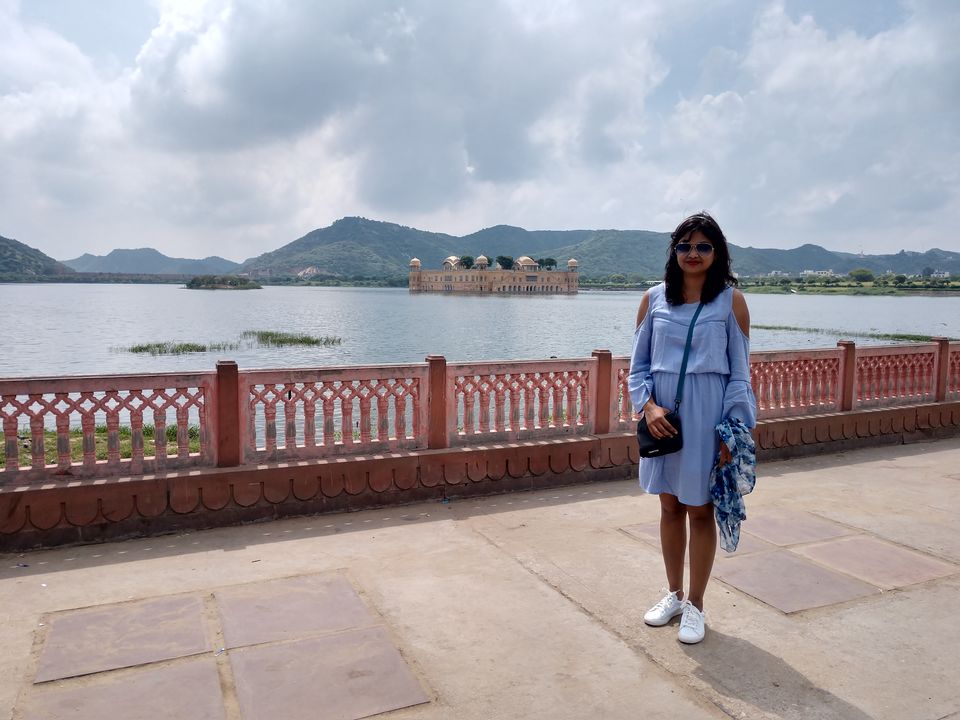 Soon I left to visit Amer fort.
2. Amer fort :
It's an UNESCO world heritage site. Your Jaipur visit is incomplete without visiting this fort. It's a huge site and it takes minimum 2 hours to cover it.
Timings: Its open all 365 days of the year. Fort can be visited in the morning or evening time slots. If you want to enjoy the light show better to visit in the evening.
Day timings : 8.00am to 5.30 pm
Evening Timings: 6 pm to 9 pm
You can also take elephant ride inside the fort. Its available only from 7.00am to 11.30 am.
Light show in Hindi timings: 7.30 pm to 8.30 pm (Duration 52 Mins)
Light Show in English timings: 6.30 pm to 7.30 pm (Duration 52 Mins)
It's a beautiful show about history of Jaipur and this fort.
Entry fee and other charges:
Entry fee for Indians : Rs 50/-
Entry fee for foreigners : Rs 550/-
Elephant Ride – Rs 1100 per elephant ride. 2 persons can take a ride together. It's better to share your ride with a partner. You will directly save Rs 550/- on your ride. These charges are fixed by archeology department so no chance of any bargain ☺.
Light Shows – Rs 250/ per person- for Hindi/English show. Charges are same for all (Foreigners , Indians, Students).
How to reach:
You can take any rickshaw or taxi to reach Amer Fort. It's at a distance of 4 km from Jal Mahal. However, rickshaw or taxi charges more Rs 100 /Rs 400 as it's outside the city and off course because it's a tourist place.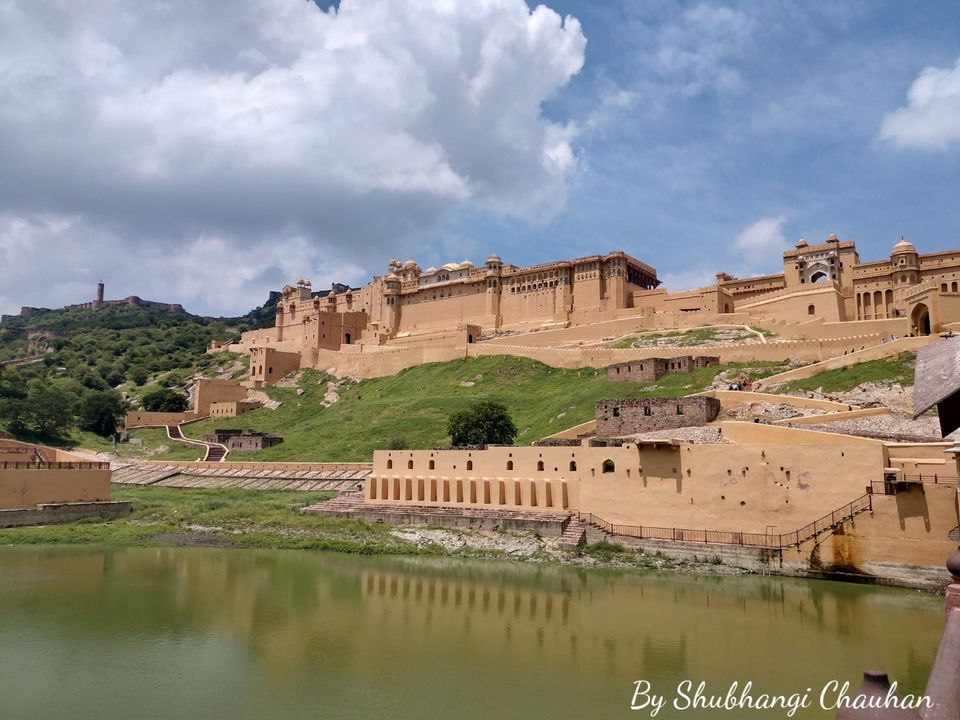 Inside the fort:
Amer fort is a beautiful huge fort constructed on a high hill of aravalli range , near Maotha lake with red sand stone and Marble. It has of four main parts inside which are-
1. Diwan-i-Aam
2. Diwan-i-Khas
3. Sheesh Mahal
4. Sukh Niwas
This palace was a residence of Rajput Families and all the parts of the palace were built for some specific purpose. Here all some details I could gather from local guide and other sources: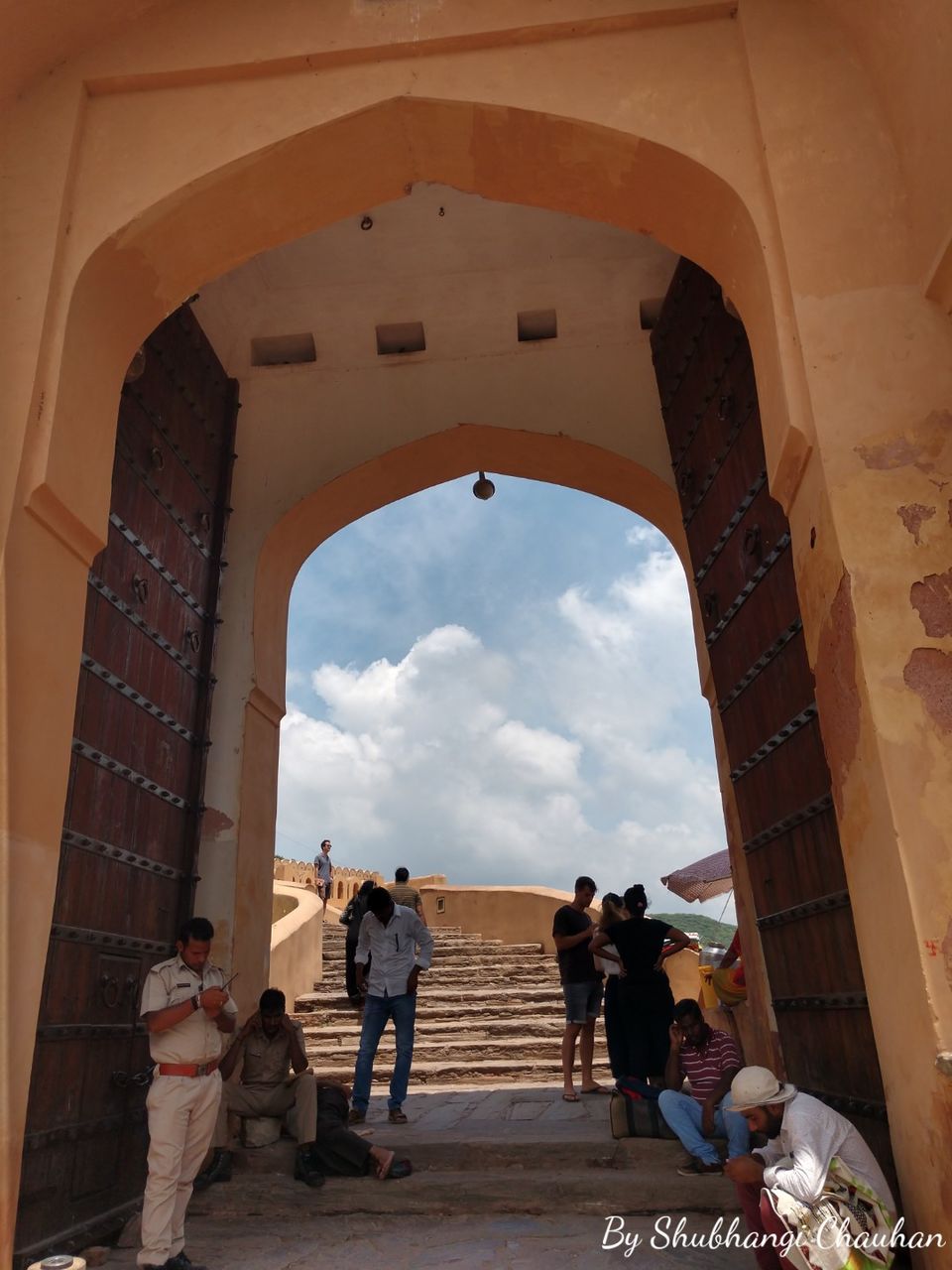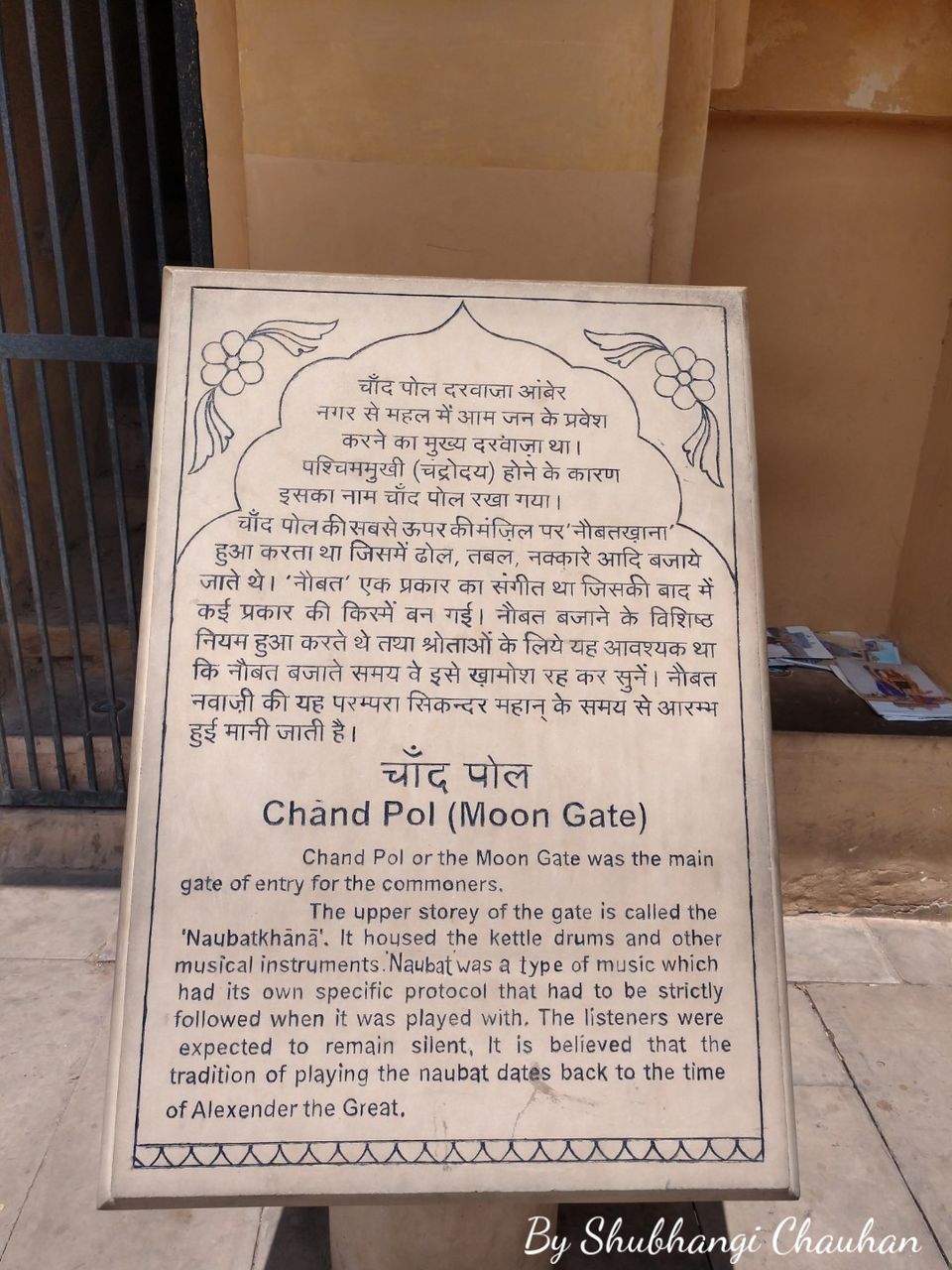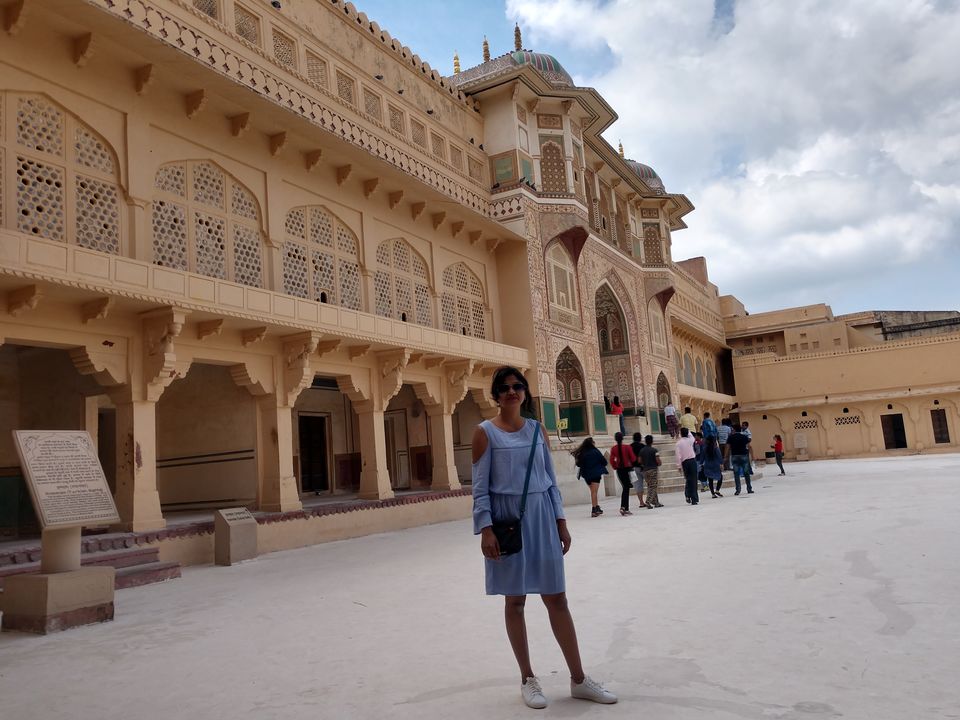 Diwan -i- Aam -
• In Hindi the word "Aam" is to refer general , common or public. It's also known as "Hall of Public".
• This hall was built by Raja Maan Singh in 16th century to listen to the queries of common people, to meet guests and to celebrate festivals and on special occasions.
• The hall is constructed of red sand stone and marble and beautifully decorated with carvings and paintings.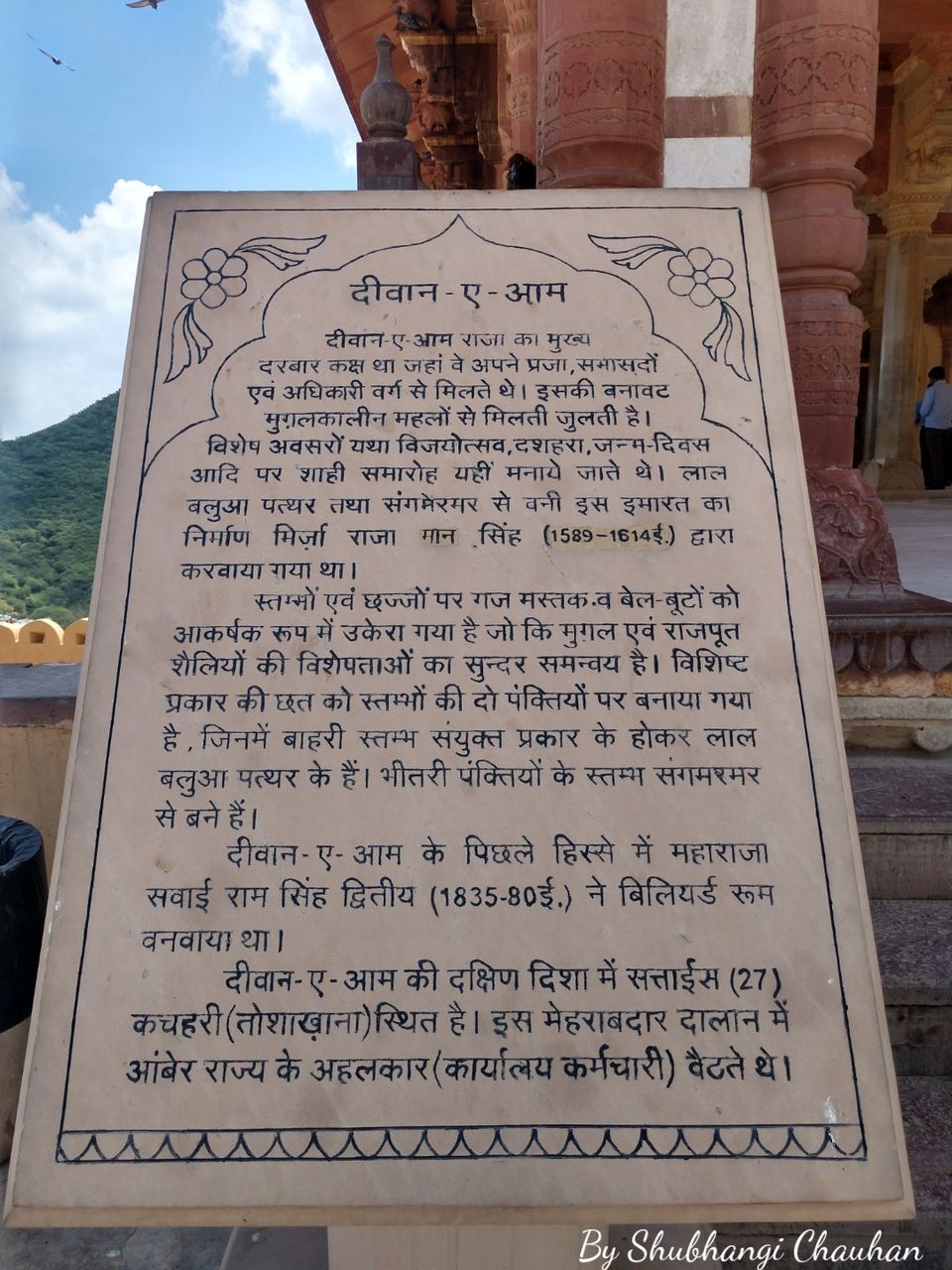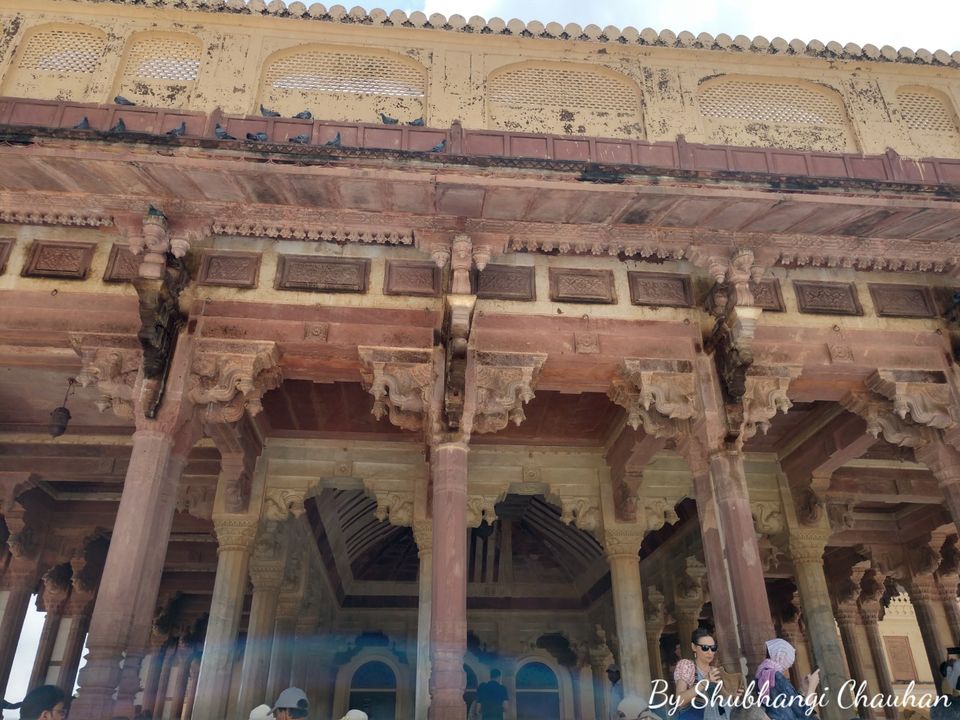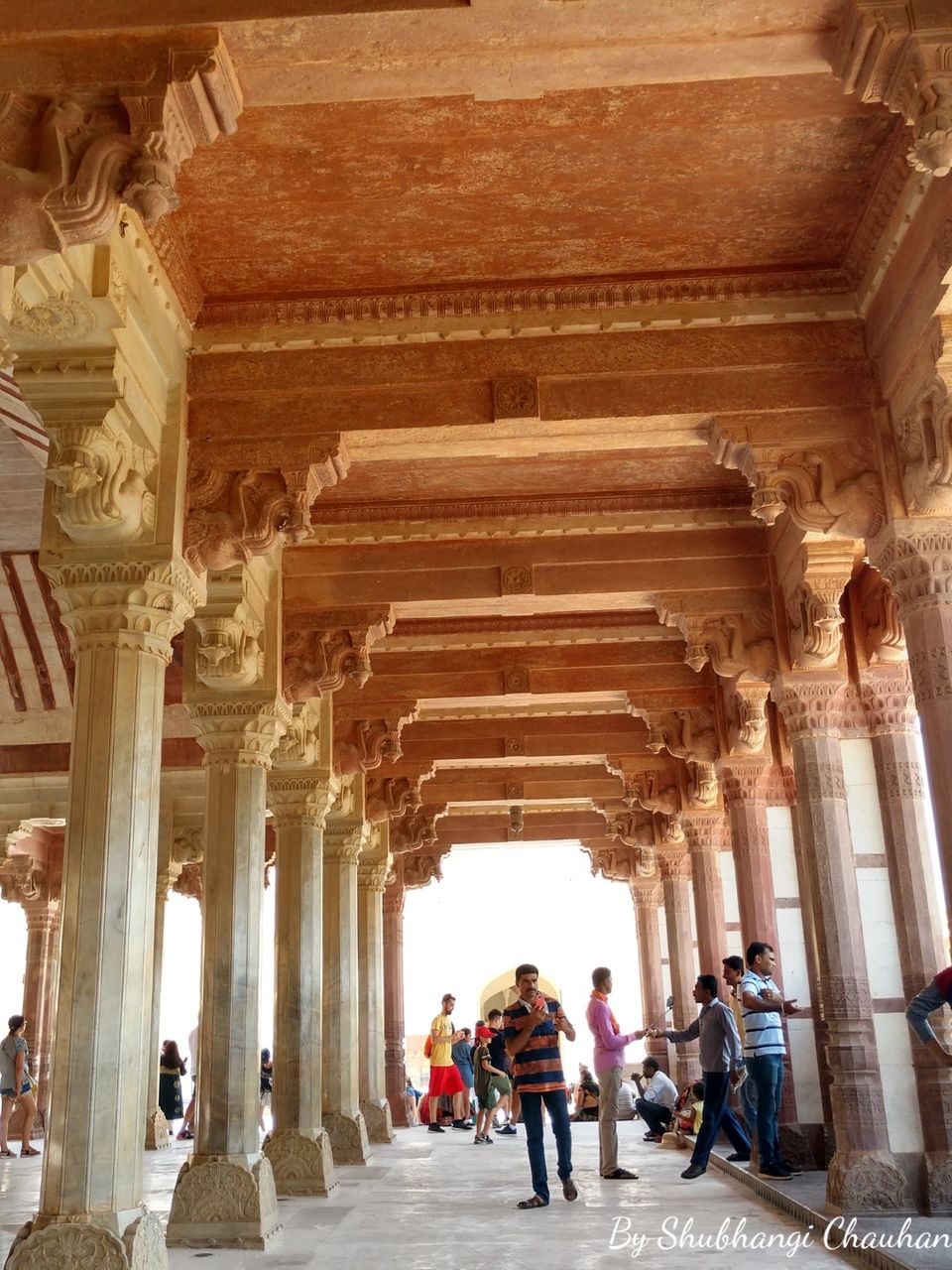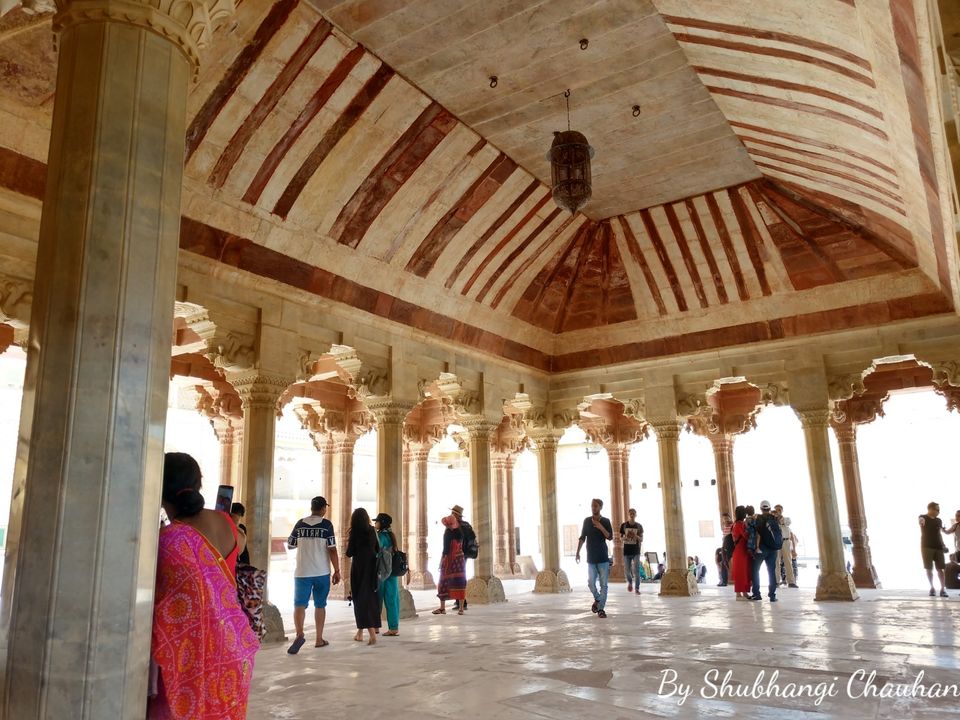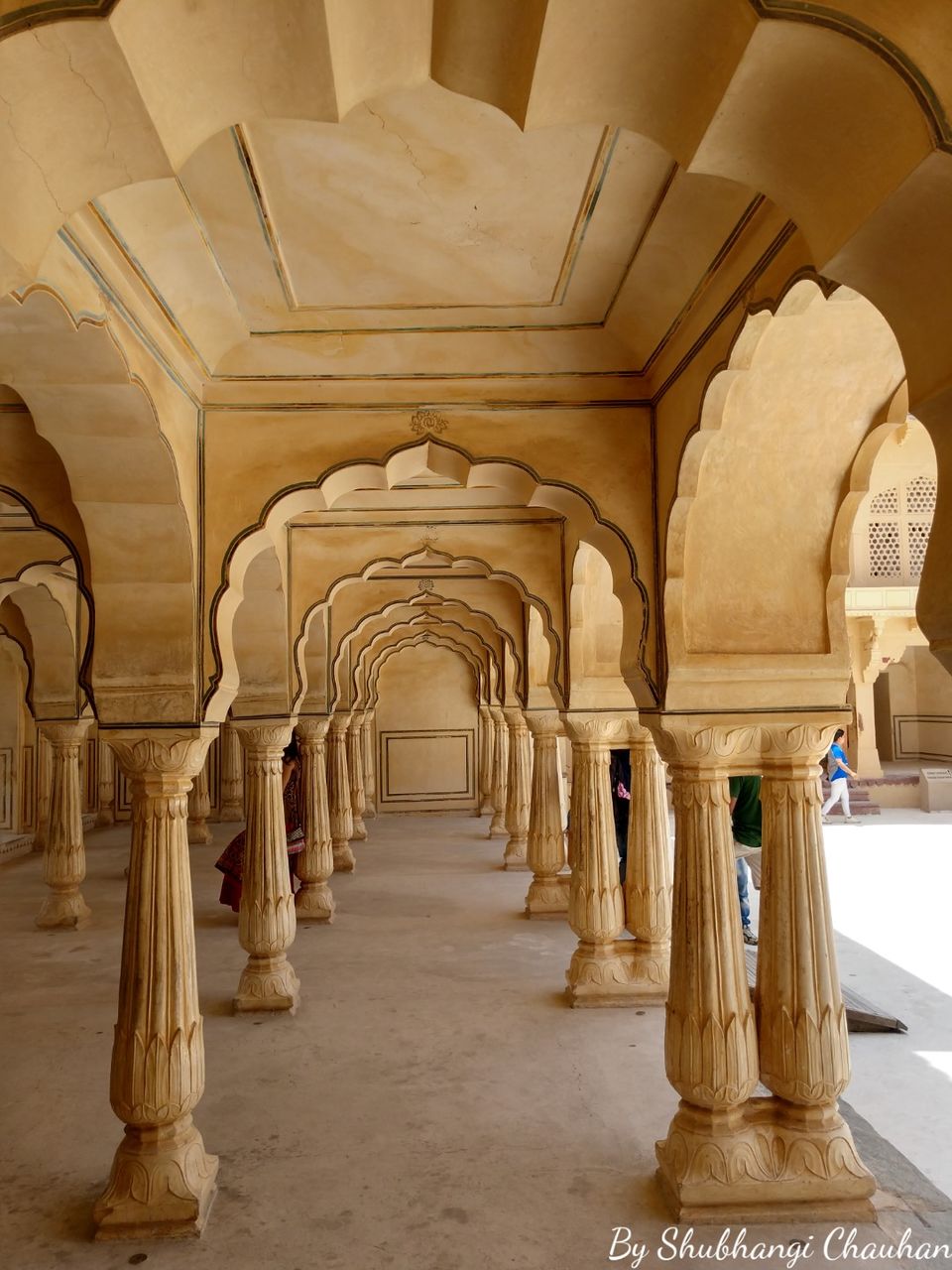 Diwan-i-Khas :
• In Hindi the word "Khas" refers to special or private. It's also known as 'Hall of private audience". This hall was built to meet special guests and important meetings.
• As this was constructed for special guests it's interior is beautiful and had a natural cooling system to keep the ambience pleasant for guests.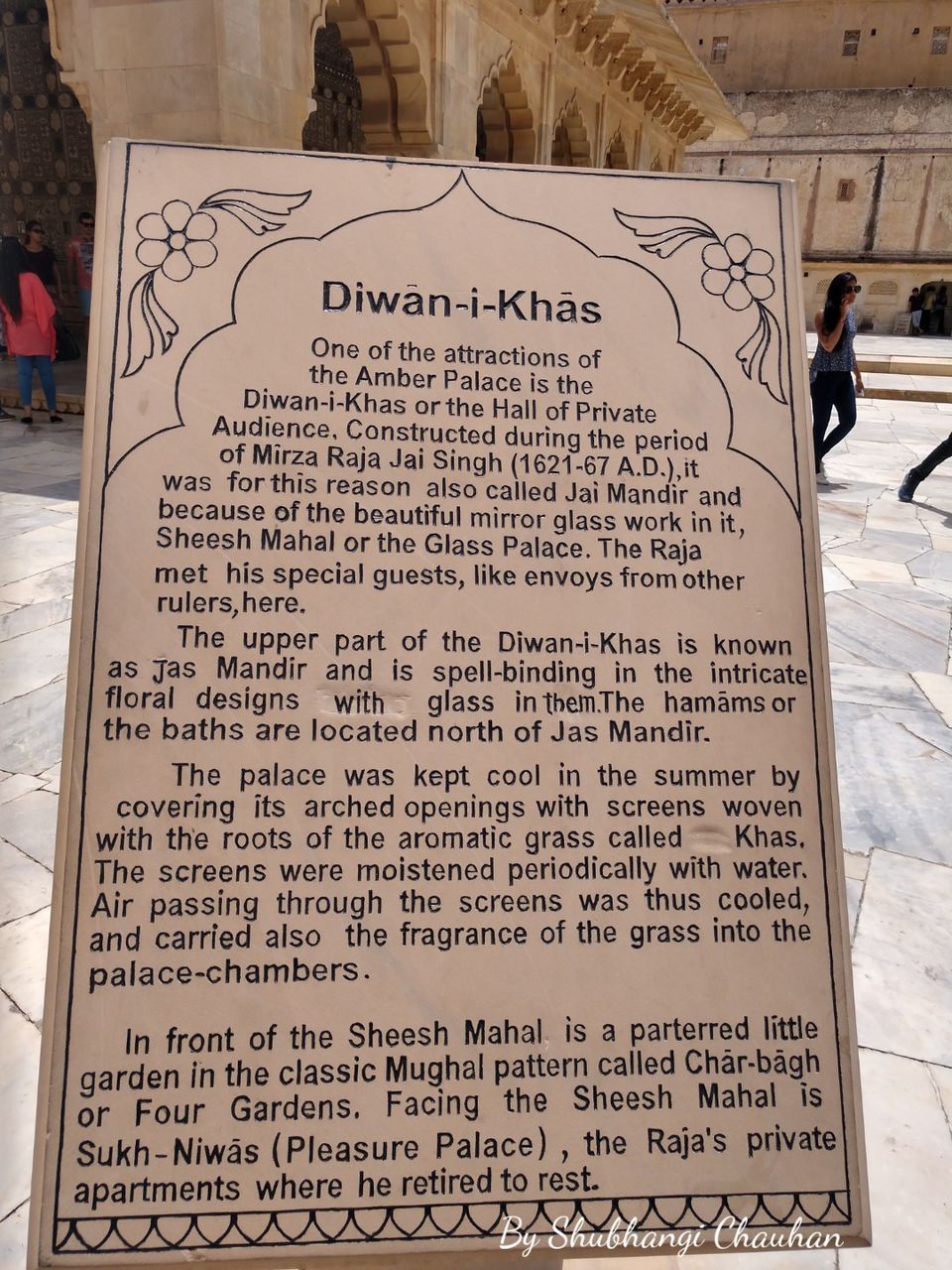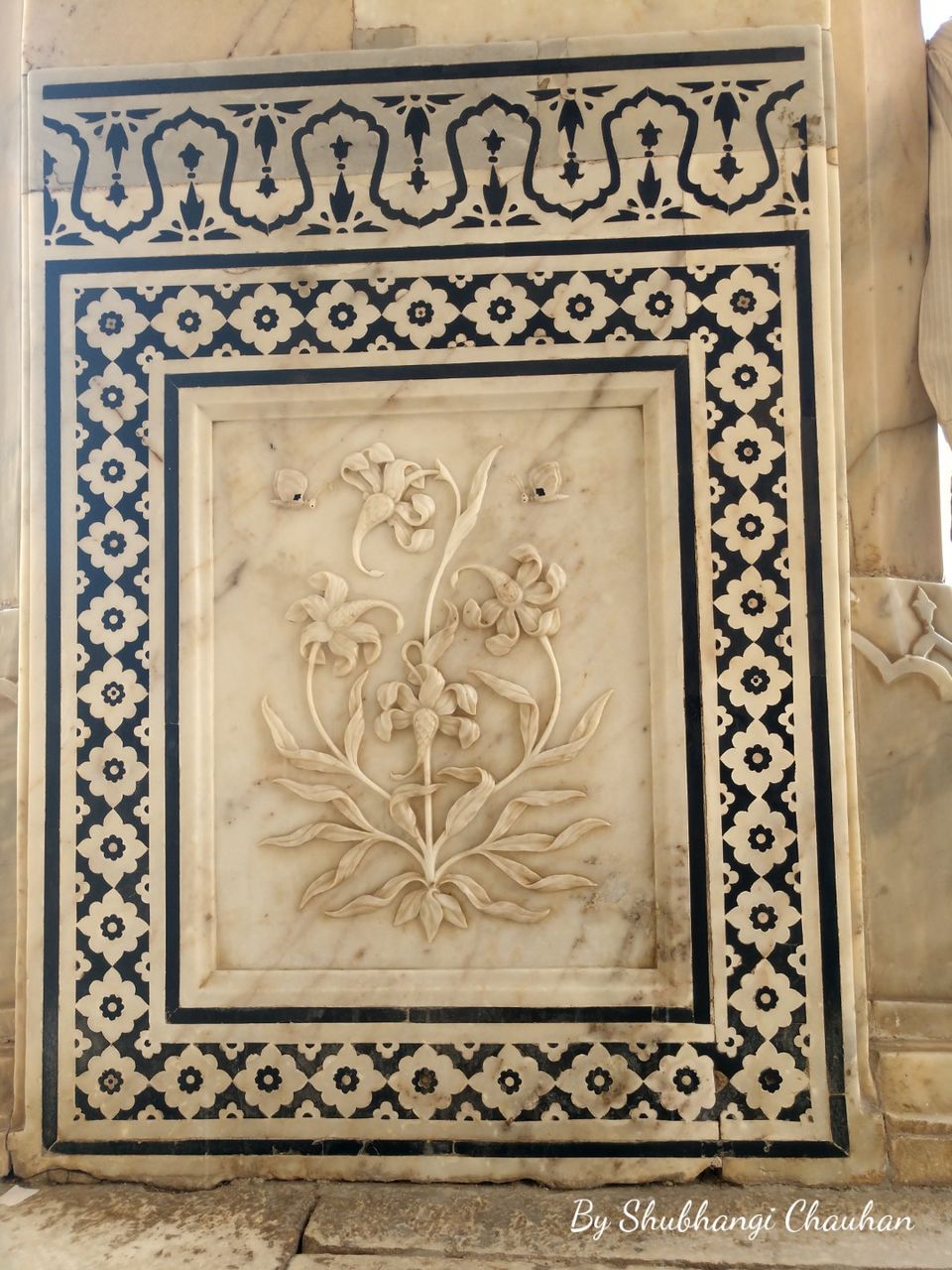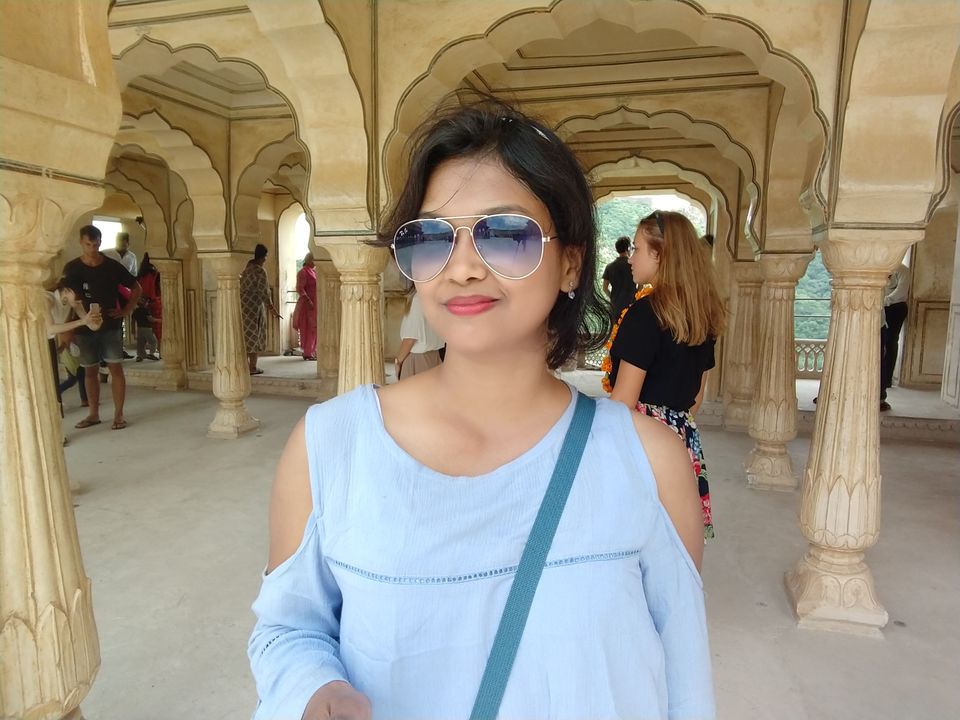 Sheesh Mahal:
The palace of mirror is a part of Diwan –I –khas. Sheesh Mahal is one of the most exciting feature of this fort which is adorned with thousands of mirror tiles as well as colored glasses on its wall as well as on ceiling.
The walls and the ceilings in this palace are carved with beautiful flowers and other paintings made with glass. A queen of the fort used to love sleeping under the stars. It is said that ancient custom of the land did not allow women to sleep in open air. King called upon the finest architects in the region to solve the problem. Thus, the mirror palace was built. It is said that if two candles are lit in the palace, it would look like thousands of stars glittering in the ceiling.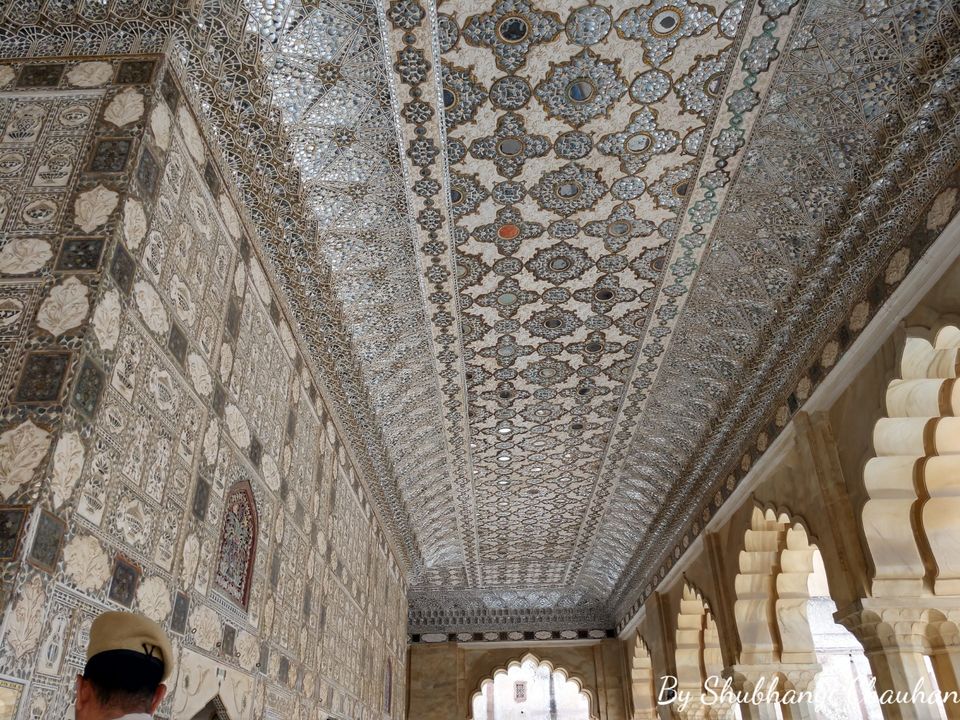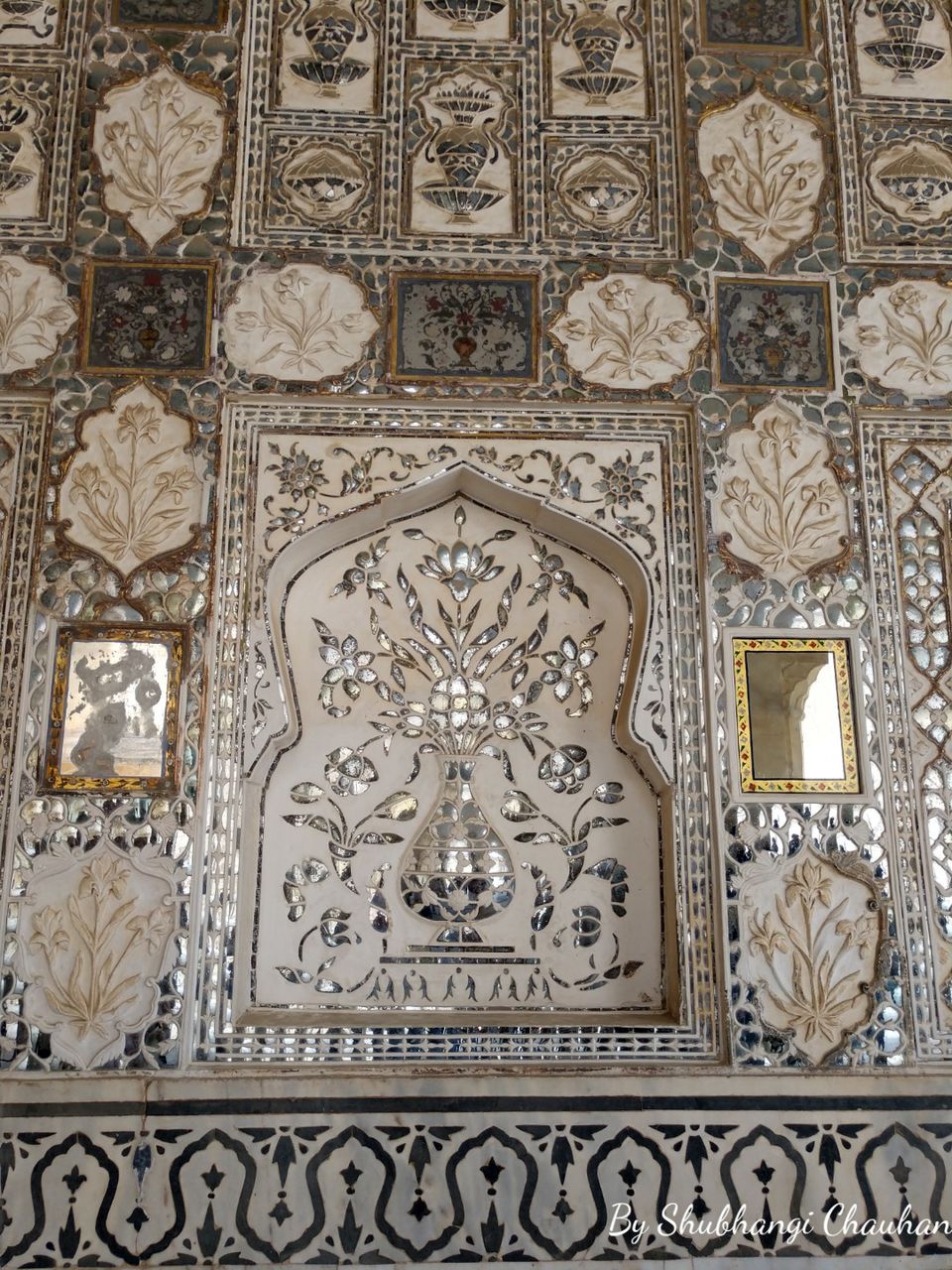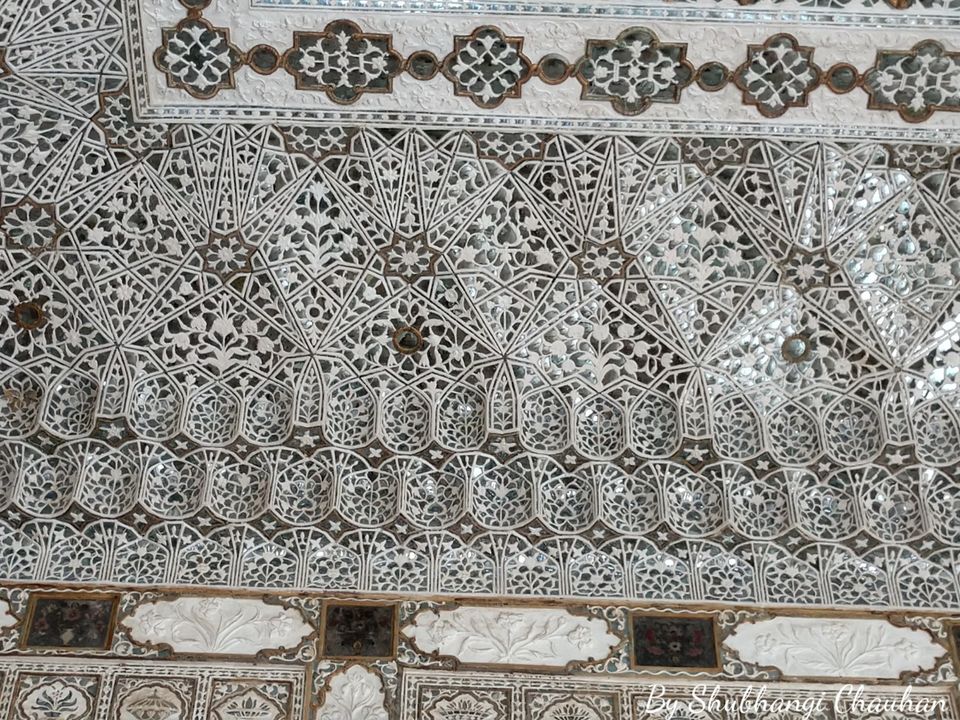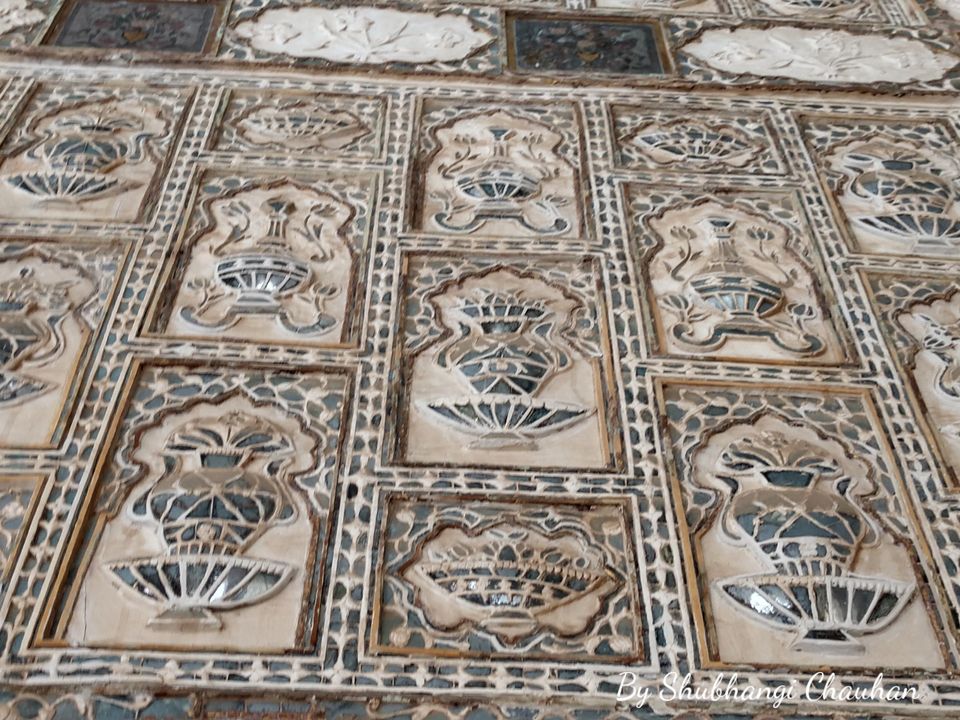 Sukh Mandir :
Sukh Mandir is also a part of Diwan – I – Khas. The Sukh Mandir palace was kept cool in the summer by covering its arched openings with screens woven with the roots of the aromatic grass called khas. The screens were moistened periodically with water, air passing through the screens was thus cooled, and carried also the fragrance of the grass into the palace-chambers.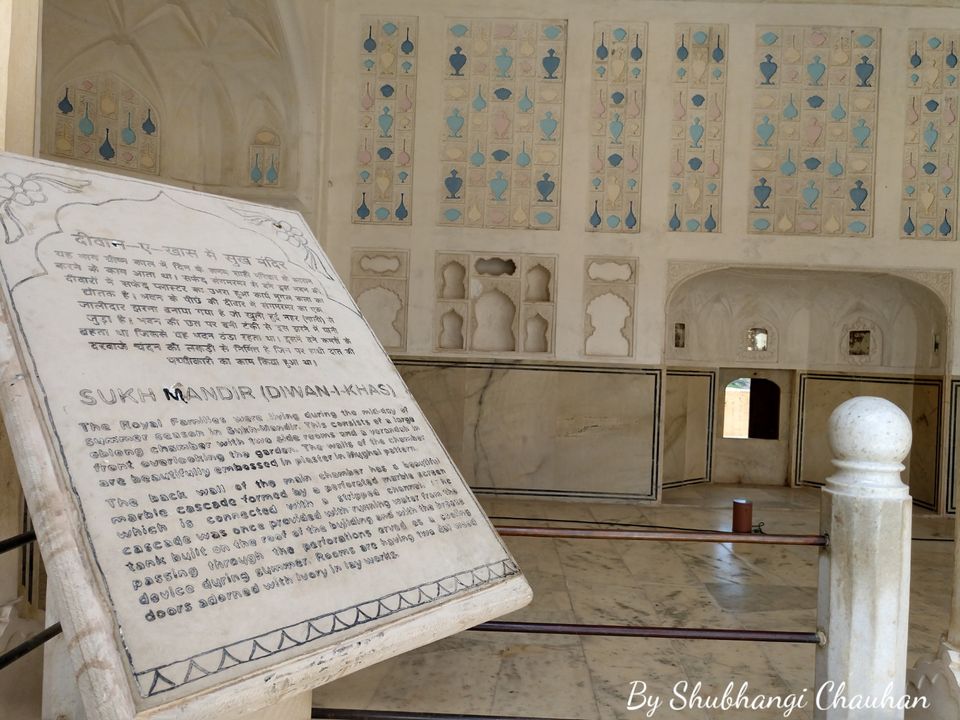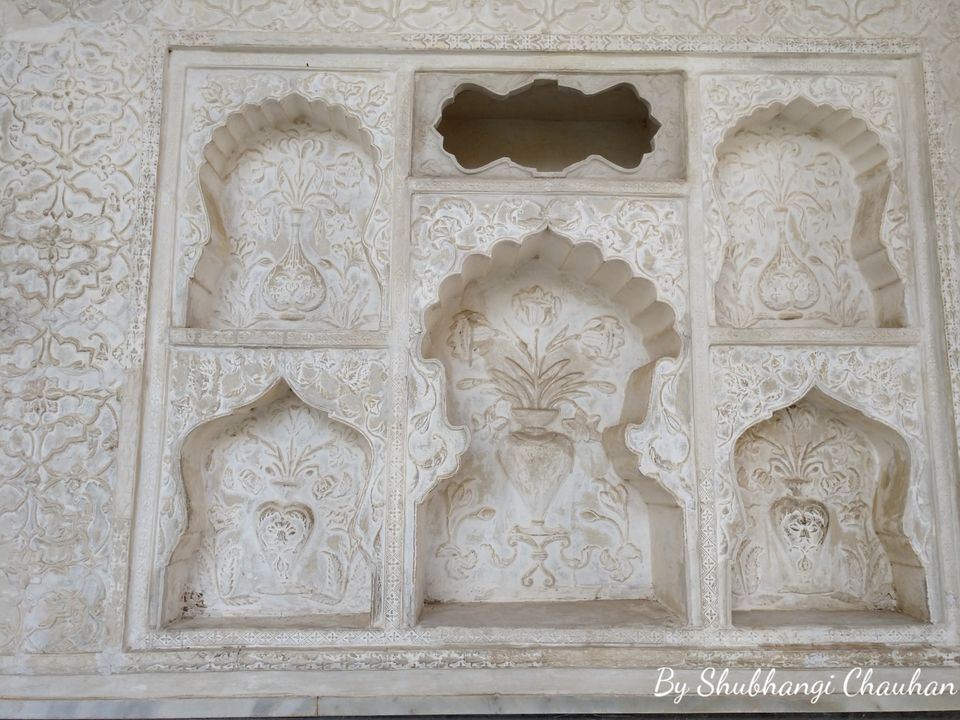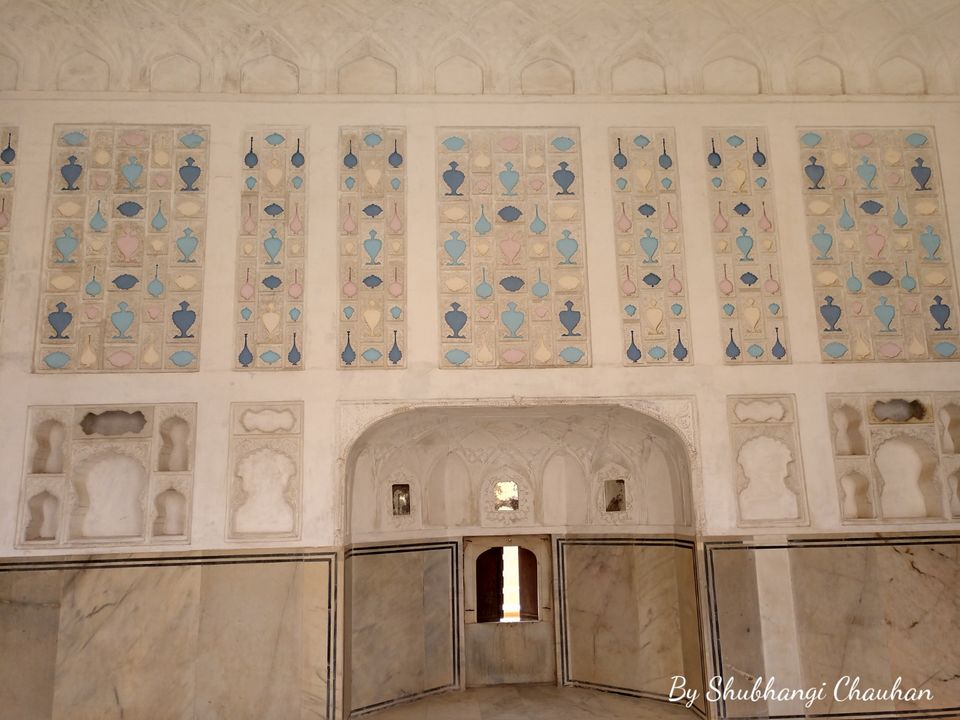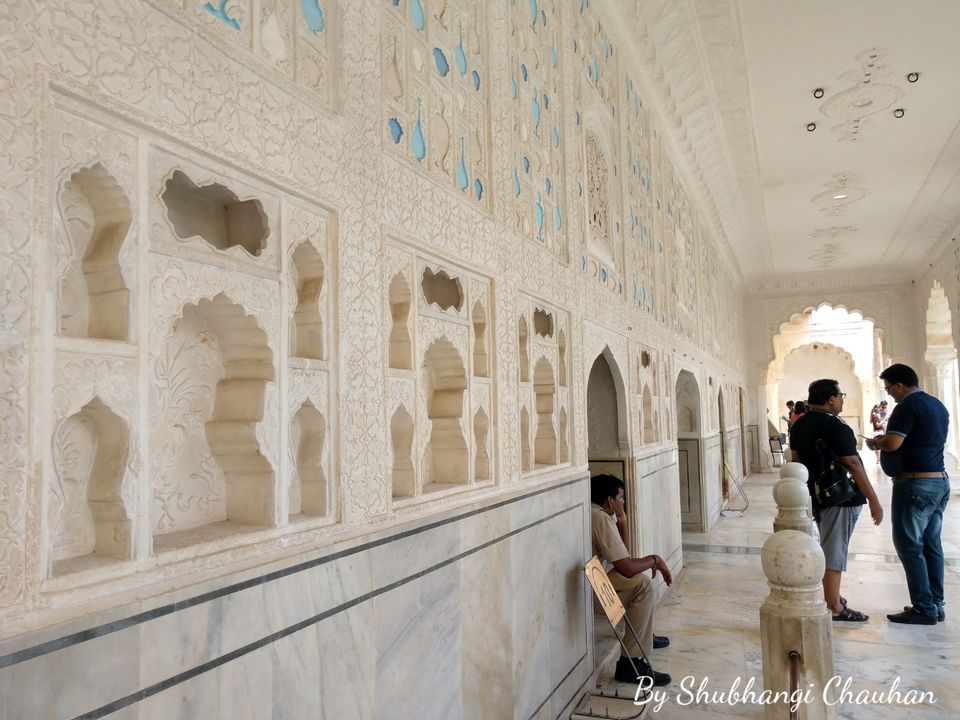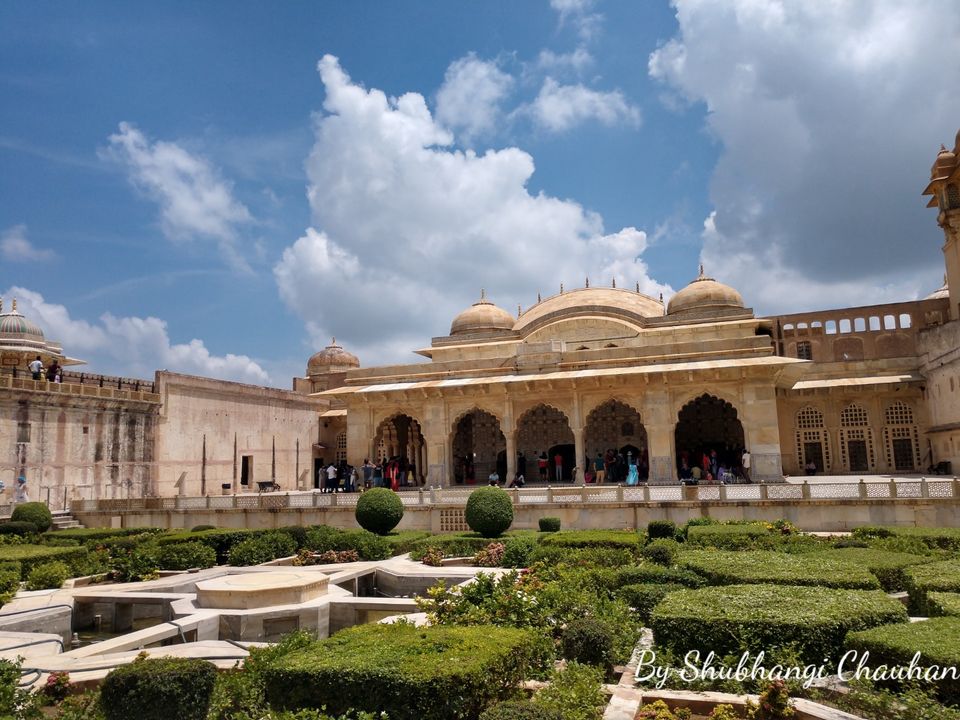 Others spots :
Amer fort is a very huge and complex structure with many tunnels inside. You have walk a lot inside to cover it completely. There are many narrow passages leading to different courtyards.
There is one such passage to reach Jaigarh fort from inside the amer fort. it used to be a secret tunnel. If you have time prefer to go to Jaigarh fort through this passage. It's a walk of 1 km and a small trek of 20 mins at the end of the tunnel to reach jaigarh.
If not this option, you can hire any auto or cab to jaigarh Fort.
I wanted to explore this secret passage so walked through it and reached Jaigarh in 45 mins.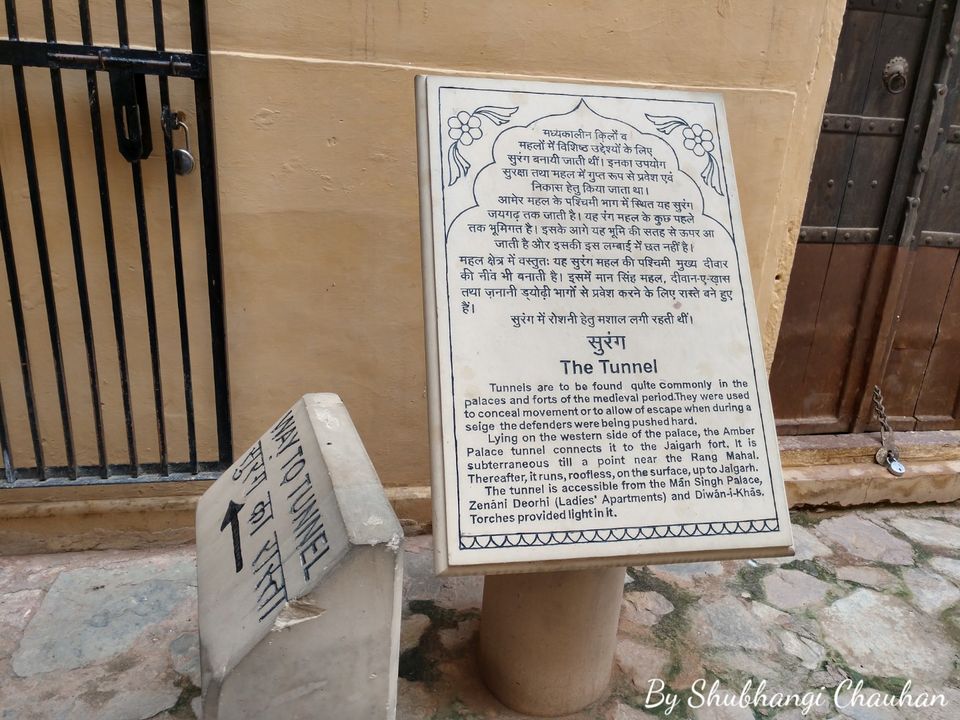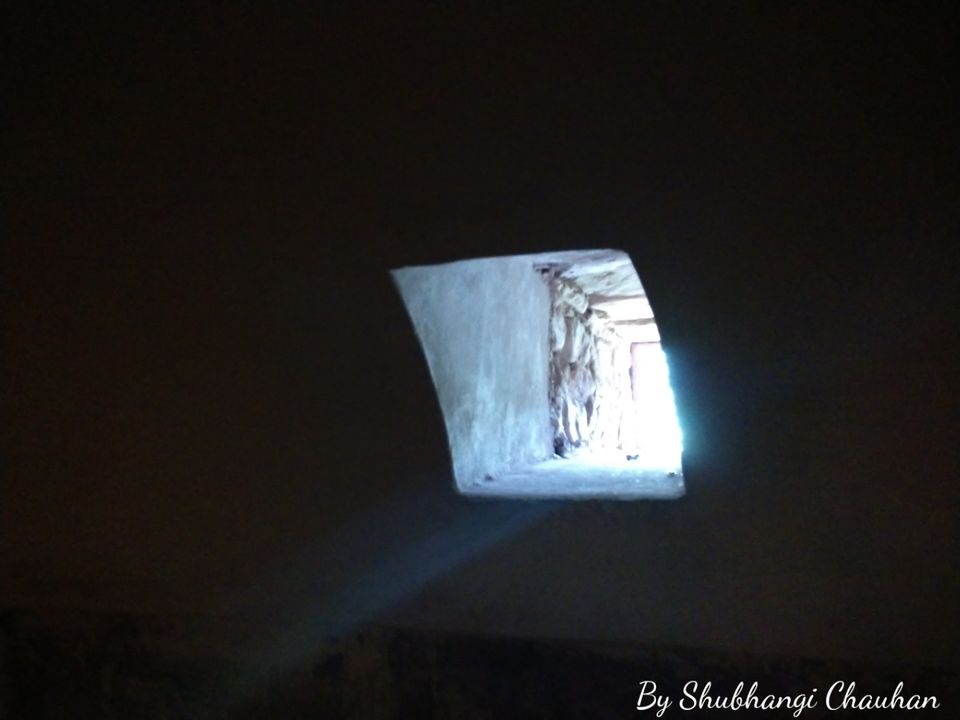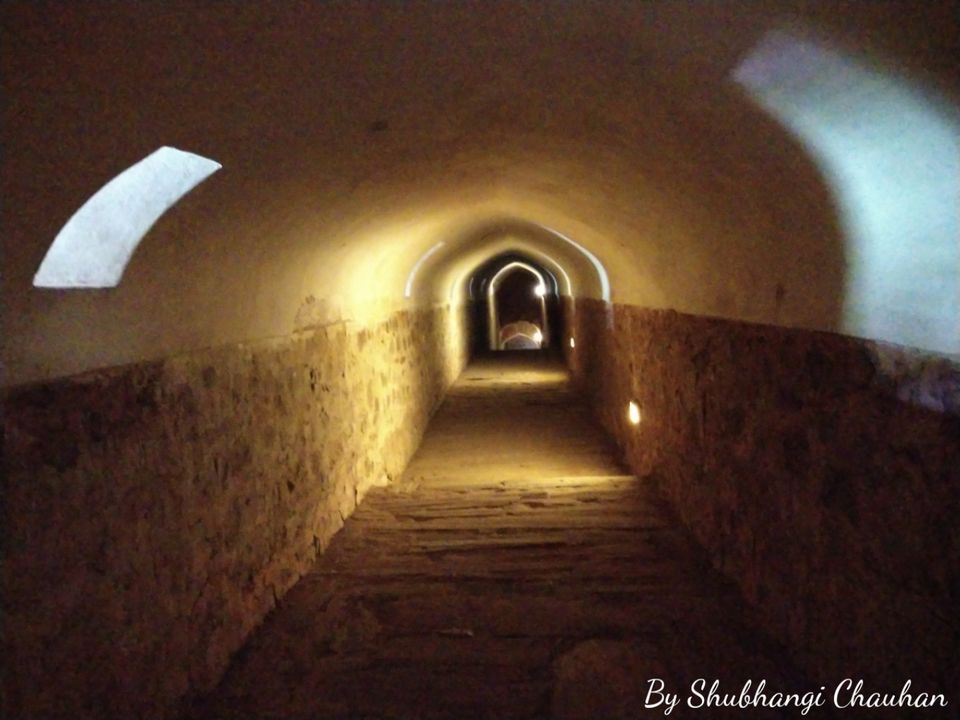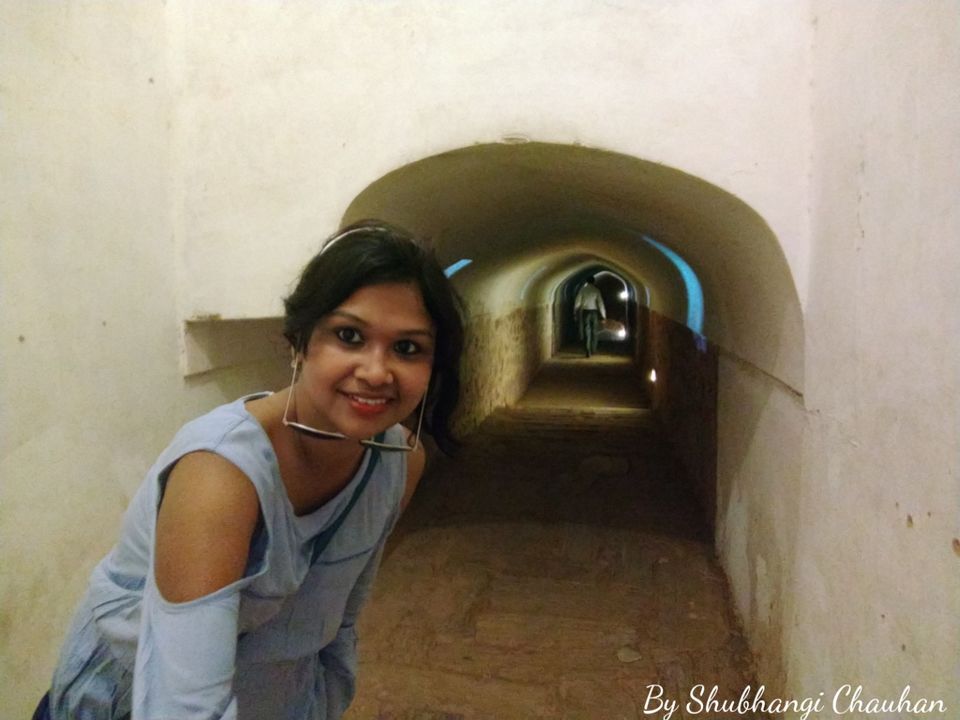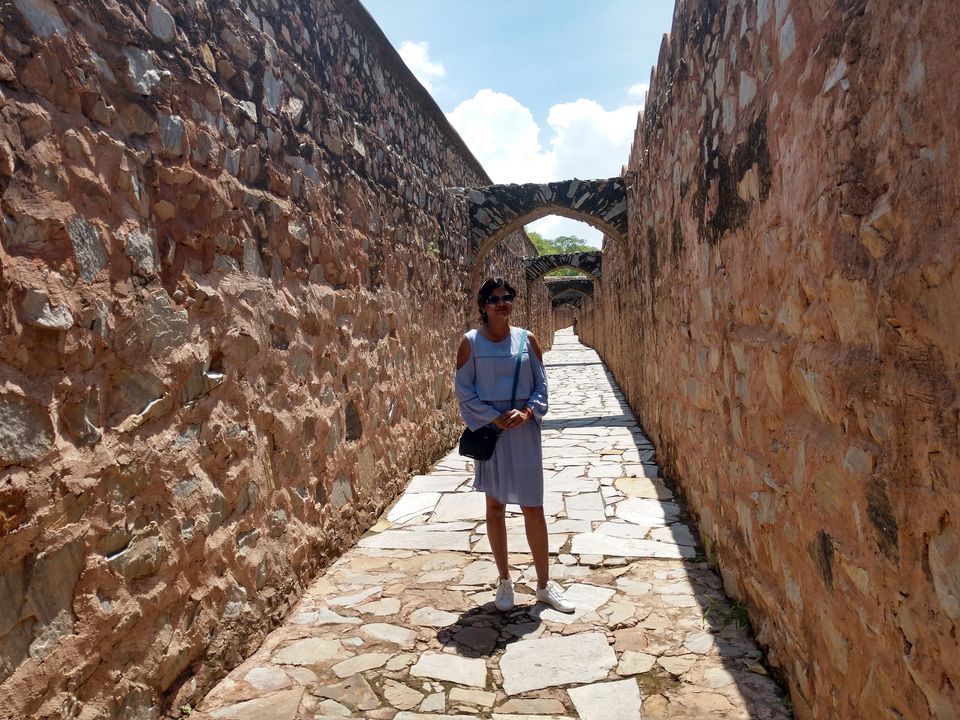 Jaigarh Fort :
Entry Fee: Foreigners – Rs 85/- and Indians – Rs 35/-.
Timings: 9.00 am to 4.30 pm.
How to reach: Through the old secret paasageways from Amer fort or auto / taxi.
About the fort:
• Also known as "Victory fort" and "Cheel ka Teela (Hill of Eagles).
• It was regarded as an elder brother to the Amber Palace, keeping a watch on the palace and protecting the city from its enemy.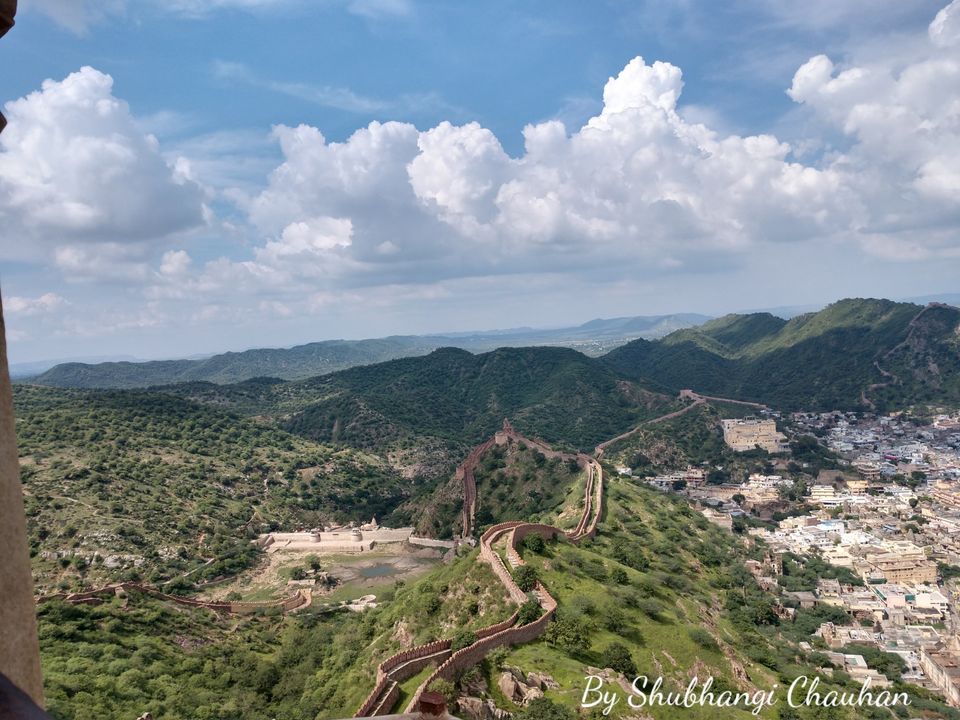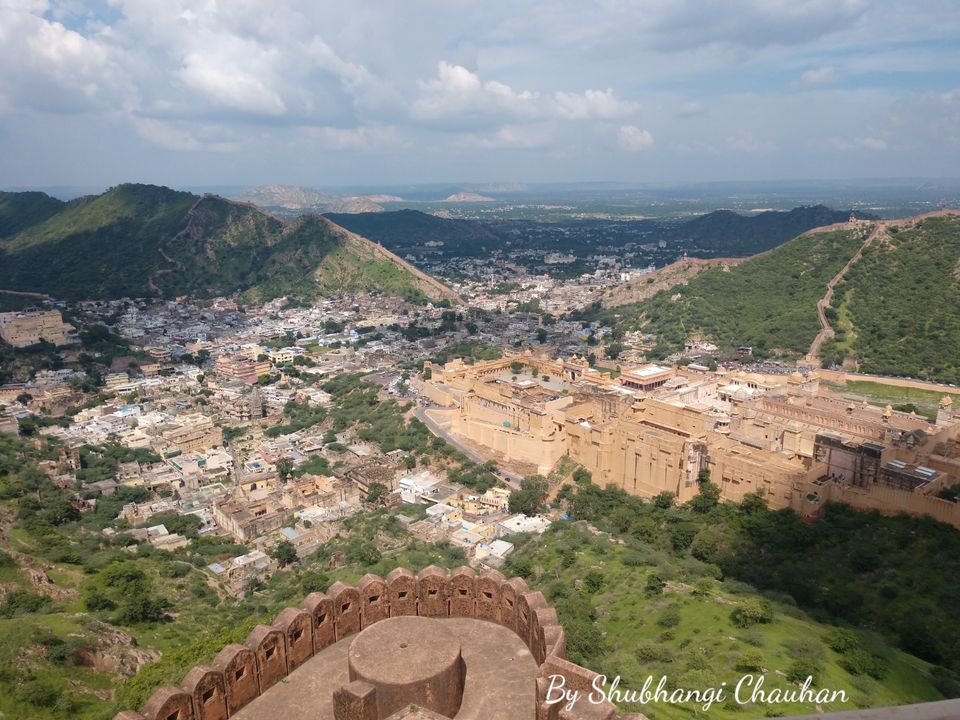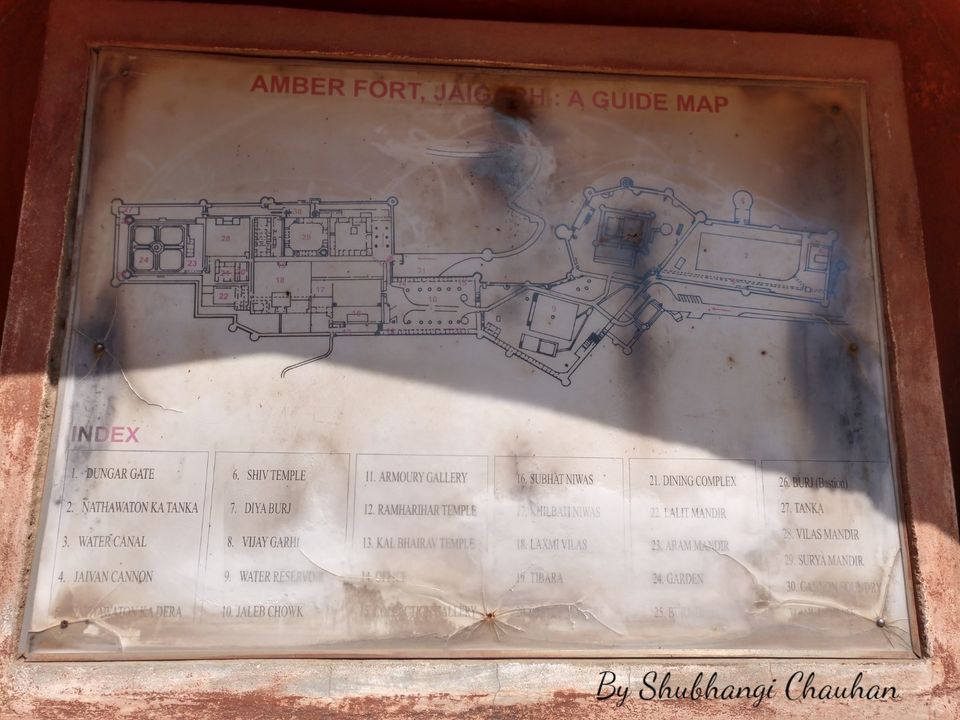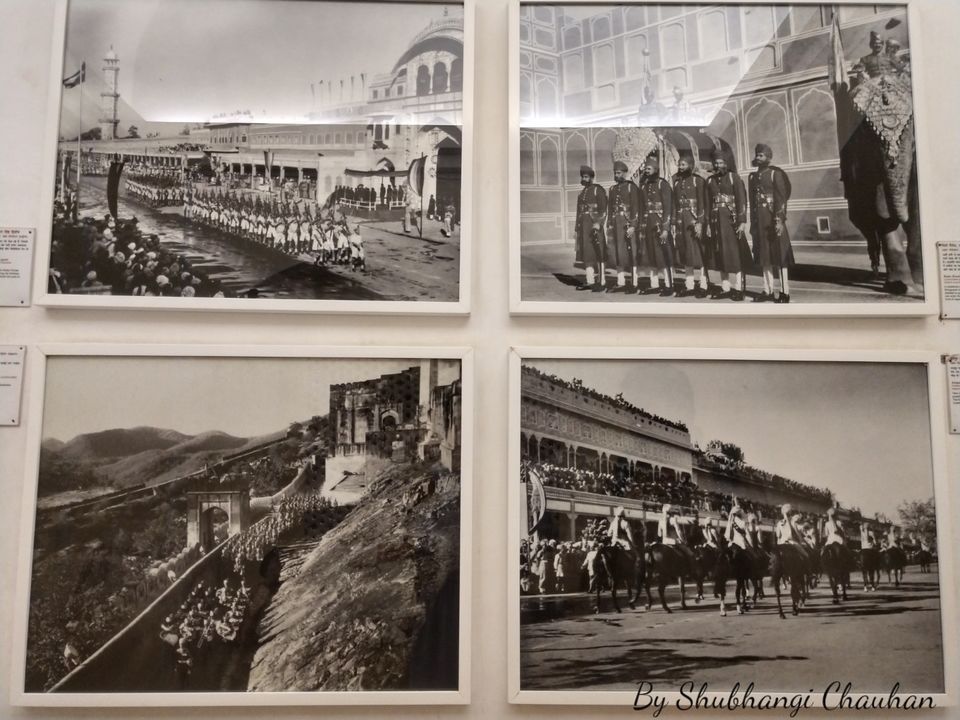 • This particular fort is constructed to store the weapons and other military utilities. During the rule of Rajputs and Mughals the desert state was a major center of artillery production.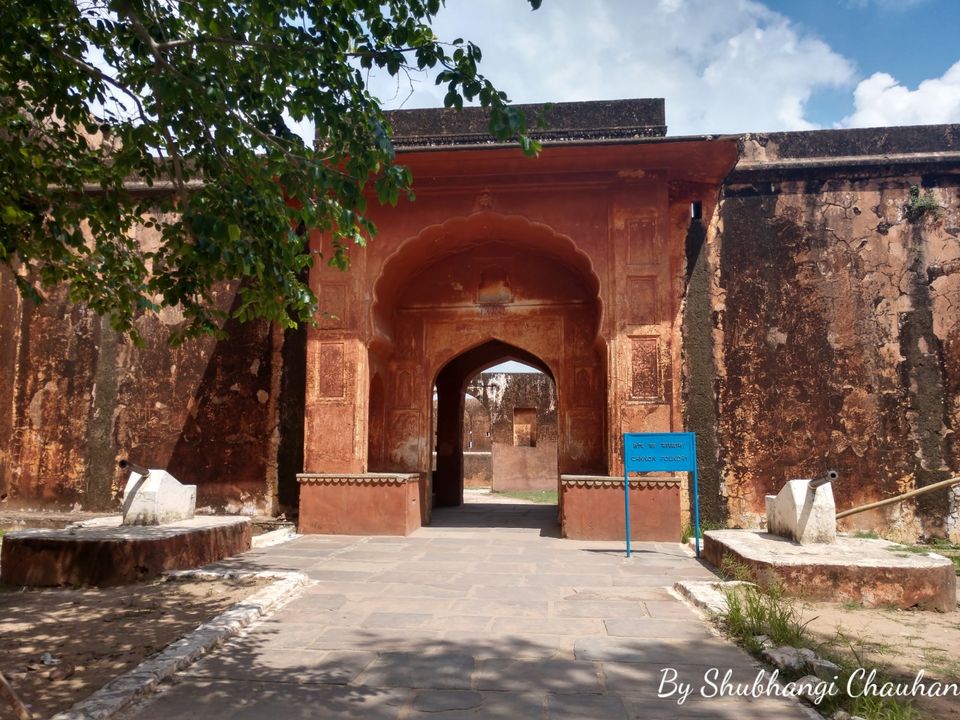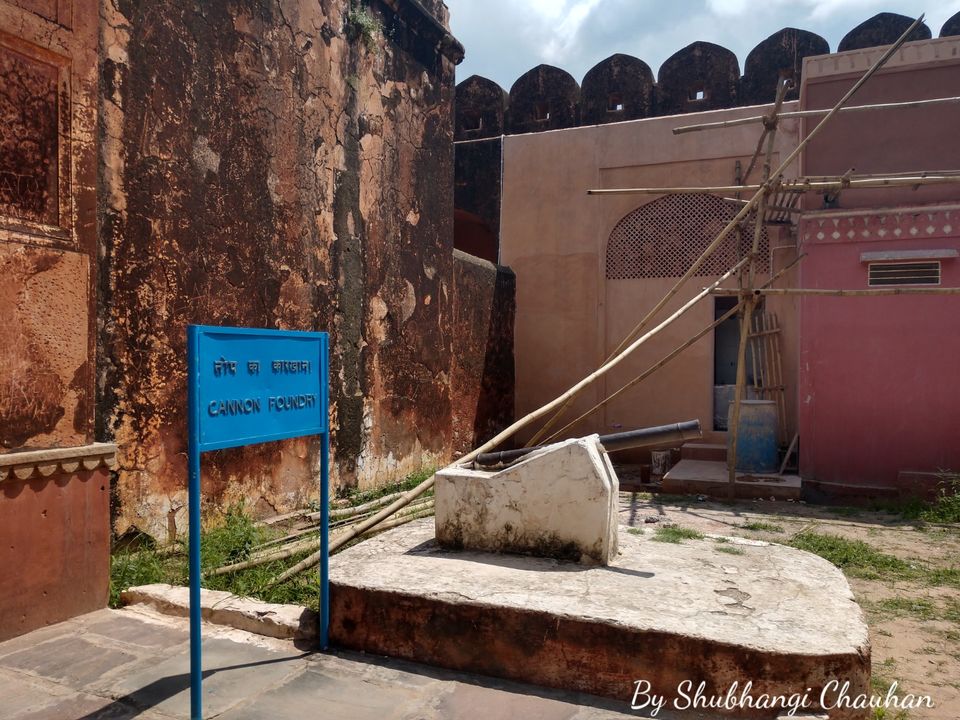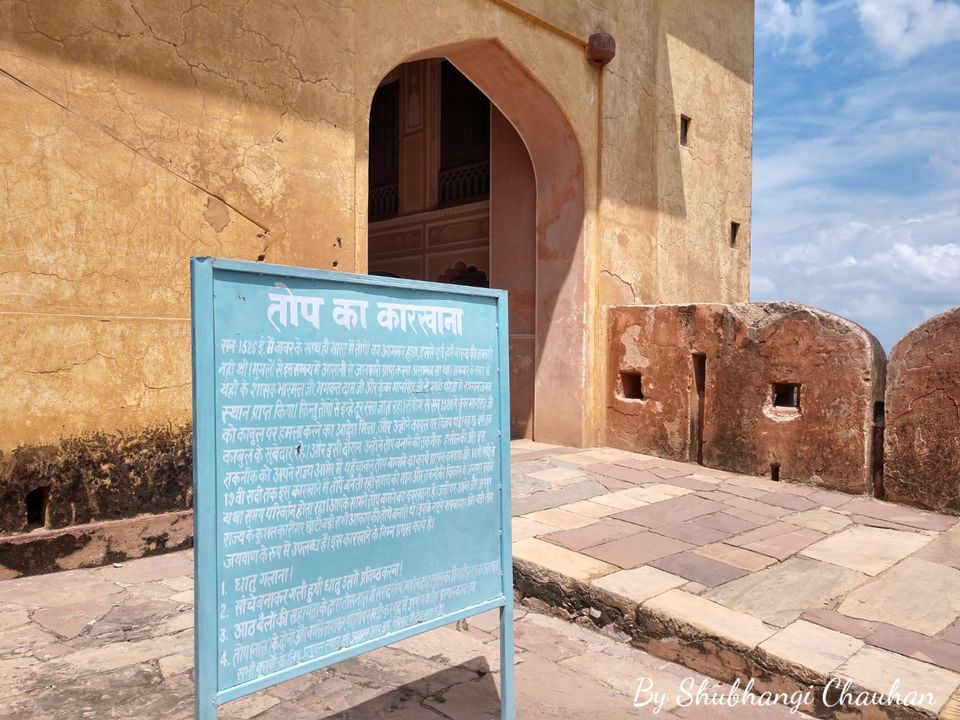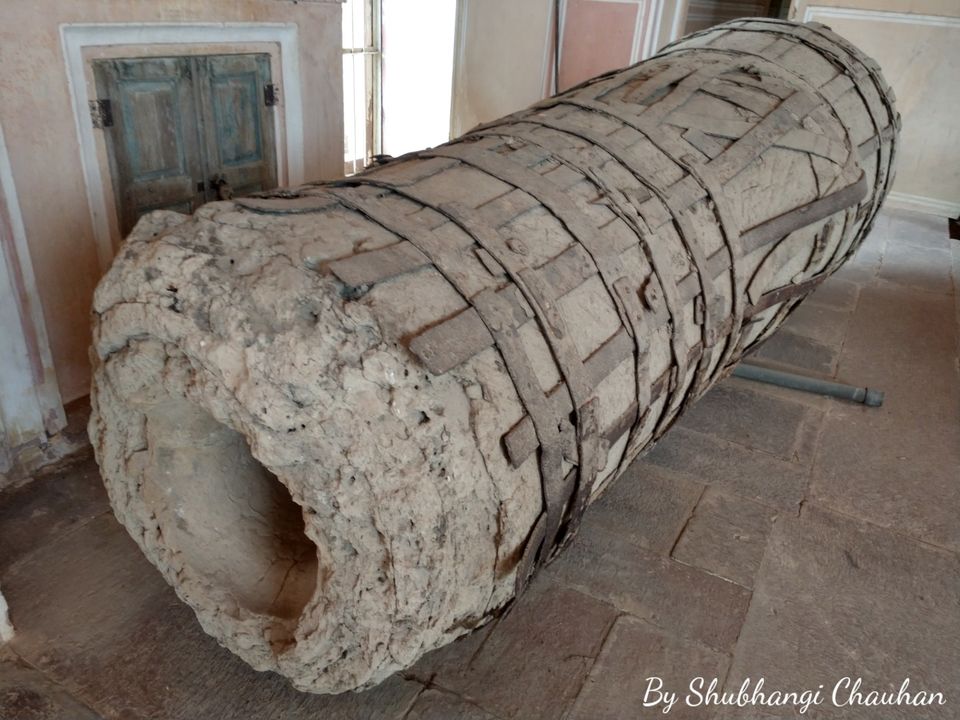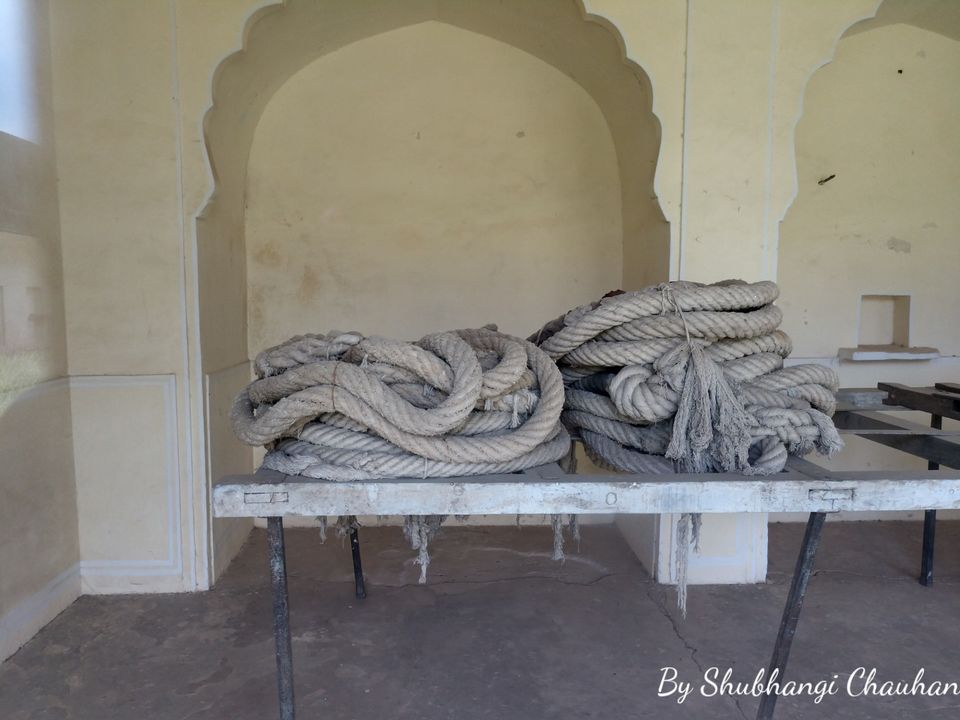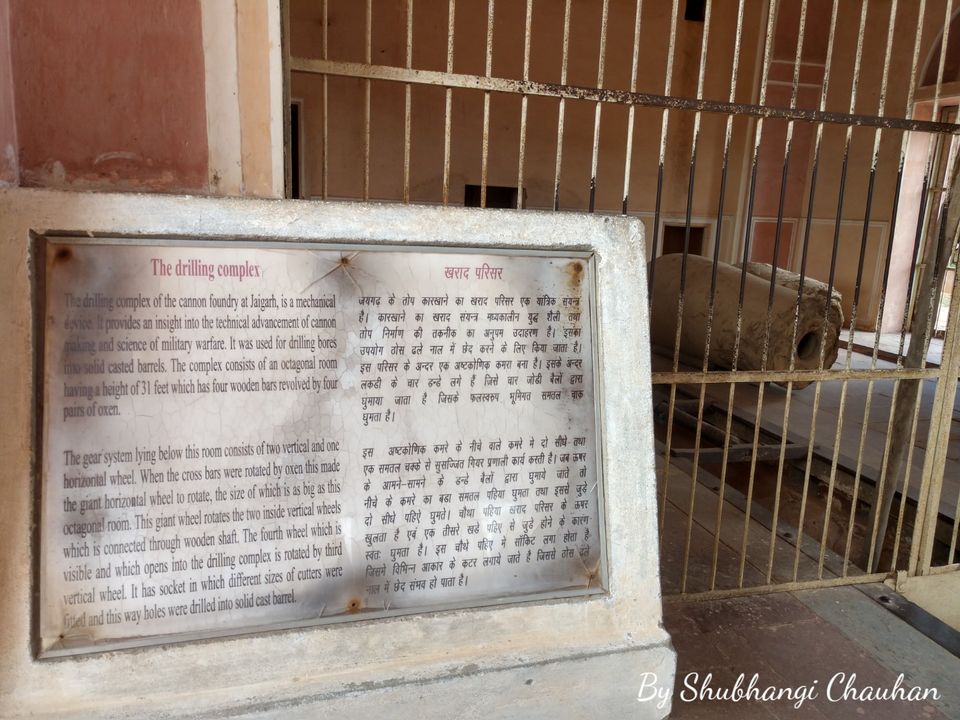 • This fort is home to the largest canon of the world called Bajrang Baan. During wars it used to take 32 oxen to pull the cart of this heavy canon.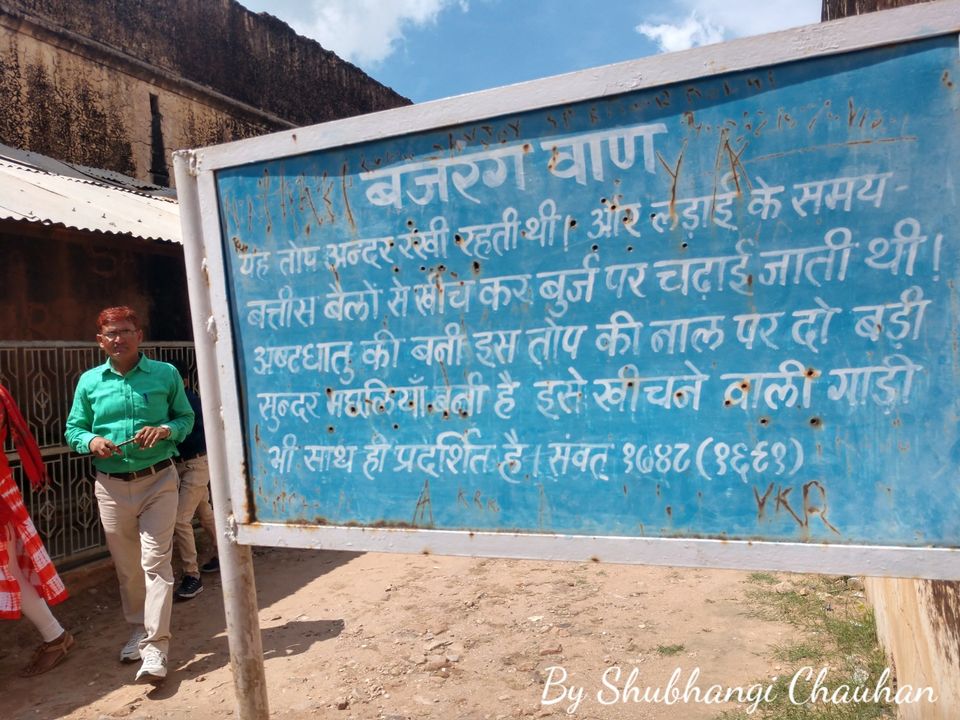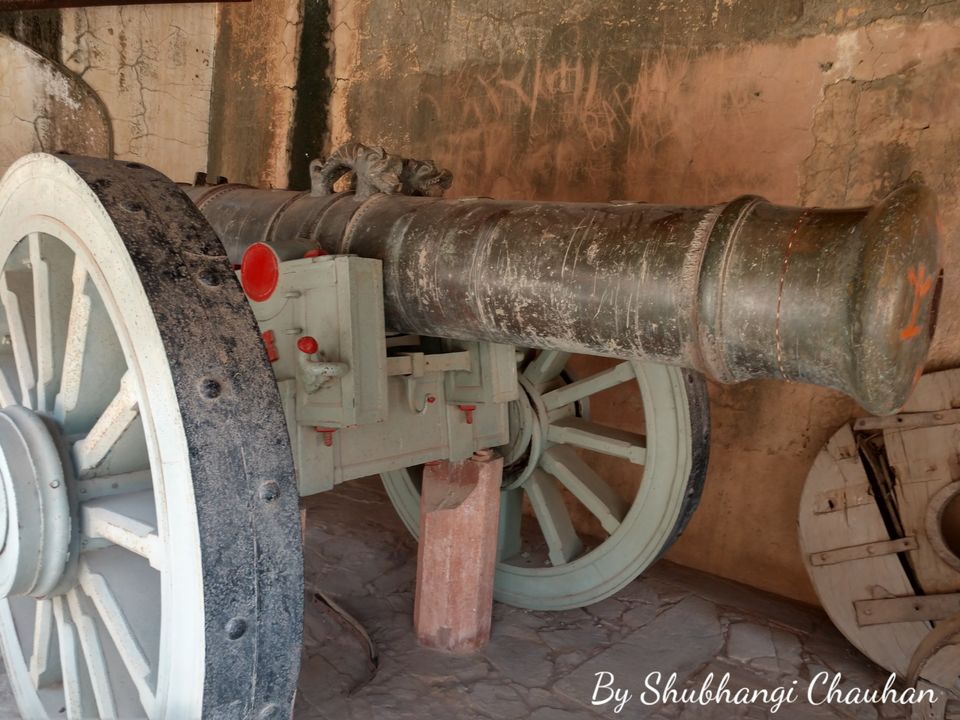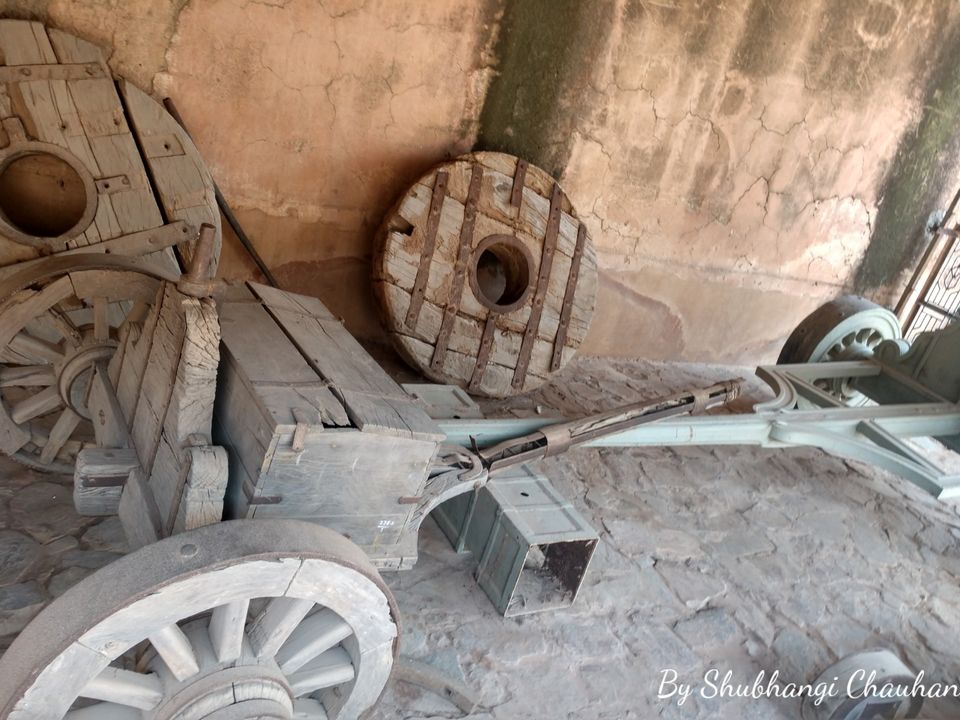 • Top of the fort gives a picturesque view of the aravalli hills and city.
• It takes around an hour to cover this site.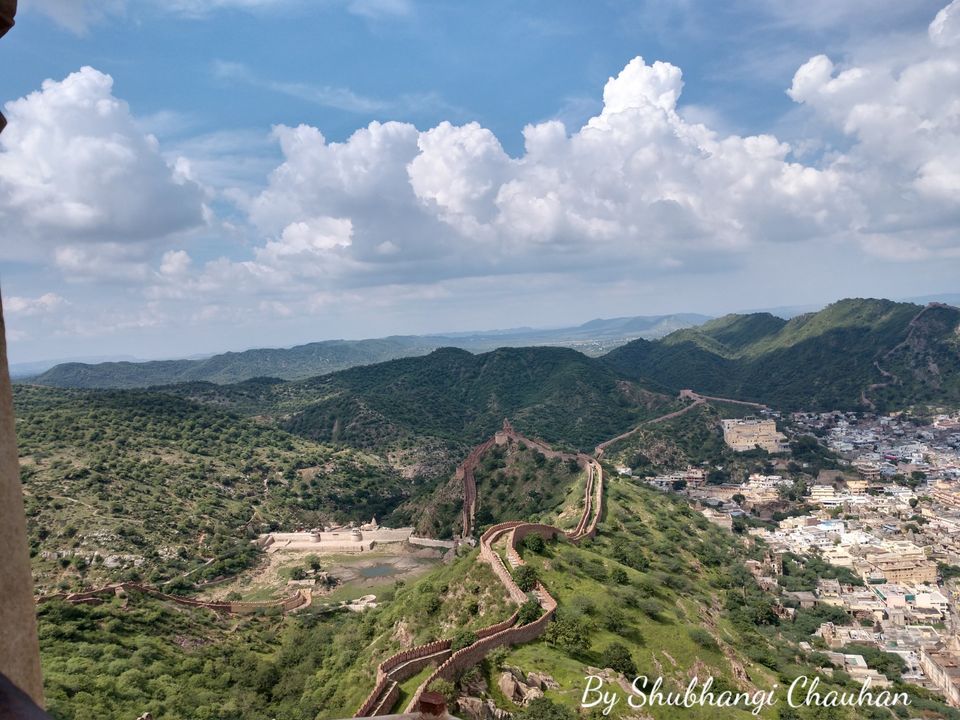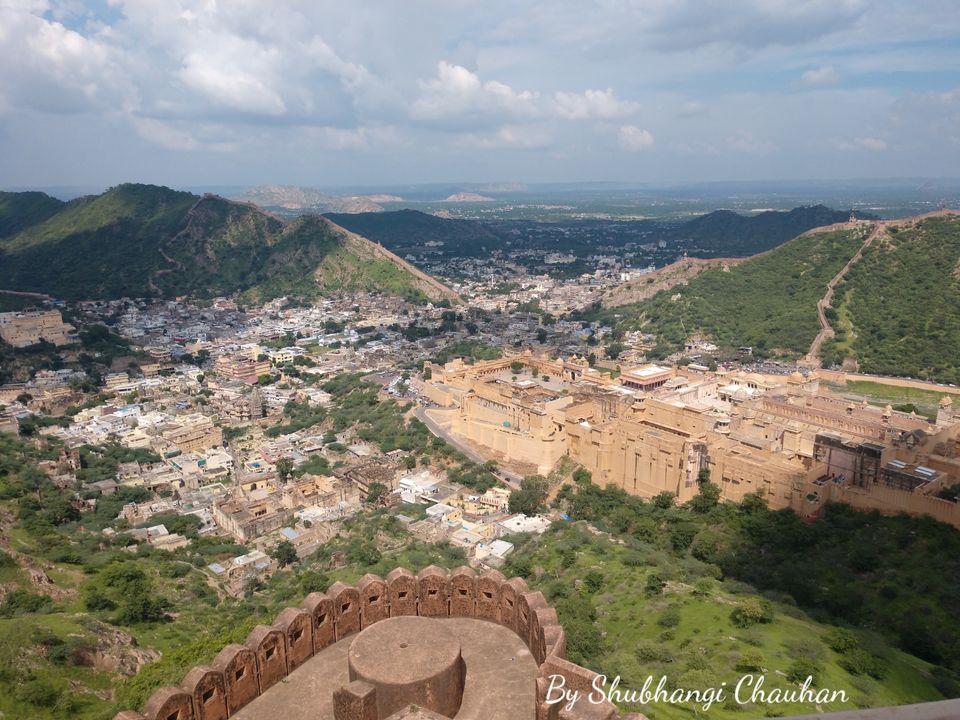 Nahargarh Fort:
Entry Fee: Rs 200/- for foreigners and Rs 50 for Indians
Timings: 10.00am to 5.30pm.
How to reach: Located at 6 km. from Jaigarh Fort. Shared autos (capacity of 6) charge Rs 100/- Per person. Private auto charge upto Rs 300/-
About the fort:
Nahargarh is located along the Aravalli hills overlooking a beautiful lake. There is a food court and a restaurant at the top of the fort with an excellent view, Padao. The fort now also is home to the Jaipur wax museum and glass palace.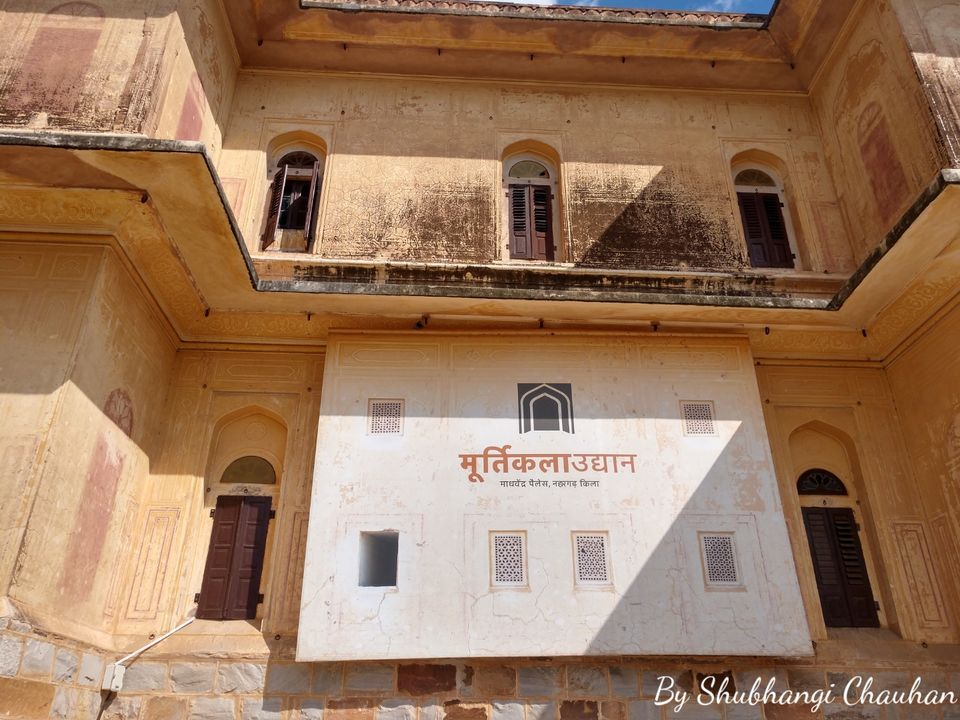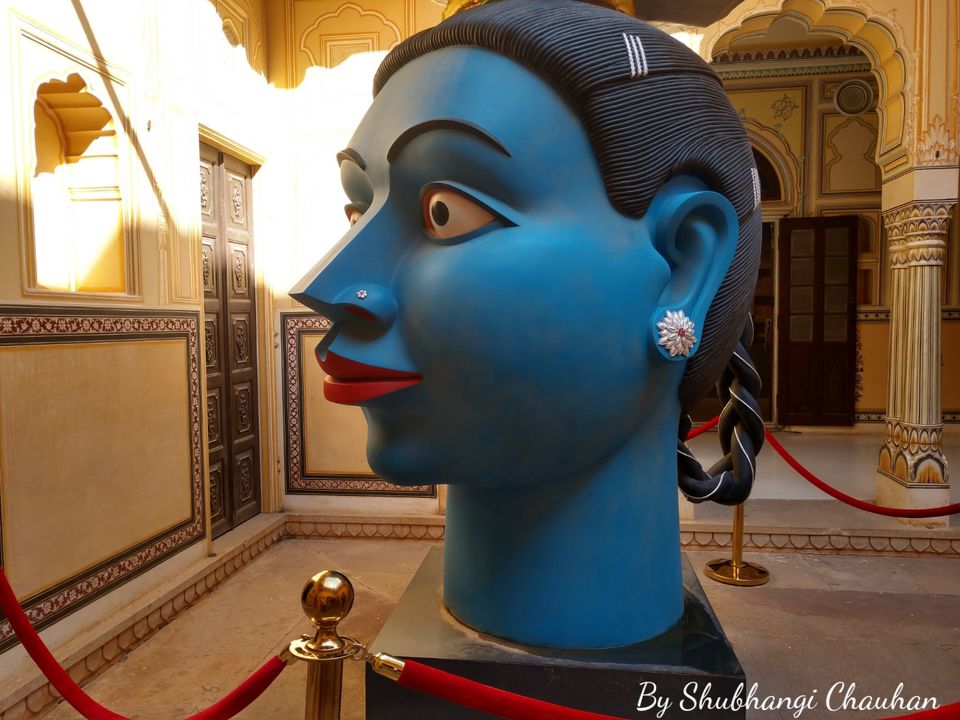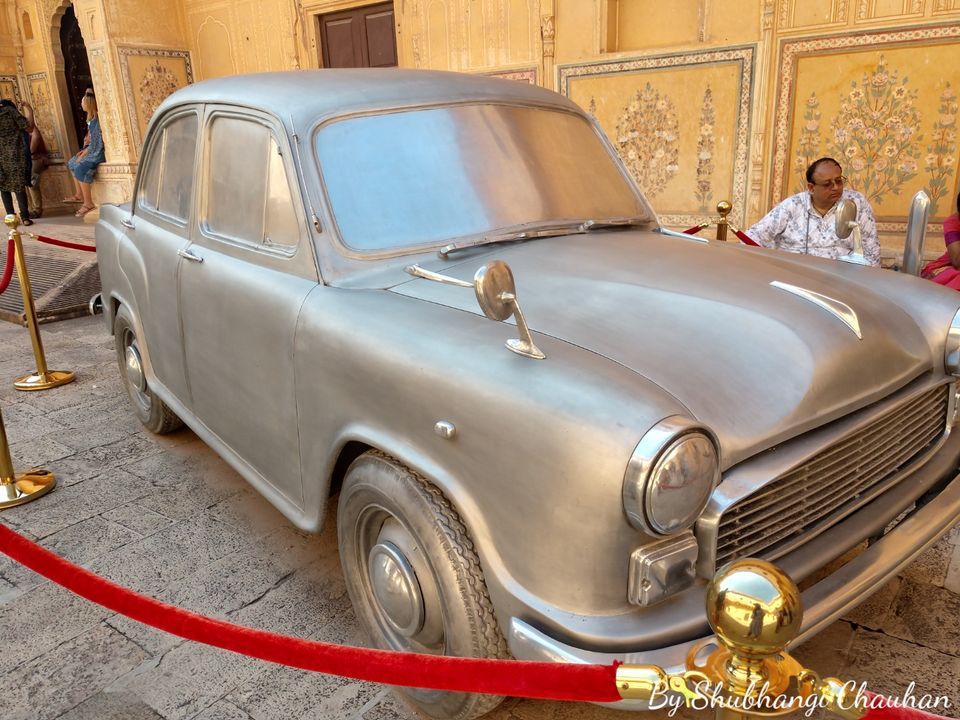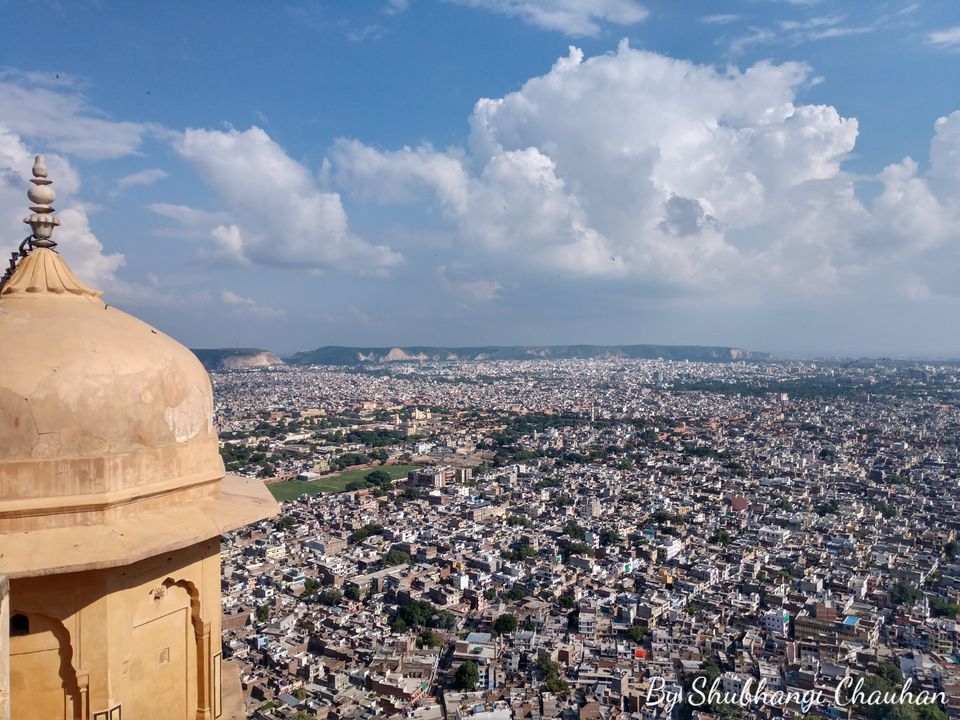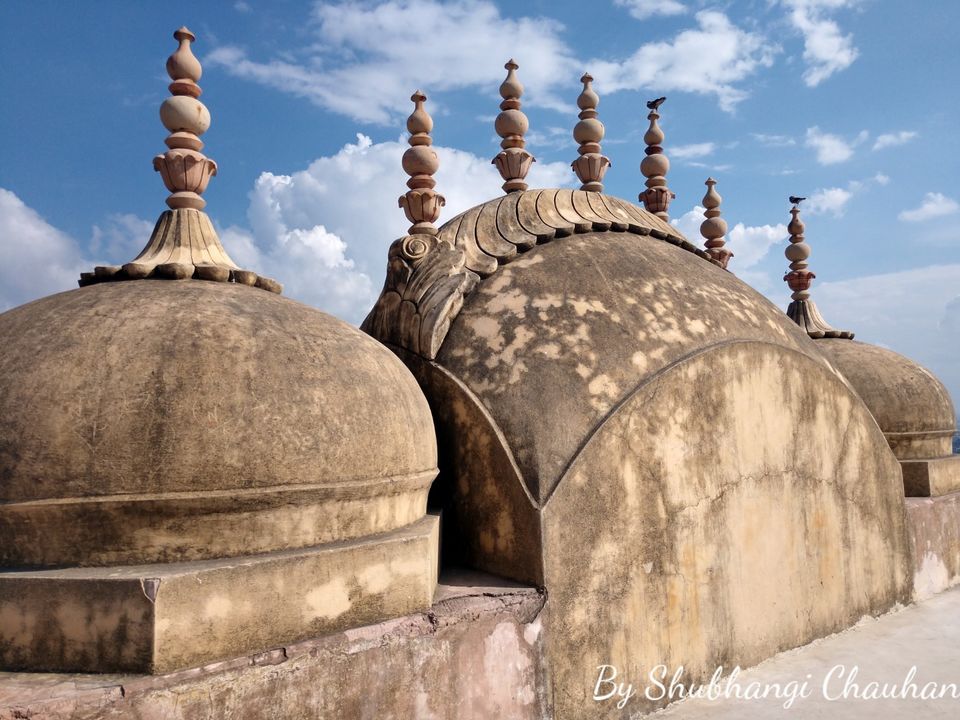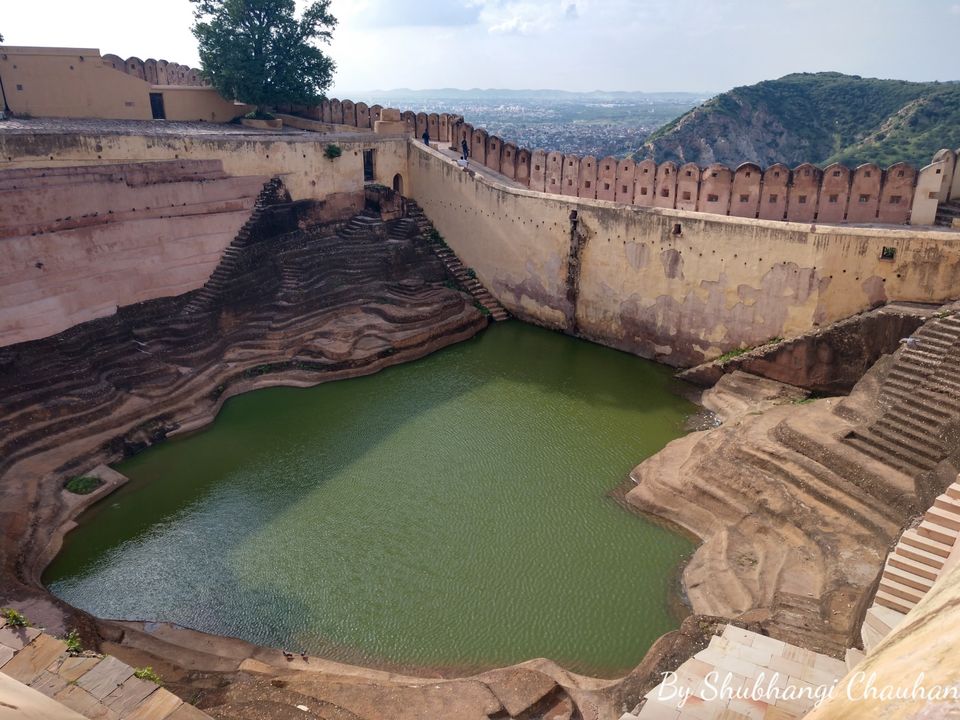 I spent around an hour there and left to visit Hawa Mahal.
Hawa Mahal:
Entry Fee: Rs 200/- for foreigners and 50/- for Indians.
Timings: 9.00am to 4.30pm
How to reach: Its located at the centre of the city. You can easily reach.Other spots like city Palace and Jantar Mantar are also in the same area.
About the Palace:
This five story building has 152 windows . Back in those times, from behind the dark shadowed windows of Hawa Mahal, high above the streets, the women could observe the city below without being observed themselves.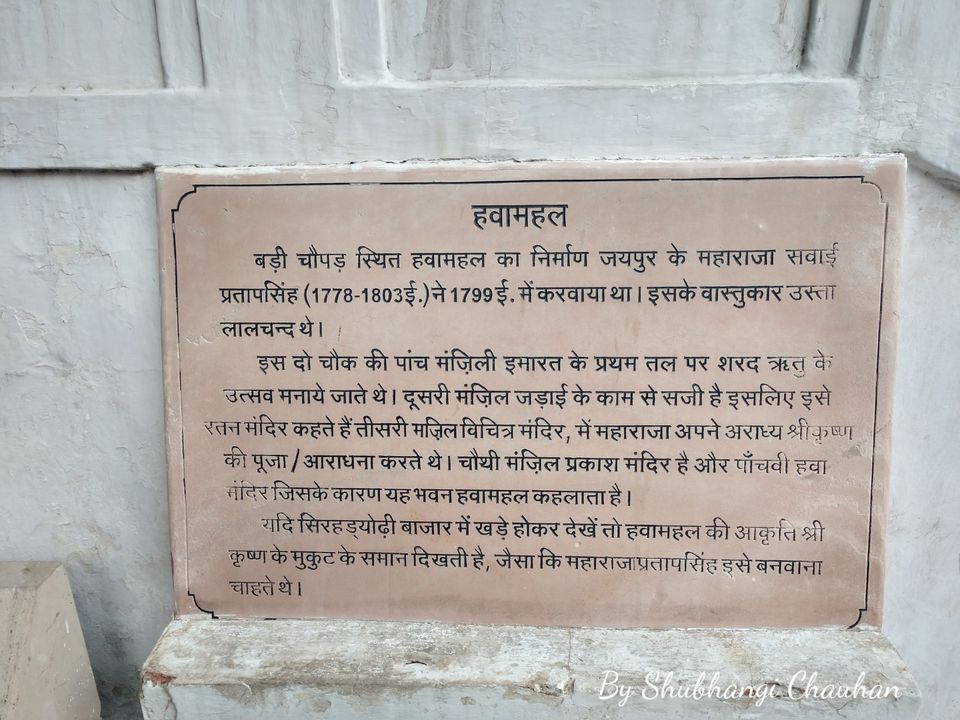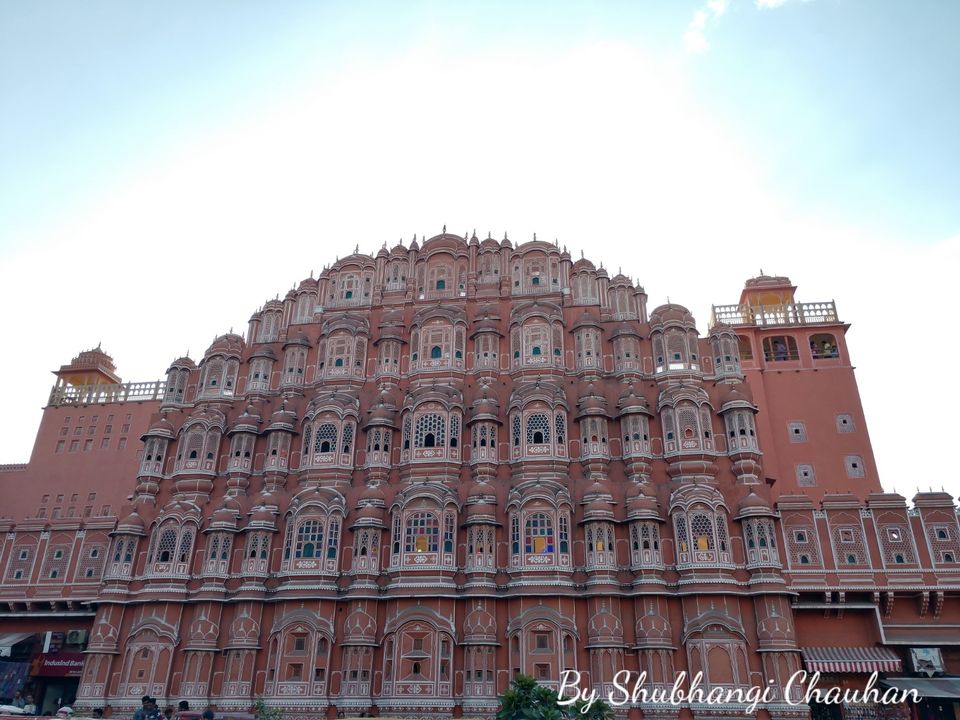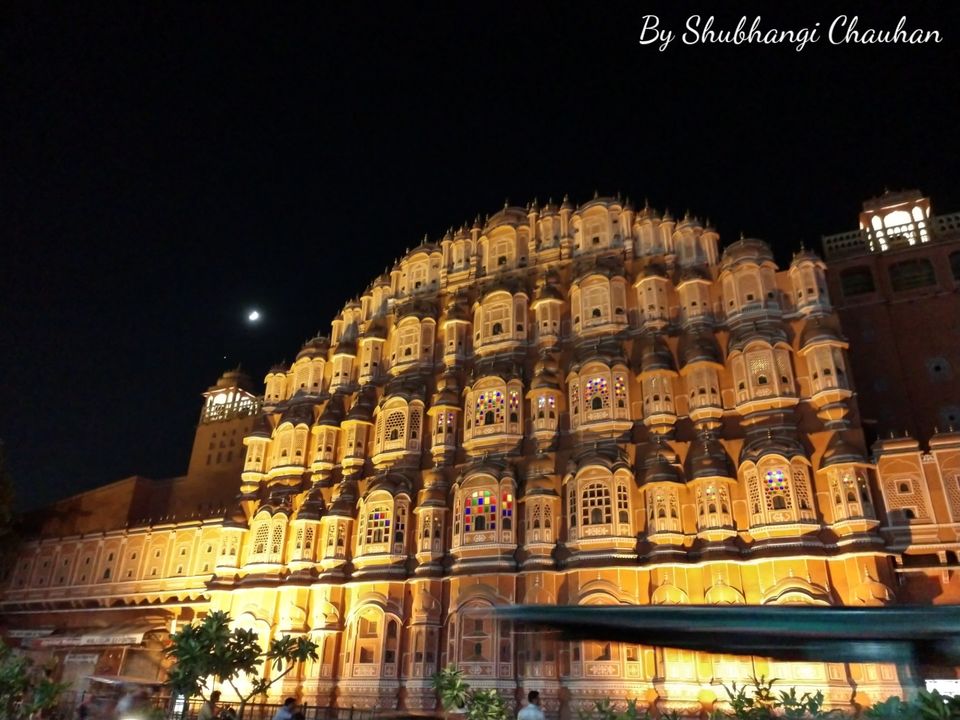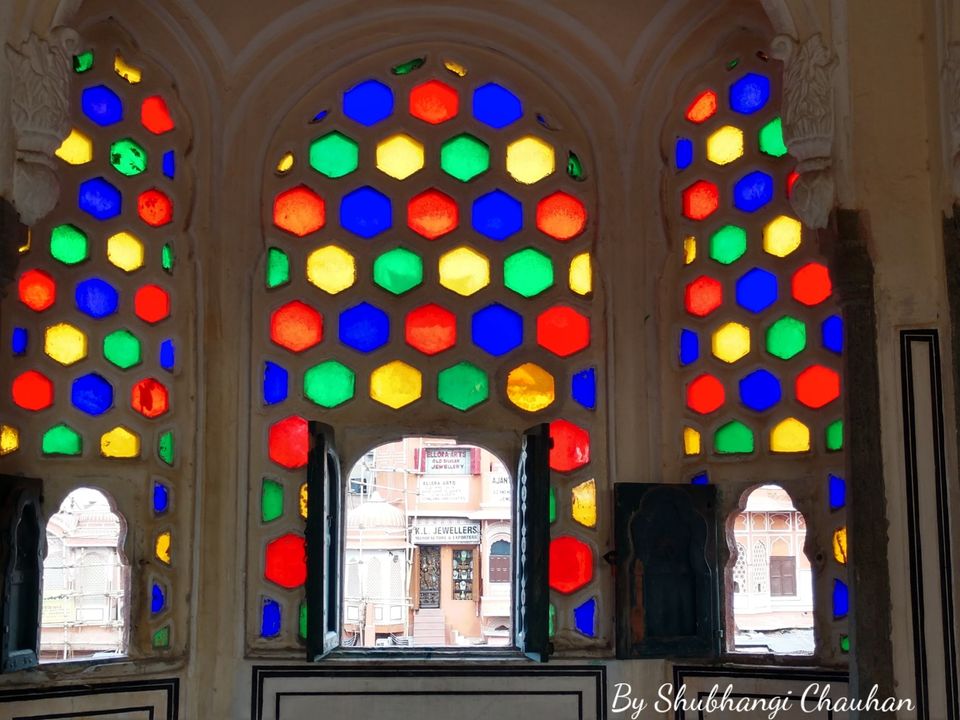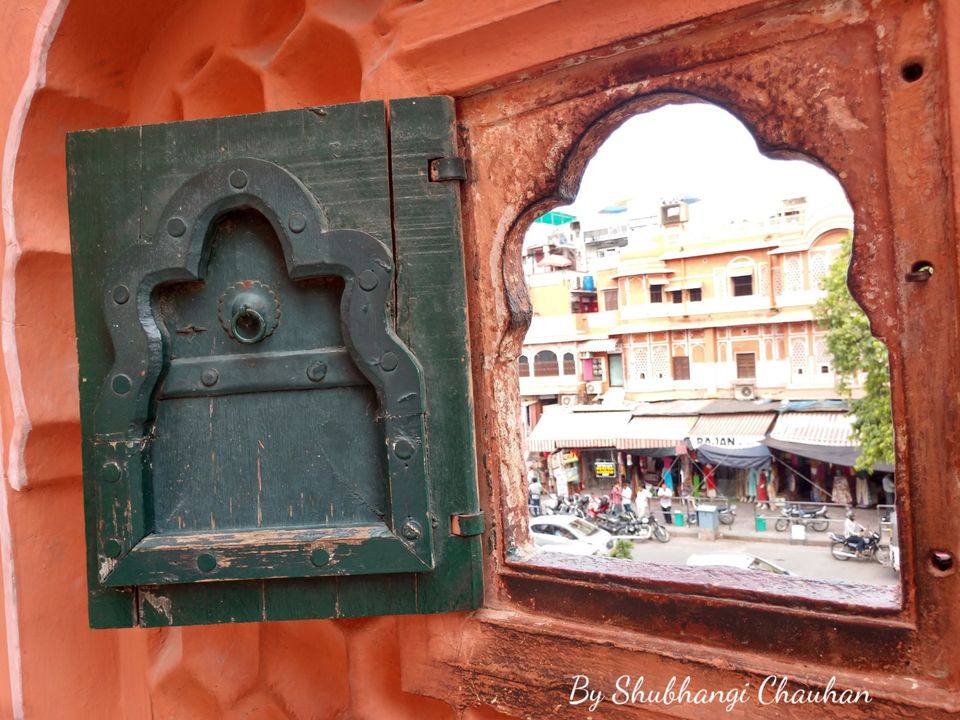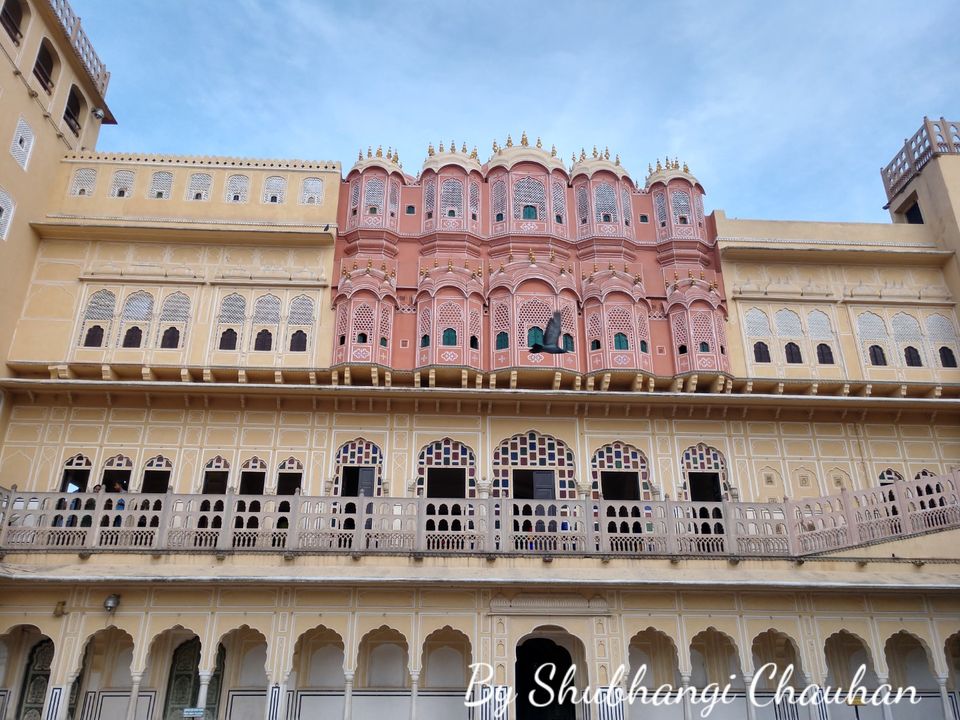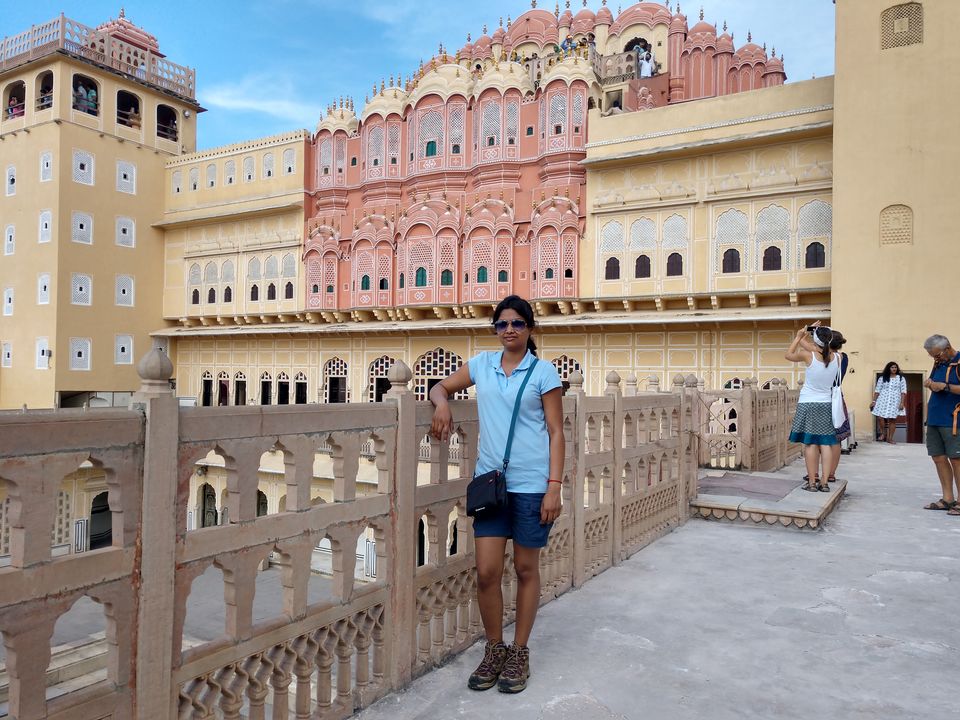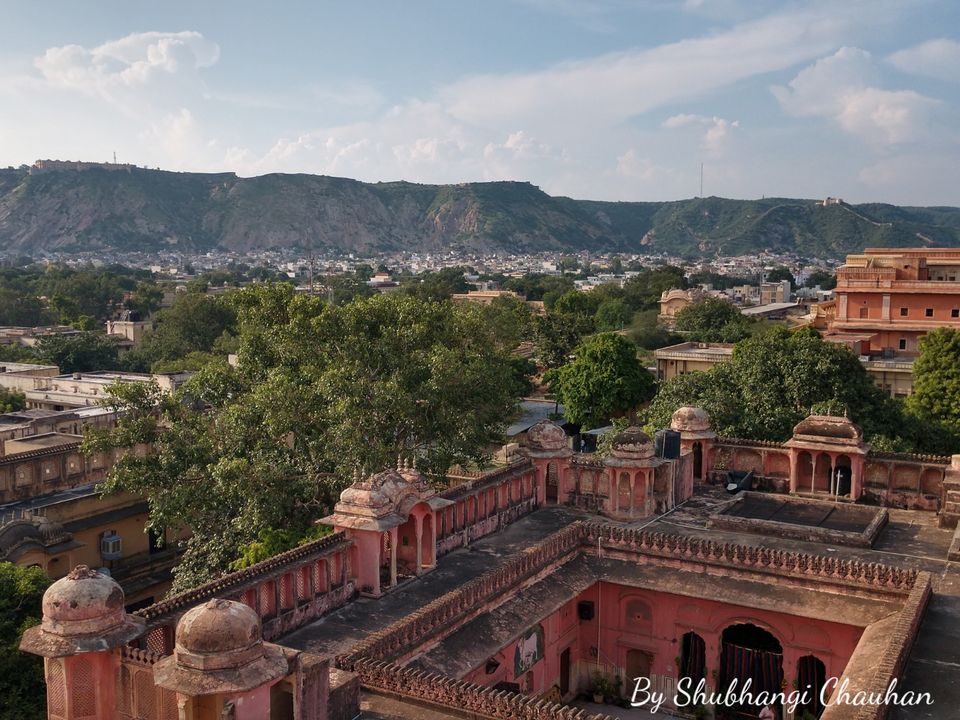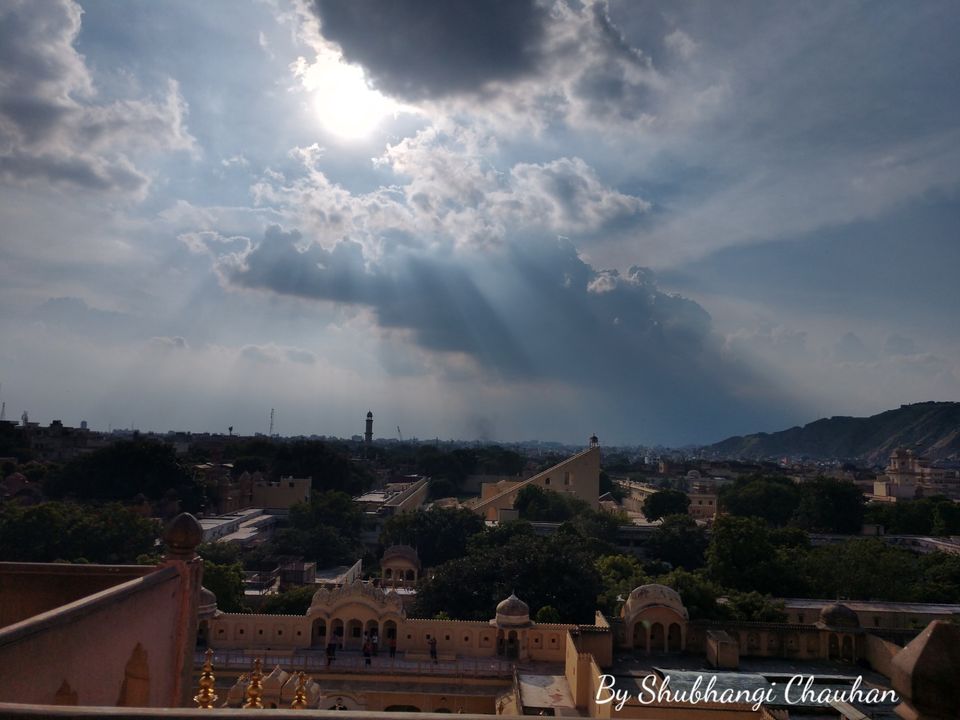 It's beautiful inside and takes around 40 mins to explore this palace.
Do not forget to get the perfect picture of the exterior of this magnificent construction. For this you must visit "Wind View Café" located just in front of this palace on 2nd floor. It's a very small but air conditioned café. It also has a small open area. You get a beautiful view of the city, Amer and Jaigarh forts from this café.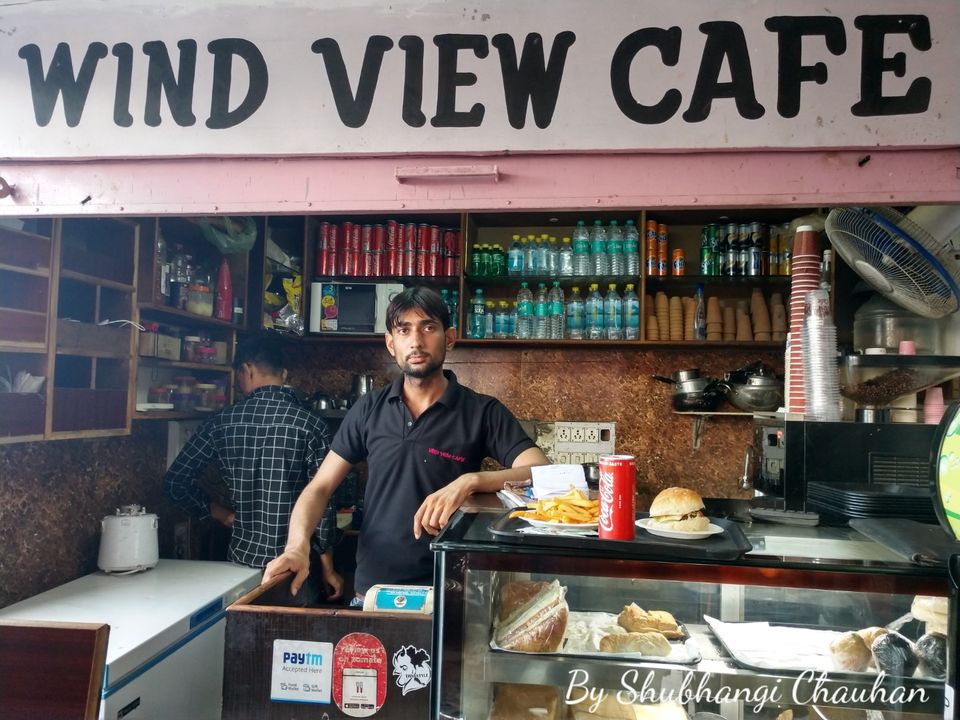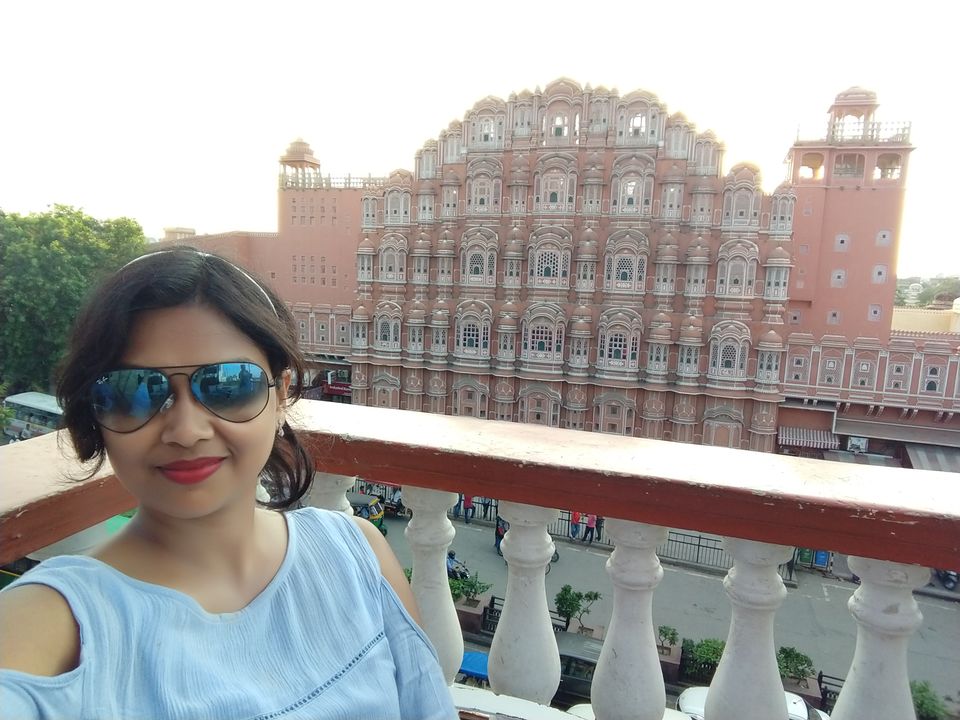 After having tea in this cafe I went to the market to enjoy some rajashthani food and shopping.
Day 2.
I visited Bhangad and came returned to Jaipur by 12.00pm. I will share my experience of that trip in my other blog.
The next stop was city Palace:
City Palace:
Entry Fee: Rs. 500/- for Foreigners and Rs. 190/- for Indians
Visiting Time: 9:00 AM - 5:00 PM
How to reach : located behind Hawa Mahal. You can get conveyance easily.
About City Palace:
The city is divided into nine blocks and the royal palace is situated at the centre of the city. The capital was shifted from Amer to Jaipur in the 1700s.
It has a sequence of gardens, buildings and courtyards, temple and museum to give it a grand view that reflects its historical importance and magnificent royal grace. Its outer boundary was built by Raja Jai Singh and other structures by his successors to add charm to it. It also served as a residence for former Maharaja of Jaipur.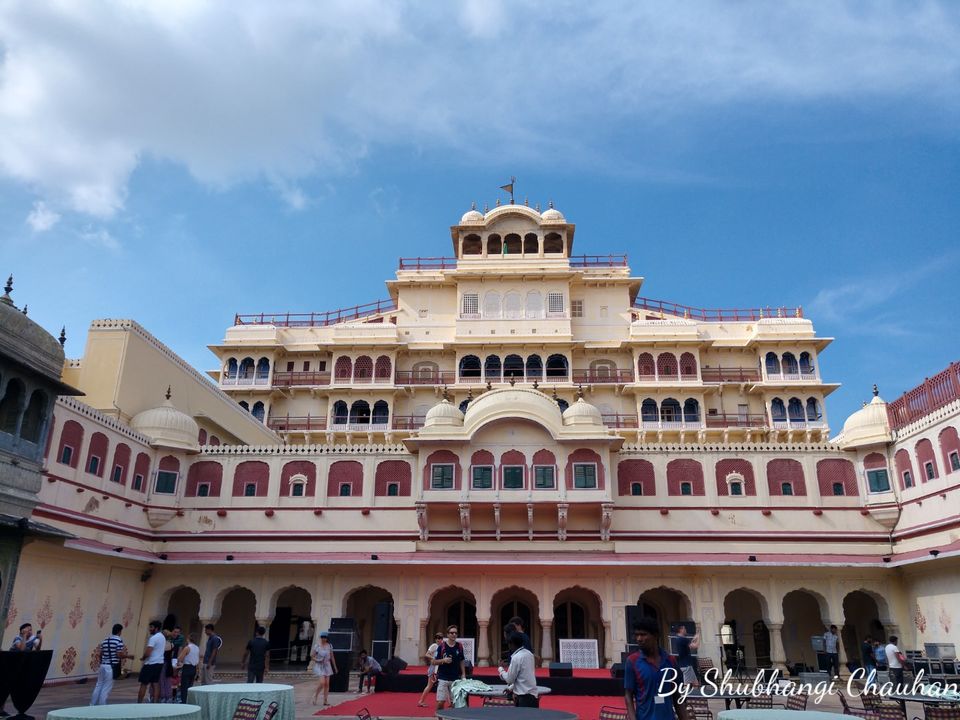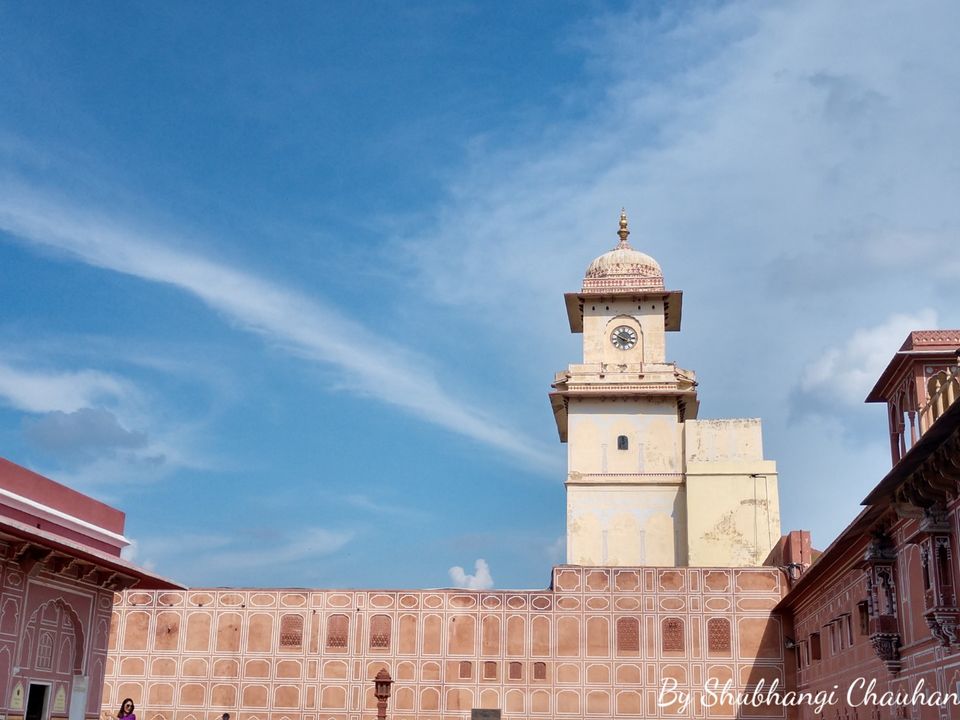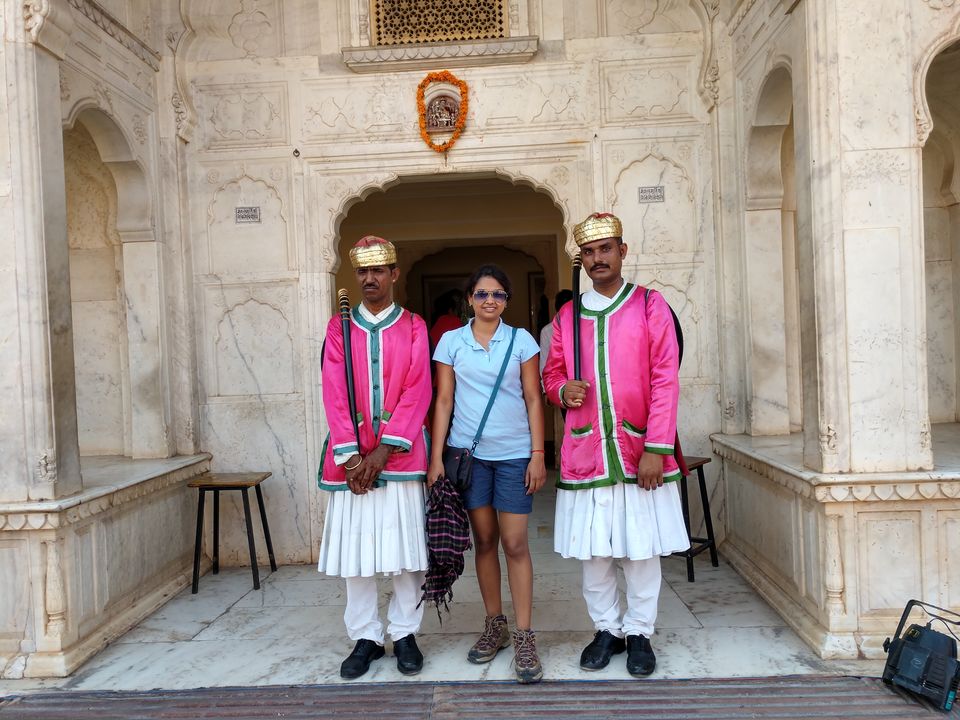 Jantar Mantar:
Entry Fee: Rs 200/- for foreigners and Rs 50/- for Indians.
Visiting Time : 9.00 am to 5.00pm
About the place:
The Jantar Mantar, in Jaipur, is an astronomical observation site built in the early 18th century. It includes a set of some 20 main fixed instruments.
Designed for the observation of astronomical positions with the naked eye, they embody several architectural and instrumental innovations.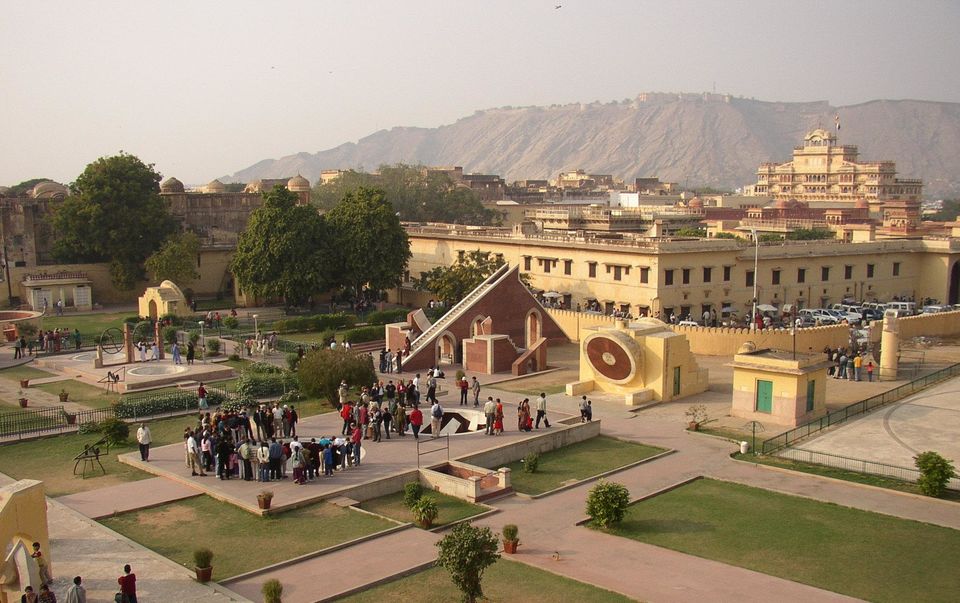 It was covered in 30 minutes.
Albert Hall Museum:
Entry Fee: Rs 200/- for foreigners and Rs. 50/- for Indians.
Visiting Time: 9.00am to 5.00pm
How to reach: its at 3 Kms from Jantar Mantar. You can easily get there by auto/cab/bus.
About the place:
Albert Hall Museum near the city centre is home to an industrial arts exhibit. This museum displays artifacts and information on the history of traditional arts and crafts around Jaipur and Rajasthan. It's goal is to support local traditions and customs, and the people of Jaipur are very proud of this museum. Its architecture even impressed Rudyard Kipling, who wrote of the Albert Hall Museum, "It is now a rebuke to all other museums in India from Calcutta downwards." It takes minimum 1.5 hrs to explore this place.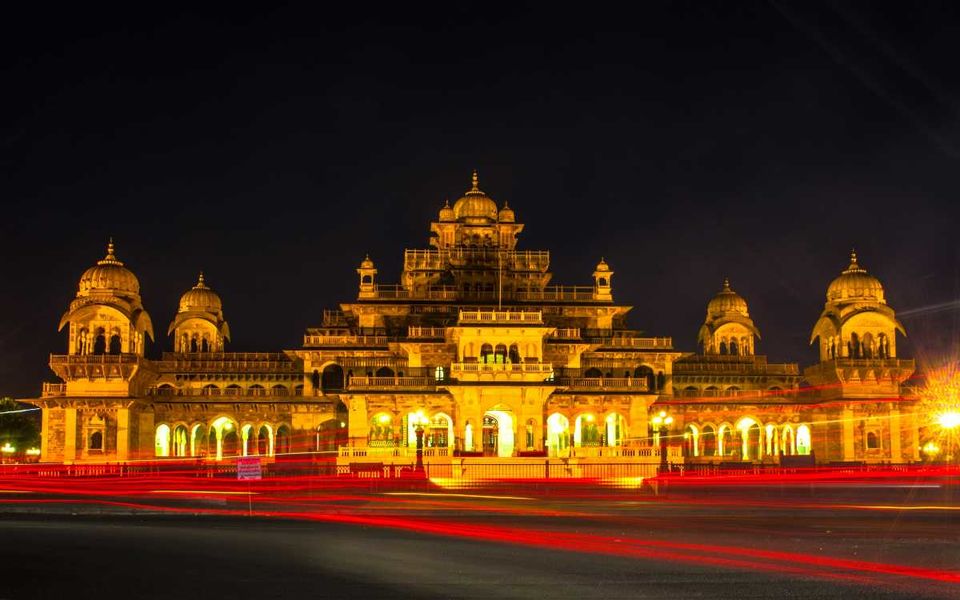 This was my last stop in the city and with this ended my trip. I had delicious Daal Baati and Churma in my dinner and left for my next adventure trip to the golden city, Jaiselmer.
For my travel stories follow me on ,
Facebook : Walking Sherpa
https://www.facebook.com/walkingsherpa/
Youtube : Walking Sherpa
https://www.youtube.com/channel/UC5l9dNPxUAsmmn1LpjFzWyQ