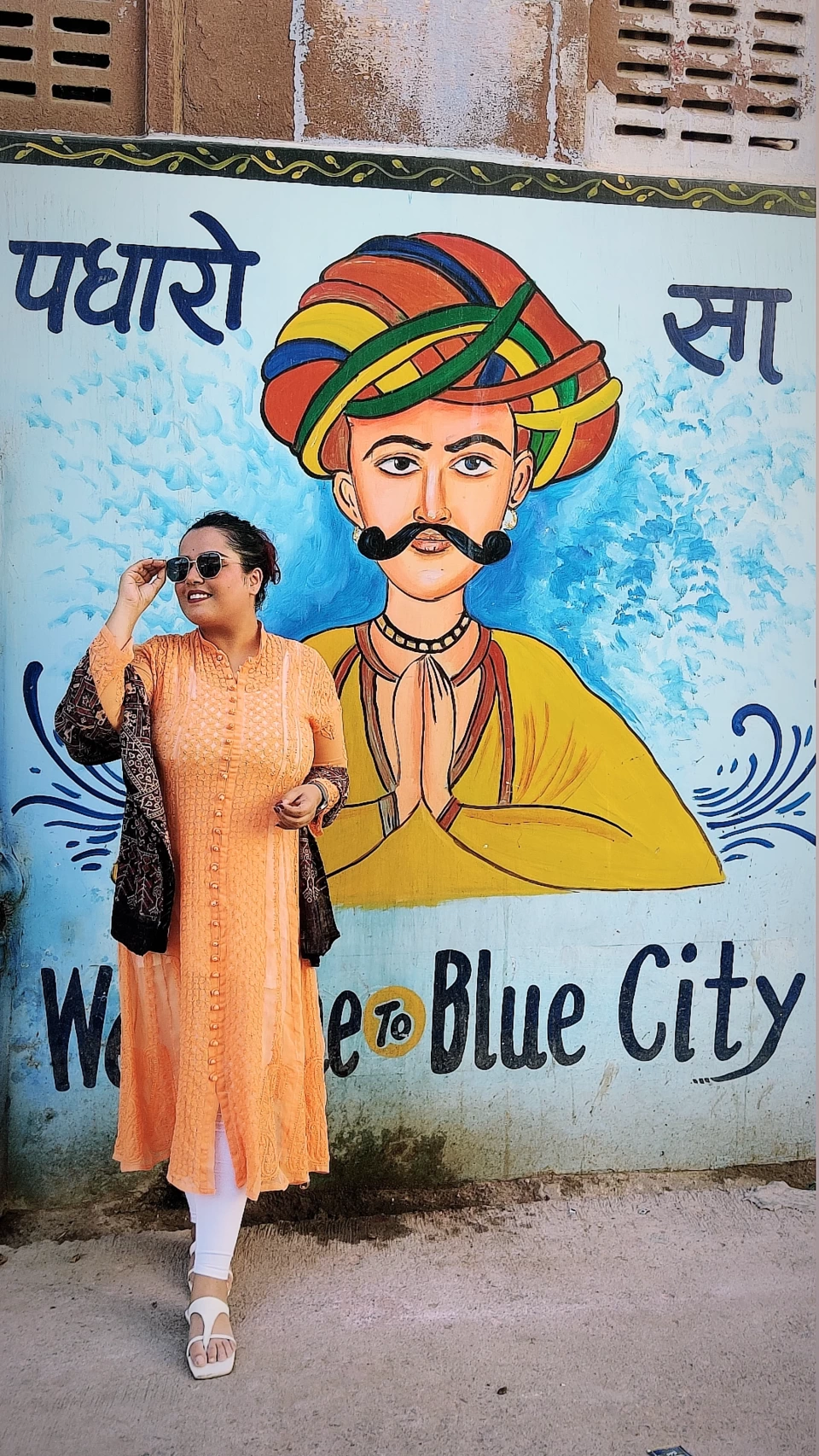 Jodhpur is at a distance of 557 KM from Delhi and one can visit it throughout the year. Although the perfect time to visit here would be from Nov to Feb because of the favourable weather. This was my second time in Jodhpur, and one can easily cover the city and spend 2-3 days here (3 if you're visiting Osiyan, otherwise 2 is enough). Jodhpur can be easily clubbed with Jaisalmer. There are trains running every day to take you to Jaisalmer.
If you are clubbing Jodhpur with Jaisalmer, then you can skip Osiyan entirely as you'll be able to experience the Indian desert so much better at Jaisalmer.
I first visited Jodhpur in April 2019 and came back here again to stay in the calmness of the blue city. But, to my utter surprise the blue walls in the city have severely deteriorated in number. People are getting their houses painted in colors of their choice and the blue walls remain limited to areas like Navchowk and Hanuman mandir gali. You won't really need a guide to take you through the blue city tour, though you'll have several options if you need, but you can very well do it on your own.
When you start exploring, you'll see a Y-point (it is here that your auto/rickshaw will drop you) where one side is leading to the Hanuman Mandir and the other into the city (the cover pic of this blog is clicked at the Y-point, look for the sign). If you don't want to go to the temple, head straight to the left, going to the temple will need you to climb stairs and it is an upclimb from where eventually you'll descend to the lane which the left-side lane will take you to (I learnt it the hard way 😅). You'll find a few typical blue walls here. Click pictures, take videos for reels and move on to FIND the next wall. Navchowk has the maximum amount of blue walls which is at a walking distance from here.
Now, what can you see apart from the blue city?
1. Mehrangarh Fort - The magnanimous fort is situated at a hill top and is visible from the entire city. It can easily be accessed on foot via the Human mandir gali of the Blue city or via the city roads. The 17th century fort has a huge museum displaying royal belongings like guns, attires, flags etc. Tickets to enter cost INR 200 per head (it is expensive in comparison to other govt.
managed heritage sites as this fort is still a private property). To reach the top of the fort one needs to climb up, you can alternatively buy an elevator ticket worth INR 50. From the top, you can see the entire city. It's a sight you'll never forget, esp. if you saw it at night. There's a cafe inside the fort (Mehran Cafe) for your quick bites. We had Jodhpuri kadi-kachodi here which was delish.
Did you know, you can have a romantic dinner atop Mehrangarh Fort while overlooking the beautifully lit city beneath? Yes, you can. Find details in the pictures below. You need to make a reservation and they do not accept walk-ins. Reservation needs to be made the same day, between 9-10 AM. You can show your restaurant reservation email and the officials will allow you to go inside without charging an entry or elevator fee. The entry for the restaurant opens at 6:30 PM.
2. Umaid Bhawan - Who doesn't know of this place in India? Our very own Priyanka Chopra got married here to once a tren sensation Nick Jonas. This heritage hotel is also one of the largest privately owned properties and the royal family stays in a part of the hotel premise itself. There's a mediocre entry fee for the museum with a display of the royal family's ancestral belongings like darbars, guns, etc. The most amazing part of the museum is the fleet of vintage cars displayed right outside the main hotel building.
There's a small canteen right after entering the premises. A must try is their kulfi. There's a display of jewellery as well for enthusiasts to buy. Another interesting thing to do here is getting your palm read. A seasoned palmist sits here, charging INR 500 (not that he'll predict anything specific towards one's future but will make you aware of your inner turmoil, I basically got to understand myself better after taking the experience, he put words and adjectives into what I have felt but could seldom express).
3. Jaswant Thada - It's a white cenotaph, visible from the Meharangarh fort itself. It serves as the cremation ground for the royal Rajput family. It is also called the Taj Mahal of Marwar because of its white marble color and structure.
4. Toorji ka Jhalara - It's a live step well which was restored not very long ago, with water where enthusiasts still jump for an adrenaline rush. The most beautiful cafes surround this step well with a view of Mehrangarh fort and the well. It's beautiful to see at night with lights.
5. Ghanta ghar - You'll find this in mostly all Indian cities. It is the clock tower. You can climb to the first floor of the clock tower for a quick view of the Sardar market and a selfie. This is located in the heart of Sardar Market, where you can shop to your hearts fill.
6. Mandore Garden - Oh this beauty.. sitting amidst a huge garden are beautiful intricate temple-like structures which are the cenotaphs of many royal rulers.
Go here during the golden hour (4 PM -6 PM) for mind-blowing photographs. Entry is free here. Some buildings will require you to remove your shoes and climb barefoot. The evenings are even better with lights adoring the garden. Take a glimpse at the beautiful pictures below. There's a museum as well which has a meager fee if you're interested. This place is a must visit on your Jodhpur trip.
5. Osiyan/Osian - Located at a distance of 65 KM from Jodhpur, Osiyan is a little stretch of desert overlooking huge wind mills. Ask your hotel to arrange for a cab to take you here. It cost the two of us INR 2500 and a little over 90 mins to reach. A cheaper way to reach Osiyan is by bus which plies from Jodhpur bus stand. The fare will be between INR 80-100. The first bus starts at about 7 AM and the last bus from Osiyan plies at about 5 PM. The Osiyan bus stop is a little far away from the taxi stand where your cab will drop and wait for you. The jeep for your desert safari will pick you up from this stand itself.
When I visited in 2019, Osiyan boasted of being a petite desert beauty with a range of activities. This time though, I was disappointed. There's nothing to do here except for desert safari which cost the two of us INR 2500 with no mind-blowing experience. I can't even say it was a good experience. A trip to Osiyan can be entirely skipped if you're en route to Jaisalmer. But, if you have never experienced desert and are not going to Jaisalmer either, you can give it a go. Once you reach the little stretch of desert you can do a camel ride for INR 500 per person. You'll also see a small village of indigenous people living here in huts. The children from these villages offer to take photos for you in their own cute manner. You can trust them with your phone and pay them whatever amount you want for their service.
Once the safari ends the jeep will drop you at the parking lot where your cab will be waiting for you. There's a temple here if you wish to visit.
Carry your own water bottle (make a sustainable choice by carrying reusable steel/glass bottles; do not litter, carry your trash back with yourself and throw it in designated bins only), sunglasses and caps/hats, it's extremely hot and windy. Wear covered and comfortable shoes and clothes. Avoid wearing skirts/sarees. Tie your hair otherwise you'll get a good amount of sand in your hair.
Where to stay?
We stayed just below the Mehrangarh fort with a mesmeric view of the majestic fort in the evening. Please note that the lights bejeweling the fort are out at 10 PM. The place was called Yogi's which itself is a 3- storey blue haven. The rooms are decent and the food is good. We opted for the Superior room with a balcony with a view. The fort, Jaswant Thada, & Toorji ka Jhalara are all nearby this hotel. In fact, Toorji ka Jhalara and Ghanta Ghar are within walking distance from here.
What delicacies to eat?
Mirchi vada, kadi kachori, pyaaz pakoda with sangre ka achar are all famous quick bites here. For a traditional breakfast of bread and omelette you can head to a small eatery, as mentioned in pictures, for several kinds of bread omelette options. You'll also get kesar chai and other varieties of chai nearby. There's a partha shop as well for you to have a typical Indian breakfast. The prices are all very pocket-friendly.
Check out the pictures for pictorial details.
Where to shop?
- You can shop for bangles, colorful bags, cushion covers, etc. from Sardar Market.
- You'll find beautiful jootis in the market near the railway station.
- If you like Rajasthani jewellery like the 'Borla' (Rajasthani maang teeka) then you can buy it from outside Mandore Gardens where Banjarans sell cheap junk jewellery roadside. I'm sure it'll be a great addition to your existing jewellery collection and will go with all kinds of indian wear.
I hope I could help you navigate through Jodhpur via this blog. Keep reading my other blogs for more of my amazing personal experiences.