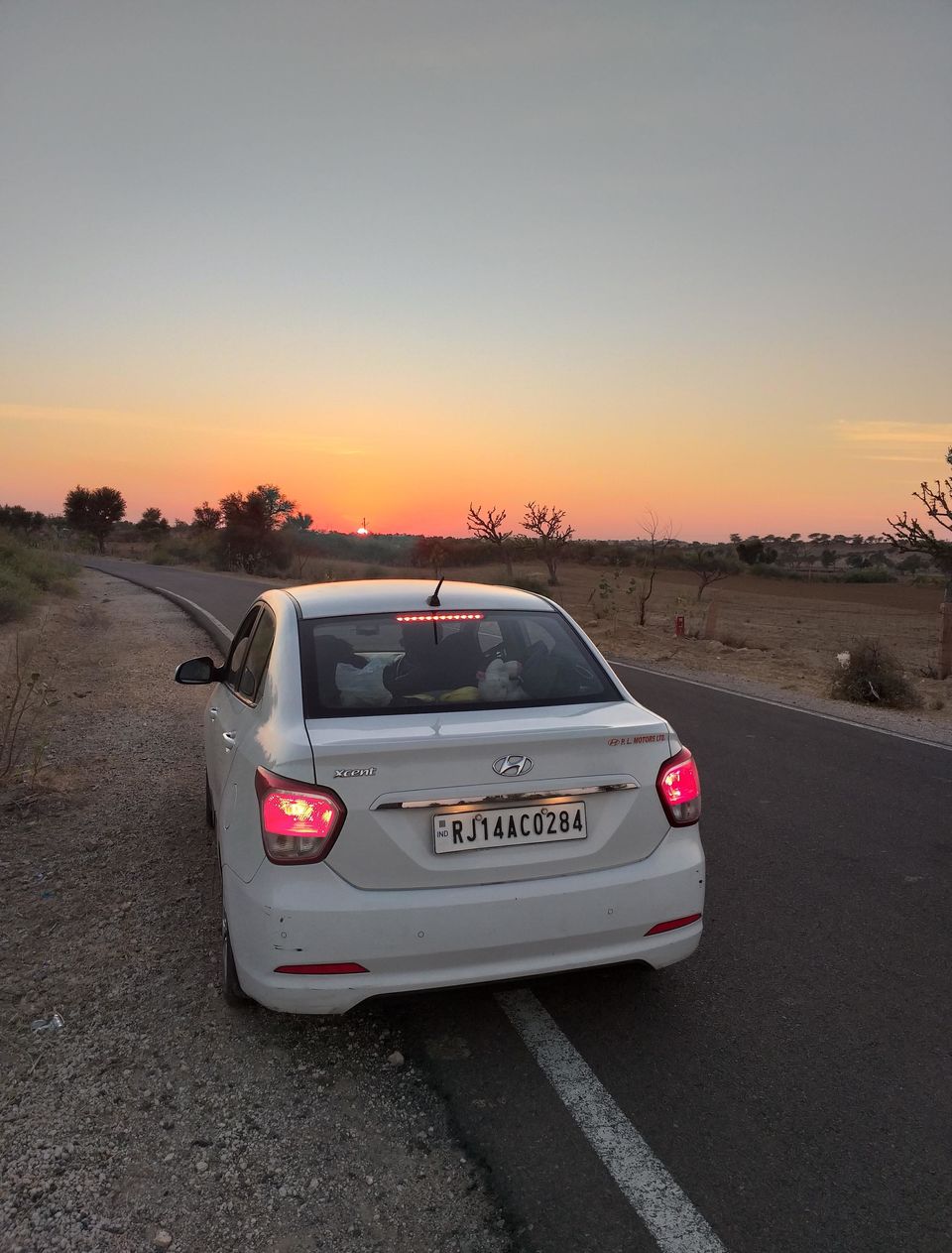 This is Day 1 of our 4 day tip to Jaisalmer in December 2018.
Day 1 - This blog
Day 2 - Longewala, Tanot Mata Mandir and India Pakistan Border

Day 3 - Jaisalmer Village Stay, Treasure Hunt and an amazing coincidence
The Planning
After shifting to Gurgaon 6 months ago, we (me and my wife Shalu) had not been on a trip except for travelling back and forth from Jaipur. My desire for a long road trip was building up. Year-end was approaching and we had a few pending leaves which would lapse if not taken otherwise. Christmas holiday was falling on Tuesday so, we decided to take 4 leaves and have a full week trip. I was excited already!
I wanted a long road trip so all nearby options were out of consideration. Shalu was sceptical how many kilometres I could endure in a single journey. We first considered Gujarat and attend Rann Utsav. Unfortunately, it was running full until the end of January 2019. Secondly, my brother-in-law and sister-in-law, who would also join us on the trip, had already been there. So, that option was dropped.
After considering a lot of other options, we finally settled on Jaisalmer. By the way, we are from Rajasthan and it was first time we would be exploring our homeland. (Ghar ki murgi dal barabar!)
Jaisalmer is about 800 kms from Gurgaon and according to Google Maps it would take around 13 hours. Add some breaks and I estimated it would take around 16 hours. Our itinerary required us to cover those in a single day. And I was the only one who could drive! I was pretty confident I could do it, but everyone else was underestimating me. Shalu was quite worried and looking for options where we could stay overnight if I had any issues driving and needed some rest. My colleagues in office scared the hell out of me and I started doubting myself. Anyway, I kept saying to myself I can do it without any issue.
The Trip
The Judgement Day finally came. I could barely sleep the previous night (don't know why). Lack of sleep got me worried more. Anyway, we had packed quite a few Redbulls and I would drain them down if I felt sleepy (luckily I didn't need a single one).
We woke up at 6 AM and had planned to leave by 7 AM. We wanted to cover as much distance as possible during day time. Surprisingly, we were able to leave on time (rarely happens with us). After losing our way in ever changing roads of Gurgaon, and adding good 10-15 kms, we were finally on NH8 and so the journey began.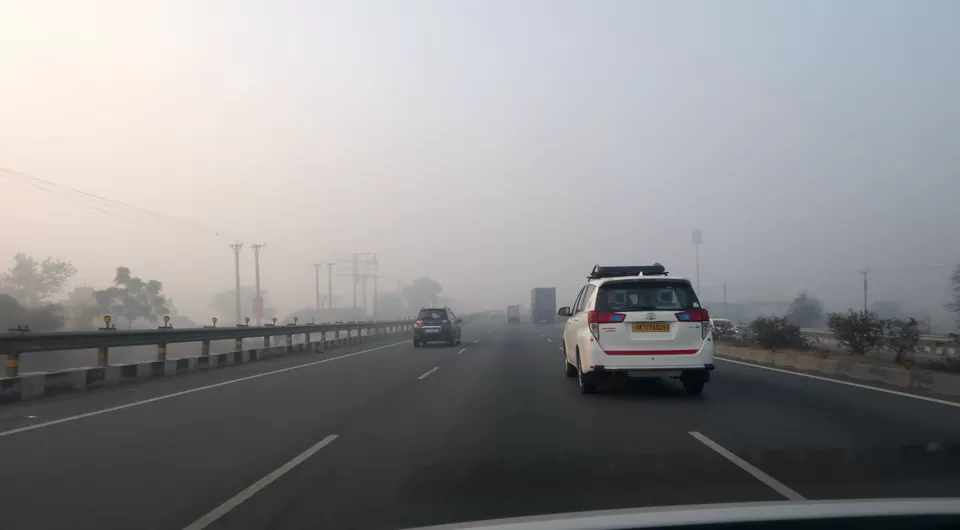 I like to drive within SPEED LIMITS. Even if road is empty, I would not go over 110 km/hr. Besides safety, driving within speed limits is more calm and peaceful for both - you the driver and the fellow passengers who are trusting you to reach the destination safely.
By 12:40 PM we reached Sikar bypass and had covered almost 300 kms. I was happy with the progress. Most importantly, we had not wasted any time on useless breaks. We stopped only for 10 mins to attend nature's call. We had our lunch at a small highway-side restaurant Hotel Raisalot Palace. Food was good. In half-an-hour, we were ready to hit the road again.
The roads!!! I must say the best part of the journey was the butter smooth roads of Rajasthan and that also without much annoying traffic of trucks and tractors. Add to that changing landscaped and beautiful scenes. I was enjoying it so much that tiredness and sleepiness were nowhere to be seen. In no time (actually 3 hours) we were at Nagaur at around 4 PM. 507 kms done! I was only about 50 short of breaking my record of the longest drive (before this I had been to Kasauli from Jaipur which is about 550 kms). We took a small tea break at Nagaur and hit the road again. Not to mention, had a good tea in really, really long time. Rajasthan serves good tea.
The next stretch of road was not that awesome. It wasn't bad - we could still cruise at 80km/hr on an average. However, roads were not super smooth and at places, construction going on. Still, this was the most awesome stretch of the whole journey for one single reason - the sunset.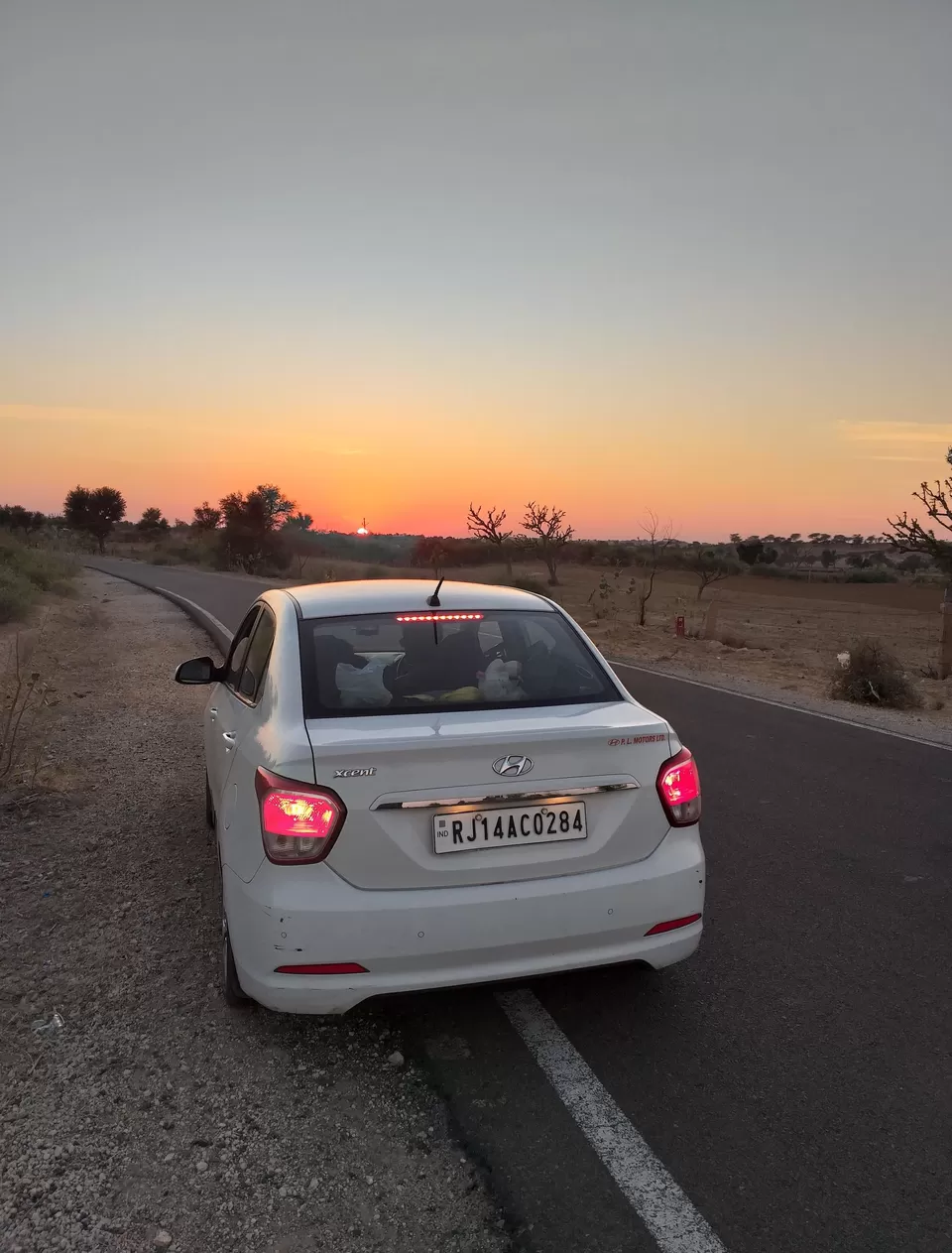 As we were going from east to west, the sun was setting in the direction we were driving and believe me - there cannot be a better setting for a driving enthusiast. It was so calm and peaceful to watch the sunset while cruising peacefully that when that road ended and when we reached Phalodi, I just didn't realise. It was about 7:30 and we had completed 680 kms. I am amazed myself, as I write this, that I was able to do this.
We stopped at the junction where the road met NH11. We had to attend natures call again but could not find a decent washroom anywhere. So, we were on road again after 10 mins.
My god - NH11 was the best road of the whole journey. It is a newly constructed highway (some parts still under construction) and our car - Hyundai Xcent - was just gliding over it. I wish my car had cruise control. Anyway, after some time we were at Pokhran and stopped there to get some photographs clicked with the Pokhran signboard.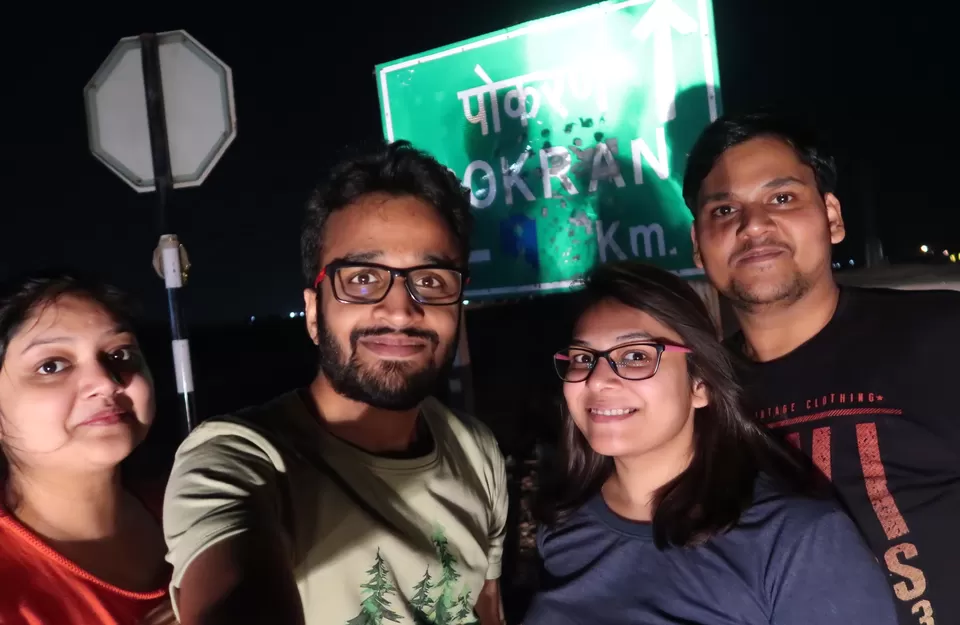 It was extremely cold outside and that cold rather acted as a relaxing agent. My fatigue disappeared and I felt fresh as morning to hit the road again. Only about 50-60 kms were left and our destination was near.
At around 10 PM, we were finally at Jaisalmer. I had done it!!! I was quite tired now but was not as much as I had expected. Got beautiful look of the fort on our way to the hotel.
We weren't that much into luxury, so had booked a decent hotel by the name Hotel Jaisal Palace. It was quite neat and clean - staff was very helpful, and rooms, although small, were quite bright and comfortable. It cost us around Rs 7500 for two nights for two rooms. I can say, it was jackpot deal in the peak season of Jaisalmer. We had saved anything between 7000 - 10000 by not opting for a resort. We had our dinner at the Hotel itself and it was good too - almost like home food. We were in our beds by 11 PM.
Vlog
Full video of our journey: Delhi to Jaisalmer by Road | 830 kms | 15 hours non-stop