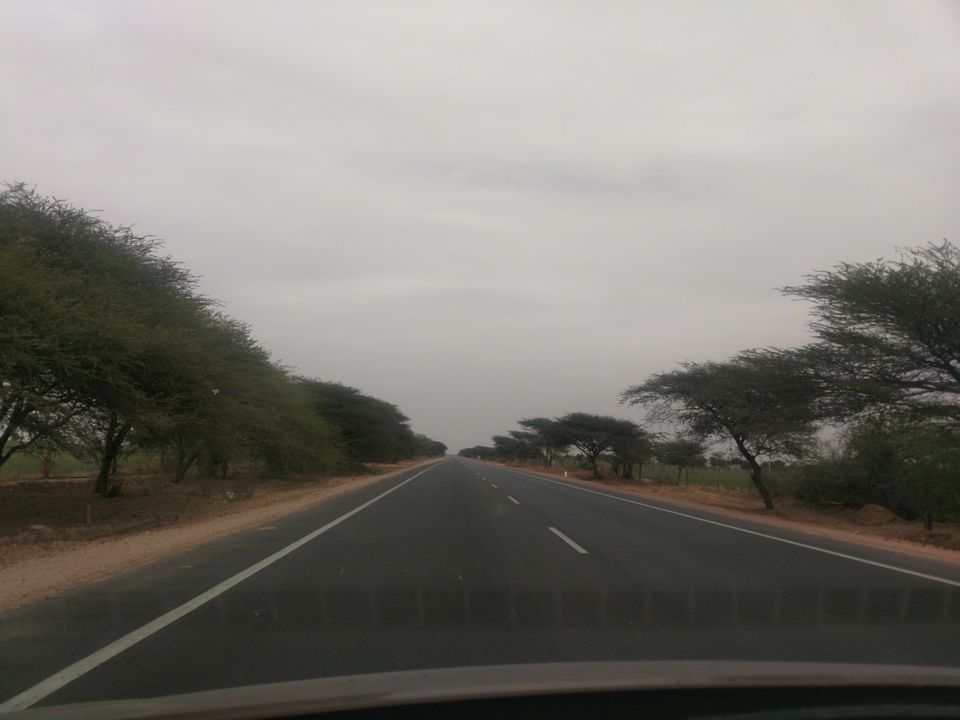 Road trips have always fantasized me and Rajasthan road trip is always on the wish list. Me with few friends planned to make a road trip to few places in Rajasthan. As it was a small weekend for us, we choose to go to Jodhpur, Jaisalmer and Bikaner. The route we planned to take is Gurgaon-Jaipur-Ajmer-Beawar-Jodhpur (one night stay)-Jaisalmer (one night tent stay)-Bikaner-Gurgaon. We started from Gurgaon at around midnight of Friday and covered a distance of about 245 kms (NH 48) to Jaipur Bypass in approx. 3.5 hrs without any halt on the way. There were few options of stop overs on the way like Rao dhaba (closer to Manesar) and Hotel Highway King, however we didn't took any we were not hungry. We continued via Jaipur bypass and took the road leading to Ajmer. One great point of Rajasthan roads are there signages which are good in number and very helpful. We followed the signages and continued via Ajmer-Beawar-Jaitaran to Jodhpur. We took two tea breaks in between and one for refueling. There are lot of options of petrol pumps on the way. The road till approx. 80 kms before Jodhpur was great as we took only 4 hrs for a drive of 265 kms. We reached this place around 8 am and were quite sure that we will touch Jodhpur by 9 am. However for the next 80 kms, it was a single road with a two way traffic. So we took around 2 hrs to reach Jodhpur and checked in our hotel at 10:30 am. There are lot of stay options in Jodhpur depending on one's requirements varying from hostels, BnBs, budget and star category hotels. One can also choose between a heritage stay and a regular hotel.
After having breakfast in our hotel, we took some rest in the hotel. We left for Jodhpur sight seeing around 2 pm. We thought of trying some local dishes along with the visit to the Blue city of Rajasthan. We went to Gypsy restaurant for some light snacks as heard lot about this place. We tried few snacks which was very made and great to taste. This place is famous for it's giant Rajasthani thali however as planned our dinner at Darikhana restaurant, RAAS hotel we left after having snacks. We moved to our first sight seeing place - Umaid Bhawan Palace. The palace has a nice museum where you can see collection of clocks, weapons used by the Kings of that era, etc. It's a worth visiting place to know about the royal architect of Jodhpur. The entry to this palace closes by 5 pm. By this time, we came out of this place, we were running late for our next destination Mehrangarh Fort. We planned to visit next day morning. So after going around the city, we reached for dinner at Darikhana restaurant. It is a must visit place as it provides you delicious food with a great view of the Mehrangarh fort. It is advisable to book your table before going there as it is nearly sold out specially on weekends. So here it was end of our first day in Rajasthan.
Day 2 - We got up early and after having breakfast we left our hotel to visit Mehrangarh Fort. It was a worth visit seeing this Fort. There is beautiful museum as part of the fort which showcases costumes, collection of armour, several pieces of art of Mughal empire, and much more to see. You can also see a breathtaking view of the Jodhpur city from the palace. Around 12 noon ,we left for our next destination Jaisalmer and took NH 25. A very well planned highway with great roads, lot of petrol pumps, beautiful landscapes. One thing which could have added to the beauty of this highway was food options, which were quite less. We took the way via Barmer as we heard that roads are better here. The approx distance to Jaisalmer was 335 kms from this route. However there are routes also to reach Jaisalmer. We took two halts till Jaiselmer, one for food and other for tea. We got few options of good restaurants so we halted to have our lunch. We reached the golden city of Rajasthan around 5:30 pm. We have booked our tent stay at Sam Sand Dunes which is further 50 kms from Jaisalmer. We reached our tents at 6:30 pm. We were lucky to see the amazing sunset in the dunes of Rajasthan. I have never drove at such a beautiful roads ever before. There are lot of stay options in and around Jaisalmer however we choose a tentage stay at Sam as we wanted to stay closer to dunes which were not even 2 KMS away from our accommodation. We spent a beautiful evening at our camp with local dance performances and other activities.
Day 3- We woke up early in the morning to see the beautiful sunrise. After tea, we went for our Desert Safari in a hired Jeep which was a thrilling experience. There were dunes all around us and we were going around in and out of those dunes. It is must to do thing during the visit of Jaisalmer. We left after having breakfast and headed towards the beautiful Jaisalmer fort. On the way, there were beautiful stay options like Suryagarh, Heritage hotel, Chowki Dhani, etc. for the people who would not like to stay in tents. We reached the beautiful Jaisalmer Fort which looks like a golden fort as it called also. It is one of the forts of Rajasthan which is in the UNESCO World Heritage Sites. We left for our other local sightseeing and after a brunch we left for Bikaner as our next halt (not overnight stay). This journey from Jaisalmer to Bikaner have further beautified our trip. Endless view of beautiful road ahead with great views of around us. It is difficult to put this beauty which we have witnessed into few words here. A must must drive to experience. We reached Bikaner covering a distance of 333 kms in less than 5 hrs. We planned to halt at Gallops restaurant just facing the beautiful Junagarh fort. Great food and nice view of Junagarh fort. We bought the very known namkeens and sweets of Bikaner from Bikaner sweet shop near railway station. There are other options also like Chotu Motu sweet shop etc. We left Bikaner around 10 pm and headed back to Gurgaon. We opted to go via Churu-Jaipur bypass as the roads here are much better as compared to other roads. The road till Jaipur bypass was great and without much of vehicles. The distance from Bikaner to Gurgaon via Jaipur was 643 kms which we covered in approx. 8 hrs with two halts in between. One at Highway king and other at Mannat Dhaba closer to Manesar. We reached Gurgaon at 5:10 am. We finished a quick weekend tour of beautiful places of Rajasthan with lot of great experiences with us.
The road trip to Rajasthan is a must to do experience. We had less time in hand and also we wanted to enjoy the drive more than destiny we planned it this way.
Few Recommendations:
1. The destinations visited by us can be easily done by 5 days taking halt at Jaipur-Jodhpur-Jaisalmer-Bikaner.
2. Prefer a stay in Sam Sand Dunes as compared to Jaisalmer.
3. Do plan for road trip
4. Keep some eatables with you as the eating options are less