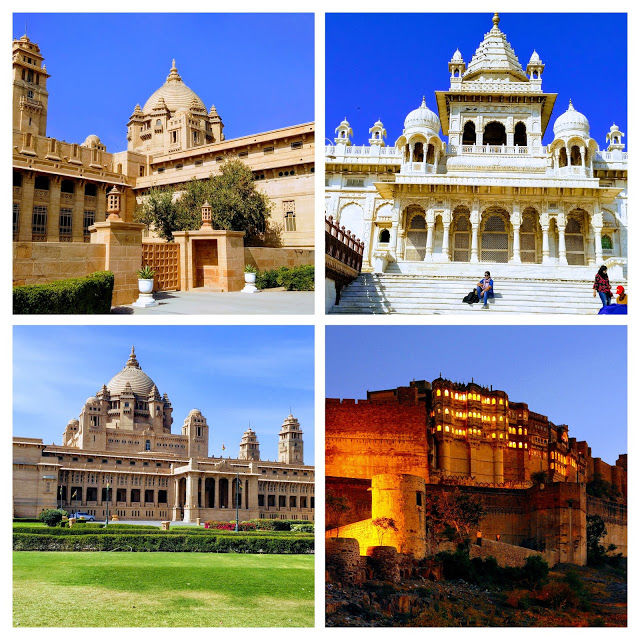 Rajasthan often known as "The Land of Rajputs" meaning "Son of the King" in Sanskrit (raja-putra). Rajasthan was under Mauryan rule from around 400 AD, then came the "Scythians" often known as Kshatriyas as mentioned in Indian Epic books, "Ramayana" and "Mahabharat". These Rajputs were divided in three Major Dynasty
Suryavanshi - followers who worshiped Sun God (Surya). Chandravansi - followers who worshiped Moon (Chandra). Agnivanshi - followers who worshiped Fire (Agni). The Rajputs aroused during 9th and 10th Centuries and became a major force in princely states of Rajasthan and Saurashtra in North India. This group of worriers dominated this region for thousands of years finally making Rajasthan as their Homeland, distributed in the major regions i.e. Marwar, Mewar and Sekhawati.
Rajasthan has always been a favourite Tourist Destination of foreigners for many years, in-fact many of them have left their own country and settled here. Jaipur, Udaipur, Ajmer, Pushkar, Bikaner, Jaisalmer are among the famous cities in Rajasthan.
Among them is the "Blue City of Rajasthan" or "Sun City" known as JODHPUR. It is the Second largest city in the state of Rajasthan. Rao Jodha Rathore the ruler of Mandore founded this city the year 1459, thus known as Jodhpur. The weather is very hot, bright and sunny all-round the year, so to keep the atmosphere of the house cool it is painted in blue colour. In major part of the old city, the houses are painted in blue colour so it is called "Blue City".
"Stranger always add Mystery", this travel blog is about 2 known friends and a Stranger. Shahina and I were traveling friends who used to go for different Trekking and Camping activities together. Any one of us would get any notification about any such activity would inform the other and join for an Adventurous activity. We were planning a long distance Travel holiday, but somehow was not working due to busy schedules. Shahina had her friend "Shree" coming to see her and stay with her just for a change, so they thought why not utilize those days for some travel plan. So Shahina called me asking if I could adjust with my holidays and plan a trip?
I was having quiet a busy schedule since last few days, so I decided to have some time for myself and applied for leave. First I thought it was only 2 of us then she added that Shree from Bangalore will also be joining, she was a complete stranger to me as I was for her. Rajasthan was on our mind but where and how many days was a big question? We collectively put some thoughts and ideas coming to a conclusion of "Blue City" Jodhpur. Jaisalmer was also on plan as it was nearby and the Desert Safari was the activity which we all wanted to experience. So the plan was set, they insisted on Flight both ways which was costly and not in my budget. So we booked Train tickets in Tatkal and now finally we were having a holiday. Shahina Apurva and Shree three stars from different skies, were going to come together under one sky to brighten the Blue City.
This plan happened all of a sudden so only Train tickets to Jodhpur was confirmed, return tickets were also not available. I was the one who always travel by train as I Love it the most, the other 2 used to travel by either Flight or bus. This was their first experience travelling in train that also in Sleeper Class. The day arrived when the other 2 travellers reached my home, now I finally see "Shree" with whom I was going to travel. Shree was Golu-molu and very cute, she was introduced to my family and then we had some chitchat and took rest for about an hour or so then left for Borivali Station. Train no. 12480 SURYANAGRI EXPRESS was our train at 14:00 hrs. from Borivali reaching Jodhpur Junction next morning at 06:30 am.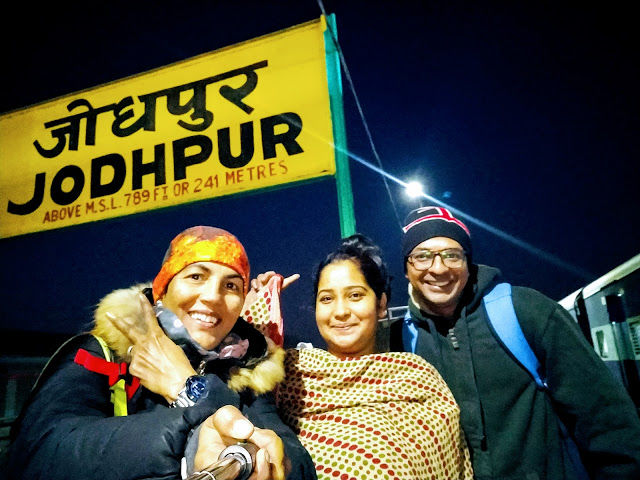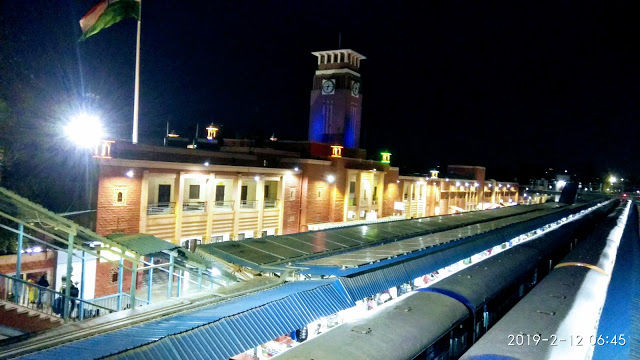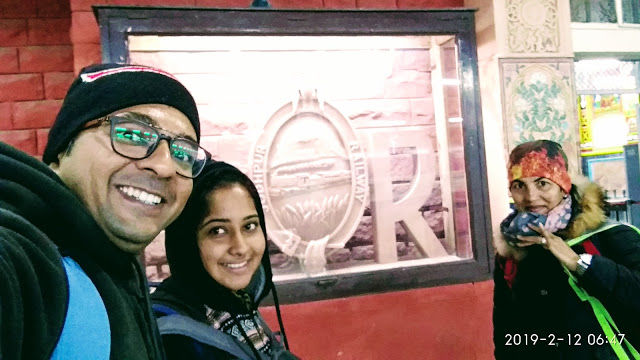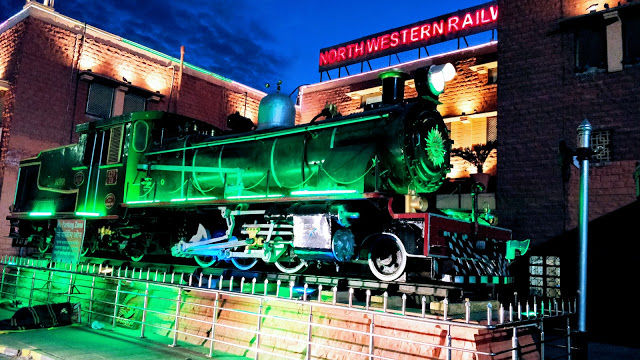 Early morning in Jodhpur was very cold, we had planned for stay in Dharamshala which was just opposite Jodhpur railway station. Sheth Shree Parihar Dharamshala Trust, which has very clean and well managed rooms and pocket friendly also. We reached and gave our ID proof for admission, here the big problem arises, they started saying that they will not allow us to stay as Shahina is Muslim by Religion and started getting angry and shouting at us.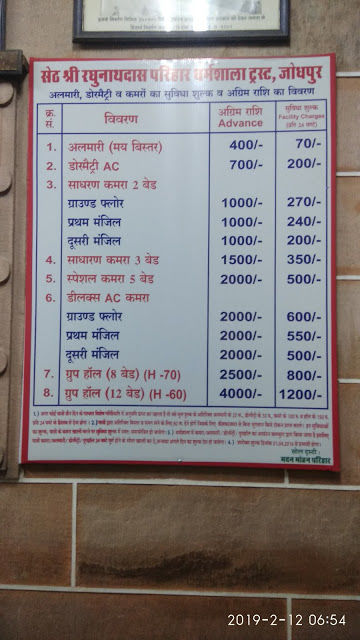 "Are we living in a Modern World" I would like to ask you all readers? I and Shree had no objection then why should they have. We all have one colour of blood in common, GOD has made no difference between us then why do we make differences?
Let's not argue on this, then we looked around for other options for stay but didn't find any nearby. So we booked online and got a best deal, "The Destination Home Stay" costing 750/- INR. Away from railway station but near to Mehrangarh Fort and Ghantaghar Market. It was a resident building converted for Homestay, it had a full view of the mighty "Mehrangarh Fort" from the terrace. It had a rooftop restaurant and even more amazing, it had a small terrace designed for 3 people to sleep. It was just perfect for 3 of us and we already planned sleeping on the terrace as long as we were staying at that hotel.
We then had some tea and breakfast typical rajasthani snack of Mirchi vada and Kachori, it was very very tasty and very economical (4 mirchi vada + 3 kachori + 2 bhaji plate = 52/- INR.). Then we took auto towards station and from there we took Activa on rent 350/- INR per day from 8am - 8pm and refundable security deposit of 500/- INR.
Our first point was a mighty start, a Palace famous as World's Largest Private Residence "Umaid Bhawan Palace" built by Maharaja Umaid Singh in 1943. This palace has 347 rooms and is the principal residence of the Royal family, part of the palace is controlled by Taj Group of Hotels and the other part is a Museum open for public. The museum itself is very huge, bringing a thought "how mighty must be the entire Palace?" it took about 2-3 hrs. to completely see the museum.
After the mighty Umaid Bhawan Palace we went to see our next point Balsamad Lake, we supposed it was a lake open for people but when we reached there, we found that it was a Private property. Balsamad Lake is now owned by some royal family which they have converted into Hotel, we managed entering the hotel by visiting the restaurant inside. It is a very huge place spread in 5-7 acres of land, it has beautiful individual villas, a horse stable near the entry, large water streams spread across the property, beautiful gardens and a beautiful restaurant. We had some refreshments in the restaurant then relaxed in a peaceful surrounding for a while and moved out. It's my recommendation for those who like luxury stay this is one of the best you can get in Jodhpur.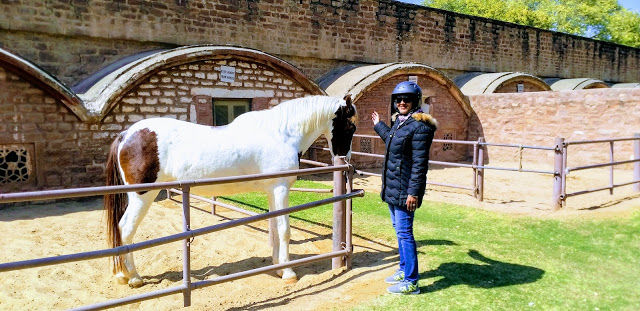 Now we moved on our active to our next destination, Rao Jodha Rock garden. It is a very beautiful and well maintained ecological garden, presenting different plants and flowers that grow especially in dry desert area of Rajasthan. Finishing with rock garden, we went to Jaswant Tada another beautiful place in Jodhpur and near to Mehrangarh Fort.
Jaswanta Tada was built by Maharaja Sardar Singhji in 1906 A.D. in memory of his father Maharaja Jaswant Singh II and is also famous as "TAJ MAHAL OF MARWAR". It is very calm and peaceful place and has a beautiful view of the city from top. We spent some time here and clicked few pictures and enjoyed the view of the city. Finished seeing Jaswant Tada we then went to Mehrangarh Fort, it was our last place for the day and we purposely did so as we could enjoy the sunset view from the fort.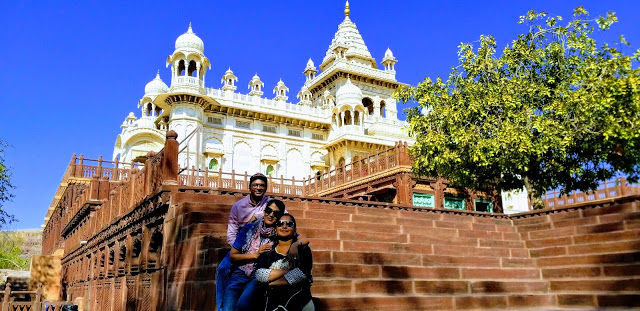 As we entered the Mehrangarh fort premises, we could see the Mighty structure of this fort located on a cliff 410 feet above the city, surrounded by thick walls which are 118 ft. high and 69 ft. wide, protecting the fort.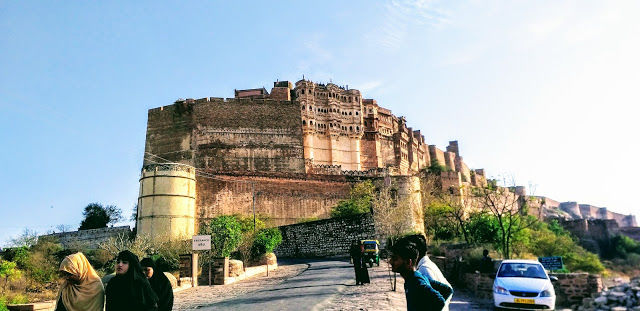 This mighty fort is spread over 5 kms. on the hill and has seven huge entry gates known as "Pol", which are -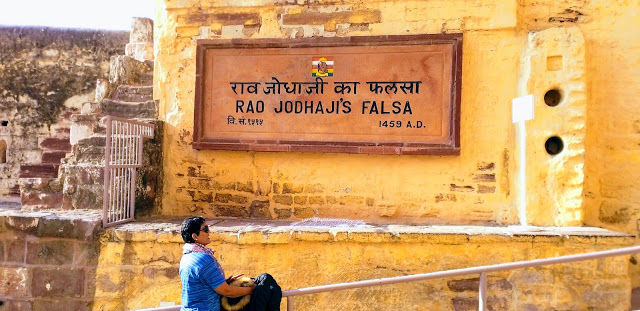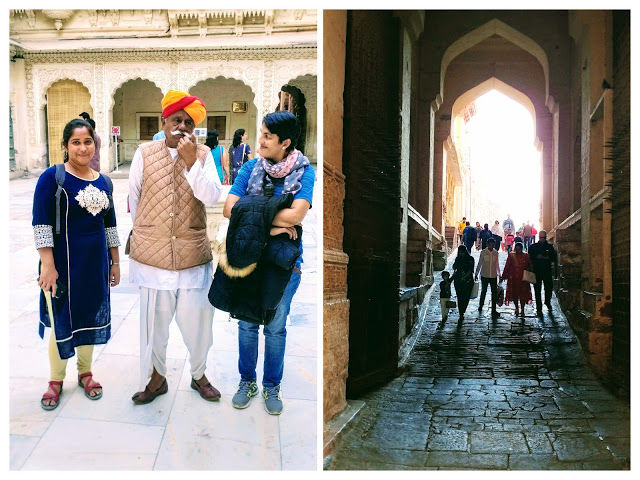 Four of this "POL" has a significant history behind them i.e.
Fateh Pol: - "Fateh" in Urdu meaning "Victory", was built in 1707 to signify victory over Mughals. Jai Pol:- "Jai" in Sanskrit meaning" Victory", was built by Maharaja Man Singh to celebrate victory of war against Jaipur and Bikaner in 1806 and named it as (Jai Pol - Victory Gate). Loha Pol:- In the year 1843 several Queens of Maharaja Man Singh together performing "Johar" ( meaning several women jumping together into fire to avoid capture, enslavement and rape from foreign invaders ). It has hand prints of Sati marks on the left side of the wall. Dedh Kamgra Pol:- This wall still has traces of cannonballs fired by the Jaipur army.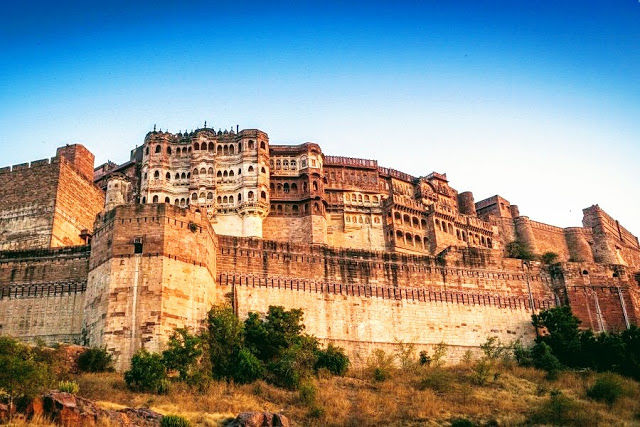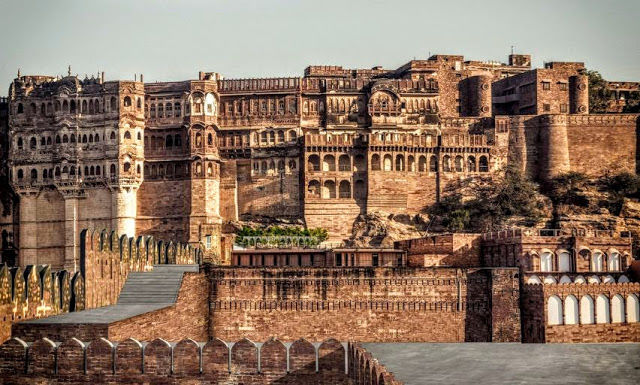 This Splendid fort has brilliantly crafted hand artistic and decorated palaces inside such as Sheesh Mahal (Palace of Mirrors), Moti Mahal (Palace of Pearls), Phool Mahal (Palace of Flowers), Sileh Khana and Daulat Khana.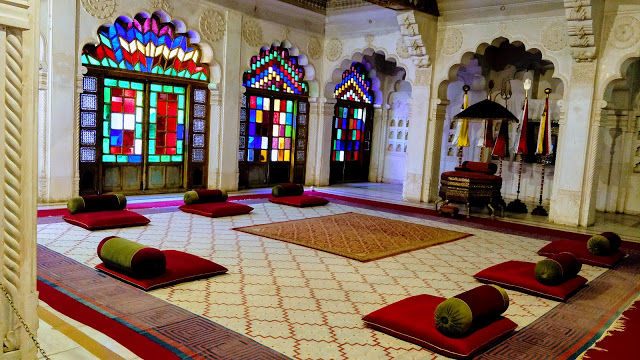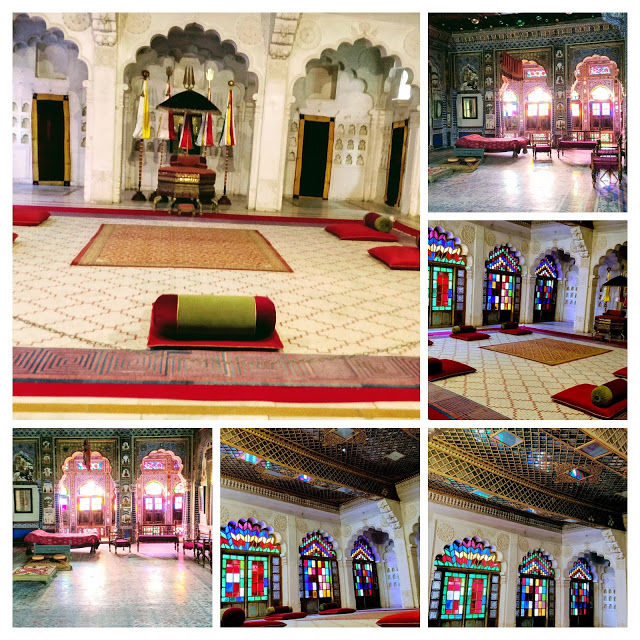 Huge stone walls and airy surrounding with bright sunlight makes the fort even more attractive, as we entered we saw a small layout of the entire fort made from metal. It has a grand entrance and huge doors to welcome you, we visited different palaces inside the fort and got amazed by the brilliant architecture. Sitting in this fort at any place makes you feel Royal and reminds of history and the life of Kings and Queens during their historical periods. After visiting the Museum and the Palaces inside the fort we went towards the top most area or near the boundary of the fort from where you could see the Blue City. We got ourselves seated along the boundary wall, enjoying the view of the city and Sunset in "Sun City of Rajasthan" Jodhpur. The view of the blue city and the setting sun were just perfectly calming and relaxing, ending our first memorable and historic day in Jodhpur.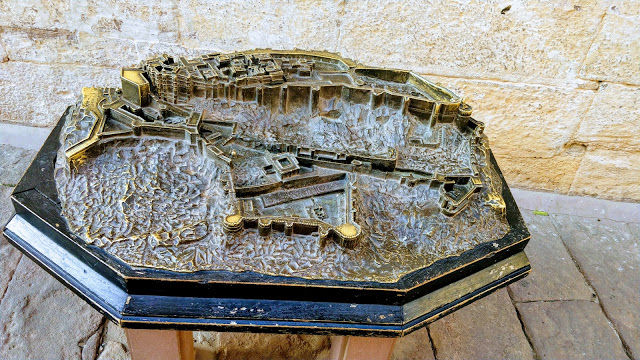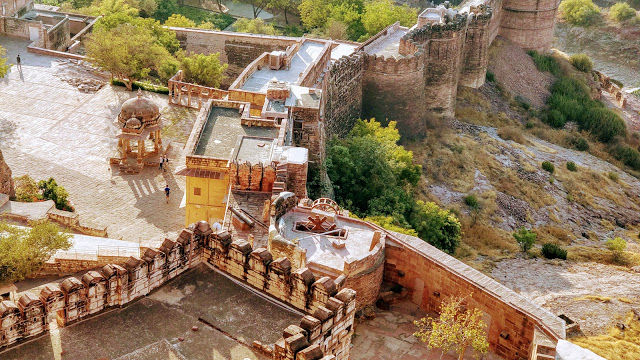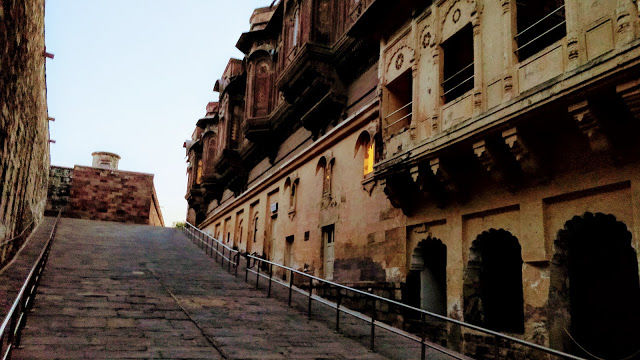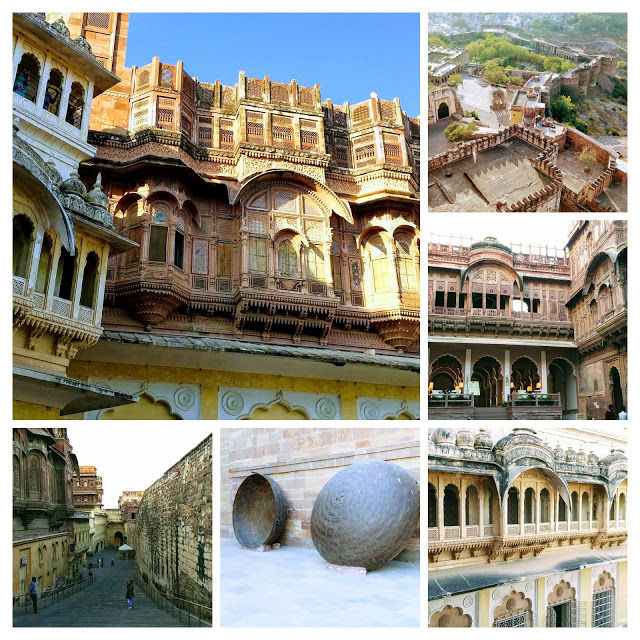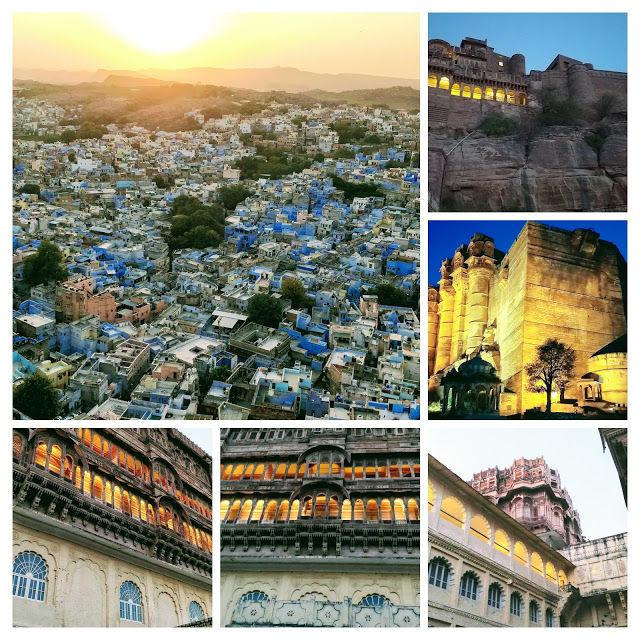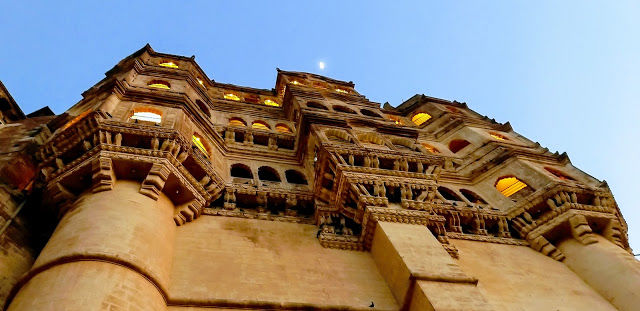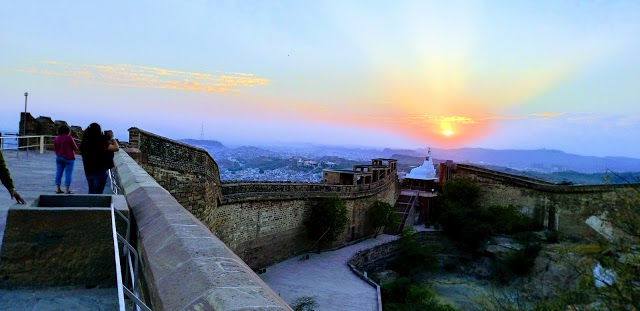 We returned back to our hotel, got refreshed and went towards station to return the activa that we had rented for the day. We had a nice night walk in the city and took auto for our hotel, nearby there is a rooftop restaurant where we had some rajasthani food i.e. Dal Bati which was very tasty and then had biryani to finish. Walking at night through local streets we reached our hotel, then changed and quickly rushed to the terrace to catch the best spot for the night in the open sky just adjacent to the Mehrangarh fort. This was "The Amazing Night Experience" ever in our life, what else would you ask for? Dark night, bright moonlight, cold and loud breeze, sight of the fort on one side and palace on the other side, away from home on the terrace in Rajasthan. I don't have much words to express my feelings, but definitely the amazing experience ever. Next morning was also going to be an enthusiastic one as we were to visit "Migrating Birds Home Khichan".