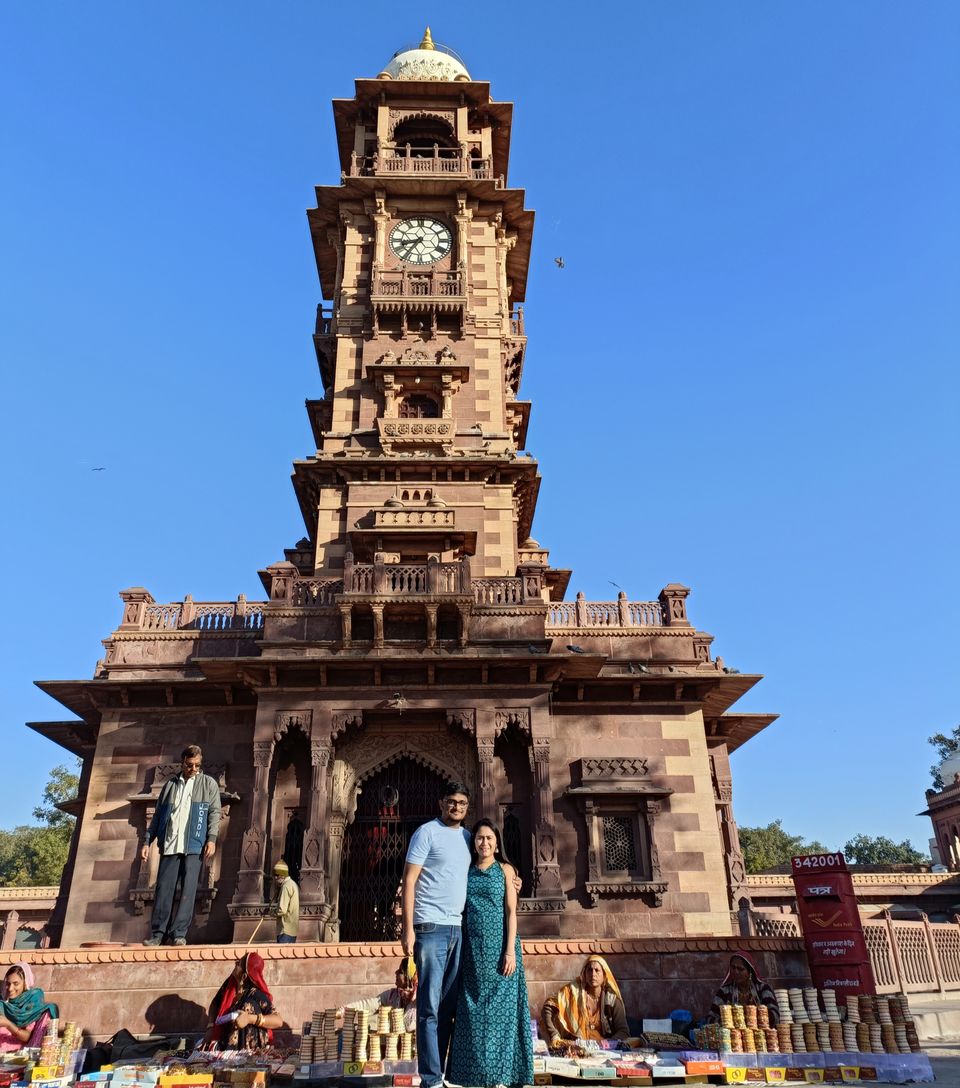 Jodhpur city is the second largest city in Rajasthan. Jodhpur was historically the capital of the Kingdom of Marwar.
Jodhpur is known as "Blue City".
It's a popular tourist destination, featuring many palaces, forts, temples, stepwell, and a local shopping market.
You will also find a wide variety of delicious street food.
Travel Days: 3 Days/ 2 Nights
Two-wheeler rent per day: Rs. 500/-
Hiring two wheeler is the best option to travel real Jodhpur.
Barlon Ka chowk, Gol mehron ka bas, near shiva mandir, Jodhpur, Rajasthan. 342001.
Per day rent: Rs. 1,800/- (Per night on twin sharing basis)
No meals included.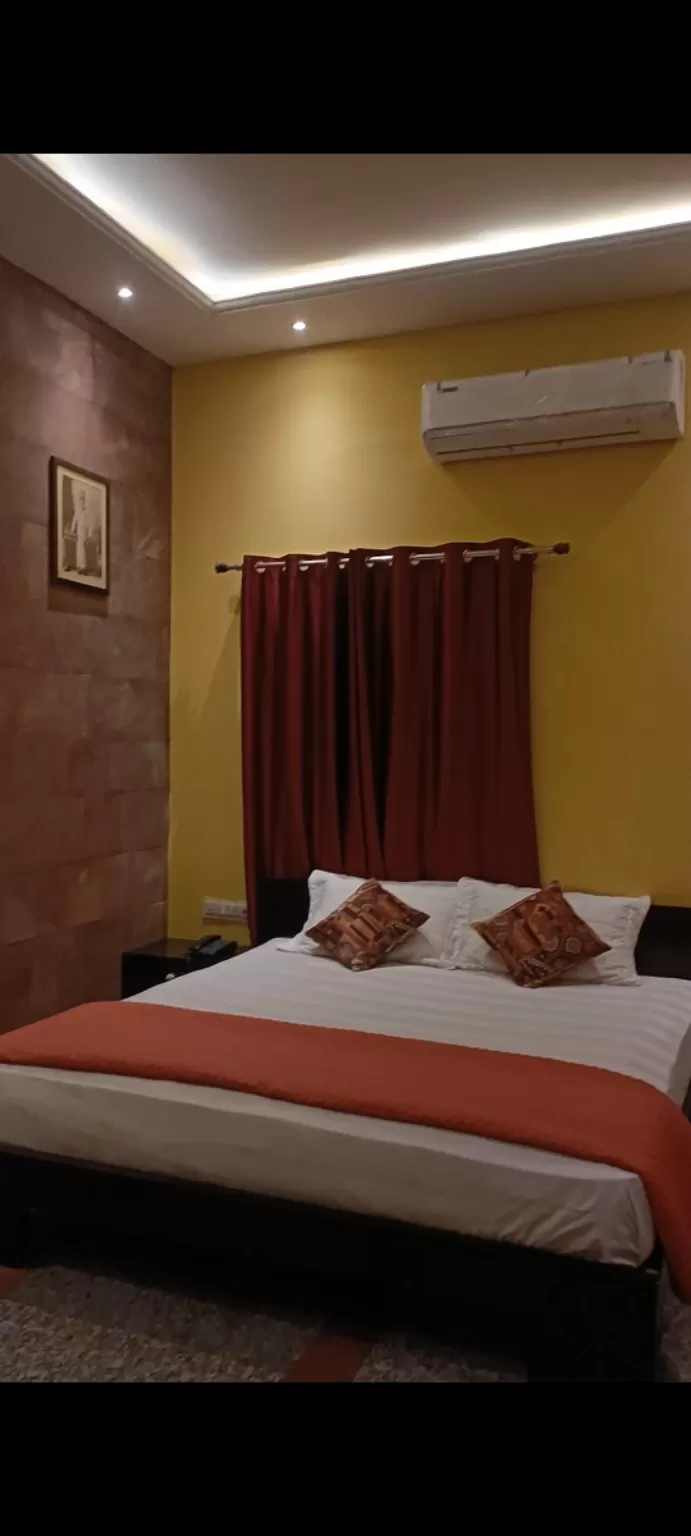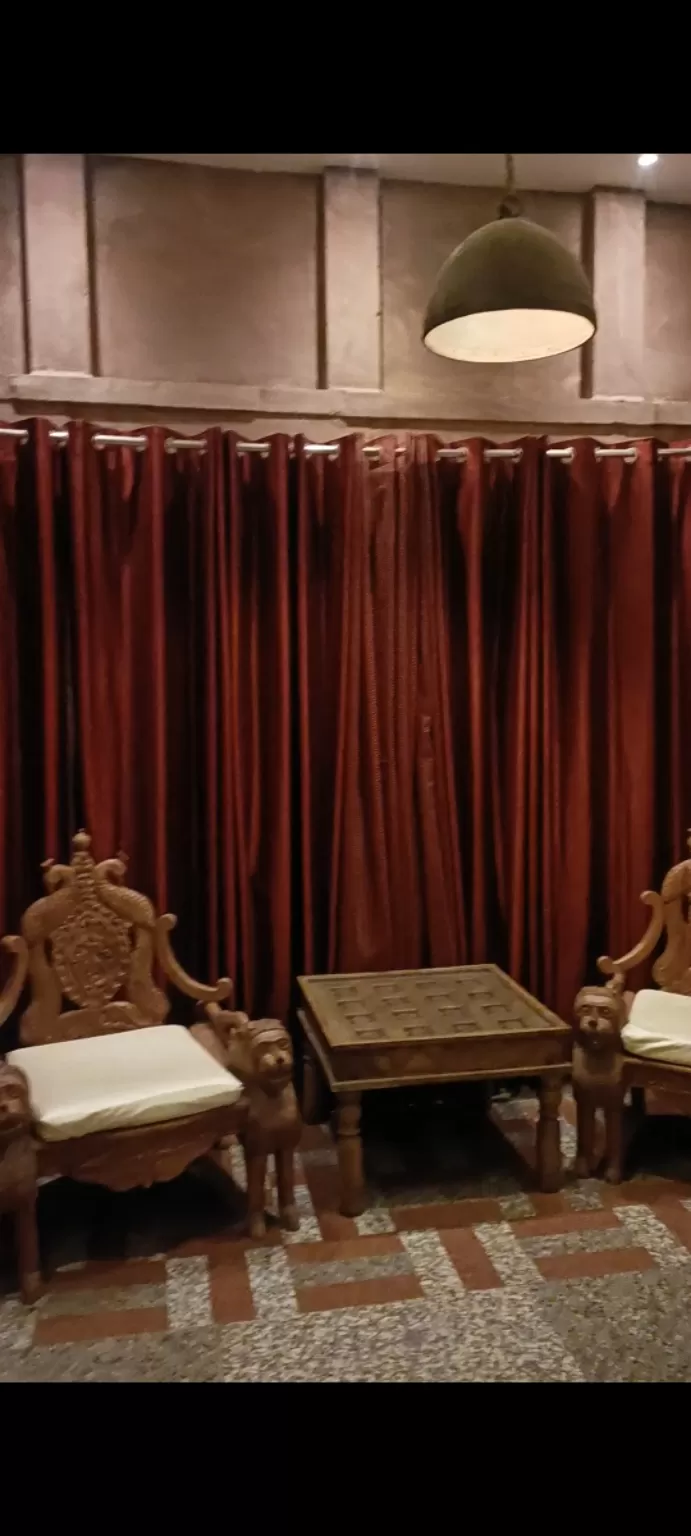 After arriving at our stay at 1 pm, my partner and I had lunch at the rooftop restaurant of Jodhpur palace guest house with a beautiful view of Mehrangarh Fort.
After taking a nap for 2 hours, we started exploring this beautiful city.
We hired a two-wheeler which costs Rs. 500/- per day. As old Jodhpur has narrow lanes.
At 4 pm, we visited this famous sweet shop Mohanji mithaiwala, Ada bazaar road, Jodhpur and had delicious Rabdi Ghewar.
At around 5 o'clock, we headed to Mandore garden which is situated around 10 km from Jodhpur city.
Mandore is a suburb Historical town located 9 km north of Jodhpur city, in the Indian state of Rajasthan.
Mandore is an ancient town, and was the seat of the Pratiharas of Mandavyapura, who ruled the region in the 6th century CE. Even after the disintegration of the Gurjara-Pratihara empire, a Pratihara family continued to rule at Mandore. This family formed an alliance with the Rathore chief Rao Chunda (r. c. 1383-1424) to defend its chiefdom against the Tughluq dynasty of the Delhi Sultanate. Rao Chunda married a Pratihara princess of Mandore, and received the Mandore Fort in dowry; the Fort served as his family's capital until 1459 CE, when Rao Jodha shifted it to the newly-founded city of Jodhpur.
Mandore was the capital of the erstwhile princely state of Marwar (Jodhpur State), before Rao Jodha moved it to Jodhpur, where he built Mehrangarh.
Mandore remained as royal cremation grounds, where Devals of all the Kings of Marwar till Maharaja Takht Singh were built. From Maharaja Jaswant Singh-II onwards, Jaswant Thada became the royal cremation ground.
Monuments:
The 'Mandore gardens', with its charming collection of temples and memorials, and its high rock terraces, is another major attraction. The gardens house the Chhatris (cenotaphs) of many rulers of Jodhpur state. Prominent among them is the chhatri of Maharaja Ajit Singh, built in 1793.
Ravan temple is another attraction at Mandore. It is believed to be the native place of Ravan's wife Mandodari. Ravan is treated as son in law among some local Brahmins.
The Mandore Gardens also house a government museum, a 'Hall of Heroes' and a Hindu temple to 33 crore gods. Various artefacts and statues found in the area are housed at the museum. The 'Hall of Heroes' commemorates popular folk heroes of the region. It contains 16 figures carved out of a single rock. Next door is a larger hall called "The temple of 33 crore gods" which houses images of various Hindu deities.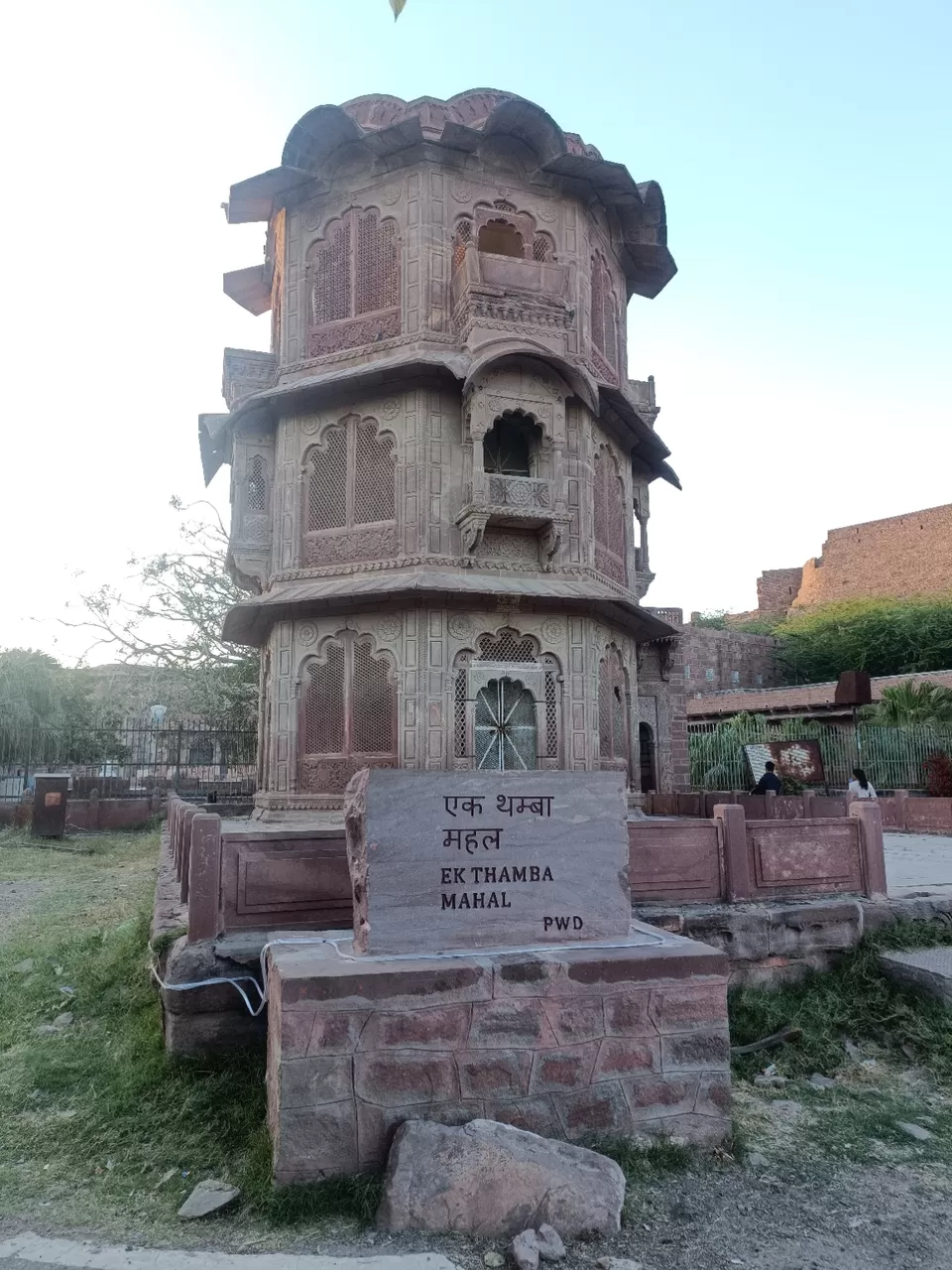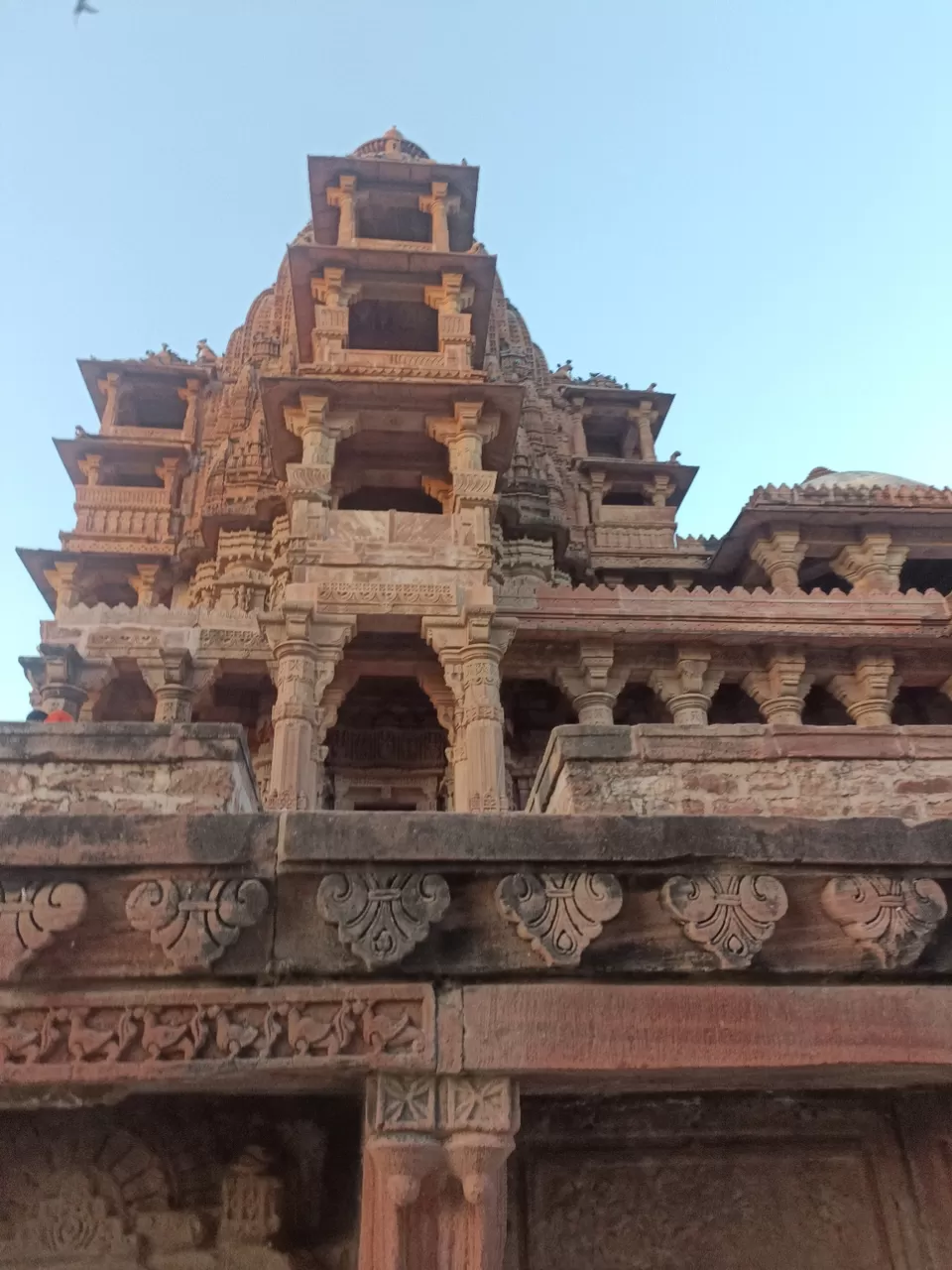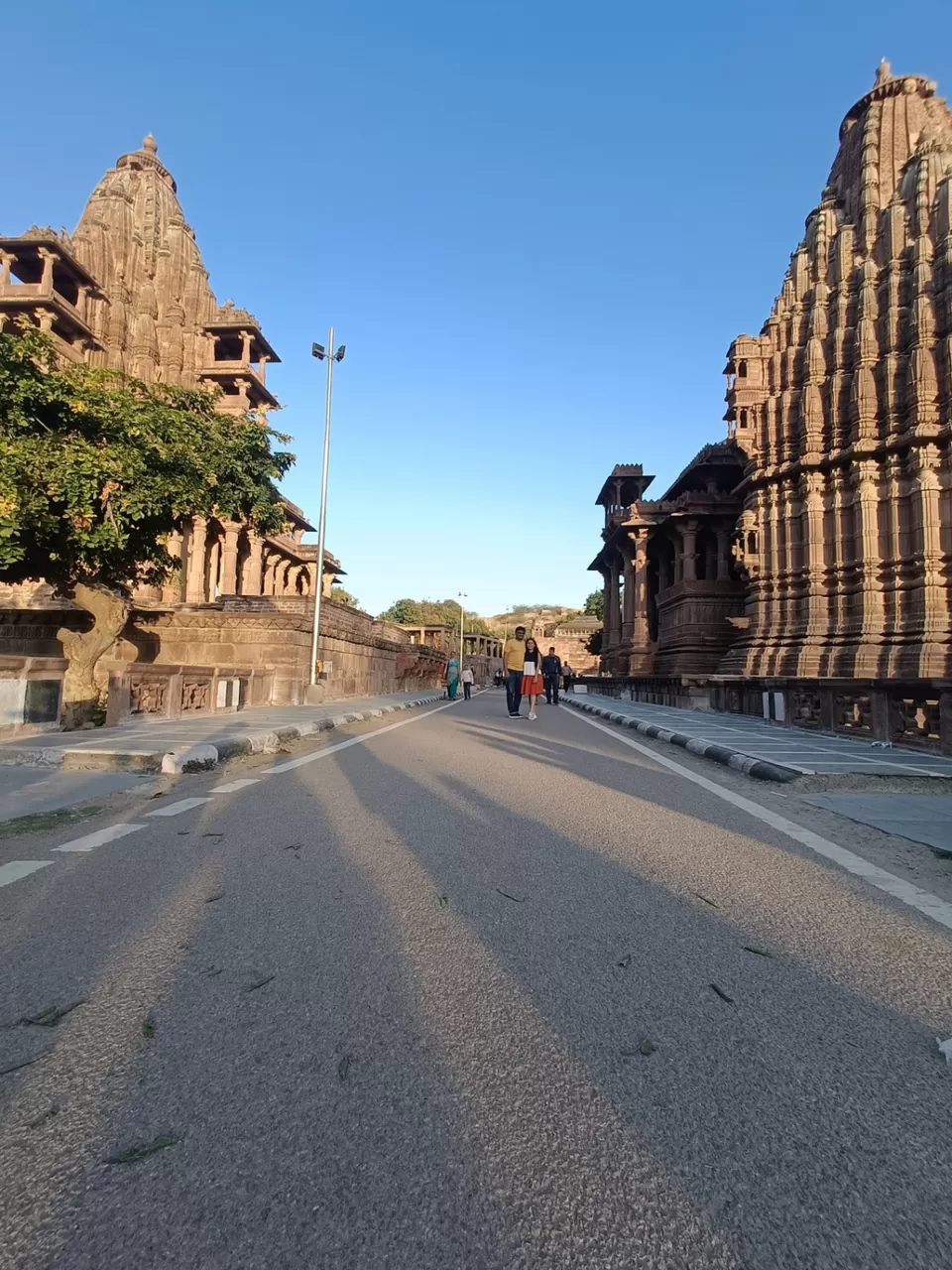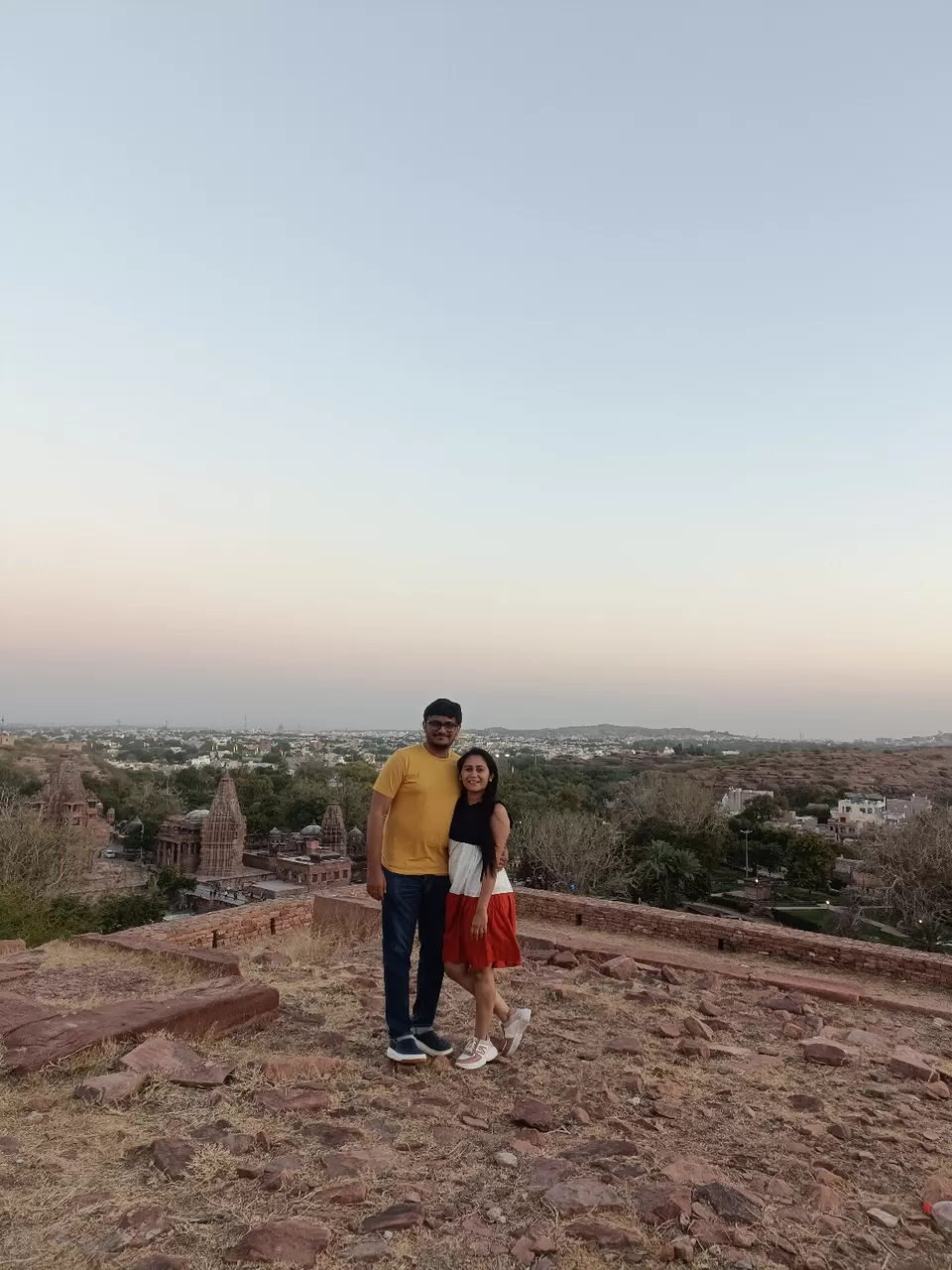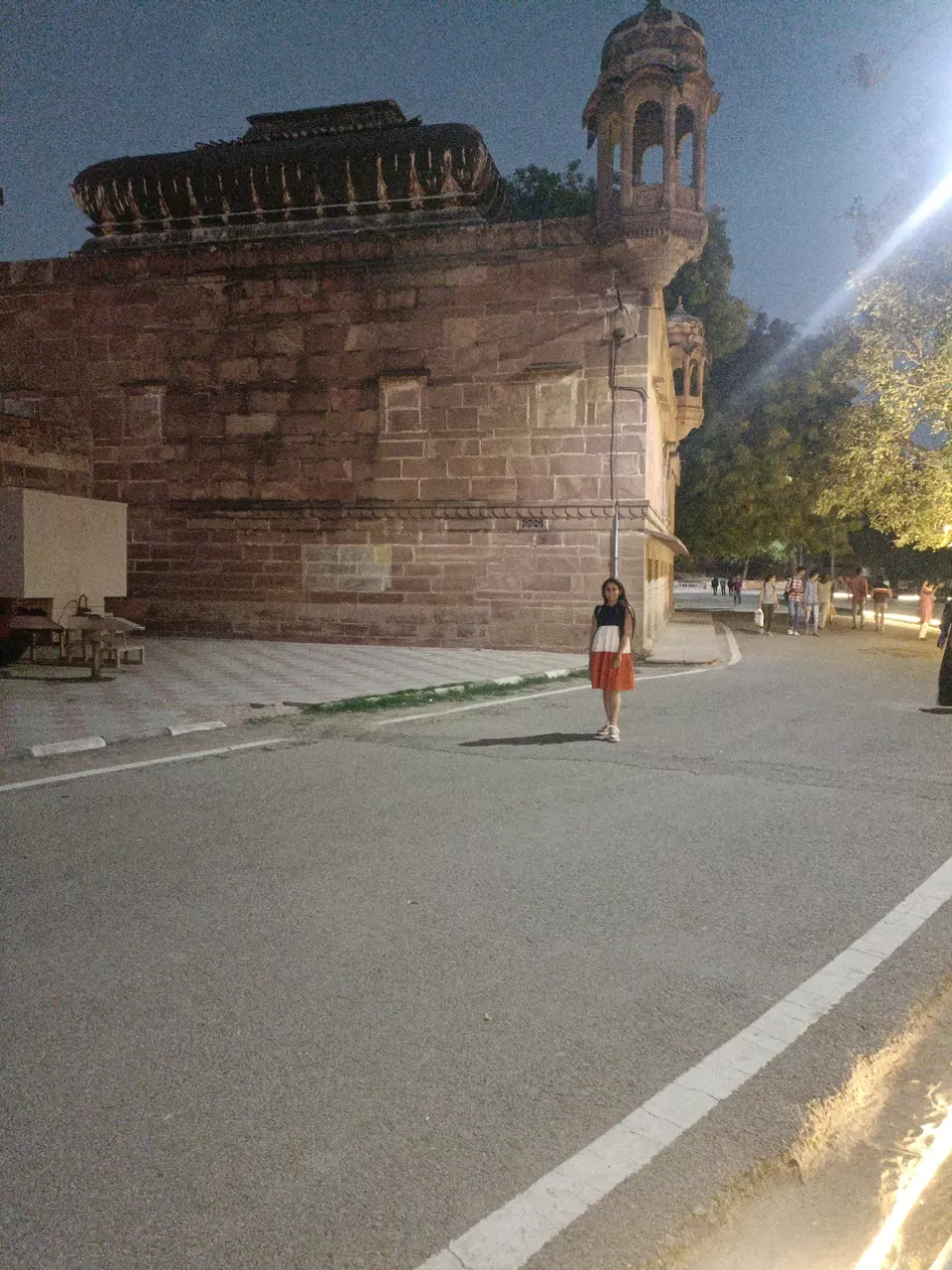 At night, we had dinner at Indique rooftop with beautiful Mehrangarh Fort as well as a majestic Clock tower view.
We had an amazing dinner experience with good food and fantastic vibes.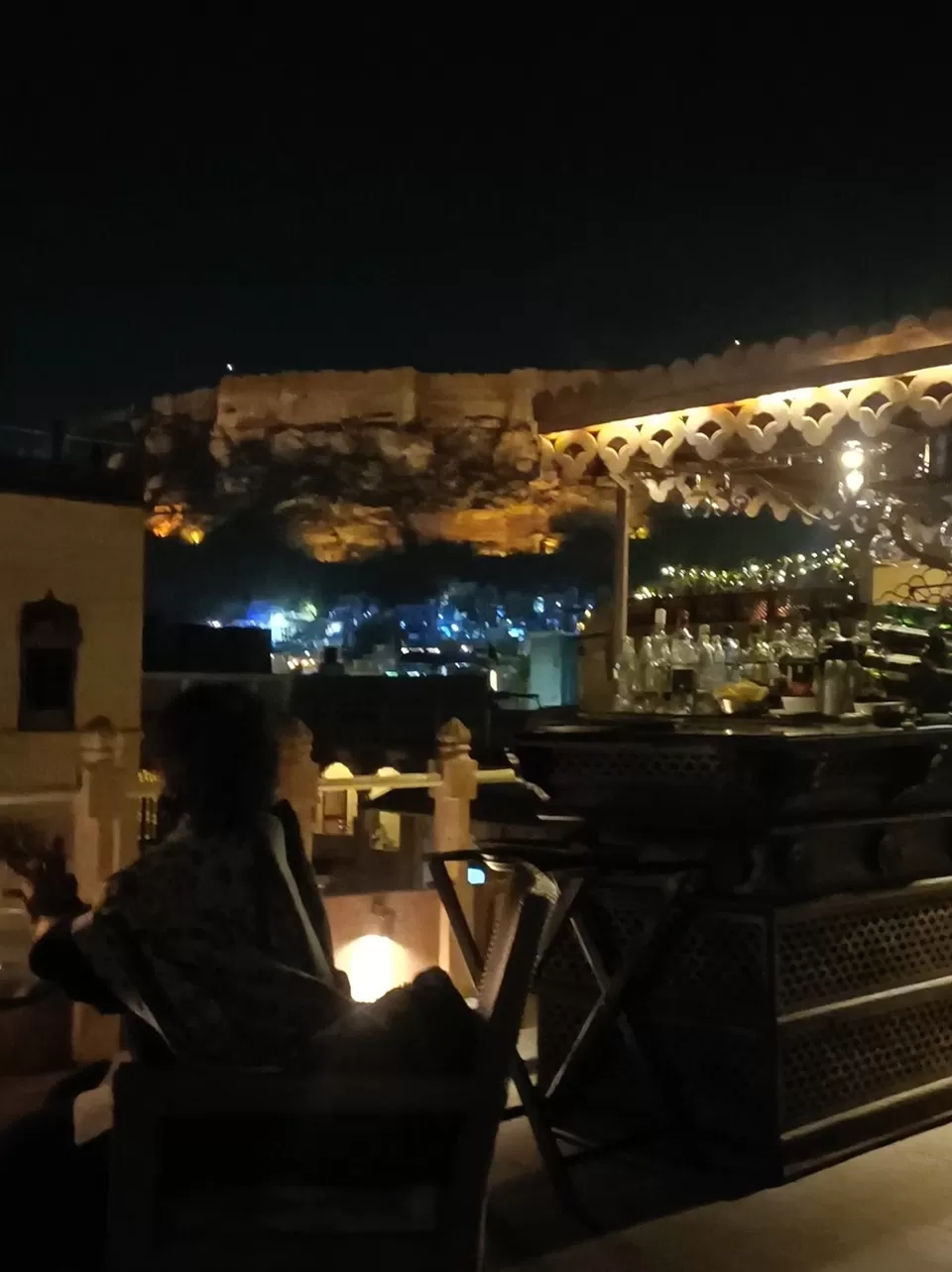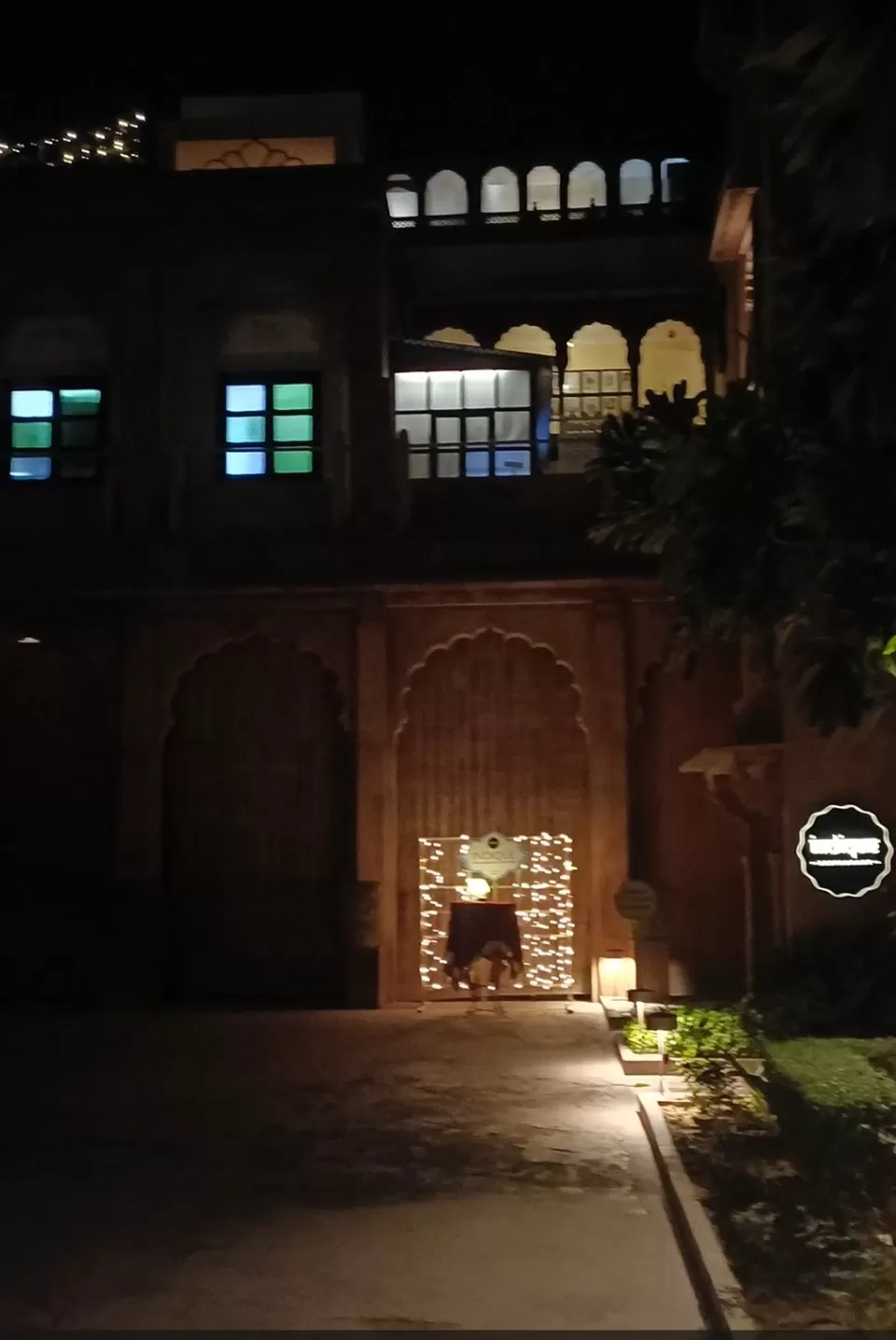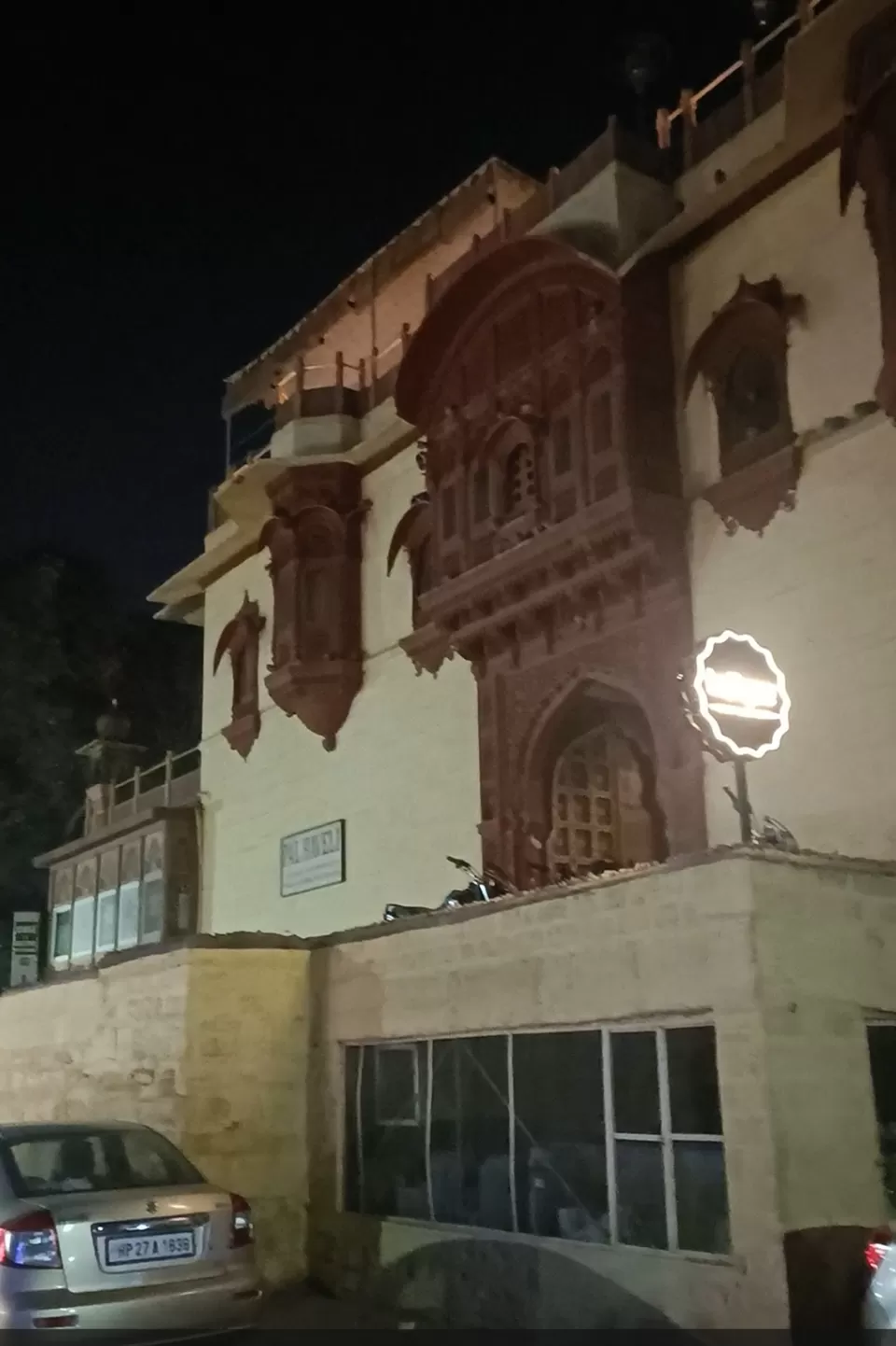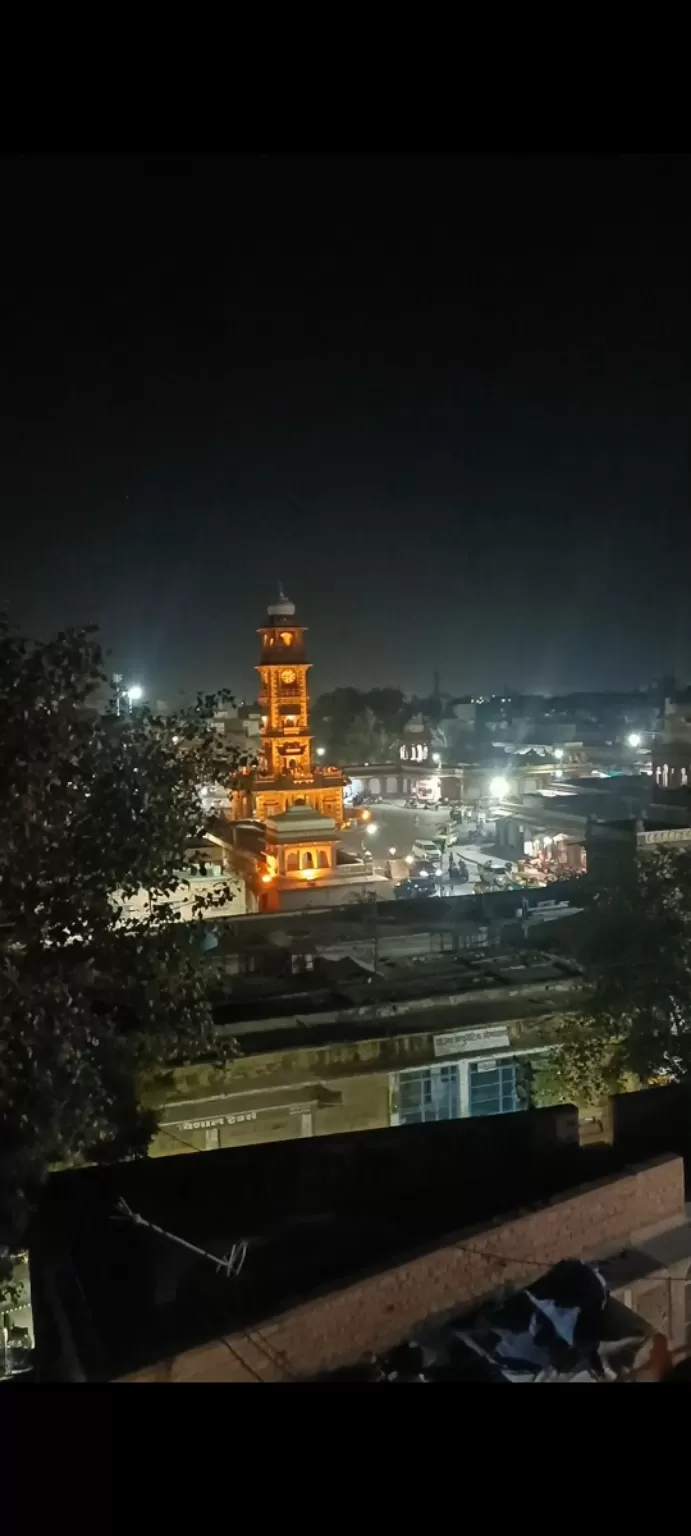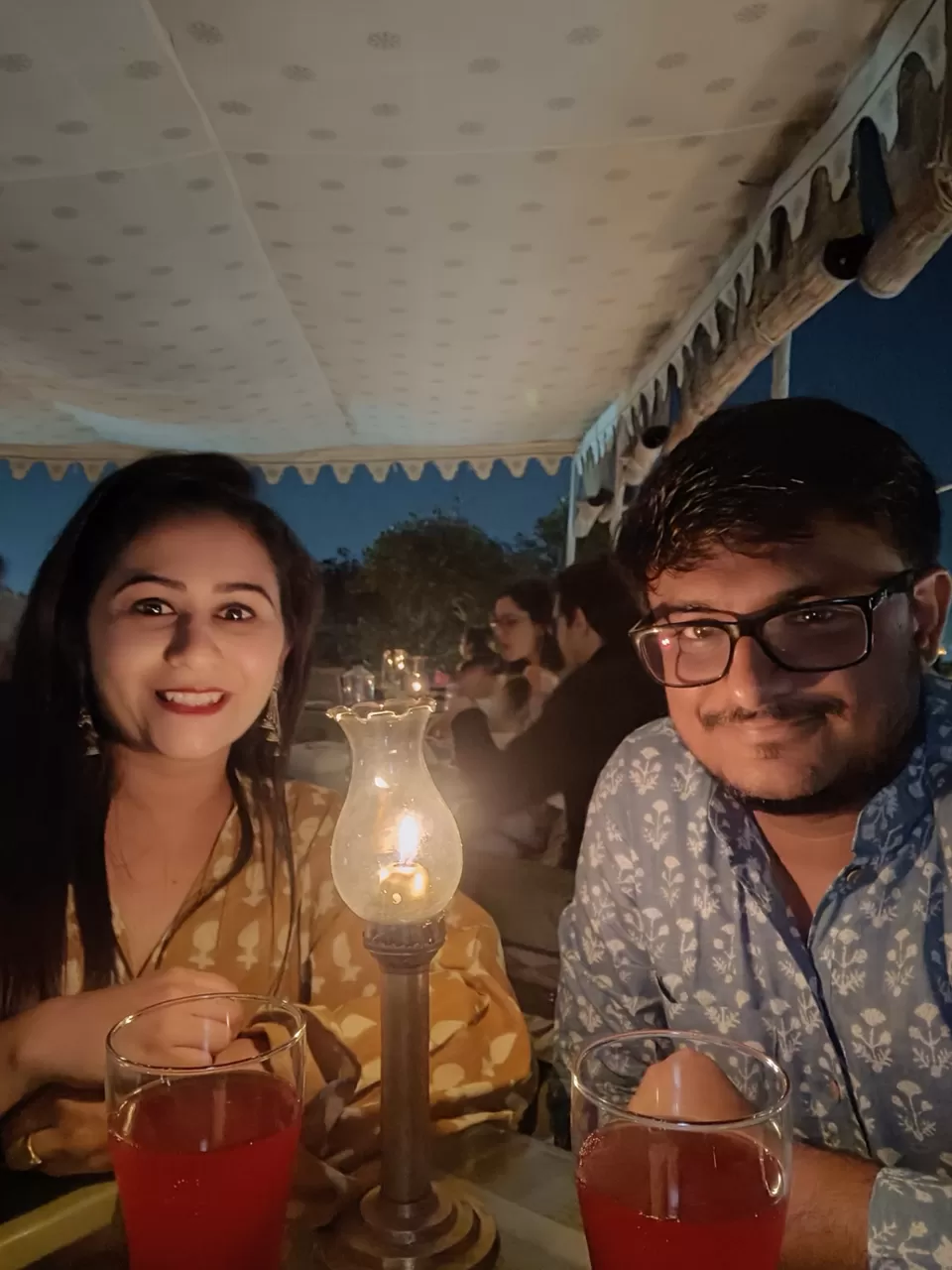 We had post-dinner walk in the streets of old Jodhpur.
We started our day with a morning walk to the heart of Jodhpur (Ghanta Ghar) which was only 700 metres from our stay. Morning time is best for photography at Ghanta Ghar as whole day market shops remain open and this area becomes the most busy area of Jodhpur.
Ghanta Ghar is surrounded by the Sardar market where you will get rajasthani outfits and jewellery as well as other household items.
We clicked pictures at Ghanta Ghar.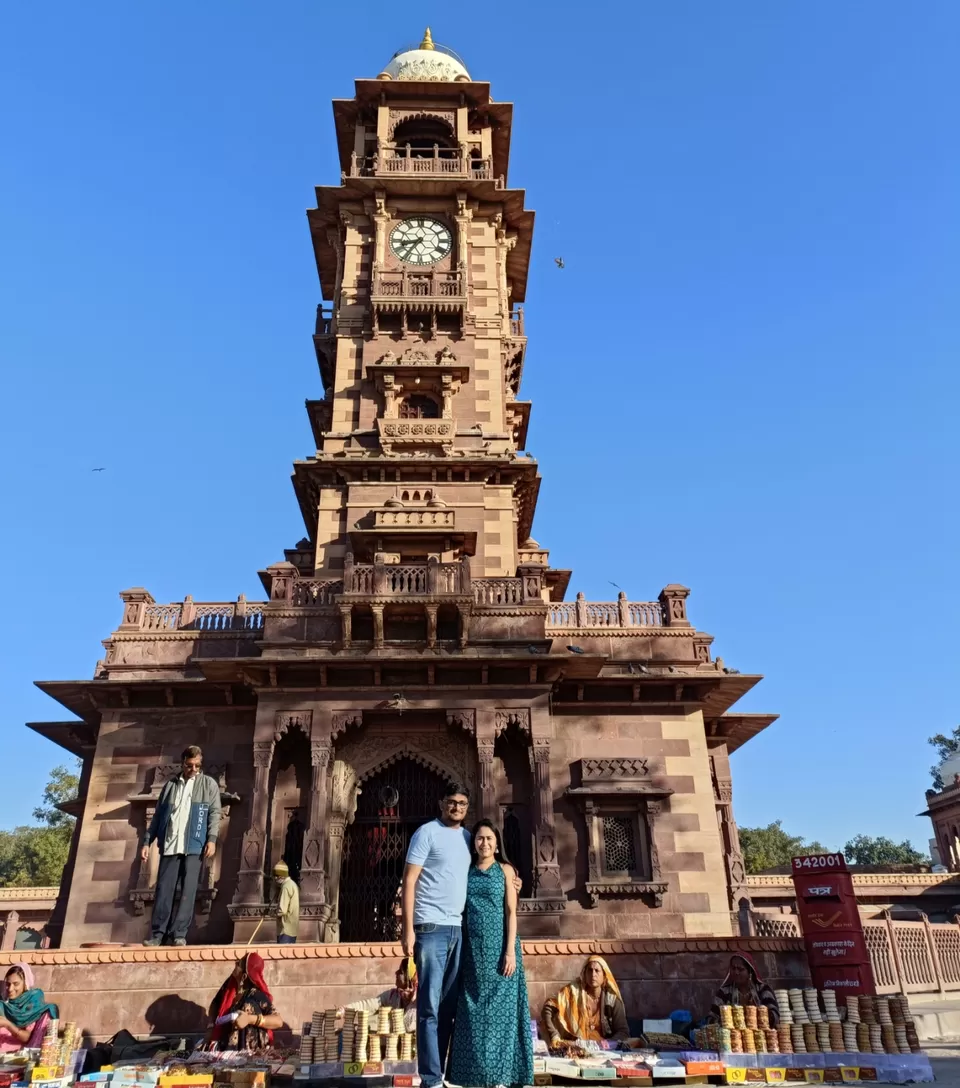 After that we had breakfast and makhaniya Lassi at Mishrilal Hotel.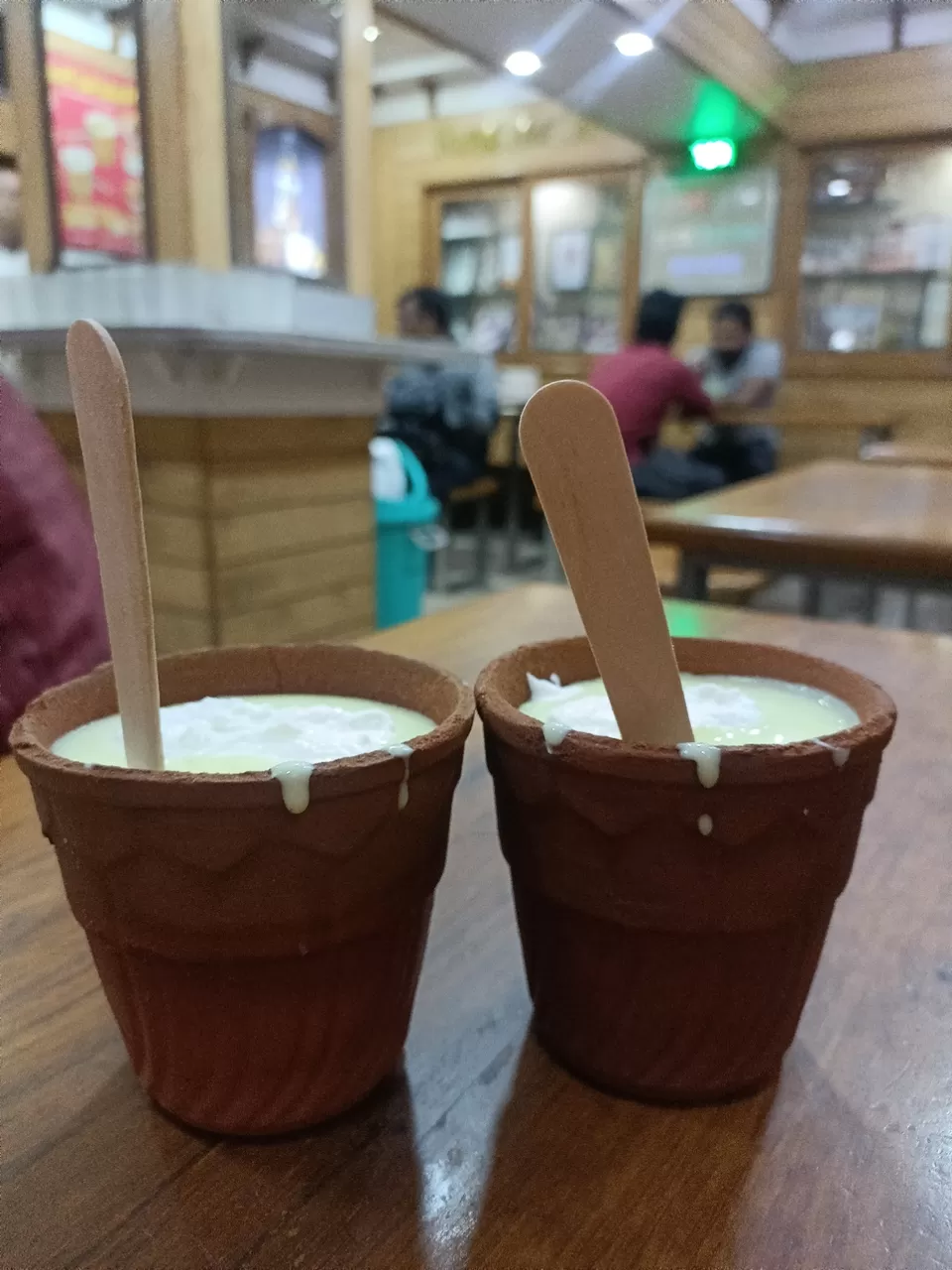 Early morning is the best time to visit this peaceful place.
Entry fee: Rs.60/- per person.
This white marbled architecture is a memorial site of a Rajput clan. This cenotaph was built in the 19th century by Maharaja Sardar Singh in the memory of his father, Maharaja Jaswant Singh II, the 33rd Rathore ruler of Jodhpur.
One should visit this memorial, which has a temple-like architecture, on their tour to Jodhpur. Jaswant Thada is a perfect example of architectural brilliance. The architecture is made of white marbles which are so fine that the outer surface of the whole building emits a warm glow during sunlight. Currently it exhibits a variety of paintings and portraits of Jodhpur rulers.
We had a pleasant morning time at Jaswant Thada with live rajasthani instrumental folk music.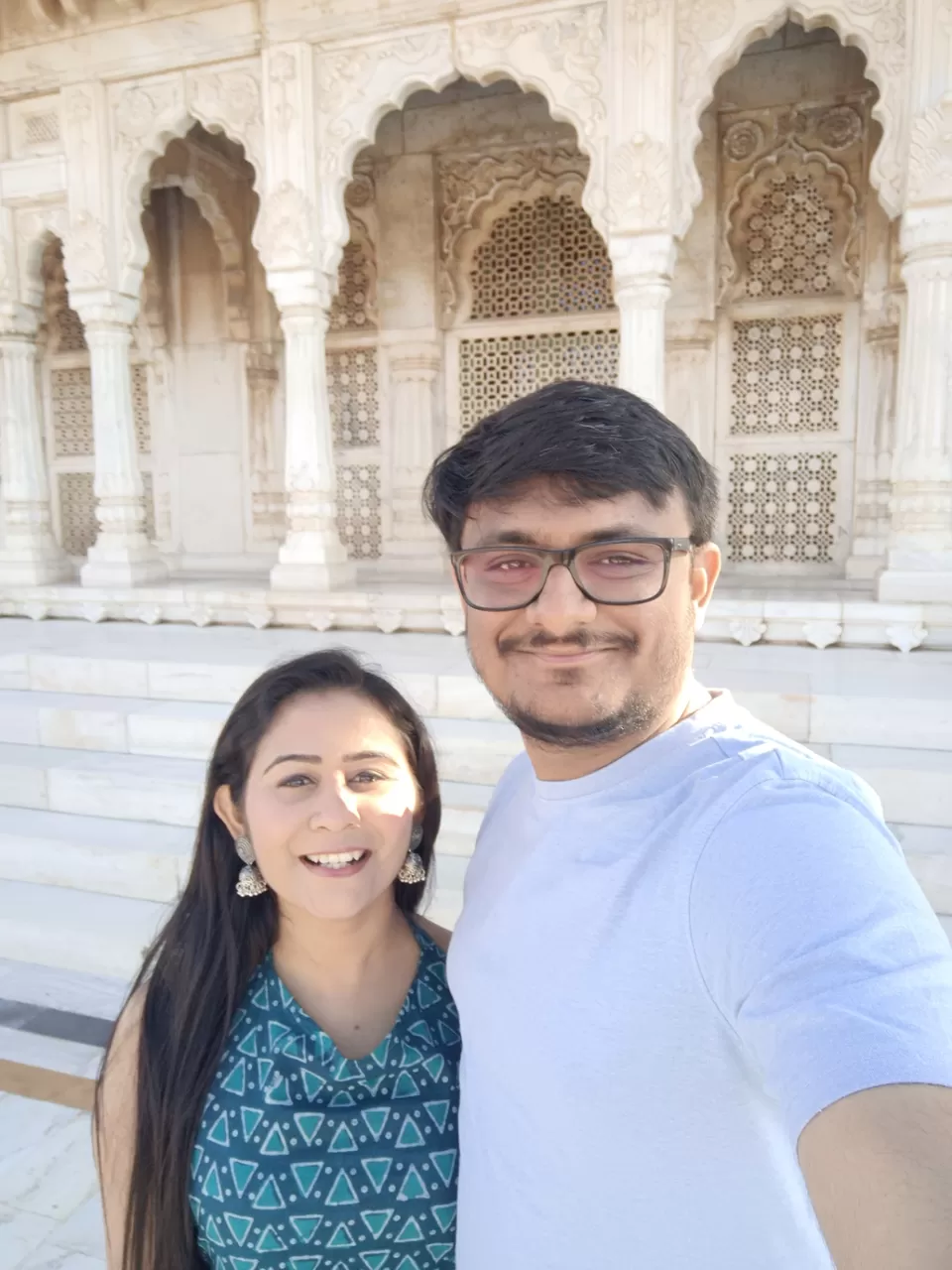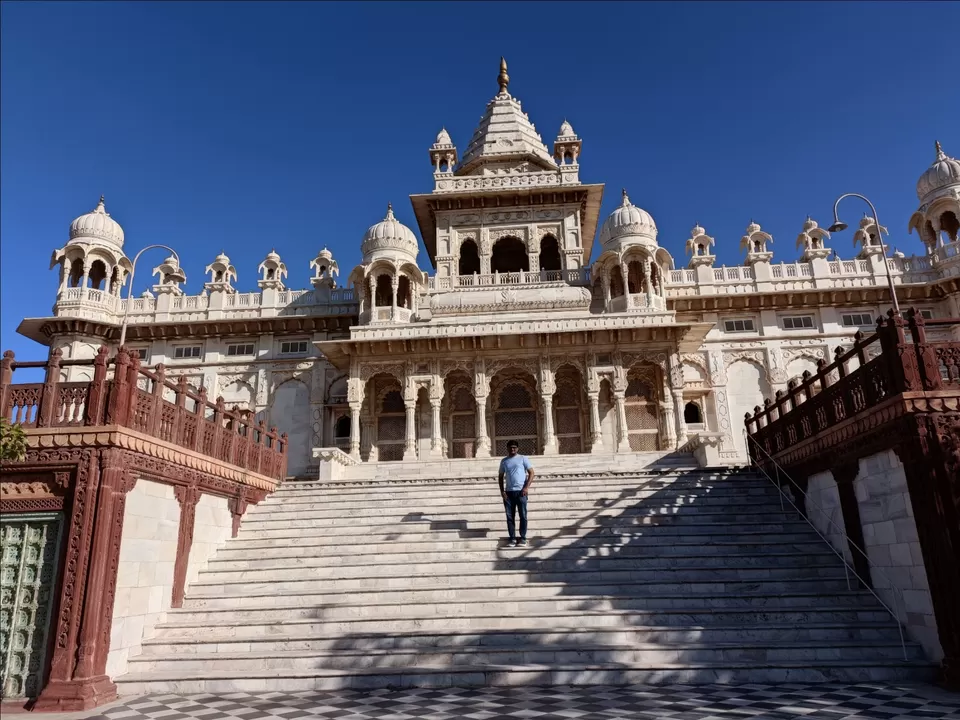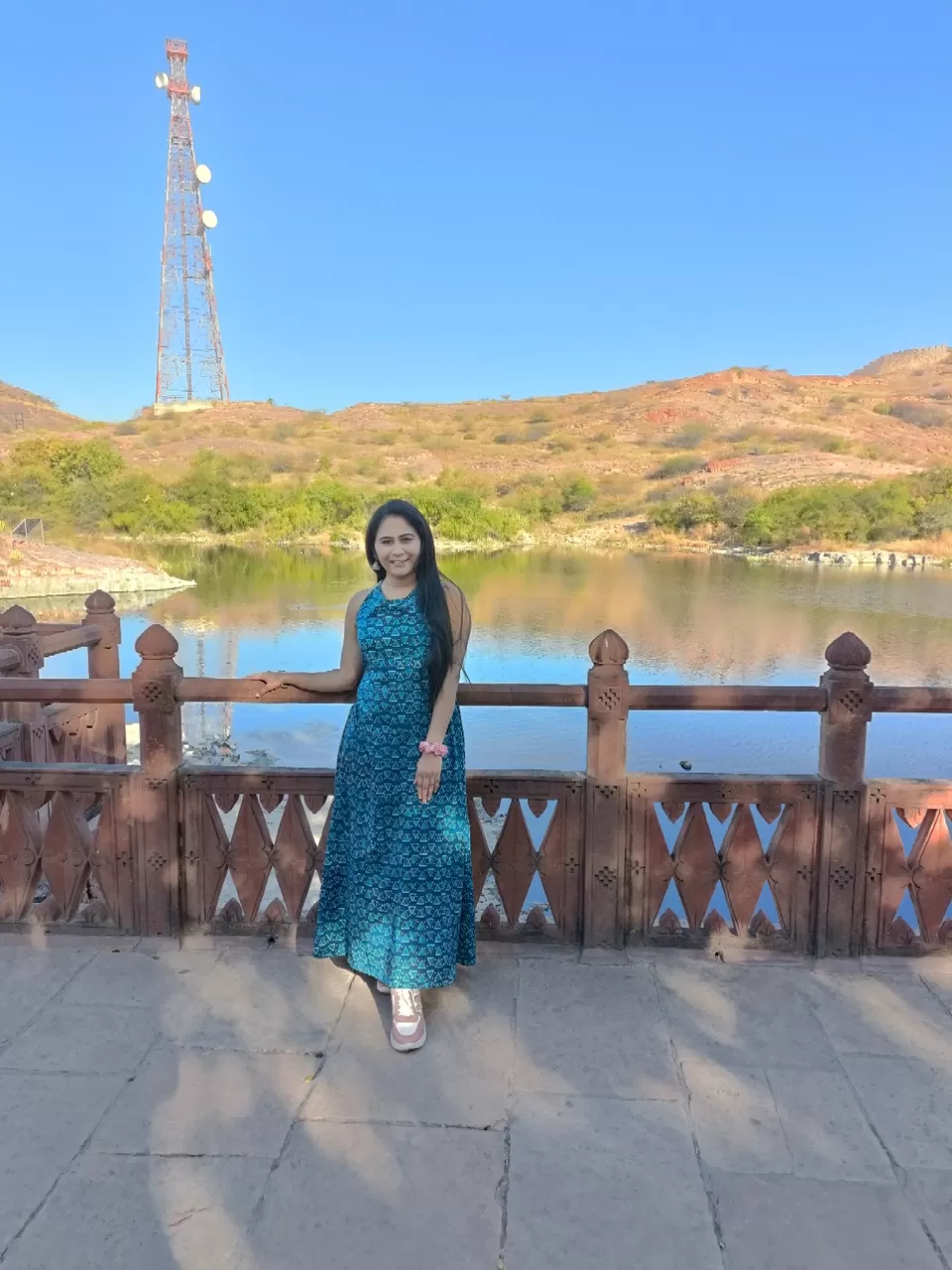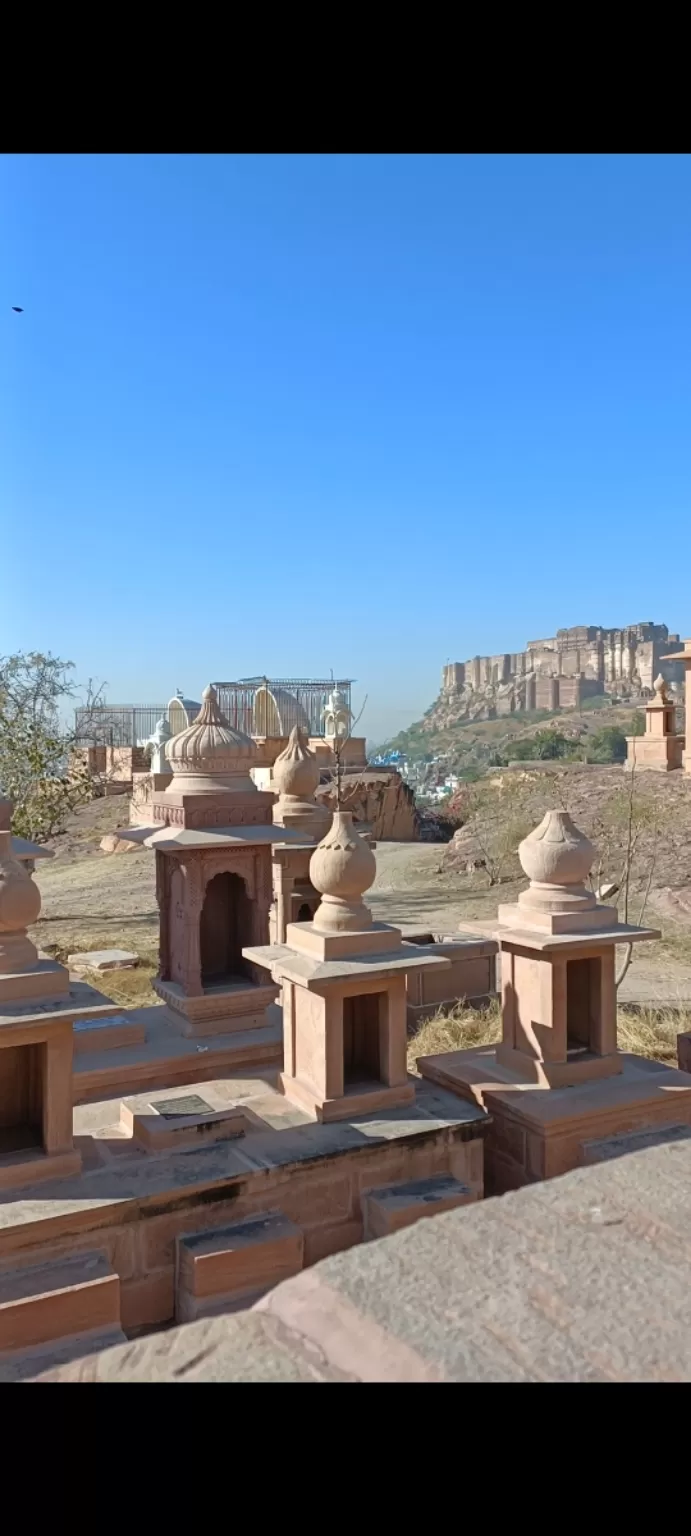 Timings: 9:00 AM to 5:00 PM, Open on all days
Entry fees: Rs. 200 per person for Indians without lift
Mehrangarh Fort holds the pride of place in Jodhpur because of its splendid architecture and the diverse history associated with it. Considered as one of the most formidable and magnificent forts of Rajasthan, Mehrangarh fort was built by Rao Jodha in the year 1459. The fort is spread over an area of 5 km and is built on a 125 m high hill in the outskirts of Jodhpur city.
There are seven gates, which can be used to enter the Mehrangarh fort. These 7 gates are made by different rulers, and are built in honour of victory over Bikaner and Jaipur armies.
One can see the panoramic view of the Jodhpur city from this fort, which seems like a blue carpet laid at the foot of a hill. Every ruler of Jodhpur has contributed to the making of this fort. Within the fort one can see the magnificent palaces. The main palaces located in the Mehrangarh Fort are Moti Mahal, Phool Mahal, Sheesh Mahal, Zenana Dude, Takht Vilas and Jhanki Mahal. There are also two temples located inside the fort - Chamundi Devi Mandir and Nagnechiaji Mandir, dedicated to Goddess Durga and the Kuldevi respectively.
There is also a museum within the Mehrangarh fort, which exhibits a rich collection of palanquins, musical instruments, royal cradles, costumes, arms, furniture and paintings.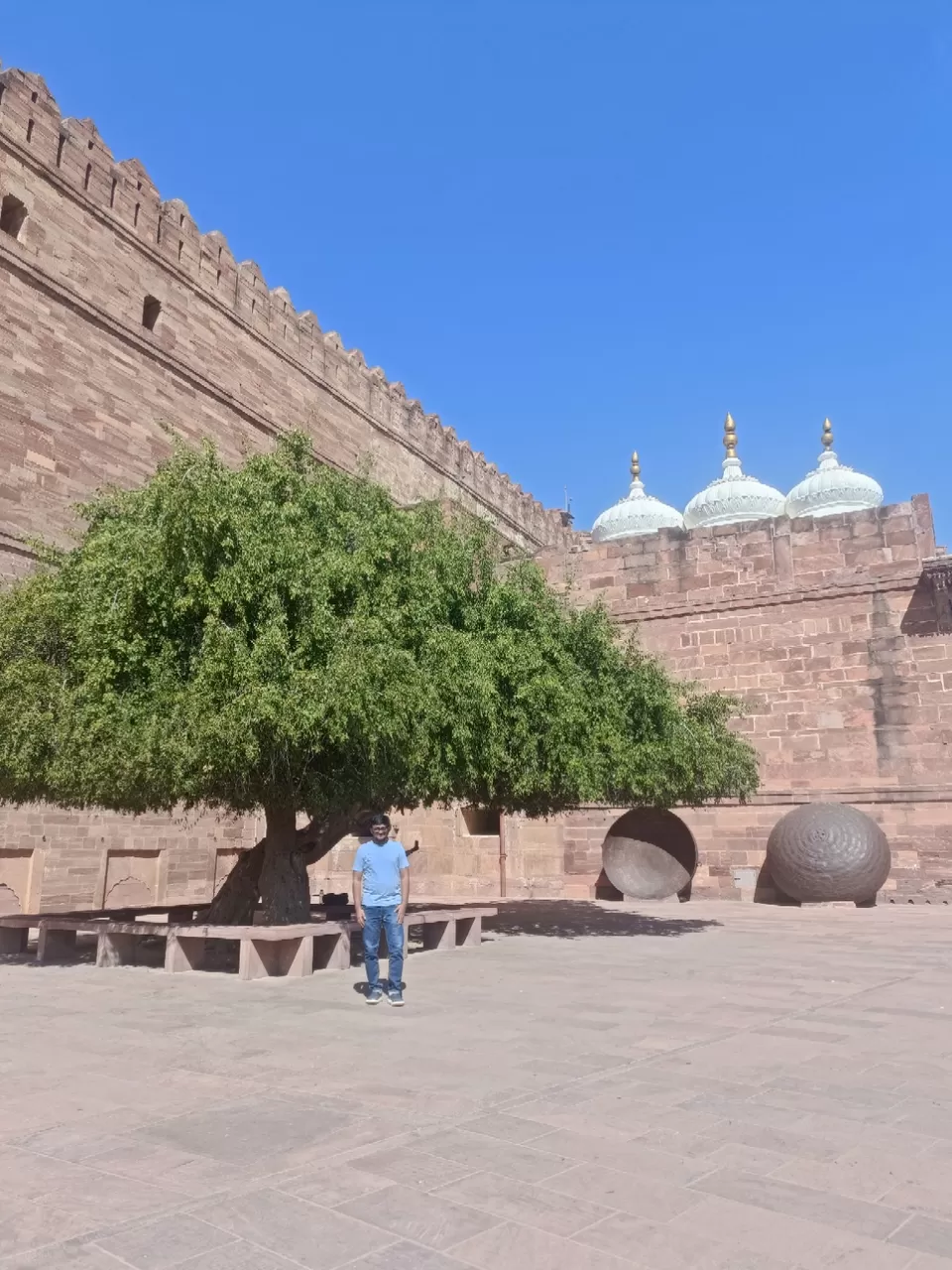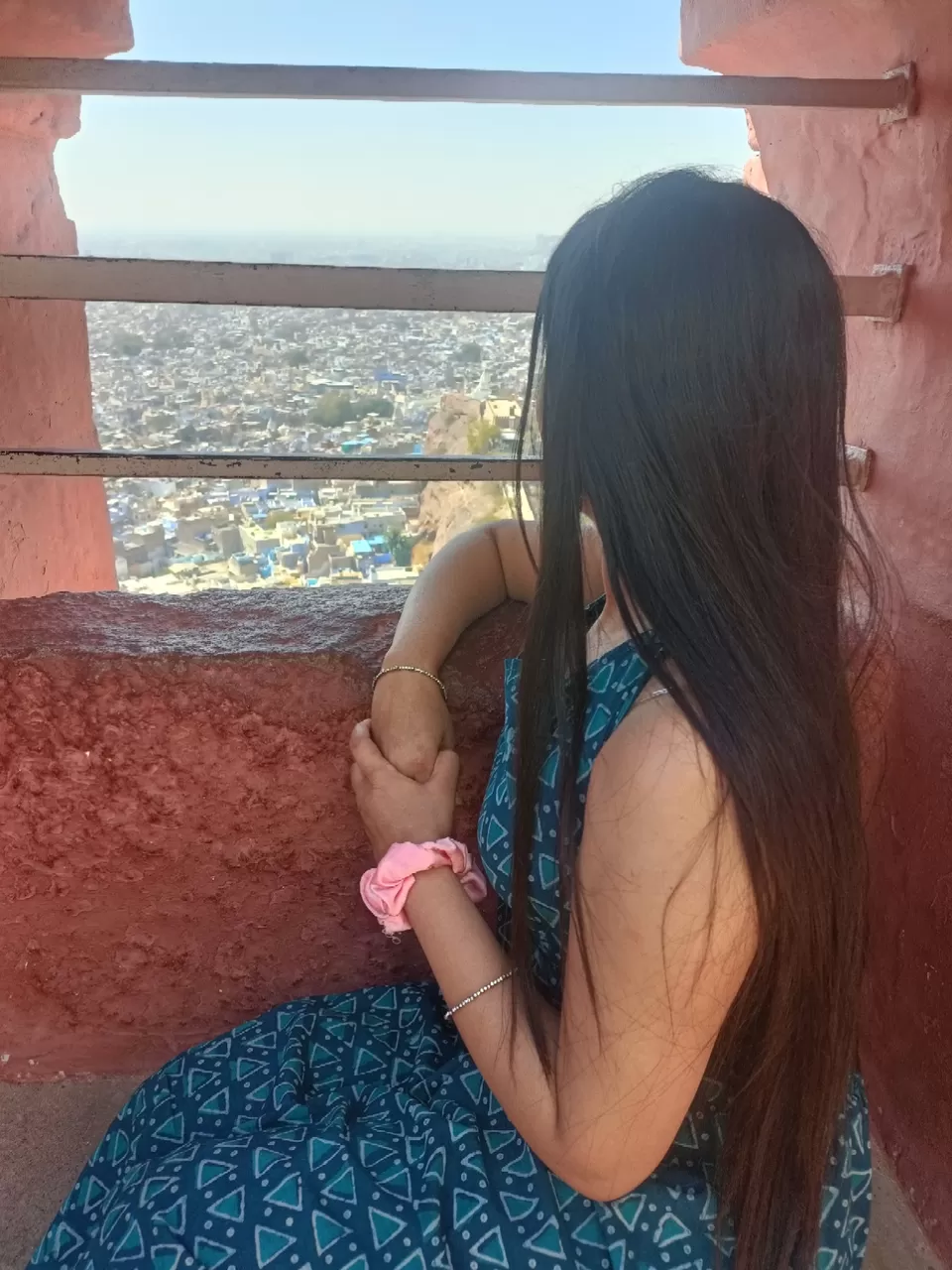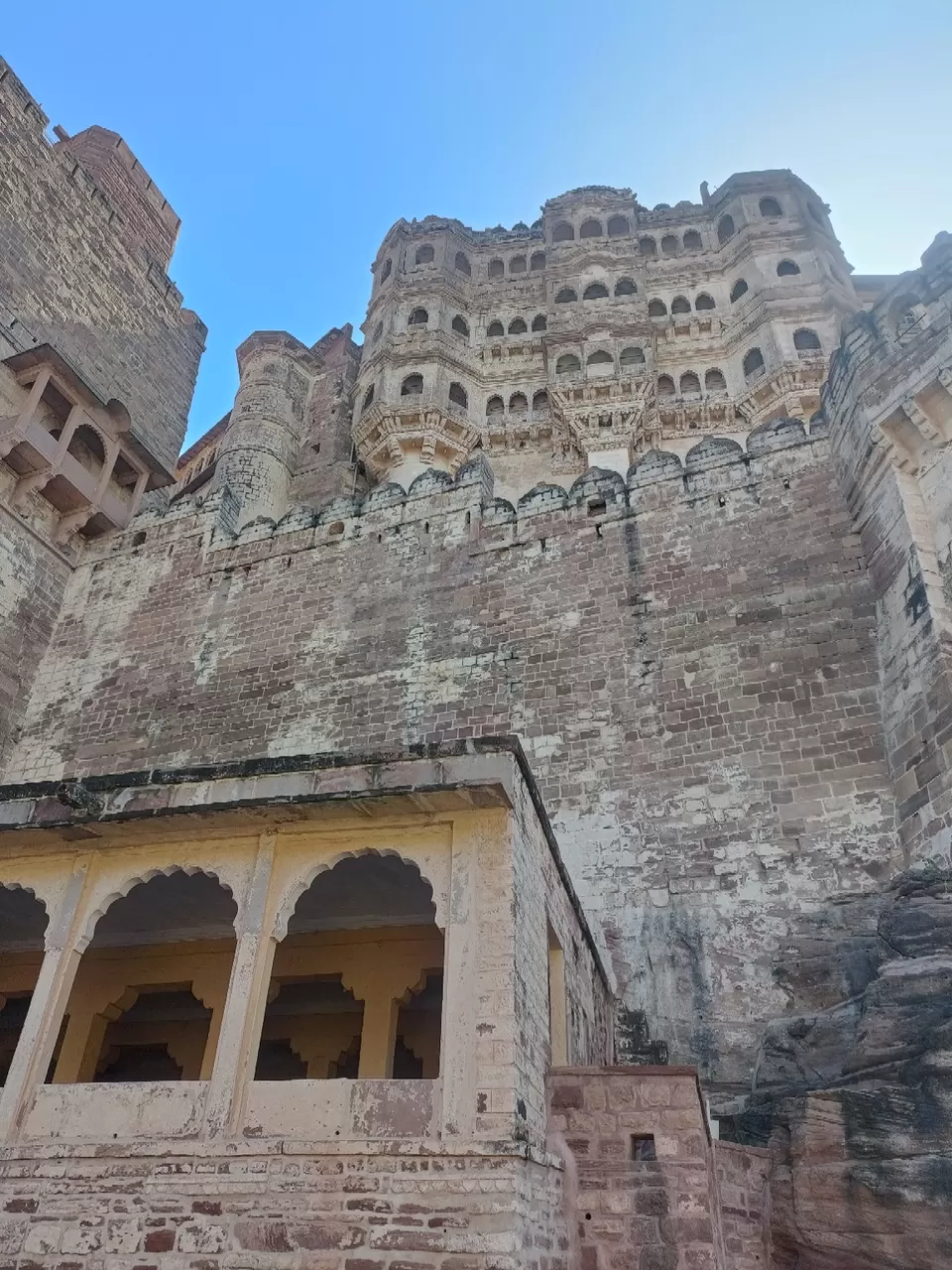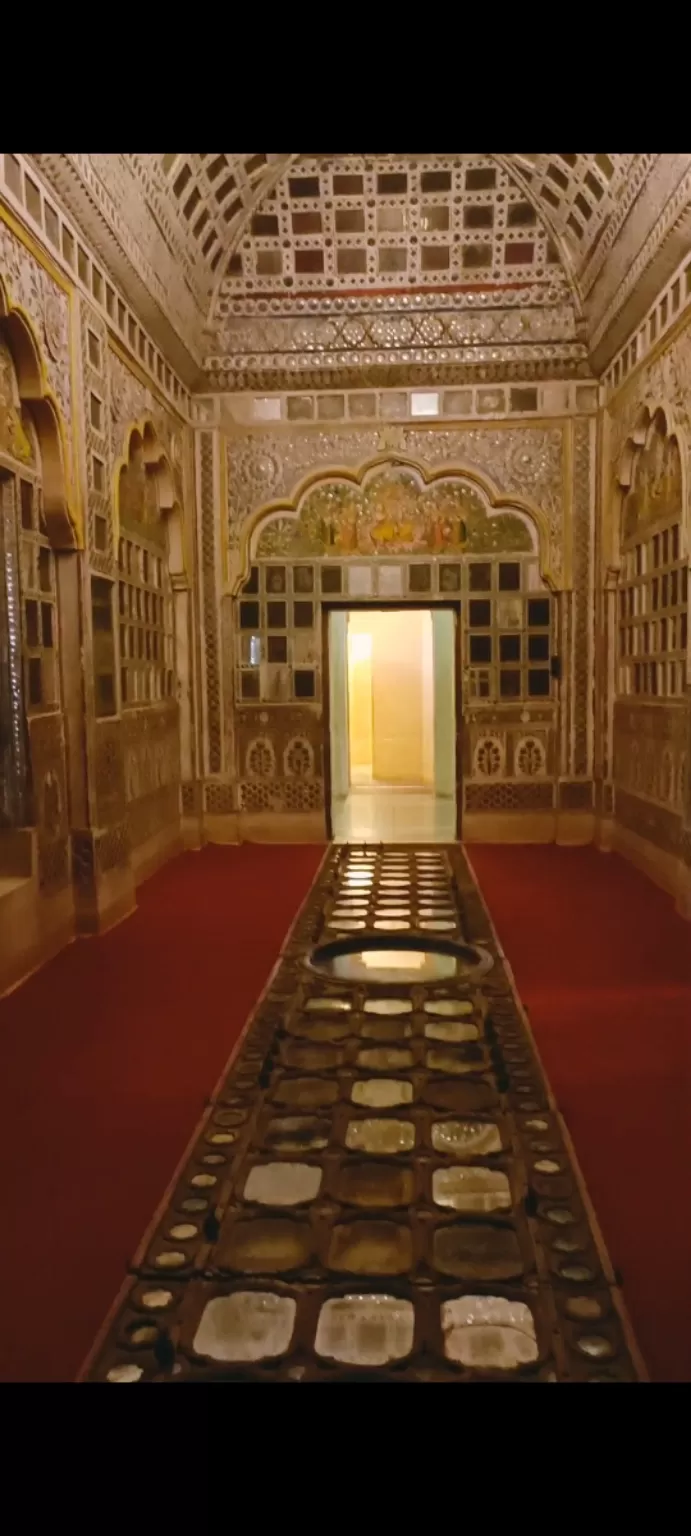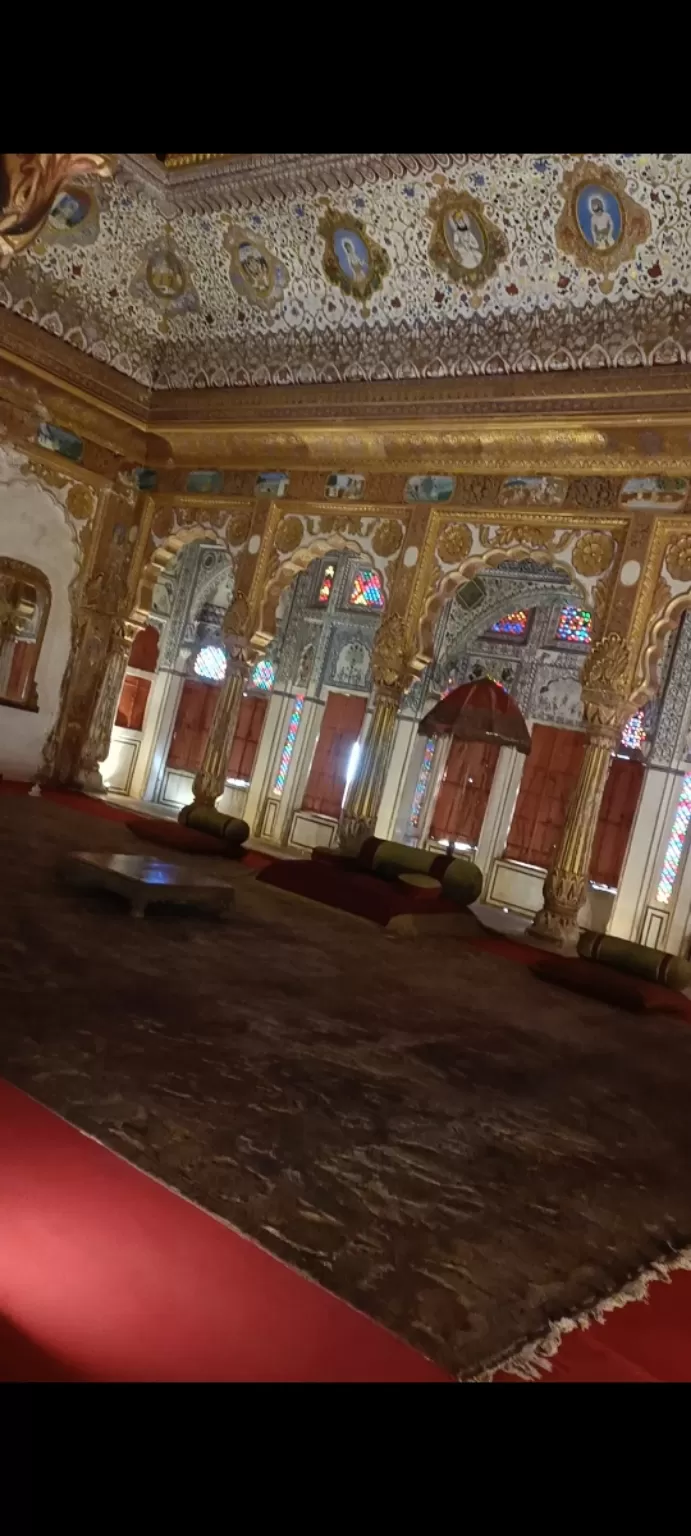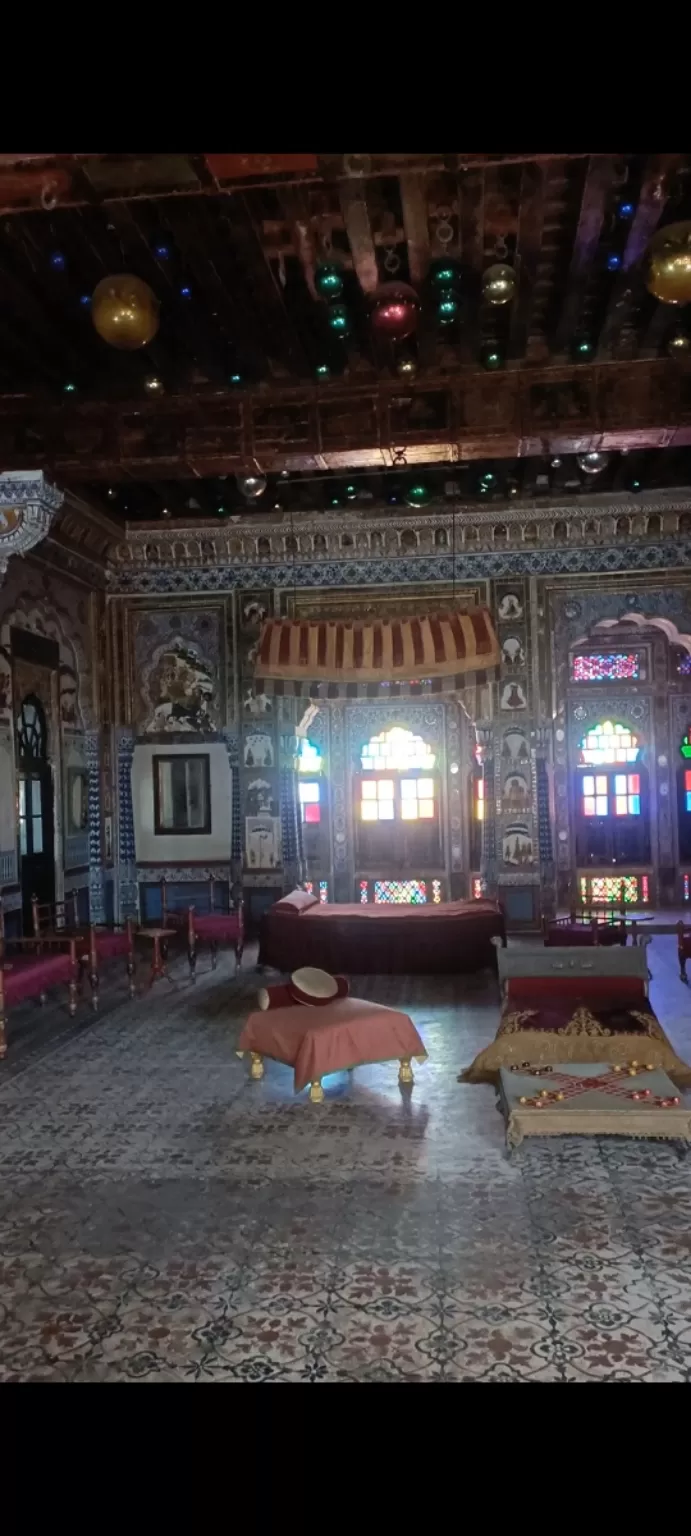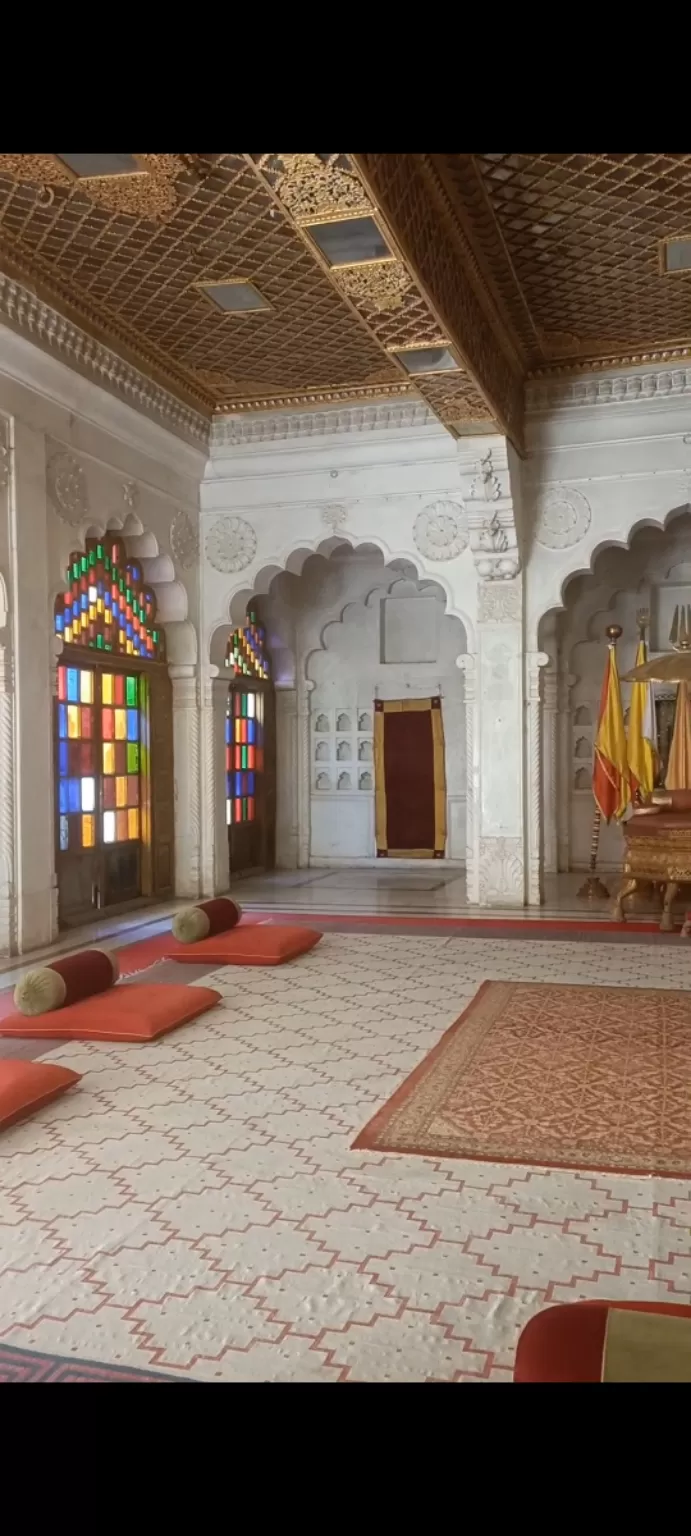 After witnessing beautiful royal places in Jodhpur.
We returned to our stay in the evening. We had rest for some time.
For dinner, we chose one royal dinner place RAAS Jodhpur.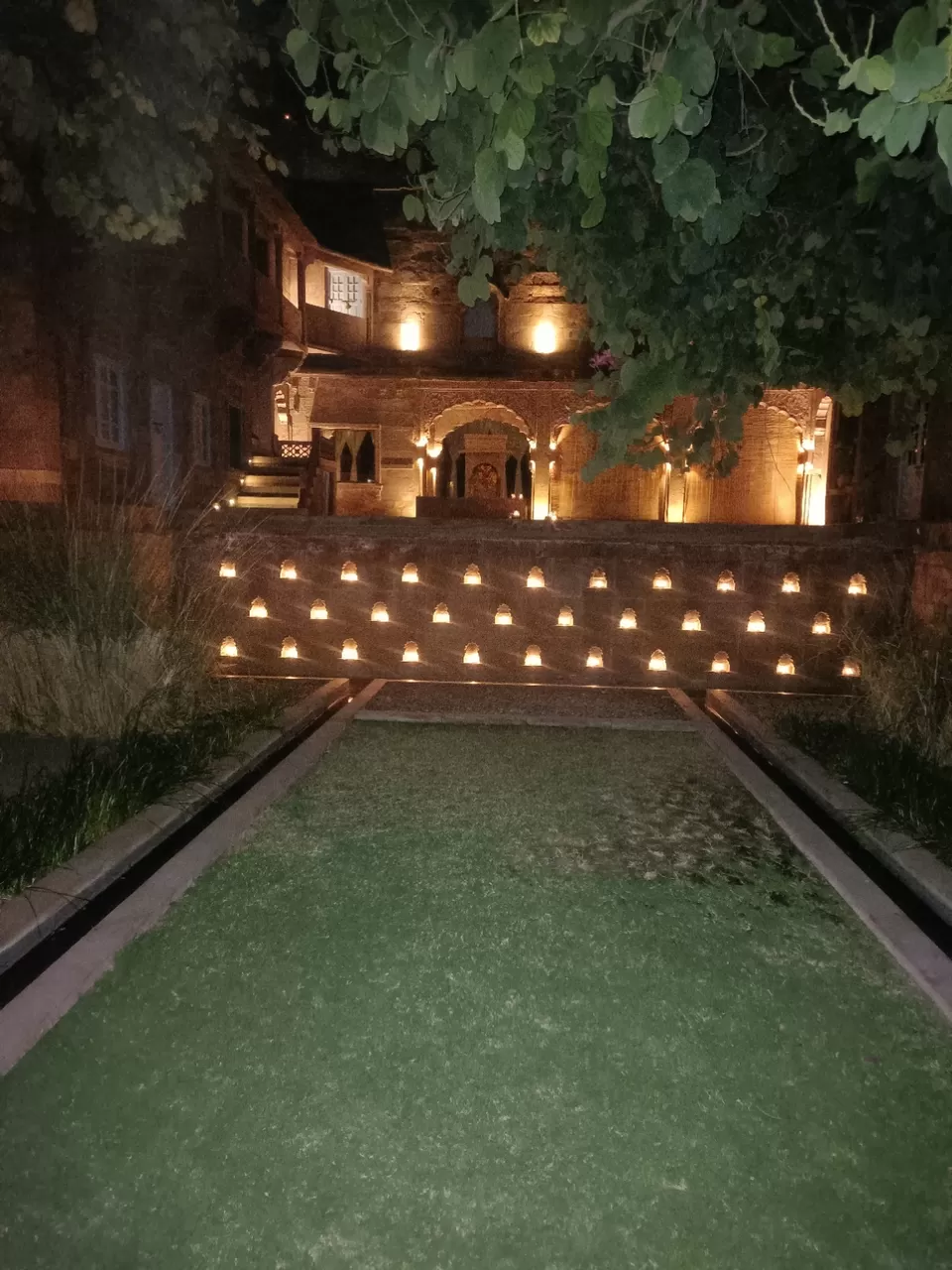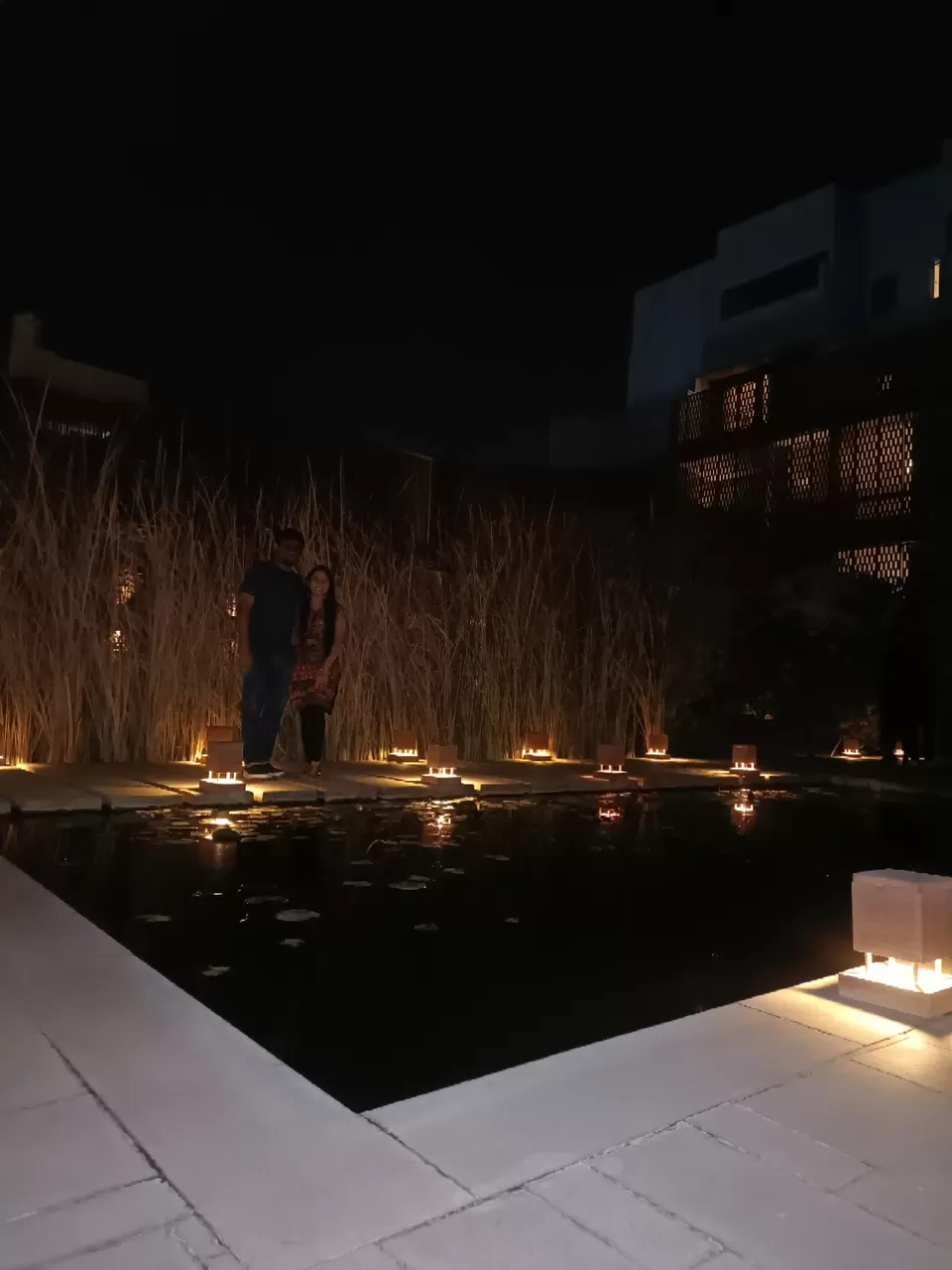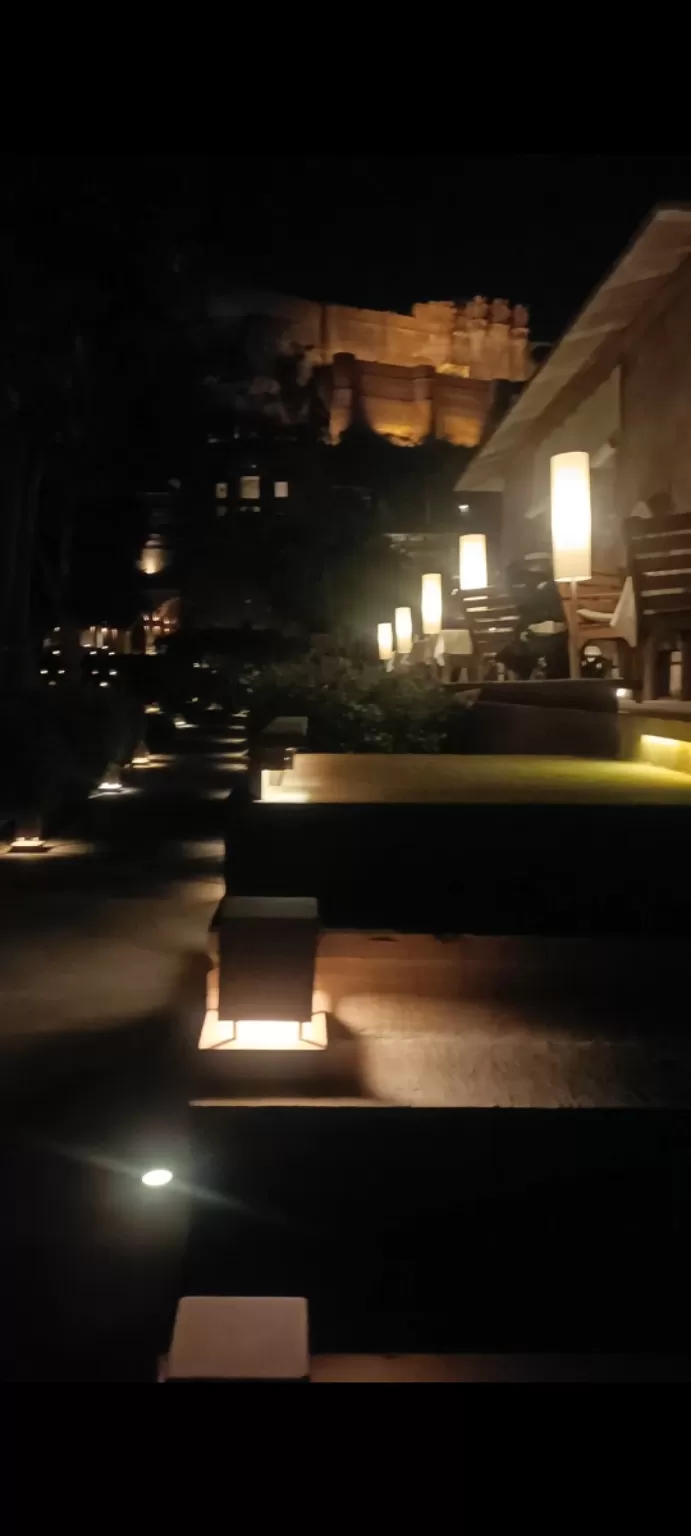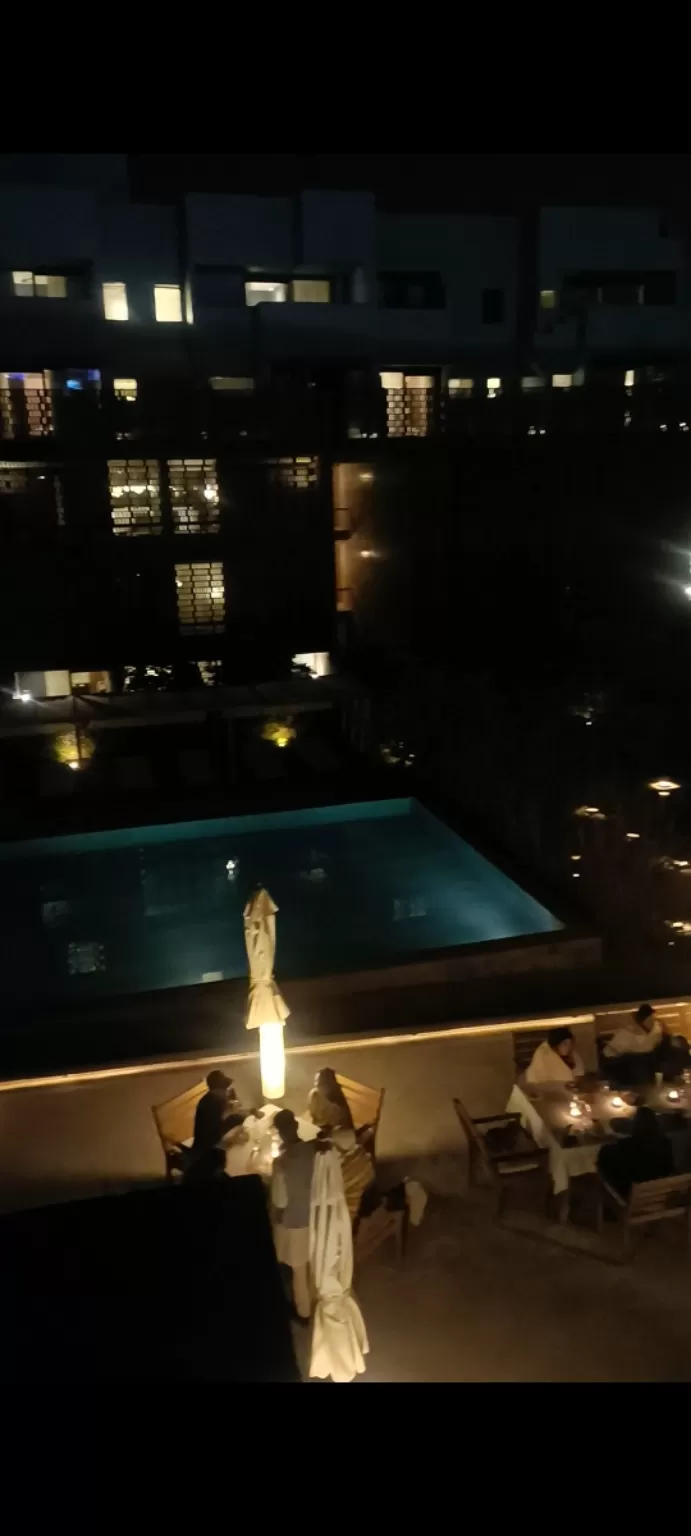 In the morning, we got ready for the day and had breakfast.
Then we visited Pachetia Hills.
The blue colored walls of Jodhpur i.e. Blue City attracts tourists from India and abroad. Till now the inner streets of Jodhpur city and the walls of the city situated at the foothills of Mehrangarh were blue colored. Now the wall built on the mountains has also been painted blue. The pictures of the culture of Rajasthan on the blue wall are adding to its beauty.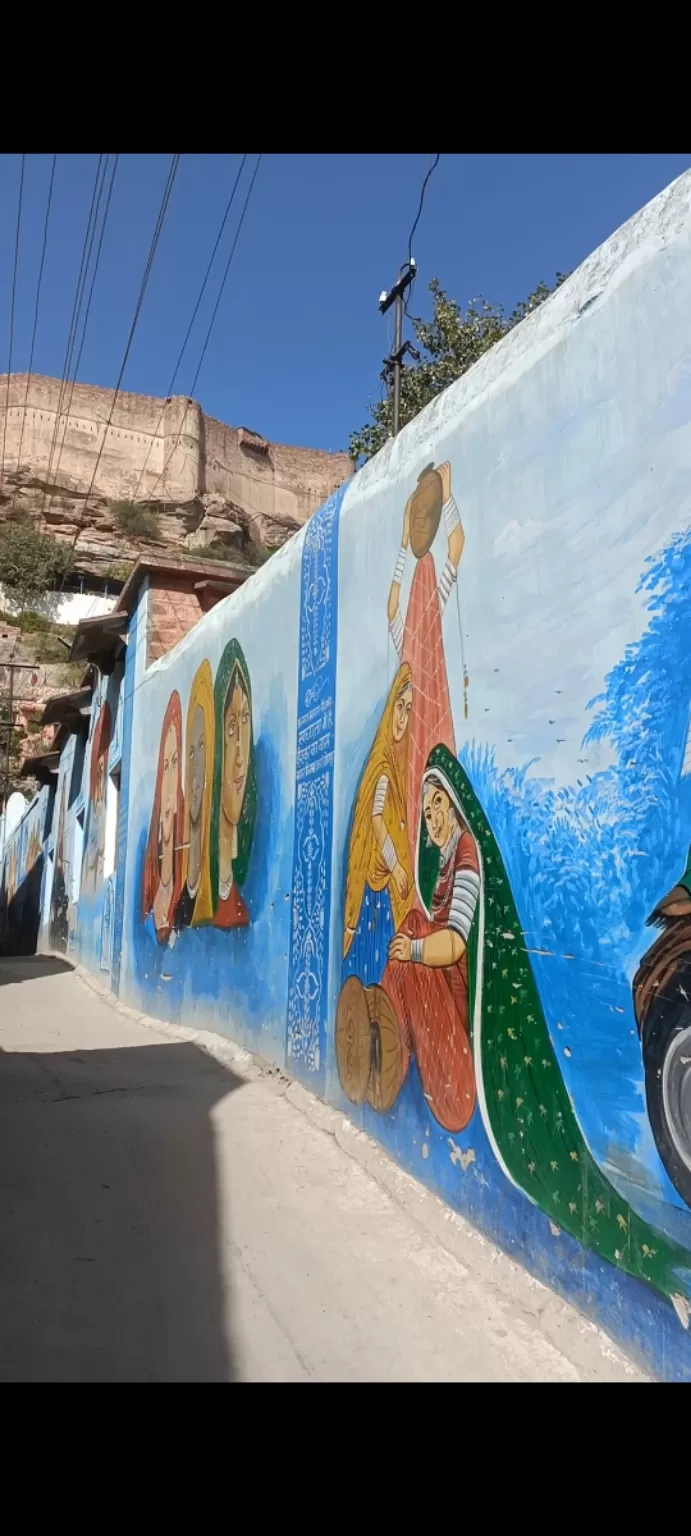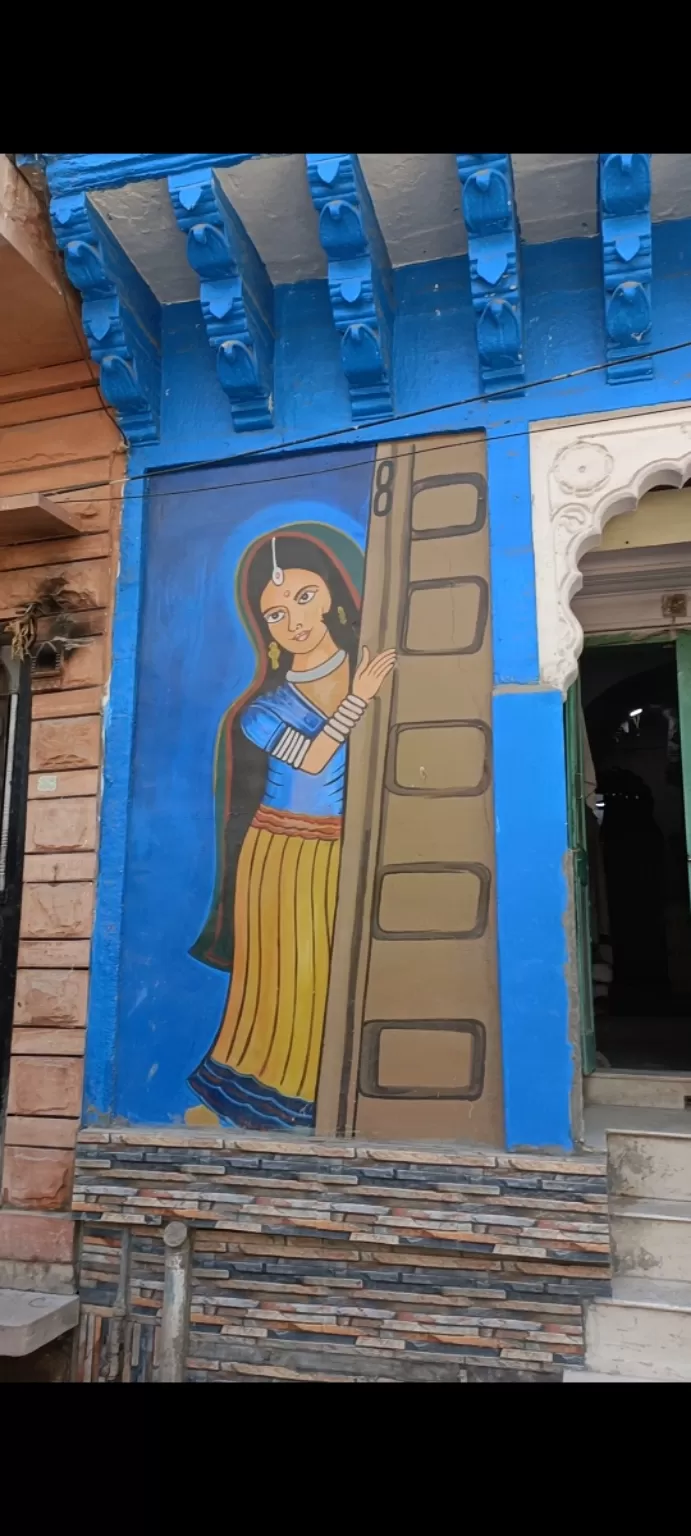 Then we visited a local shopping market in Jodhpur. Tripolia Bazaar is fantastic place for bandhani saree shopping.
After wandering in markets, we went to Toorji Ka Jhalra.
The famous stepwell in Jodhpur, known as Toorji Ka Jhalra Jodhpur, one of the city's most impressive wells and a relic of Jodhpur's architectural history. Toorji ka jhalra Jodhpur Popular for photos, this restored 18th-century stepwell features intricate sandstone carvings. Toorji Ka Jhalra (Toorji's Step Well) was built in Jodhpur in the 1740s by a Queen, Maharaja Abhay Singh's Consort, continuing an age-old tradition that Royal women would build public water works.
We had lunch at open house cafe at Toorji ka Jhalra.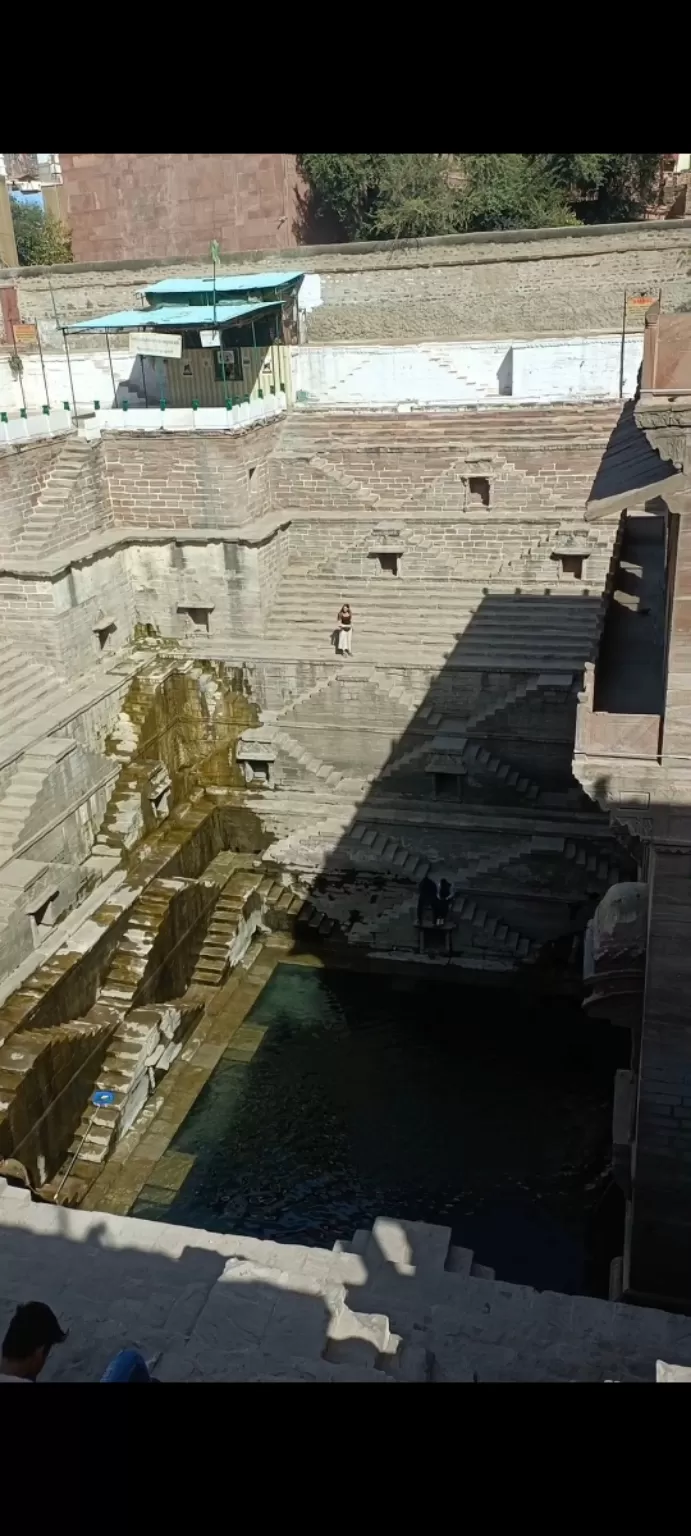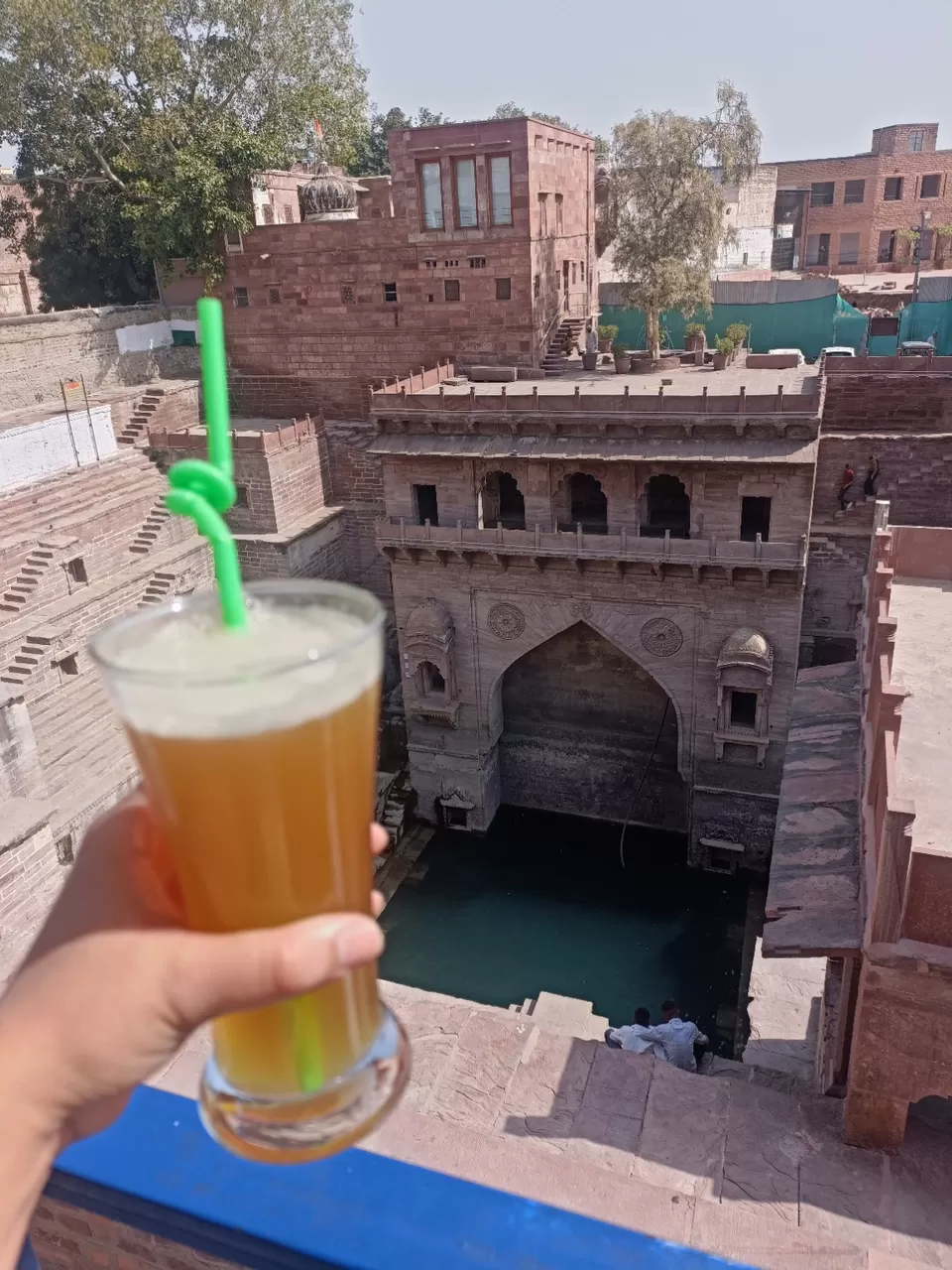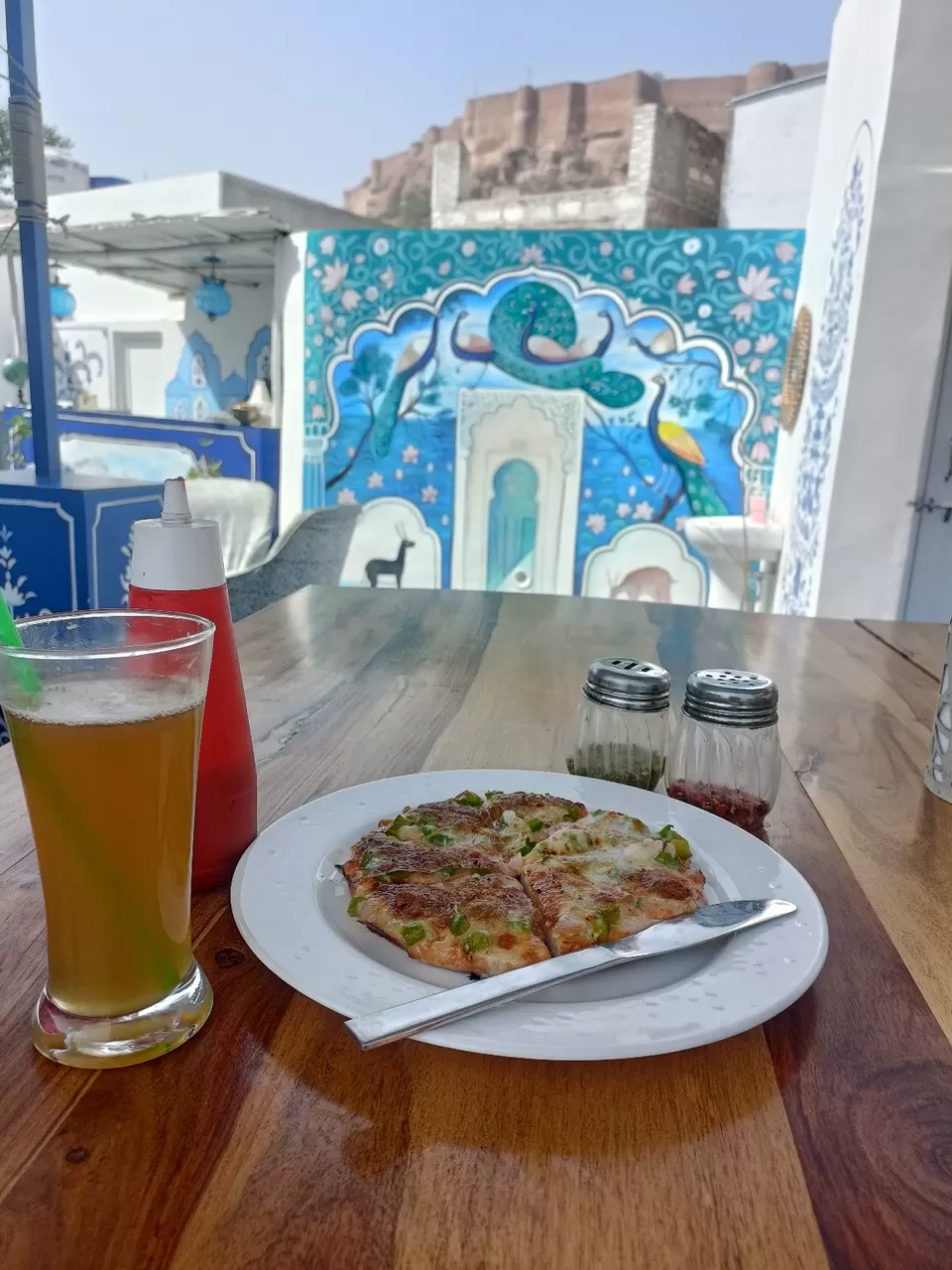 This is the beautiful end of our fabulous trip to Jodhpur.