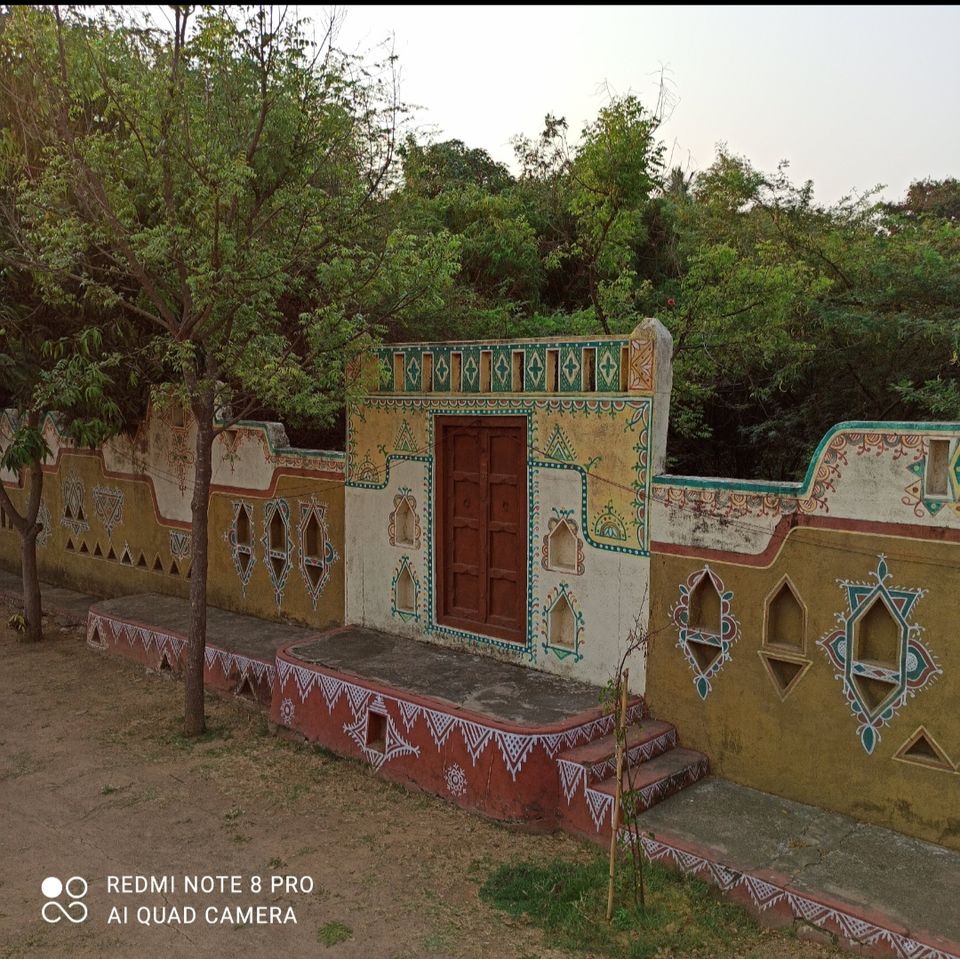 A trip to mini rajasthan in Chennai. On a sunny afternoon in Chennai it feels so already, as if you are there in the thar desert of Rajasthan. You sweat and you keep sweating. But the sea breeze in the evening sets it all right and the place mimics the desert atmosphere as the regional climate supports it.
The place is slightly far away from the IT corridor of Chennai, approximately 42 kms away and takes 2 hours of travel. It is a perfect weekend getaway where one can experience Rajasthan evening in Chennai at an affordable rate. The place is open from 4PM to 10PM.
There is a fort-like structure at the entrance which can take you to the Rajput era. You can feel the BGM of Jodha Akbar or Padmavat as you come across boating around the fort. As you walk past the pond-like structure you can find many Rajasthani artisans singing, playing musical instruments near small huts. We can join them in their dance and music. In another hut you see a Rajasthani lady making small rotis which are served with garlic pickle. These rotis, dance are all included in your entry ticket.
From there, to go to the center ground, you need to pass by a cave structure inside which there is a small temple for Sai Nath Maharaj. It is so calm and serene. There are also small manmade lake-like and small wooden bridges which are picturesque. You can also find tall wooden structures over which there is this bigger drum from that era. Of all in Chokhi Dhani, this tall wooden structure, the drum takes one to the yester era effortlessly. These could have been ideally used for gathering people and sharing important updates to en masses.
Then comes the fun part. One can travel on the back of Camel, go on Camel Cart, bullock cart. My little daughter got scared seeing the Camel. She started crying. We managed to take a ride on the camel. She sat on its neck, myself on the hump and my husband sat behind me. After climbing on the camel she stopped crying and it was me who had to control the excitement and fear. 😂 The hump was slippery and it was like I was about to fall off the camel throughout the 5 minutes ride. The 5 minute ride felt like eternity for me. But it was one of the most exciting things that I did in 2022. Same way it was fun to ride on Camel Cart and bullock cart. It made me go to that era where there was no transportation. Lovely it was. As I write about the experience I am still cherishing it all.
Next amazing thing is I danced my stress out along with Punjabi, Gujrathi and Rajasthani dancers there. Dancing with strangers was such fun. You feel totally safe here. The Punjabi beats make you dance, whatever mood you are in. I never knew dance could take all the stress away. With dholak beats pacing, your toes are automatically ready for the dance. I danced on 3 floors along with my kiddo. And I loved every bit of it! I was at the peak of my office stress and it all became sublime. Lovely! The following week I felt rejuvenated. My kiddo was happy to dance with me and she pushed me further to dance longer.
If you love to dance, you can come here. If you are not a dance person, you can still come here to become one. Of all stalls, one dance floor is larger and a group of 10 women joined. We hardly knew each other but we danced together to feel the joy within and spread the same. There is this puppet like horses with which one can dance. It was absolute fun!
Then one can have soup, starter, tea and can put Mehandi which is all part of the entry fare. For gents a 10 minute head massage comes in the package of entry fare. There are some slides, swings, and a maze which entertains the kids, you can also do some balloon shooting like games, puppet shows, magic shows to entertain the elders as well. You can also spot Hanuman mandir, the north Indian style, the one that you would have spotted only in Hindi Soap Operas so far.
Chokhi Dhani also serves dinner in the premises for which one needs to pay extra. You get to have a decent Rajasthani thali along with beeda and ice cream. But one had to sit down and eat, which may be uncomfortable for the elders. The dinner wasn't so tasty but it was decent enough to enjoy with a group.
I highly recommend this place if you want to go for a short tour to Rajasthan, well in your budget and return back home on the same day. The place is also highly recommended if you are someone who loves to dance or someone who wants to evolve from bathroom dancers to stage dancers. You can go with your family or friends and I am sure everyone will have a memorable evening in the place.