The forts and palaces, temples and havelis, culture and tradition, spices and fabrics, colour and texture, a booming handicrafts industry..Want to see them all at a same place at a same time.
Let's Go...
Hello Guys, Here we came up with my new visit to 'Jodhpur: The Blue City'. This time I can say that "I have seen the actual HERITAGE and a proper RAJASTHANI CULTURE" as there was a lot to see and a lot to learn. If you really really want to go for a Heritage Walk, you can absolutely choose Jodhpur for this.
For Heritage Lover I would Suggest you to visit Mehrangarh Fort ones in your Life. Here's an overview of Mehrangarh Fort.
Mehrangarh Fort:
This place Dominates the City. It is the largest fort of Rajasthan and occupies the entire top of a 150 m hill with commanding views all around, with some three kilometers of massive ramparts built around the edges.
The name "Fort" belies the size of the complex, which houses the Maharaja's palace, several temples and, tucked away in the back, an extensive garden still farmed to this day. Highlights within the palace include:
Moti Mahal: This is a beautiful looking palatial room, complete with colored window glasses and decorated ceilings, which is adorned with gold leafs, sea shells and mirrors. It has the royal throne known as the Srinagar Chowki. There are five alcoves in this room which leads to hidden balconies, and it is believed that the queens of the Maharaja sat there and listened to court proceedings, without being seen by other people.
Sheesh Mahal: Also known as the Glass Palace of Jodhpur, this marvelous piece of historic architecture is deck from ceiling to floor with fanciful mirror work. These decorative ornaments are complemented well with the brightly colored paintings of various religious figures made in plaster.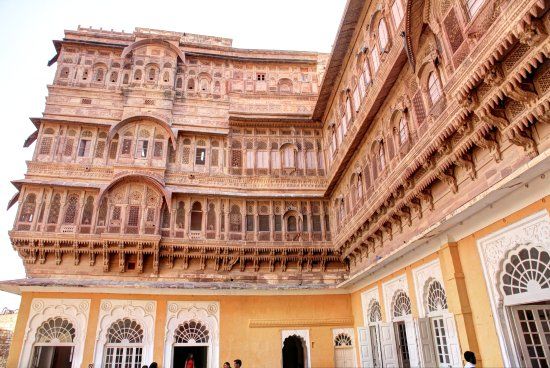 Zenana Deodi: This place is nothing else than The Palace of the Queens and is an integral part of the majestic Mehrangarh Fort.
After this you can visit the Blue Coloured City and watch the culture of the city. You can also enjoy some street food as it gives you the real taste of the city.
Few more interesting write ups on the way...keep following & reading !! :)