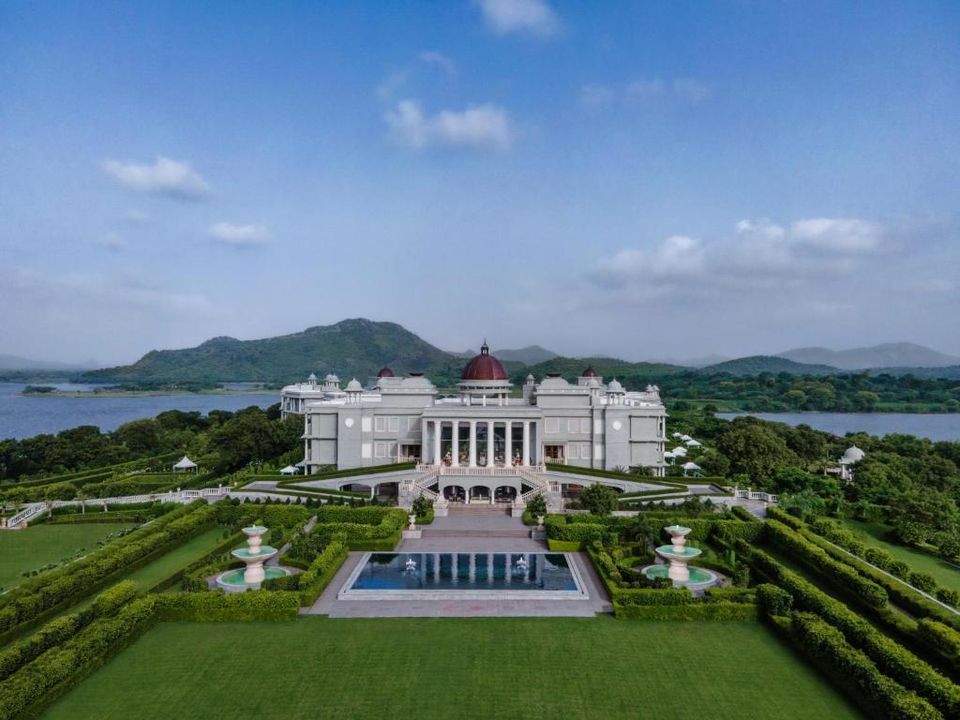 If you're looking for a peaceful countryside escape without leaving behind any creature comforts, Raffles Udaipur is the perfect destination. With a 21-acre island as its setting, the resort provides an English country-estate vibe, fused with Rajasthani culture, and a range of amenities that guarantee a relaxing and indulgent stay. This guide covers everything you need to know about Raffles Udaipur, from its location and backstory to its food and drink options, the spa, service, and eco-efforts.
A Country Estate on an Island:
The 21-acre island on which Raffles Udaipur is situated is a birder's paradise, surrounded by the Aravalli Range and overlooking Udai Sagar Lake. The estate is designed to look and feel like an English country estate, with a Rajasthani twist. The atmosphere is all about taking it easy, with plenty of opportunities for long breakfasts, poolside reading, and spa visits. There are also numerous activities for children, making it a great choice for multi-generational Indian families.
Rooms:
The rooms and suites range from 670 square-feet to larger areas that include a private garden and pool. The decor is an interesting mix of Greco-Roman mural work and Mughal paintings, wainscoting and furniture inlaid with mother-of-pearl, exposed metal chandeliers, and Venetian cut-glass mirrors. Each room features a standalone bathtub, and if you prefer a room with a view, choose an upper floor facing the south, overlooking the lake and the surrounding hills.
Average cost per night: Rs 45000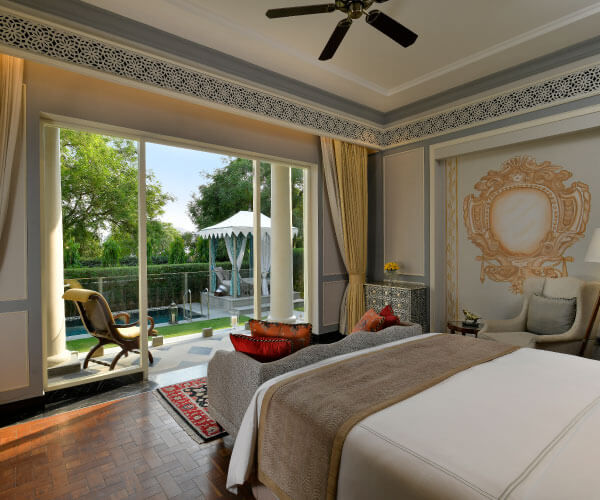 Food and Drink
Raffles Udaipur offers several signature dining and bar options, including the Raffles Patisserie, Writers Bar (with over 30,000 books), and Long Bar. The hotel does an interesting Indian menu at Sawai Kitchen, the Indian specialty restaurant, showcasing dishes that were prepared by warriors on the battlefield. The hotel is also growing its own veggies, which will form the basis of its yet-to-open Harvest restaurant. The Long Bar's Udaipur Sling cocktail is a unique blend of cilantro extract and homemade bitter that mimics the taste of laal maas, a spicy lamb dish that's popular in Rajasthan. For something special, ask resident mixologist Bhavya Verma to make you a custom cocktail.
The Service
Raffles Udaipur provides an exemplary level of service. From building activity-based itineraries for kids to booking restaurants in the city or suggesting interest-based trips in the surrounding region, the hotel's staff is always on the ball. Each room comes with a butler, who is always within earshot, ready to assist you with any requests.
Raffles Udaipur is committed to sustainability, having banished single-use plastic and growing their organic veggies. They use battery-operated boats to ferry guests to and from the island and golf carts to drive guests around the property.
The Spa
The nearly 12,000-square-foot spa offers Ayurveda and aromatherapy-centric treatments with products from Australian brand Subtle Energies. The all-natural, cruelty-free products use ingredients like Kashmiri lavender, 24-karat gold, crushed pearls, neem, and wild turmeric. The de-stressor massage is a must-try.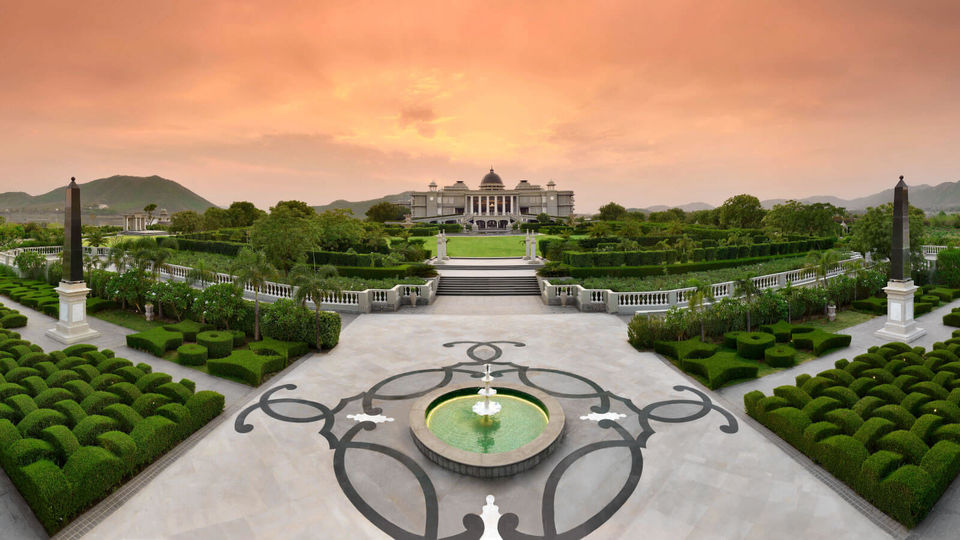 Things to do around the property
1. Visit the City Palace: The City Palace is one of the most iconic attractions in Udaipur, and it's just a short drive from the hotel. The palace complex consists of several buildings, including a museum and a gallery, and it offers a fascinating glimpse into the city's rich history and culture.
2. Explore the Jagdish Temple: The Jagdish Temple is another popular attraction in Udaipur, known for its intricate carvings and stunning architecture. The temple is located in the heart of the city, and it's easily accessible from the hotel.
3. Take a boat ride on Lake Pichola: Lake Pichola is one of the most scenic spots in Udaipur, and a boat ride is a great way to soak up the views. The hotel can arrange a boat ride for you, and you'll get to see the famous Lake Palace and other landmarks from the water.
4. Visit the Vintage Car Museum: If you're a car enthusiast, the Vintage Car Museum is a must-visit attraction in Udaipur. The museum houses a collection of vintage and classic cars, including Rolls Royce, Cadillac, and Morris.
5. Shop in the local markets: Udaipur is known for its colorful markets, where you can find everything from textiles and jewelry to handicrafts and spices. The hotel can arrange a local shopping tour for you, or you can explore the markets on your own.
These are just a few of the many things to do around Raffles Udaipur. The hotel's concierge can provide more information and help you plan your itinerary based on your interests and preferences.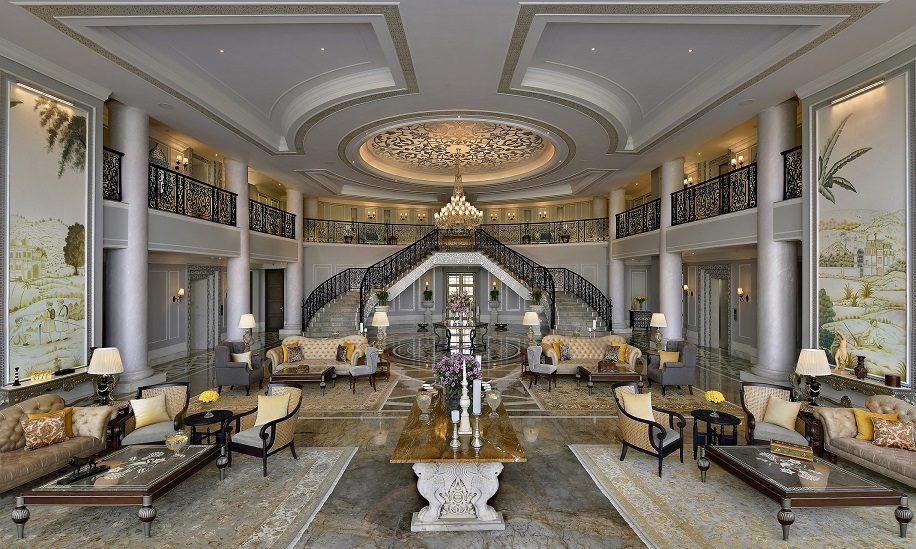 Raffles is an ideal destination for families, with its beautiful natural surroundings, exceptional dining and beverage options, and extensive array of activities to engage both adults and children alike. Additionally, the outstanding service provided by the staff is sure to make you want to return for future stays. If you're seeking to explore beyond the resort, the city of Udaipur and its many attractions are conveniently located nearby.
Ready to travel for free? Earn credits and redeem them on Tripoto's weekend getaways, hotel stays and vacation packages!