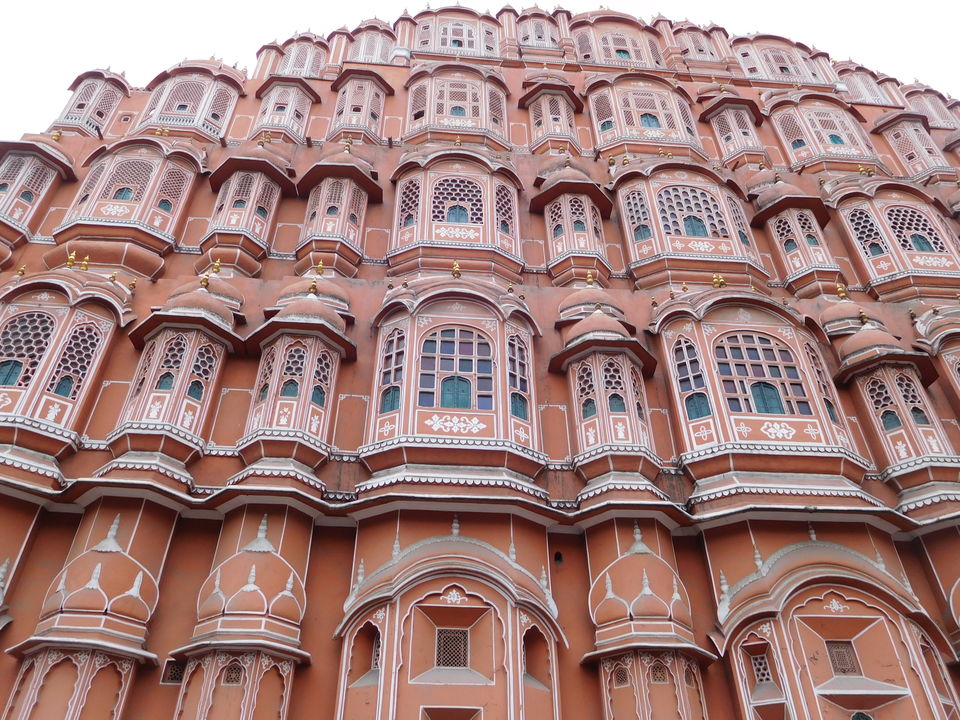 Rajasthan has been the one state that I had been dying to visit for years. From wonderful pictures in school textbooks to Satyajit Ray giving me dreams about visiting 'Sonar Kella' (Jaiselmer Fort) to my mother's stories about her trips to this amazing state.
It's the India that the world portrays us by, forts, palaces, colours, traditions there is so much to this place. I decided that I ain't going to sit and wonder when I would get a chance to see this place.
So when the opportunity came I decided to grab it! Even if it meant flying to Jaipur for 1 and half days. Jaipur hence became my first Rajasthan experience.
Jaipur over the years has gotten a reputation of becoming a very popular destination with it's old world charm. The 'Pink City' as it's known introduced me to a different world. I say different because it was my first visit, but like every Indian city the streets were chaotic, the food was amazing and the colours grabbed my attention everywhere.
I had of course read up and made a small list of places I needed to see in the 1 and a half day I had. And I'm glad to report that I managed to make the most of it.
Let's start with the Hawa Mahal
It looked small when I was standing opposite the road and I almost didn't recognise it. But when I got close I realised why it was larger than life. Why it was such an important aspect of the city.
The story everyone knows, it was built like a big window for the women of the royal household to observe the street while being 'hidden' from the outside world. (Thank god for a little feminism in the new world)
The honeycombed walls and the numerous windows that look to the city is enough to grab eyeballs and as a first time visitor I couldn't take my eyes off the place. I even stood in the rain to capture this moment.
There is a museum of course, but I decided to save time and not go. Something a local 'tuk-tuk' driver adviced me. And while I'm sure the views would have been great and the narrow corridors inside would have charmed me I decided to save time.
Yes the local drivers were very helpful and I preferred taking the 'tuk tuk' or as we desi people call it 'auto' than an uber just to feel a bit more one with the city. The city is about old and new and these guys know how to dodge traffic better than anyone. These people are much better guides to the city and I was lucky to find one such man who decided to force me to go to the 'water palace' Jal Mahal.
While I really wanted to see this place and I had knocked off attractions like the Jantar Mantar of my short list for a day trip, I was skeptical about going to the spot at 6 in the evening.
But I was convinced and I was very happy that I listened. Because nothing can beat the gorgeous sunset I saw before me.
Imagine a water palace (3/4 of which is supposed to be under water) in the middle of the lake, and the sky changing right before you. That is the type of moment that makes me feel better about my life. I wanted to be the princess strolling through this under water castle and it almost killed me that I couldn't get a chance to see it from the inside. (it's closed off to the public)
This was one of the most beautiful evenings I spent.
With the ducks in the water and the hills behind, with the orange and blue in the sky turning into a deeper indigo, I was in a state of partial awe. And I only say partial because tuning out the crowd around you isn't easy. But good thing is I get to remember the bits and pieces I want to about my trip.
This was my half day in Jaipur, the next was going to a little more of wandering but all that wandering got me enough time to only check out Jaipur's iconic City Palace and the even more famous Amber/Amer Fort.
But more on that soon.