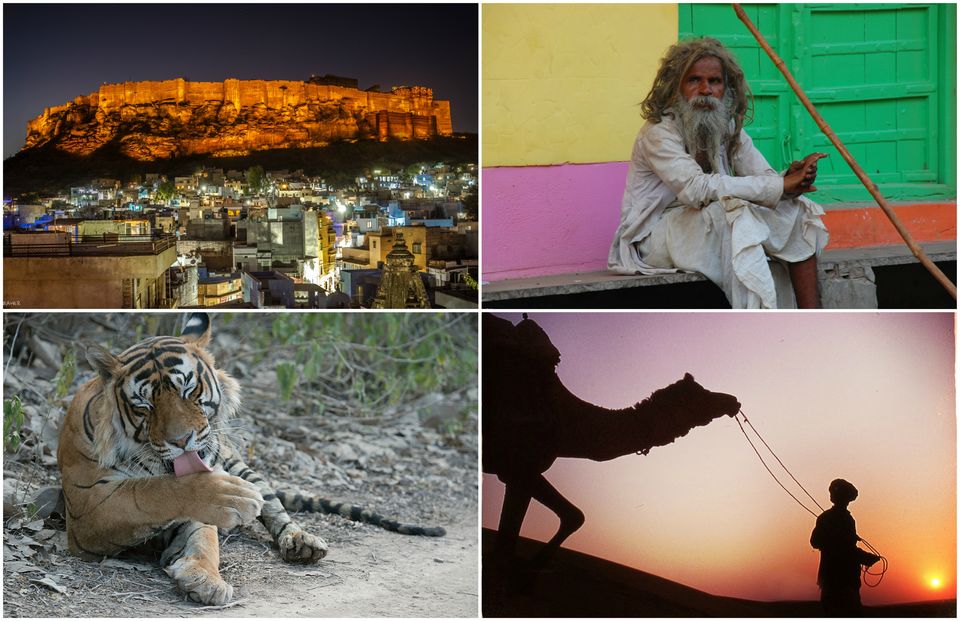 I've always said that I'm an extremely fortunate human being to have been born and brought up in Delhi because of its proximity to a plethora of beautiful states such as Himachal Pradesh, Uttarakhand, Punjab, and most of all Rajasthan. Apart from being the largest state in the country, Rajasthan is essentially known for its endless deserts and regal magnificence. Before I had ever visited it, my perception of Rajasthan was formed by the opinions of my kith and kin, who majorly talked about the grandeur of the forts and palaces spread throughout, the great variety of food, and religious places. Since I was born an explorer, I had always desired to spend some quality time there in order to truly understand the culture of the kingly state. And that time finally did arrive in December 2016, when I took three days off from my office and got a chance, by chance, to visit some of the most prominent temples in Rajasthan.
Unlike entering through Jaipur like most Delhiites do, I decided to follow a slightly unconventional itinerary: Delhi – Pushkar – Ajmer – Jodhpur – Delhi. I had booked my bus ticket to Pushkar for Friday night right after office on December 24, and hence began my life-changing solo trip to Rajasthan.
Here's all about my experience of temples in Rajasthan
Pushkar – The creator's abode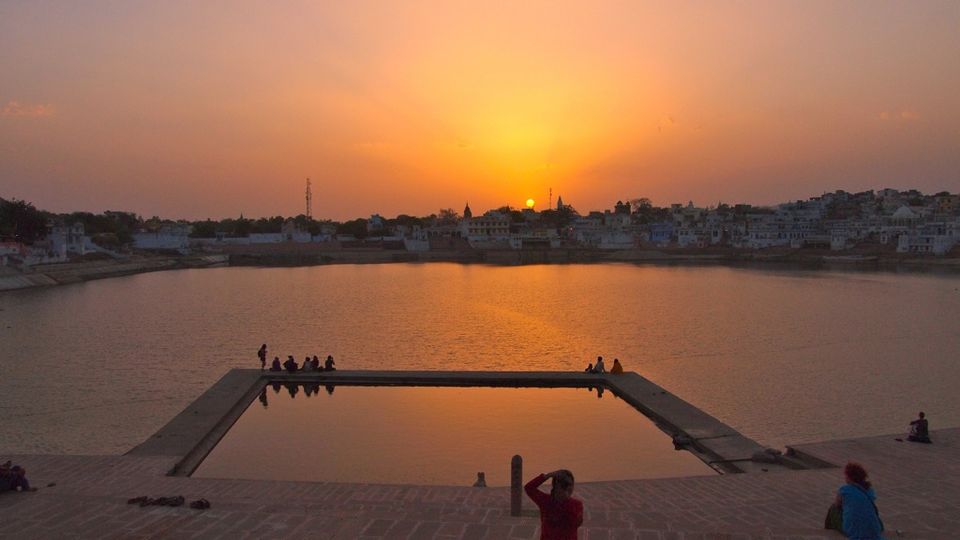 I reached Pushkar early on a pleasant Saturday morning, striving to fathom the goings on of the Tirth Raj – the king of pilgrimages in India. The city is also home to the most renowned Brahma Temple in the world, and so the agnostic within me expected a totally religious place with devout disciples queueing up outside the temple. But, fortunately, I was wrong. Even before I had checked into a reasonable hotel in Pushkar, I noticed the feel-good, hippie vibe of the city. After freshening up, I went in search of breakfast and that's when I realised that the city was actually a seamless melange of the liberal western and traditional Indian cultures. Where there was the staple poha-pakode being sold by hawkers in the market, there was also a flurry of cafes that served western breakfast platters, including Israeli, English, American, and what not. I was obviously surprised, but this only proved to be a welcome beginning to a place I had grossly misunderstood.
I stayed very close to the ghats of the holy Pushkar Lake, and hence I had the utmost liberty to move in and out of my room directly on to the ghats whenever I pleased. The main Brahma Temple is also situated along the same ghat stretch, so it was walkable. Considering it was the largest temple of one of Hinduism's primary trinities – Brahma – the number of visitors was considerably less, probably owing to the fact that it was around Christmas. I had ample time to sit inside the huge temple and ponder over various lesser gods, I had read about in the Mahabharata, that had taken refuge there in their separate corners.
I was jolted back from my trance by an old priest who probably thought I had lost my way, literally or metaphorically. I suddenly realised I had been sitting there for the last two hours so I just thanked him for waking me up and walked out of the temple compound. I wondered why I had spent that long inside without actually holding any religious beliefs, but then it felt peaceful at the same time.
Pushkar is a funny place where you can seek your own nirvana one way or the other. Sitting by the Pushkar Lake ghats in the afternoons, you would be visited by many brahmins who will offer to say prayers for you in order to atone you and your family for the sins you have committed. There are many people that did go back happily after those pooja sessions, so I have no reason to believe that faith cannot heal. And in Pushkar, you do realise there is no dearth of faith anywhere.
On Monday morning, I checked out from my room to catch a local bus to another holy place, Ajmer, which is just 15km away.
I reached Ajmer by noon, checked into a hostel and went straight to the Dargah of Sufi Saint Moinuddin Hasan Chisti, also called Ajmer Sharif. There is a long corridor of a narrow main market that leads to the entrance of the mosque. It immediately gives you a feeling that the entire city could probably have been planned around the dargah's location; which, by the way, could very well be true. In fact the city of Pushkar too geographically revolved around the Pushkar Lake, so the pattern was similar at both these places, irrespective of the religion. What was very different, though, was the vibe. Where Pushkar had the features of a sleepy town which worked at its own pace, Ajmer was all grown up and vigil. Where Pushkar was large and spread out, Ajmer seemed long. Where there were hardly disciples inside the Brahma Temple, there was hardly any place to breathe inside Ajmer Sharif. The tranquility was completely replaced by the zest of disciples, and I wasn't complaining either. Probably it was where Rajasthan's many charms lay, I whispered to myself.
The mellifluous qawwali sung by live singers resonated all over the mosque. People were hurried, but still joyful. They had, after all, had a glimpse of the mazaar of Moinuddin, the benefactor of the poor. There was no discrimination amongst the classes inside, it was all left outside the walls of the dargah. The affluent and the destitute, all sat together singing praises of Moinuddin. I too sat down to listen to the songs, most of which I had never heard before.
The one thing I've always admired about Islam as a religion is that there is no idol worship. You directly pray to one supreme entity and that's where all your efforts are concentrated. While sitting inside the mosque I could sense immense calm amidst the religious bedlam; probably in a way I had never felt before. I was there till the evening. That marked consecutive days where I had spent long hours inside any religious establishment. My experience with temples in Rajasthan was turning out to be magical.
Ajmer is located on the sides of a lake called Ana Sagar, which looked larger than the Pushkar Lake because it followed me everywhere. After munching on the fantastic street food and soaking in the small city a bit more, I caught the night bus to my final destination in this Rajasthani sojourn – Jodhpur.
Jodhpur – The Blue City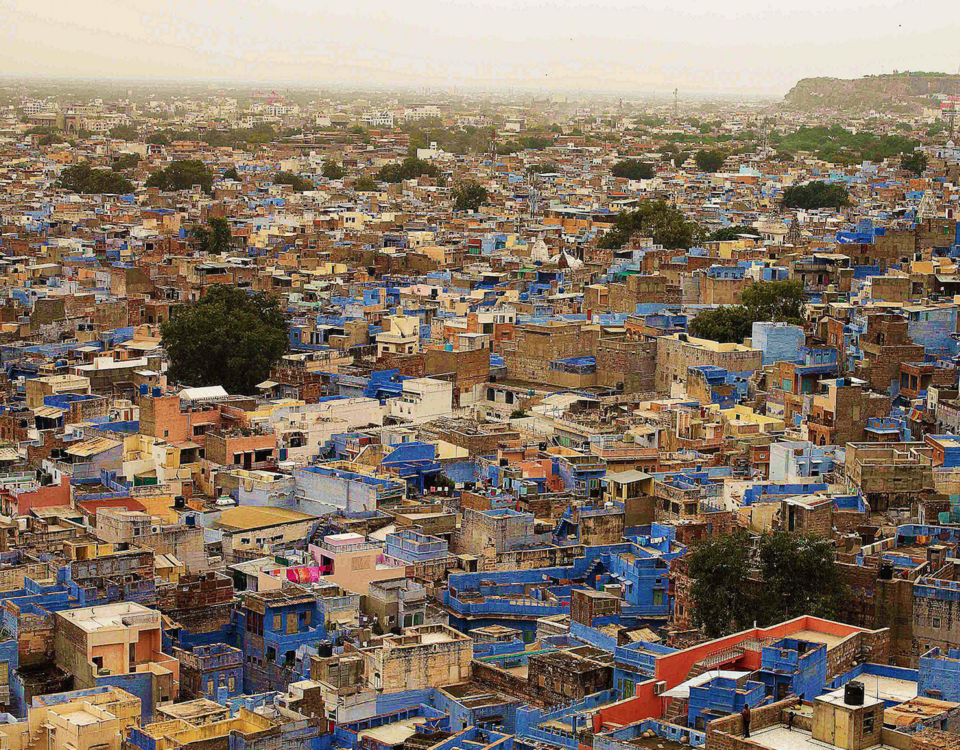 The Blue City looks incredibly majestic, and it has a lot to do with the massive Mehrangarh Fort. It's one of the largest forts in India, and on top of that its night lights are stunning (as displayed in the main picture on the top).
I had luckily found a haveli converted into a hotel at a reasonable price, and according to the pictures I found online, it had a sublime view of Mehrangarh from its roof; thankfully the claims were true. Apart from merely that, the rooms were also intricately designed immediately giving me a royal feeling. I was pleased that I had been lucky with my hotel selection on this trip. Or maybe it was just a part of Rajasthan's famous ways of hospitality; probably all hotels in the state were painfully well-maintained and managed despite charging minimal rent.
By evening, I realised that of all three cities I had visited, Jodhpur had the best food. In fact it was so good that I went on a street-food rampage at the famous Sardar Market. There was so many new items, crispy and shiny, to try out at such throwaway prices that my heart couldn't resist. I did not stop till the time I had scouted the whole market and eaten all the savouries and namkeen my stomach could take.
The following morning I went to check out Mehrangarh Fort from the inside. I thought it was only fitting I do it on the last day since it was the epitome of the state's regalia. And by golly, it didn't disappoint. The fort is located over a hill and spread over an area of around 5km! There is a whole new world altogether inside the fort – cafes, restaurants, galleries, shops, exhibitions, live traditional musicians, temples and of course the gargantuan architecture of the fort itself. It's quite impossible to cover the entire property in a single visit, so I focused more on quality instead of quantity. The fort is multi-storied with alleys and corridors full of rooms meant for various purposes. Some rooms are visibly more baroquely decorated than others and seemed like they could be living halls where performances were held for the kings and their guests. The other rooms were more private, probably bedrooms, where the entry of common people was prohibited. What was omnipresent, though, on each floor was an elaborate exhibition of multitudes of weapon and warfare armoury. The kings lived no less like gods in those days, I assumed.
Mehrangarh, unlike and still very much like the two landmarks I had visited earlier in my trip, was an exaltation of humans to godly stature. The area was commodious and the displayed wealth was unending. Rao Jodha, the king who had got this great fort built in 1460, must have been a man of tastes as lofty as Brahma himself and that's precisely what got me thinking that maybe temples in Rajasthan were the most perfect places for an agnostic like me. The gods didn't just reside beyond the stars, they lived right amongst us. And Rajasthan was a grand celebration of all those gods in different forms. I went back to Delhi not just as a believer, but also with a pledge to come back to Rajasthan to experience it even further deep. After all, Jaane kya dikh jaaye!
Have you been to any of the temples in Rajasthan? Let us know in the comments below.
Disclaimer: This article has been developed by Tripoto based on information available as of November, 2017. Travellers are advised to recheck current weather conditions, timings, prices while planning their trip.
Frequent Searches Leading To This Page:-
rajasthan tour package, rajasthan holiday packages, budget rajasthan tour packages, rajasthan tour, famous temples in rajasthan, famous mandir in rajasthan, famous shiva temples in rajasthan