Travelling is in the bucket list of every person but how many people get a chance to actually do that. Been confined to your full time jobs sometimes you feel like just pack up and out for travel. So here I am sharing a short itinerary from one of my travelled destination jaipur while working full time dead end job.
So here it goes
Well if you're around Delhi NCR you can easily travel to jaipur via train or bus. Otherwise there are direct flights to jaipur from various cities. Train journey is something we all love to have that makes most wonderful experience; you can actually end up making friends along with the journey.
So I took a train ride from gurgaon to jaipur Friday evening after my office on double decker train which costed me around RS 400/- and arrived around midnight in Jaipur. Within half an hour distance you can find home stays or hotels which will hardly cost Rs 1500/-. Stay overnight at the hotel.
Wake up to the mesmerizing jaipur vibes.
Well we had only 48 hours in jaipur to cover some of the beautiful places so we started our journey early in the morning and rented bikes. Well to explore major attractions it's a cost efficient and convenient way.
We reached Jawahar circle from the hotel. at the jawahar circle, there is a Patrika gate which is a picture perfect location and you actually feel the royal vibes of jaipur. We got our bikes and we're all set to go. Our first location for the day was City Palace and we get the glimpse of World Trade Park on our way.
The one we read in our history books it's just absolutely amazing and picture perfect place so many memories to collect in one go. Ticket to the palace will cost you around Rs 200/- and you're good to go and explore the beauty of it. Well you can find number of small stalls selling street food, from Pani Puri to shikanji and many more. After spending sometime exploring the palace, we head out for our next location which was Hawa Mahal. Enchanted from my childhood while seeing pictures of Hawa Mahal, be it on my school projects or somewhere else. So that was one thing which I really wanted to checkout in jaipur.
We reached the location and it was altogether different feel of the place because we're actually surrounded by those pink houses that's what give the feel of this royal city of jaipur and its adapted name of pink city. So we got around the Hawa Mahal and explored the area, build in 1799 its architecture is just amazing and the ticket to this place is just for Rs 50/-. Well this place is having 953 windows to provide ventilation. Mind boggling…..Isn't it?
So yeah we're in the pink city and you just simply can't miss the local shops for shopping and eating. From jaipuri Kurti's to jaipuri jutti you will feel the royalty. So after spending sometime there to have food and shopping, headed to our next stop which was Jal Mahal, a 18th century heritage this location will make you spellbound. Spend some time there overlooking and admiring the beauty of it and feel close to the nature. Ticket price is Rs 10/-.
Enjoy some street food over there and there are some stalls also to shop for and you can get things at a very reasonable price. Get some souvenir for your amazing trip memory.
And in the last leg of the journey for the day we headed towards Chowki Dhani, the place which you can't miss if you're in Jaipur. From Jal Mahal to Chowki Dhani, it was just amazing bike ride. Music on loudspeaker, amazing weather, low traffic and a bullet, what else you want?
So finally reached the destination and a warm welcome in Rajasthan Style, everything was lit up, it was almost 7PM and a great time to enjoy the authentic Jaipur food, music and some other activities. It was a wonderful experience being there. Well if you're at chowki dhani you can't miss out the Chai pakoda Stalls. From here we reached our hotels back.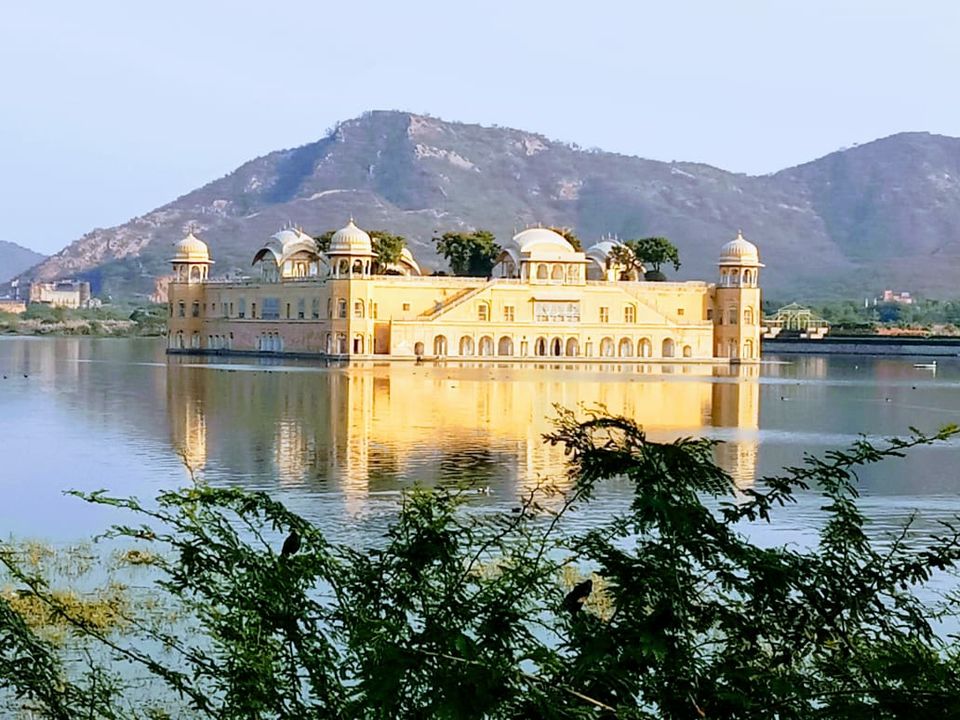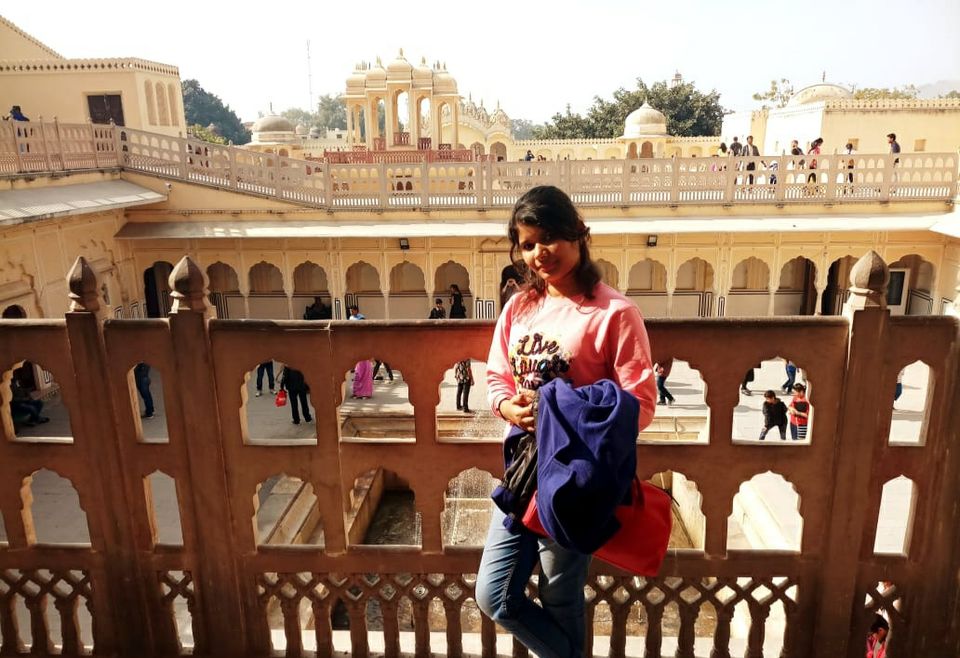 For the next day we had in our list were forts of Jaipur. There are 3 main forts in Jaipur- Amber Fort, Nahargarh Fort and Jaigarh Fort. So as we had short time so picked up only one which was Jaigarh Fort. You have to book a rented car as it is outside the city but if you're good at riding you can choose bike also. So we rented Ola and we'ew all set to go. Well this place in its journey had some wonderful experience you just simply can't miss. You can enjoy a stunning view of the Lake Palace and much more in the fort itself. It's a really huge architecture and some amazing views and picture perfect location. Ticket for entry is Just Rs 50/-.
There is one thing more I want to add here which I missed when I visited jaipur that the Nahargarh Fort can be visited en-route. So if you feel like stopping by this fort. Do checkout and have great time enjoying the fort.
So from here we head towards Sindhi Camp which is the Bus stand but before getting there, we went to Rawat Mishthan Bhandhar, an authentic Rajasthani restaurant very famous for its kachoris. Do stop by at this place to have some amazing dishes as well.
So the journey came to an end and we took the bus to Gurgaon.