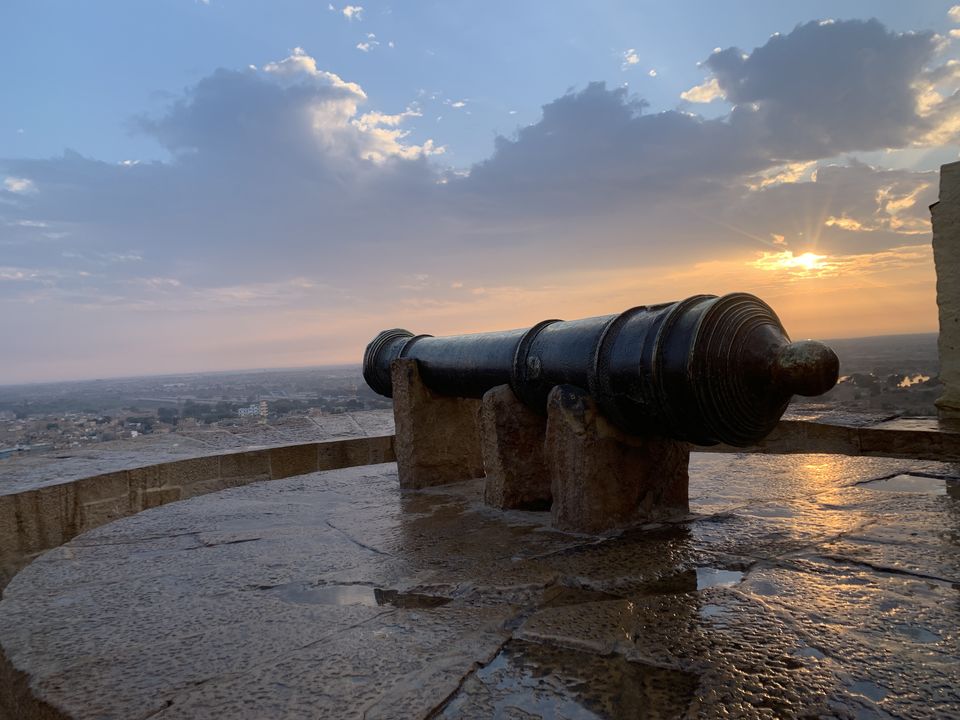 What do you usually expect when you board a train in India? You will expect that the train will be late as usual and all the things that you can from a typical Indian train, so why should we stress about getting up early in the morning at 5 A.M and imagine that we get there on time. But it wasn't such a case this time, we were actually on time and you'll not believe what we saw that it's raining in the month of January just like the way our Indian cinema makes us too see. All like the way that we were actually on the set of 'Tum hi ho'. And we were remembering what Kamal chacha had said ' People need to struggle for the water there, they walk hundreds of miles to get it'.And I told myself ' Let it be,Chachu. Old age has surely taken it's toll on you.
After a little while, we took a cab to Jaisalmer fort and reached there in approximately 15 minutes. He told us that cabs aren't allowed inside the fort only moto-bikes and auto rickshaws can go inside.We got our luggage and it felt like we were some hippies. So, around 5;45 A.M we reached Zostel, and stashed our luggage in their common room. As the manager told us the bunk beds will be given to us around 10 A.M.
So, with our sleep depraved eyes but still energetic souls, we strolled away and found a magnificent sunrise. And found a place to get some shots and to plan our further trip and the local cuisine that we came here to try.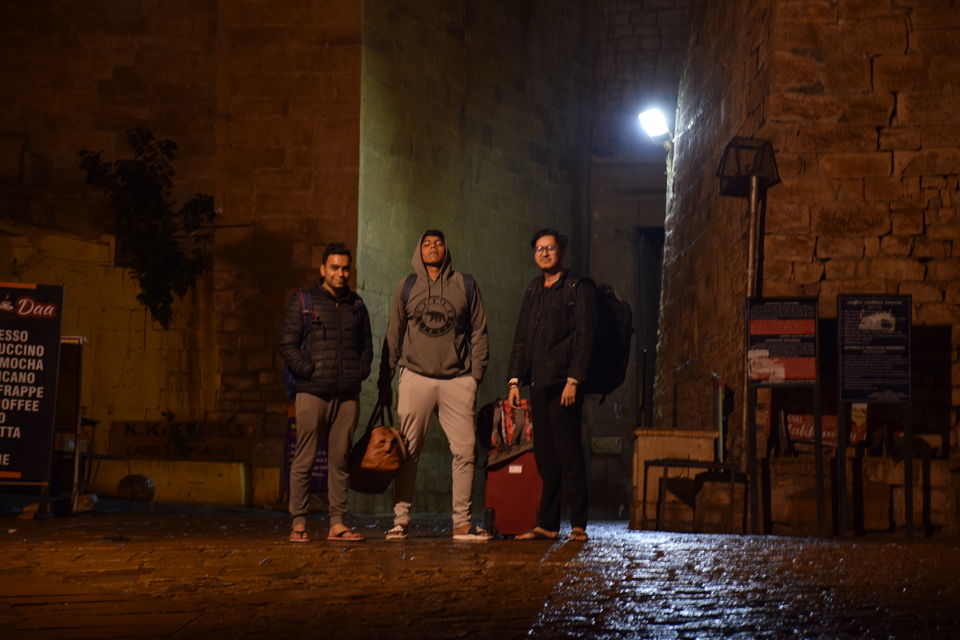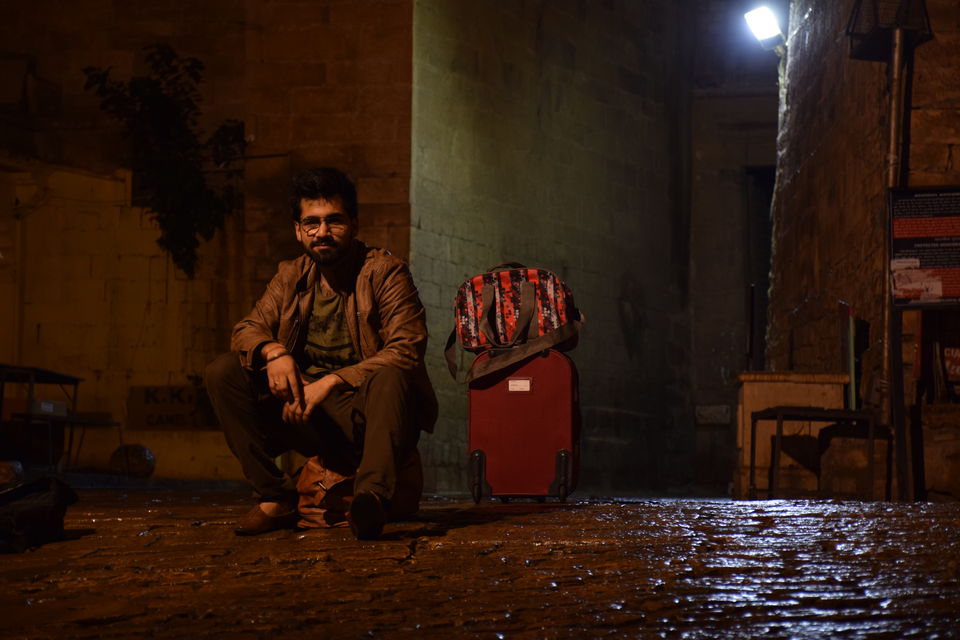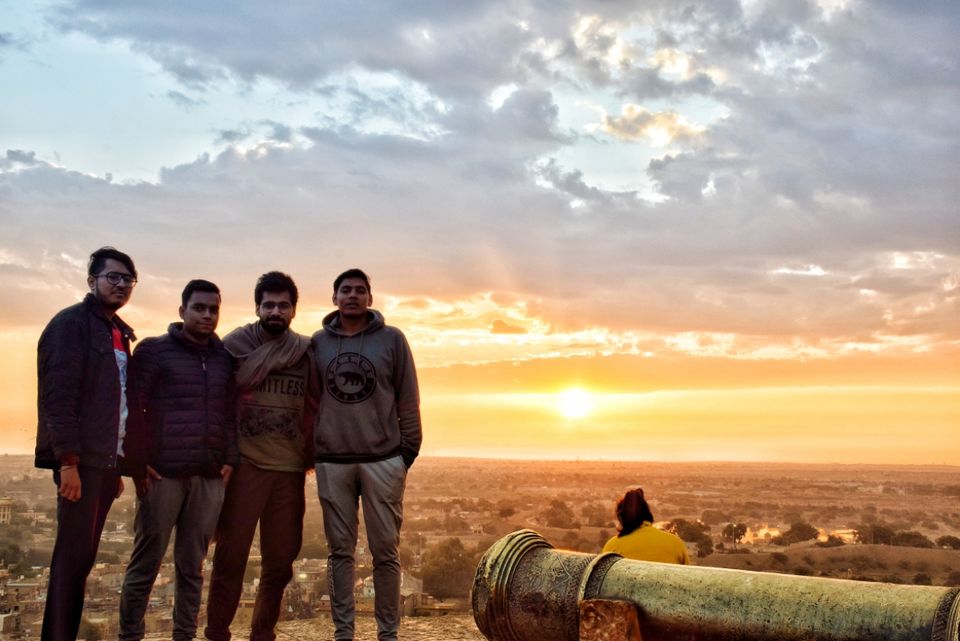 So after walking around, we found some fascinating things about the culture that people their give a marriage invitation by engraving it on the walls of their homes and all the people inside the fort are seen as a one single family , all of the people contribute for the marriage if it happens, more or less. And it's more or less a public invitation; anyone can join the ceremony. AND that still 4000 people are living inside the fort rent free. There were many attractions in the fort as Chauhata Square, Tazia tower, Raj Mahal, Jain Temple, Laxmikanth Temple, and Jawahar Palace which we saw in almost 2 hours.
We got our breakfast on the rooftop restaurant of the Zostel and got ourselves a nice shower, food wasn't up-to the mark as we expected. Around 11 A.M we departed to see rest of the Golden city has to offer. We booked an auto for a total tour around the places.( Breakfast:- Rs 1100 and auto:- Rs 550)
Our circuit was like this :
1 Gadisar Lake:- Totally blown by its beauty (Free entry)
2.War Museum:- Only 2 of them in India,so must be visited. It's totally different from the traditional museums and will teach you a thing or two.( Entry fee:- Rs30)
3.Patwo ki haveli/Nathmal ki haveli:- If you're a geek only than it'll be worth it to go inside. Otherwise, you'll definitely enjoy the architecture of these Havelis.(Entry fee: Rs 100 approx)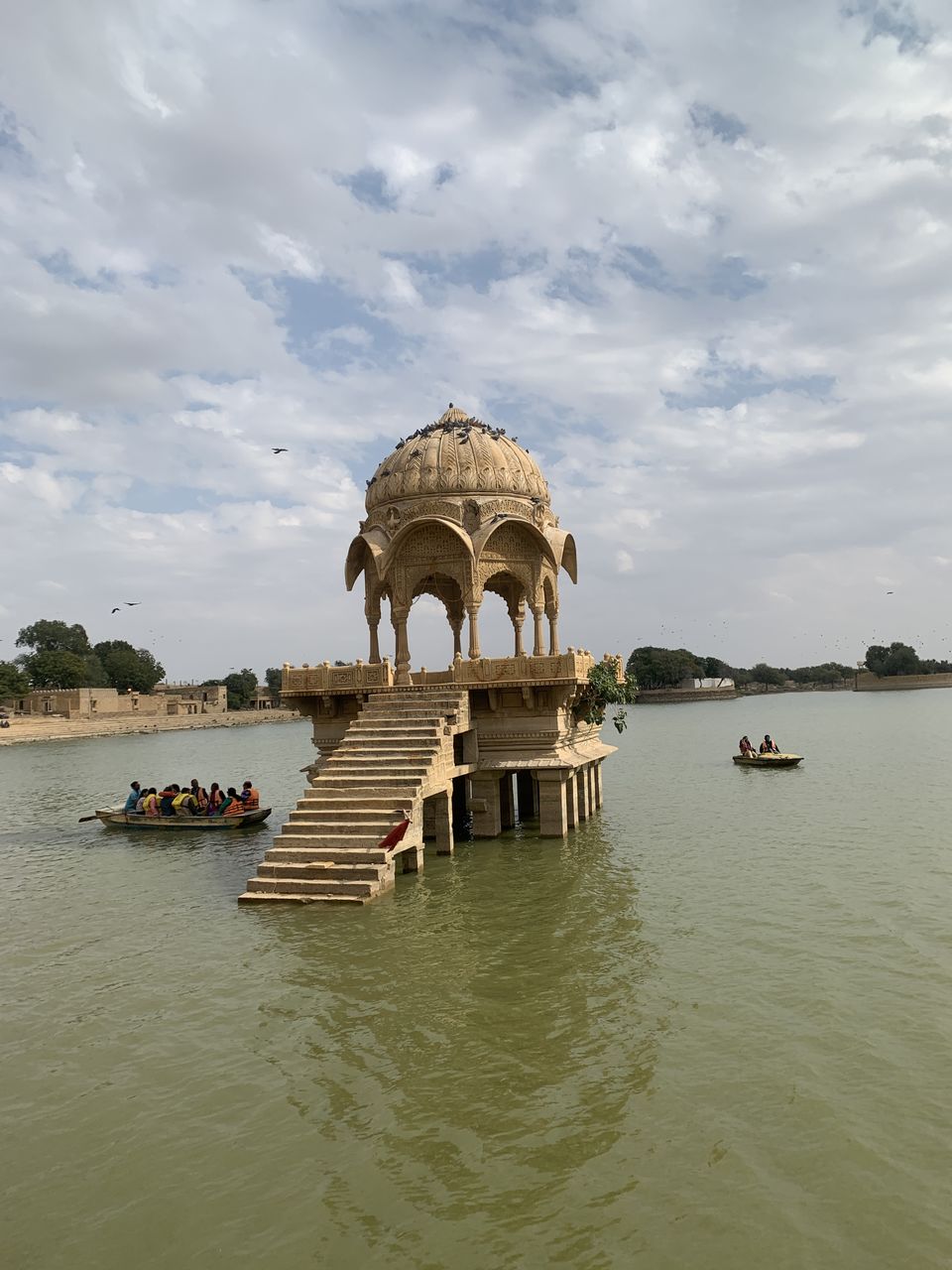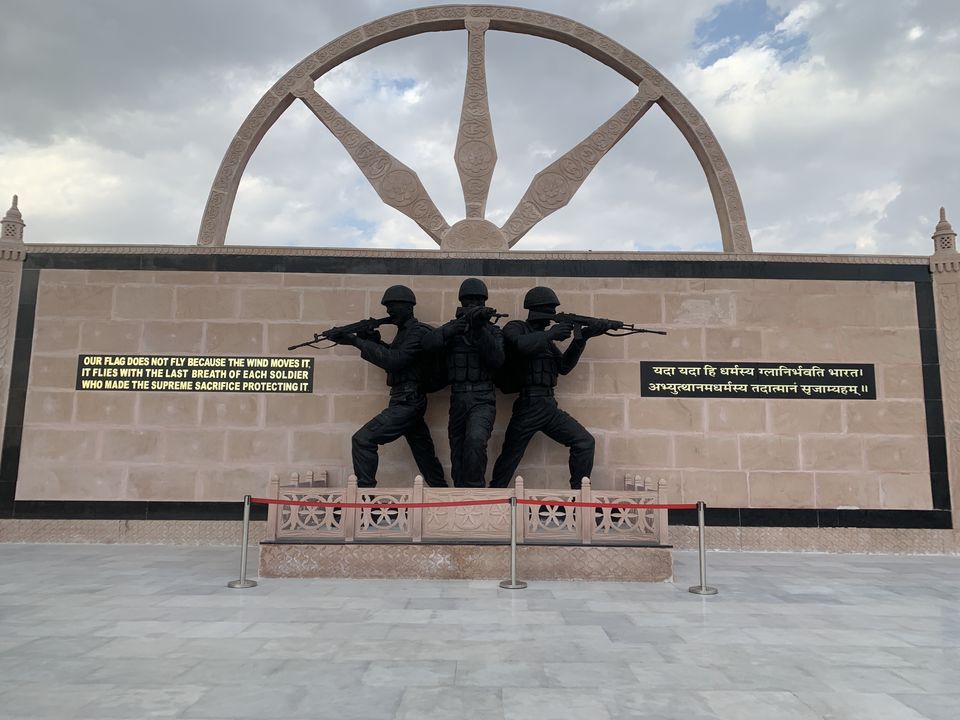 Around 5 P.M we have reached the Jaisalmer fort and had some local dishes like pyaaz ki kachori , ghotua laddoos and had makhannia lassi which surely tingled our taste buds in a good way from a vendor just outside the fort gate. After which we went to hostel to rest a bit , there the manager told us that there's a night stroll around the fort organized by them. And there we learnt about the facts mentioned in the beginning. Note: There's a famous bhang shop which you can visit if you like bhaang, my friends liked the taste and there are different flavours you can chose from.
(Snacks:-190 for 4 persons and lassi:- Starting from Rs 40)
Later we had dinner at Monica Restaurant which was optimum in taste. And went back to hostel to get ourselves sleep.(Dinner :- Rs200)
In the morning we took some shots from the balcony of Zostel which gave us a tremendous view of the city. You'll spot a landscape of windmills from that view point.
Around 12 o'clock we checked out from zostel and rented a RE Thunderbird and a Honda Activa,(Call-8769441033) the owner gave us a map but a knucklehead among us tore the mapb that the rental service gave us right away and took out his phone and quoted ' Huh!! Nasamjh log 21 saddi ka zamana hai, Bhai google map se chlega' and we followed him to our first destination "Kuldhara".Who had known what fates had written for us???You'll not even believe that we got lost in the middle of almost no where, but after some time we finally spotted a small village and met a truck driver & some teenagers there who guided us in the direction of the actual Kuldhara. Thank God we didn't had a rendezvous with "KALLU". But still it was truly an experience in its own and we total what we usually hear in Rajasthan tourism commercial "JAANE KYA DIKH JAAYE"
(Bike:-Rs800 and activa:- Rs400 per day)
NOTE:Don't trust google maps for taking you to Kuldhara that you want to go as there's a similar village with exact same name there.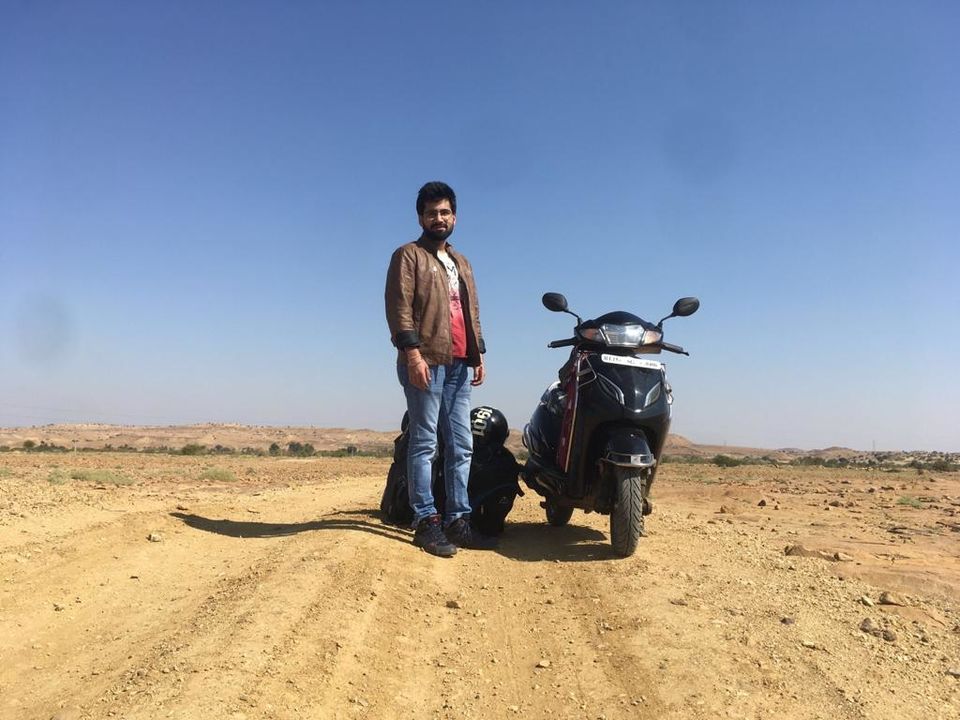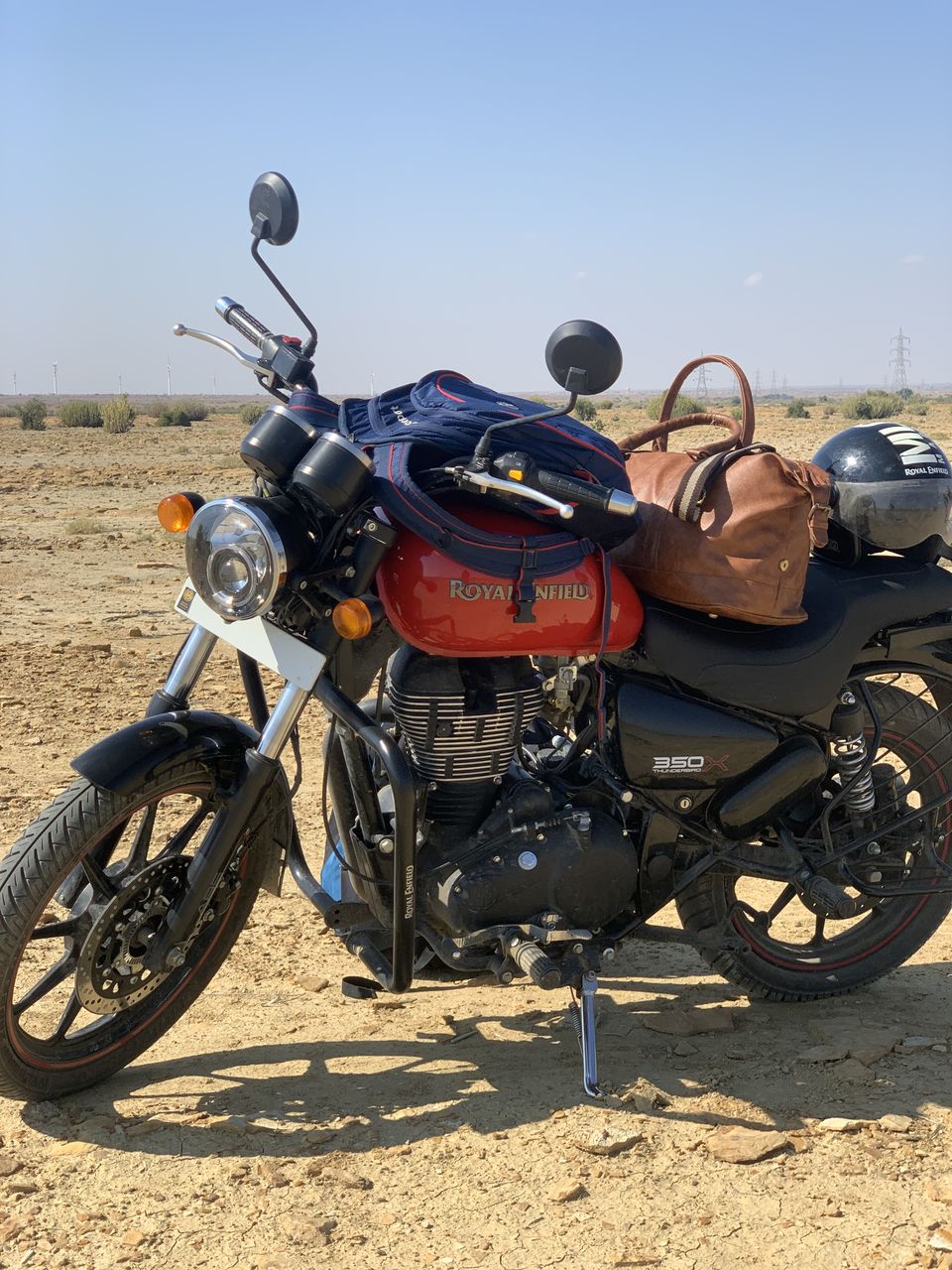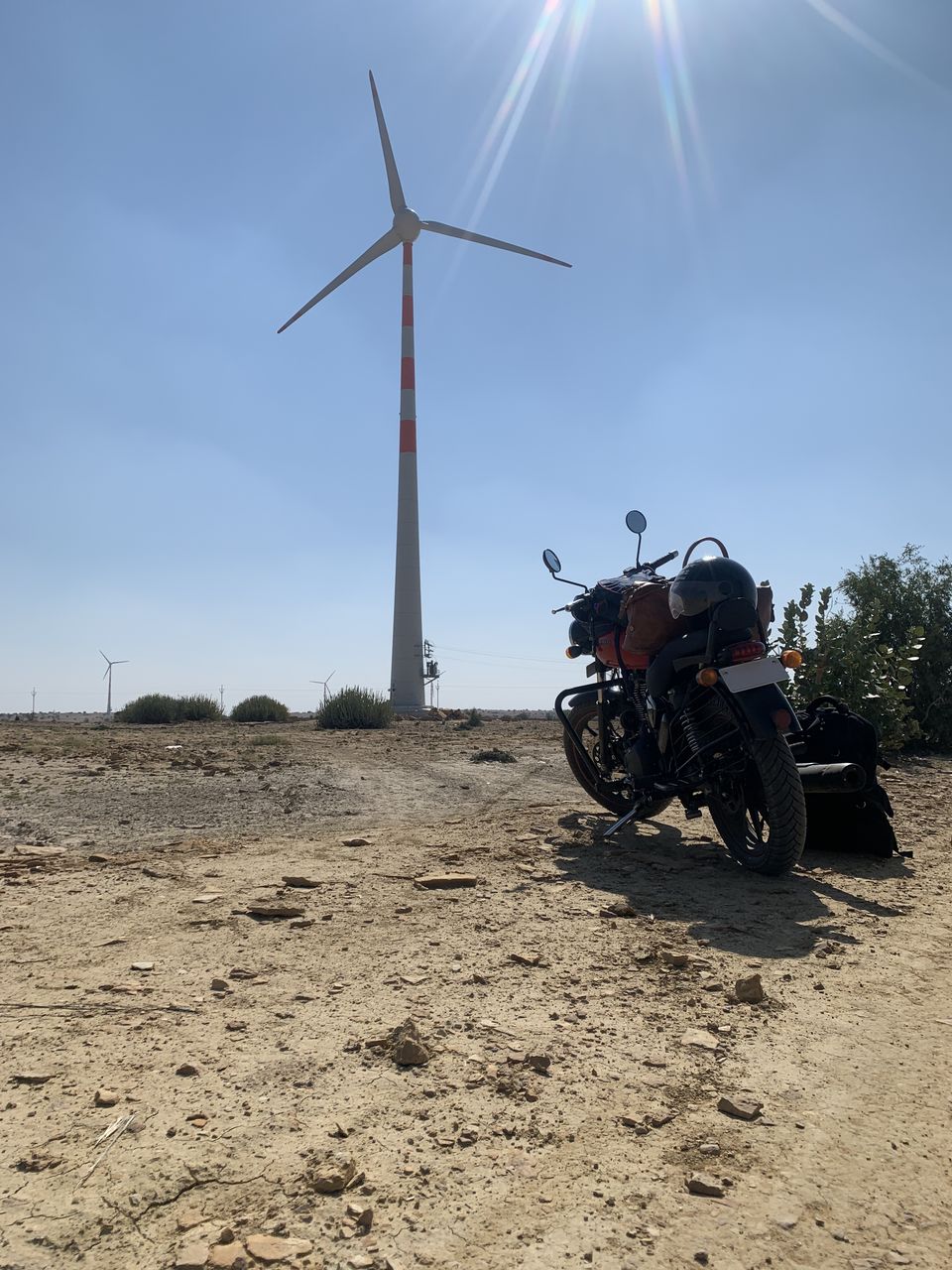 As along the way found a gazillion windmills and farms along the way as we kinda took a road less traveled. we were like this close to windmills and found a fun fact that we're standing in the largest windmill farm of India(producing 1,064 MW) and we didn't even know it until one of the teenagers that we met told us to "Smile!! You are not seeing these many fans anywhere else in India". Silly we!!
So after we reached the actual Kuldhara- The deserted village. There are many myths associated with this place which made us questioned 'How did all such myths originate of ghosts, chudails and all other sinister stuff'. Well, I do have a theory that all the myths are true but under a small and constricted flow of knowledge. We try to perceive the closest thing to our knowledge when we see a truly different thing from our scope of understanding. Imagine flying in an aeroplane in 100 B.C. What would have others thought of you and quoted you as?? A God? A demon?
But truly it's something in it's own.And the way only a temple is still standing and rest of it is in ruins is truly an untold story. (Maybe you'll tell me that).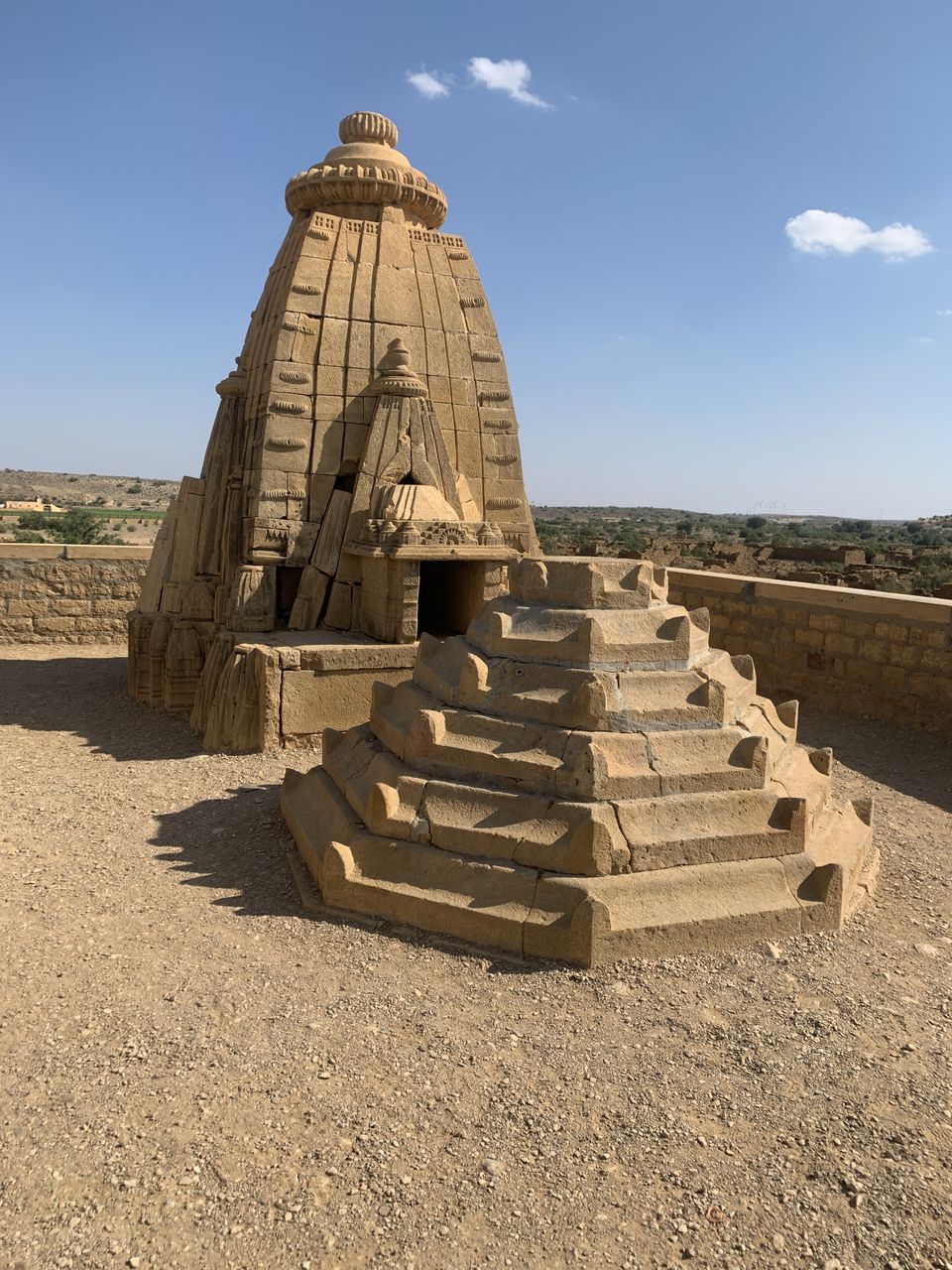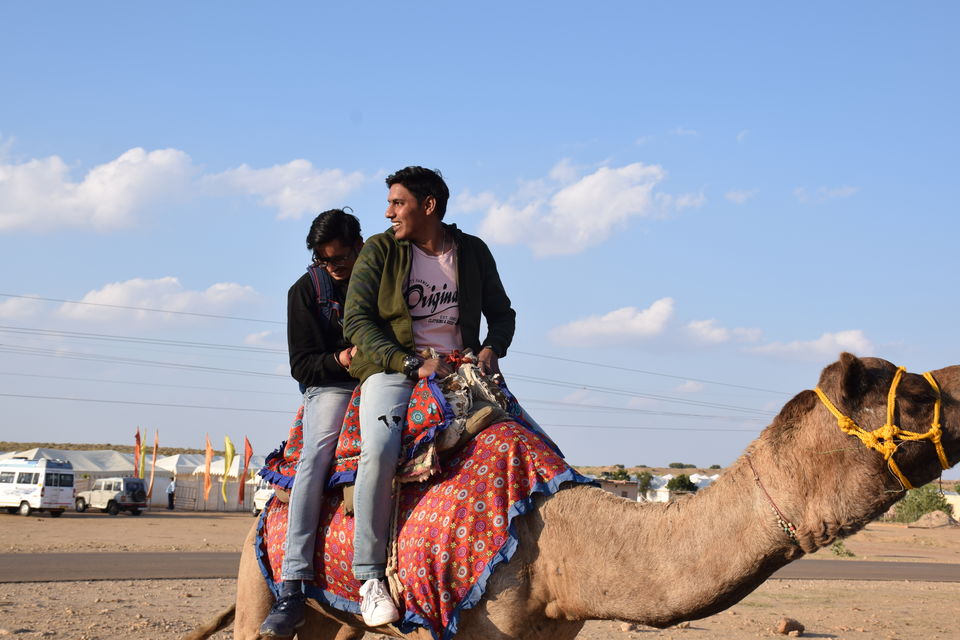 Around 2P.M we went to Sam sand dunes and checked into Winds Desert Camp around 3 p.m,we've negotiated there and got ourselves 2 Tents( with breakfast & dinner) at the spot and got a pretty good deal. At 4P.M the manager told us a jeep will take us to the dunes and back to the camp at 6:30 P.M. At dunes we boarded our ship of the desert. And went deeper into the desert region and played around in the sands and listened to the various cultural artists and saw the largest sunset that we had ever seen, the ambiance of sun was something that couldn't be captured in words and photos.(cost of camp:-Rs6000 for 4 persons).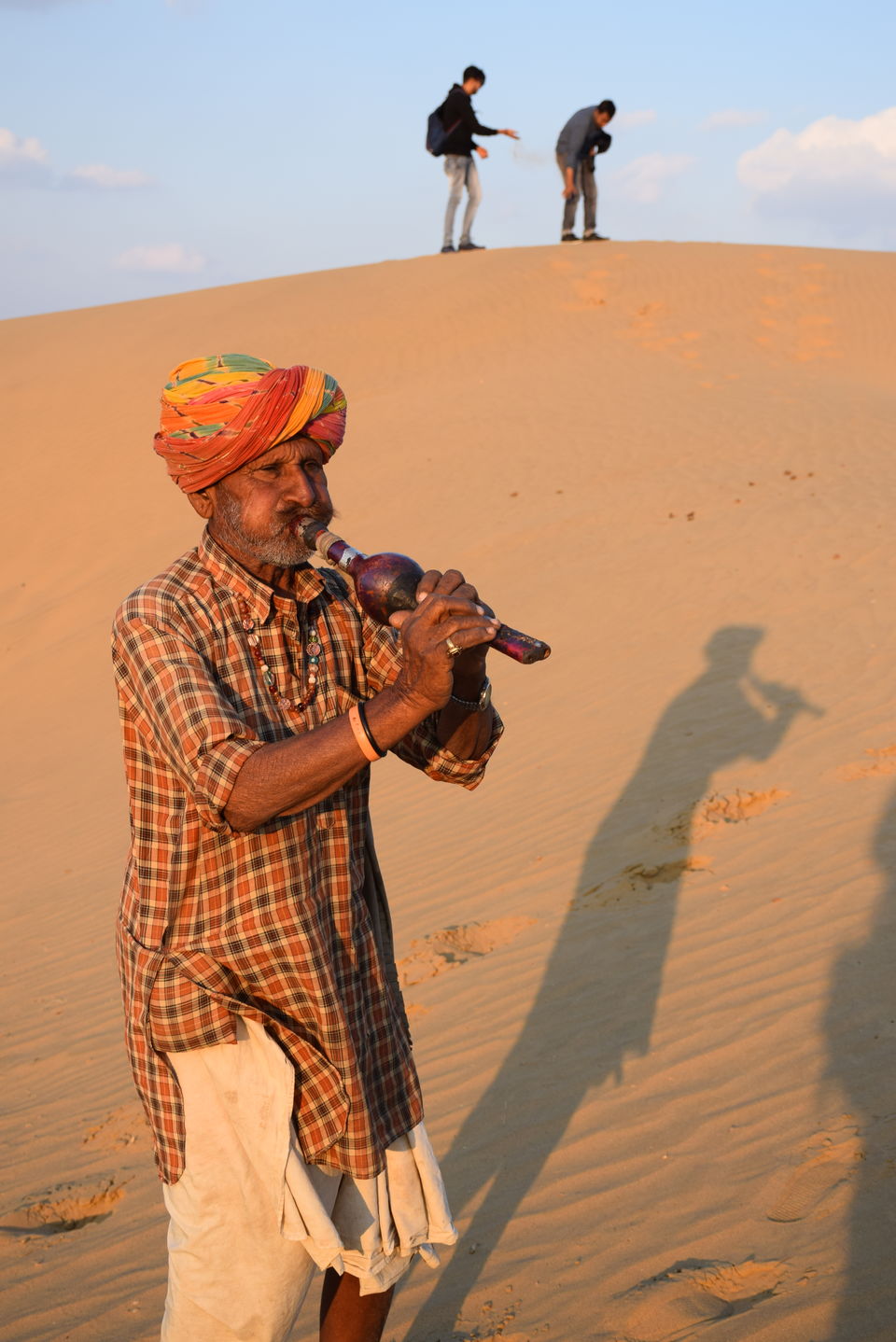 Later we went back to the camp in the jeep giving us vibes of being in jeep of 'Sardar Khan' from "Gangs of Wasseypur".If day was adventurous, than night was culturally serene as we saw Kalbeliya Dance and Jugalbandi with snacks(You can get liquor as well).
Later we had dinner which was extremely delicious and dozed off instantly as we wanted to see the sunrise as well. The morning was so soothing and felt chilly breeze running through our cheeks. To get a better view we actually took our vehicles to the dunes and felt so calm like we had never had before by the view. And that our life is just like this sand in my hand,enjoy it before it all slips away.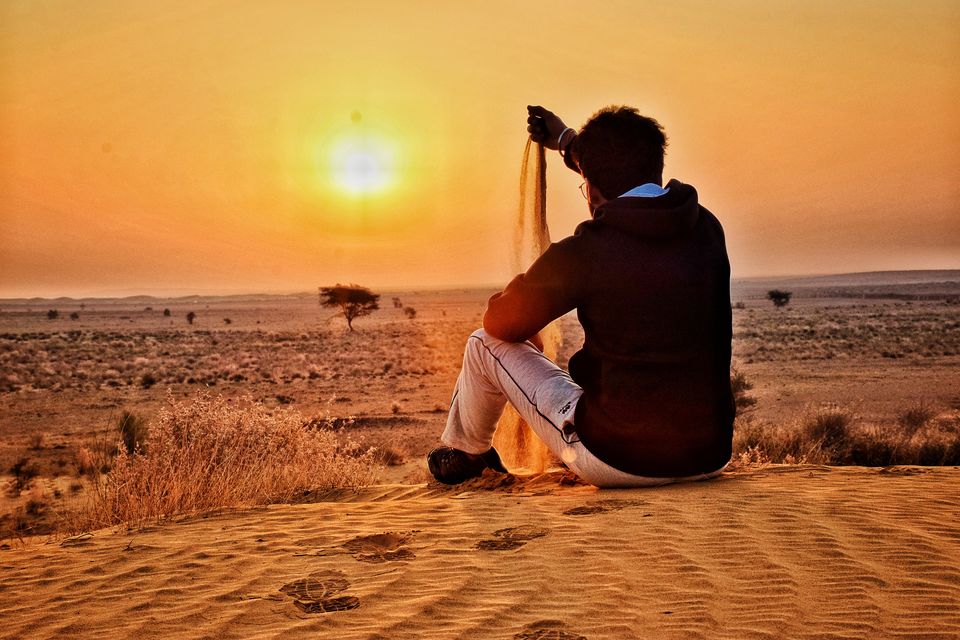 Well, after some re-introspection, we went back to camp and got our breakfast in which we had dal baati churma & scrambled eggs and departed to catch our bus for our further journey to Jodhpur. But wait!!! What are we forgetting?? Yes, the Kanoi – Parasailing. We did that on the way to Jaisalmer city to return the bikes and catch our bus. (Parasailing:- Rs 500 and Bus to Jodhpur:- Rs400)
Check my Instagram for some portrait ideas.
See you in Jodhpur, Mate!!
Tips:-
*Don't have a blind faith on Google maps.
*Try to wake early and spot the serene and breezy sunrise in morning.