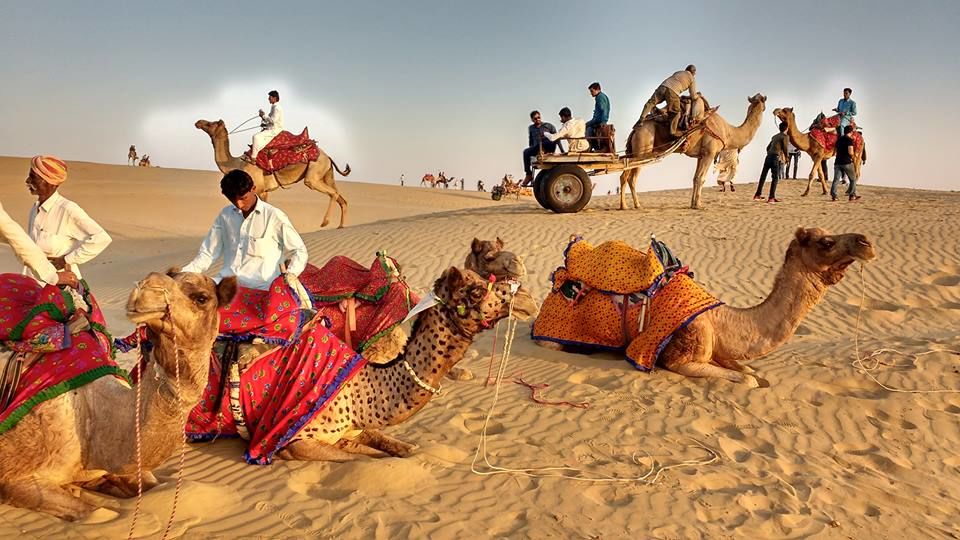 Distance: around 758 km from Delhi

Mode of Transfers : Bus, Car, Train(we picked train), Air.
Train from Delhi : Jaisalmer Delhi Express which departs at 5PM and Ranikhet express departs at 4:40 AM .(As of when I traveled)
By Air : Jodhpur Airport is nearest which is around 337km (209 miles) from Jaisalmer.
Best Months to visit : November to Feb
Our itinerary for travel
Day 1: Hotel, Gadisar Lake , Desert Culture Museum , Jaisalmer Fort .Day 2: Jaisalmer Fort(Museum), Kuldhara village, Sam Dunes , Camel Ride.Day 3 : Jeep Safari(Sam Dunes), Back to Jaisalmer , Train to Delhi
A good time to visit: Jaisalmer Desert Festival is an annual event that take place in the month of February every year. Romantic, remote and unspoiled festival is celebrated amidst the beautiful dunes of the Thar Desert in the Sam dunes (42 kilometers) from Jaisalmer . You can read more about it here Jaisalmer Desert Festival.
Cost Per Person for Trip : Rs. 8000 which includes food, accommodation and traveling. Mentioned cost is a general idea, it may vary as per your bargaining skills.
I think below should be a high priority places to visit
Intra City : Jain Temples and Museum inside Jaisalmer Fort, Patwon Ki Haveliyan, Gadisar Lake.Outside City: A night in sam dunes(absolute must along with Jeep and Camel Safari), Khuri Village(not known to many tourist, a traditional village life spend in thatched Huts), kuldhara Village
So Lets deep dive into memories
The much awaited trip finally began in month of December ???? with 7 folks. Few pitched in from Bangalore and rest of us were from Delhi. There are various ways of transfers by which you can reach Jaisalmer. You can hire a taxi or zip through your own vehicle adding Jaipur and Jodhpur in your itinerary, thus extending your travel plan to at-least 4-5 days. Air is another possible way as mentioned above.
We traveled via train-Jaisalmer Delhi express boarding it from Gurgaon Railway station(People living in Gurgaon do not be surprise we do boost a railway station), and reached Jaisalmer next day around 1 PM. We were pretty excited and little agitated because of delay(boho Indian Railways ???? ). The weather was pleasant and you could roam around with an option of wearing a jacket during the day, but the nights are colder and definitely you will need some kind of protection from cold. We had booked GaziHotel from Goibibo costing us around Rs 600 /person/day. and there was a person who received us at the railway station. I think so this is a pretty good strategy of showing courtesy towards the guests and i must add that the services offered were exemplary.
Jaisalmer is not big city and our hotel was near Hanuman circle, it is closer to main market, you can also book the hotel near Fort Area, but we preferred Hanuman circle since it was closer to the Market. Distance between Hanuman Circle to Fort is only 1.1 Km. Although autos(Uber/Ola was not available) are easily available but I think you should hire a taxi and in case you are hiring make sure your package includes Jaisalmer city tour, visiting haunted village Kuldara, to and fro from Sam dunes and next day drop to railway station (it cost us around 2600).
Day 1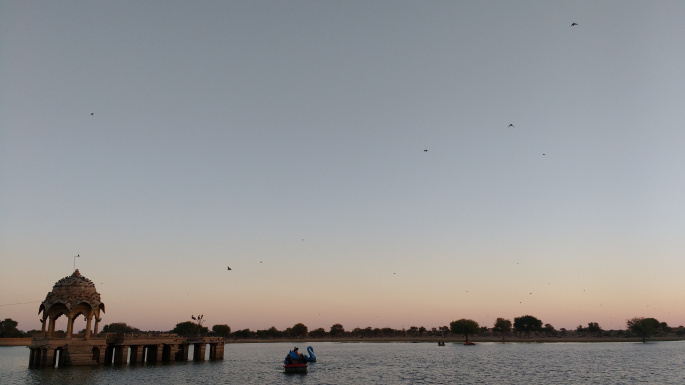 A view of Gadisar Lake
After reaching the hotel ,we re energized our self, had lunch and I must say coffee and Aloo kae Parthas were really tasty, finally after lazing around for few hours we set out at 3PM. Our first stop was Gadisar lake, it is a quiet place and offers a picturesque view , we did boating for around 30 mins and spent around 2 -3 hours eating , clicking pics and doing the most important thing taking selfies :-). Near to Gadisar lake there is Desert Culture Centre which portrays a puppet show at 6:30PM(there are other timings also) its a must watch for sure. The show spoke lot about culture of Jaisalmer and to be honest it was the first time we got to be aware of Rajasthani culture. It lasted for about an hour, we enjoyed it a lot.(do not curse me if you do not like ???? )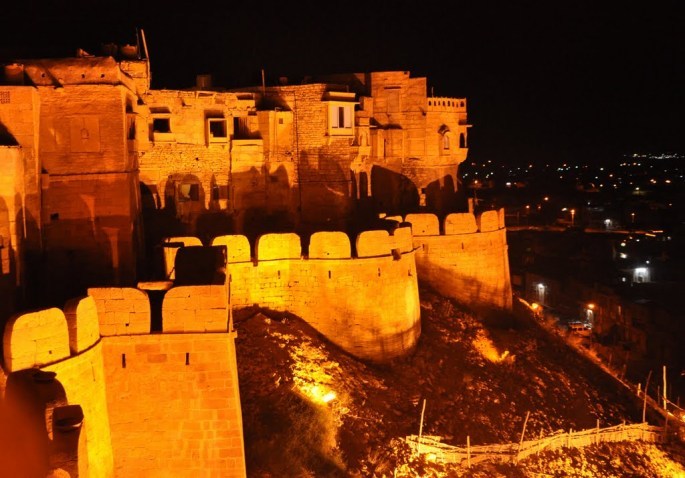 Jaisalmer Fort at night (Google)
After gathering enough information about Rajasthans culture we made our next stop to Jaisalmer Fort which looks majestic and very beautiful specially at night, the fort remains open for 24 hours but the museum closes around 6 PM, inside the fort there are hotels where you can dine they offer only vegetarian food and no hard drink are allowed. After spending few hours, we decided to head back to the hotel and in between bought booze from the shops outside the fort. After reaching the hotel we dined in hotel restaurant and got high. Two things I wanted to share, there is a bit uphill slope to enter the main area of fort so for elders u might want to take auto and just be aware some time auto are hard to find late in the night.
Day 2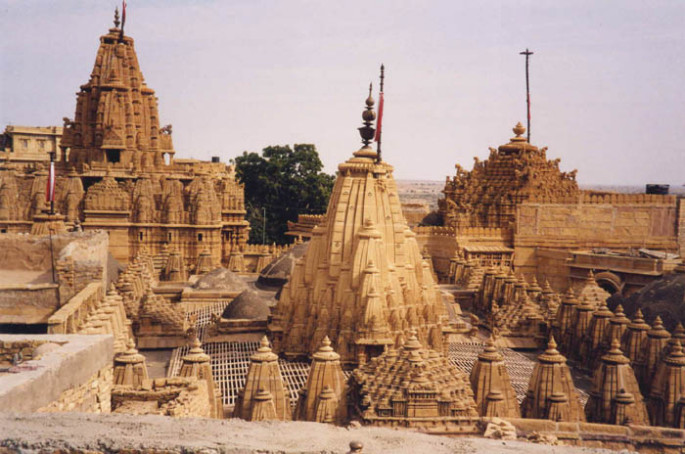 Click from interiors of Fort
Next day we woke up partly hung over and after having breakfast,we resumed our journey around 10 AM we reached the Jaisalmer Fort. It was the time to see the museum, we hired a government provided guide(hiring a guide makes seeing the things more interesting) to show us the Fort. Jaisalmer Fort Palace Museum was an erstwhile royal residence, which was later converted into a museum. The museum houses a great collection of artifacts depicting the rich culture and heritage of Jaisalmer. It has an entry fee of 100 rs per person, please do buy the ticket for your cameras because if you click photos without the ticket you have to pay a fine. The museum portrayed rich history of the dynasty of Jaisalmer,the pictures,the weapons and dwelling places was very fascinating to watch.It took us around an hour to visit the whole thing. Then we moved to Salem Singh ki haveli, it is outside the Fort at a walking distance.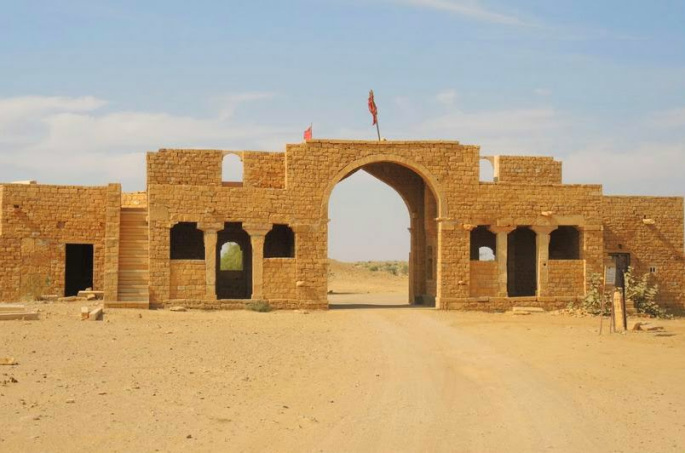 Kuldhara Village Gate
After visiting these two places around 1 pm we started our journey for Sam dunes(the best part of Jasialmer tour :D). In between we made a stop at Kuldhara village which is ruined and i did not find it haunted. We heard different versions of story from different people,please comment about your version of the story it would be interesting to have a discussion around it.
Oh sorry for missing out on shopping we were all boys gang, So we did not shop much, but there are many interesting things you can buy. The shops are located both inside the fort as well as outside and yeah do test your bargaining skills.
Jaisalmer Desert Camp(our dune stay)
After spending some time there. We headed for Sam dunes(its a place where there are sand dunes) we had booked a Jaisalmer Desert Camp costing us 2000/person/Day. The camp included one night stay, Welcome Drink,Camel Safari,Meals(Lunch(Veg),Dinner(Veg/Non Veg),Next Morning Breakfast), and a cultural show. The camps were located in a secluded place 1 km away from dunes, these camps had attached washrooms and were spacious.(You can book camp in dunes but they are not located in isolation, so its more of a personal choice). I highly encourage you whenever you book a camp, please see its pictures because the facilities provided in camps vary drastically. After settling down in camps our next toDo was camel safari.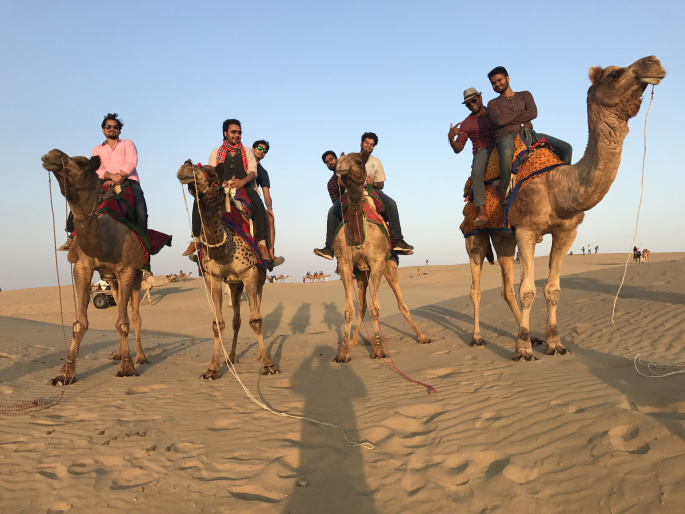 The Euphoric Moment
There is always a euphoria for seeing the things first and in our case it was the dunes. It was a mesmerizing experience entering the deserts on camel. We had loads and loads of fun and you should definitely try camel race its an amazing fun. The sunset was alluring,and it was already dipping behind the horizon, but the daylight still lingered in the air as though, accidentally left behind. After enjoying our stay at dune, we returned back to our camp around 7 pm.
Sunset viewed from Camel
Cultural program had been arranged for us by the camp, Sitting near the bonfire it was an entertaining experience to watch the performers dance and sing to the rajasthani. I too took a shot at dancing on their local numbers along with them , I know I sucked but I was already high so under no circumstances I am putting that picture here ???? ) . The show lasted for about two hours, after the show was over we had dinner and special mention for dessert(some sweet made of banana) it was very delicious. We boozed played music(courtesy JBL flip)and relished the sky full of stars. In fact one of our friend slept outside the tent to enjoy the sky or i am realizing now while writing this blog, that he must have passed and we were too high to get him inside the tent.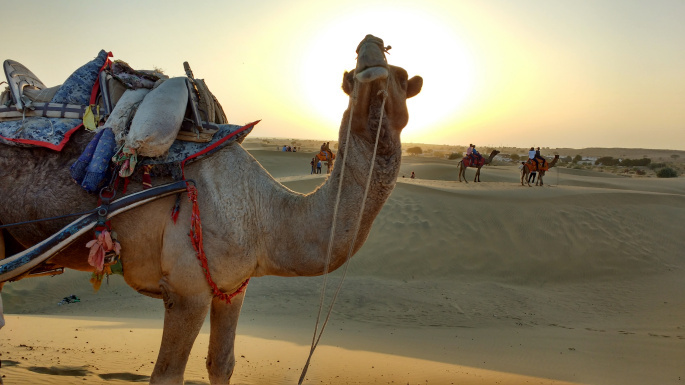 My fav pic from the tour
Day 3
Jeep Safari
It was the day to return back to Delhi, but before that there was one prodigious thing left to be done, the jeep safari, we had had booked Thar jeep for 6 AM and yeah my initial reaction was wtf, who would or I must say how would I get up so early but courtesy to a teetotaler friend he woke up us at 5:30 AM although I cursed him but I must say it was a truly worth while experience to have, the safari took us to the dunes and one the way you will surely get jitters in your stomach. We halted at place to enjoy the serene beauty, it was the time for sun to rise again and sometimes i wish that few beautiful moments get captured in my eyes and seeing the sunrise was among one of them. After spending few hours and playing like kids in the sand and yeah not actually eating it, we returned back to the hotel. The owner was very nice he gave us a room for few hours without any extra charge so that we could rest and re-energize. We had an option to visit Jaisalmer War Museum(Personal recommendation of a friend) but we were so tired that we skipped it . While heading back to station having Rajasthans special food Batti Choka for lunch.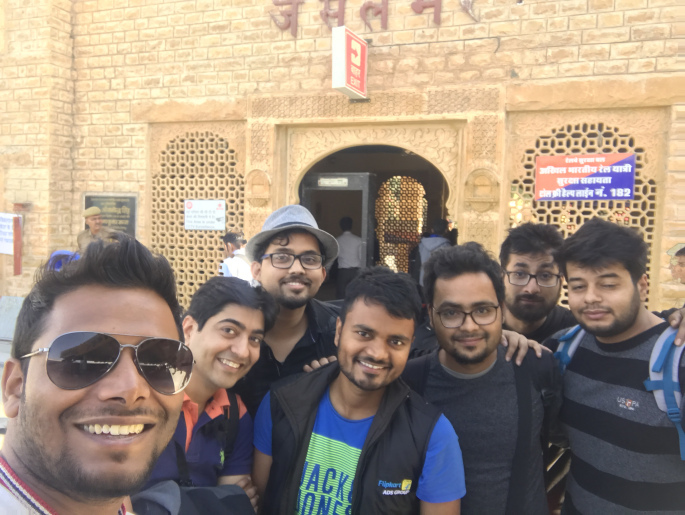 Jaisalmer Railway station
This marked an end towards our incredible journey and I am sure it will remain in our memories for a very long time,the majestic Fort ,the extravagant museum , the safaris and of course the company of friends had made this trip remarkable and something to remember throughout life...
Below are the details of few places we visited , you can click on them to read more..
Gadisar : A man-made water reservoir, the Gadisar Lake was once the only source of water in Jaisalmer.Constructed by the first ruler of Jaisalmer, Raja Rawal Jaisal, it is surrounded by temples and ghats (banks). One can spend some peaceful time in the serene surroundings of the lake or choose to go boating as well. Boating and watching calm water in their natural surroundings can be a great experience with everyone at Gadisar Lake.
Desert Cultural Centre & Museum: Considered as an important landmark in Jaisalmer, Desert Cultural Centre & Museum exhibits local musical instruments, ancient coins and currency, traditional jewellery of the womenfolk, hunting gear of me, historical displays of rulers, artillery and armor of the bygone era armies. Tourists can enjoy a live puppet show at this place.The place is well maintained by Jaisalmer tourism and has a rare coins related to Jaisalmer history and the past of Rajasthan in whole.
Jaisalmer Fort: The Jaisalmer fortress is the only fort in the world where around 4000 people still live inside it. There is a beautiful Jaisalmer palace at the center of the fort where the royal family use to live, is now a museum and open for visitors. The fort is majestic from outside and from inside has several tiny back lanes, old cobbled streets. The fort is very old, golden, full of history, tourists, beautiful carvings on the palace and old haveli's and amazing restaurants serving japanese, italian, thai, korean, indian, rajasthani cuisines.