Extremely popular among tourists, Ranakpur is a quaint town in Rajasthan and one of the five most important pilgrimage places of Jainism.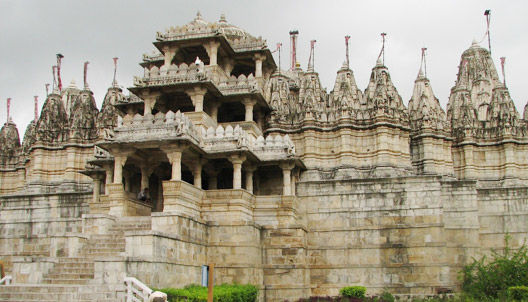 Despite being cut off from other tourist destinations in Rajasthan, Ranakpur receives several visitors because of its status as a major pilgrim destination in the state.
It is tucked away in a remote valley in the Aravali mountain range and is situated around 96 km north of Udaipur in the Pali district.
This beautiful, serene place is renowned for some amazingly carved Jain temples constructed in amber stone around the year 1439 AD.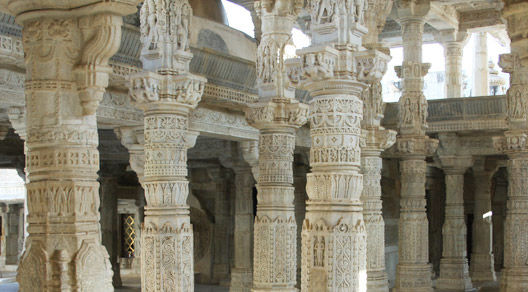 The main temple, the Chaumukha Mandir (Four-Faced Temple), is dedicated to Adinath, the first Jain tirthankar (depicted in the many Buddha-like images in the temple), and was built in the 15th century in milk-white marble.
An incredible feat of Jain devotion, the Chaumukha Mandir is a complicated series of 29 halls, 80 domes and 1444 individually engraved pillars. The interior is completely covered in knotted, lovingly wrought carving, and has a marvellously calming sense of space and harmony. Shoes, cigarettes, food and all leather articles must be left at the entrance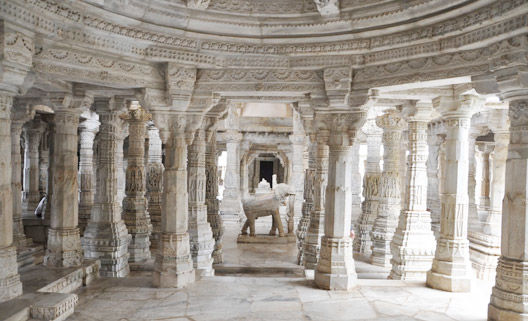 BEST PLACES TO EAT IN RANAKPUR:- 
Vegetarian Jain food is available at affordable rates inside the temple premises.
You can try the in-house restaurants at the Maharani Bagh Orchard Retreat heritage hotel as well as the ones at Ranakpur Hill Resort and Fateh Bagh Hotel.
The hotel Fateh Bagh has a multi cuisine restaurant that serves Indian and international cuisine. Don't expect anything fancy.
Best time to visit Ranakpur is between October to March.
You can stay here for thousands of years..and yet feel thirsty for the pleasures of excellence and devotion in these hills of Arawali.