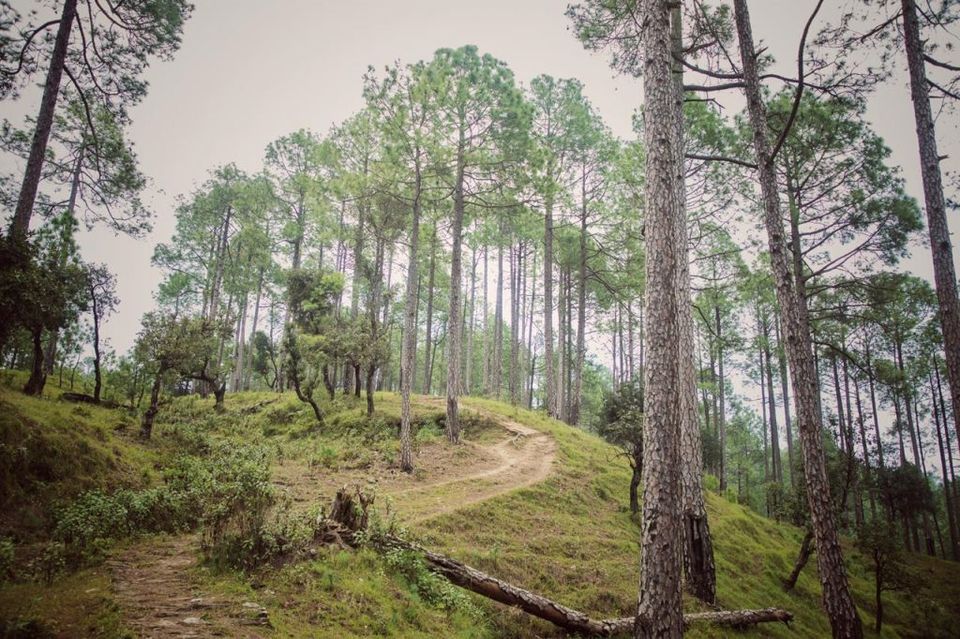 A rendezvous with Nature: an enthralling experience
Nature has been for me a source of solace, inspiration, adventure,delight, a home, a teacher, a companion
The miracle of nature is something which I just can't get over after my recent trip to a less touristic quaint little hill station .It is certainly the best place to escape the crowds and find your own piece of heaven.The magical mesmerizing hills took me to some other world where I could feel the intricate beauty of nature and just be myself.
This post is a travel story about my trip to a place which is like a second home to me now as I am visiting it for the third time. I must be sounding crazy to choose the same place thrice despite so many places around Delhi for a short vacation in the hills. There is indeed something extraordinary about this place which keeps me hooked to it whenever I think of a short vacation nearby.
Ranikhet is a charismatic hill station cantonment town in Uttrakhand which is being managed by the Indian Army and is home to the Kumaon Regiment. The best part about this town is that it is very well maintained with lovely windy roads on which I can keep walking till my legs give up completely.
We combined the public holiday on 2nd October with a 2 days leave for our 4 days of escapade from the maddening chaotic fast paced life. We used to book a hotel in the main market of the town on our previous trips but this time we decided on a different place to stay .
We chose a hotel which was inside the dense beautiful forest away from the streets bustling with people. We found this hotel known as Chevron Rosemount on one of our previous visits to Ranikhet while strolling and trekking inside the forest.
We left Delhi around 5:00 AM by car and reached Ranikhet around 3:00 PM in the afternoon. It was a nice road trip with good weather being on our side with clear blue skies after the rains. The twists and turns of the mountains with the spectacular landscapes spiced up our journey.
We entered the forest area and took the road to the hotel which is a little away from the main town and is nestled in the woods with no network .:-) This was the best part of this stunning and memorable vacation.The forest road to the hotel did get a little adventurous since we couldn't find it first and took a wrong road instead.
It is an ancient heritage bungalow during British era which has been turned into a hotel.It is truly a gem in the woods amidst the mountains. As soon as we entered, the beautiful green lawn caught our attention .
We were awe struck by the beauty of the stunning garden surrounded by flora, fauna and so much greenery all around. We could see the snow capped Himalayan peaks on a clear day but it was misty during that time.
As we were hungry, we first had our lunch in the lush green nature with ample of birds and their sounds.
The clear blue sky was a treat to the sore eyes and added to the heavenly experience.After having a delightful lunch, we checked into our colonial style rooms which were lovely with a wooden fireplace and an antique feel with the old style furniture.
It has an old charm of the British era with wooden floors, stairs and chandeliers.And , it does feel haunted at night specially if you have to walk back alone to your room to get something, though it is completely safe.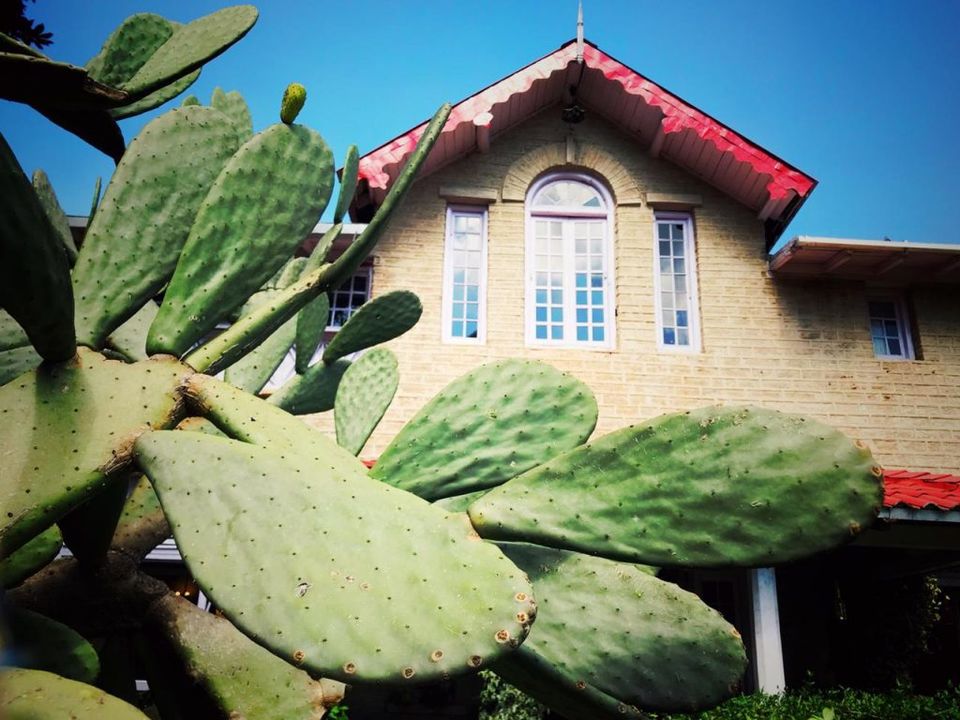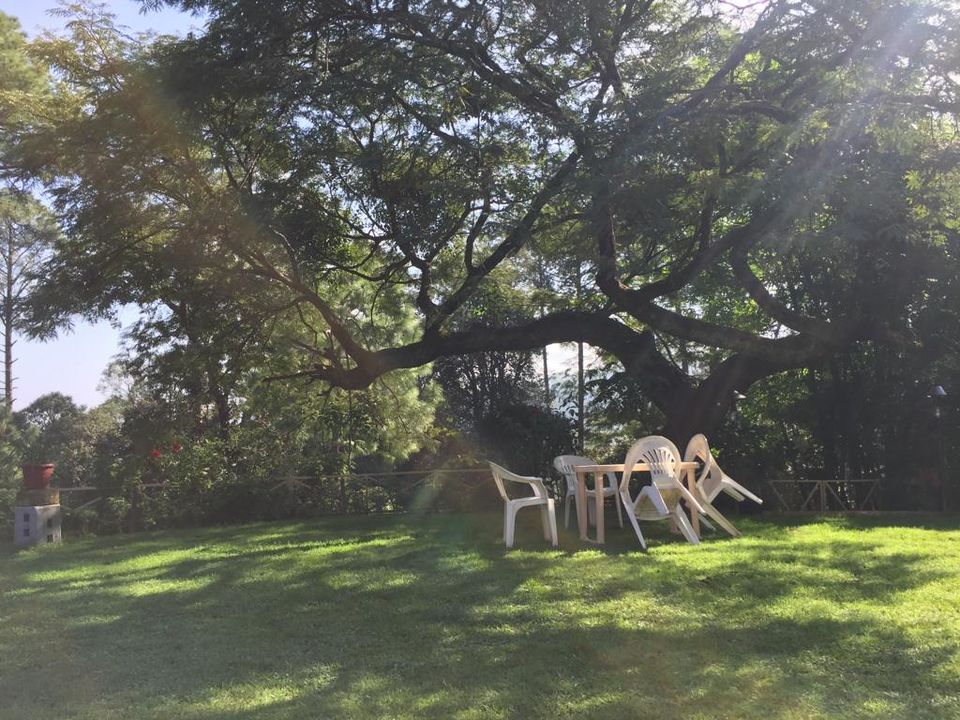 In the evening we enjoyed a cup of coffee in a nice wooden open hut kind of an area .
After finishing our coffee,we went out for a long walk amidst the pines admiring the beautiful tall trees around which transported us to some other miraculous world. I could feel the chilling fresh air cleansing my mind and heart.
The minty smell of the eucalyptus leaves along with the sound of the insects and birds brought me closer to the real essence of feeling alive. The solitude of nature and the serene peaceful atmosphere with no one around was truly a bliss which I still crave for.
As soon as it got dark,we had to return back to the hotel as the jungle is known for leopards coming out at night. We had our dinner in the hotel, chit chatted for a while and went off to sleep as we wanted to do an early morning run in the hills.
Waking up early during a vacation gets difficult for me at times, so we ended up going for a run by 7:30-8:00 AM. Because of the huge trees, there was still a lot of shade making it less sunny and ideal for an early morning run. The uphill run was quite difficult but exhilarating as well at the same time.
The feel of running in the hills deep inside a forest was a heart stirring experience for me. The chirping of birds and croaking of frogs was my music to which I was listening to while running.
After a nice refreshing run, we had a delicious breakfast in the lush green garden enjoying the sunshine and the solitude. There were not many people here which was a bliss as we could completely enjoy the tranquility and calmness of nature on our own.
After enjoying a nice sumptuous breakfast, we decided to explore the town. There is a trail from within the forest itself which we took to go to the main town.
From the hotel, the trail first goes to Rani Jheel which was a sightseeing attraction before but this time it was under renovation. In any case, there is not much sightseeing to do in Ranikhet. I am very fond of the trails and the paths inside the forest which give me an immense amount of happiness and joy. So, I never look forward to any kind of sightseeing here.
It was just us walking around the hilly trails feeling the fresh air and the sun making its way through the huge tall trees.The shining spider weds under the sun light and the spot light cast by the shining sun in between the woods was a treat to my eyes.
There is a short cut from Rani Jheel which took us directly to the town by walking through the stairs. On one of our previous strips, we even walked through the road which is much longer. The first sight of the main market in the town broke my perfect dream as it was crowded with people and all kinds of vehicles.
Suddenly I felt my phone vibrating and realized that my phone was within the network coverage and I was getting a call. Though it was an important call which came at the right time but I still was a little disappointed to see network on my phone. We wanted to get out of the town as soon as possible.
So, we took a road ahead into the forest again to go to terraced orchids of Chaubatia gardens. There is a steep hike to climb up the hill which feels never ending. I have never seen any tourists here, only a few locals. There were some locals who passed by advising me about the route.
I had already done this hike twice on our previous trips, so I wanted to tell them that Ranikhet is like my second home now and I am well aware of the trails,paths and shortcuts here.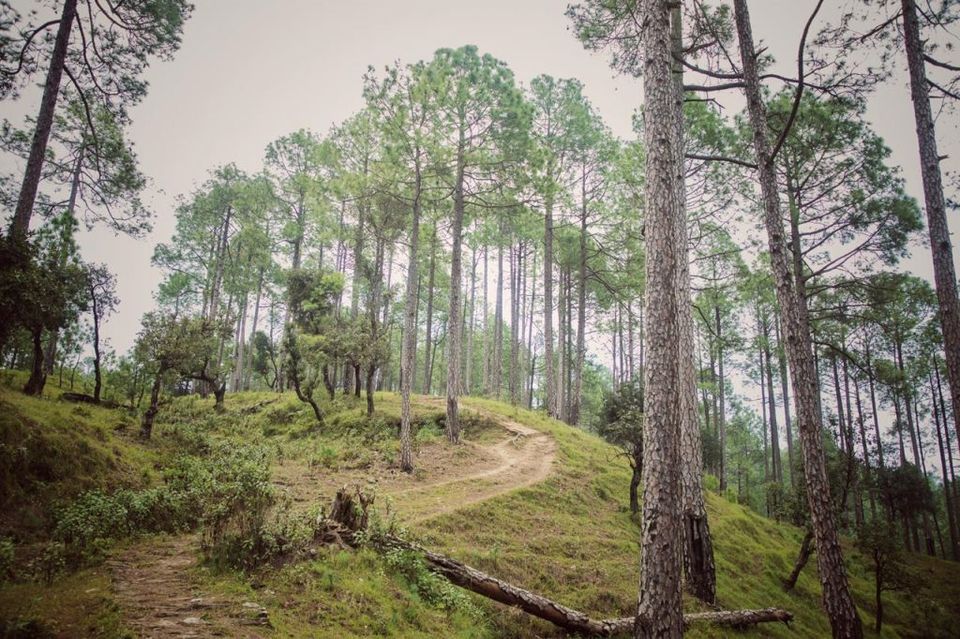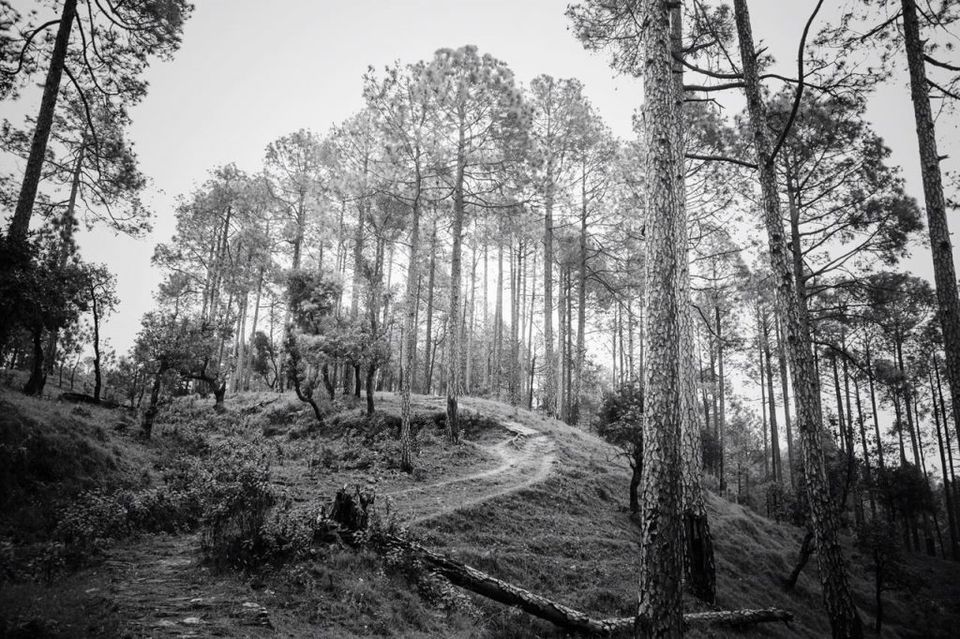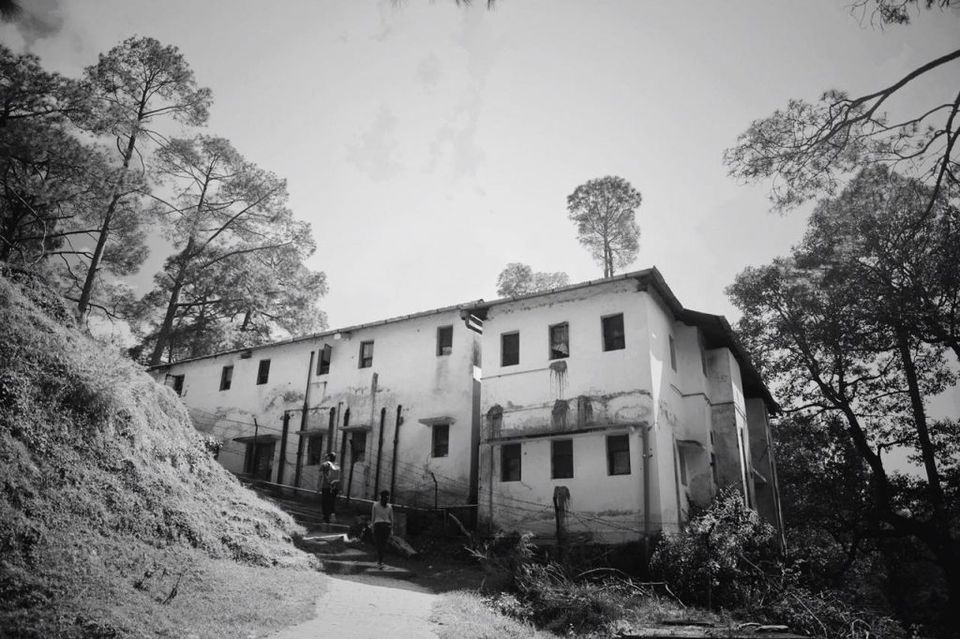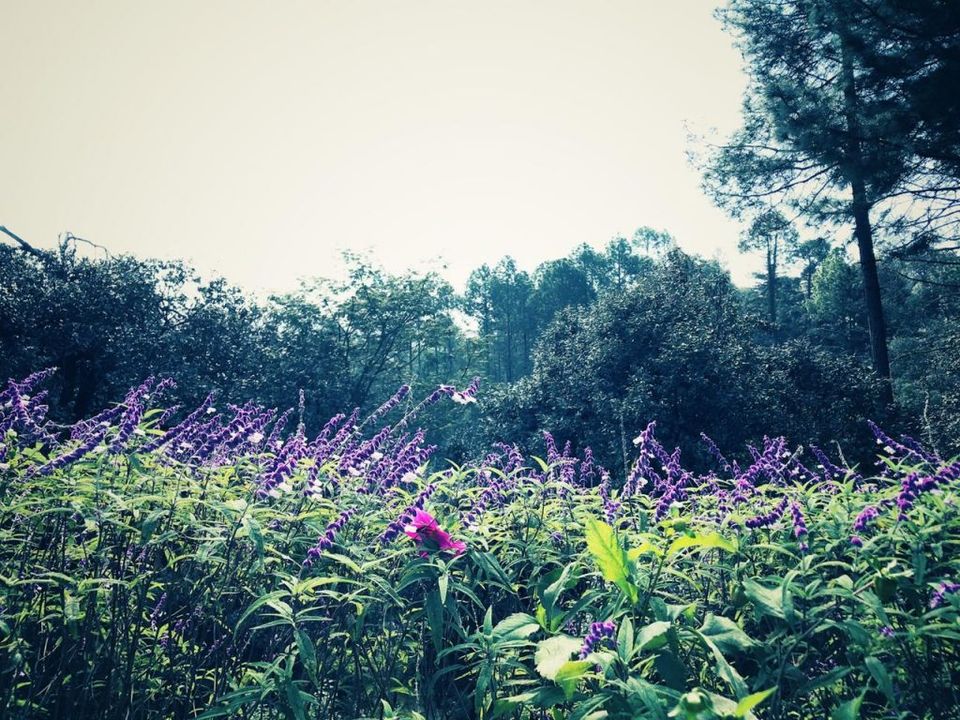 We clicked a few photographs but continued to move ahead with short breaks in between to catch our breath while climbing uphill. Even after doing this hike twice before, I still felt rejuvenated while trekking through the forest.
The serenity of nature entrapped me in its alluring beauty and transported me to cloud nine. We finally crossed the forest and could spot a trace of some small buildings. We stopped by a small shop to have a cup of tea under the shade of a tree. It was an amazing place where we just sat on the green grass under the tree and had our tea with just a few locals around.
There was nothing fancy about this place, but sometimes even the simplest of things become a source of immense pleasure and great joy . We got lost in the beauty of the place and I wished that we could stay here longer.
But we had to move ahead to reach the Chaubatia gardens where we wanted to have our lunch. There is a canteen at the top of the terraced gardens which we had climbed before. We ended up finding a different route to reach the top where there is a canteen. Usually the place is filled with some tourists but somehow here as well, there were only the locals who were running the canteen.
At that moment, I felt as if we were scavenging through a ghost town after an apocalypse. But I forgot about all of this after having a mouth watering enticing vegetable Maggi which we ended up ordering again and had 2 plates each.
We left the canteen and went ahead to take the road to Jhoola devi which is a famous temple here. I love walking on the road to Jhoola devi which is windy road within the forest with nice quotes written on the surrounding sign boards and is in the cantonment area which is very well maintained. We knew that our hotel was close to Jhoola devi but it turned out to be a little far and we had to walk further ahead to get back to the hotel.
We were back by evening 5:00 PM after a thrilling hiking experience. We had a nice cup of coffee after coming back and relaxed in the hotel.As there was no network, we did spend a lot of time playing ludo offline on the phone. There was wifi though, but the coverage was not very good and it was only at few places.
Next day, we went for an early morning walk and run again. But this time we walked uphill and ran downhill,so It was a lot easier than the previous day . We came back and had our breakfast in the garden basking under the sunshine and glory of nature. We sat there for a long time as we didn't have any plans for today.
We were just relaxing and enjoying the beautiful resort admiring the cactus in front of its building to the beautiful flowers and the spectacular view of the hills. Ranikhet is well known for its view of snow capped mountains but somehow, it was always covered with mist during our previous trips here. I went with no expectation of seeing them this time, so I wasn't very hopeful of seeing the snow capped Himalayan peaks.
After lazying around, we left for the town using the same trail and shortcut as before to get to the main market. We went there to buy some board games . We were back by evening after which we got addicted to playing the board games till late at night. Not to be missed is the coffee which we had again in the evening along with playing our games.
As we ended up playing till late at night, we missed our morning run the next day . So, we directly had breakfast. The food was really good here and it was nice to enjoy such a delicious meal in a heavenly place we were in making it a perfect vacation.
Since we again didn't have anything specific in our minds to do today, we were taking our own sweet time to relax in the garden and enjoy our breakfast.
Suddenly, someone from our neighboring table pointed out at the Himalayan peaks. They were finally visible today and my heart leaped with joy , more because I did not have any expectations to see them this time. We spent some time admiring them and rejoicing the view.
Later during the day, we went out for a stroll in the woods and found a quiet spot where we played ludo on the phone while sitting on a log of wood. Such a delightful experience of just being so close to nature.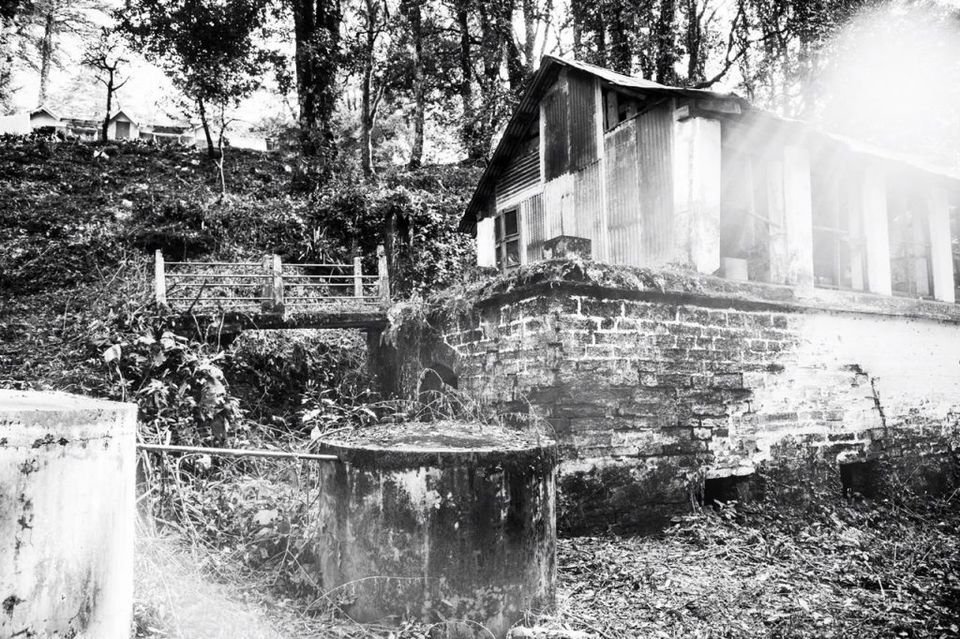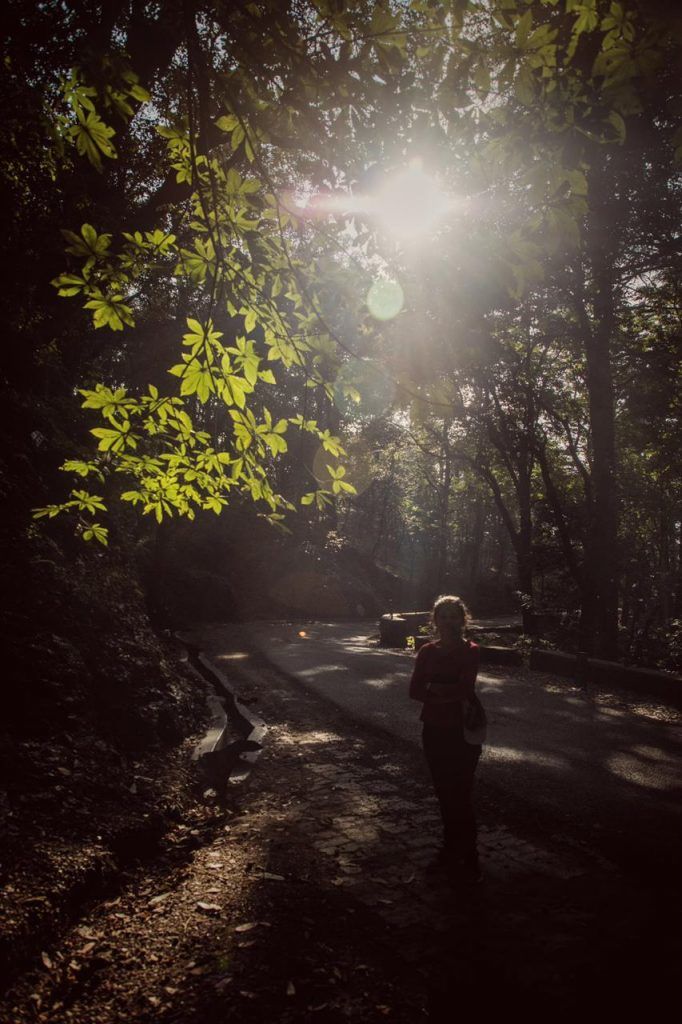 We were back to the hotel where we spent the rest of the time playing games and badminton. There was nice sitting area outside in a open wooden hut where we used to play games or have coffee. I was eyeing on the badminton court since the day we had come and I was eager to play here as the court was surrounded by hills and forest.
There were stairs to go down which led to a play area for kids and a badminton court. It felt as if we were right in the middle of a jungle. While playing,I also enjoyed looking at the clouds radiating vivid colors on the hues of sunset.
We had fun playing in the evening but ended our game when we felt that we heard a slight roar and hustling of leaves. We rushed and took the stairs back to enter into the main resort.
This was our last evening in the amazing resort and I already felt a little upset by the thought of going back. I wish I could stay here longer and somehow even work from here. After all, I don't think it is too much to ask for,right?
Next day, we left early at 7:30 am and before leaving ,the Himalayas bestowed upon us their generosity by showcasing their snow covered peaks. They are a delightful sight to look at and I kept looking at them as long as I could before bidding goodbye to a vacation which would remain in our hearts forever.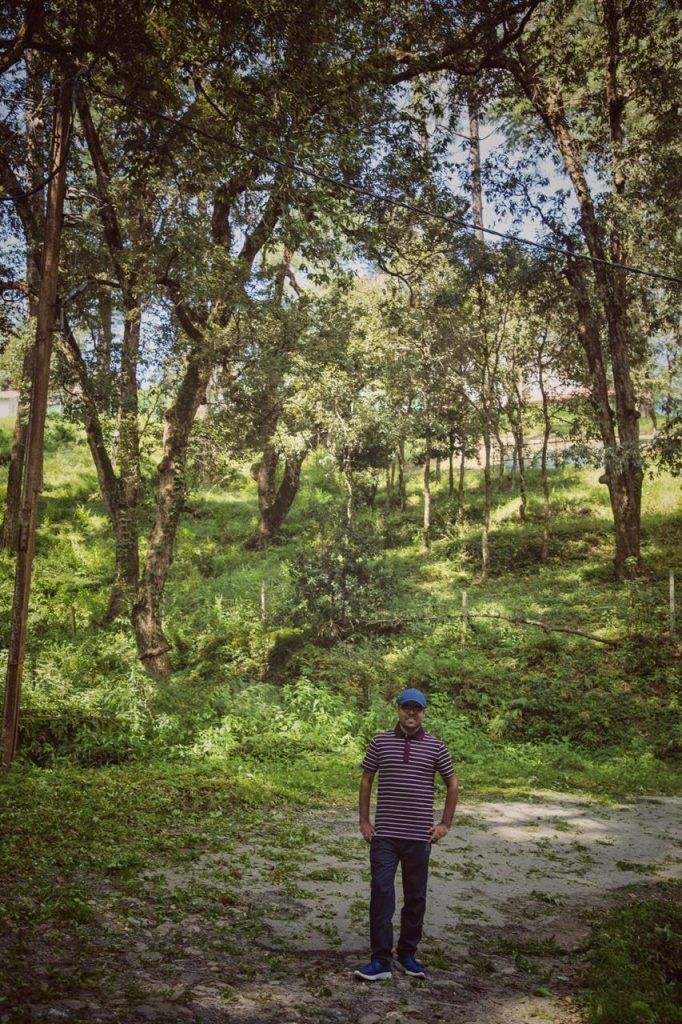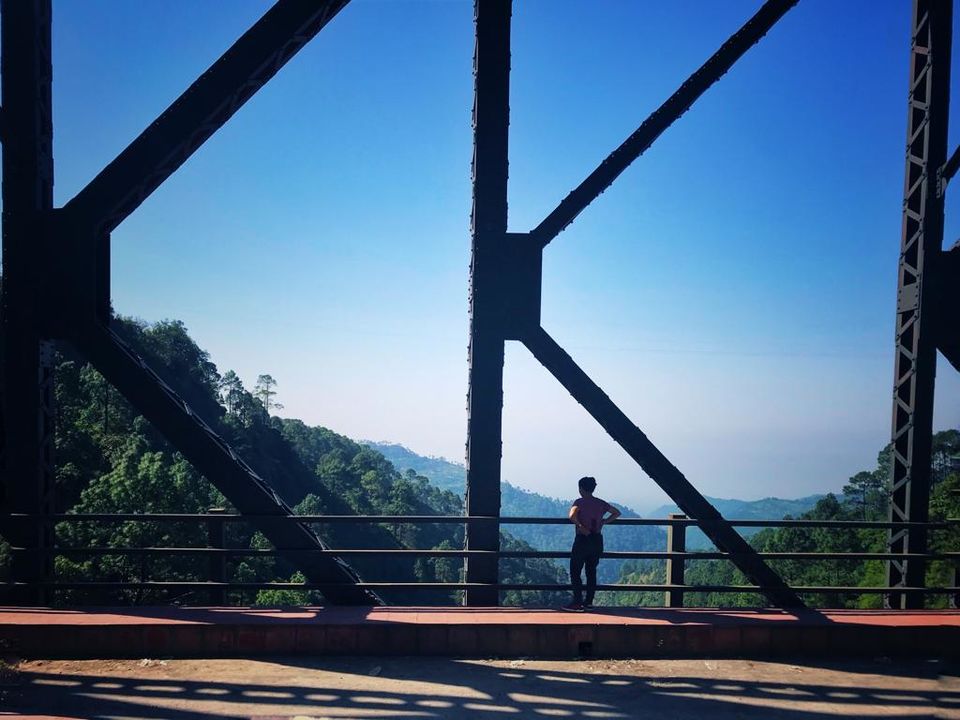 The beautiful pictures still make my heart flutter with excitement and happiness.
Picture credits: /https://shivkiran.com/