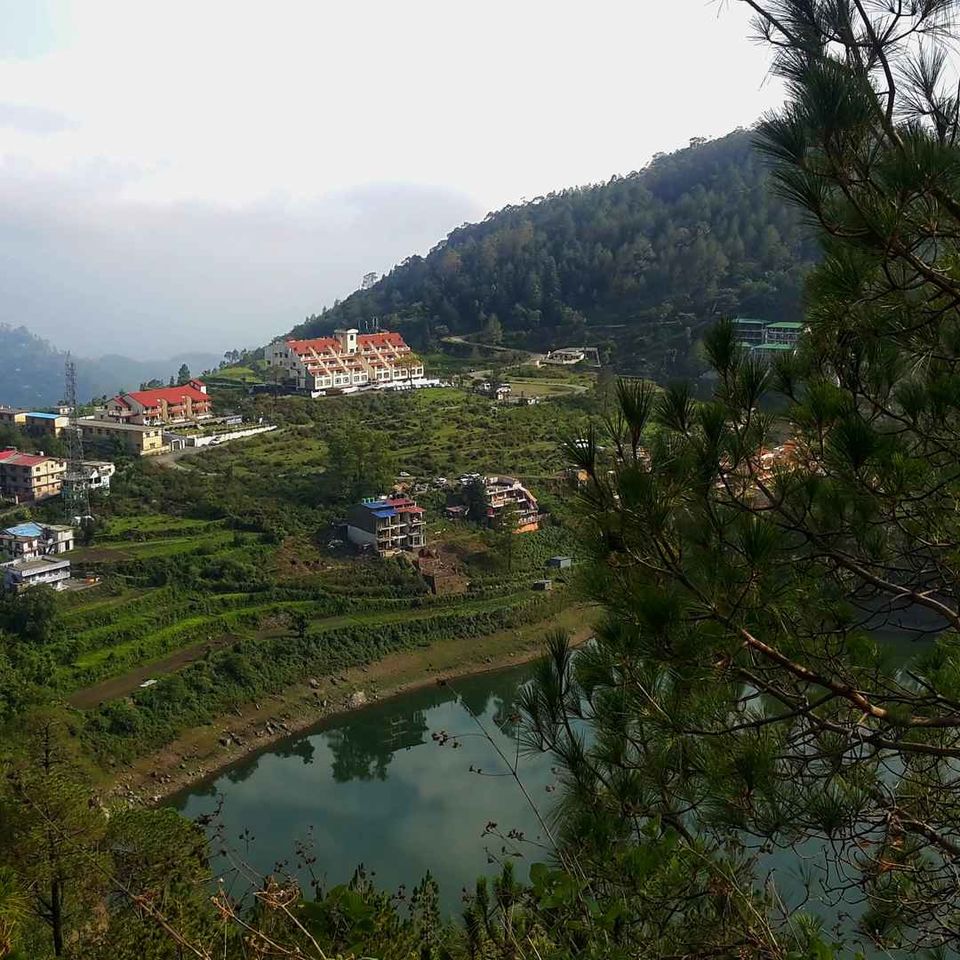 I have, on countless occasions, claimed to have a very vivid imagination.
But my pride went down the drain as soon as I stepped out and inhaled the pure and mystical air of Ranikhet, Uttarakhand.

The meticulousness of my surroundings hit me so hard that every ounce of irritation that I had -- courtesy of sleeping on the uncomfortable seats of Ranikhet Express -- went away as soon as I inhaled-exhaled-inhaled-exhaled and ... you get it, kept on repeating the process.
But it was just the starting of my life-altering, supposedly never-ending journey.
'Heaven!' I whispered.
The show's on!
We had started driving from Ranikhet towards our destination and the beauty around me had me on my knees.
There sitting proudly amid the soft plush of cotton like clouds, were the great and mighty Himalayas.
Who knew plate collisions could create something as enchanting as Himalayas? In my house, plate collisions only create loud noise. :p
Covered with thick layer of snow, providing shelter to many, enchanting its onlookers with its beauty - the mighty himalayas hid from none, and hid everything.
However, in my case, they were subtly hidden by the Kumaon Mountain ranges, on whose lap my car was riding on.
And Kumaon, it was no less beautiful!
On my right was the deep abyss, clad perfectly by the radiant green trees, pine to be exact. They were echoing the music of nature while carefully concealing the dangers.
On my left was the Kumaon itself, silently promising protection from the tree-abyss and colourfully supporting the lives of thousands of people.
Always giving, never taking.
Thirty minutes and excruciatingly dangerous road turns later, we were roughly 2000m above sea level.
If I thought that Ranikhet or Mountains were heaven than Nainital was something else!
Love at first sight
It was drizzling in the city and we were welcomed, yet again, by the exquisite sight of Nainital lake.
Beautiful Nainital Lake - sitting proudly amidst the five o' clock ruckus of the city and smiling in the gentle natural shower.
Yes, I just used 5 0' clock and ruckus in the same statement. You already know why, right? :D
If you don't, when are you visiting Nainital?
I felt utterly relaxed by the view and my lips curled skywards in response.
There were people going on with their lives as if it wasn't almost freezing due to the shower. Students were taking the bus to their school, vendors selling beverages, breakfast and morning newspapers; and tourists capturing the beautiful scenery.
Five minutes later we found shelter under a bus stop, to avoid the drizzling which was now turning into a full blown shower.
It wasn't enough and did nothing to soothe my goosebumps which appeared more out of surprise than cold. And if I am being honest, I did not want anything to soothe my goosebumps.
I had never felt so pure before!
And on top of that our clothes were dry, the probability of getting hypothermia was still slim. My minor OCD becoming major, that probability was even more slim.
But then my eyes found the object of my fascination once again.
Could you ever stop looking at that lake when you enter Nainital? Well, neither could I.
The only reason why I wasn't full blown sporting a loser smile on my face was this - I didn't want the lake to think of me as some creepy human. Even though I was one.
Imagine this - five o' clock in a city you've never been to. You haven't stopped smiling since you arrived. It's drizzling. People are out everywhere. The city is buzzing. And there is this lake sitting amidst all of it. Sincerely. Quitely. Invitingly.
For the first time in my life, my introverted self was not bothered by humans all around. Those locals added life, a fervour to the city that us foreigners could never compete with.
The locals made Nainital alive.
However, I wouldn't have minded a few moments of peace and solitude with what was becoming my favorite place in the world.
Okay, too soon, too soon!
I shall forever be yours!
Forcing myself out of the lake induced trance, I looked around. We were standing right next to a chai stall.
Having nothing better to do than to gawk at the lake, I decided to direct my attention to the chai which was now brewing.
Belonging from a Rajasthani family, that drinks chai more than they drink water, this beverage wasn't foreign to me.
I have brewed the beverage a few times myself, as a kid stole a few sips here and there when I thought no one was looking.
But God is always looking, kiddo.
Chai is, in fact, so common in my household, that I did not appreciate it as much.
So when in the stall next to me, when I saw a can of chai brewing, I should not have taken it as a life-changing event, right?
But does life work as we expect it to?
We all know the answer.
I was ready to say - 'I do.'
In front of me, rain was pouring down with no intention of slowing down anytime soon.
And right next to me, the perfect blend of tea leaves, water, sugar and milk was boiling, with no intention of slowing down.
And I was lost. Lost in the meaning of life.
Freezing and boiling, two opposite phenomena, taking place together. Theory of simultaneity!
'What an irony!', I smiled.
My smile had started attracting attention by now, but did I care?
Not at all!
Never had I ever found boiling of tea so captivating and pouring of water so enchanting!
I was trapped, officially, and it was just half past five on the first day, not even half an hour since we arrived.
'This is home!', I whispered and a beautiful smile graced my lips.
.
.
P.S.: If I had stayed for a couple of minutes longer, than I am pretty sure I would have gotten to see how the mental asylums in Nainital (or surrounding areas) looked like. But thank God, we were taken away by our guide!