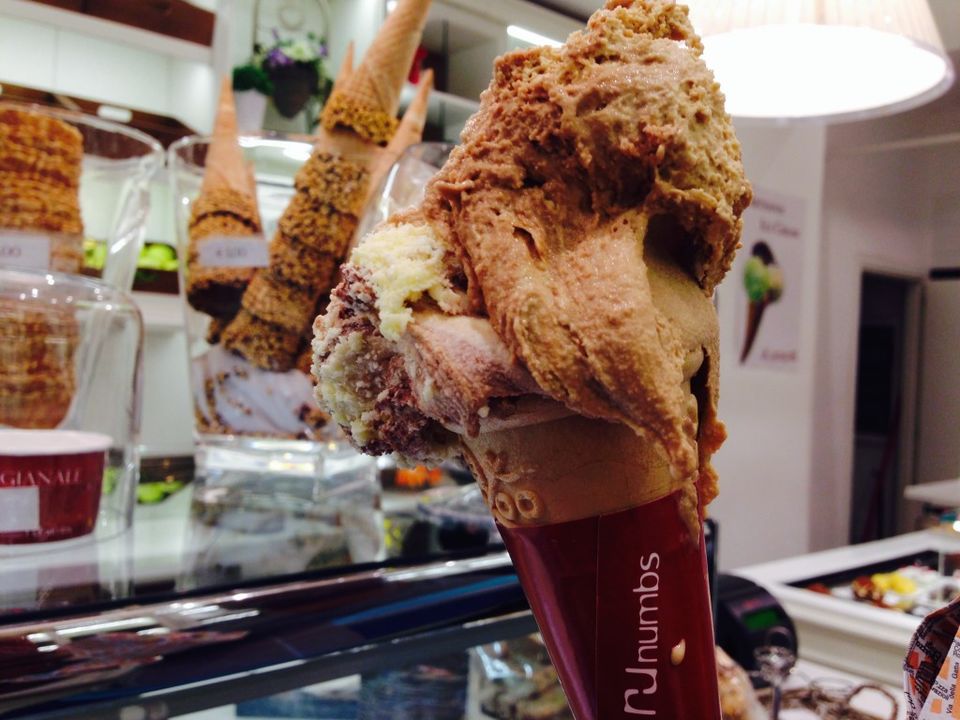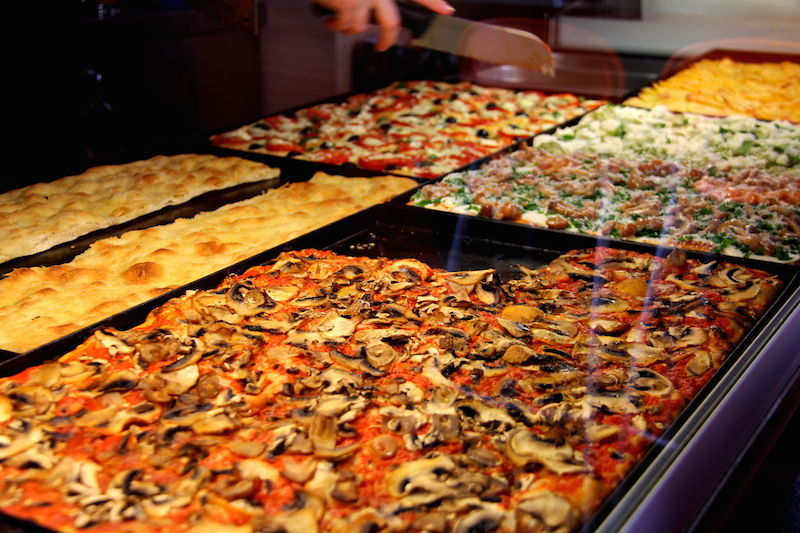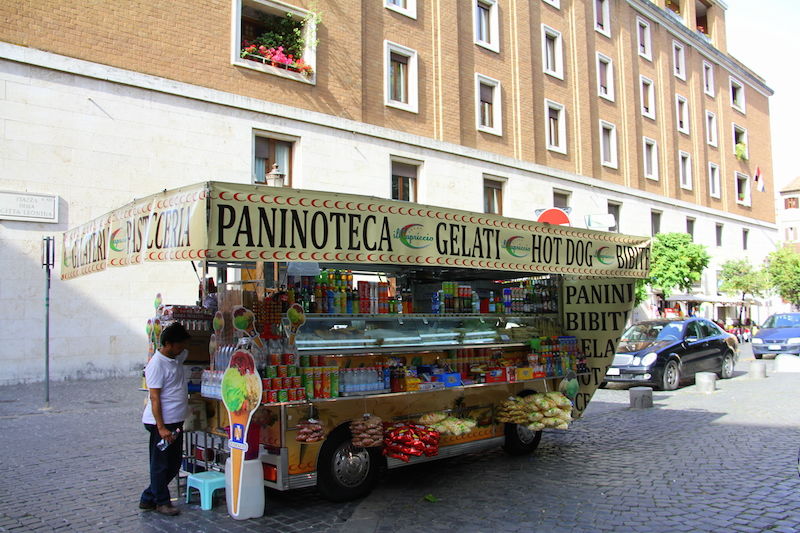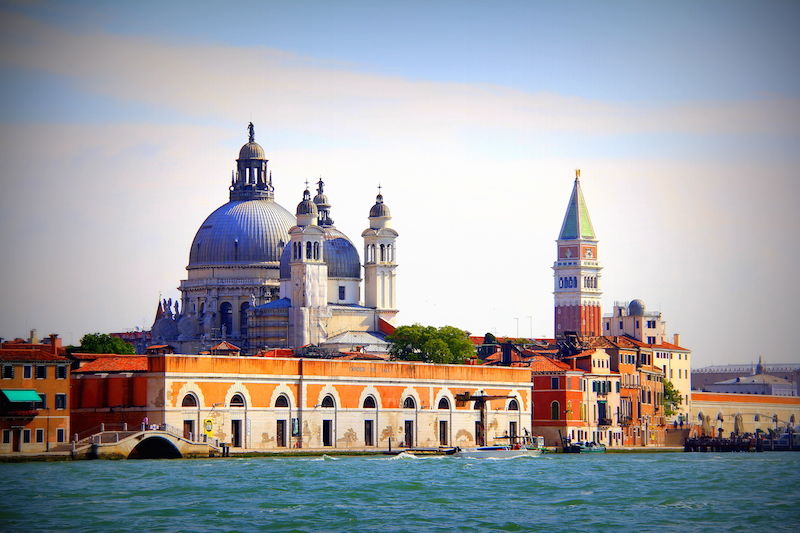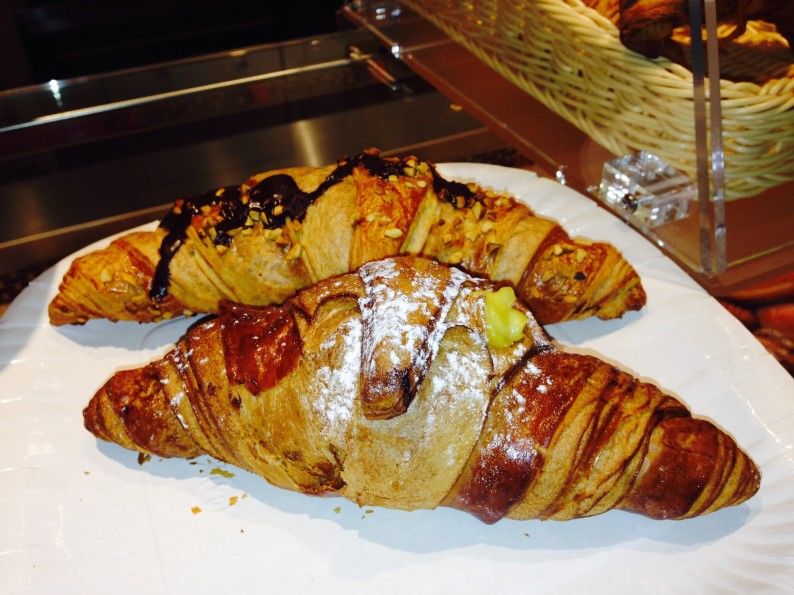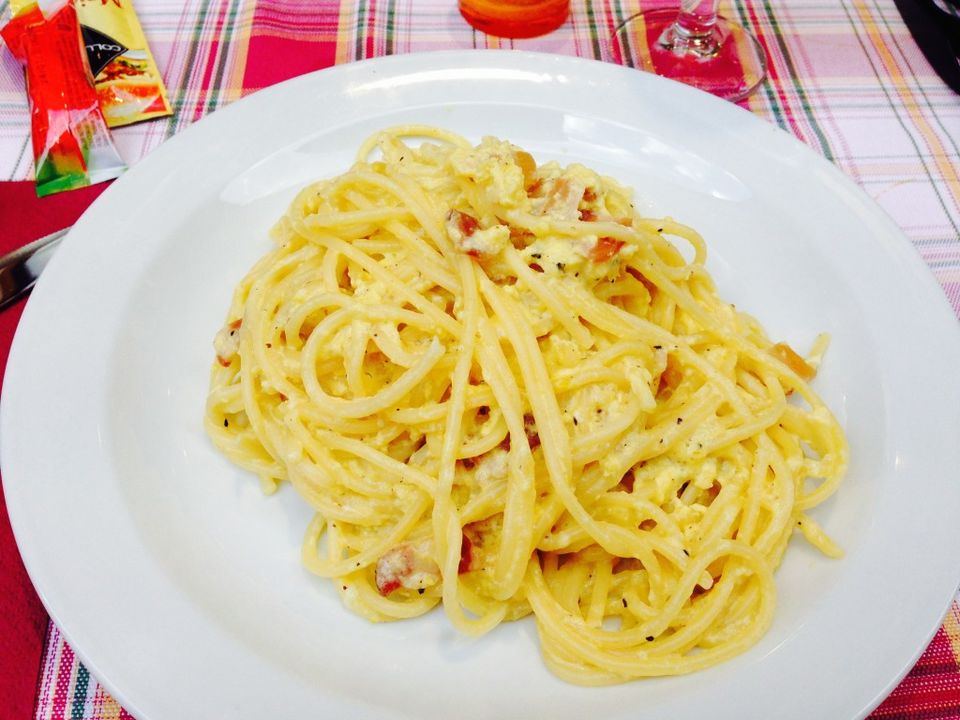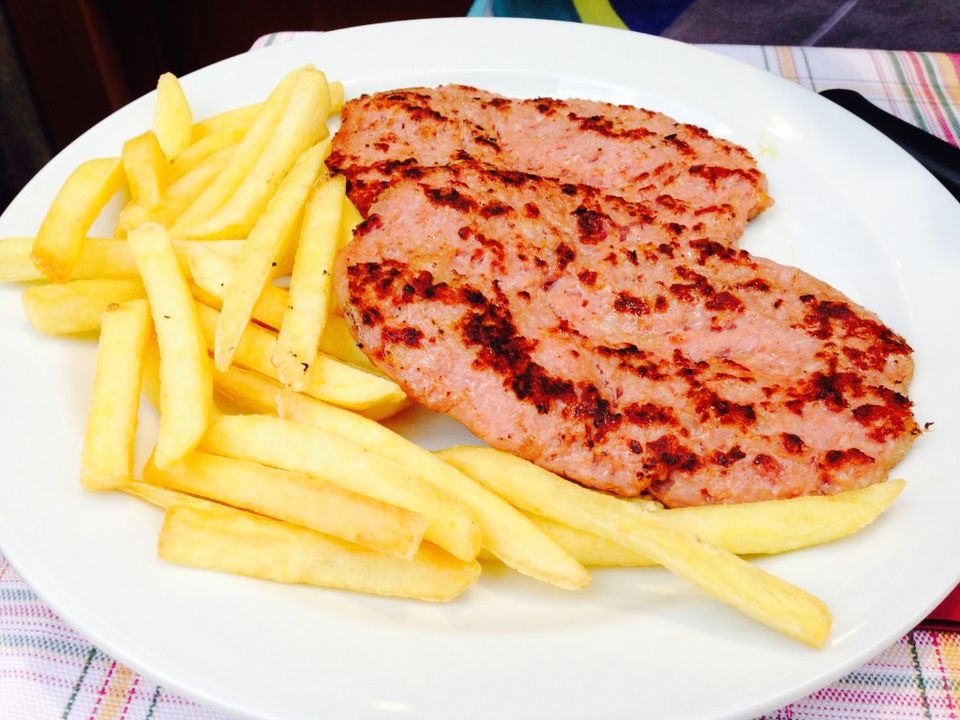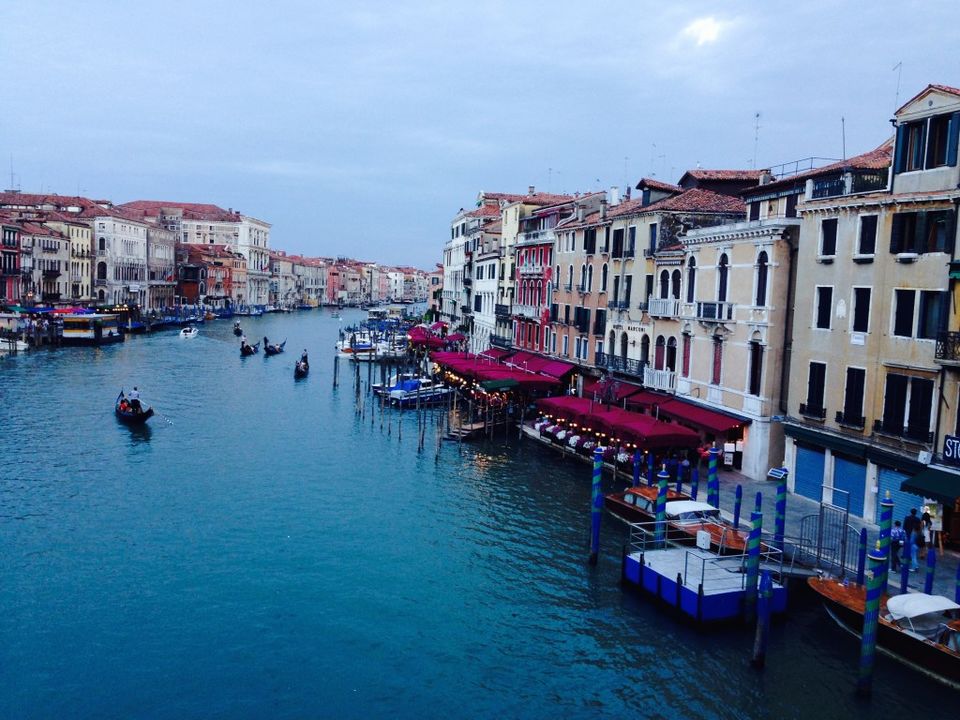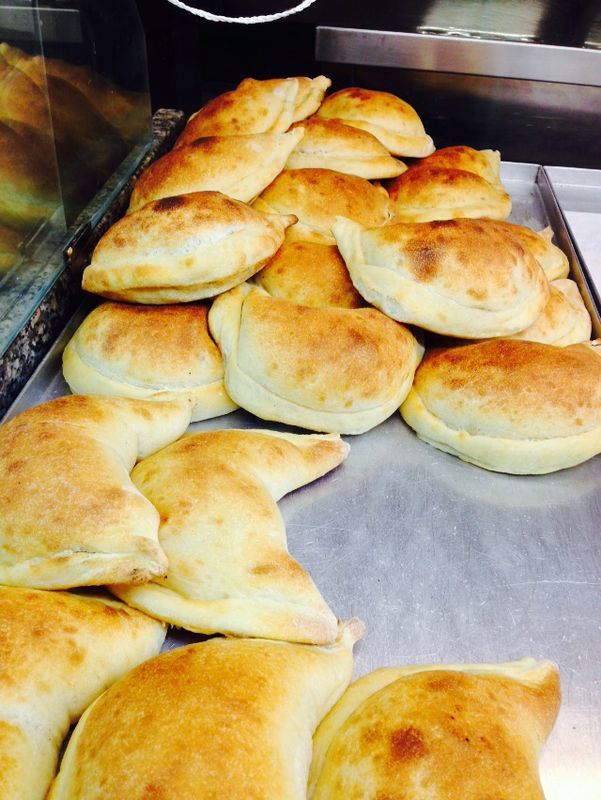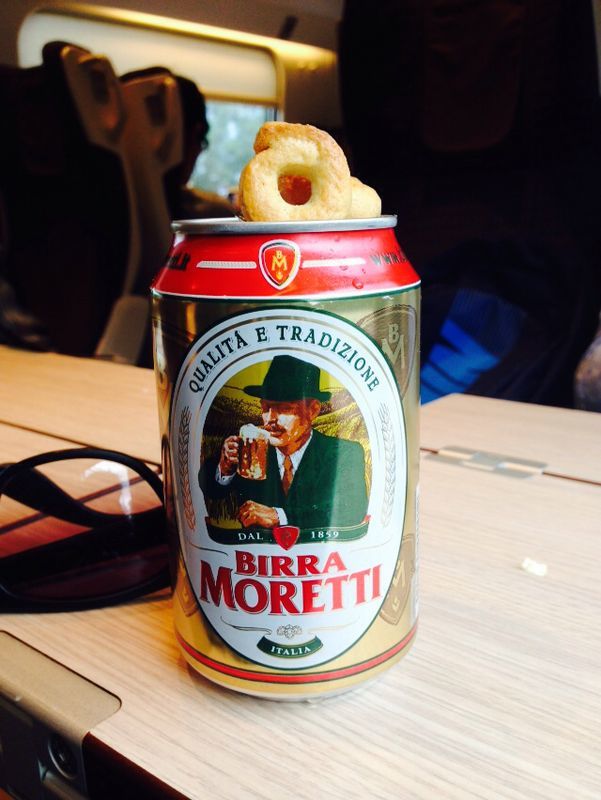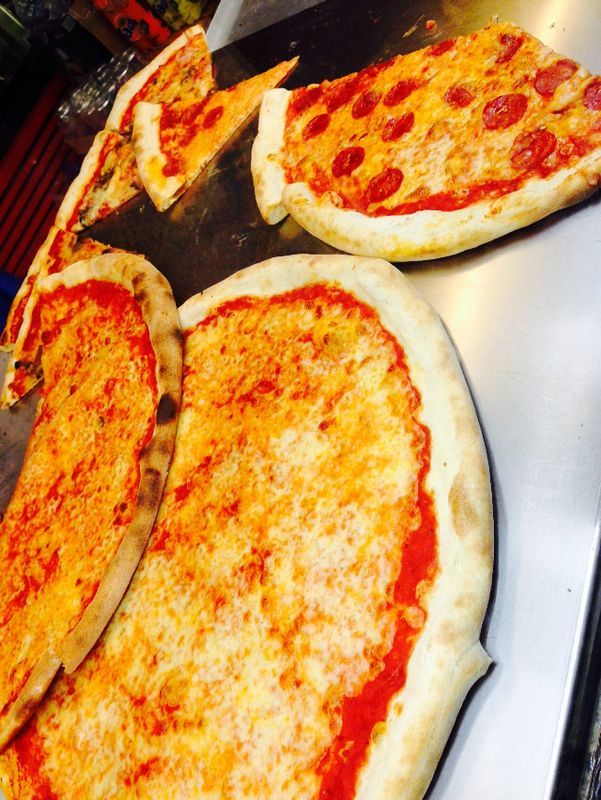 As I set foot in Rome – my first destination in Italy, after 13 hours of travel, hunger strikes and boy it was a major hunger pang mixed with severe jet lag. Immediately after the baggage clearance without wasting a minute, I searched for a café. And voila I found one. This airport café had a wide array of freshly baked goodies, which assured me that my stay in Italy was going to be quite a mouthful. After quickly scanning through the offerings, I settled for Briosche Farcita and Briosche Cioccolato Classsica, which is what we know as croissants in India. The freshly baked briosches had crispier crust dusted with sugar and chunks of almonds and a softer inside filled with gooey chocolate that very well complimented a warm cuppa of cappuccino.
After settling down in the comforts of the hotel, I decided to explore the city. After walking for over an hour exploring the quaint lanes, I stumbled upon a small pizzeria, which enticed me with their variety of freshly baked wood oven pizzas.
There was a widespread on offering like pizza bianca (plain pizza without any topping), pizza rossa (tomato sauce topping only)and pizzas topped with mushrooms, spinach, tomatoes, olives, potatoes, mozzarella, ham, chicken, or the popular pepperoni. This particular pizzeria sells pizza by weight, and the meal of assorted pizza costed 12 euros along with a Pepsi, it was worth every penny, and it easily feeds three people. The thin crust pizzas were rightly crisp and the ingredients farm fresh. You can also pair the pizzas with your choice of wine. And if pizza is not your thing then you can opt for pastas, spaghettis and salads.
As I treaded along further into the lanes of Rome, I found myself in gelato heaven, and when in Italy it's a crime to miss the gelatos. In every nook and cranny of Italy, you can find a gelateria, with varied and unique flavours in offering. After drooling over all the flavours, I finally surrendered myself into this guilt-free experience. I promised myself to try as many flavours I can, but alas I always ended up with chocolate and its many avatars. As I savour the flavours of gelato, my food trail continues in the alleys of Rome.
A Piece of Advise - Being the most sought after destinations of Europe, it is a bit of a challenge to find pocket friendly eats both in Rome and Venice. But if you simply don't fall prey to the first sighting of the beautiful roadside cafés, you can have a good meal without having to spend a fortune.
Most hotels in Rome and Venice include breakfast in your room rate and let me tell you its quite a hearty meal. You can start your day with a serious helping of delicious butter or chocolate cornettos (a type of croissants), fresh juice, assorted chicken and ham cold cuts, breakfast cereals, yoghurt, cheeses, fresh fruits and a generous helping of cappuccino. And this could easily keep you going strong till lunch. Opting for breakfast in the hotel always saves around 10 euros per person that you can always put to use in sightseeing.
As I bite into the buttery cornettos, I quickly chalk out a plan for the day. As the day passes by, and a lovely morning gives way to the blistering sun, my hunger pang knocks again. With a walk at the mighty Colosseum and Palatine Hill I have worked up quite an appetite. So I decide to head towards Trevi Fountain, where I have heard that one cab opt for numerous eating options. Well, when in Italy having carbonara is a must, hence keeping with this norm I ordered for a bacon spaghetti alla carbonara, Italian sausages and local beer to wash down the overdose of flour and cheese. As I sip onto beer and indulge in random clicks, my food arrives. And as I lay my eyes on an authentic carbonara, I went weak on my knees. Carbonara is quintessentially a local dish of Rome and is a combination of eggs, parmigiano, bacon and black pepper. The hot pasta is tossed with these ingredients and there is no tossing in oil involved. Hence, if you are intolerant towards the raw eggy texture then you should give it a miss. Without wasting a minute, I dig in and voila the spaghetti was smothered generously with the eggy carbonara sauce with bite size bacon. And did I mention, that it was absolutely delicious. After a generous helping of spaghetti carbonara, I cut a slice of the Italian sausages served with french fries. As opposed to a regular shape, these pork sausages were flattened cutlet shaped. Ignoring the shape, I bite on to the hearty sausages. Every bite revealed the freshness of the meat, and a hint of black pepper just enhanced the taste. The meal costed 28 euros, which is on the steeper side.
As I await the dusk to witness the illuminated Baroque fountain, I have already worked off the scrumptious meal. This time I scouted for pocket friendly snack and I stumbled upon the chestnut man (that's what I liked calling him). These versatile nuts were rightly toasted that augmented the nutty flavour and were perfectly crunchy. They cost 5 euros for a packet. Next time, you around Trevi Fountain give these healthy snacks a try.

As I safely tuck the luggage and settle for a window seat, I was eagerly awaiting for the Euro Rail experience to begin from Rome to Venice. And as the train takes a pace my wait seems to be over. Keeping up with the fast pace the horizon too rapidly changed from habitation to vast green expanse. And the cloud impregnated sky added a touch of drama to the scenic European terrain. As the train comes to a halt, I lay my eyes upon a quaint little countryside of Italy through the rain bathed window panes, and I so wished time stood still. Holding on to that thought, I decided to enjoy the moment with something to munch on, and I head straight to the well stocked refreshment bar in the train. After a brief indecisive moment, I settle down for savoury taralli – a traditional Italian snack made with wheat flour, olive oil and flavoured with black pepper and for drinks I opted for local Italian beer Birra Moretti. The sharpness of the pepper perfectly complimented the bitterness of the beer. There are many options to choose from for light snacking like sandwiches, chips, wine, coffee, tea and juices.
As the train approaches its destination, the lush stretch gives way to pristine water, and I realise its time to explore the mesmerizing Venice. As I walk through the maze of lanes alongside the Grand Canal to reach my destination Rialto Bridge, I discovered that the by lanes of Venice have many hidden gems which dishes up authentic Italian cuisines, which are pocket friendly. While the trail was getting tiresome and the destination, not in sight, my hunger started knocking again. As I scout to grab some tit bits, I chanced upon a petite shop serving fresh calzones and pizzas. I opted for a classic beef calzone and a large slice of pepperoni pizza. Well, I relished the pizza more as the calzones were too over-empowering with thick flour covering and scanty filling. The meal costed me approximately 6 euros. I soon realised the walk is going to take 15 more minutes, so I encashed on the opportunity to have a gelato and carried on with my jaunt.
As I smacked off the last dollop of the gelato, my eyes were feasting on the vast expanse of ultramarine water adorned with gondolas. I finally reached the famous Rialto Bridge, which formed the backdrop for many movies. Henceforth, I begin my Venice food exploration.
As I walk by the meandering lanes wonderfully interspersed with numerous cafes and souvenir shops, I knew that I am in for a delectable treat. After scanning various café options, I settled for one which seemed less pretentious and pocket friendly. As I settle artfully into the table on the alley, saving myself from getting pushed by the deluge of tourist, I finally decided what to eat. After wonderful treats in Rome, I head to Venice for more delectable delights. The cafés and restaurants near all tourist attractions are very pricey. So if you are looking to save money you can always opt for the snacks van for a cheap grab. These vans are well stocked with grilled sandwiches, gelatos, chips and drinks and costs approx 5 euros/person.
Venice is yet again a very expensive city, when it comes to eating out. If you are looking to save money then you can always opt for small take away outlets in the alleys alongside Grand Canal. Strictly avoid eating in restaurants in Rialto Bridge and Grand Canal, you will be ripped off your euros.