Europe trips take extreme levels of planning, if doing it yourself (and that's how I love my trips). Figuring out where all to go and how to travel and where to stay - Europe has by far been the most exhausting till date, but also the most memorable! Here's leg 1 of our trip - ROME! Learn from our tips and mistakes!
We started our trip a bit tired with a 5AM flight, with long days at work, and me a bit sick with a bad cough.
Despite a super long and not very comfortable flight (Thanks to Jet Airways / Etihad site being down, which meant we couldn't web check-in and got stuck with horrible seats), when we finally landed in Rome, we were super excited. But the excitement soon turned to dread when we realized one of our suitcases hadn't turned up. After spending another 3 hours at the airport with the Al Italia staff (Etihad's Italy tie-up airlines), and filling out multiple forms we found an airport shuttle van which took us directly to our first Airbnb stay.
The driver didn't know much English but managed to drop us at the correct location. We rang the bell and an old uncle opened the door and welcomed us in. He and his wife owned two rooms in the building which they let out on Airbnb. They were warm and sweet, didn't understand much English, but managed to explain how everything in the room worked. And most importantly, there was an AC, given the heat wave in August! The room was tiny, but clean...cozy as they call it :)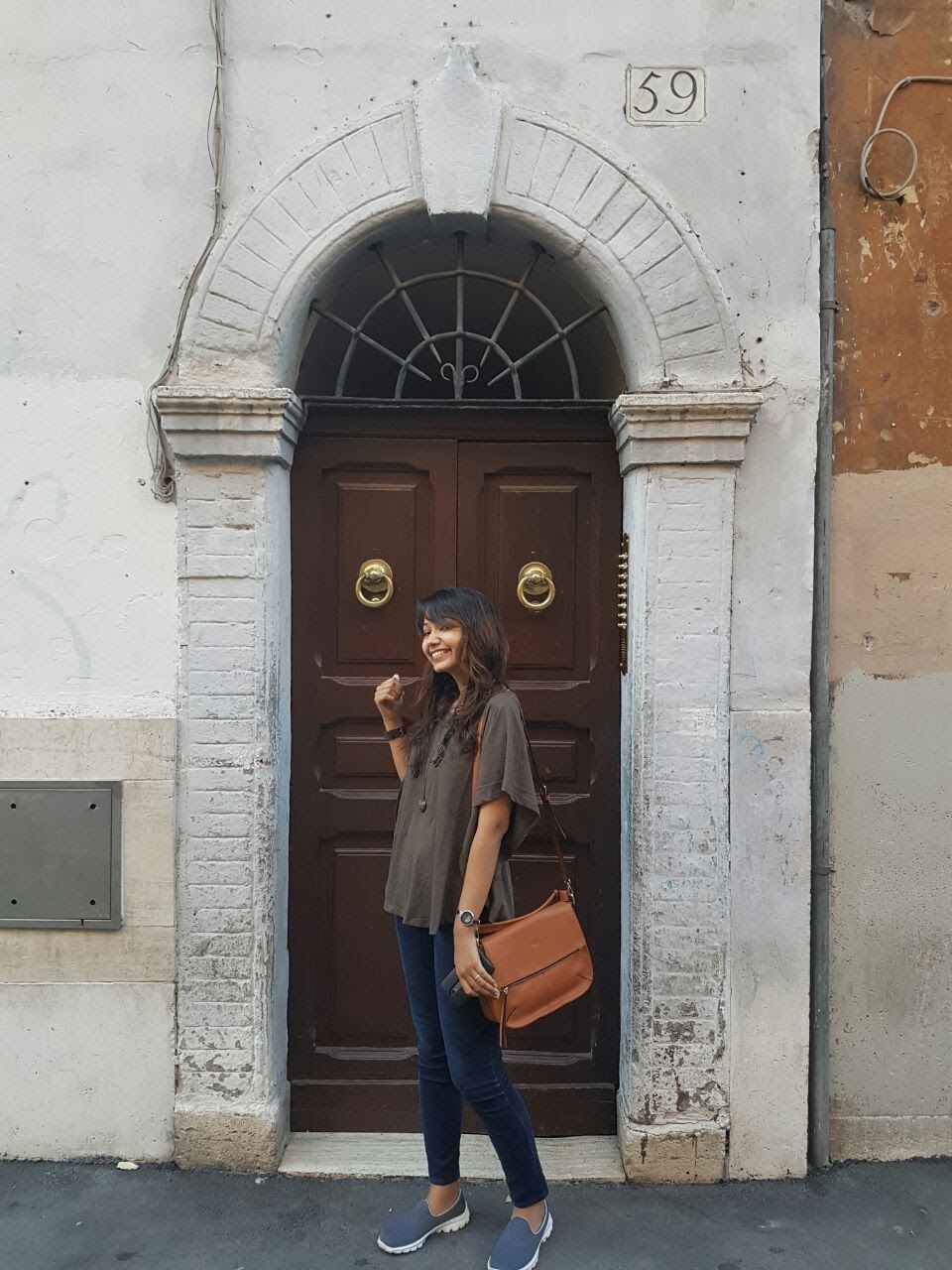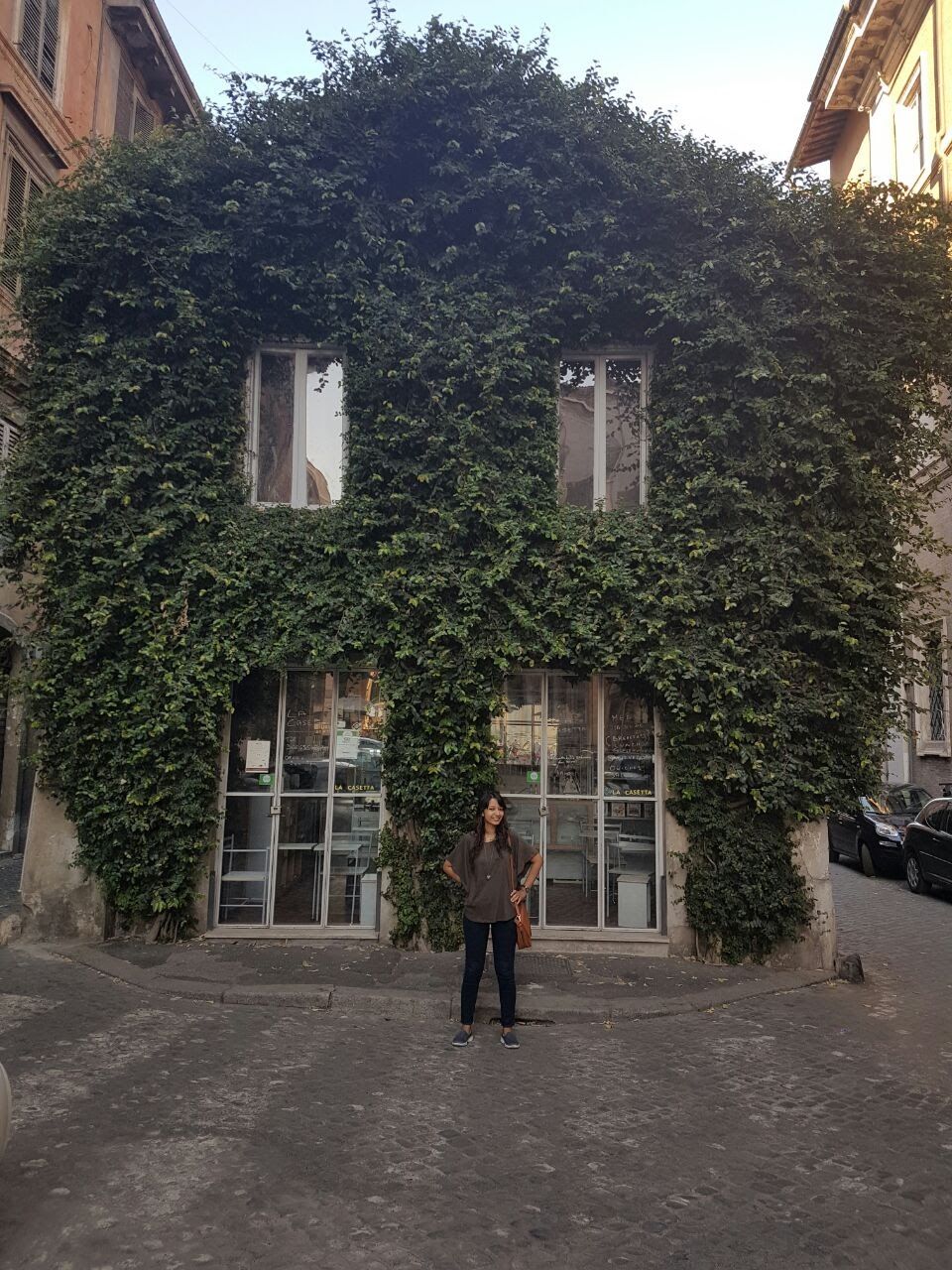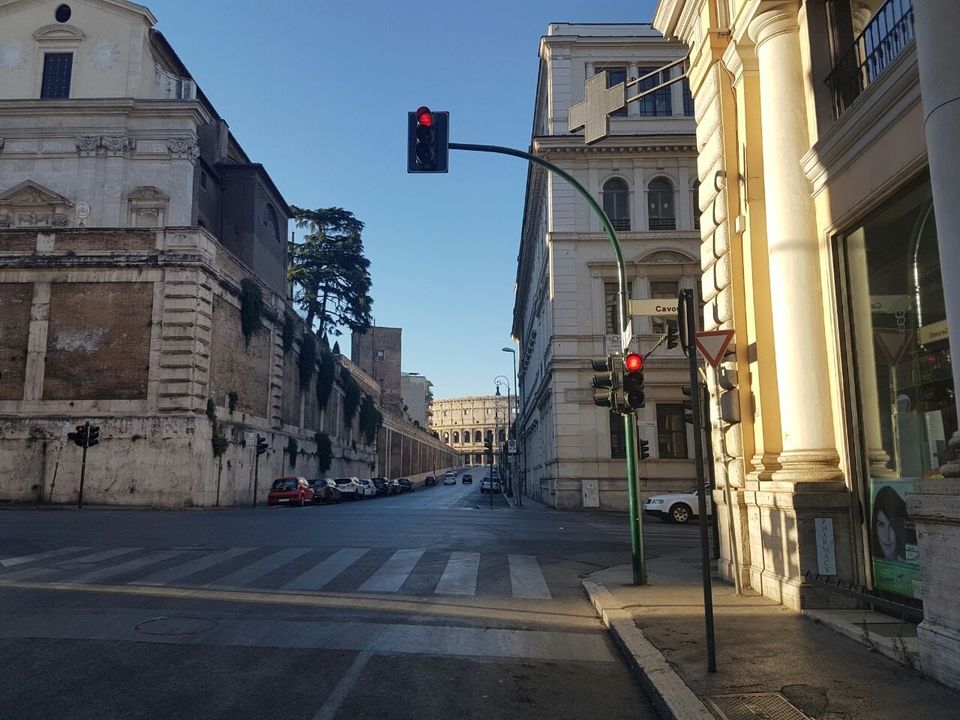 The best part about our room was the location, from our street we could see the Colosseum, so it was right in the heart of Rome. We first stepped out to find mini marts nearby, to buy basic toiletries as everything from our toothbrush to shampoo was in the other suitcase. There were a lot of restaurants on nearby streets, and we stopped at one to have some pizza finally (it was already evening!) and with our tummies full, we decided to start walking around randomly and exploring the city.
Rome I think is one of the best cities to walk around in, with the prettiest roads which randomly give way to tourist hotspots and loads of shops and beautiful buildings. In fact, we crossed a lot of buildings that we were sure had some significance, but at that point had no clue what they were.
Language was a bit of an issue weirdly, but we realized that all the street vendors were Bangladeshi and would guide us in Hindi. After walking around for an hour, we finally asked how to reach Trevi fountain and made our way there.
It was a long walk from wherever we had wandered off, and when we finally reached, it seemed like all the tourists of the entire city were squished into the tiny area around the fountain. We also squeezed our way through to get a few pics, and after sitting for a few minutes, squeezed our way out. We debated about whether we should toss a coin into the fountain, but decided our currency for tossing had already been used up in buying toiletries :P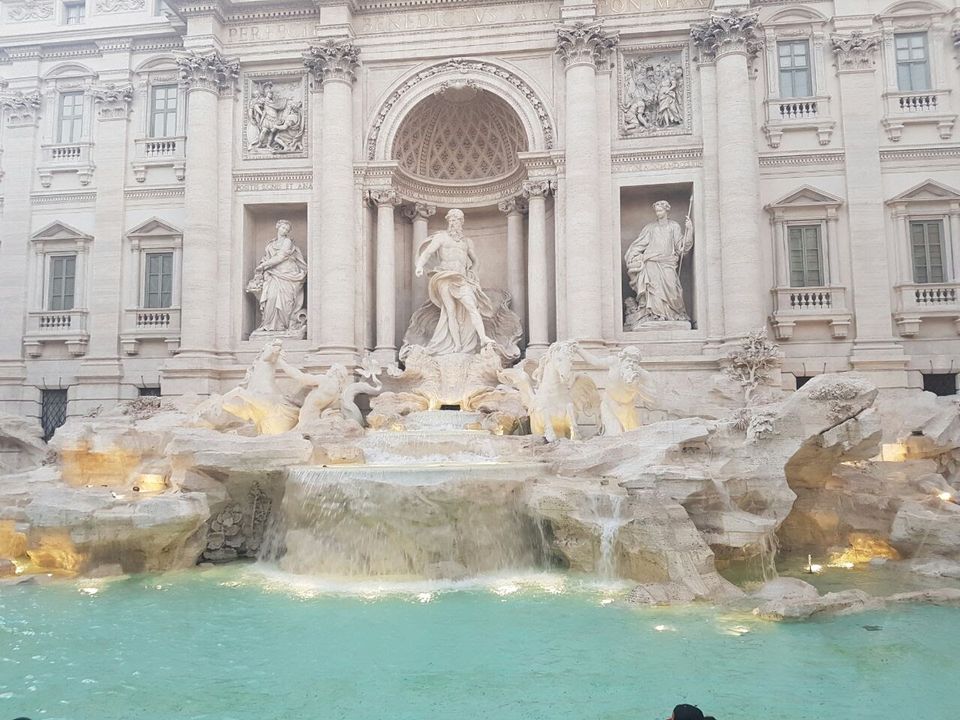 Near the slightly disappointing and extremely crowded fountain, we saw a gelato shop, and decided that A should have his first gelato. My throat was in a very bad shape at this point, though I still sneaked in a few bites!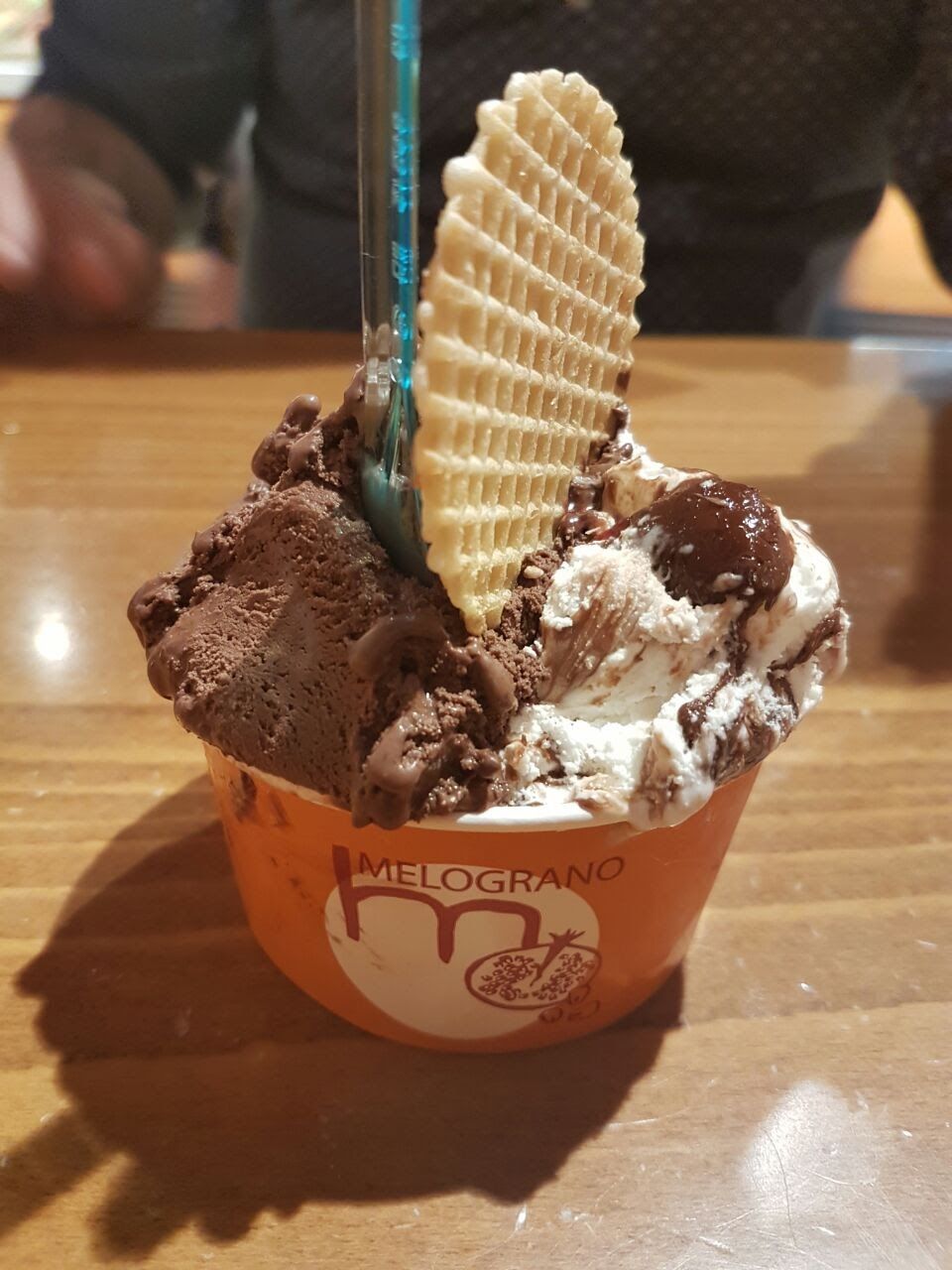 We decided to head back, and asked people how to reach the Colosseum, from where we figured we could make our way home. This turned out to be a huge mistake, given how huge the Colosseum is, and that the person gave us a loooong route where we ended up crossing what felt like the entire city and ended up on the wrong side of the circle, and had to walk all around to try and figure out where our lane was. But even though it was tiring, it was so beautiful to walk around Rome in the dark when everything is lit up, including the Roman Forum. Also got to see weird things like a mini cooper with eye lashes on its headlights!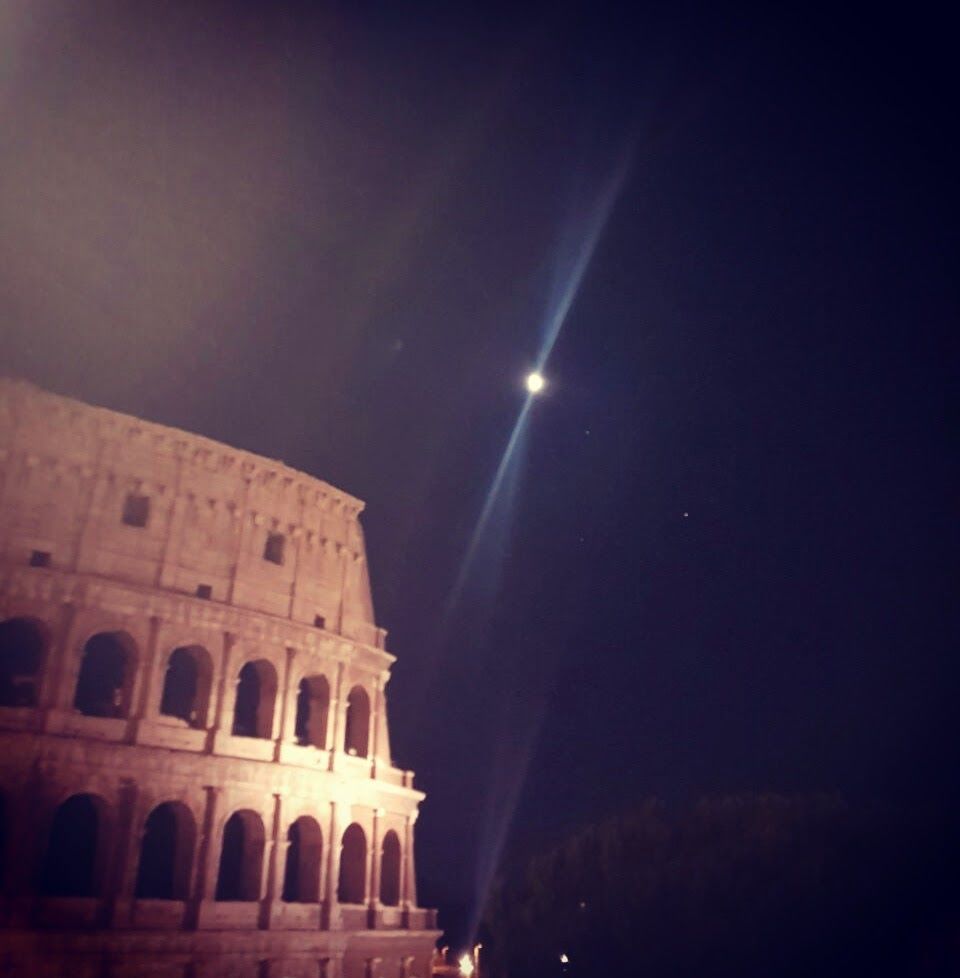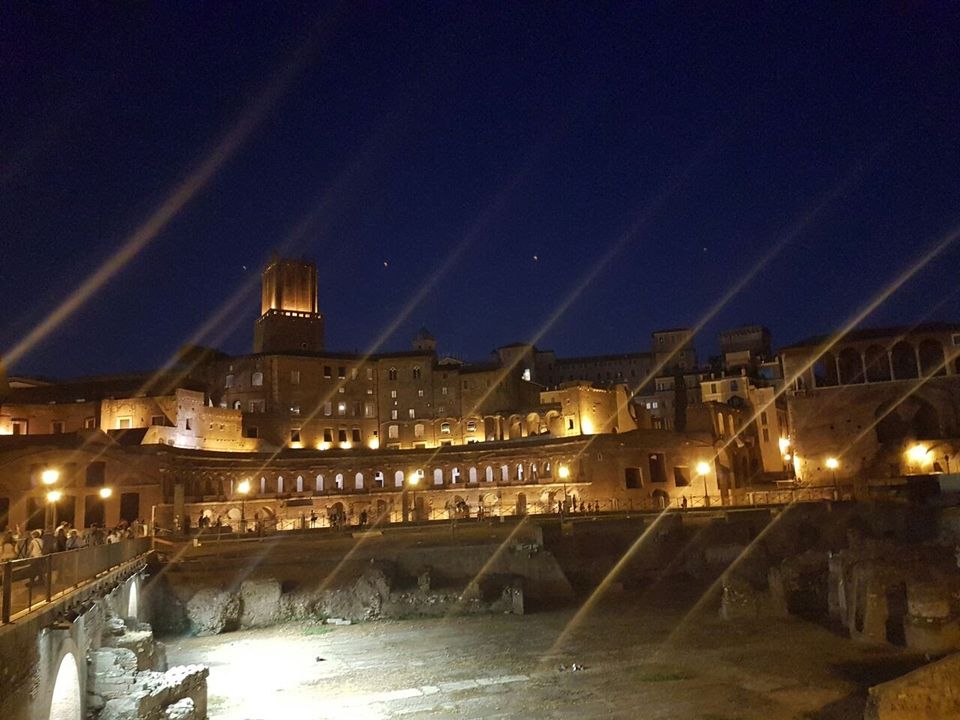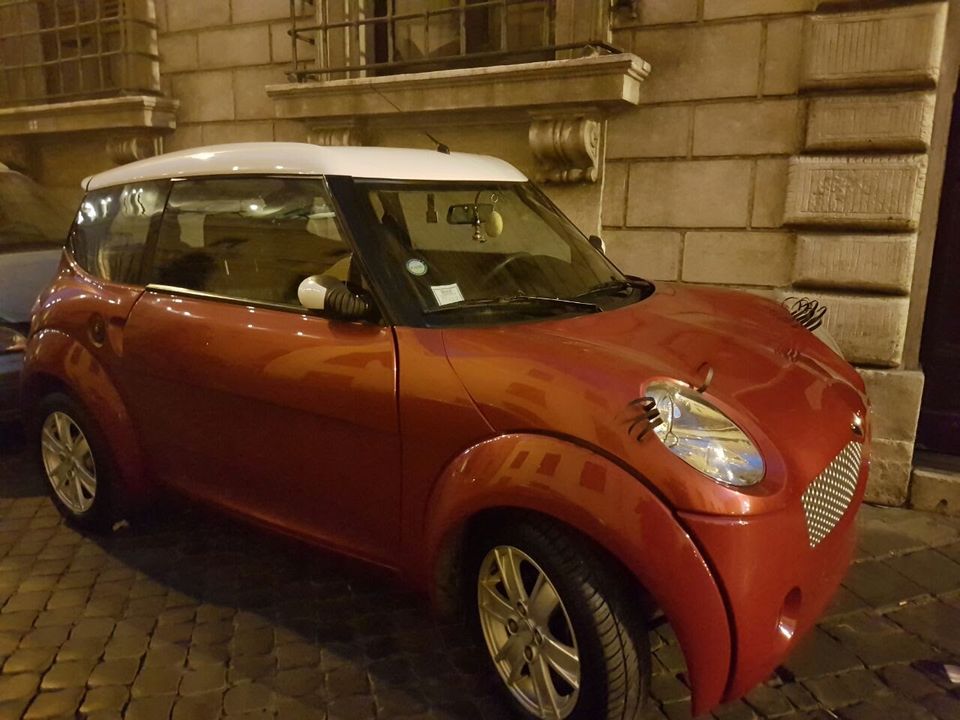 But eventually we managed to find our way home, thanks to a shopkeeper who looked up our street on Google Maps on her computer and directed us home. Later in the trip, we realized we had crossed shortcuts to our street so many times while wandering around trying to find it!
The next day we had decided to go to the Vatican as Sunday the museums were shut, and Monday (15th Aug) was a church holiday. (Quick tip: With the Vatican it always helps to check on Holidays before heading there) This also meant that the Vatican was extra crowded as it was going to be shut two days in a row. We headed out and after asking in a few other open cafes (some places people had no idea how to speak English), finally found someone who gave us exact directions and we reached the bus stand. The bus came within 2mins, but then we realized we couldn't purchase tickets on the bus, and the news stand where the tickets were sold won't be open for another hour, since we were leaving quite early. Another couple with a baby were also stuck in the same dilemma so we all decided to take a cab together to the Vatican instead.
Once there, we found a tout for one of the official tour agencies, and he took us to the agency office where the first morning tour was going to start in 15mins. Since it was an 8.30AM tour there were only 5 of us attending, and that was good as we all got to hear the guide properly. The guide was knowledgeable and funny and overall it was a good experience. We got to skip the 2 hour line which had already formed outside the Vatican (even though it didn't open for individuals till 9!).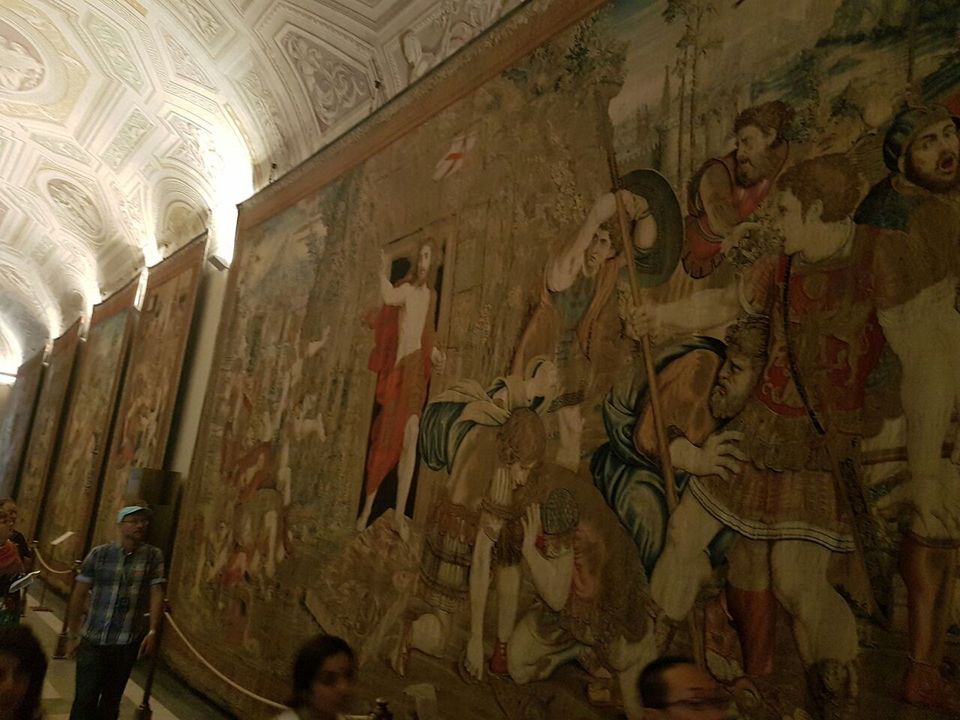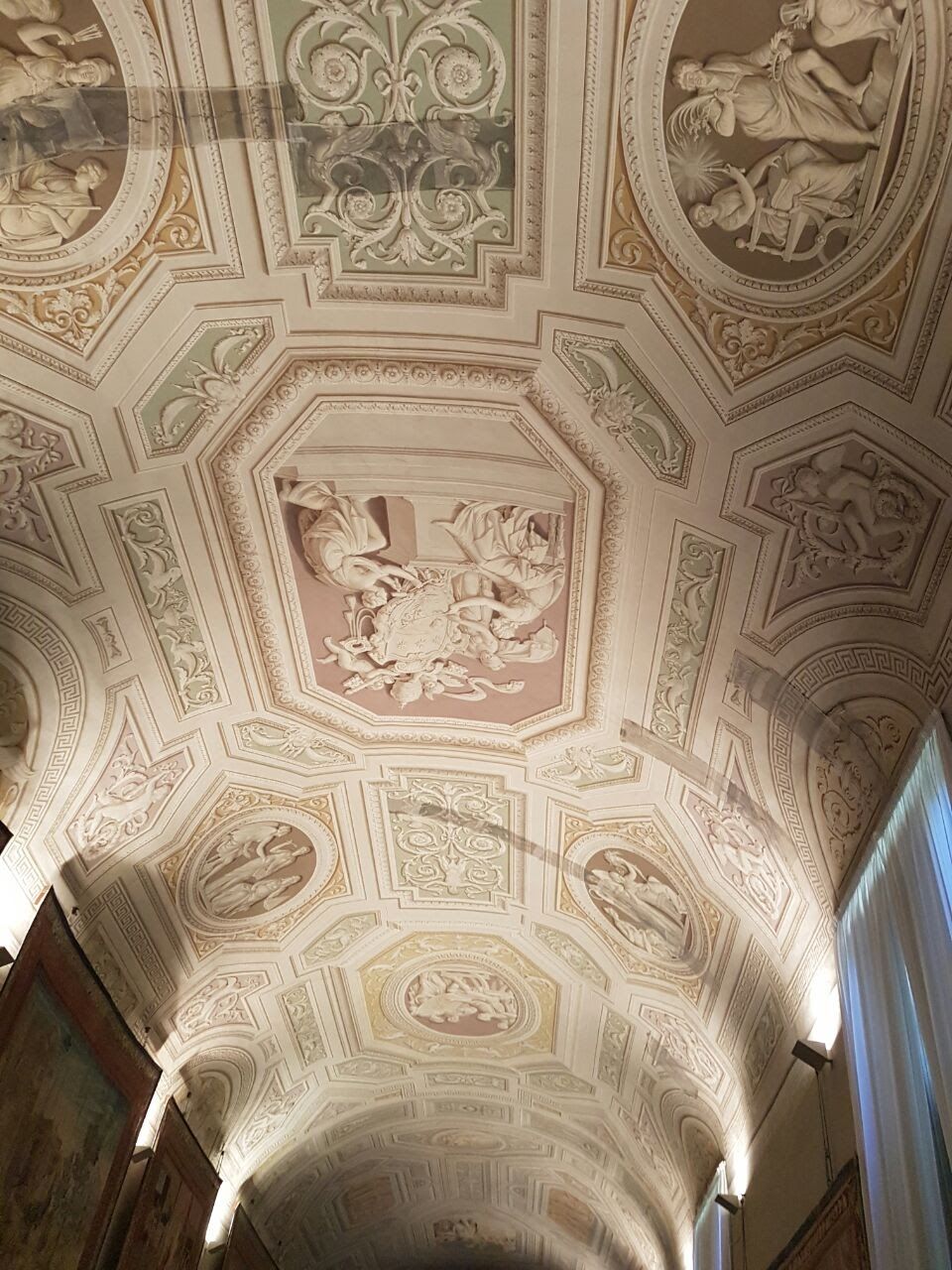 We saw the museum, which had some very interesting rooms, for e.g., one room where there seemed to be sculptures on the ceiling, but which were all actually 2D paintings made to look 3D! There was a room with ancient maps that are still used to teach Italian school kids geography. And a room with paintings which seemed to show people facing one way when you look from the left, but when you move to the right, they seem to be facing the other way. These things we wouldn't have realized without a guide and were quite glad we had signed up for the tour. A lot of the sculptures had been destroyed after the Roman Empire and were in a bad state.
No photography or talking was allowed inside the Sistine Chapel, and it was the most crowded of all the buildings. Our guide had explained all the main paintings and significance and how Michelangelo had painted the ceiling in advance, as he wasn't allowed to talk inside. There was a screen with all the paintings and information which the official guides could log into and explain everything about the Vatican. While most people believe that he painted the ceiling lying on his back, in reality it was found that he actually painted it standing with his head bent backwards, as he explained with a drawing in one of his letters to his friend!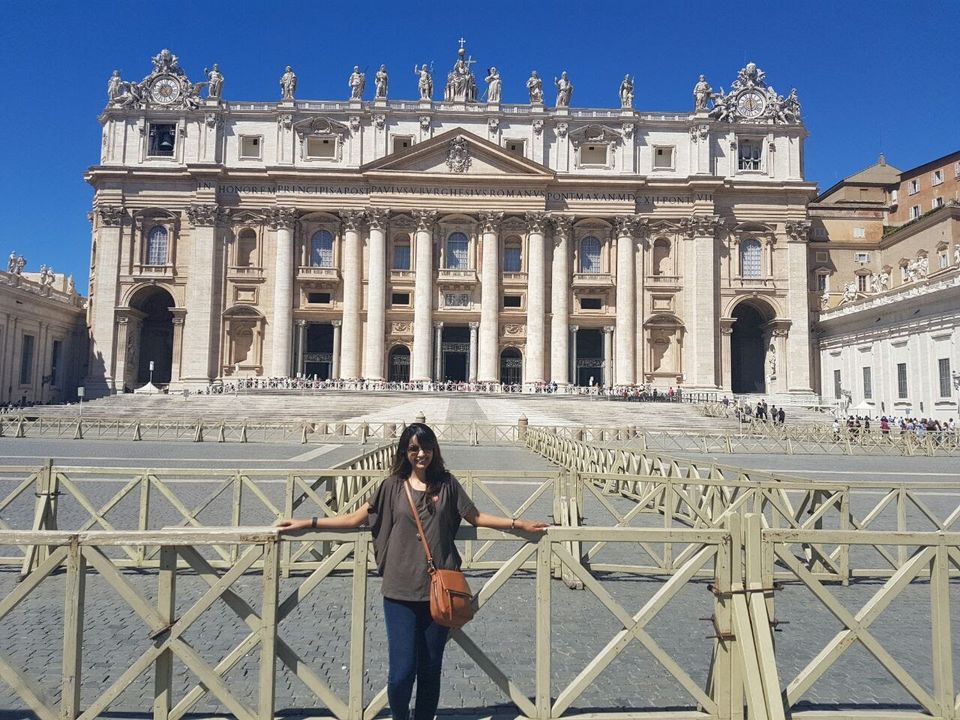 We went to St. Peter's basilica from there, and then stepped out into the now scorching sun and sat in the massive area outside the Vatican buildings. The entire area was pretty and peaceful, even with all the crowds. We saw the famous Swiss guards who must've been dying in their uniforms in the heat, and then relaxed in the shade and waited for the Pope :D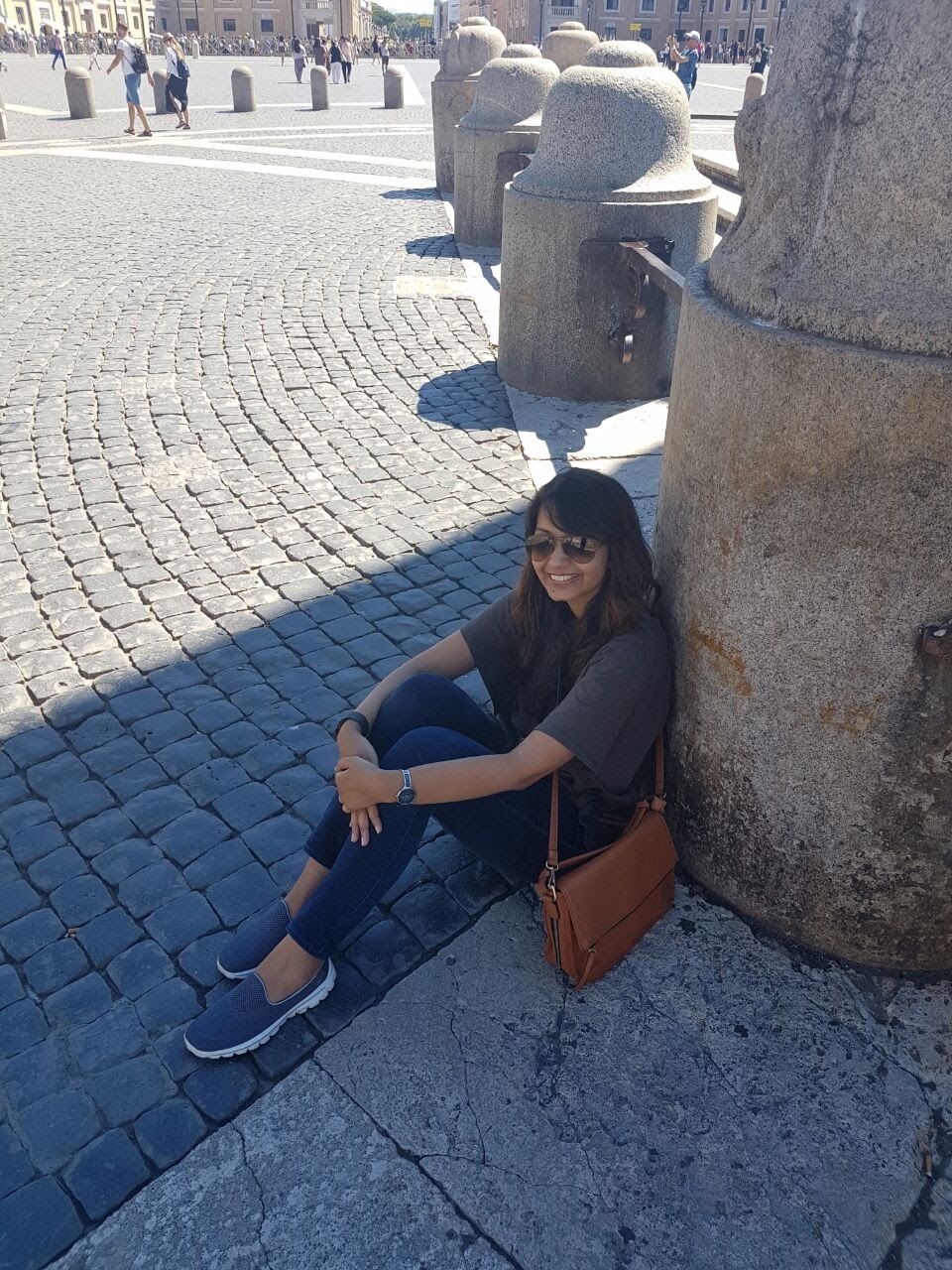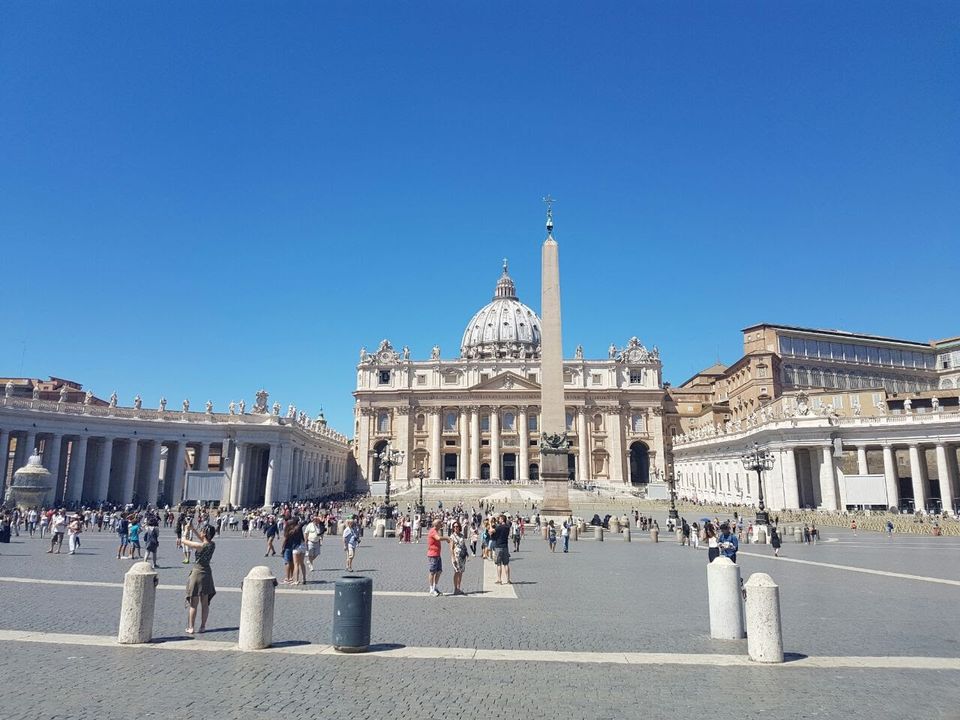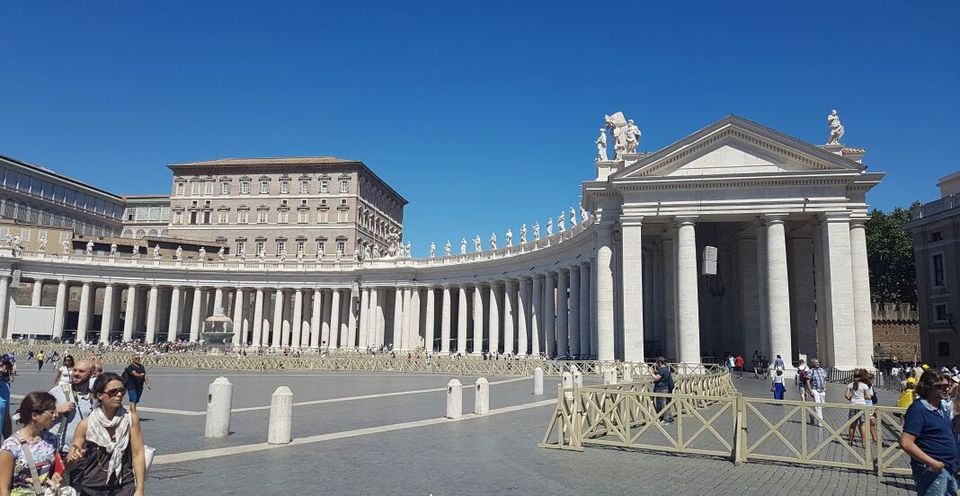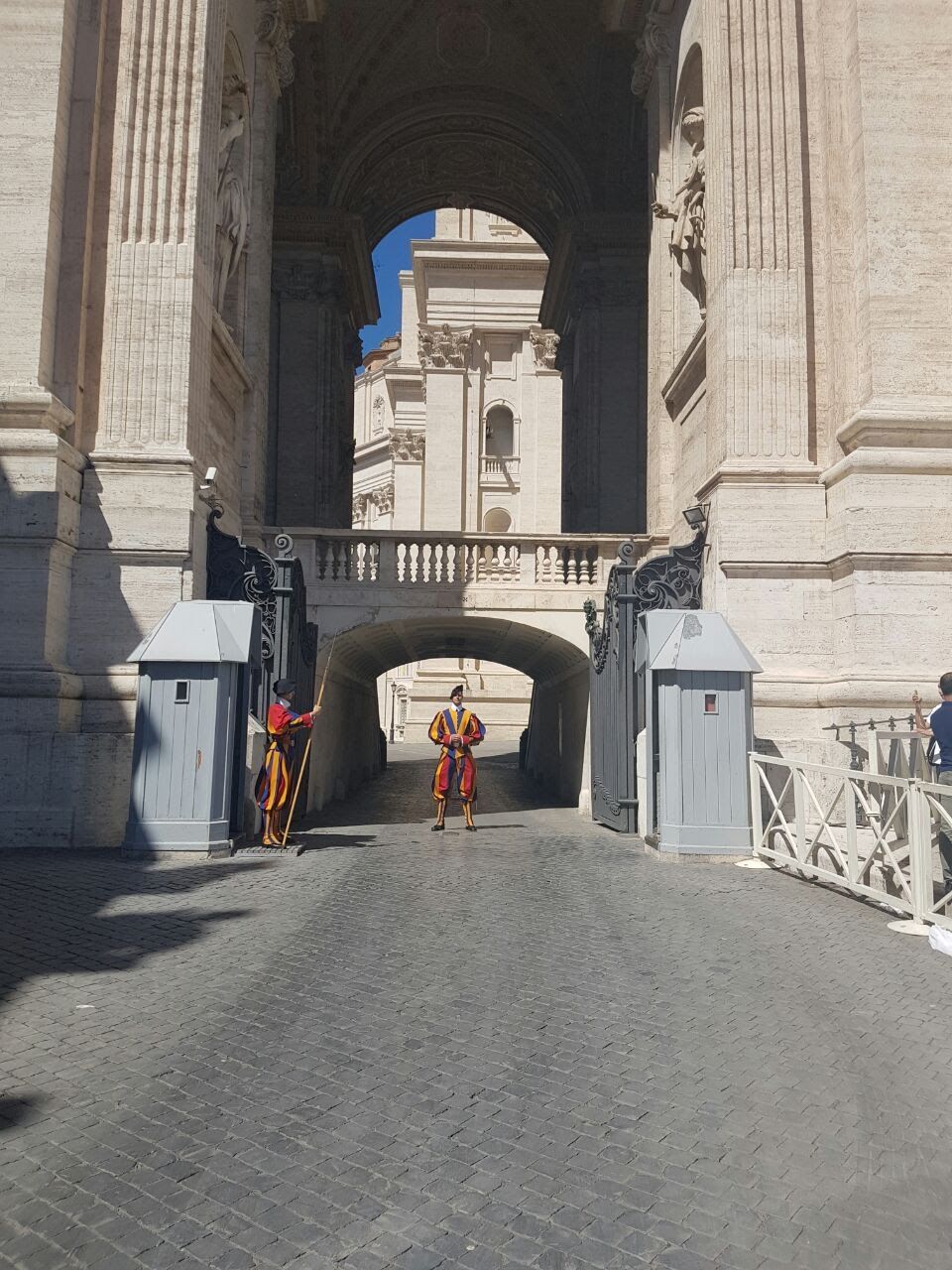 We had lunch in a restaurant near Vatican (which had pretty horrible food and service), and decided to book our next day's Colosseum tour through the same agency, who had an affiliate near the Colosseum. Then we took the metro back to near our street and rested at home for an hour or two till the sun got slightly better.
We stepped out again, and this time with an offline Google map downloaded on our phones to give some indication of direction walked to the Pantheon. The Pantheon however was shut for prayers and was going to open only after an hour, so we decided to first try out Geoliti, which is considered one of the oldest and best tasting Gelato in the city (it was yum!).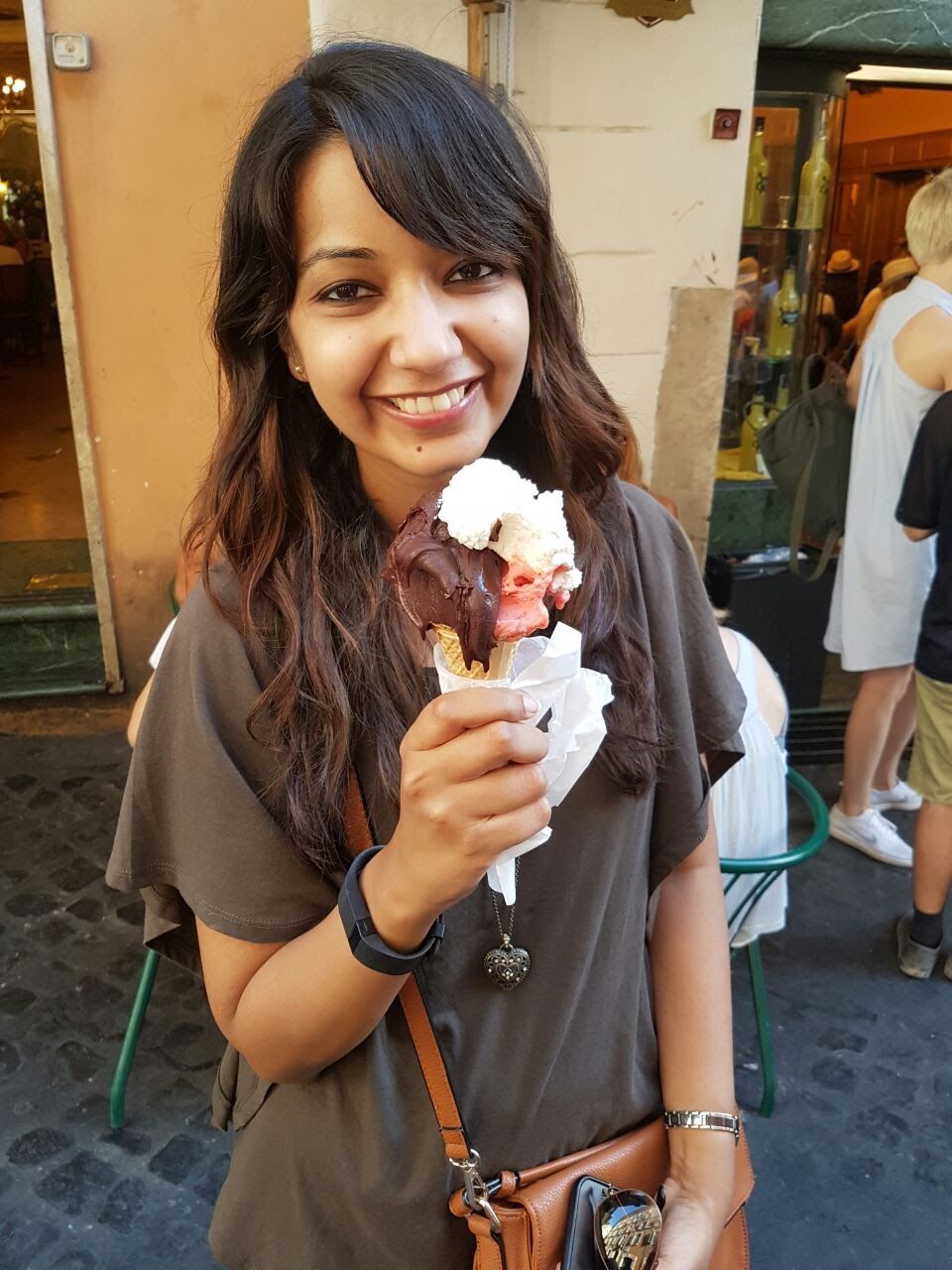 From there we walked to the famous Spanish Steps. Something wasn't okay with our luck that day, because the steps were closed for renovation for a few months! We took a few pics, sat around in the crowd for sometime and then took the metro home from there, finally calling it a day!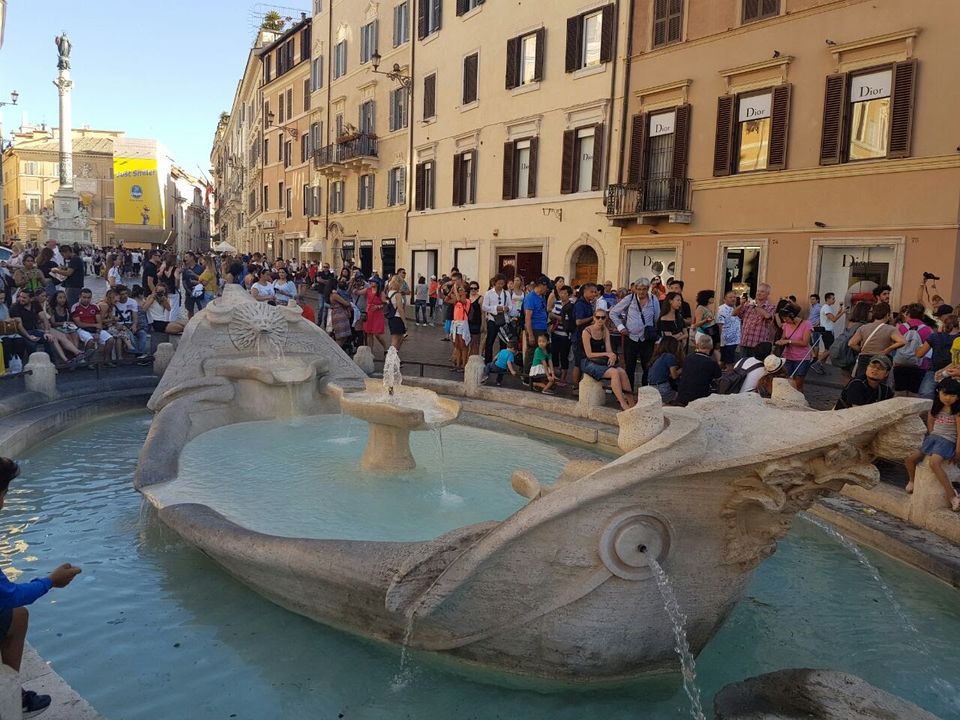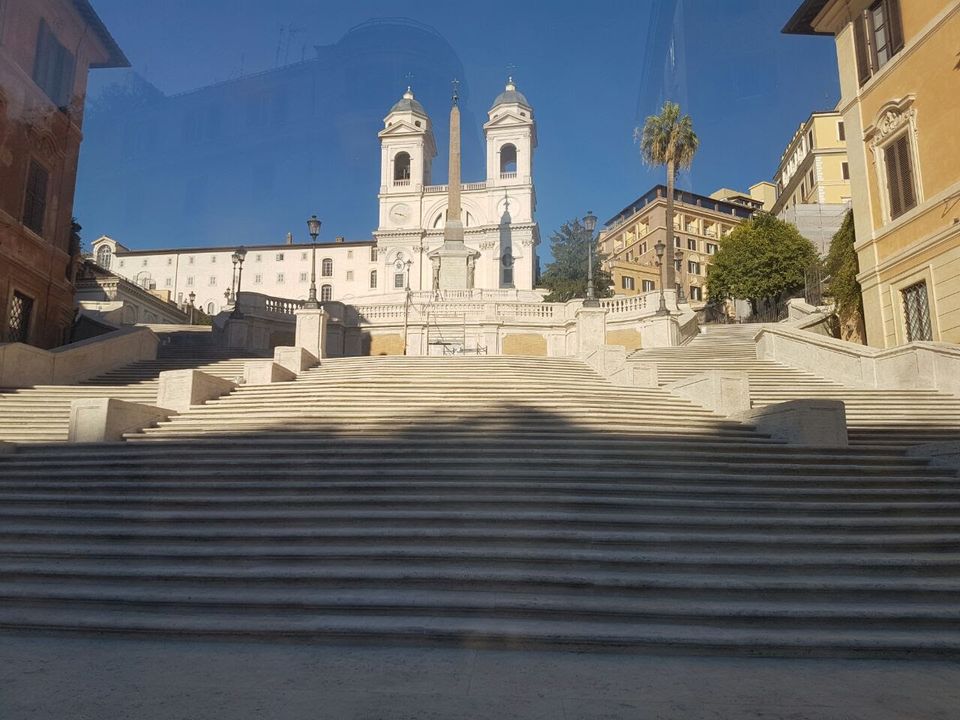 The first tour started only at 10.30am, and we walked to the tour company's office, which turned out to be a souvenir shop near the Colosseum. These operators were nothing like the ones we had yesterday, being rude, asking us to wait in the heat outside and in general not being helpful. When the guide finally arrived, she was a very weird woman who seemed confused and could barely speak English. She took us halfway, then realized she didn't have tickets, then got us back to the shop where we were handed the tickets, and then walked around Colosseum to try and figure out where the entry was.
By this point we realized she had no clue what she was doing (she later said it was her first day), and then she told us to stand in the 2 hour line. At this point everyone erupted, as we had paid a lot of money to skip the line and get the tour. We went back to the office and got our money back (the cheats tried to convince us there was no such thing as skip the line, and we were skipping the ticket buying queue, not the entry queue). After wasting quite a lot of our morning, we walked back to the Colosseum and found a tour there.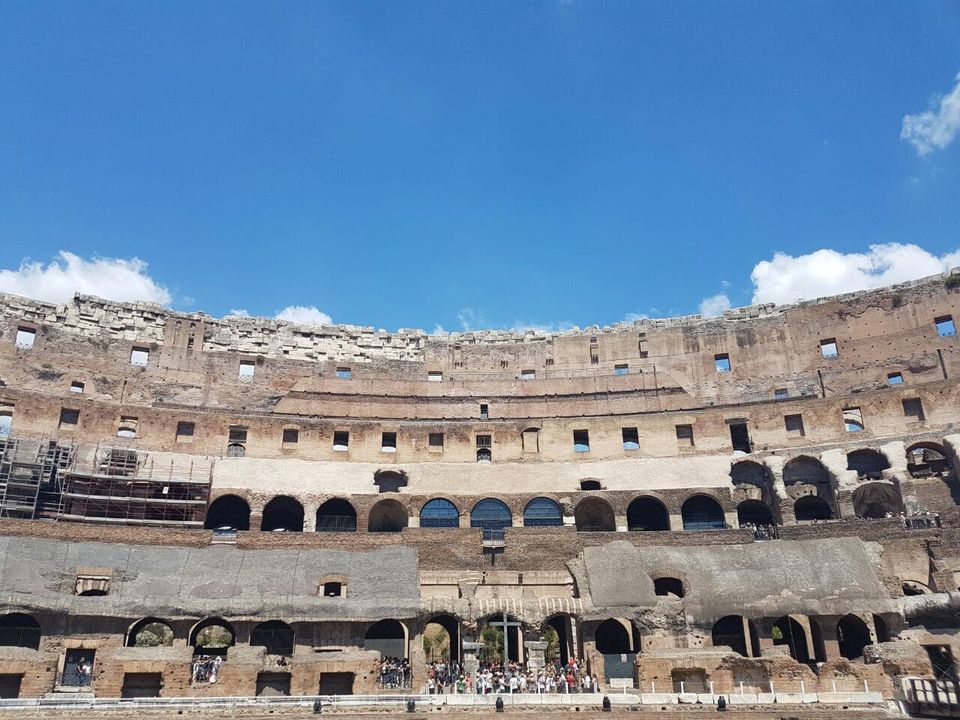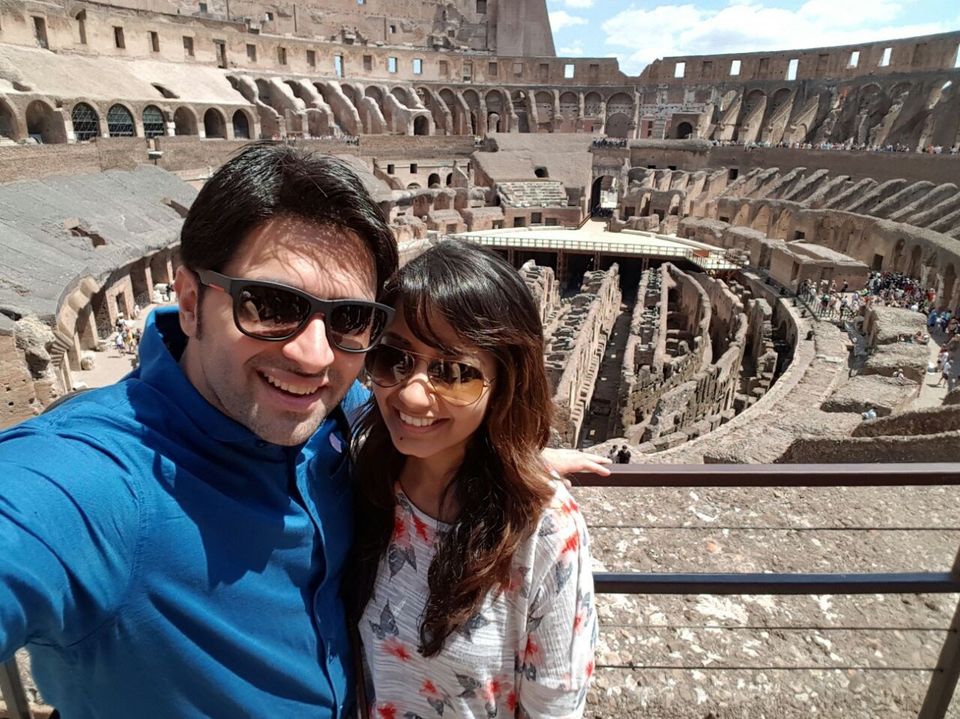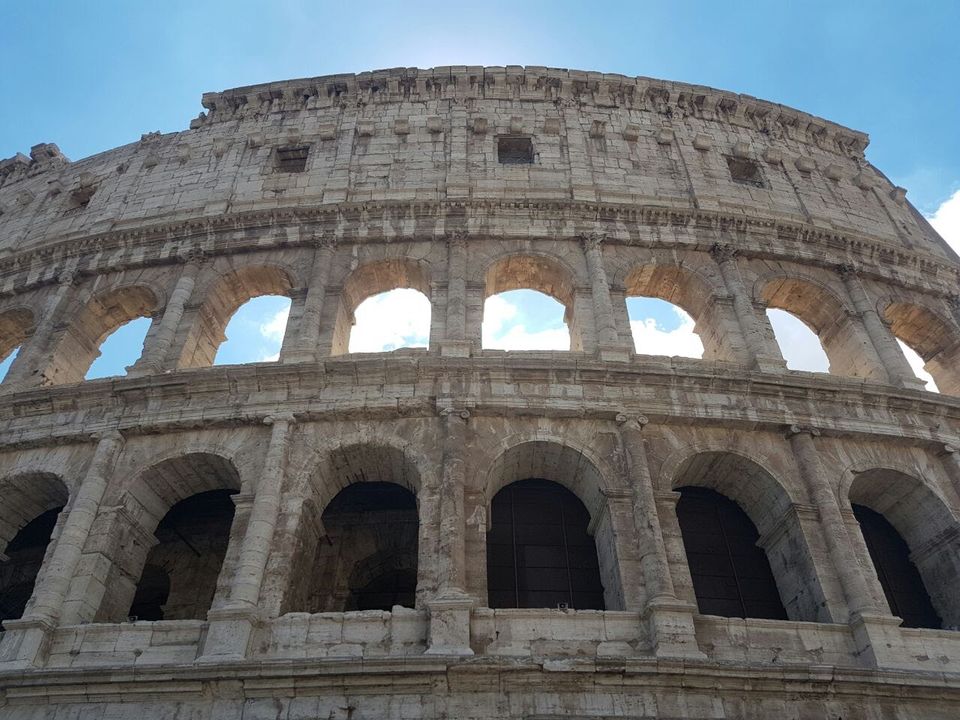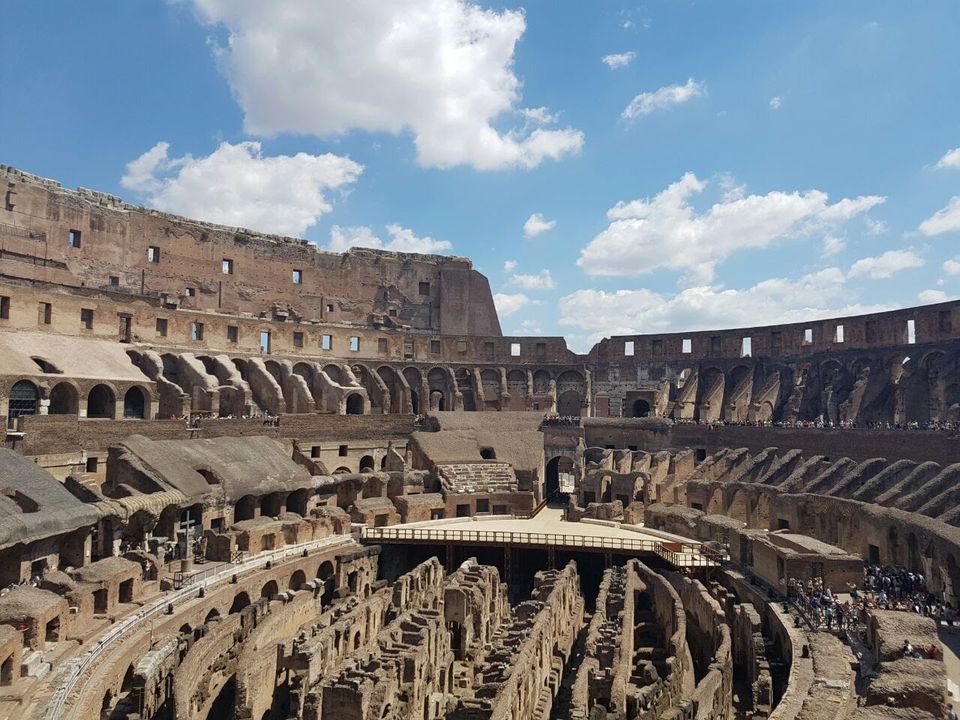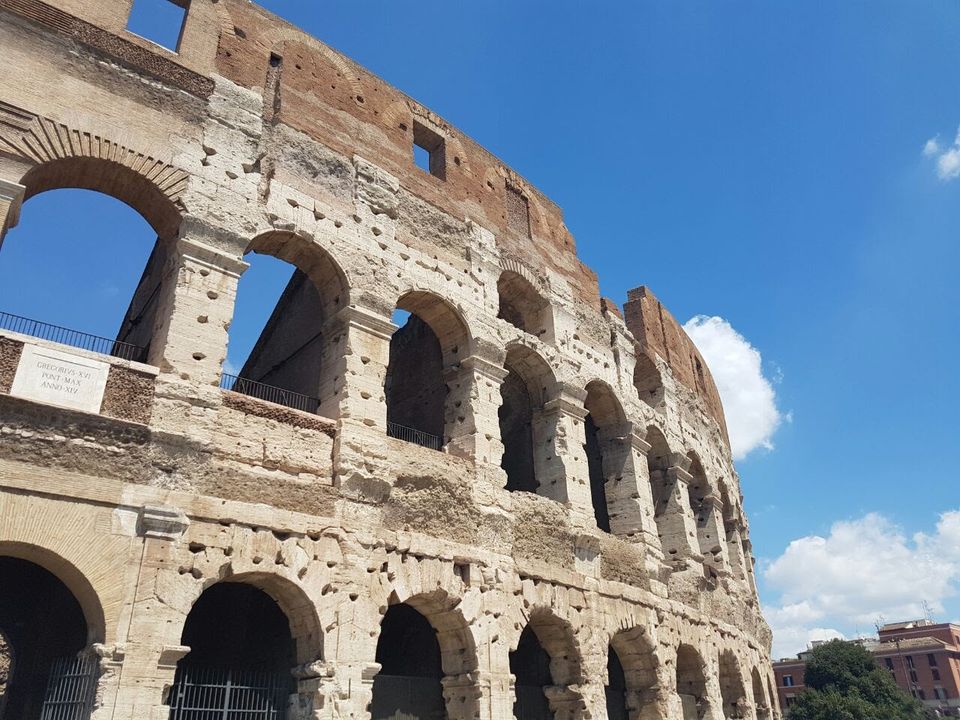 It was extremely hot and crowded, being a Sunday and with the Vatican shut. But the Colosseum itself was breathtaking. The sheer size of it was awe inspiring, and the stories about the way the crowds were organized during the Roman empire, the games full of drama with elevators that would suddenly bring up lions on the stage... it was all fascinating! There was a special dungeon tour that took place in the night, which allowed you to walk through the base, but after our morning experience, we decided to give it a skip.
After the lunch break, we went back to the Colosseum exit where our tour for the Roman Forum and Palatine Hill was supposed to re-start. Given how crowded it was, tour groups were combined and taken onwards. The guy was loud and funny so he entertained everyone. The Roman Forum was right next to the Colosseum, and was the main area where all political decisions were made. It was now in ruins but still massive and pretty to imagine how it must have been.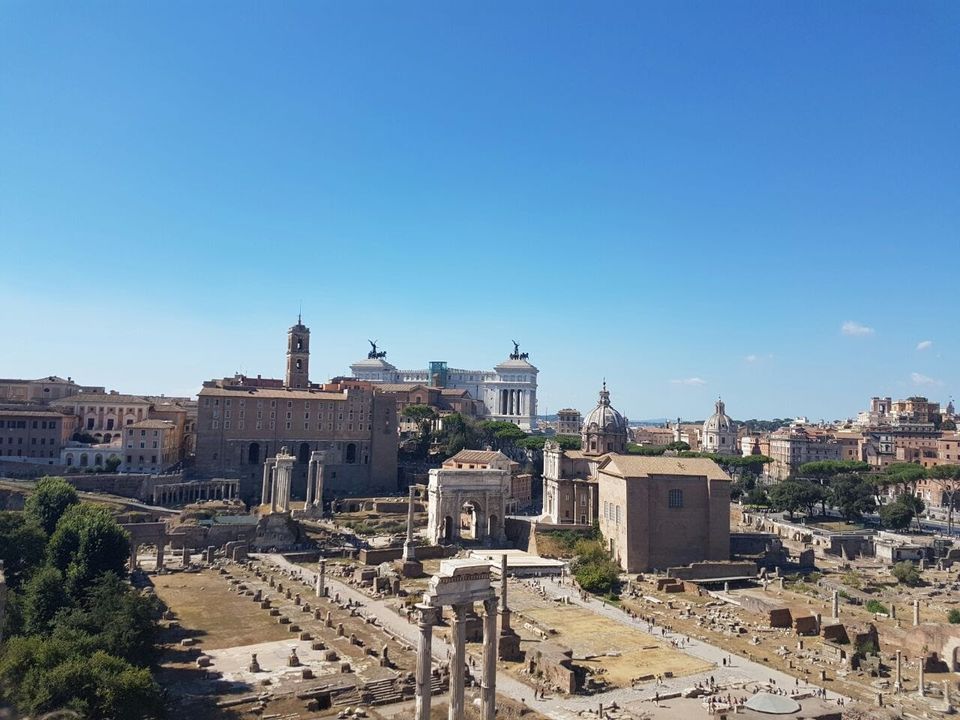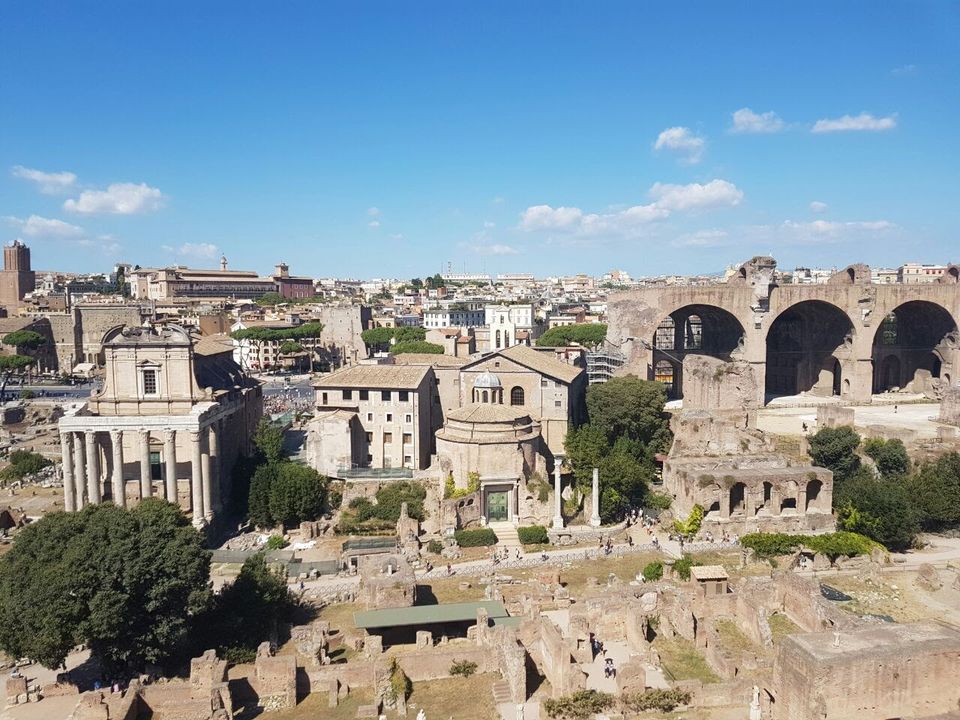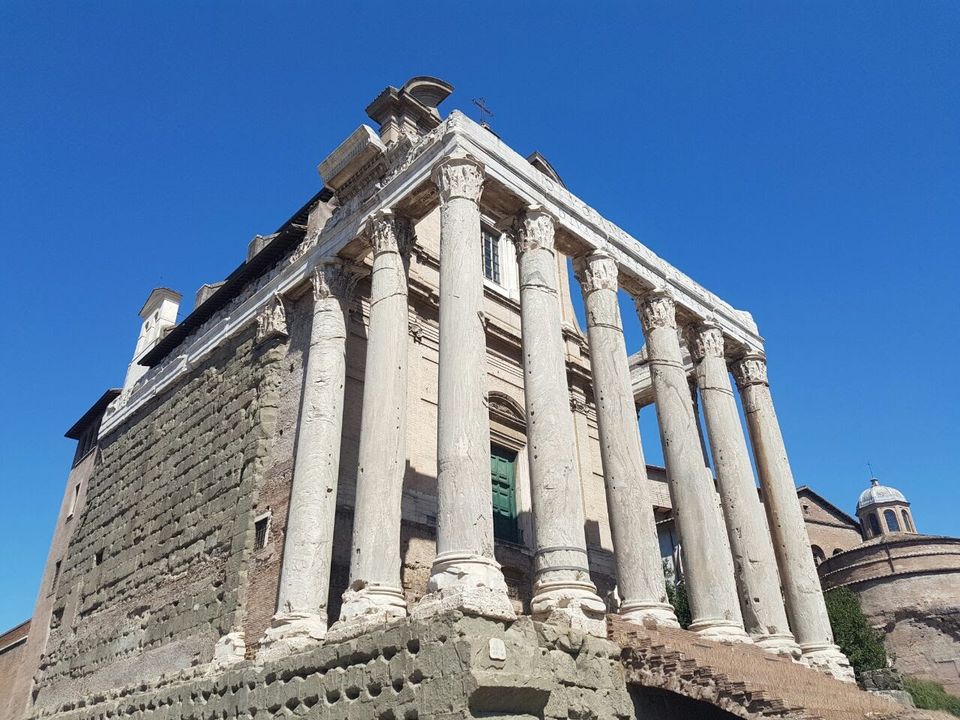 After a brief history and entry we were left there. I'm pretty sure all tour guides were cutting tours short this day to deal with the crowds and start the next one, and we felt a bit cheated, but all tours seemed to be ending at this point.
Then we walked around and climbed to the Palatine Hill, which is a tiny hill in the Roman Forum, with a great view. It was exceptionally hot, and I was dying in my jeans, and literally felt like taking scissors and converting them to hot pants!
After this, we walked back home and rested. We had gotten an email saying our suitcase was being couriered to us and would reach by 8pm. The helpline had refused to let us go to the airport as they didn't know if the luggage would be there. We waited in the room, then even waited outside the house in the street (in case we didn't hear the doorbell) for hours, but the courier never showed up. With only one day left in Rome and no response from the Etihad helpline, we went to sleep pretty grumpy.
We decided that A should go to the Airport to check on our suitcase, while I stayed back, in case the courier turned up. While half our day went in this exercise, we felt so thankful to get that suitcase back when he reached the airport! And I finally put on a dress to beat the heat!
I wanted to see Bocca della Verita, known as the Mouth of Truth which became famous from the movie Roman Holiday. It seemed to be getting hotter each day, and we walked pretty far to reach the church where it was located. My guide book had said there was free entry, but on reaching we realized there was now a charge as well as a very long line in the sun to get in. We decided to give it a miss, and walk to the Pantheon instead.
Thankfully the Pantheon was open this time. We had downloaded a Rick Steve's audio tour, and spent half an hour inside the temple listening to details about the dome and construction. We went back to Geoliti and ordered new flavours of Gelato.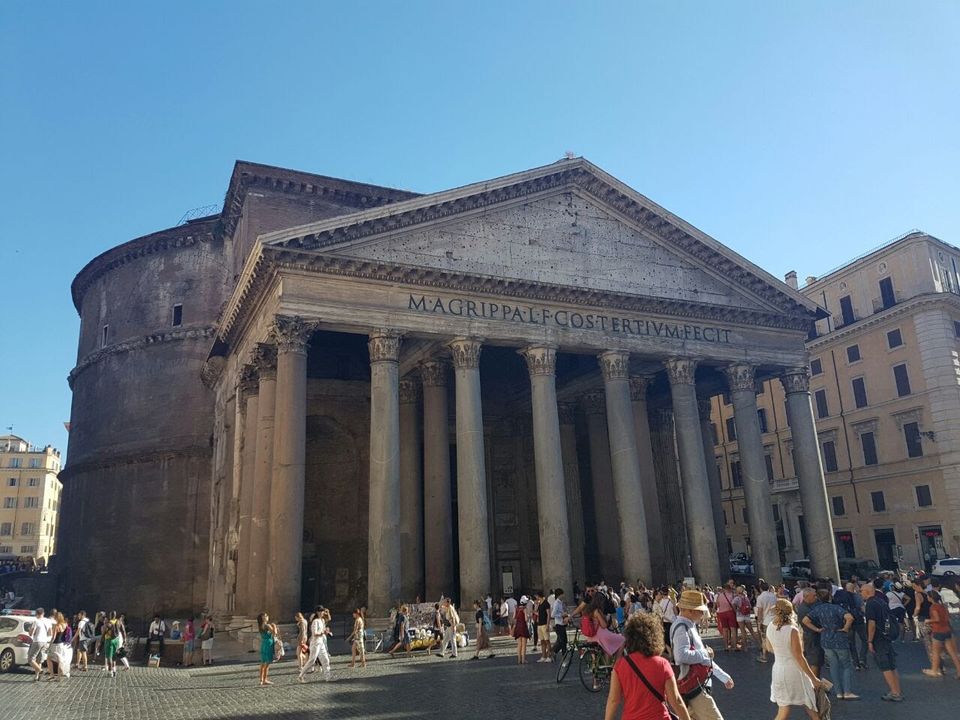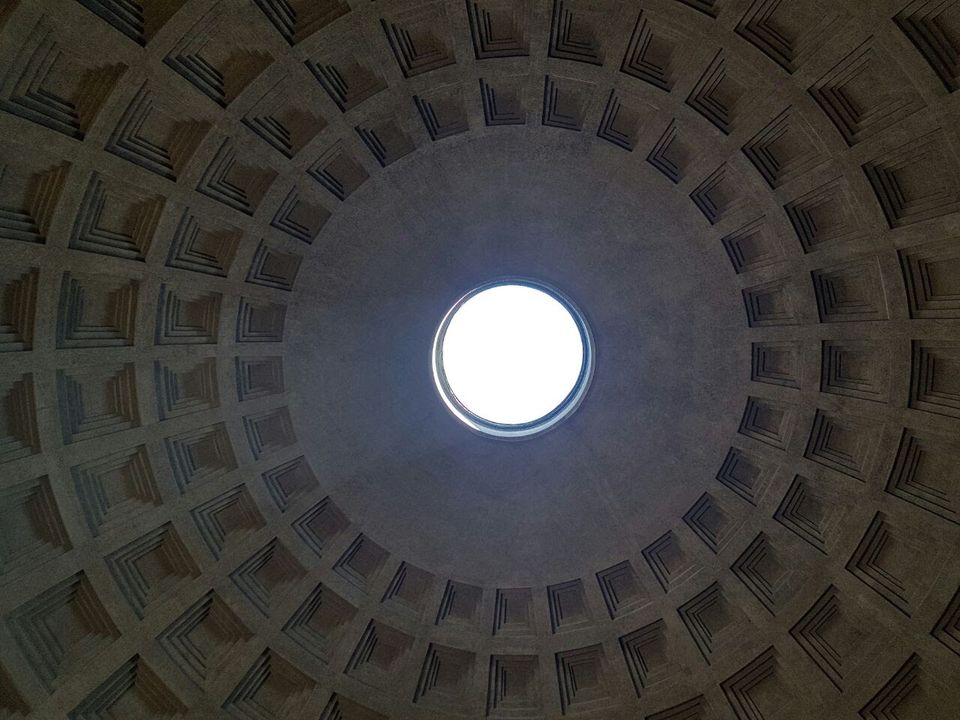 We spent the remainder of our evening walking around again, finding a nice spot on a bridge in front of the Colosseum to sit and chat. We went home before dark, to pack and get ready for our early train the next day.