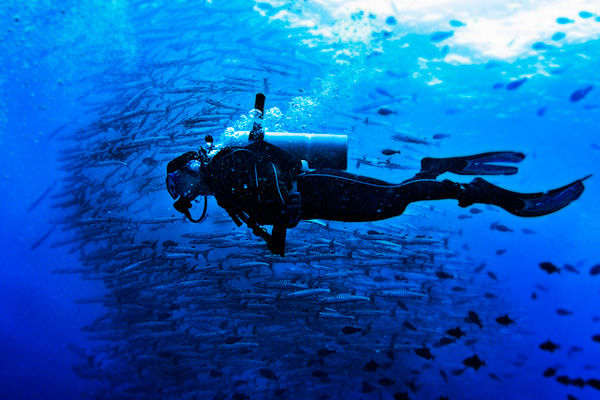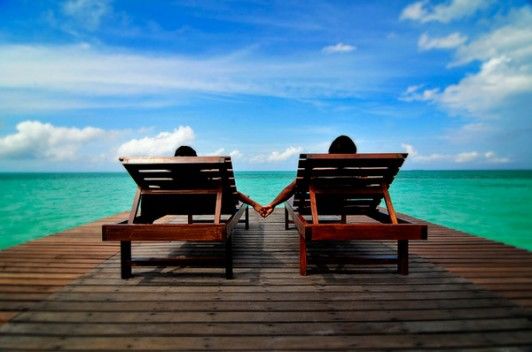 "I have seen other places like Sipadan, 45 years ago, but now no more. Now we have found an untouched piece of art."
~ Jaques Cousteau
Sipadan is a tiny 12-hectare rainforest-covered island in the Celebes Sea off the East Coast of Sabah in Eastern Malaysia. The island is formed from coral that grew on top of a volcanic cone rising from the ocean floor. Sipidan is arguably the most diverse and bountiful marine area in the Indo-Pacific basin, which is one of the richest marine habitats on the planet. Many say it's the best scuba diving site in the world. Anyone who has visited will undoubtedly tell you that Sipidan is Mother Nature's masterpiece.
Sipidan is world famous for having not only some of the most diverse and rare marine life in the world, but also for having a lot of it. It's best known for prized finds such as sea turtles, thresher sharks, reef sharks, hammerhead sharks, and enormous tornados of barracuda.
That's not all there is though. There is both hard and soft coral. Big-eye trivially, bumped parrot fish, manta rays, and eagle rays are all common sightings. Leopard sharks and whale sharks make occasional appearances. Sipadan is like the Times Square of the ocean. You're guaranteed to see some colourful characters, and you never know who might show up.
Sipadan Diving Tips
Sipadan's location and the way it is governed are as unique as the marine life that surround it. It's very remote and well protected by environmental regulations so there are a few things you should know before you plan your visit.
1) There are no resorts on Sipadan. They were closed in 2002 to help preserve its unique biosphere. The closest resorts are in Semporna on the mainland and on the islands of Mabul andKapalai.
2) Because of environmental regulations only 120 dives are allowed per day. You need a permit from Sabah Parks to dive, but your dive shop should take care of this.
3) Although diving is great all year round, the rainy season, from December to March can cause disturbances that reduce visibility. Diving is better from April to October with the best, and busiest, months being July and August.
4) The fastest and easiest way to get to Sipadan is to fly into Tawau, then take a taxi to Semporna (1-2 hours) and then boat to Sipadan (1 hour on a fast boat).
South Point is a must see for any diver visiting Sipadan. This site offers a brilliant cross section the diving around Sipadan with the famous 600m coral wall, sharks, turtles, enormous schools of fish, and the possibility of spotting hammerhead and thresher sharks.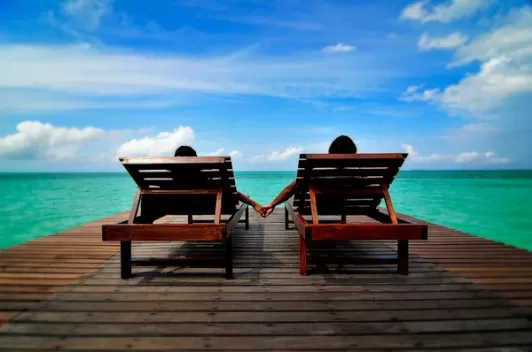 The name here says it all. Yes, there are tons of turtles and huge schools of jacks, snapper, and bannerfish. You may even see some sharks. But the real attraction at Barracuda Point are the giant vortex schools of barracuda.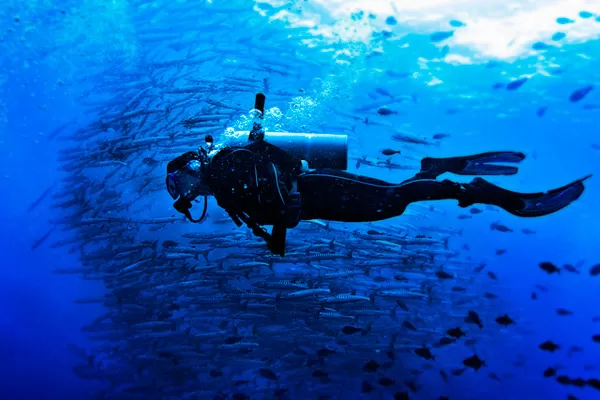 This unique and morbid site takes divers to a large cavern filled with the skeletons of sea turtles. The turtles presumably died after becoming lost in the labyrinth of volcanic tunnels that branch off of it. Not to worry though. Those passageways are too small for people and the dive is perfectly safe.