In September 2019, a magnificent kingdom that lay concealed from the eyes of tourists opened itself up to the world. The kingdom wholeheartedly welcomed tourists from 49 countries, and with it, abolished a few stringent laws for women that it was rather infamous for. Can you guess which place I'm talking about?
Yes, it is indeed the mystifying Kingdom of Saudi Arabia! When I heard that the largest Arabian country was open to all tourists including women, I knew I had to plan a trip to explore its golden deserts, picturesque villages and grand mosques.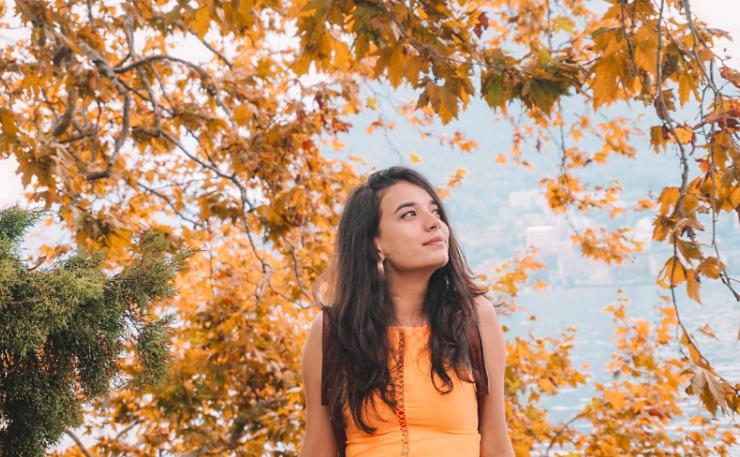 Travelling solo in a country where women are barely seen in public is a challenge like no other, but I had seen women vloggers and writers from the west attempt the unthinkable. As a woman traveller, I challenge myself every time I step out of my house alone. Once again I was ready to test my grit and passion to explore the world with a trip to Saudi. Alas, the pandemic hit and my great Arabian adventure was put on an indefinite pause.
An Unexpected Adventure Under Unprecedented Circumstances
Weeks slipped into months, but November finally came bearing good news; I heard that Saudi was offering free healthcare to visitors affected by COVID-19. I began considering bringing my Saudi dreams to fruition. The fact that Saudi's tracking and testing apps would aid me in assessing my health and also help manage quarantine requirements was a comforting thought. I was elated to learn that the Saudi tourism e-visa on arrival was 100% digital and contactless. I had been locked up at home for months on end, and I was sure that taking a trip to Saudi would be the most memorable way to resume travelling in 2020. I was soon flying towards a destination that I had never thought I would visit, that too under such unprecedented circumstances.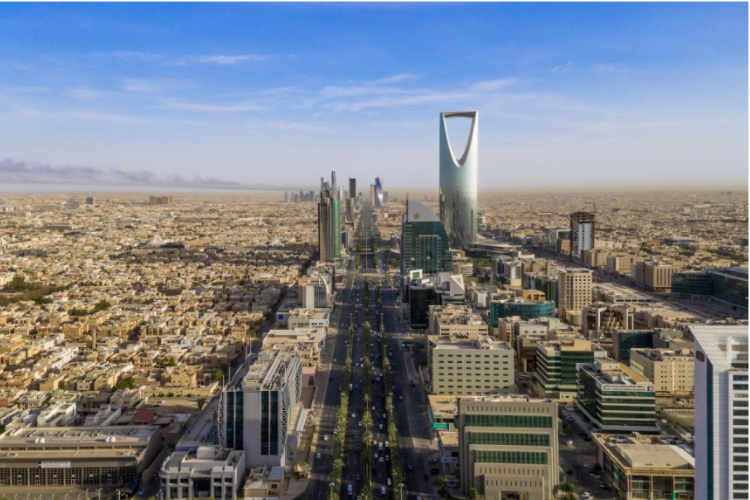 Like most first-time travellers to the country, my knowledge about Saudi was limited to what I had watched in films and read in books – I was excited to find out whether Saudi would fall prey to its stereotypes or leave me pleasantly surprised. As I sat in my cab and headed into Riyadh where my couchsurfing host awaited me, I was pleasantly surprised by the glittering, sky-rocketing buildings that gleamed in postmodern architecture. The roads were wide and big on which ran the swankiest cars I had ever seen. A rush of excitement took over me as I observed the speed at which life ran in Saudi. Fully immersed in my surroundings, I barely noticed that I had reached my home for the week! An amicable woman, Nura welcomed me into her home with utmost love, respect and of course, food! She treated me to a unique coffee, dates and basbousa, a delicious, sweet cake, and I called it a night on a happy stomach.
Georgios G. Shipwreck, Haql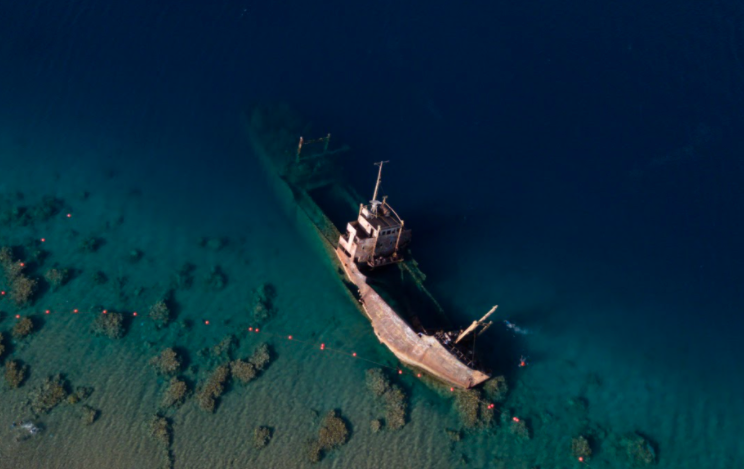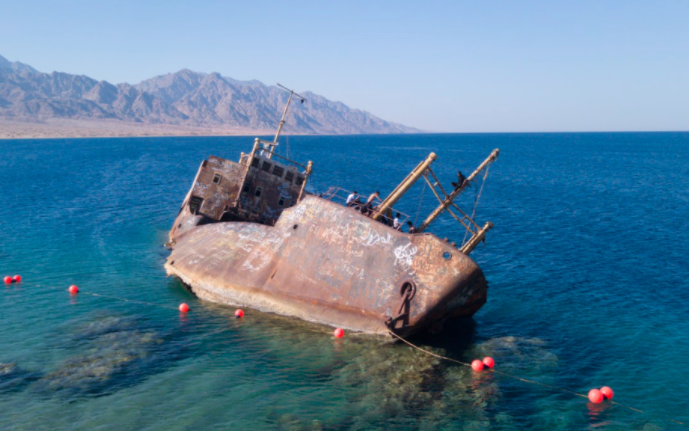 Next morning, I flew to my first destination, Georgios G. Shipwreck in Haql province. The four-decade-old shipwreck is popularly known as Safinat Haql' or Saudi's Titanic! The drive to the shipwreck was mesmerising to say the least. After landing at the airport, we soon left the city scape far behind and hurled through the martian landscape. The vast expanse of the sky mirrored itself in the untouched desert that surrounded us. Biscuit-dry sand as far as the eyes could see and soulful Arabic tunes on the radio were the perfect accompaniments on my road trip.
My wonder was soon heightened by a glimpse of what seemed like a massive tinted ultramarine glass lying ahead of me. Shining in the winter sun, this of course, was the ocean, and I could already spot an ashy grey ship alongside its shores. The Georgios G. Shipwreck features a British vessel that got stranded on the reefs of the ocean. I had never before seen a shipwreck, and this sight was as humbling as it was majestic. Nura and I walked barefoot on the beach as she narrated various theories about the shipwreck and helped me plan my week-long sojourn. On our return, I bid goodbye to Nura and left for At-Turaif.
At-Turaif, Diriyah
Visiting the ancient city of At-Turaif, the first capital of the Arab Dynasty was like travelling back in time. Founded in the 15th century, At-Turaif was the Arab socio-political epicenter that became the cradle of the Arab dynasty. Due to its historical importance and unique architecture, the area has been declared a UNESCO World Heritage Site that features settlements, fortifications, and palaces. Under the aegis of the spectacular Salwa Palace and Saad Bin Saud Palace, I walked along the city's lanes and could only imagine its splendour in the centuries gone by. Massive limestone buildings dotted with palm trees adorned in the Najdi style were the dominating features that instantly captivated me. After my experience in the historic city of At-Turaif, it was time to take my adventure one notch up and visit Al AlUla, which took me to Saudi's first UNESCO World Heritage site, Hegra.
Hegra, AlUla
In the midst of the desert lies Hegra, a 2,000 years old iconic arena that features 110 monumental tombs carved out of massive boulders. Within these burial chambers lie military figures, leaders, healers and members of the Nabataean civilisation of which very little is known. As I explored inscriptions, carvings and betyls on the tombs, I learned about the origins of Arabic language and got an insight into the traditions of the ancient civilisation. As I learned about the vast empire of the Nabataen, I couldn't help but feel like a tiny speck, not just in size, but also in the history of mankind. Exploring a forgotten civilisation in Hegra reinstated the ephemeral nature of human existence and at the same time, was an experience that emphasised on mankind's limitless potential. I have seen a fair amount of the world, but Hegra was an experience like no other.
Maraya, AlUla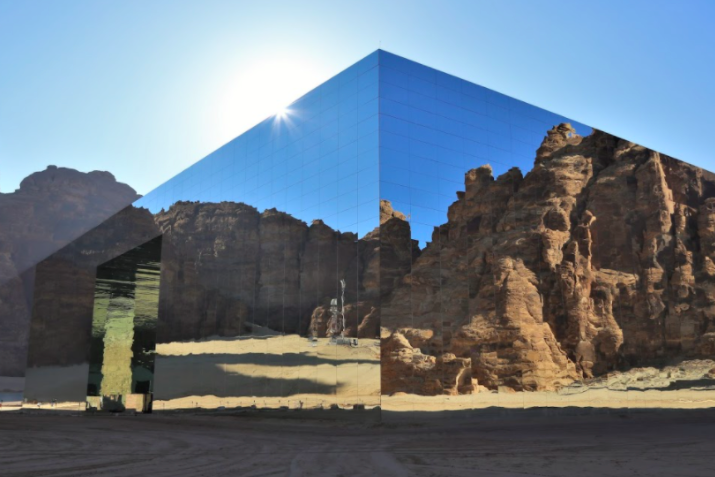 The next day, I left to witness yet another marvel of Saudi's contemporary architecture – Maraya. To say that Maraya is a rather fascinating building is an understatement as it is renowned for being the largest mirror building in the world! A building comprising over 9,740 square metres of mirrors, Maraya is a concert hall whose sleek, minimalistic design stands in stark contrast to the arid yet flamboyant sandstone cliffs and mountains that surround it. It is intriguing to see how this humongous mirror blends effortlessly into its surroundings, vibrantly magnifying the beauty of AlUla's barren, monochromatic landscape. As the sun set, I watched it melt AlUla into golden liquid, twice! Only Saudi could so ingeniously tinker with nature to elevate its grandeur.
AlUla Oasis, AlUla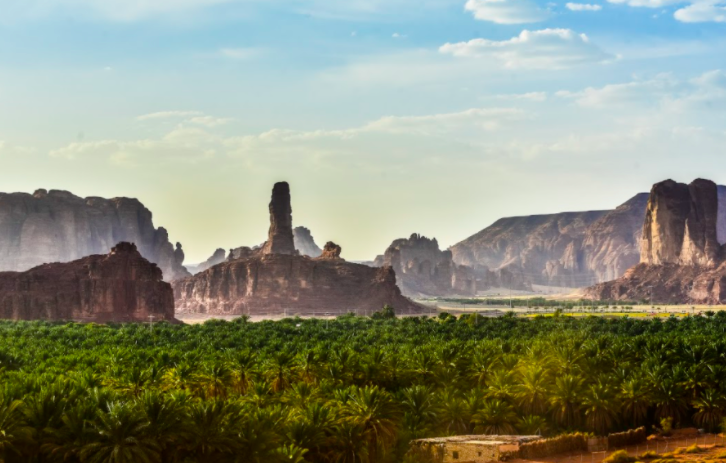 Next on my list was the AlUla Oasis that has served as a haven for residents and travellers alike for thousands of years. As I hiked up to the edge of the mountains within which the oasis protectively lies, I was taken aback by the verdant green cover that looked resplendent in the midst of the arid landscape. Upon closer inspection, I saw the thick cover of tall date and palm trees that engulfed a variety of flora and fauna within it. As I paved my way towards the settlement, I learned how the oasis had served as a seat for ancient kingdoms where different cultures fused with each other. I also learned that the oasis was an agricultural hub where fruits, aromatic herbs and perfumes were birthed.
Al Wahba Crater, Taif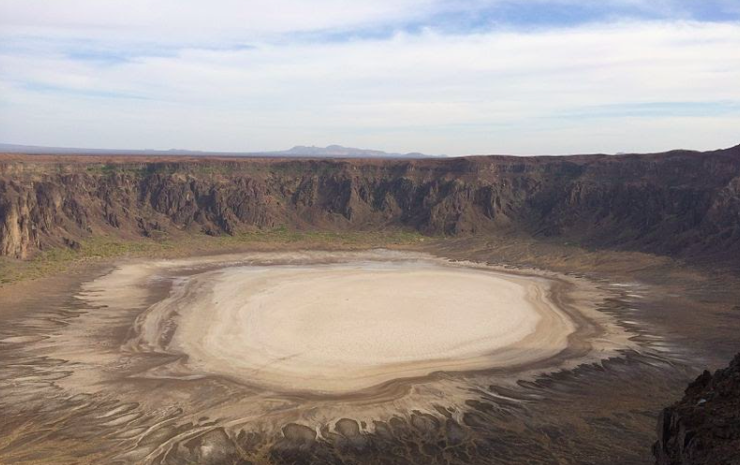 I also visited the Al Wahba Crater which is Saudi's most popular natural wonder and for good reason. I visited the crater with a hiking group and as we ascended a mountain, I noticed how sterile the landscape around me was. It almost felt like I had travelled back in time where nothing apart from unadulterated nature blossomed in all its glory. Strangely, even though the landscape was parched and fallow, it was rather awe-inspiring. Little did I know that I was in for a surprise! Just as the mountain plateaued, it plunged 250m deep, giving way to the spectacular Al Wahbah Crater, at the heart of which lay a lake that almost looked like it was boasting its existence in the middle of a desert. I stood at the rim of the crater, looking down at the overwhelming wonder in front of me and marvelling at its scintillating crust. That day I understood that beauty could also be raw, crude and imperfect.
Al Balad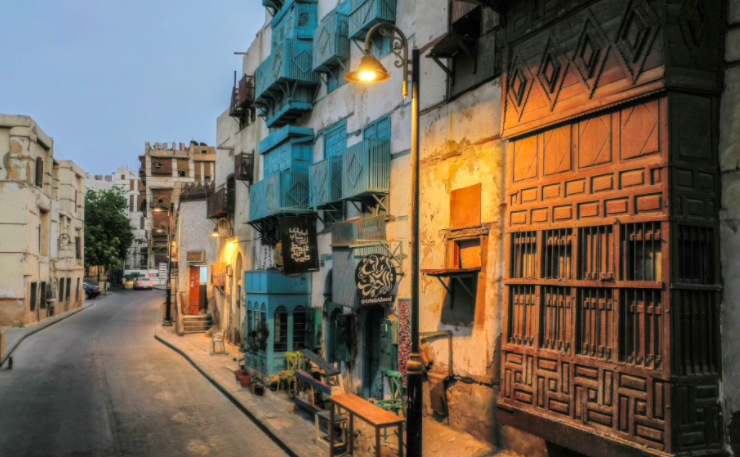 It was time for me to bid goodbye to the wild and greet the city again. I headed to Al Balad where I met my host, Nura once again. Since this was my last day in Saudi, she insisted that she spend a few hours with me, taking me around Al-Balad. A 7th century historical town, Al Balad is the historic center of the city of Jeddah that is also known as the Bride of the Red Sea. The town has long welcomed traders and pilgrims, and what I loved most about it was the fact that it was like taking a walk through some of my favourite Arabian nights fairy tales! I had a wonderful time exploring its bustling market where Nura helped me pick out exotic textiles, aromatic spices and charming silver trinkets that I couldn't wait to wear. We ended the trip on a high note by treating ourselves to melt-in-the-mouth shawarma and one of their signature desserts, Maamul, a shortbread filled with dates and pistachios which we washed down with mint tea.
I bid farewell to my loving host Nura and left for the airport, already reminiscing the warmth and hospitality that I had received in Saudi. My heart was full of new-found respect for the country's culture, traditions and its people. My trip helped rupture many preconceived notions that I had held about this beautiful country. There's no doubt that as a solo woman traveller, it was a challenge to navigate through Saudi's unchartered territory, but I feel like I emerged as a more sensitive traveller from my experience. Travelling is not just about checking places off your bucket list, but also immersing in and appreciating new cultures, no matter how different they may be from one's own philosophy.
Do you want to resume travelling with a destination as fascinating as Saudi? Visit Saudi.com for more information.
In association with Saudi Tourism Authority.

Ready to travel for free? Earn credits and redeem them on Tripoto's weekend getaways, hotel stays and vacation packages!