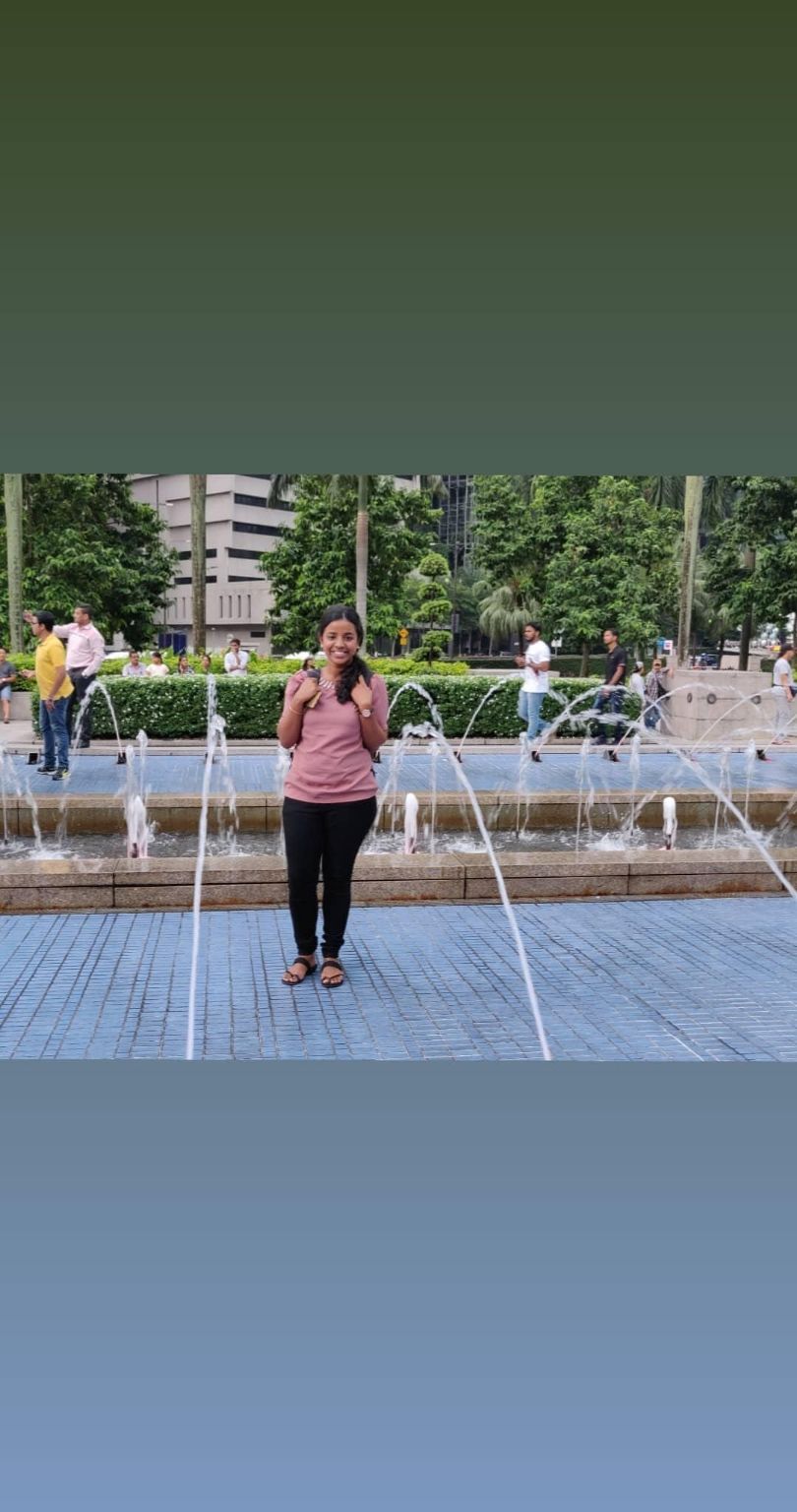 This was my first ever international trip. Amidst my daily routine of home, heavy traffic and workplace, I got to escape to this beautiful land as a part of a new project that my organization decided to work on.
So, it was the five of us from my organization to take this trip and I was the only girl in the travel gang which I first assumed would make it a solo trip for me. But I was wrong, the travel team I got was fun and I enjoyed the twelve days journey with them.
We began the journey on 19th May'19, a sunday with Indigo Airlines which was a connecting flight (Bom- Blr and Blr-Kul) and we reached KL airport around 2am MYT and headed towards our booked hotel -The Saujana Hotel (Kuala Lumpur).
This hotel is located in the outskirts of the KL city and believe me, it is a perfect place for anyone who wants to enjoy their stay away from the city rush in a home like atmosphere. Saujana Hotel staff welcomed us generously and to our happiness, we were greeted by a Mumbaikar at the reception desk🤪(How glad we were to find this mumbai wala ). Our daily sumptuous breakfast was prepared by the chefs in the hotel and served at their fine dining area called the Tichen. Though the Indian items were less on their menu, were deliciously enjoyed the long list of other items that were prepared. The malabar paratha called as Roti Canai was our favorite item in the list and the guava juice became the regular drink. We also managed to add to our calories with the doughnuts, croissants, cupcakes and the other bread feast 🍞.
Since we were on a official trip, our weekdays were spend in the office premises busy learning and attending the training. However, we luckily managed to make complete advantage of this trip and also enjoy this land as a tourist.😎😎
I will begin with KL first. We were staying in Shah Alam, so we chose to travel by the metro (LRT) train to KL Sentral first. KL Sentral is largest railway station in Malaysia and houses the NU Sentral shopping mall, various food hub and is more than one could imagine to experience in a metro station. From there, we headed (walking)towards the very famous Brick fields, also called as the Little India. True to its name, this place is a colourful version of India with textile and jewellery shops and many Indian restaurants.The Big Chapati House restaurant and the ClayPot Biryani Centre are most famous eateries here. Without any further delay, we continued our trip to the Kuala Lumpur City Center in a grab cab to visit the elegant tallest twin towers called the Petronus Towers. What a magnificent structure! Malaysia has many tall and elegant structure to brag of and this one tops the list .While I was down staring this tower, I experienced a different happiness I can't explain in words. (So blessed😍)
The Suria KLCC Mall is a huge shopping junction that stands behind the Twin Towers and to the other side is beautiful KLCC Park. Then we boarded a bus to adventure in the streets of Bukit Bintag. This is the most trendiest shopping spot and is known as the shopping district of Malaysia. This place cities the KL Pavilion mall(I call it the Giant Mall), Berjaya Times Sqaure and few others. We explored in the Bukit walk and spend hours in Low Yat Plaza(electronics shopping destination), though beware of duplicate products.
Our Next destination was Masjid Jamek(you can either catch the LRT to this stop or book a cab ). Here is most oldest mosque of Malaysia, Jamek mosque and since we visited during the Ramdan period, we witnessed a praying community everywhere we went. The major shopping stops here are Hanifa Mart and the huge LuLu Shopping mall. These are the best places to shop chocolates and clothes and let me tell you that this is another India or more rightly its a small Chennai in Malaysia.You will hear Tamil songs and see Big hoardings in Tamil , saree and jewellery shops around. The Anjappar Chettinad Restaurant here served the delicious Indian food to the hungry wanderers.
Our perfect weekend started with a trip to world famous Batu caves. We booked a cab to this limestone hill in Gombak, Selangor and were taken by awe by the huge structure. You have to high the long steps to reach the caves ( we literally counted the steps and Yayyy we climbed close to 500 steps😆😆). And how can I forget the many monkeys you will find through this hike, beware they will snatch your refreshments from you. After we got down, we drank the refreshing coconut water close by. Further, we took a cab to the Chinatown, perfect street shopping destination. It is called as the Chee Cheong Kai based in Petaling Street with all colourful stuff around you. You will find Malaysian souvenirs, clothes, shoes, jewellery and authentic Malaysian food in these streets. Remember to first walk through these streets for a window shopping and then decide what to buy, plus use your bargaining skills to save your pockets. We ended our day with a second time visit to the Twin towers and enjoyed the night view of this beautiful building and its surroundings.
On sunday, we started our day late , tired but still excited and headed to another city in the south of Malaysia, Putrajaya. This city houses the most beautiful and planned architecture of the country. We began our visit with the Taman Wetlands which is a constructed freshwater wetlands in the tropics. However, since we visited in the afternoon, it was an isolated place with nobody to guide or any staff , we explored the place on your own. Climbed to the Lookup Tower, walked around the Flamingo and Swan Pond and adventured through the nature interpretation centre( though, it is more of like a science exhibition show). Unfortunately , there wasnt any show during the time we visited, but we were allowed to explore freely inside the exhibition theatre.
From here, we booked a cab to the heart of Putrajaya where cites the Putra Mosque, Perdana Putra(Minister's adminstrative office), Putrajaya lake, Seri Wawasan bridge and the Putra square, all at walking distance from each other. This place you will experience a serene atmosphere and lot of good photographs can be clicked here.
After ending our Putrajaya journey with a sumptuous late Indian lunch, we headed to the Klang valley more precisely to the I City Theme park. The park is lit up with colourful lights and has many adventure rides and a snow park besides it. I was so happy to be greeted by the Dragon Warrior himself ( Kung Fu Panda ) at the entrance . It is perfect place to relieve the memories of your childhood favourite characters.
Besides them , we also did a shopping from the discount sales running in the Citta Mall, Evolve and Paradigm malls. The Chicken Mushroom noodles at The Chicken Rice Shop will always remain the most memorable dinner of our days in Malaysia. I feel so blessed that I got the opportunity to visit this beautiful place where people are so friendly and good natured and every place around is so clean and maintained.
Ever I get another opportunity to come here again, I will be more than happy to fly to this land. ❣️❣️❣️
P.S. : Be prepared to be greeted by rains any time of the day. Carry drinking water whenever to set out to explore and keep your Google maps ready (dont really believe the time they show, you will cover it faster) . Plus , memorise few basic Tamil lines when you hit the Indian places in Malaysia.