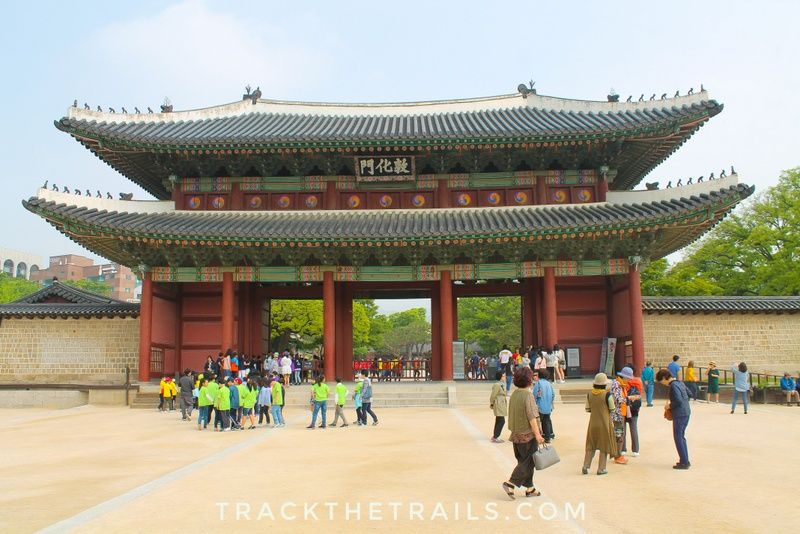 Charming Changdeokgung palace
As soon as we reached Seoul, the first thing we had done was visiting the great palaces. I have seen those palaces through many historical Korean dramas. There are mainly four major palaces in Seoul. Those are Gyeongbokgung Palace, Changdeokgung Palace, Changgyeonggung Palace, and Deoksugung Palace. But we had planned to visit the major ones Changdeokgung and Gyeongbokgung Palaces since we have only 4 days in Seoul to explore.
Sinchon to Anguk station
Our hotel was nearby Sinchon station which is nearby Myeongdong Shopping District and Insadong Cultural District. I will have another post soon for the hotel and the surroundings we have stayed in Seoul. The place is located nearby Anguk station which is a 20-minute subway ride from our station. The palaces are easily accessible via subway or bus.
We have started off early from our hotel to Anguk station. The first place we have checked in was Changdeokgung palace.
Changdeokgung Palace is one of the Joseon Dynasty palaces located in Seoul, South Korea. While not as large in scale as the main Gyeongbokgung Palace, Changdeokgung boasts its own unique features such as being built with closer to nature theme in mind.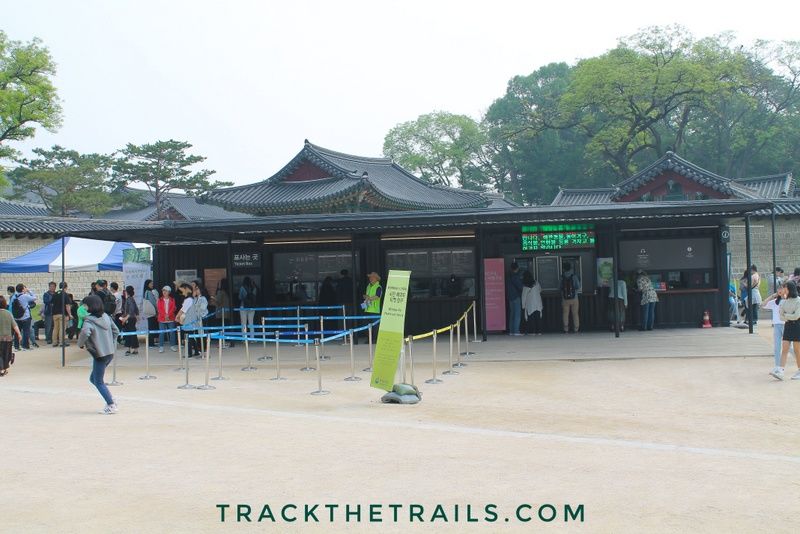 Changdeokgung Palace is a 600-year-old UNESCO World Heritage Site is the Seoul city's jewel. Changdeokgung Palace is a great place to visit. people can consider purchasing the royal palace pass that includes 4 palaces and the royal shrine for ₩10,000 (approx INR 634 / 9 USD ) and is valid for three months. All palaces have an English brochure at the ticket counter. This palace was destroyed and rebuilt in 1610, it was the main palace for about 270 years. Changdeokgung Palace is the 2nd palace of the Joseon Dynasty, the architecture is not as grand and stately as Gyeongbokgung Palace, the main palace. Changdeokgung is just a short walk away from Changgyeonggung Palace, Jongmyo Shrine and Gyeongbokgung Palace, so if you have the time, be sure to visit them all in a single day. We have visited only Changdeokgung and Gyeongbokgung Palaces since we had to explore other attractions too.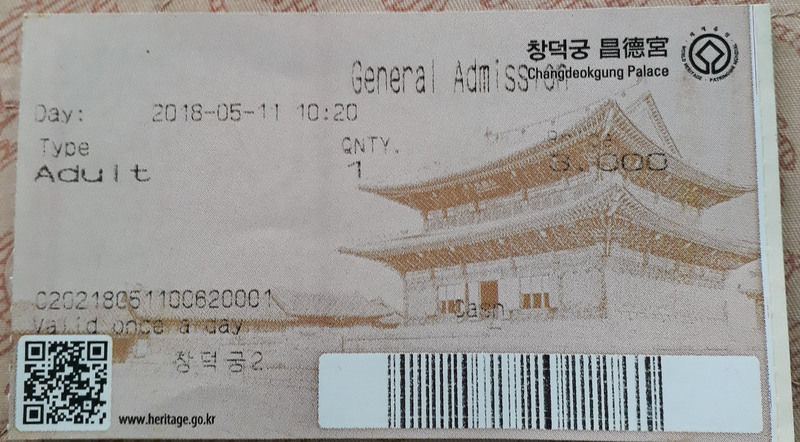 Rent a Hanbok
The palace was truly beautiful. For free entry to the palace, rent a Korean traditional dress which is called as hanbok (₩10,000 for 2 hours, ₩20,000 for 4 hours, ₩30,000 for the whole day and an extra ₩5,000 for accessories). Wearing a royal hanbok and roaming through the palace was one of my dreams. I rented one for 2 hours and my dream came true at last.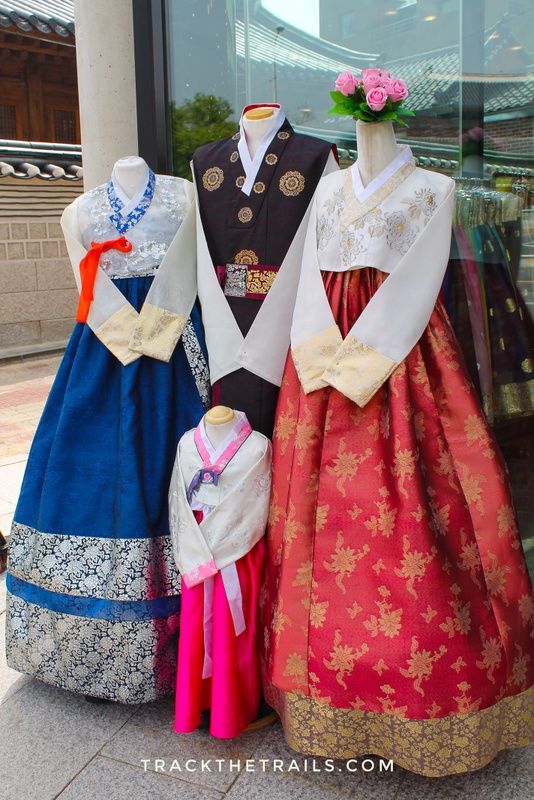 Nithin was reluctant to wear the traditional dress. So he just wore his own usual dress and walked with me like a prince.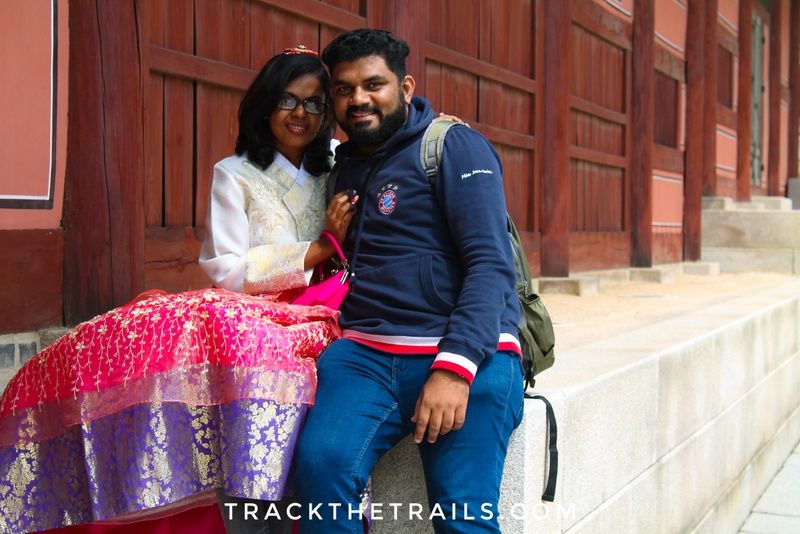 Being a princess
We were roamed around Changdeokgung Palace and bathed in the royalness of the place a lot. Yes, I belong to Joseon dynasty. Princess Sara of Changdeokgung.
The main attractions we have seen in the palaces are Dongdaemun Gate, Palace Chambers, Geumcheongyo Bridge, Injeongjeon Hall, Seonjeongjeon Hall, Huijeongdang House, Daejojeon Hall, and Nakseonjae.

The royal line of Korea
You need to visit this place and walk around for at least half a day to fully appreciate the elegance of Korea's royal line and wealthy history. A place that you must visit in Seoul. If you like history, this site will satisfy you. One can picture yourself there hundreds of years in the past. Certainly added to the full experience.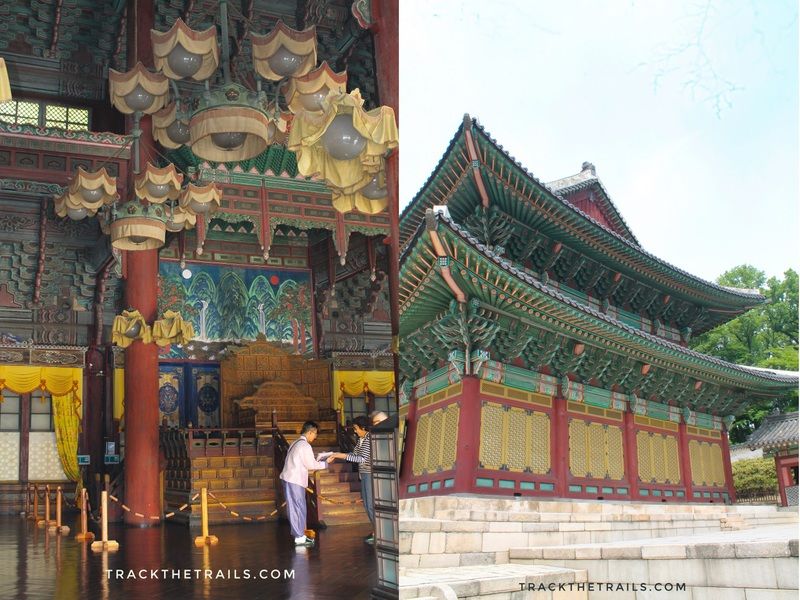 I enjoyed the visit because the architecture and atmosphere of Changdeokgung are unique and different, with a closer emphasis on nature. The buildings also felt more "authentic" and I enjoyed the relative quietness of the area as compared to the busier and larger Gyeongbokgung.

The Secret Garden
There is a garden behind the palace. Its called Huwon or Secret Garden. The garden was constructed during the reign of King Taejong and served as a resting place for the royal family members. you cannot enter the secret garden unless you are with a tour guide and You have to pay extra to visit the garden. We did not visit the secret garden since we haven't had much time to wait for the next guided tour. The garden Occupying 60% of the entire palace ground, its lot more than a garden. It has many leafy valleys, trees, ponds, pavilions and buildings we have heard. Visitors must join a 1.5 hour guided tour to see the secret garden.
Some people say its worth a visit in spring with a lot of flowers and in autumn, with the red, yellow and orange leaves, it will be an unforgettable sight. and some people say It's not a botanic garden with flowers and plants, rather it's a big wooded area with natural trees on hills up and down. There were few residence halls here and there and many of which did not allow entry. So really not much to see. We don't know! Maybe we will visit next time.


Hang out with Korean kids
We would recommend Changdeokgung as the No. 2 Joseon era palace to visit after Gyeongbokgung. Usually, the palace is serene and quiet most of the time, but when we visited, there were many school students accompanied by their teachers as part of the school tour. So its a bit noisy and crowded on that day. The surprising thing is all those students were very much interested in taking photos with me as I am a foreigner and especially I was wearing their traditional hanbok.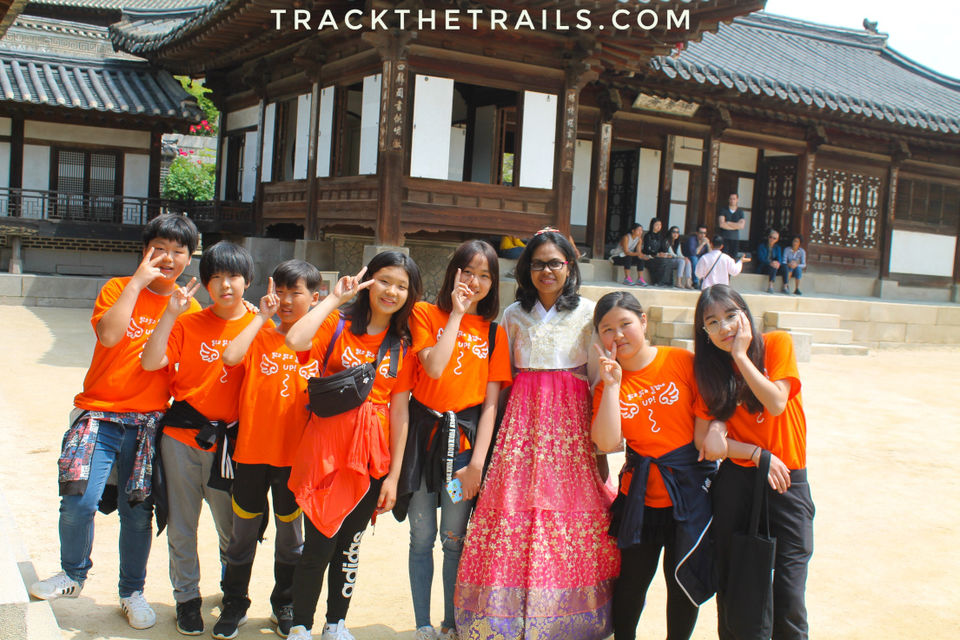 There is a cafe within the palace ground as well. We bought some drink and snacks. It is a very nice place and there are also Sakura trees that make the place look even more beautiful.

If you rent a Hanbok, you get the entrance for free. Be prepared to meet a lot of girls in traditional clothes, especially at the weekends.
Great Gyeongbokgung palace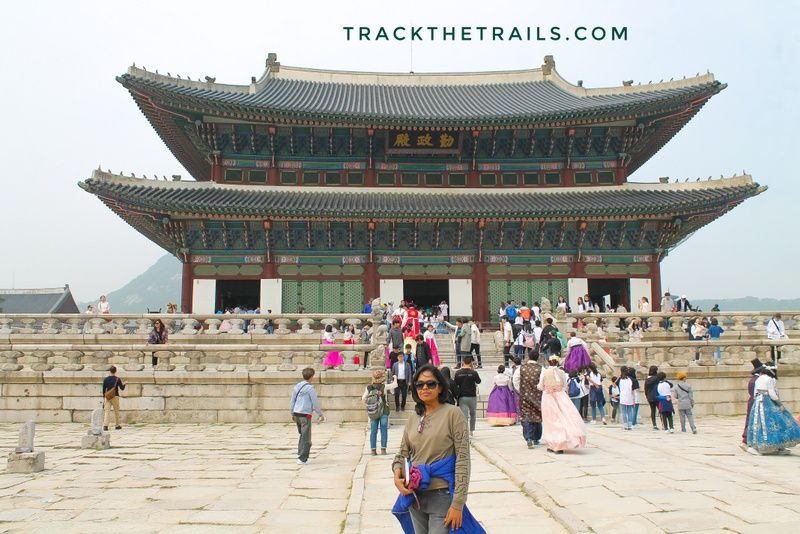 Second we have visited Gyeongbokgung palace which is of course the biggest and the one you should do for sure when you are in Korea. Its only a walkable distance from Changdeokgung palaceGyeongbokgung is undoubtedly the most beautiful, and remains the largest of all five palaces in Seoul. The palace and surroundings were once destroyed by a fire during the Imjin War caused by Japanese Invasions. But later restored during the reign of King Gojong. Other main attractions near by the palace are the National Palace Museum of Korea and the National Folk Museum. The admission fee is 3000 won for each person. Like I said before we can visit the palace for free if you are wearing a hanbok & last Wednesdays of each month. This time I had to pay too since I gave back my rented hanbok and put on my jeans and t shirt.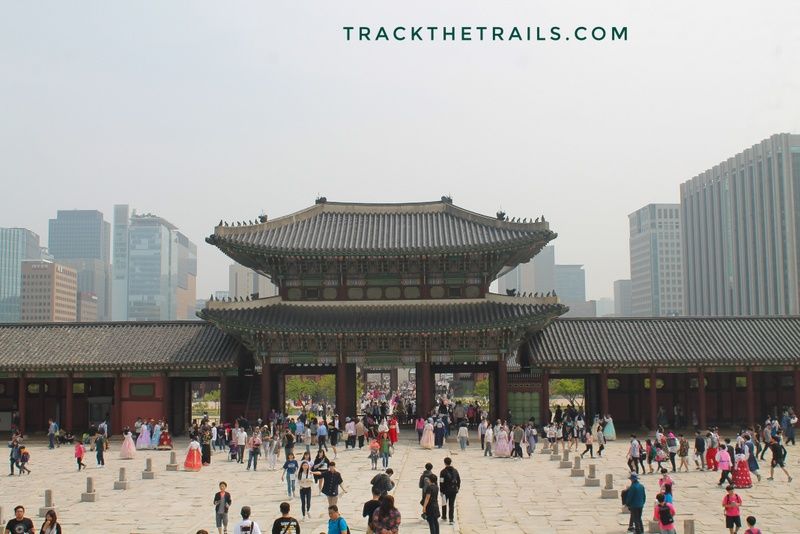 The main attractions of this palace are Gwanghwamun Gate, Geunjeongjeon Hall(Korea's largest wooden structure). Then Geunjeongjeon Hall include Sajeongjeon Hall and Gangnyeongjeon Hall, the king's private quarters, and the queens quarters of Gyotaejeon Hall ,Hyangwonjeong Pavilion and Gyeonghoeru Pavilion.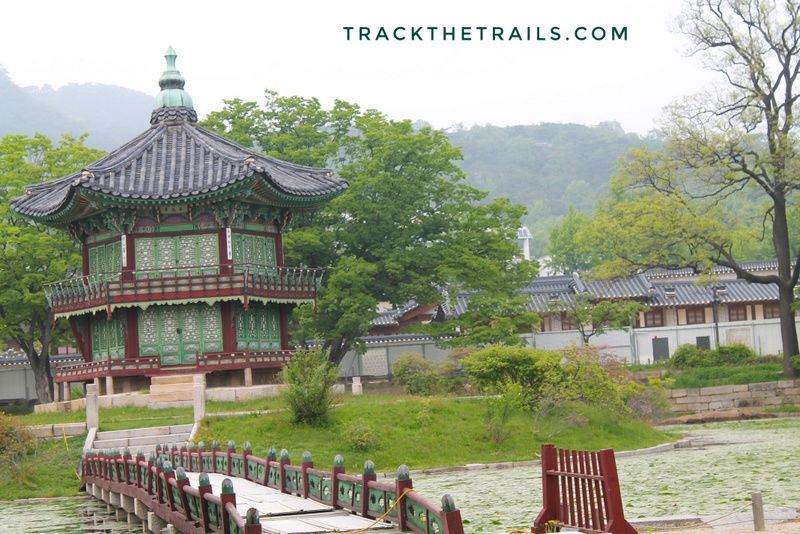 We couldn't go inside or take good pictures of Hyangwonjeong Pavilion as it closed with tall card board fence all around the pavilion. Some construction work going on there I guess. And another pavilion, Gyeonghoeru pavilion is one of the beautiful pavilion which was used for banquets and entertainment. Its is a two-story, open-walled pavilion appearing to float over a lotus pond.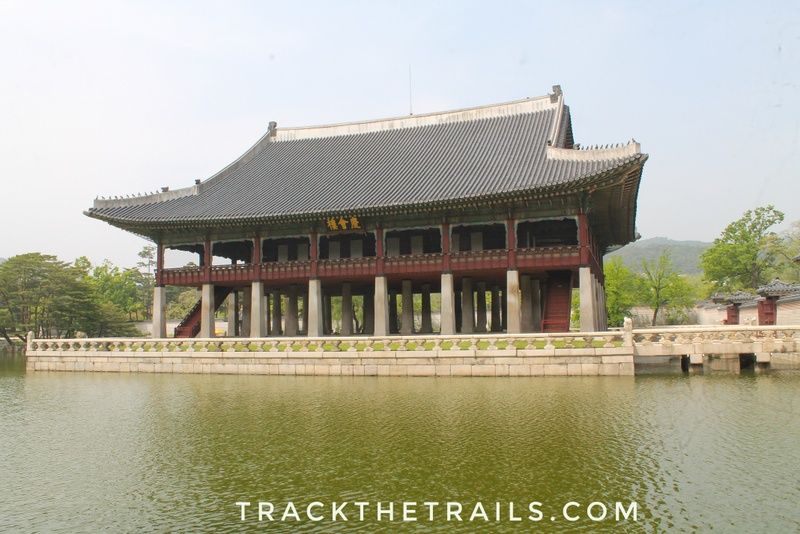 The pavilion is one of Gyeongbokgung Palace's most attractive locations. We have heard one can enter the pavilion with separate permission. However we didn't see anyone entering in there. We can only see that magnificent build from across the pond.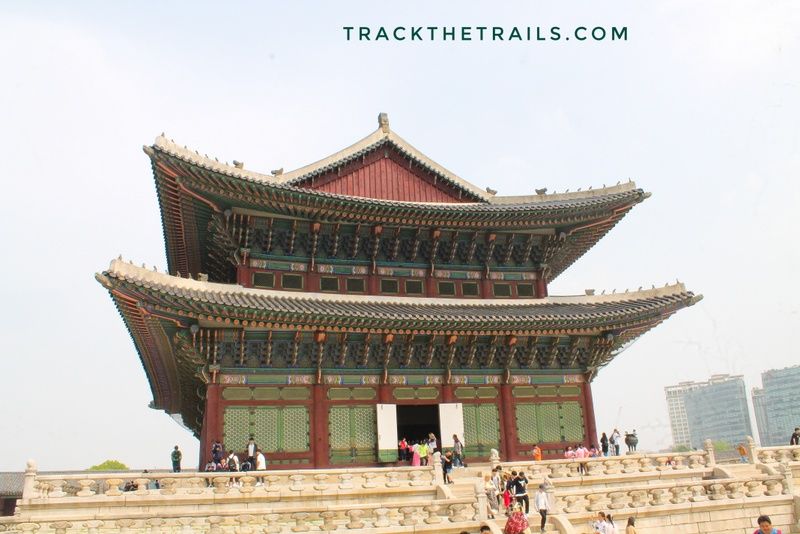 How to reach there?
[Subway]
Anguk Station (Seoul Subway Line 3), Exit 3.
Walk straight from the exit (towards east) for about 5-min to arrive at the palace entrance.
[Bus] Take any of the following buses and get off at Changgyeonggung Palace Bus Stop. - Blue Bus No. 100, 102, 104, 106, 107, 108, 140, 143, 150, 151, 160, 162, 301, 710
-Track The Trails