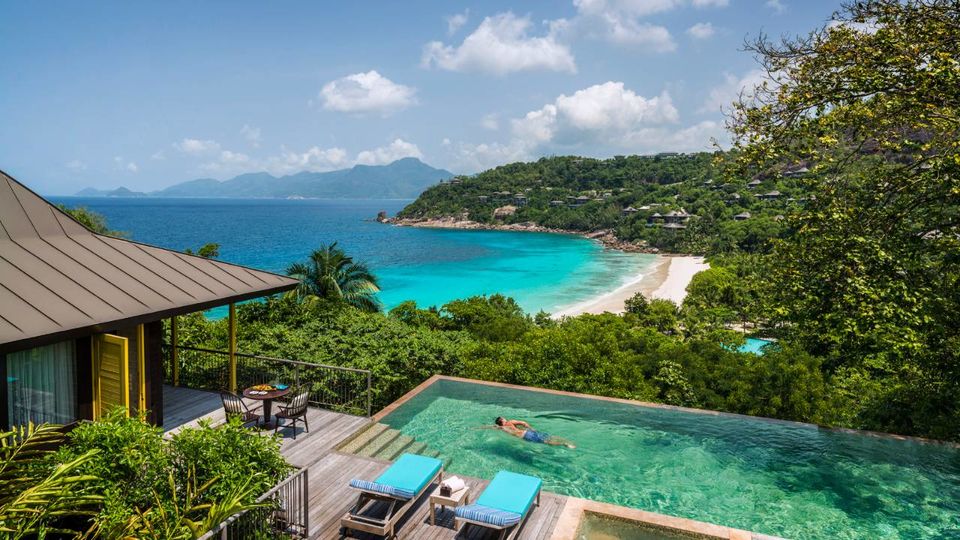 Located on a steep, forested hillside in the southwest corner of Mahé, the 170-acre five-star resort is still among the 50 most luxurious hotels in the world almost two decades after it opened. The Four Seasons, Seychelles, gives travellers one of the finest, picture-perfect luxury experiences because of its location, design and unparalleled services. Although located on the mainland, it offers a private beach experience given the protective curve of the Petite Anise Bay where it is located.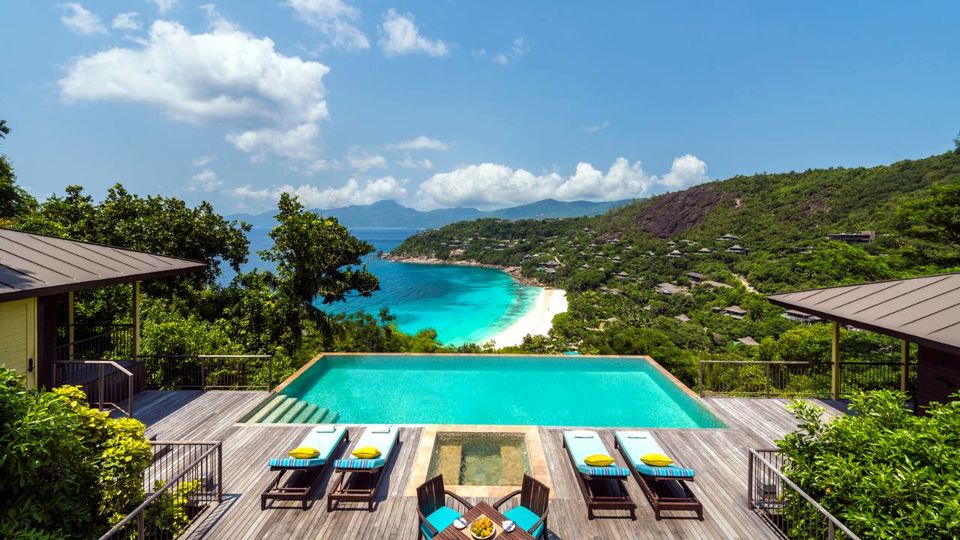 Made for
If you're looking for a quiet holiday or a secluded but happening romantic getaway, this is the place for you. With their gorgeous villas, stunning views of the sea and a host of luxurious services, it is the perfect place to whisk your partner away for a holiday.
About the property
The first thing you notice about the Four Seasons in Seychelles when you first lay eyes on the magnificent property, is the way it has been constructed. Typically, being located on a forested hillside can act as a disadvantage, but the 67 villas here have been constructed on stilts, ensuring that the deck on each of them peeks above the treetops and gives the guests a fabulous view of the sea. This, however, means that to move up and down the resort, to the restaurant or the spa, one has to take buggy rides, which can get time consuming if you're there for a longer duration.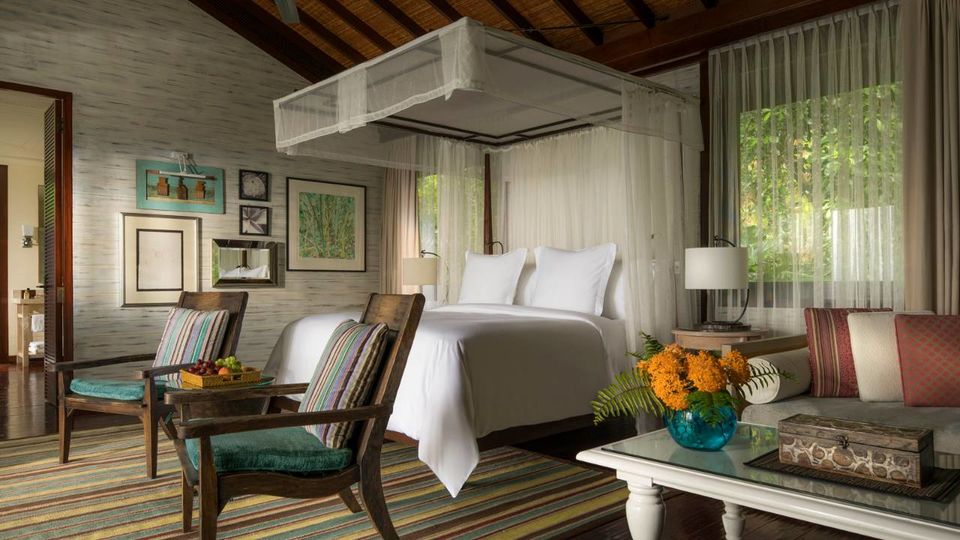 The facilities, however, more than make up for this slight inconvenience. The resort has two restaurants, two bars, pop-up beach barbecues, a hilltop spa, a techno gym, a state-of-the-art water sports centre and a beach-side infinity pool. It also offers concierge services that can arrange any kind island expedition you desire.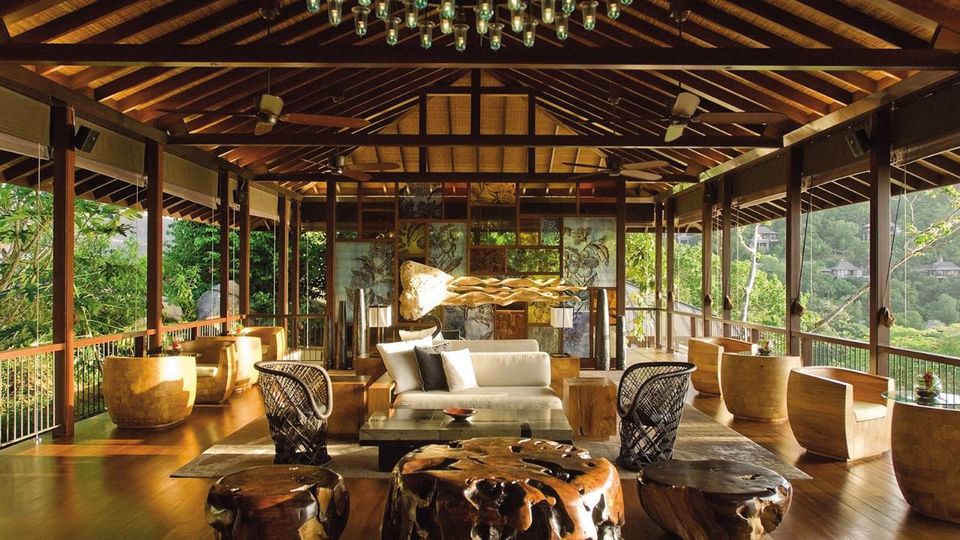 Cost
The per night price for the villas starts at approximately Rs 75,000. Breakfast, yoga and non-motorised water sports are included in the price.
Food
The main restaurant, ZEZ, serves a marvellous breakfast. Everything you can imagine is laid out—there's a full buffet, an a la carte option, and daily special dishes. The same restaurant also offers an impressive fine-dining option for dinner with a truly international menu. Although outstanding, the food can get quite expensive even though the prices are at par with other luxury hotels in Seychelles.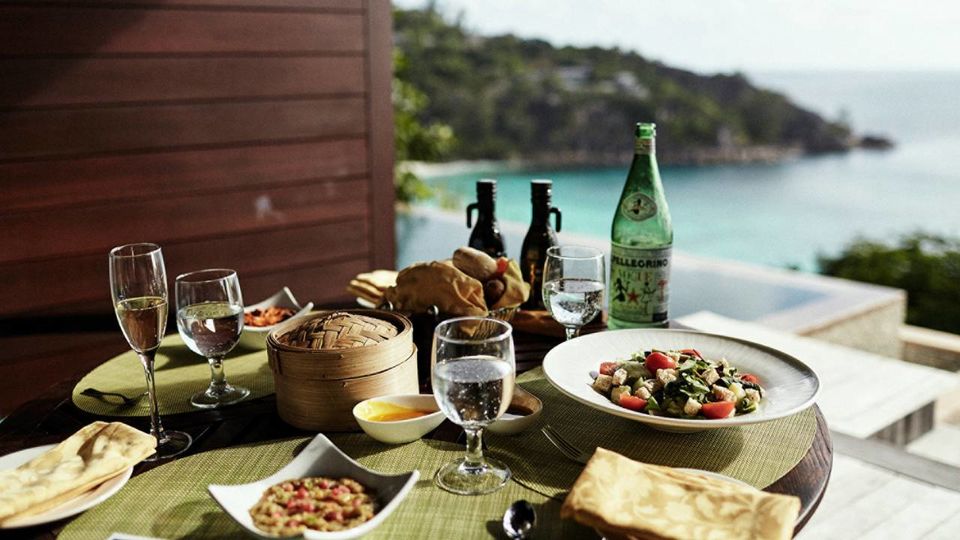 One unique thing about the resort is that they use fresh fruit from the trees that grow locally to create decadent desserts. There's also a sushi bar next to the restaurant with an incredibly detailed menu. Down by the beachside pool, Kannel, the other restaurant, serves a more relaxed menu of pizzas, salads, and South Asian cuisine.
Best time to go
Seychelles is often sold as a year round destination. And although it is, it is usually not enjoyable during the rainy season which can last from November to March. The months from April to October are excellent to enjoy the ocean.
How to get here
The resort is located at a 40-minute drive from Seychelles International Airport (SEZ) in Mahé, which is served by several major airlines. From India, you can choose from Air Seychelles, Jet Airways, Lufthansa, and Mihin Lanka Airlines, among others. It is a 10-11 hour journey from New Delhi to Mahé (with one stop).
What to do here
With its gorgeous location and impeccable services on offer, there's a lot you can do at the Four Seasons as well as outside it. The resort offers a number of beach sports including volleyball and sunset golf. You can indulge in water sports like like jet skiing, snorkelling, scuba diving, deep sea fishing, surfing and kayaking, or choose to do something on the land like hiking and jungle trekking. For fitness enthusiasts, there's a full-time yoga trainer available on site and for those who love art, the resort can arrange for one-on-one classes with some of the best local artists.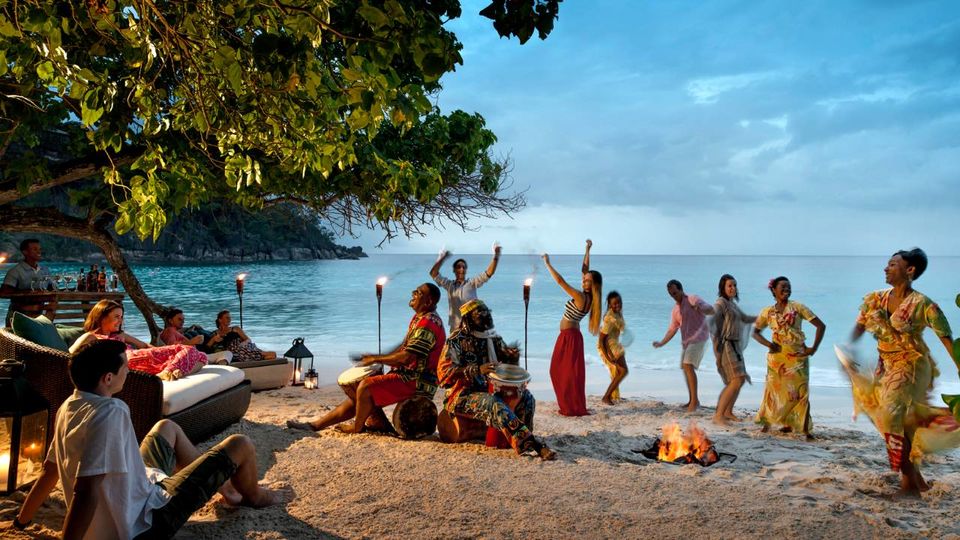 Been on a luxurious beach holiday? Write about it on Tripoto and help the travellers discover something new.
All photos by the Four Seasons