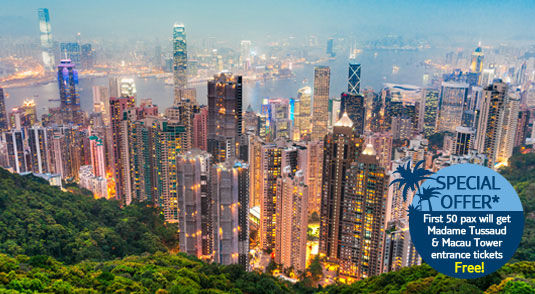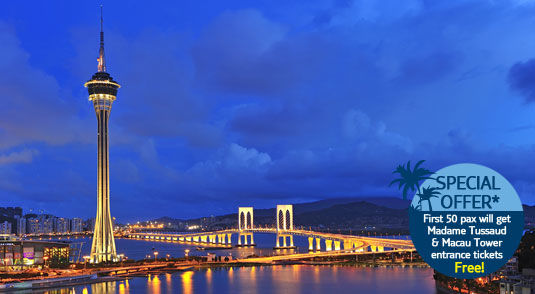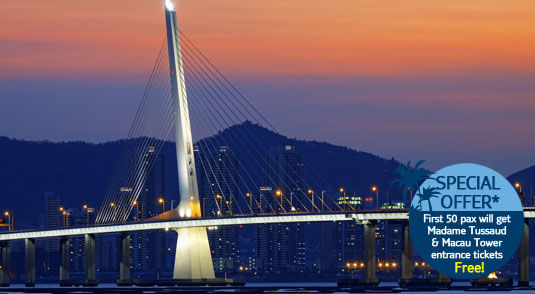 One of the world's most prosperous and multi-ethnic cities, Hong Kong is located on the Pearl River Delta and the South China Sea. Whereas, Macau is popular as 'the Vegas of China,' due to its fantastic nightlife, restaurants, casinos, and nightclubs. It is just an hour away from Hong Kong via a ferry ride.
Duration
Accommodation for 2 nights in Hong Kong Accommodation for 1 night in Shenzhen Accommodation for 2 nights in Macau
Top highlights for you
City Tour of Hong Kong Half Day Ocean Park Tour City Tour of Macau with Indian Lunch City Tour of Shenzhen with Indian Lunch Return Airport transfers Travel Insurance Value Added - Park Hotel Free in-house Wifi for max. 2 devices per room UNLIMITED free local call UNLIMITED free International call back to India
Day-1 Arrival in Hong KongWelcome to Hong Kong – Asia's World City. Upon arrival, be transferred to your hotel and check-in (Standard check in time 1500 hours). Spend the rest of the day at leisure or choose an optional tour of Hong Kong by night.Overnight stay in Hong Kong Hotel.
Day-2 City Tour of Hong Kong with Ocean ParkAfter breakfast, proceed for your half-day city tour to Victoria Peak.Visit the 'Avenues of Stars', which pays tribute to the celebrities who made Hong Kong the 'Hollywood of the East', and get a panoramic view of the city's most iconic sight.Thereafter head to the age-old Jewelry Factory. Later, take a bus ride up to Victoria Peak which stands at 1,503 feet above the sea level, and experience the breathtaking sight of the Hong Kong skyline, a view that attracts close to 7 million visitors annually. Don't forget your camera!The day's not over yet. We saved the best for last. Get ready to visit Ocean Park, winner of the most prestigious award in the amusement and theme park industry. This marine-life spectacle features exhibits, rides and shows – the perfect blend of world-class entertainment under one roof!Return to your hotel for a comfortable stay.
Day-3 Shenzhen Sightseeing & ShoppingEnjoy an early breakfast and check-out from the hotel. Get transferred to the train station to take a short train ride to Shenzhen, heaven for all shopaholics! Proceed for the city tour to explore this beautiful city, visit Lotus Mountain and Mineral Museum, where you can check out some handcrafted products and gather knowledge of geological minerals, and the Lotus Park. Thereafter, get ready to explore the Windows of the World, a famous theme park which houses replicas of the world's wonders, historical heritage spots and famous sites.Have a hot and delicious Indian meal at a local Indian Restaurant. Lastly, head to the Luowu shopping mall, where you will find shops of copy goods, jewelry, arts and crafts, clothes, shoes, a small range of electronics and outdoor gear at unbelievable prices (TUIrist Tip: bargain at half the price quoted by the shopkeepers!)Return to your hotel in Shenzhen for a comfortable overnight stay.
Day-4 Transfer to MacauHave an early breakfast and be transferred to the ferry pier to board your ferry to Macau.Welcome to Macau, the city of glitz and glamour! Be transferred to the hotel by the hotel shuttle and check-in (Standard check in time 1500 hours). Spend the rest of the day at leisure or go for 'The House of Dancing Water Show' (Optional Tour)Overnight stay in Macau Hotel.
Day-5 City Tour of Macau with Indian lunchRecharge yourself with a delicious breakfast at the hotel and get ready to tour the city of duality. Its fortresses, churches and culinary treasures bring forth a unique Mediterranean flavor to the China coast. Explore Macau's historical sites, such as the UNESCO World Heritage-listed Ruins of St Paul and A-Ma Temple. Try the popular egg tart at a nearby bakery. Lastly, visit the modern establishments Macau Tower (entrance not included). Wrap up with a hot and delicious Indian lunch at a local Indian restaurant.Return to your hotel and spend the rest of the evening trying your luck at the famous casinos in and around the hotel.Overnight stay in Macau Hotel.
Day-6 DepartureHave a sumptuous breakfast and check out from your hotel. Take the hotel shuttle to the ferry pier to take a direct ferry to Hong Kong International airport for your flight back home.
To book this trip with TUI, click here.