What? Pizza in a jungle? It's not your takeaway Pizzeria that I'm talking about. They are comfortable with an urban jungle service anyway. This particular one happens to be baked in a traditional Italian-style oven, in the middle of a jungle, with a view of a serene lake on one side, and never ending series of hills on the other.
I wanted to spend my weekend exploring some new and exciting place. A peak tourist season didn't help much to decide a peaceful escape I was yearning for, as every home-stays and hotels were jam packed with loads of tourists. Thankfully one of my traveler friend had recommended an unexplored place in West Sikkim, where tales of great adventure, good food, even better company and a holy lake was faintly starting to build. Few phone calls and a last minute reservation later, I was ready the next day to check out this place.
The stay
Khecheopalri sanctuary home-stay is a cozy little family-run home-stay, which is beautifully nested on a ridge above Khecheopalri lake, one of the holiest lake in Sikkim.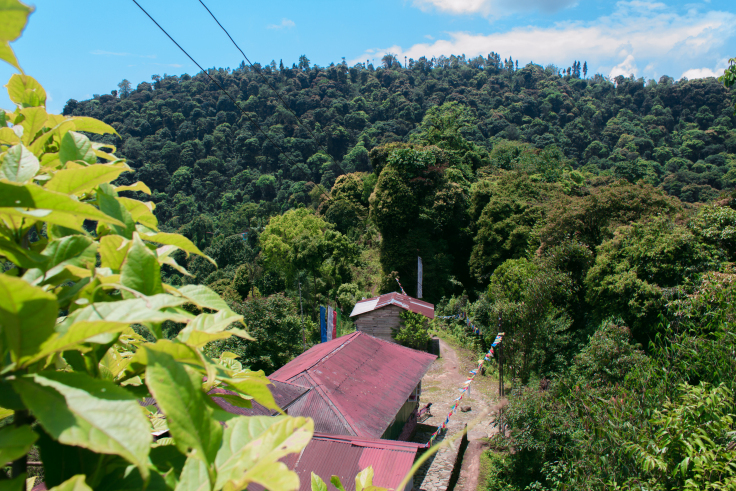 with perfect little, minimalist cabin-style rooms for two, and a couple of bigger, rugged, yet comfortable rooms, It is a perfect getaway for backpackers, adventure seekers, food lovers, nature enthusiasts, for organizing weekend trips, outdoor camping and basically anything or any body with a thirst for adventure on a budget. And the best thing about the place is they bake PIZZA! yes! a real authentic, Italian-style inspired delicious pizza!
Hills and pizza? now that's an amazing combination!
Not only good food, the owner Mr. Latop Tshering Bhutia, also hosts local sightseeing and guided treks to some of the best nooks and trails around nearby hills too.
It takes about 6 hours from Gangtok to reach Khecheopalri, and the last 5 minutes of a "wild-reception" accompanied by the owner himself to the cottage. I was particularly impressed by the sheer number of overly-excited dogs that followed us!
The backstory
Giuseppe Foiadelli, an Italian chef, touring west Sikkim happened to stay in Khecheopalri sanctuary home-stay at the winter of 2016. Impressed by the authentic experience and hospitality of the host family, Foiadelli gifted them the art of pizza-making and teaching the host how to build an oven for baking.
Mr. Latop has since never looked back and continues to make delicious pizza, with a hint of local culinary fusion to it. He even has future plans to open a full time pizzeria of his own!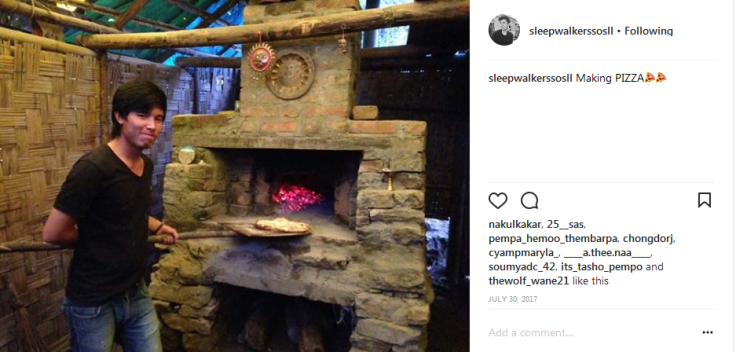 picture credit: Sleepwalkersroll
NO ALARM CLOCK!!
It has become a habit to wake up with the sound of an annoying alarm that literally "ALARMS" us the very moment we wake up. I had turned off my alarm clock because this was my moment of peace and I could wake up any time I wanted to. And because I was tired of traveling yesterday. But to my own surprise, I woke up at 5:30 am! and that too because I could hear so many birds chirping out of my window. Sun had just risen the moment I opened my eyes, the little things, I am sure we miss these days.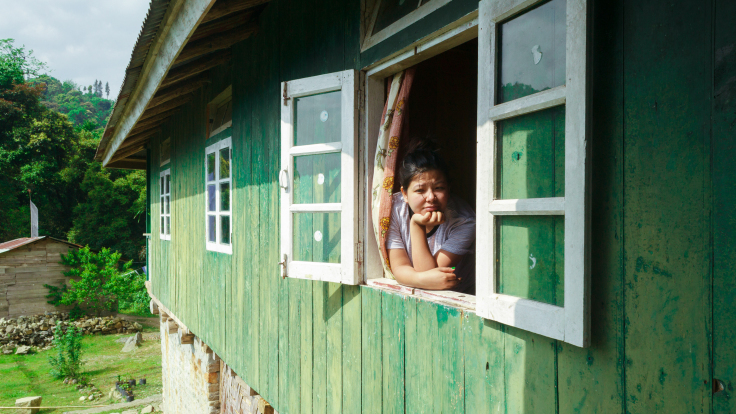 Hike-ready!
Mr. Latop made sure our day was filled with adventurous activities around this hamlet. And we were not disappointed at all.
After a quick breakfast, we headed upwards on a short village walk, which makes way to a view-point, with an amazing view of Khecheopalri lake and surrounding hills.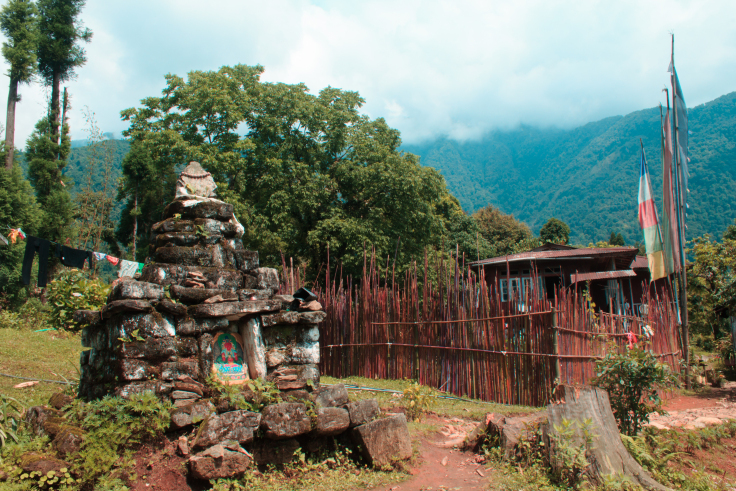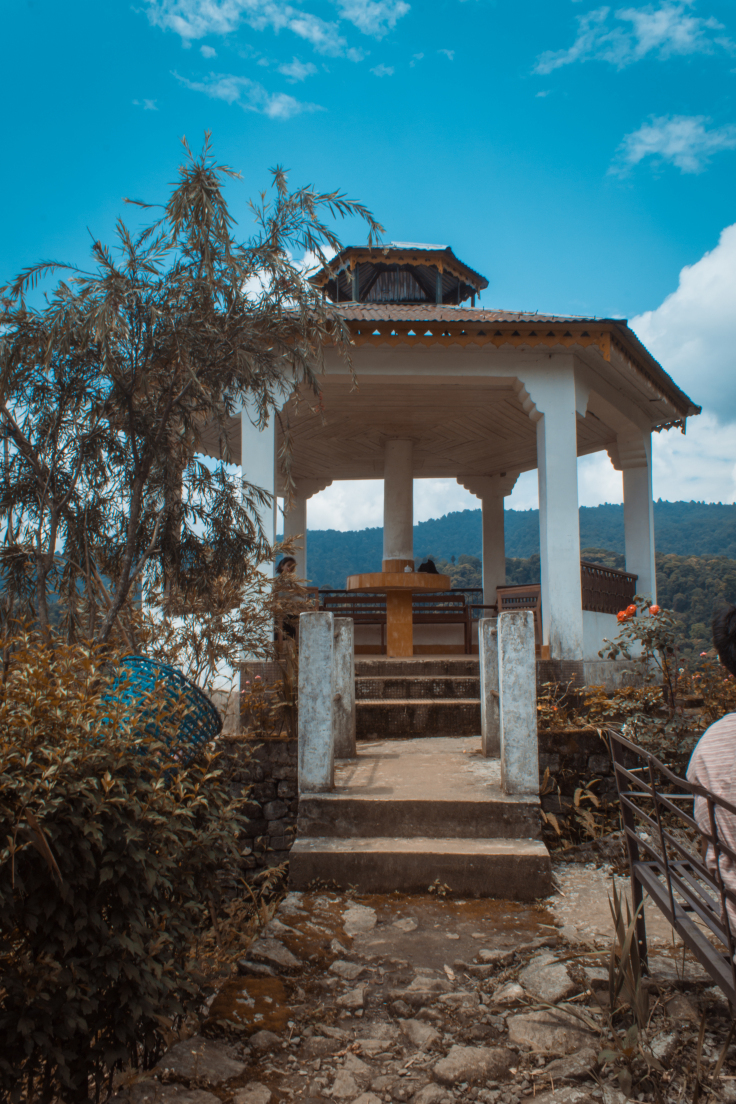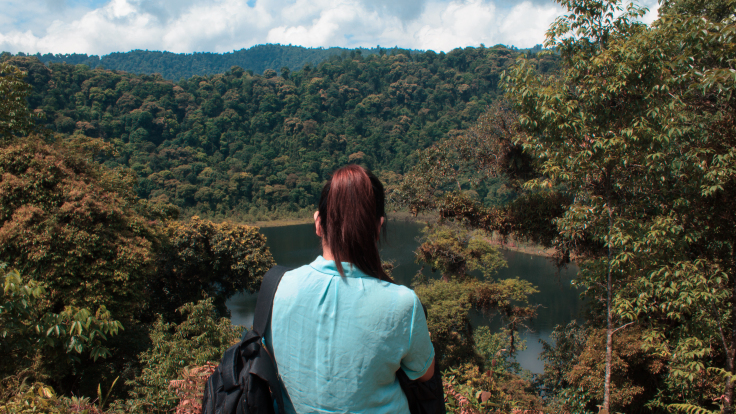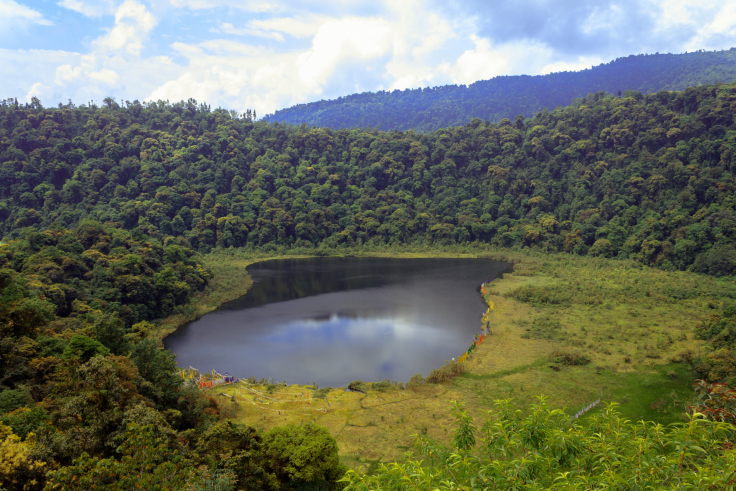 Trekker's paradise
There are a number of unexplored and beautiful trekking trails in and around khecheoplari that are waiting to be explored by guests, who are given an exclusive tour to some of the most pristine waterfalls and holy caves around the surrounding hills, something to walk for! It is a well-preserved secret, only the adventurous and brave can taste it's fruit.
From the owner's camera
pic credit: Sleepwalkersroll
More hikes!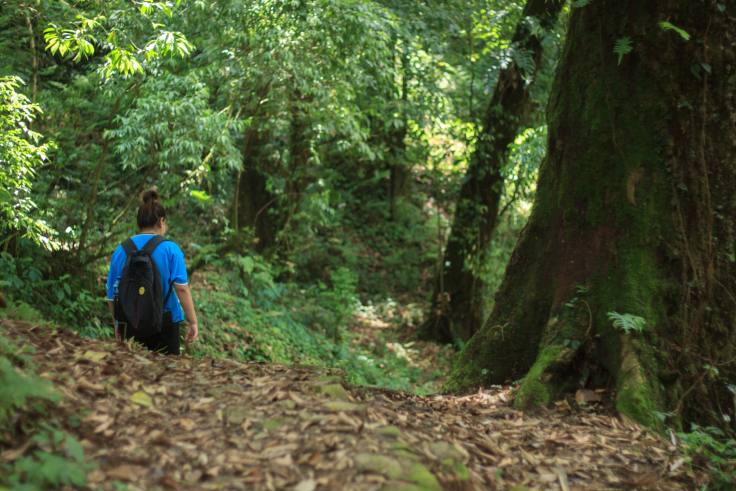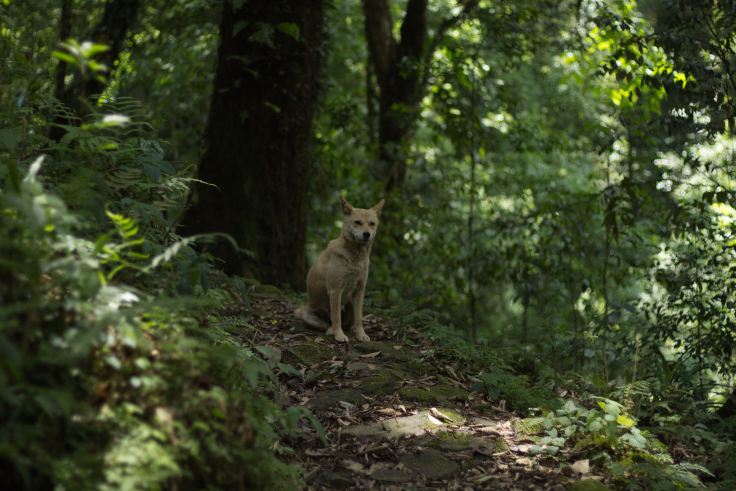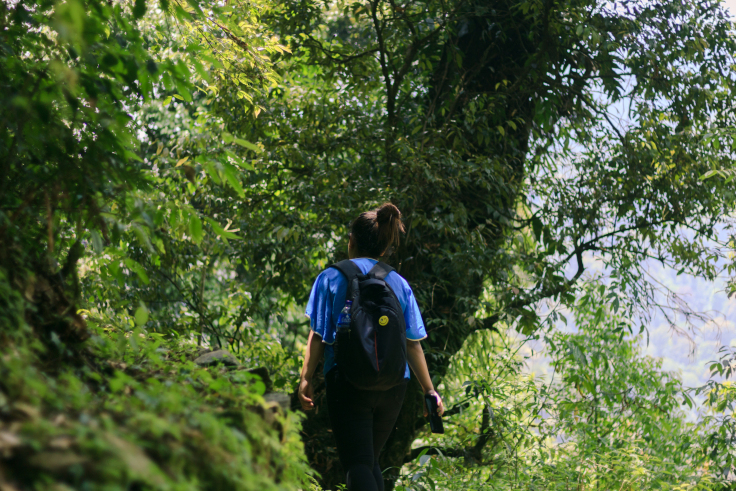 There are so many short hikes and long tedious treks that it was not possible to cover within a couple of days. so we decided to try a few before heading back.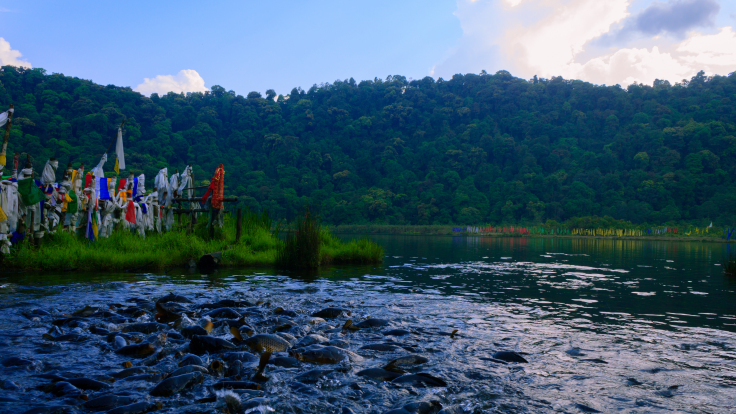 The enchanting lake!
After almost an hour of walking around the forest circling the lake, we finally reached the entry-point to Khecheoplari lake. I have faint memories of me trekking with my parents in my childhood for a whole day just to reach this sacred lake. 20 years have gone by since I visited this place again, and, except for a good number of tourists feeding the fishes, it seems like nothing much changed here.
This is not your typical lake that attracts tourists with commercial activities that makes the lake polluted. Since it is considered very holy and is worshiped, There are no activities like boating, kayaking, drinking water from lake and so on.(things that make the lake impure) though feeding of fishes is allowed. In fact I saw fishes bigger than my legs fighting for biscuits, because nobody ever goes fishing here and there may not be any natural predators in the lake too! (though I'm not sure about that, or nobody is, because swimming and diving is also not allowed)
Legend has it that the lake was originally on the north of where it is located now. The lake dried from its original place, and moved to it's present location. Migratory birds also inhabit this lake in winter as a temporary refuge, before heading north.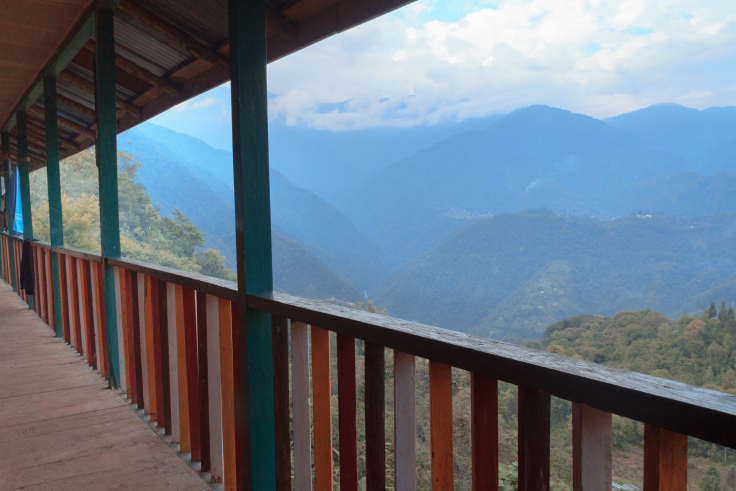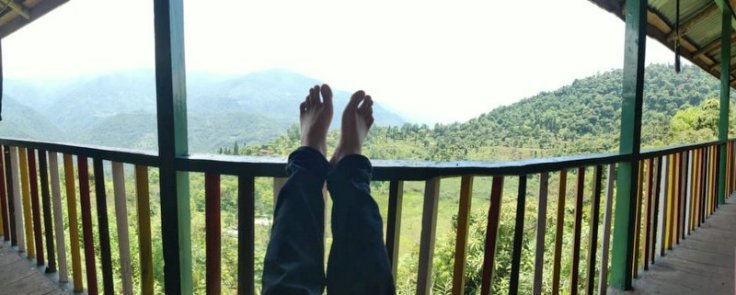 Finally our day ended with this amazing view!
As we headed back to our cabin, the staff had already started heating up the oven (It take up to 3 hours to get to the right temperature to bake a perfectly cooked pizza!)
I was Exhausted from a hectic day of hiking, uphill, downhill, around the lake, over the bushes and so on. This view was enough to forget about my aching legs and just enjoy the moment.
The grand finale
The day ended with experiencing how a pizza is made. even the tourists seemed keen to help in softening the crust. A power cut interrupted in between, but Latop made sure the show went on.
Finally the wait was over! the much awaited cheesy-delight was served with love and affection and boy did it taste heavenly!
I am not a big fan of pizza, but this one made me re-think my choices.
I left for home the next day with refreshed mind and taste-buds. This was one of the most adventurous and relaxing weekends I had in quite a long time.
Want to try out the pizza and take a hike yourself too?
Head over to khecheopalri now and feel the amazing experience for yourself now! Just try to get oregano as a barter