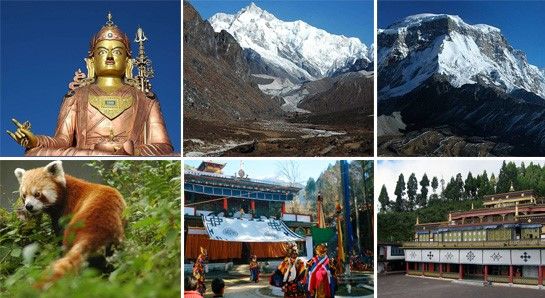 PART 1: GANGTOK & NORTH SIKKIM TOUR
When life was giving me lemons, I squeezed it and grabbed Tequila & Salt and booked my flight tickets to Sikkim three months in advance and spent all these months doing research on "how, where and when" to travel in Sikkim as this was the first time I was planning to go solo. Fear, anxiety and excitement were all doing circles in my mind and finally, on 19th Nov'16 I kicked off to Sikkim.
DELHI-BAGDOGRA FLIGHT SAGA:
My flight had just a few passengers. It took only 2hrs 20mins to reach Bagdogra. While on the flight, I was blank there was no fear, anxiety, excitement as my mind had just got its slate cleaned and was ready to write everything beautiful.
As soon I was out from Bagdogra Airport, I realized that it was too hot outside and I was literally sweating like a pig as the temperature was 28 degrees. I checked with a few Shared Taxi Drivers and as per my research it shouldn't cost more than INR 500.00 to reach Gangtok. So, after a little bargain I finalized the deal of Bagdogra-Siliguri-Gangtok (Deorali Stand) for INR 400.00.
Siliguri-Gangtok (Deorali Stand) Route:
From Siliguri, I was made to sit in a shared jeep (was a Sumo) which was carrying 10 other people including the driver, it was a little uncomfortable in the beginning due to the number of passengers and cramped seating but as we started from Siliguri the scenic avenue made it a beautiful journey.

The first mesmerizing thing that caught my attention was the Teesta River.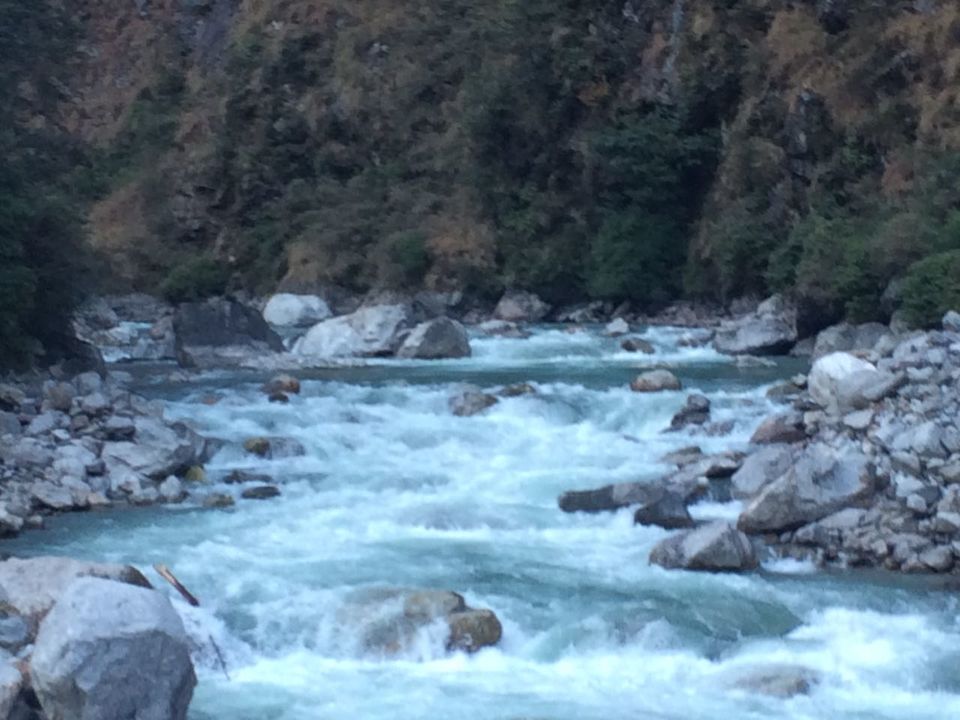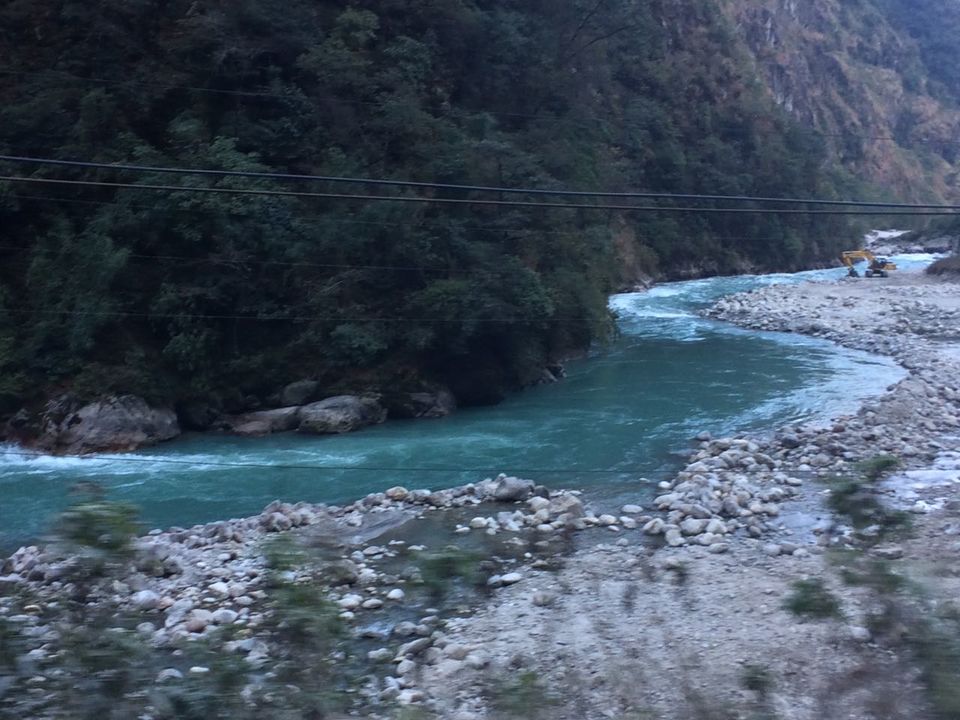 A turquoise-blue stream, babbling and burbling it sprung over the limestone rocks on its way and mesmerizing its onlookers. While driving from Sikkim to Gangtok which is typically a 4-5 hours' drive, you would get the opportunity to see the beautiful river for as long as 2-3 hours. Don't you worry; you would get to see more of it in most of Sikkim.
After reaching Gangtok (Deorali Stand), I hired a taxi to MG road which cost me INR 200.00. As it was already dark so couldn't bargain successfully, else 100 bucks is fair enough.
HOTEL STAY:
I'd decided to take a dorm room in the Modern Lodge (the only dorm room hotel in Gangtok) as it is an opportunity for one to get it touch with other travelers from across the world, find travel companions and share travel experiences. But unfortunately, the Lodge was running full, so had to settle for a hotel room.
Tibet Road and M.G. road are typically flooded with lots of Hotels and as I was aiming for a backpack trip my budget for lodging was small. So, I just needed a room clean enough to grab a peaceful night's sleep.
In my quest for a low-budget Hotel, I ended up at Hotel Pine Ridge which fit well in my criteria as it was safe and clean enough for a good night's sleep. The room cost me INR 600 per night. Well I also used my bargaining skills here as well and got the rates slashed from INR 800 to INR 600.I spent the night in the hotel as I had a sleepless night before.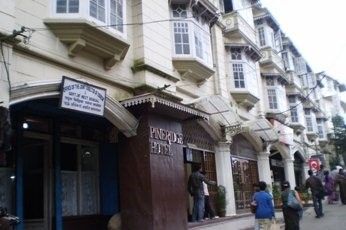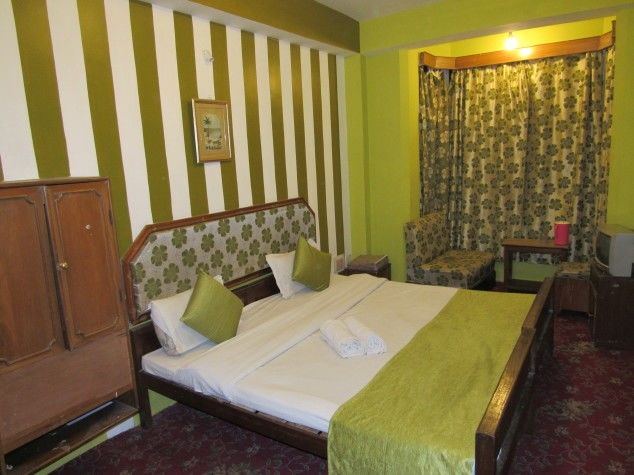 GANGTOK CITY TOUR:
The next morning, I woke up early and was all set to start for the Gangtok city tour. My research had helped me decide where all I had to go, so the list was ready with me and I wanted to cover the places mentioned below
• Rumtek Monastery
• Lingdum Monastery
• Ropeway
• Do Drul Chorten Stupa
• Nam Nyang View Point
• Flower Show
• Enchey Monastery
• Hanuman Tok
• Ganesh Tok
I did the entire city tour for INR 2100.00 on reserved taxi, and covered almost every point except Lingdum Monastery. Instead, visited Plant Conservatory, and two beautiful Waterfalls (can't remember the names though). I started for my tour at around 9am - 9:30am in the morning.
Rumtek Monastery:
A steep walkway to reach the monastery, will make you a little breathless and will tire you for sure, but it's totally worth the serene experience.
Entry Fees: INR 10.00 only. Photography is prohibited inside the monastery.
The prayer hall is a beautiful, picturesque hall wherein thousands of Golden Buddha statues are placed. The prayer hall has been beautifully painted with vibrant colors vividly bright red, yellow, green and blue. There are big wall hangings that add to the overall beauty of the wall. And as soon as you enter the hall, positivity of the surrounding just rushes into you. There is also a Golden Stupa at the backside of the monastery and a school for the monks.
I happened to meet a very beautiful solo traveler from Germany, Martina and it was her 4th visit to India. We talked about her traveling experiences in India and the best thing was that I got a very positive feedback from her about her lone traveling experience in India. It was very inspiring and a proud moment for me as a first-time solo traveler and of course as an Indian.
Do Drul Chorten: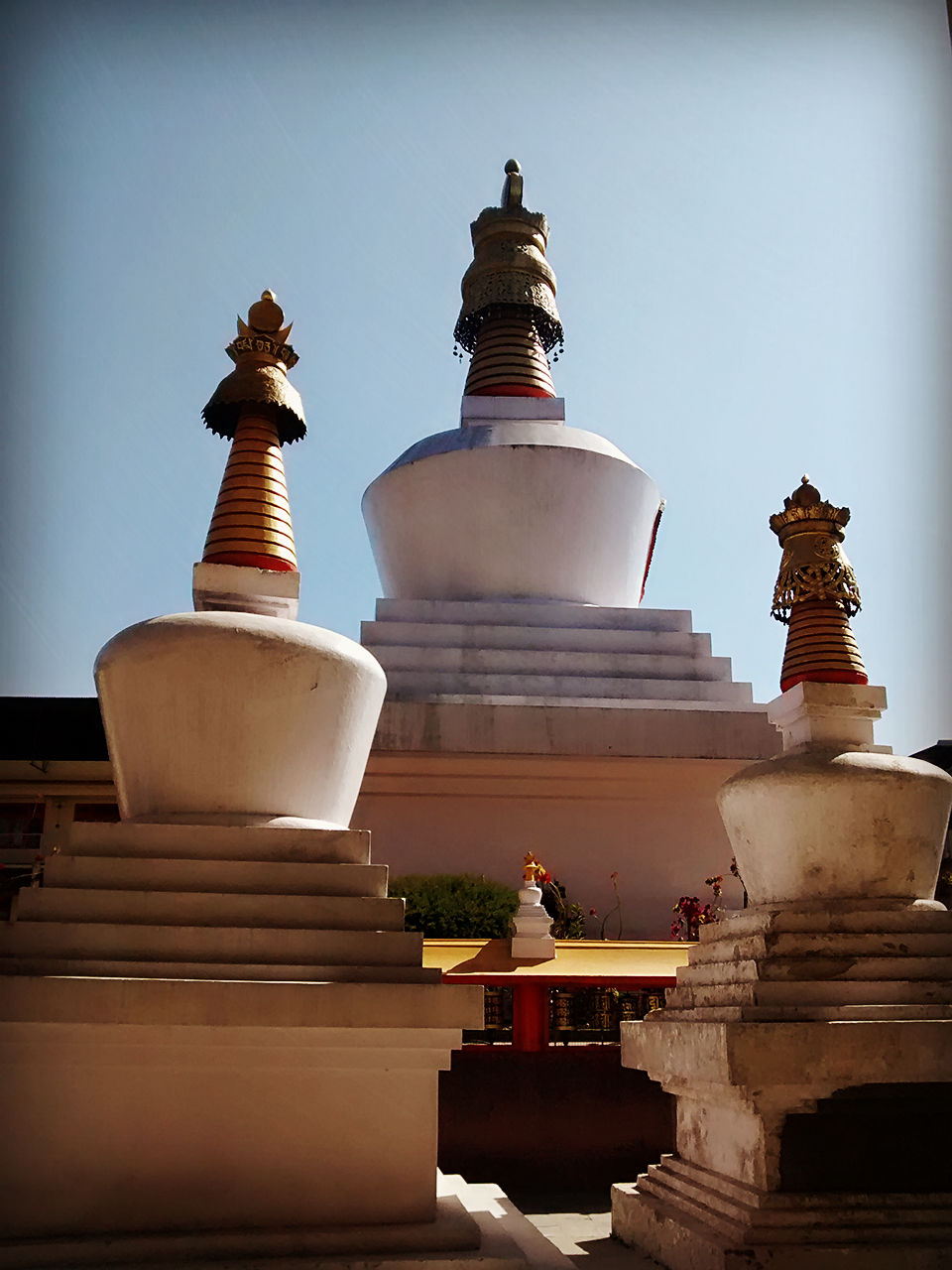 Do Drul Chorten is also a Stupa and there is a prayer hall. The best thing about this place is the spinning prayer wheels. It's like taking time off and reconnecting with your soul.
And yeah! On the way to Do Drul, there is an open-air small counter of the famous Baker's Café where you can treat your hungry tummy. The very renounced Namgyal Institute of Tibetology is also nearby and one can visit the institute. As it was Sunday the Institute was closed.
Nam Nyang View Point: the view from the point is breath-taking. But this place is more like a smoke out area and so I couldn't enjoy the beauty of the place much.
Flower Show: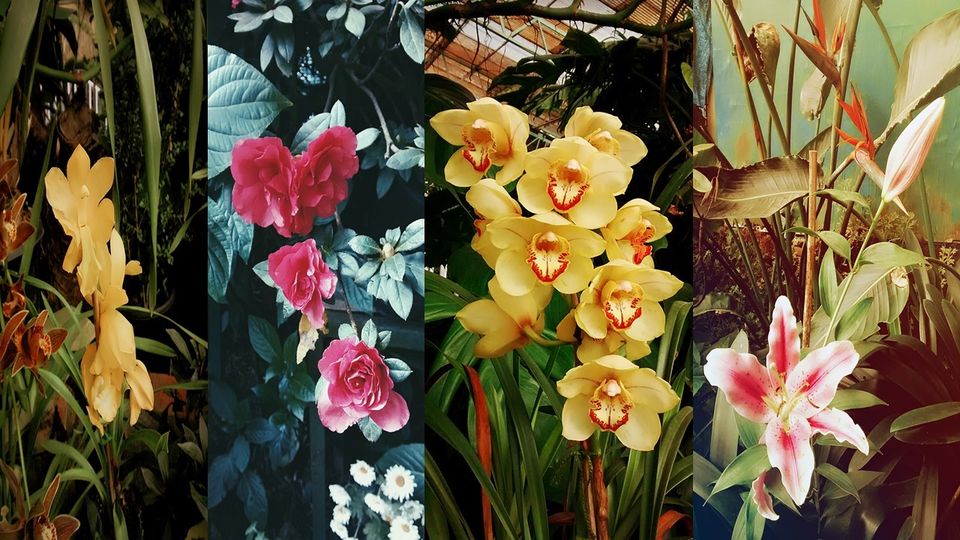 As a flower lover, this place was like a paradise on earth for me and to get to see my favorite Lilies, I was on cloud nine. I spent quality time here, there were lilies of different color, daisies, exotic orchids, and many others the names of which were unknown to me.
Entry Fees: INR 10.00 only. You can get yourself clicked in traditional Sikkim attire here for just 80 bucks. I didn't get myself clicked, although!
Hanuman Tok: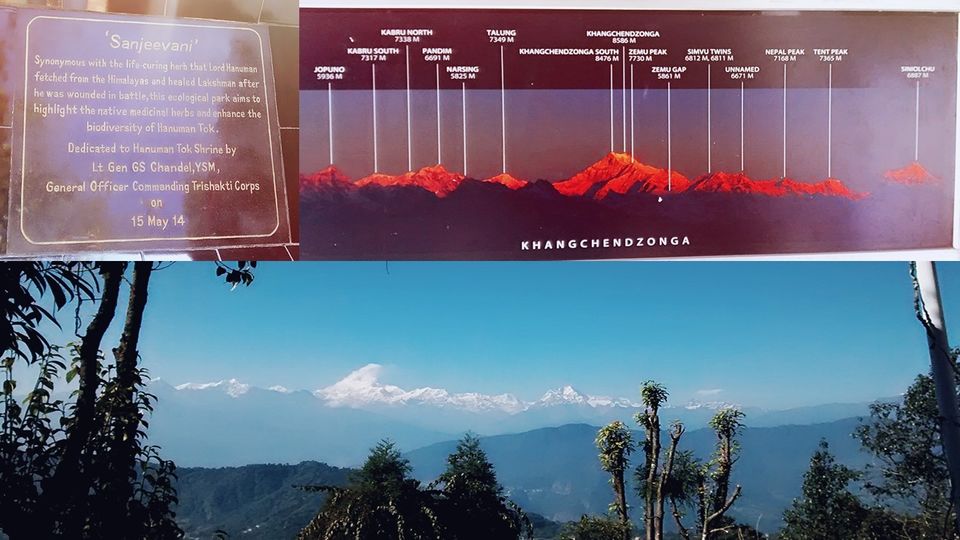 It is the place from where you get a better view of Mighty Kanchenjunga. The serene temple surroundings and the breath-taking view of Mt. Kanchenjunga peak makes it a must visit place. The view of the mountains was so good that it made me fall in love with the Mighty Mt. Kanchenjunga.
Ganesh Tok: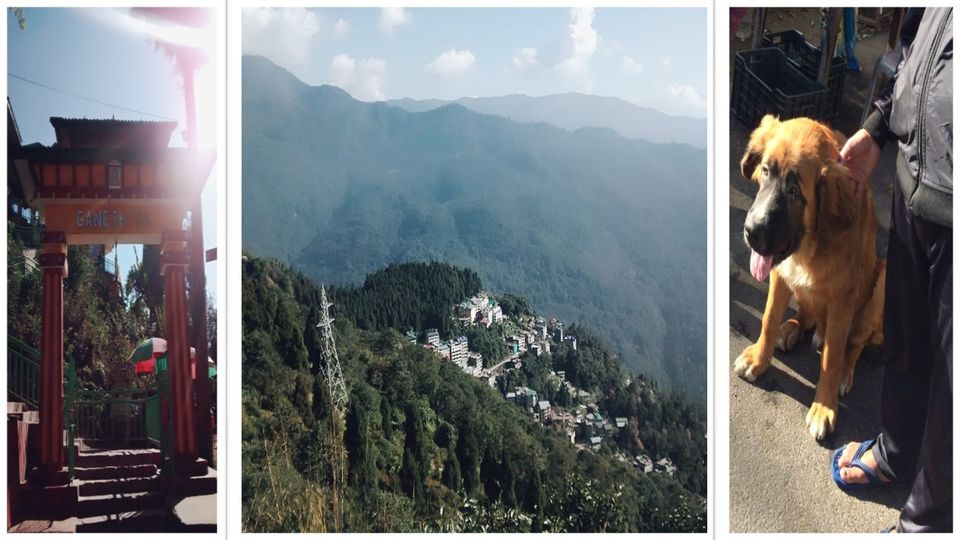 The landscape view from this place was also great. I did a little bit of souvenir shopping from here and met a jolly, amiable and handsome: Sipa.
Plant Conservatory: though the main green glass hub was closed that day but it was a good walk-around.
Entry fees: 10.00 only. Well it's good to know that Sikkim is home to rich flora and fauna. The Noble Dendrobium is the official flower of Sikkim, while the rhododendron is the state tree and Sikkim has the highest number of Rhododendron conservation. As it was not a blooming season, I didn't get to see the flower loaded Rhododendron. However, the local plant "dhuppi", and my favorites ferns stole my heart away.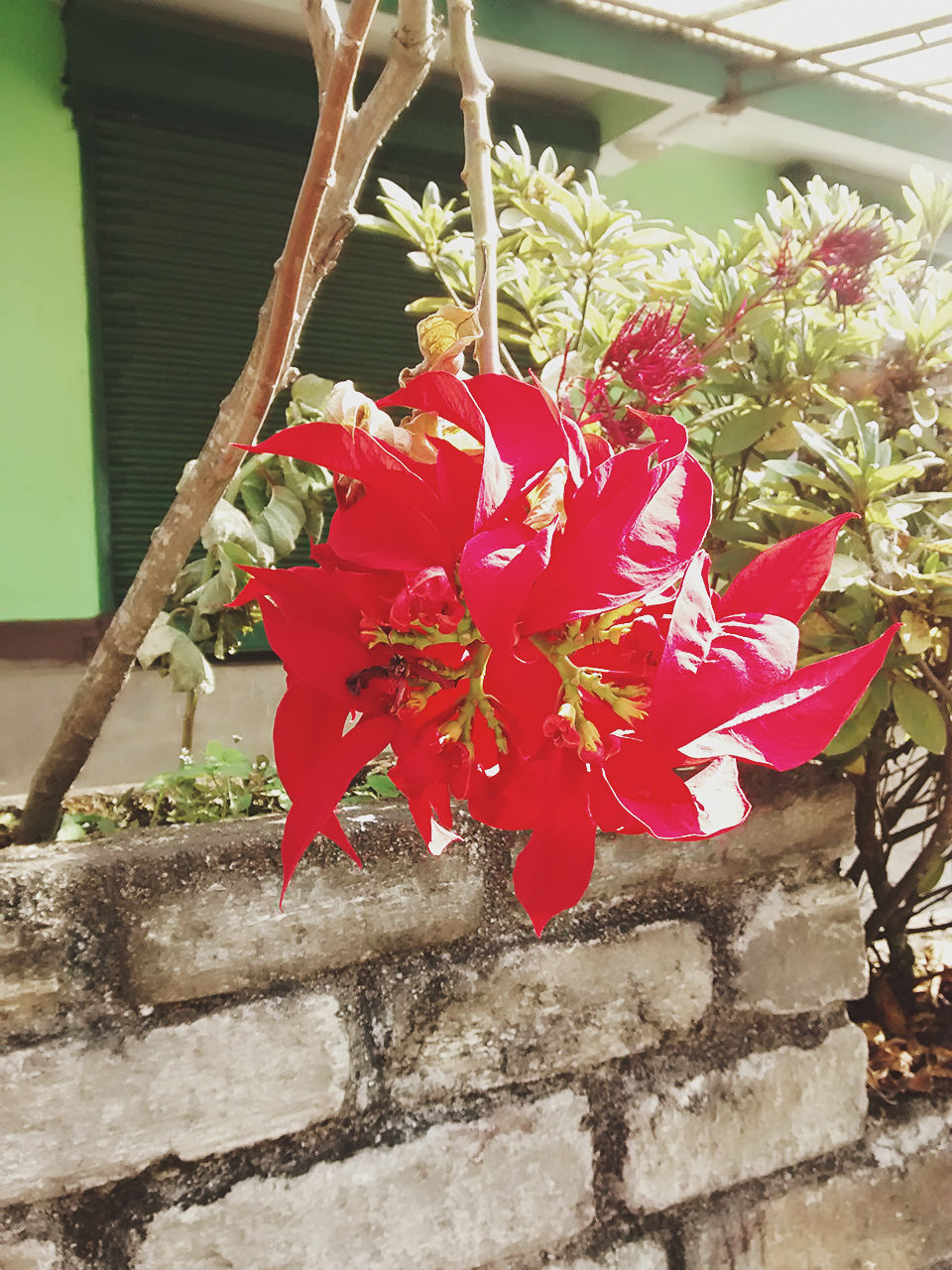 Waterfalls Saga: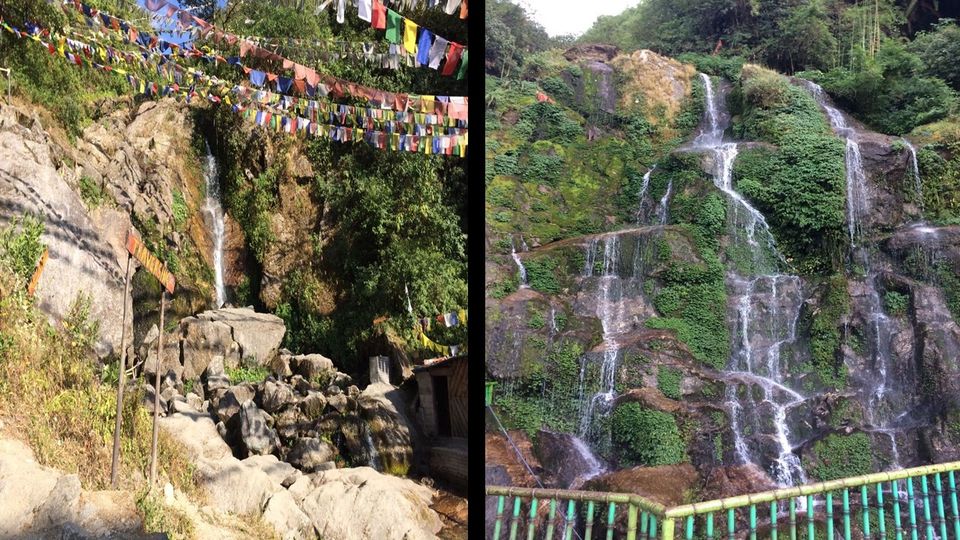 I saw 3-4 waterfalls, but can recall the name of only one and that is "Bakthang". All the waterfalls were spectacular and the view of gushing water from the mountains was beautiful. At Bakthang waterfalls, once again you can get yourself clicked in traditional Sikkim attire.
Ropeway: It was quite slow and crowded but the view was spectacular. Fees: 110.00 per adult (to-and-fro ride)
Day 1 ended on a high note, I was done with my City Tour by 6pm. As I still had some time, I explored the M.G. Road and then came back to my hotel room, packed my bags and slept off as I had to start for North Sikkim the next morning.
Things you should know about the North Sikkim Tour:
North Sikkim is a restricted area so you need an entry permission. Keep handy your passport size photographs and photocopies of your ID Proof.
And If you want to be a frugal solo traveler, then this one is for you: your research will tell you that the 2N3D North Sikkim Tour would be as expensive as 5-7K (just the travel cost), but trust me it has nothing to do with the reality.
I had done my North Sikkim Tour (2N3D) for just INR 2500.00* and that too inclusive of travel**, Food and Lodging sounds amazing, right!!
So, what I'll suggest from my experience is don't do any advance booking, rather sharpen your bargaining skills and go for Local Travel Booking. There's another benefit of this that you need not to worry about the Travel License as that is generally taken care of by the travel agents.
But, if you want to do everything on your own, you can get your trip fixed on your own from Bajra Taxi Stand (that's where Travel License are being issued)
[*2500 = 2200 Lachen-Lachung + 300 Zero Point, **shared jeep]
2N/3D TRIP TO NORTH SIKKIM:
I kick-started from Hotel at around 9:00 am for Bajra Bus Stand which is at like 10-15 mins' drive from Nam-Nyang Taxi Stand and cost me INR 100.00.
The details of the Jeep, the Driver, the floor on which my Jeep was parked and the time of reporting was shared with me by my travel agent in the morning.
We were expected to leave by 10:00am or 10:30am but as few of my cab mates came late, so finally, at 11:30 am our Jeep moved with all its 10 passengers and we headed for North Sikkim.
As my co-passengers, I had a Bong Family and a group of 5 local businessmen from Kolkata who were in Sikkim for some business-work. The Bong family were friendly and they became my North- Sikkim travel buddies. We had a good time sharing our travel experiences with each other.
The journey was beautiful and gripping. After driving for 3 hrs. or more, we reached our first stop: Seven Sisters Waterfall.
Seven Sisters Waterfall: It is a broad stream and we stopped by for 15 mins as we were already running late and had a lot of distance to cover.
Moving ahead, we took a break at Phodong for lunch and entered Mangan - district head-quarters of North Sikkim. Since we started late we couldn't stop at Singhik which is few kms from Mangan.
We reached Chungthang at around 7pm, where we stopped for a Tea-Momos break. You must try the scrumptious momos, one can even ask for Beer at the café. Finally, we reached Lachen at around 9pm for an overnight stay. After our room allocation, we had Dinner at the guest house and were even asked for Drinks as it was frizzing cold at Lachen. Lachen, has lots of inn's nearby so if you are a spirit lover then you need not worry for your night party arrangements.
The owner of Guest House and his family were very friendly and I was being given extra care as I was travelling alone. They took care of all my needs and were warm & kind to me.
Gurudongmar Lake: The next morning at 3:30am we started for Gurudongmar Lake. It took 2-2:30 hours to reach the lake. The avenue to the lake was mesmerizing, there were snow clad mountains and frozen Waterfalls. While moving, our jeep crushed the Ice on the roads.
Apparently, Gurudongmar Lake is one of the highest lakes in the world, located at an altitude of 17,800 ft. and it is considered as the most sacred by Buddhists and no one can deny that after visiting it.
The lake is enthralling that I forgot about everything. The beauty of the lake can't be described in words, it can only be felt and enjoyed. Being at such a high altitude and low temperature which was like -6 degrees, one may face breathlessness or feel nauseous. I felt the breathlessness but took a break and went back in the jeep, sipped some water and visited the lake and captured it in my camera.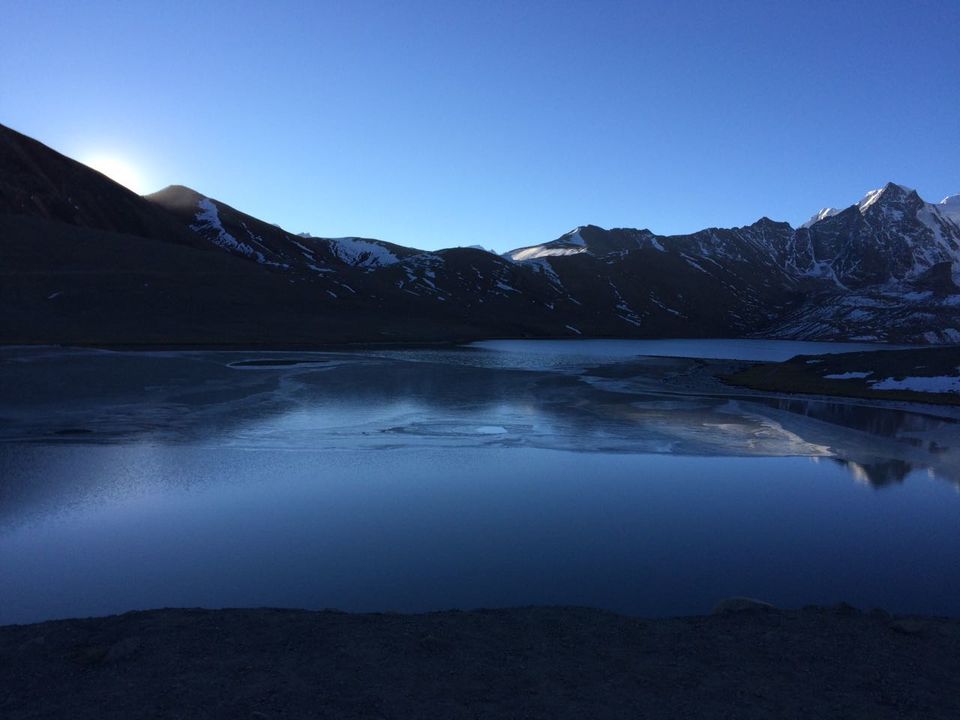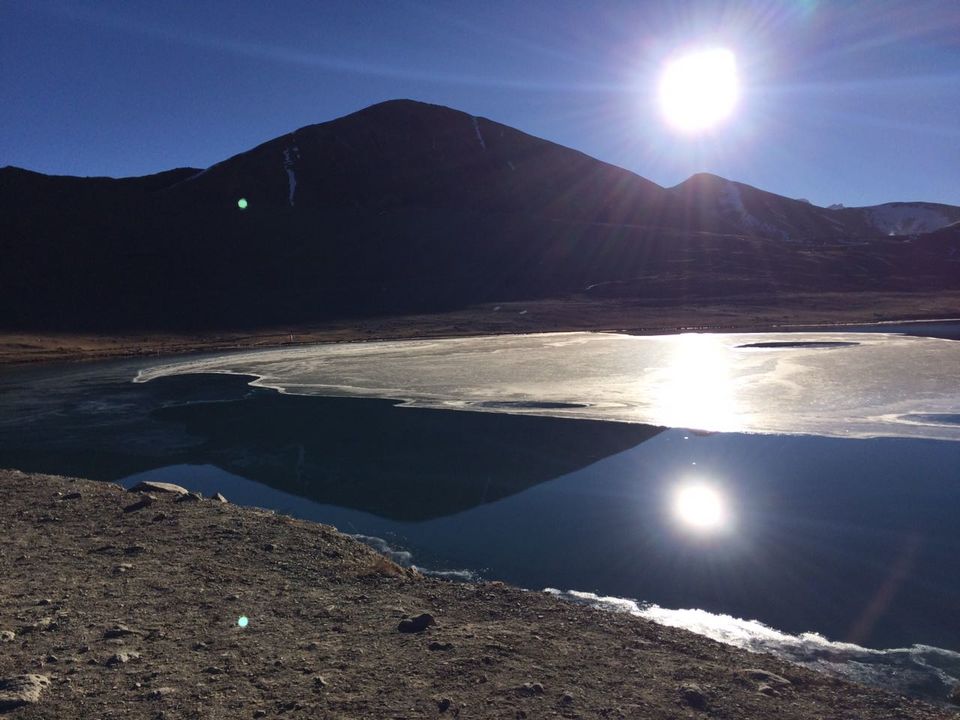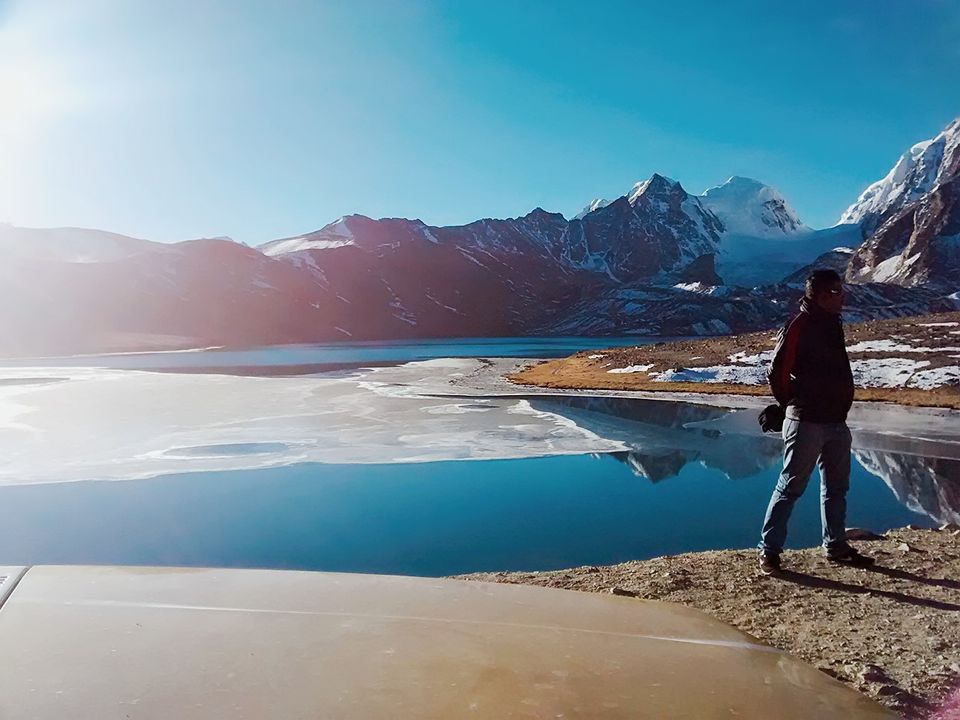 While returning, we took a break at a local point where breakfast was arranged for us (bread-jam) but I asked for Maggi.
Happiness is having Maggi on the mountains when its frizzing cold.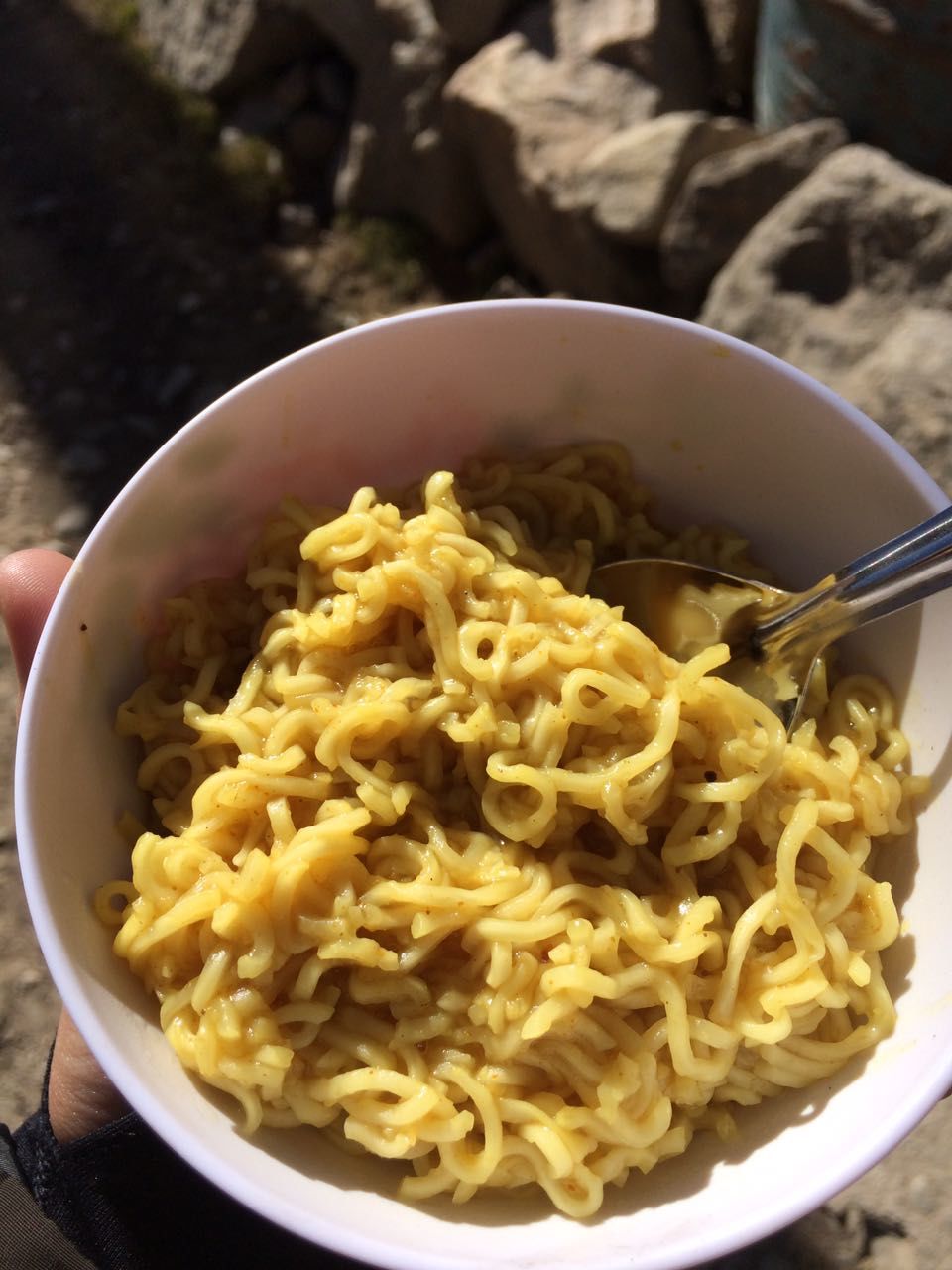 We returned to our guesthouse, had lunch and then started for Lachung. We halted at Chungthang valley and then moved ahead to Lachung. By 6pm we reached our guest house in Lachung. I took a nap for some time as was up early. At 9pm dinner was served and then again I dozed off. The next morning, we started at 6am for Yumethang Valley and Zero Point.
Yumethang Valley: Due to land slide, a year back, the road to Yumethang Valley was very bumpy and dusty and amidst all those big rocks came a valley where there was a lake with crystal clear blue water surrounded by Pine trees and the sun was shining bright which added to its beauty. Well, it wasn't Yumethang but it was equally beautiful and picturesque. Though there was no way to go all the way down to the valley as it was surrounded by hard mountain rocks that slid down after the landslide.
Moving ahead, there was a board which read "Wild reservoir area, drive slow", unfortunately we didn't spot any wildlife on our way. Later, we halted at a café where breakfast was arranged for us and we also got "Gumboots" for Zero Point, which cost INR 50.00. One can rent Mountain Jackets, Gloves and other related stuff from there.
From there Yumethang Valley was just 5 mins' away, but the valley was not as pleasing as it was mentioned. Since it wasn't the blooming season so the beauty of flower loaded Rhododendron trees were missing, for which the valley is known.
Note: Zero Point is not included in the tour package, if all your shared jeep co-passengers mutually agree to go to Zero-Point then the driver may take you to the Zero Point and will charge an extra amount for the same which typically ranges from INR 250 - 300. I paid INR 300 for the same.
Zero Point:
After half an hour or so we reached Yumesamdong or Zero Point, the landscape was picturesque. Situated at an altitude of 15,300 ft. above Mean Sea Level, Yumesamdong or Zero point is nature personified. It is a place very close to the Indo-China border. There I experienced 360-degree snow clad mountains view and there was a frozen river which was used as a bridge to crossover and climb the snow-clad mountains. I unfortunately slipped twice, so couldn't crossover. Instead I took a stroll at the place enjoyed hot Maggi being served there and had a small conversation with the vendors there at Zero Point.
I also met a Nature Photographer from Chennai, he had unfortunately slipped into the water and got wet. So, he was sitting on the bank of the river and was basking in the sun later he joined me for Maggi. We had a small conversation about our respective Sikkim tour experiences before we bid adieu.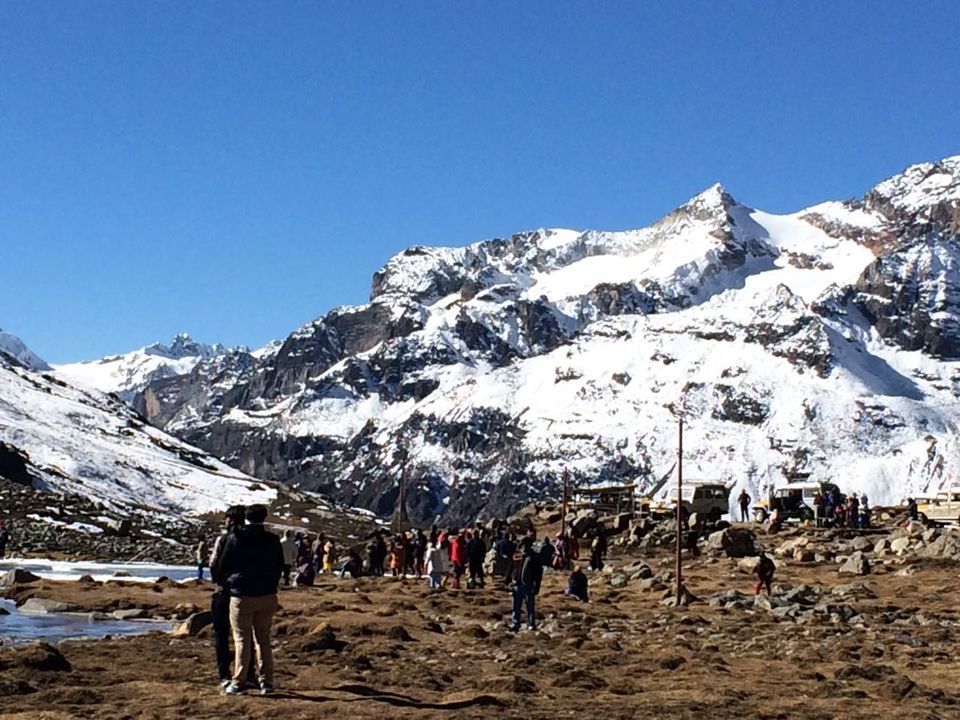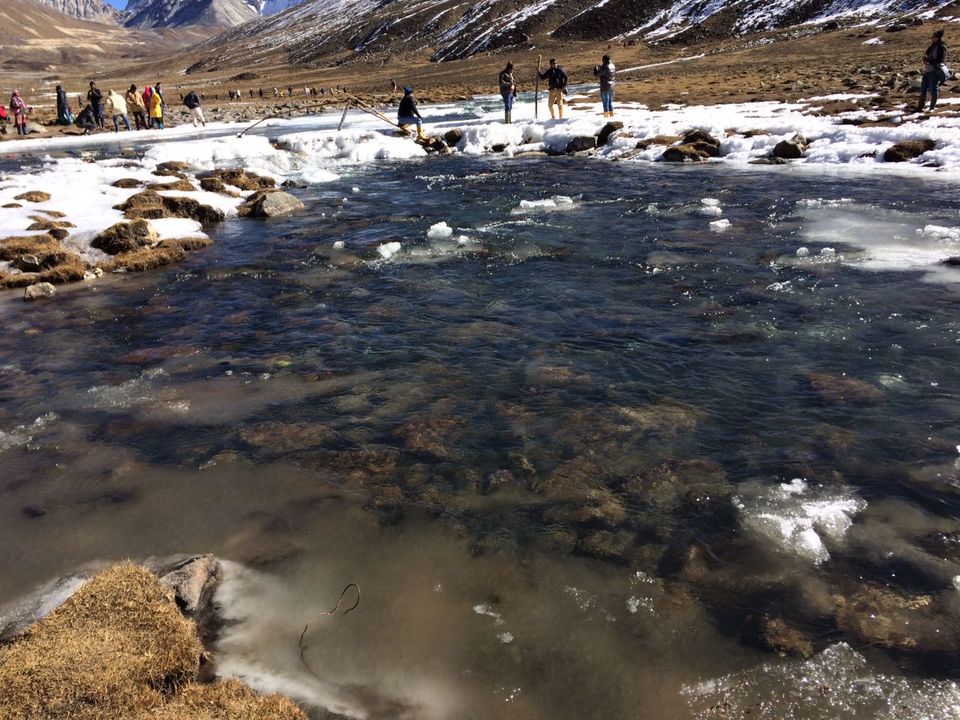 We spent some quality time at the Zero Point and then we came to our hotel, had lunch and started for our return journey to Gangtok.
We Reached Gangtok by 7pm, I took a taxi to M.G. Road and came back to the same hotel: PineRidge.
I have a Part 2 of this blog for my East & South Sikkim Tour.
https://www.tripoto.com/trip/my-journey-of-thousand-miles-begins-with-sikkim-the-abode-of-gods-5aa6b2d26e31b