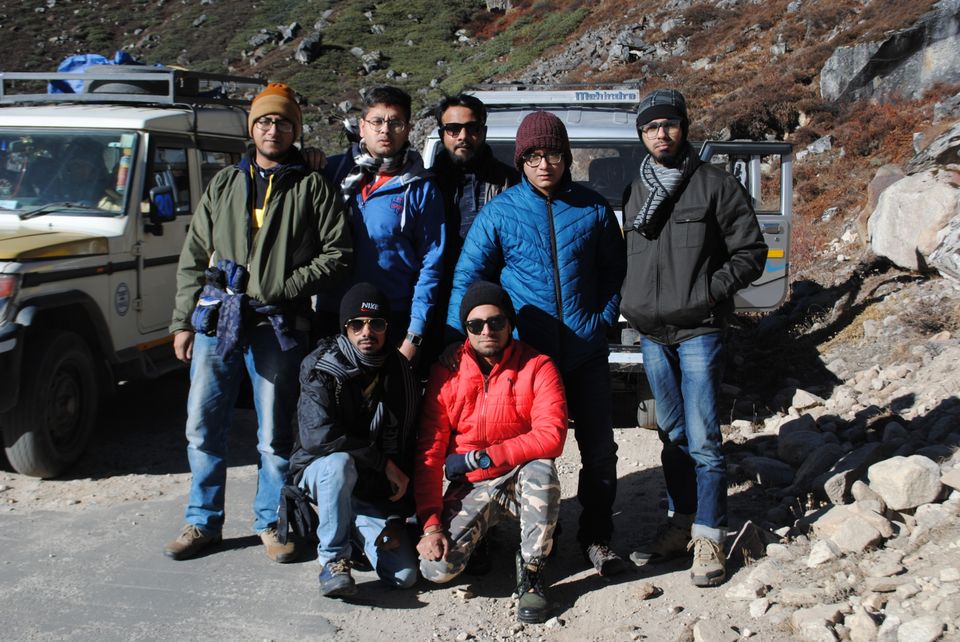 The last one and half years had been really grateful to me. I never thought that suddenly travel will become such a big part of my life.
And last November 2019, I went to North Sikkim. Although West Bengal being my native state this was my first time to Sikkim.
Luckily I have a bunch of friends who likes to give me company when I set out to pursue happiness.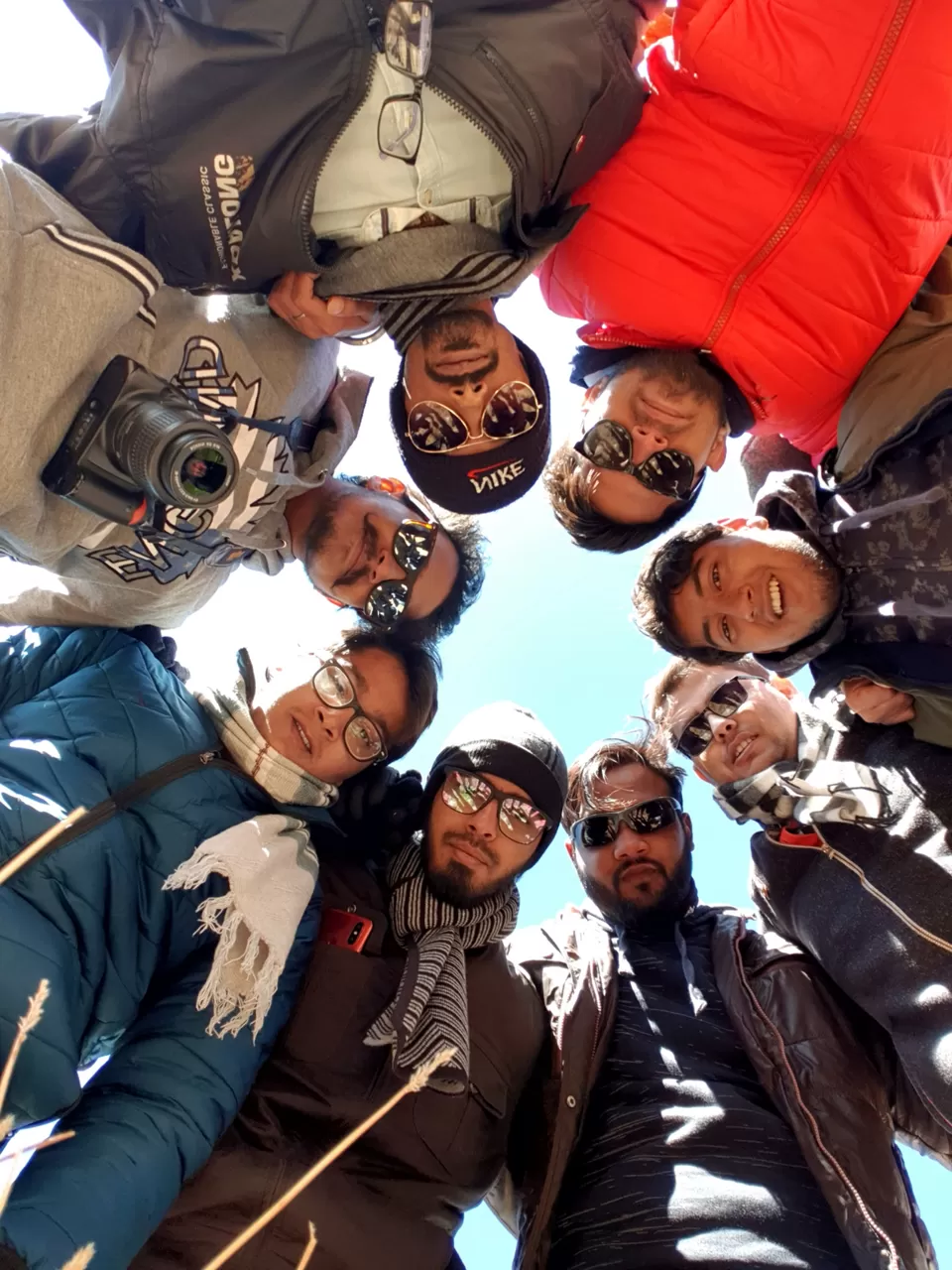 Our journey started from NJP where we reached by train. We had previously booked our cab and hotels cause it saves you time. You neither need to bargain with the cab drivers nor you need to go from door to door in search of a room. Several permits were also required which we completed before arriving so we could focus more on the journey.
So from NJP we headed for Lachung which took more than seven hours. On the way the beautiful Teesta river always travelled along with us. By the time we reached it was dark and cold. It was very torturous even when we put our hands under the water. There you will mainly find homestays and the foods were fresh and tastes great especially because they were hot.
Our plan was to visit Zero Point and Yumthang valley the next day. So we started our journey by five in the morning and it took around four hours to reach Zero Point.
Zero Point is at an height of 15300ft. It is the last point where the civilian road ends and very close to the china border. The place was amazing as it was surrounded by ice capped mountains.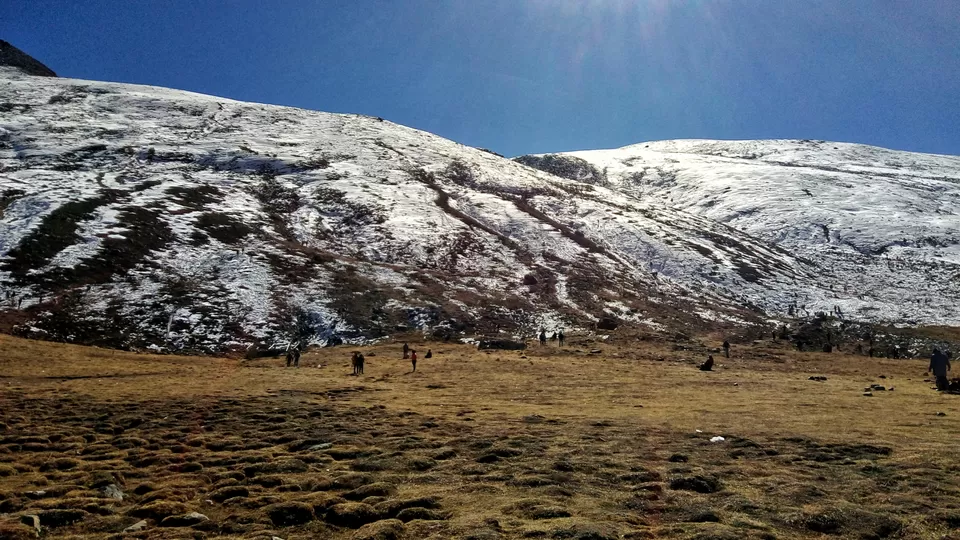 The most interesting fact that I experienced was Zero Point's weather changes abruptly. When we went there it was warm and sunny and then suddenly I had to cover my neck and nose because of the chilly wind, my nose were already running. I also wore my gloves and yet I was trembling. The experience was nice seeing ice capped mountains and playing with snow for the first time. There were also shops selling hot Maggi and Coffee.
While returning from Zero Point we stopped at Yumthang Valley. To be honest yumthang valley is more beautiful than Zero Point. Surrounded by rhododendron flowers, snow capped mountains on one side and green forest on the other.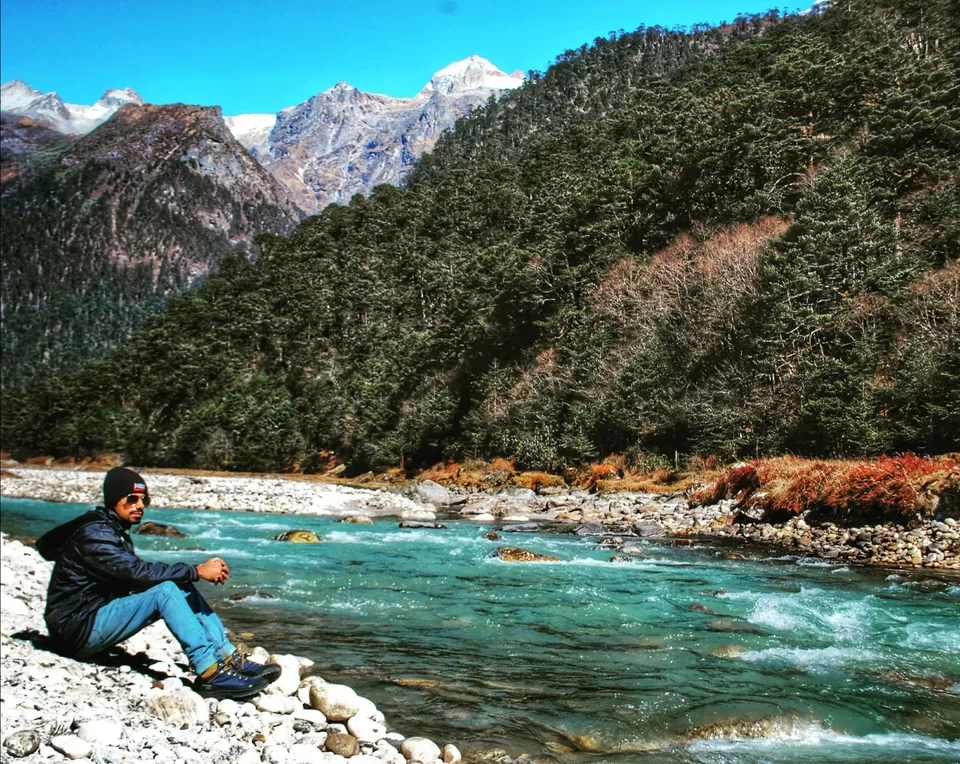 You will also get to see lots of yaks in this valleys of Sikkim.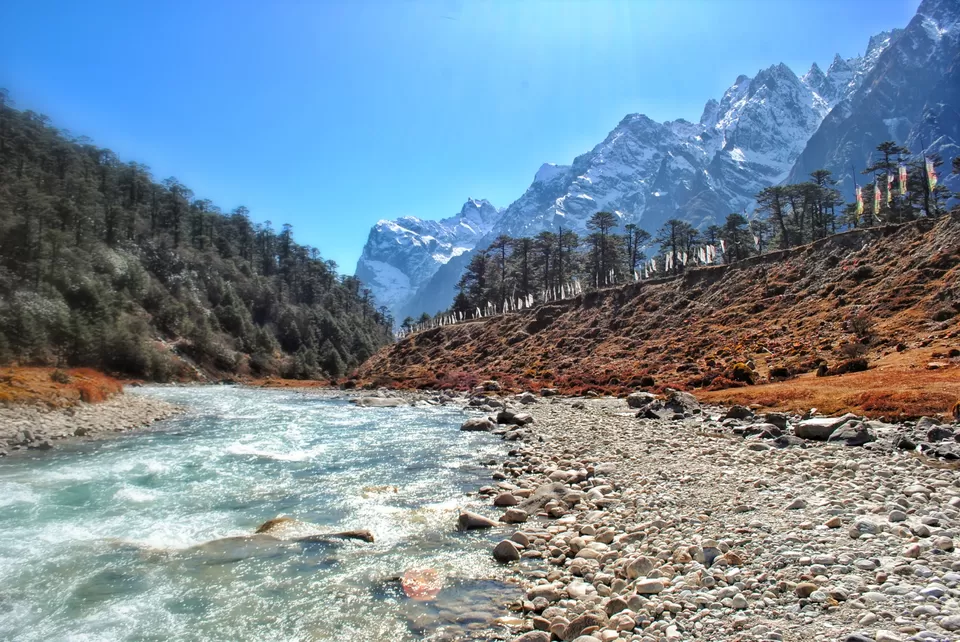 After enjoying the beautiful Yumthang we had our lunch in lachung and started for lachen.
For visiting the Gurudongmar Lake we spent the night in lachen. Lachen was another village 47 km away from lachung.
Gurudongmar was a five hour journey from lachen and next morning we were in our car by six. It was at a height of 17800 ft and oxygen layer was very thin. Some people also had breathing issues in yumthang and zero point but luckily we were all good and ready for the next day. All of us carried camphors although we didn't need them still now.
At a height of above 15000 ft we had our breakfast from the highest dhosa point which was also an army camp. It was eight in the morning and was freezing. We ordered tea and even before we could take our first sip it was already cold. I don't know how I had my dhosa, I was not ready to take off my gloves but because of hunger I had to. We washed our hands with boiling water and yet we felt nothing. The temperature was running in minus.
So for another two hours we traveled before we finally started seeing the clear blue sky, rocky and glacier mountains.
The last 10 km before reaching the lake was beautiful smooth and very different from the rest of the journey.
And finally as the car kept speeding and covered the kilometers and the hoarding showed 3km, 2km , 1km we finally reached the mesmerizing Gurudongmar Lake.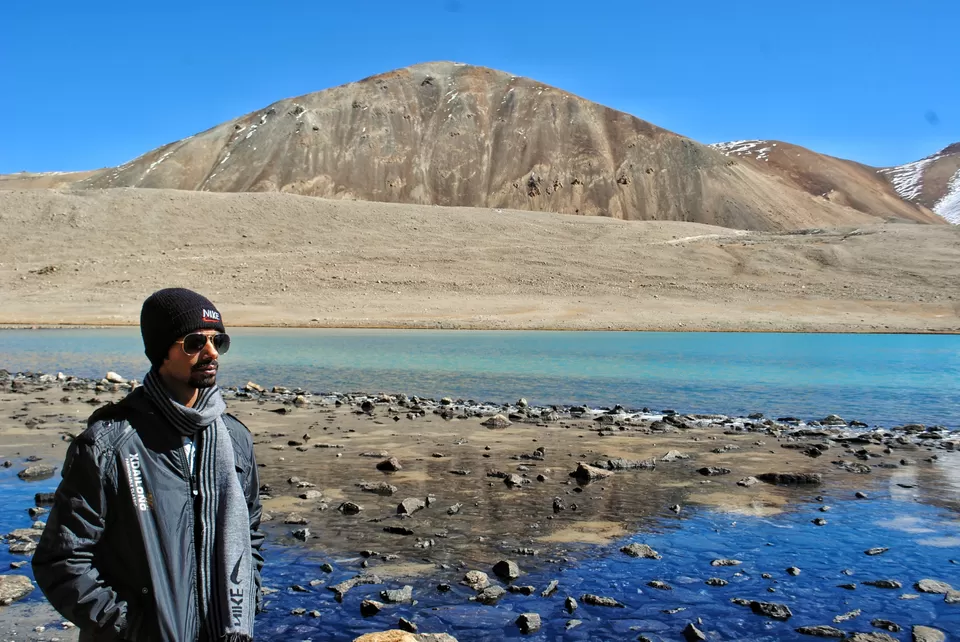 Luckily the weather was also on our side. The sky was clear and the blue color reflecting on the lake, it was heaven. The feeling was very different. I have been to several places but never felt the same.
It was neither cold nor windy which made us stay longer. We went very close to the glaciers. At that moment the feeling was very different. We came with the mindset that we will have breathing problems, we have to walk less and we cannot spend more than twenty minutes. But rather we felt so fresh, we felt as if that place had more oxygen than our cities.
That happiness made us stay for more than an hour. And suddenly I was feeling different. My head was becoming heavier and I could see that some of my friends had started breathing heavily. We didn't waste any time after that. We returned to our cab as early as possible. But by the time we reached the lake and its altitude had already taken its toll on us. Our heads were heavy and some of them were having nausea. Camphor came very handy for the whole group as we kept inhaling it until we felt normal again.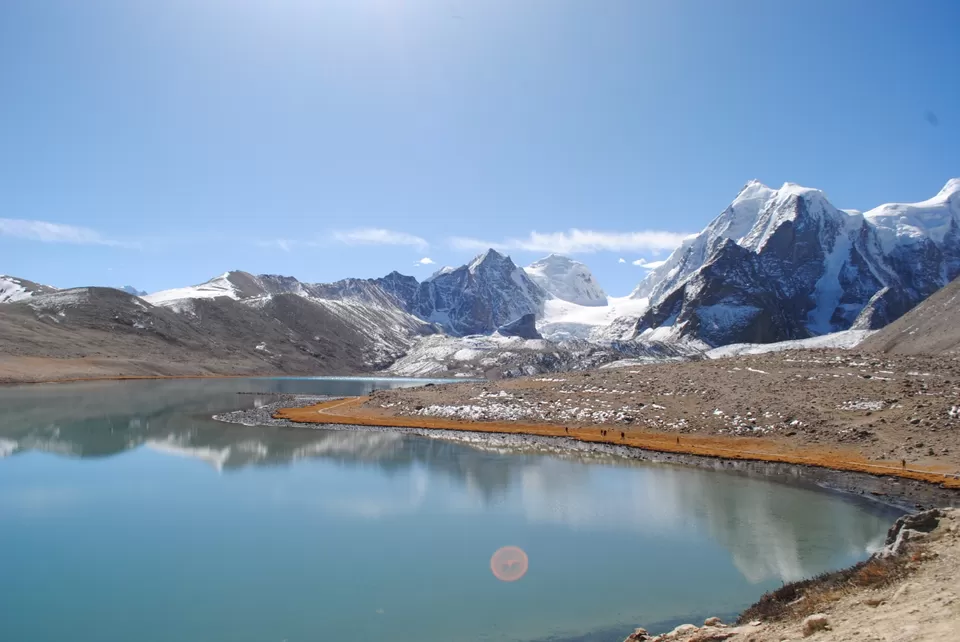 I think that was a big mistake we made. It was a lesson for us. We were still feeling dizzy when we reached Ringhim that night but after having cups of warm milk and tea we were all good again.
Ringhim was also a part of North Sikkim but less cold as compared to Lachung and Lachen. We stayed there for the night before we returned to NJP for our way back home. We also managed to get the view of the Kanchanjanga ranges.
The overall experience was great and I will recommend everyone to visit north Sikkim who do not suffer from any breathing problems or high altitude sickness.
Unfortunately we couldn't visit Kala Patthar and Tso Lhamo lake. Construction were going on in Kala Patthar and from March 2020 it will be again open for the civilians. While we didn't have the permit for Tso Lhamo lake which is the highest lake in India at a height of above 19000 ft.
Itinerary for North Sikkim : 4 days/ 3 nights
Travel to NJP or Bagdogra airport. From there hire a cab and travel to Lachung. Spend the night there.
Wake up in the morning and start your journey for Yumthang Valley and Zero Point by 5:30 AM. The early you start the more time you get to explore. After lunch start for Lachen and spent the night there.
Just like the previous morning start by 5:30 AM cause it is not advisable to stay in Gurudongmar Lake after noon. Have your breakfast in the highest dhosa point and start for Gurudongmar Lake. It is recommended to not spent more than 10-20 minutes and then start for Tso Lhamo lake if having the permit. It is 10 km from Gurudongmar and the height is above 19000 ft. So only travel if you and your fellow travellers are all in healthy state and not looking for the camphor.
While returning from the high altitude lakes go for Kala Patthar, again only if the whole team is fully fit. It is at an height of 18519 ft.
If you are only going to Gurudongmar Lake stay there for 30 minutes but not more than that and if you have the permit to visit all three then divide those 30 mins in between them so that the thin layer of oxygen doesn't start effecting you.
Return to Lachen and start for Ringhim or Gangtok or any other place which will take you to the lower part of Sikkim so it becomes easier to reach Bagdogra or NJP.
And the next morning start for NJP or Bagdogra.
Precautions :
1. People below 15 and above 40 should have a medical check up before they plan for North Sikkim. Also the family members suffering from Asthma or any breathing issues.
2. Maximum parts of North Sikkim are restricted area and foreigners are not allowed. Indians should complete all their permit formalities and should carry the original permit document with them. They need to submit 2 passport size photographs and one photo copy of a voter card or passport for the completion of the document. They can get it done previously or from Gangtok one day before their journey by 1 PM.
3. Carrying of Camphor and all other high altitude sickness medicines are mandatory.
4. And last but not the least carry your warmest clothes.
Best time to visit :
1. March-May
2. October-November