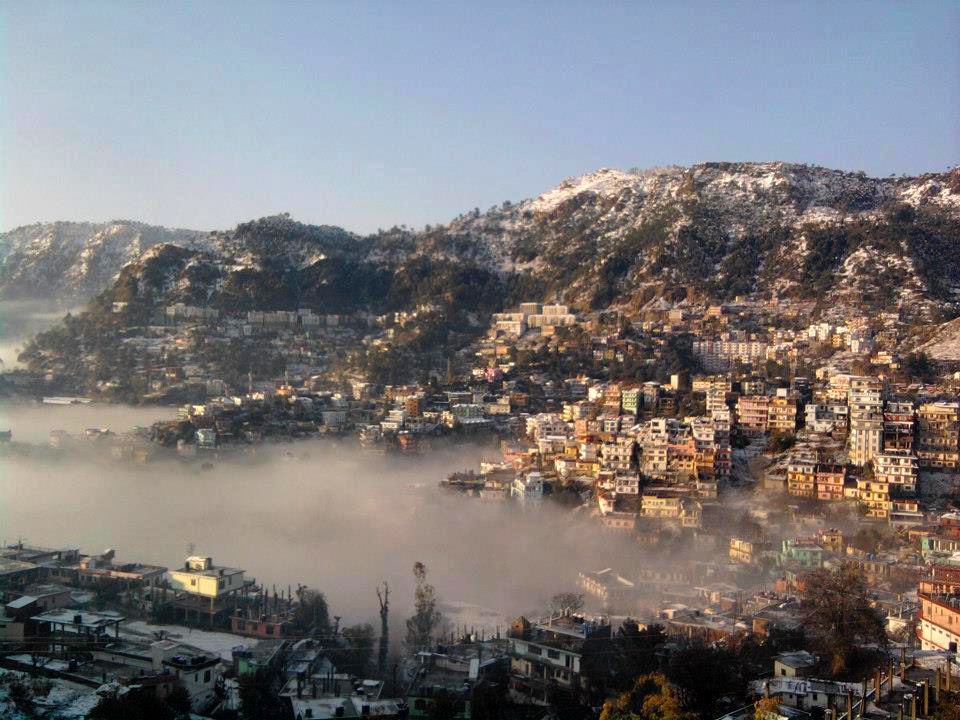 Recently, one fine Friday evening like most of us do, I too was sitting with my friends, drinking myself to misery and contemplating my life. As luck would have it, things went got out of hand pretty soon. Existential crisis set in and egos were hurt. And like true Delhites, we decided to drive down to Shimla the next morning. Lame excuses were cooked up and mails were drafted for a Monday leave and out of nowhere, we had a long weekend getaway on our hands!
The next morning, about a good 50 kms, that is, an hour and a half away from Shimla, a big yet faded board announced in bold, "WELCOME TO THE MUSHROOM CAPITAL OF INDIA". We were immediately intrigued and for once, paid attention to something beyond the trashy music playing in our car. We decided to make a five-minute tea stop at a roadside stall and as soon we stepped out of our air-conditioned bubble, we were in for a sensory treat. The weather was to die for—all we could hear was the echo of birds chirping, the wind blowing gently through the leaves of deodar tress and to top it all, a piping cup of cardamom tea. On being asked, the tea stall owner informed us that we had stopped in a town named Solan, best known for it's mushroom plantations and locally-made Himalayan malt whiskey. Mushrooms and whiskey, we were sold immediately. Another time, Shimla!
WHY SOLAN!
Peace. Peace is the name of the game in this quaint little town. Himachal Pradesh houses some of the most popular mountain vacation spots in the country with breath-taking views of the mighty Himalayas, the most famous amongst them being the capital city Shimla. With a very heavy heart, I have to admit that Shimla's charm is long gone. As a kid growing up in Delhi, I have innumerable memories of trips to the Queen of Hills. However, the commercialisation has happened at such a massive pace that the hill town has become synonymous with filth, overpriced hotels and complete chaos.
On the other hand, Solan is still far away from the ghosts of commercialisation. With a landscape so beautiful and well-kept that it acts as a sight to sore eyes, Solan retains its simplicity and the old world charm of the British Era.
The people are warm, caring and rooted to their culture. If you're expecting a place that is always bustling with activity, you might be disappointed. And that is why I fell in love with Solan all the more. How I wish I could live the laidback life all 365 days of the year! Sigh
However, there's still a lot that one can do when in Solan and here's a quick lowdown of a few of those-
1. FIELD WORK! – Being the mushroom capital of India, Solan has some of the biggest mushroom farms in India. Visit a mushroom farm to know all about the farming process and be prepared to be blown away by the number of varieties out there!
2. MASTERS OF THE MALT – The Solan Brewery is one of the oldest in the country and opened up way back in 1855. The brewery, now converted into a distillery is home to the historic local-made malt 'Solan No. 1'. Get a tour of the brewery and on your way out, grab a bottle! WARNING – It's too good to be true! Might take you some time to let the feeling soak in. *hic*
3. GOOD VIBES ONLY – If you're looking to add a spiritual experience to your trip, head to the Shoolini Mata Temple, one of the oldest and most famous temples in the region dedicated to the local goddess Shoolini.
4. WINDOW SHOPPING – Like most hill stations, Solan too has a mall road to itself. Take a stroll down the market and get some Himachali takeaways for your loved ones back home. For all you bargaining experts, don't miss out the Tibetan market in Anand Complex for some steal deals!
WHAT TO EAT
Solan has quite a few impressive options for food hunters looking to get a taste of some authentic Himachali cuisine. And me being me, while my friends were taking an afternoon nap I decided to step out and go on a small food trail of my own and here are some of the gems that I discovered.
1. MODERN DHABA – Located opposite the Solan Bus Terminus, Modern Dhaba is easily the most iconic eatery in the whole of Solan. This no-frills joint serves the best Aloo Paranthas with a green chutney that will titillate your taste buds. Pair it with a cup of hot tea and I assure you, it's as good as it gets.
2. HIMANI RESORTS – The in-hotel restaurant of Himani Resorts offers a wholesome fine dining experience dishing out some delectable Himachali and North Indian dishes. Also, if luck is on your side and you manage to get a table on the roof-top, savour their famous Butter Chicken, Mushroom Mutter or Mutton Rogan Josh while over-looking the entire city.
3. PREMJEES – To round off that sumptuous meal, walk down to Premjees on the Mall Road for the best sweets in town. A landmark in Solan, Premjees, hands down has the best Gulab Jamuns you could possibly imagine.
HOW TO GET THERE
New Delhi is the closest metro city to Solan and here are all the options you have to reach the mountain town from the capital city.
BY ROAD – Solan is connected to Delhi through NH1 and it takes approximately seven hours to cover the 310 km distance.
BY TRAIN – If you plan to take a train, the Delhi-Kalka Shatabdi with a travel time of four hours is the safest and best bet. From Kalka station, one can catch the Kalka-Shimla Toy Train and enjoy the scenery or hire a local cab to reach Solan.
BY AIR – Solan is a two-hour drive from the Shimla Airport, the closest airport connecting it to Delhi.
ACCOMODATION
All set to plan your trip to Solan? Here are some accommodation options that will ease your work a bit:
Sitting in my office chair on Tuesday morning, with my mind, heart and soul still up there in the hills, all I could think was how funny life is! Sometimes we ourselves don't know what we want. Thank god for destiny!
Have similar experiences to share? Need help planning your next trip? Head to the community forum for all your travel related queries.