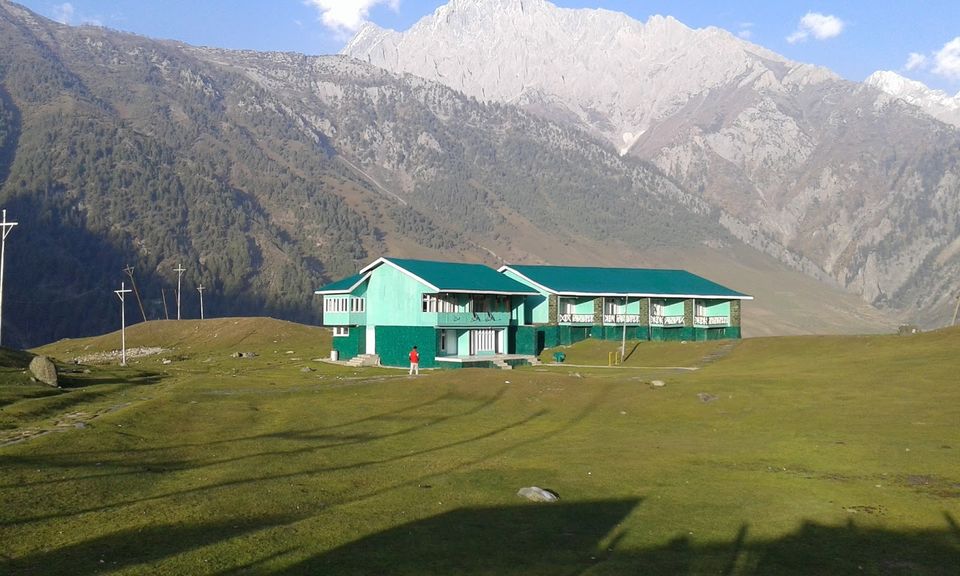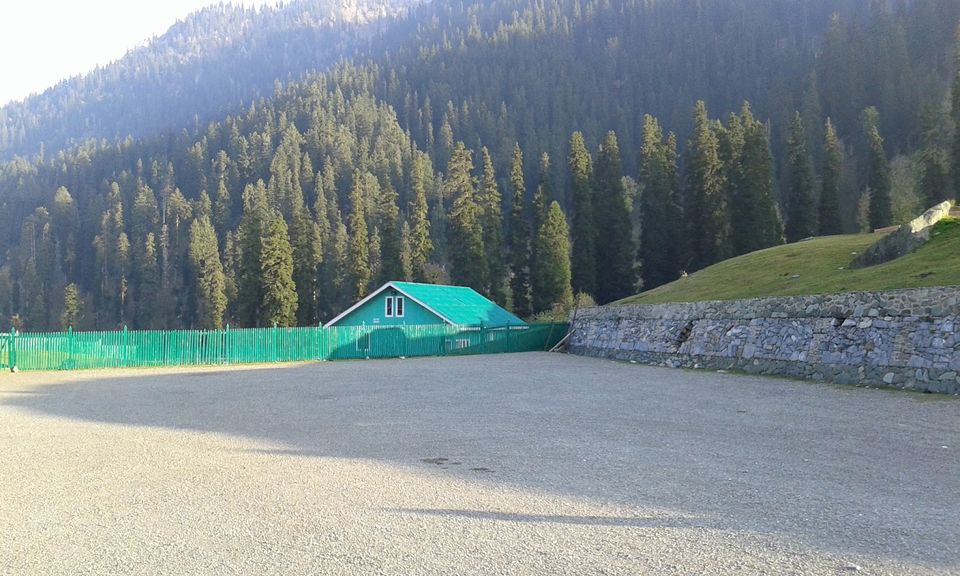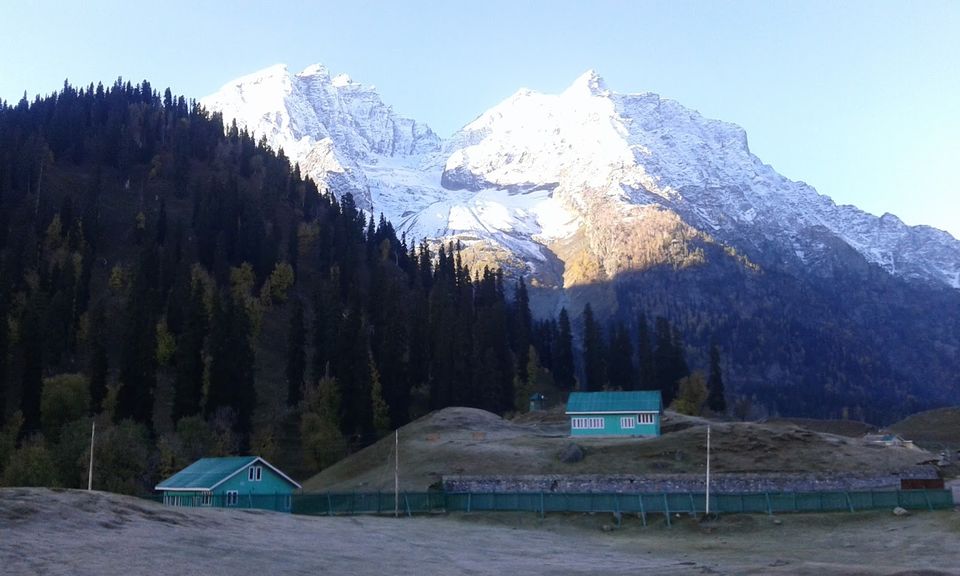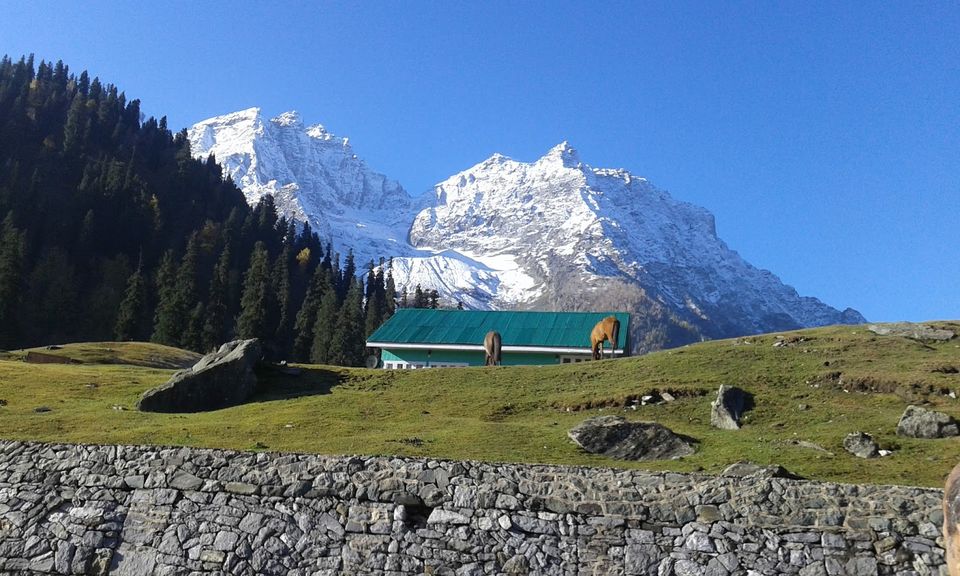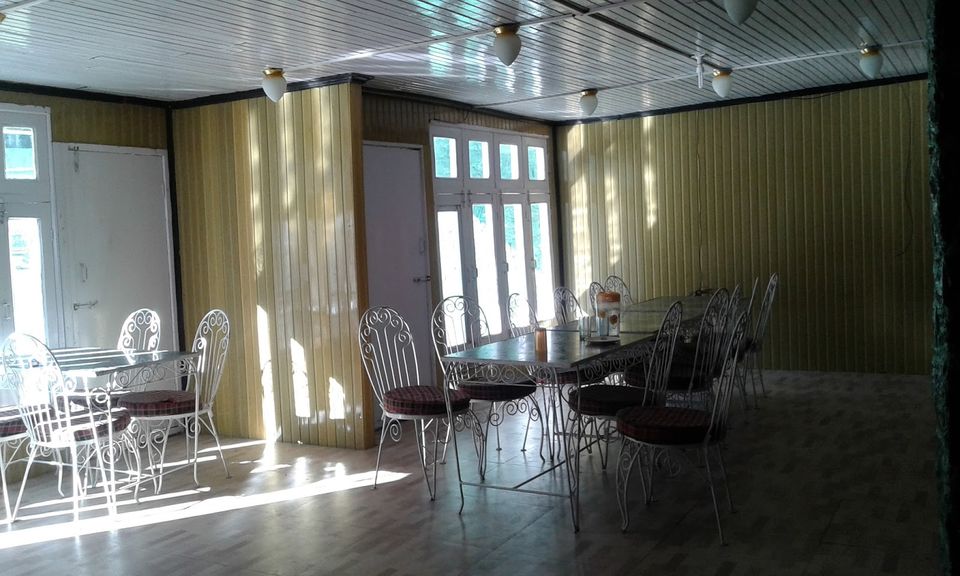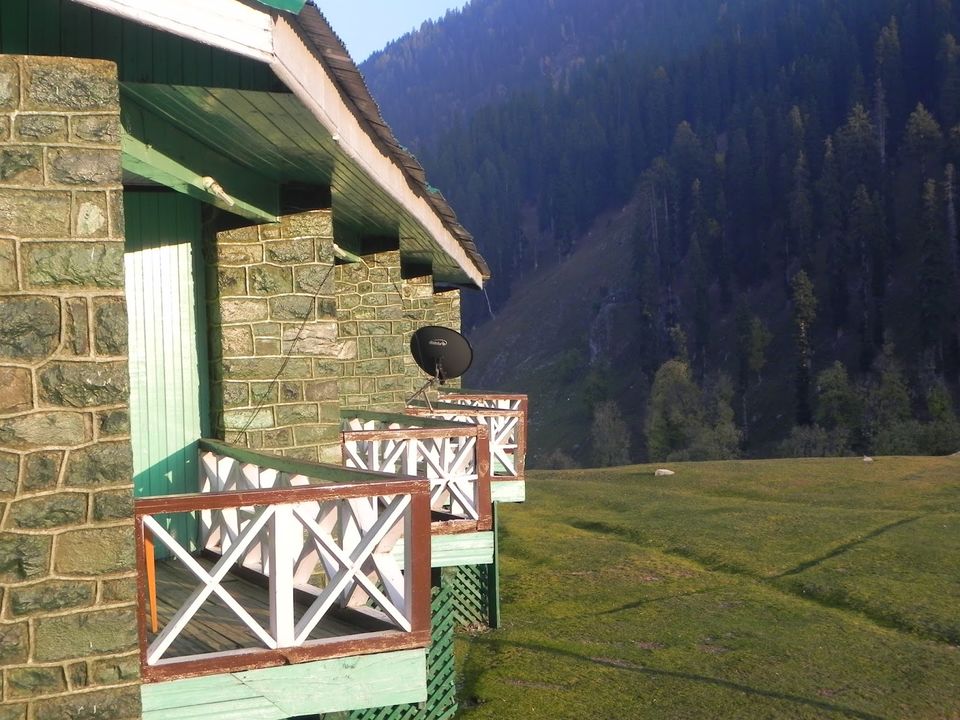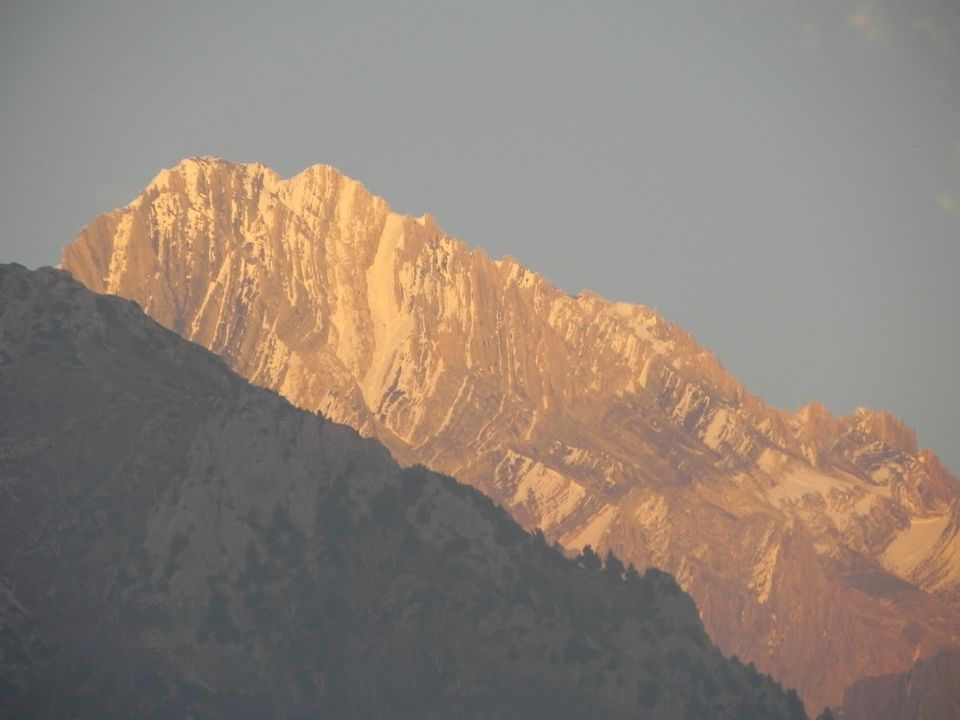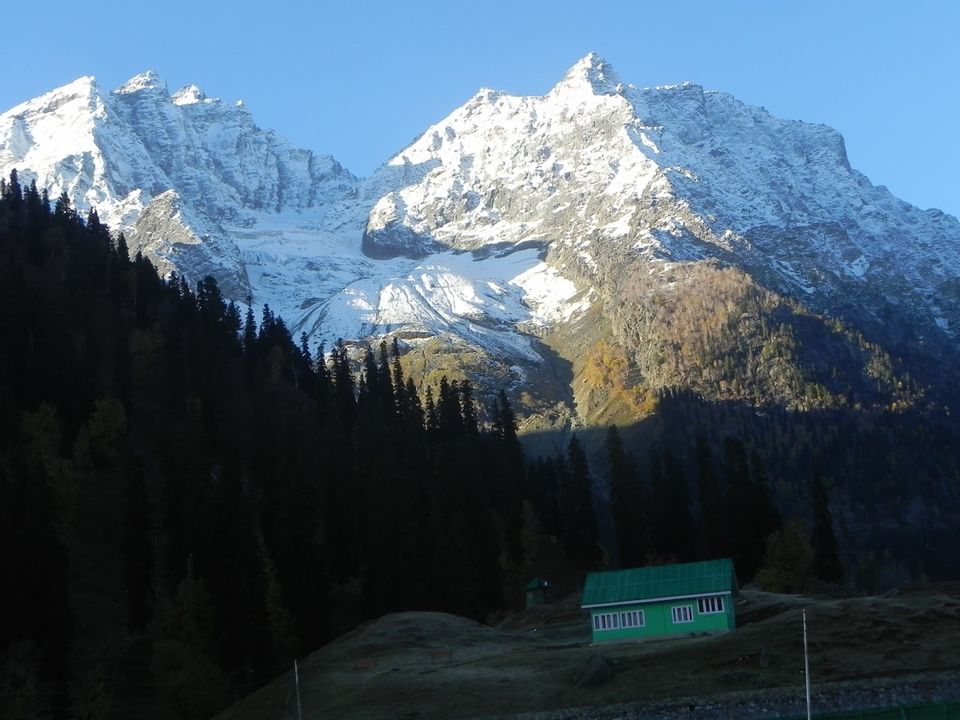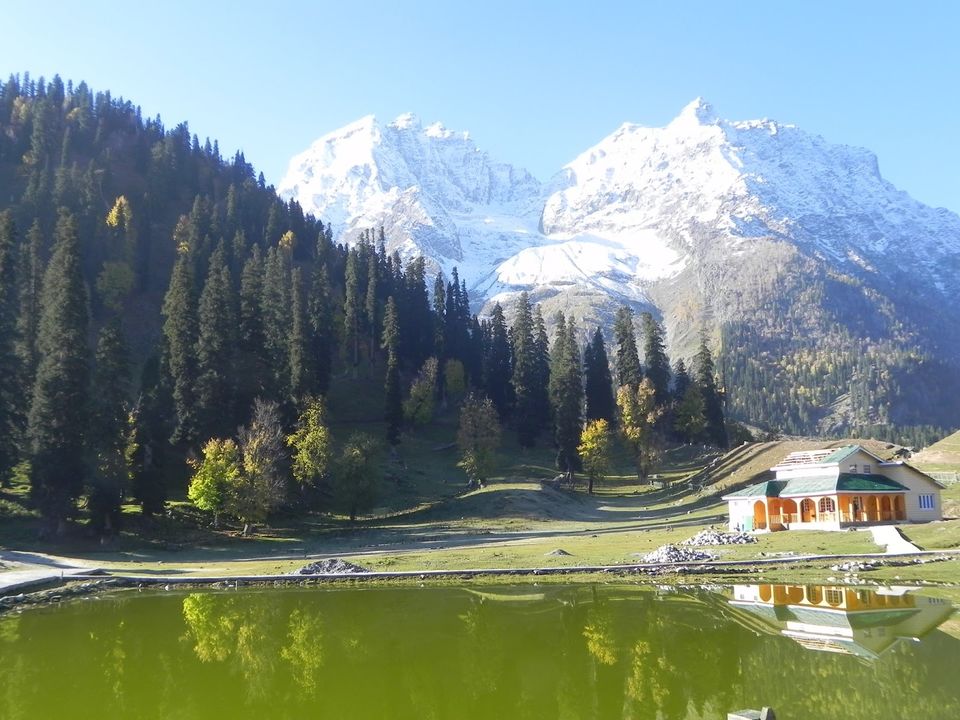 Most tourists visit Sonmarg on a day trip from Srinagar and hardly carry back any special memory apart from its mesmerising beauty. But to soak in the flavour of Sonmarg one needs to spend at least a night there...in the JK Tourism cottages which are located much above those on the street level.On approaching Sonmarg in the glow of the late afternoon I realized how true the age old adage about Kashmir was..if there is heaven anywhere on earth,it's here...it's here...it's here.Our driver-cum-guide had advised us beforehand to insist on the cottages higher up.The manager,initially reluctant,had to give in as we were the only occupants in the sprawling property in weeks as hundreds of bookings had been cancelled due to the devastating flood in Srinagar and adjoining areas.We were absolutely clueless when Mushtaqbhai drove us uphill through the meandering paths.As he stopped in front of the JK Tourism cottages we were speechless! Never in my life had I seen anything similar...Four cottages surrounded by lush alpine vegetation...pine,birch and other trees... scattered here and there...one quite far from the other...with snow-capped peaks hemming in on three sides.With the sun having almost set, the entire region was bathed in a surreal golden light. It was a sight out of a dream.I felt I could do away with travelling any more.
As the sun went down darkness engulfed the hill top and we were told that power supply would remain suspended from 6 to 10 in the evening. There was one more piece of good news....that only BSNL worked there and needless to say I was carrying a phone with a different network.We met the caretaker who happened to live in the room adjacent to ours.He was a tall, lean, lanky young fellow with a beard, dressed in the typical long jobba of the Kashmiris.On being introduced to him I felt he was a no-nonsense person, a man of very few words, unwilling to open up. Initially he was reluctant to cook dinner for us as he had almost no provision for tourists.But when we insisted that a bare basic dish would do, he agreed.We could only know that his name was Zakir and he had been working there for the last ten years as a casual staff on an extremely meagre salary. Our driver left us with the assurance that he would be just a phone call away in the town below in case of any emergency( though that call could be made only from Zakir's phone).To be frank, we felt a bit helpless and insecure.Throughout the evening we remained confined in our room in the light of a candle....totally cut off from the world.It was terribly cold outside and pitch dark.There was not a single living soul nearby except Zakir who silently worked in the kitchen downstairs and the utensils that made some noise.The sprawling two-storied hut was absolutely dark except our room and the kitchen.We felt it could be a perfect setting for a spine-chilling horror story.

As city- bred people fed on the mainstream media we felt a little uneasy.Somewhere deep down I could sense a feeling of insecurity, and fear ---what if Zakir suddenly brought out a gun from under his jobba? He resembled the quintessential AK-47 toting militant seen in newspaper pictures and deeply embedded in our psyche.In order to ward off this sense of unease I came downstairs and peeped into the kitchen.He was busy cooking in the dim, flickering light of a candle.I tried to strike up a conversation but he didn't seem much interested.So I got back upstairs in the light of my torch.He called us for dinner and served very basic food items which were tasty.But all this without a word.Power was restored at 10 and we felt a little relieved though that gnawing sense of insecurity persisted. He came to our room, switched on the electric blanket, kept a jug of water and just said that in case we needed anything we could call him in the adjacent room.

The morning dawned and it felt we were truly in heaven. We saw Zakir and talked to him.Last night's apprehensions and anxieties were dispelled as we found him to be a shy, reticent village youth, poor and struggling for survival.I felt ashamed to have been suspicious, such is the power of mistrust of and disconnect with these poor people who belong to the same country as I do.

I may not visit Sonmarg again but if I do I am sure to spend another night in that same 'God-forsaken' heaven and possibly in the company of Zakir!
This trip was originally published on Travel et cetera.