Among all the chaos and the inevitable anxiety that every student faces for the question 'What after college?', a break, a mountain one at that, was all I cared to look forward to. June of 2017 blessed me enough to quickly organize the trip, convince my parents and then run towards the hills! And so I did.
We boarded the 11:00 PM VOLVO from Delhi and reached Bhuntar the next day around 12 PM. Its from Bhuntar that you take a cab or local bus to reach Kasol. But we made a stop at Katagla first to shrug off the exhaustion from our long journey and spent the night in sheer comfort.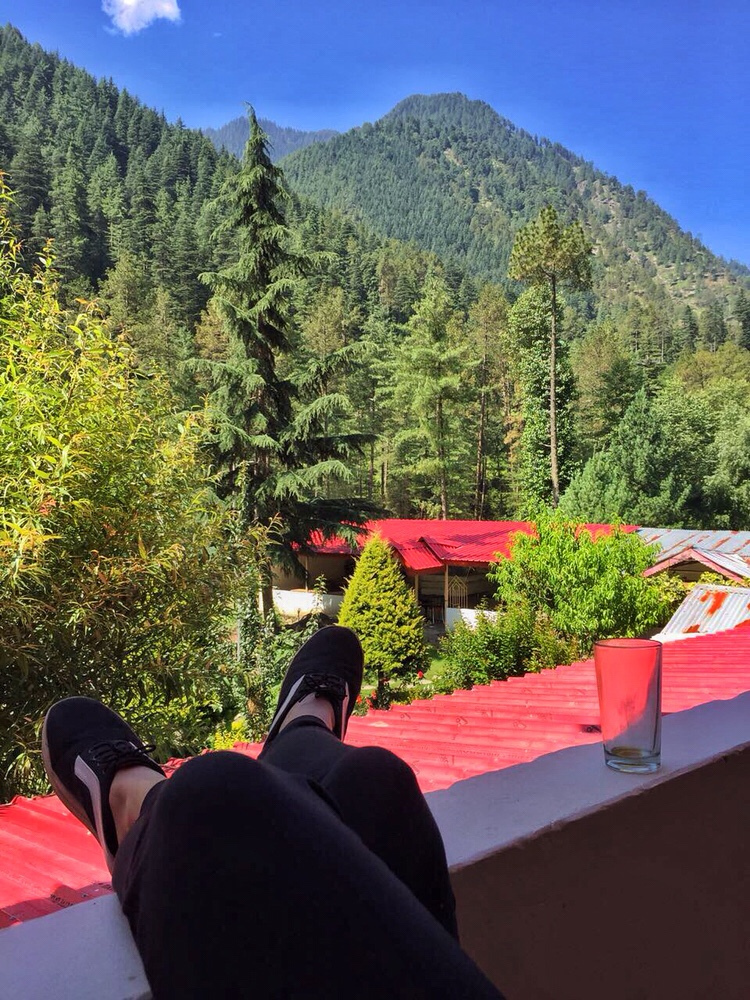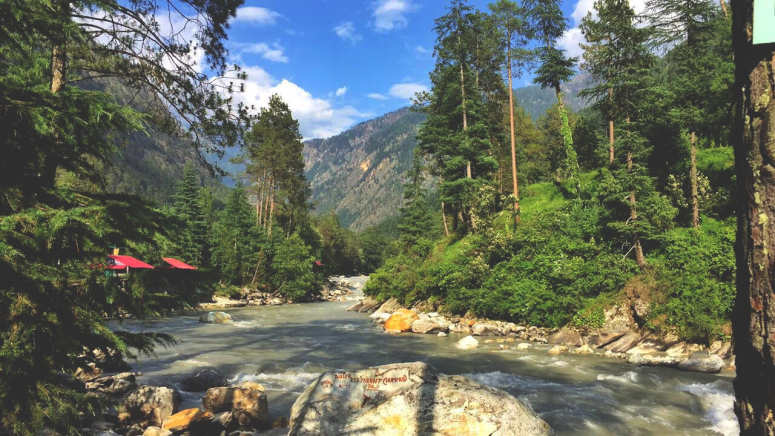 After spending the first night in Katagla, we hiked for approximately 30 minutes to reach Kasol. Mama's cafe gave us the appropriate amount of relaxing vibe and delicious food to gather the energy for our coming hike.
GETTING THERE
Kalga is a small serene village, devoid of the hustle and bustle of cities, and as beautiful a place as they come. It comes on the way to Kheerganga. Once in Kasol, you have to either take a cab or the local HRTC bus to Barshaini. It's normally a 30-minute hike from Barshaini to Kalga, but if you're anywhere close to the kind of lazy bums that my friends and I are, it'll take you double the time.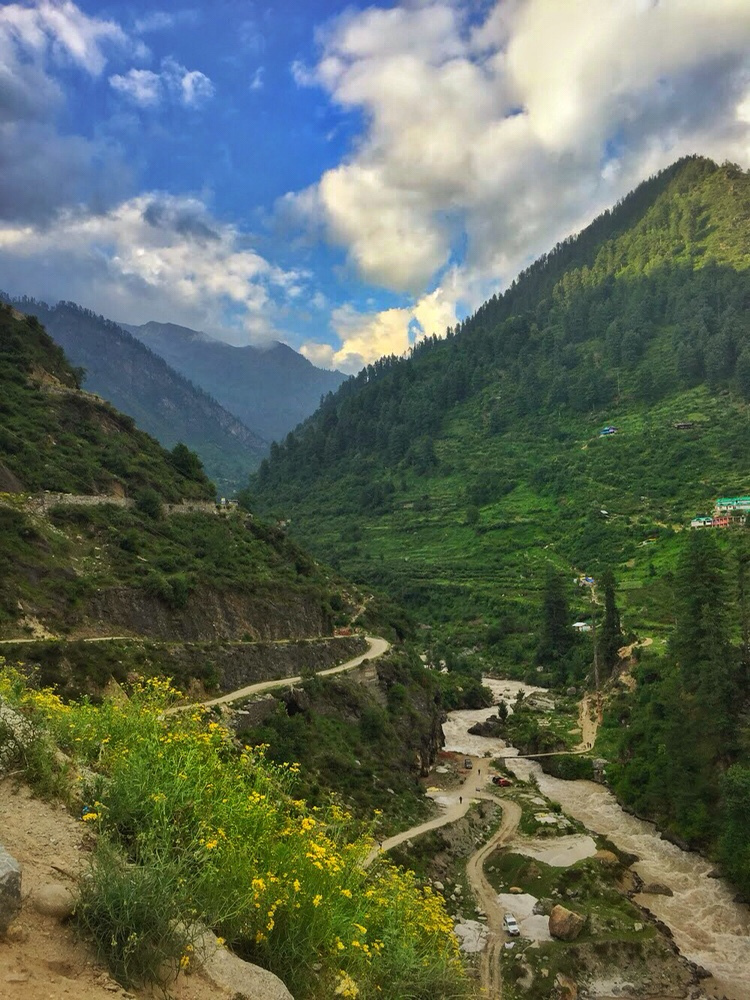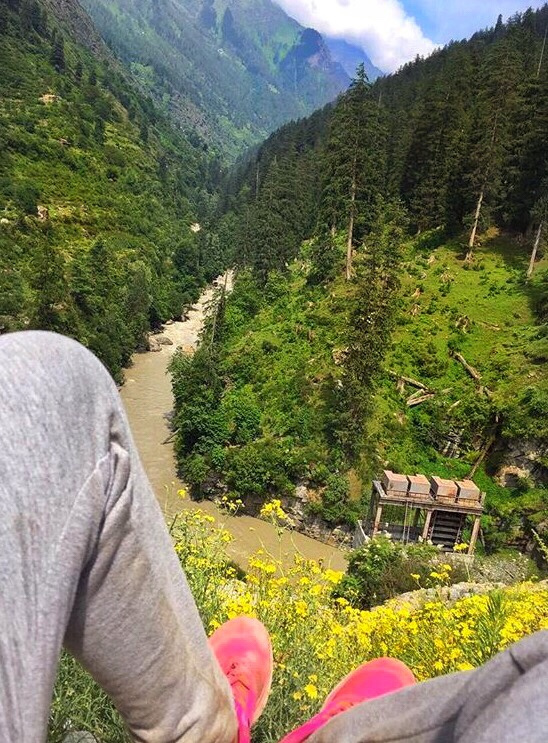 Kalga
Kalga was a beauty of a place. Perfect amount of calm with overloaded serenity, it felt like heaven and it felt like I belonged. Everywhere I looked, there were countless sceneries that looked to have come straight out of a painting and I couldn't stop myself from clicking pictures: Lush green fields surrounded by apple trees, blue as the ocean sky meeting the scattered fields with flowers as blossoming as ever, and oh my, the sunset.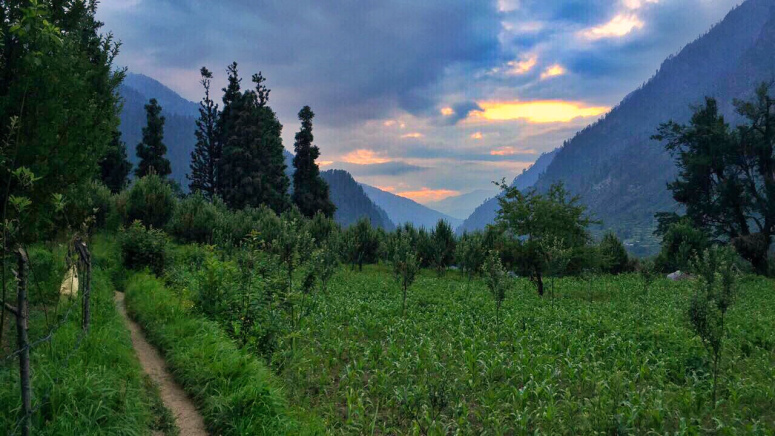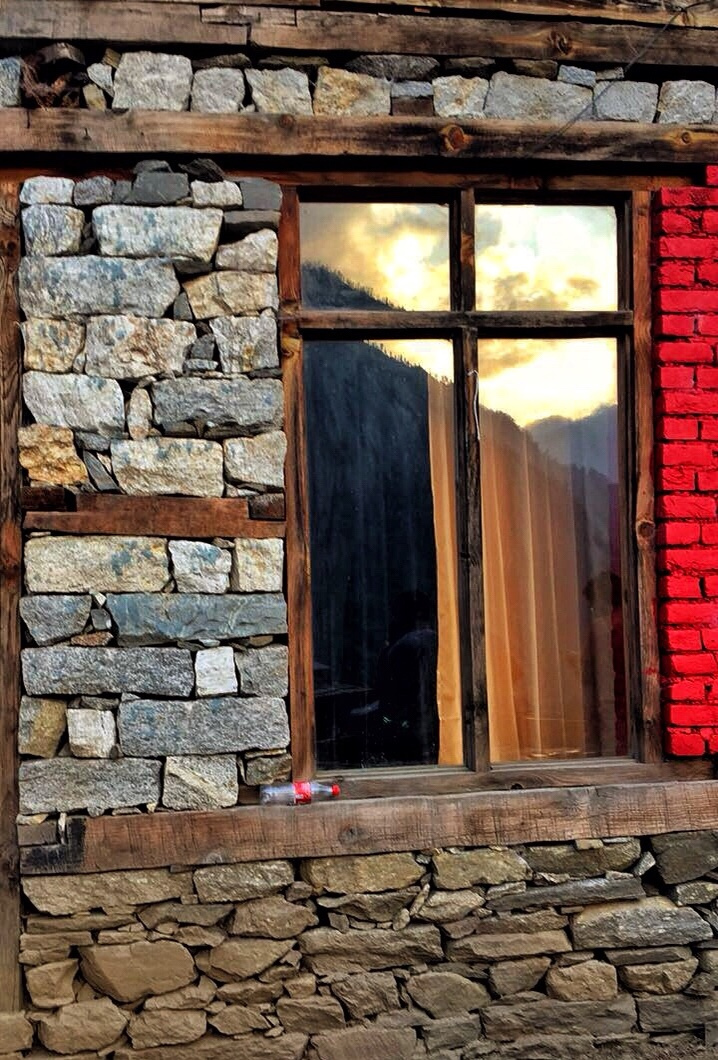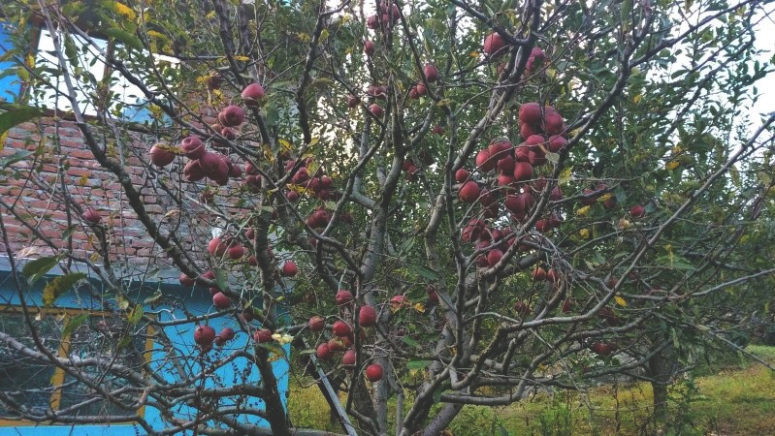 I let the others get much ahead of me and took a few minutes sitting on the only (dirty) rock I could find, only to be disturbed by my continuous name calls. After a point, I thought that the beauty isn't gonna end in this place but my phone battery will so I quietly proceeded to our search for a room for the night. There are some pretty cool cafes and houses served as guesthouses that are your only option to spend the night. If you're planning to visit during peak season, don't forget to call beforehand and book your room. (Recommendations: Holy Cow, Hilltop) Holy cow cafe: 9817171258
Quick note: Don't try to be sly and pick apples straight from the trees, the locals will use their sticks to knock your hand down (based on true events); just pick them from the ground.
Since it's a small village, forget anything close to fancy and comfortable for a while (don't worry, connections work just fine). But that's the thrill of it! Plus, such cheap rooms and such yum food, not to mention the hauntingly beautiful snow-covered mountains in front of you and an amazing company, what did I have to complain of? It's food for your soul. And my soul was full to the brim!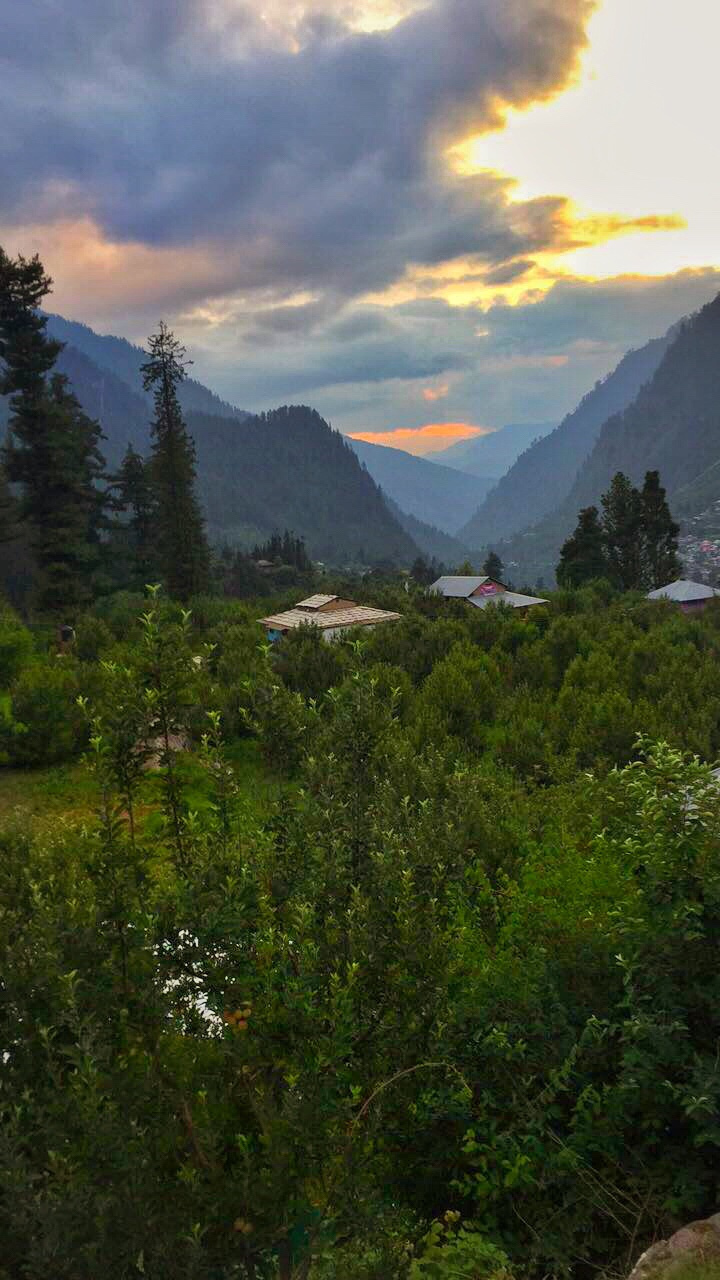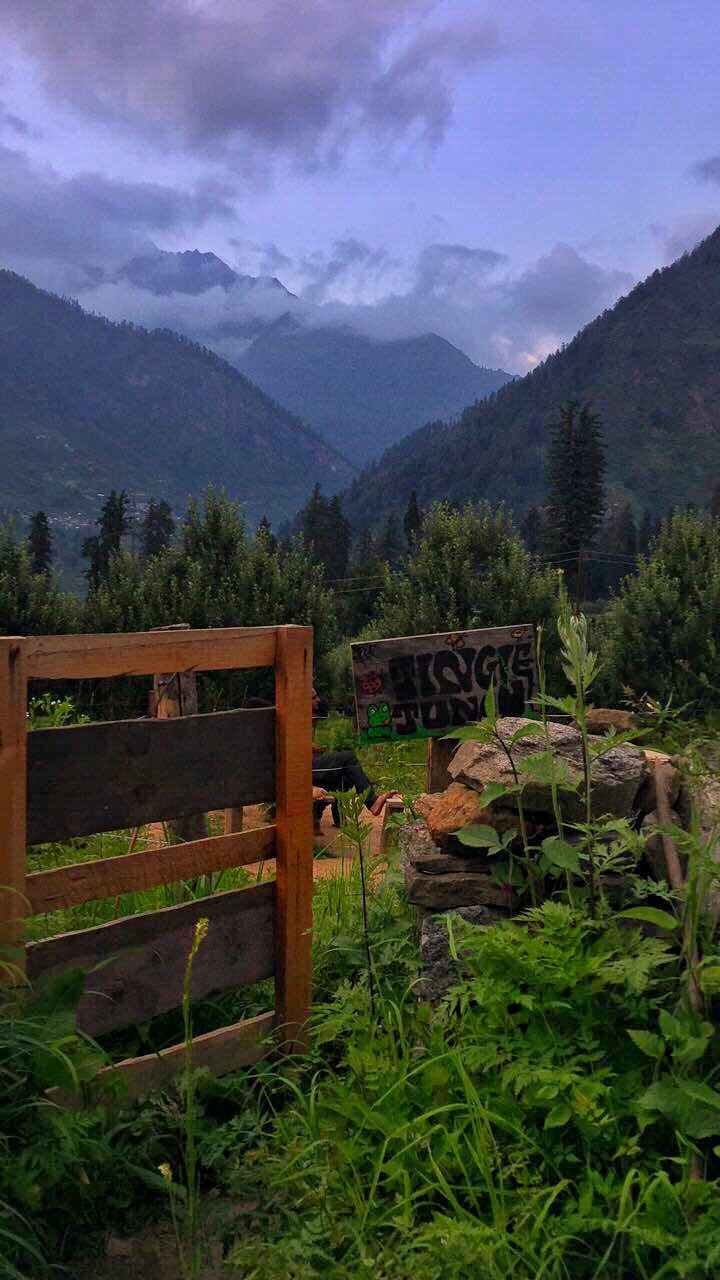 It got dark till the time we found a place to stay the night. It was a small, austere house in a lush grassland called Nirvana . 150 rupees for a night and you got exactly the 150-rupees-looking room but it was clean and tidy so we were quite satisfied. Who needs fancy in paradise?
Note: By 'yum food', I do not mean a ravish and embellished meal. Good, no-dirty masala food which the owner's wife made for us. Mushroom cheese omelette rocked silver though.
FAVOURITE EXPERIENCE
I'll never forget the next morning when I woke up early in the morning, before everyone else, in my uncombed hair and smudgy kajal to witness the sunrise. I didn't even have to push myself to wake up that early; I just wanted to go around this place as much as I could and I wasn't gonna miss the sunrise at such a place.
Luckily, the owner of the cafe and his wife were also up so I politely asked for a cup of coffee and then went ahead. I spent a few minutes searching for the ideal spot to gaze at that magnificent sunrise slowly making its way out of the lap of the mighty mountains and sat there for 30 minutes at least with Ben Howard and Coldplay keeping me company.
Every direction my eyes went and with every turning blink of an eye, there was peace. There was that outpouring positive vibe in the slow breezes that relaxed your every sense and suddenly, your mind did a funny thing where it forgot the concept of past and future; there was just the never-ending beauty lying in front of you...just the present moment. And it was out of this world.
If you're thinking that the morning couldn't have gotten better, you're wrong. On my way back, I was accompanied by a dog that was prettier than any person I've ever seen. Trust me!! I named him Goldy because...erm, he was golden-ish in color. (I know what you're thinking. 10/10 on creativity for Vrinda) and we were friends for a while. Goldy and I took a long walk and I managed to find a Parle G biscuit packet in my bag and fed him. As we reached back, Goldy, after making sure that I'm safe home now (I would like to believe that), went along his path and I went back to my room.
SUNSET SPOT
A blog about Kalga is incomplete without mentioning Holy Cow Cafe, or as I call it, Holy wow cafe! It has the best rooms in Kalga ranging from 250 to 550 rupees. If I had to pick a spot to read a book, listen to my favorite song, or just to get in that happy vibe, this would be it.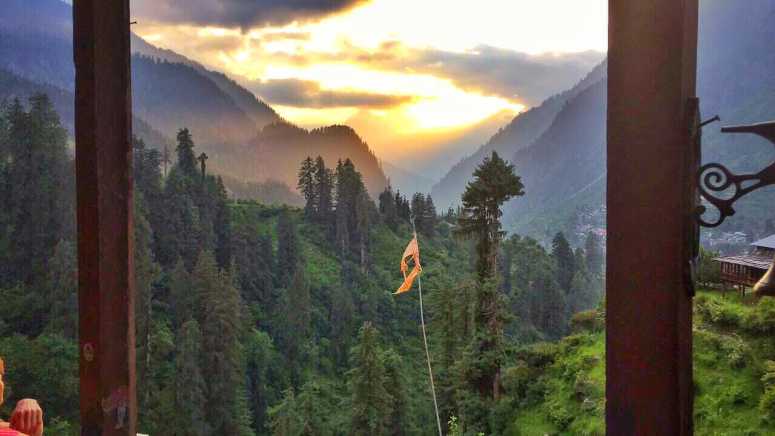 LET'S GO?
With the warmest welcome and hardest goodbye, Kalga became one of my very treasured experience and a paragon of light, always to be cherished. So why are you still in that city, cramping up in your laptop screen, sick of work /student life and daydreaming about paradise? What are you waiting for? Sunshine is calling...
This blog was originally published on Over Gin & Coffee.