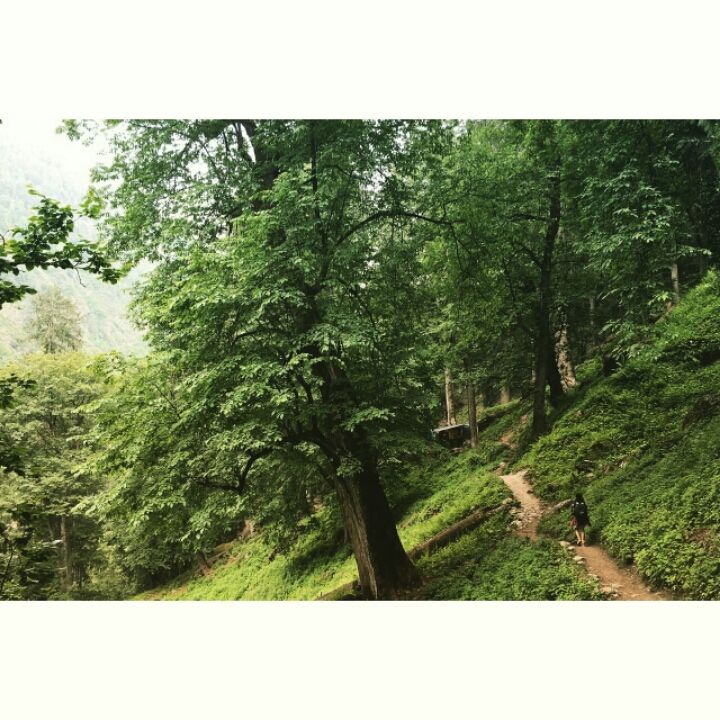 I've been thinking to write lately. Life had turned so abrupt, I was literally lost. I found no inspiration, I lacked confidence,  I got terrible with words, in short, I felt miserable about myself and decided to give up.
But then, I had to tell you guys about this trip that has kept me holding on to life. A trip that exposed me to greater realities. A trip that opened up my heart and mind to greater possibilities. A faint light of hope,  to revive a broken spirit, I would call it.
June, 10,2016 I along with a couple of friends randomly decided that we had to get out of the ever hustling city of Delhi, India. Where were we planning to go?  Trust me,  we had absolutely no idea. All we knew we had to catch a bus that could drop us at Bhuntar and we would carry on from there. And so, we did. Next morning we woke up to the view of lush green mountains, rumbling Parvati (river) and cloud covered peaks. Finally after a 12hour journey we reached Bhuntar. Never got to explore the place much but trust me, if you get stuck in a crazy-ass traffic jam over there and are in desperate hurry to reach the "Bus Adda" get down and walk!  You would have to cross a bridge at long as the rivers width. And that's really huge!!! I obviously don't know the length,  which is why is description 😂
Moving on,  we finally decided to stay a night at Kasol, for we wanted to freshen up and rest for the next day. What was next day? You'll know...
Kasol is paradise! Peaceful,  serene and herbilicious, if you know what I mean... Since we had been there already before, finding a room wasn't big of a task for us. Yes,  we managed to find ourselves a shelter even during the jam packed season time of the hills. Thakur Cottage, try it for sure the next time you go. A Himachali family who would give you their property, warm welcome and bright smiles. They got two apple cheeks children too!  Please sense the excitement when I talk about apple cheeks and children, they are love man!
I talk too much I know,  but try sticking on,  you might find something to let your mind wander over...
Okay so now,  our first day had nothing special really. We visited the river close by,  enjoyed some warm tea and Maggie, picked up few things to keep us warm 😜 Our dinner was at Evergreen restaurant, they got some absolutely lip smacking dishes!
Next morning we settled for breakfast at Moonshine Cafe next to German Bakery, both serving you savory dishes and sweets! Try!  Try! Try!  Everything you can! (I'm a tiny little giant foodie)
After serving our growling tummy's we finally got ourselves a cab which would take us to Tosh. Cab to Tosh?  Why?  Why didn't we trek? Well apparently people told us the weather was bad that day and we didn't look like we could take it. *woot* *woot* smacked in the face with an insult but we didn't care we just had to get there.
We really couldn't have trekked that day,  severe rains man!  We would have been soaked in ice cold water by the end of it. God bless the person who asked us to take a cab.
This was a brand new place for us. I was awe struck!  My eyes couldn't believe what it saw. Snow covered peaks, gigantic valley, lush green land and that's when I just stopped, inhaled and exhaled all bad vibes that was stressing me up. Positivity. That's what you'll experience here. If Kasol is my tranquil paradise, then TOSH for me is a place that "Takes Others Straight to Heaven!"
Chirpy children cheerfully greeting you here and there, precious smiles to capture while walking by, warm welcome wherever you enter. What else does a broken heart need to fix itself? A little did I feel the urge to break down. Everything was just so perfect. I couldn't have wasted time stressing over things that didn't matter anymore.
And so, I let go.
I let myself run wild and free, in the beautiful abode God created for people like you & me. We stayed at The Yamuna which had absolutely splendid food and rooms too! Oh, it's feasible too. You could also try Shiva Power in case you're looking for something really cheap to stay. There are more,  I just can't recall the names.  But you can always hike up to beautiful cottages with absolutely majestic and breathtaking views. So don't act all lazy and exhausted and settle for a room that's expensive and has no view at all. Find the best budget room that suits your pocket worth the view. Try doing something out of the box. Unplanned trips are the best!
Things to do in Tosh:
> Eat everything you can! Try some lip smacking Israeli dishes and delicious shakes ranging from Oreo to Nutella to what not!
> Hike up-to the waterfall. It's a blessing.
> Visit the local temple. It's beautiful!
> Visit the dam if you can and tell me about it as I couldn't due to the lazy butts who'd want to just smoke and chill.
> Trek to Kutla which would take 3 hours from the village.
> Let positivity wrap it's arms around you. Let's go of all inhibitions.
The two nights I spent here didn't not only heal my inner being but also brought hope that I can survive no matter how many battles I lose in life.
Moving on, we decided to trek to Kheerganga two days after our stay at Tosh. An hour to Bharshaini, we reached the base all pumped up. Unwilling to take a guide, we asked travellers for the best route possible. And they suggest us the route that took us almost 6hours to complete. Worth it! Yes! Your pain,  your cries, your complains,  your every negative vibe will swipe out once you take this trek. Not only is it beautiful, it is challenging, it gets creepier, it gets tough. And the feeling you get after completing this trek, would leave you speechless. I had two twisted ankles and all I wanted was to sit, crawl or just lie down where ever the hell I could. But thanks to the motivating friends I had behind my back, they with their constant killer jokes and unforgettable expressions kept me going!
And as soon as we entered this celestial beauty, I could help think to myself, "What if this is what you're looking for?" "This is love" "I belong to the wild" "No more city hustle for me" and my unstoppable mind went on...
No we never got to visit the Hot Spring bath there since I was the only girl and the boys didn't want to leave me alone.  Damn, how I hate being born a girl sometimes! But then, I don't effin'care,  at all. Girl, boy,  male, female, gender role crap is something not for me. I do what I want do. But the hot water spring was something I couldn't 😑 even though I wanted to. Thank to my protective friends.
But we managed to call it a night at 3am since we were out the whole time, randomly walking through the grassland, sitting over rocks, watching the night sky glittering with stars, we even watched the moon rise! This is something late risers should try... Watch the moon rise up from a mountain peak... Watch life as it happens to you!
Next morning, all we wanted to do was what we did at night and see how different is Kheerganga in broad day light. Well, there was not much of a difference. It was just as beautiful as it was at night! The green meadow and the never ending alpine forest, cloud covered sky and and the mountain heights. What more could our morning need? The blissful vibes refreshed our souls!
You must try moving around, exploring the place,  you might find pretty interesting people and activities to do around here. Since our stomachs were growling we decided to take a hike to some place we could find cheap food since we were low on cash. And we found a man who was living uphill in a tent, making Aloo ka Parantha!  What more could we have asked for!?  Damn!  I've never tasted such delicious parathas in my life.
So don't stop looking around!  You might just find interesting things,  activities,  food and  people everywhere you go!
So keep wandering and get lost in the tranquility nature injects in you. An eye opening journey I would call this for me... There's more to what you see. Feel the beauty just don't see it,  that how you'll cherish the memories you make at this place.