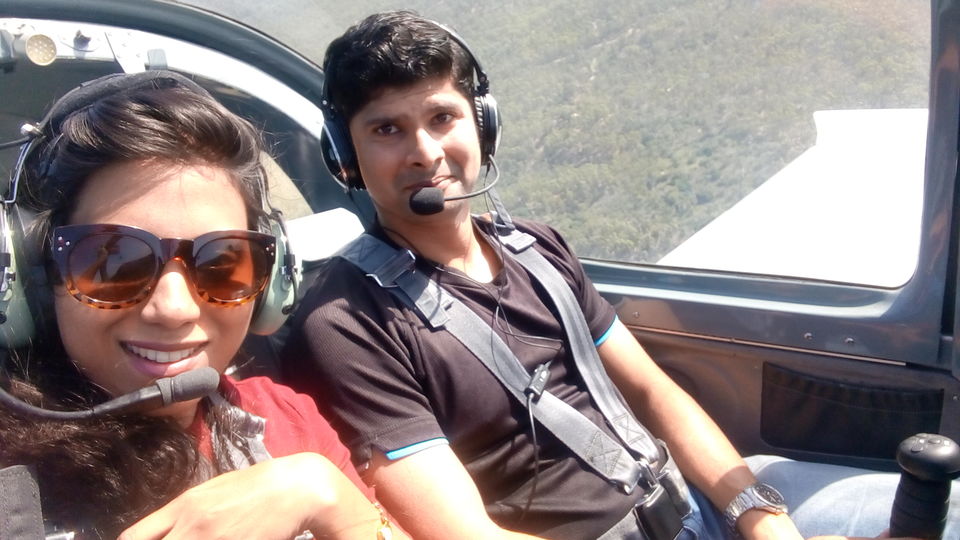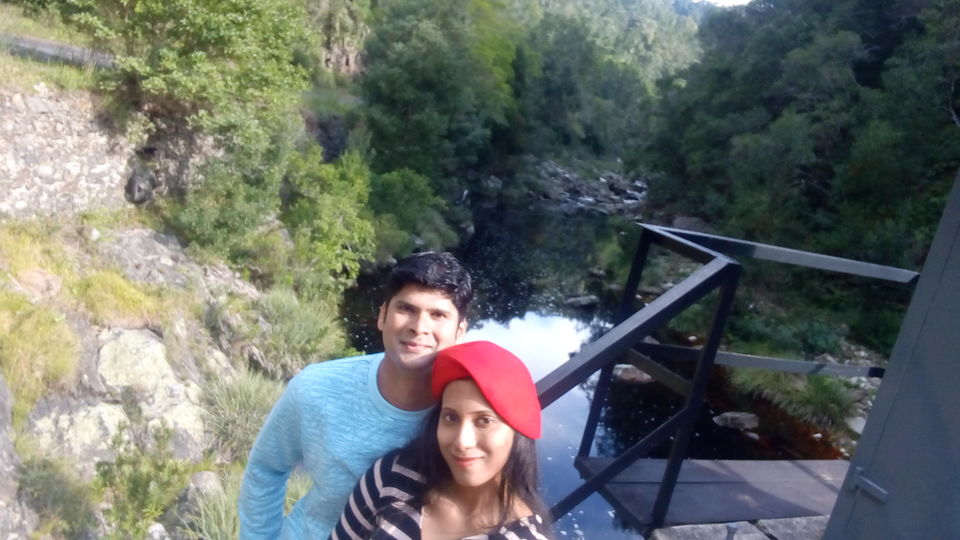 Paradise Unearthed !!
Trees endowing pathways
Soothing breeze fills my soul
Nature unveiled
Stop! Spellbound !
If the above words could culminate into one thing, that's 'South Africa'. On our 13 day trip to South Africa, it vowed to bring me back again as a tourist for sure. This place has a lot of secret masks to uncover and in this post I would like to take you along many such places which are like oysters in the ocean.
Major aiports- Johannesburg and Cape Town.
We decided to begin our journey from Johannesburg all the way up to Cape Town.
Travel by-Road (rented car from the airport service)
Guided by-Husband ( The Oracle for this trip)
• Johannesburg- It seemed very similar to Mumbai with the busy streets and bustling traffic with 5-6 lanes. The inroads are still quieter. We were hardly for a day at Johannesburg so there's a lot to explore the next time. They do have concerts and plays conducted periodically like the Sound of Music, which can be a great experience to watch.
Where to stay- Premier League Hotel (bonus-Very near the airport and can save up time and money)
• Port Elizabeth
From the Tambo International airport we boarded our next flight to the small little warm town of Port Elizabeth. The airport at PE is very small unlike other international airports. The little town seems to welcome you with its warmth right away. We were so happy to meet our family friends there.
The best thing to do is to hire a car from the services available at the airports that provide you with the luxury of exploring the place at your own ease and reveling in its beauty without any 'touristy rush'. And that's exactly what we did.
Where to stay- Boardwalk Hotel.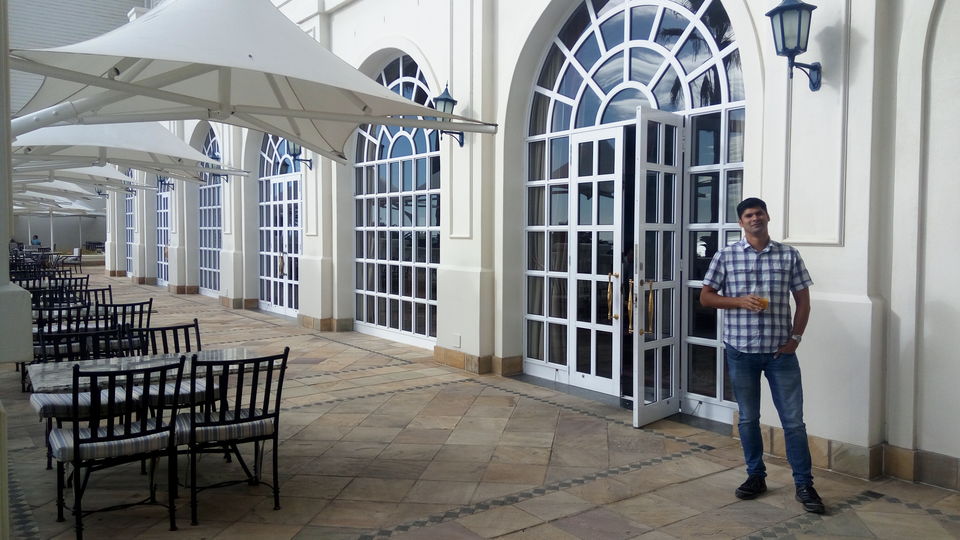 Why?
 its right across the sea so the view is breath-taking.
 The hotel was like a little town out there with wonderful shops, restaurants, games, casinos and an artificial pond with boat rides-all under one roof.
 Pool privacy-if you are one of the shy ones like me,this is a wonderful opportunity. We got the heated pool all to ourselves.
 Lavish breakfast buffets
 Must have's- Hot chocolate
 Other local must have's- Rum and Raisins ice cream, hake and chips, calamari and beef steak.
Places to see-
 Kragga Kamma park- opportunity to view animals moving freely in their natural habitat.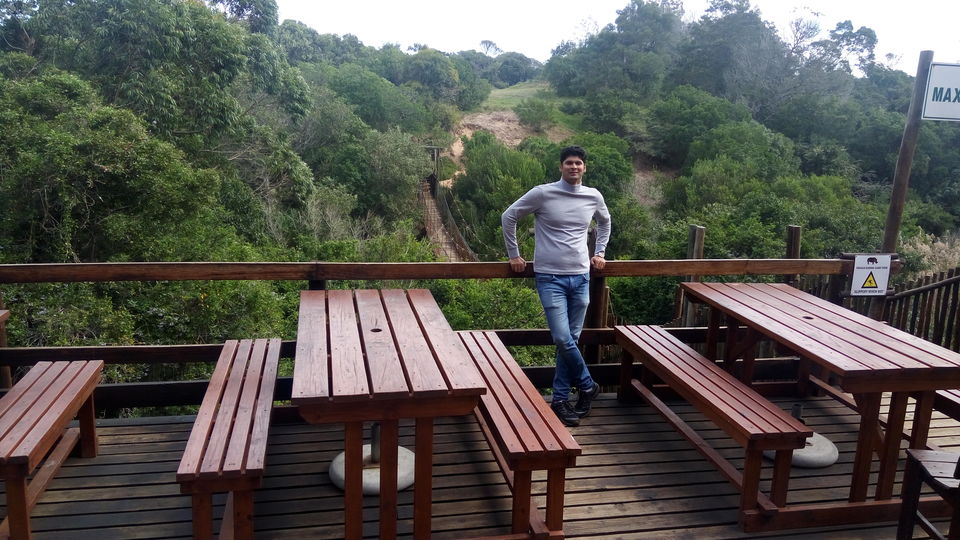  African Dawn Sanctuary-volunteer organisation for rescued animals and birds.
• Tsitsikamma- a place of exotic natural beauty.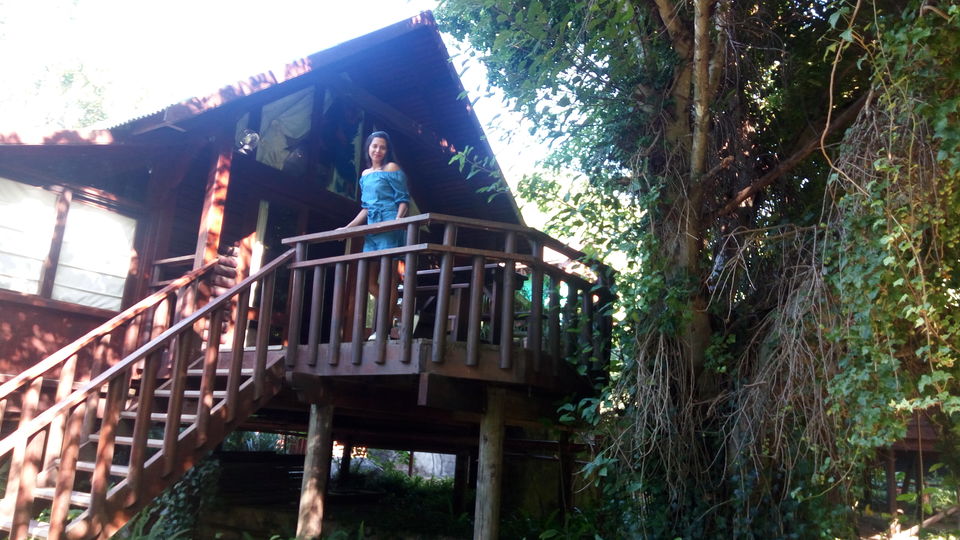 Why?
 Rustic private tree houses-wooden interiors, Jacuzzi and a little deck to have some coffee with your loved one.
 Pine forest-It overlooks the Pine forest where you can stroll all along the day.
 Picnic in the Forest-The hotel can organize one for you if you insist.
 Elevated platform in the forest-It is generally decorated for weddings and you can plan your own outdoor wedding right in the middle of the forest. How romantic!!
Why?
 Affordable and price effective.
 Provides for private chalets, fully equipped with basic necessities, along with a wonderful view.
 Attached fireplace to make your own Braai. (We tried to get wood from the premises itself. The wood was damp so we used the coal we carried. But a wonderful experience indeed)
 Watch the Milky Way in the night sky with its constellations as the Universe reminds you of its magnificent glory as thousands of stars twinkle down at you.
 Must see-Baboons!
 Close to the Bloukrans River Bridge- Highest Bungee Jumping point in the world.
Places to see-
 Stop by Jeffery's Bay (outlets for souvenirs, a farmers market and to top it all, wonderful live music. We also visited the factory outlet of Billabong which is amazing to buy reasonably priced T-shirts.)
 Storms River Bridge- walk easily by the wooden pathways constructed under the bridge and thoroughly enjoy the view. Walk on the bridge and feel the jitters as vehicles pass by.
 Big Tree- trails leading you into the forest to see the big Tree which is the oldest tree in SA.
 Eat at Marilyn's- pays tribute to the icons like - Marilyn Monroe and Elvis Presley. Classic posters and songs fills the atmosphere. There are also set ups and props that you can use to pose. The names of the dishes are also as classy as the classic cars and gramophones on display.
Must have's- Bar One milkshake.
 Natures Valley-Enjoy a moment of solitude as you walk along nature's valley in the white and spotless sand.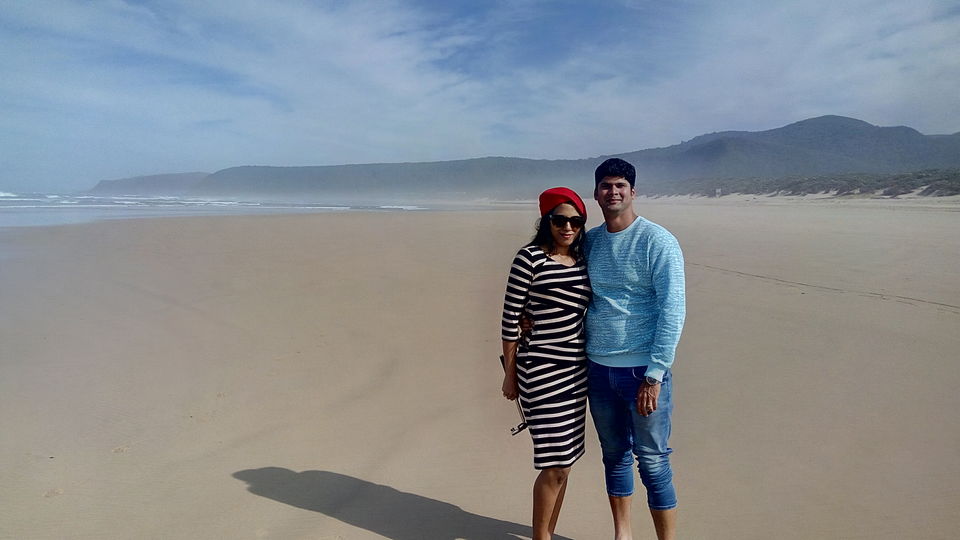 • Wilderness- As the name suggests, one can get lost in its breath taking natural beauty and nature trails.
Where to stay?- Boardwalk Lodge
Why?
 Not a very fancy place but a cozy and comfortable lodge that overlooks the sea. Try to book a room on the upper floors to enjoy the view. Also, its somewhat resembles the Hogwarts zigzag pathways.
 A good breakfast to keep you charged throughout the day.
 It's a little tricky to locate the entrance, like a little maze.
(Carrying luggage up to the room can be tiresome. In case you plan to stay there for a day, like we did, just take essentials for that day and personal belongings and leave the rest in your vehicle.)
 It close to all the nearby stores and markets, even Joplin's.
Places to see-
 Joplin's –By law, thou shall not miss eating steak at 'Joplin's Steakbar' with some Amarula. We would rather book Boardwalk Lodge again just because of its proximity to Joplin's. (Well, that's a little weird reason to book a place) But Joplin's can make weird seem to be the only way out. Trust me.
 Plettenburg Bay- another good place to go surfing and building sand castles.
 The Pie Shop- The Pie Shop at Plettenburg serves amazing hot and fresh chicken and beef pies that is a must try.
 Knysna- A little picturesque town situated right at the top. The winding roads will lead to a postcard destination. While walking down to the little beaches can paint out such a romantic moment as you can sit along the rocks and enjoy the waves. There are wonderful picnic spots for families as well.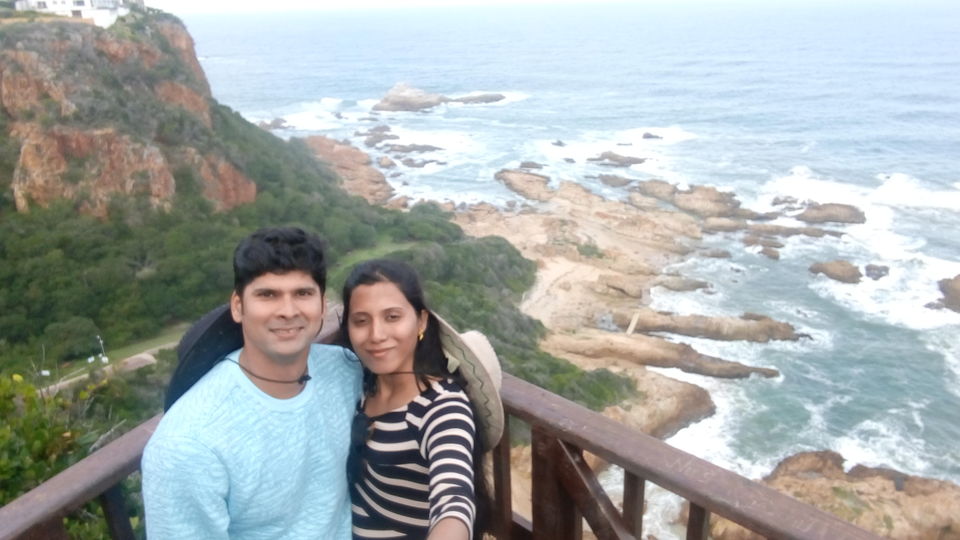  Holy Trinity Church-One of the oldest churches in Knysna, started by the locals themselves, beautifully lies within a flutter of trees. Artistically constructed with fourteen benches at different points in the garden depicting the fourteen stations of the cross and offer a journey of self-analysis.
 Kango Caves-A long driveway o the Swartberg Mountain range in Oudtshoorn, will lead you to one of the oldest cave sites in the world created by the limestone deposits of the river flowing underneath, this site serves a whole new world to be explored. Spread over three vast chambers, this cave site is sure to blow your mind away. There are tourist friendly interiors with well constructed steps to lead you into the cave along with lights to guide the paths. Tourists can opt for the Heritage tour or the Adventure tour. Tours are available in all popular languages. There is also a little exhibition that reveals the history of the cave. The last section of the cave is not open to visitors as it is still being excavated further. This is such a magnificent natural beauty that it leaves in awe of nature. It is a must visit place for all tourists. A few years ago, this cave witnessed opera performances due to its natural sound enhancing ability with a capacity of a thousand audience at a time. This practice was discontinued as the audience started scrapping off parts to be taken back home as souvenirs. (It provides for some spectacular background for photographs)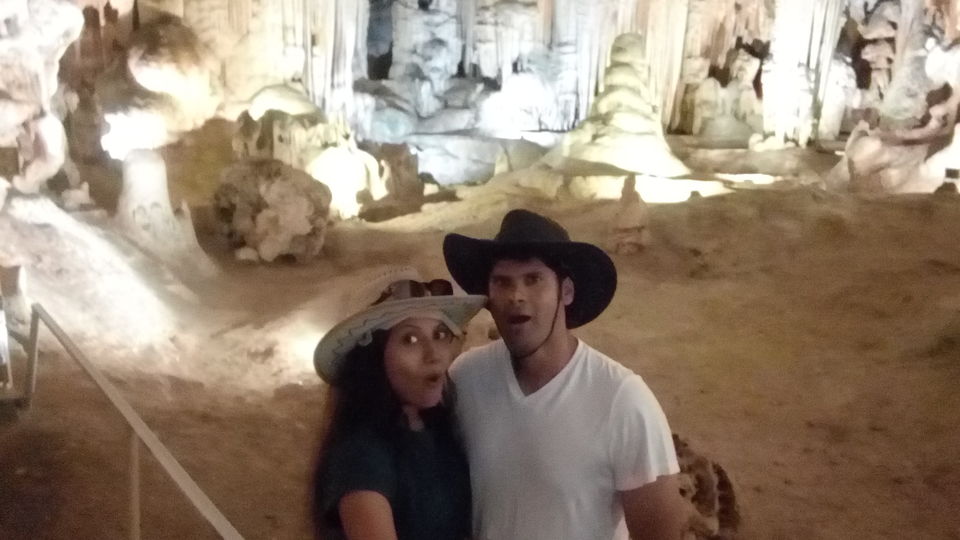 • Montague- It's like a little oasis that hides itself in sand and desert only to be unravelled by a true traveller. We zoomed by Galenia not trusting google maps because the entry seemed so camouflaged.
Where to stay?- Galenia Estate.
Why?
 Galenia has been one of the most outstanding destinations we visited. Situated right in the middle of the serest, you are sure to miss it at the blink of your eye.
 Spread over around 400 acres of land, the Estate welcomes you with winding roads which make you doubt if there's a real habitable place or have you been fooled by Google or is it time to take a U-turn.
 Just be patient, keep driving..and driving….and there you are…!! Mountains and land and olive plantations and the hotel itself.
 The entrance lobby is magnificent.
 The staff is extremely hospitable and courteous.
 The rooms are supercalifragilisticexpialidocious with an inbuilt fireplace, windows that open into the landscape and provision for an open bath (For the more adventurous ones) and an inner bath as well.
 Meet Patty who can take you on a guided tour around the whole estate showing you the rarest of rare plants and footprints of animals and greeting Ostriches and hugging Boxer, the lonesome donkey who just adores her. She is also a marathon runner and while you keep panting walking uphill and downhill, Patty, who is well past fifty, does it in a jiffy.
 Sign up for free for the olive oil tasting session presided over by a professional from the estate. He will give you a brief overview of the process and how to select a good olive oil.
 Buy olive oil pressed in the estate itself.
 Treat yourself to a three course fine dining the highlight of which is the olive oil ice- cream. (It does tastes unexpectedly great.)
Cape Town-Moving from the small towns to finally Cape Town was a reminder to getting back to life back home. Busy streets, buzzing traffic, building all around, it a very fast paced city.
Where to stay?- Happy Rhino Hotel.
Why?
 It provides you with comfortable one BHK flat with all basic essentials.
 You can cook your own food and enjoy and experience life in a city.
 Very close to all important points in Cape Town.
Places to see-
 Table Mountain-As the name suggest, the mountain is in the form of a table. There are cable cars that take you right to the top. Once at the top, the view is splendid. The mountains provide a wonderful view of Cape Town and the Cape of Good Hope along with many other interesting points. There is also a souvenir shop on top along with a cafeteria. Its good to go early as it gets crowded later during the day. Also, the weather up there will be much colder so carry enough woollens.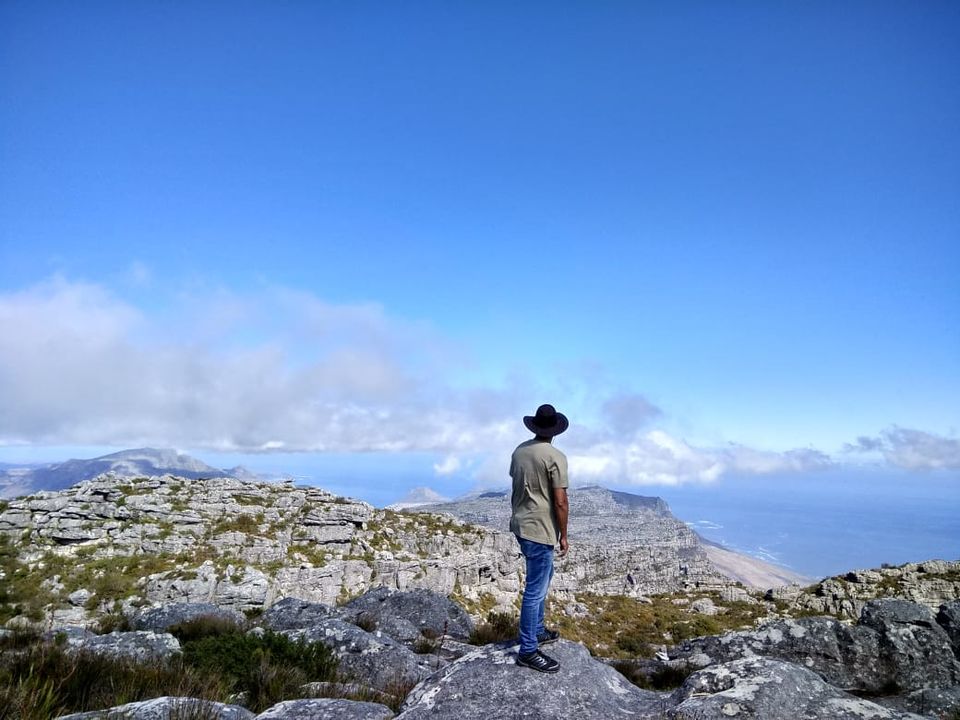  Waterfront-The largest mall in Cape Town with almost everything on earth. Never a dull moment around with giant wheels, comic shows and restaurants and shops and boat rides …just everything. You may need a couple of days to explore the whole place…so plan your trip well.
 Two Ocean Aquarium-Just outside the waterfront lies this wonderful Aquarium. So if you are interested in the world below the waves, here's a place not to miss.
 Chapman's Peak Drive- A wonderful thing to do in the morning is to take a drive along this peak with the road cutting through the mountain, and soft music playing in the background. There are also wonderful spots along the road and a little horse farm too.
 Kirstenbosch National Botanical Gardens- Quench your thirst in botany by visiting these wonderful gardens. One is provided with a map to guide your way and make the trip worthwhile. The gardens also serve as wedding destinations. Spread over vast acres of land, apart from the various plants, there are wide landscapes where you can just enjoy sitting under the tree, and let the dreams flow. There are benches at several points and arena sections too and you can enjoy exploring the gardens at your own pace.
And that was the end to a wonderful trip with a promise to be back soon sometime…someday…and explore more.
Frequent Searches Leading To This Page:-,
southafrica group tour from ahmedabad, south africa tour packages from india, family holiday packages in south india, south africa tour packages flamingo, south africa tour itinerary, kesari tours south africa