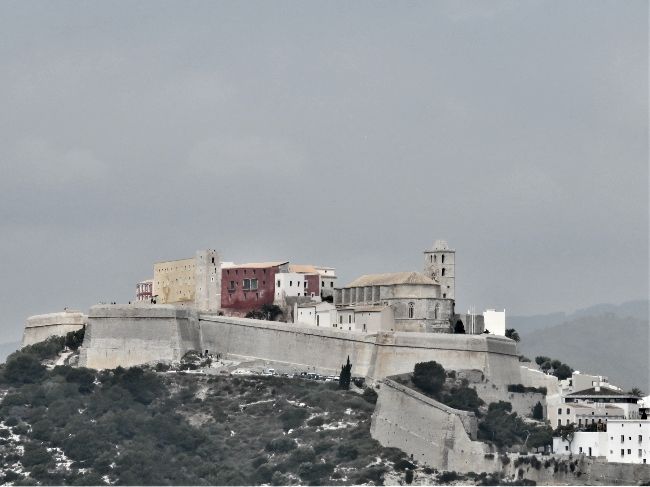 Please do not misunderstand me. I am not saying that Ibiza, Spain is a bad place. Nor am I recommending that you should not visit Ibiza. It simply did not enthrall us.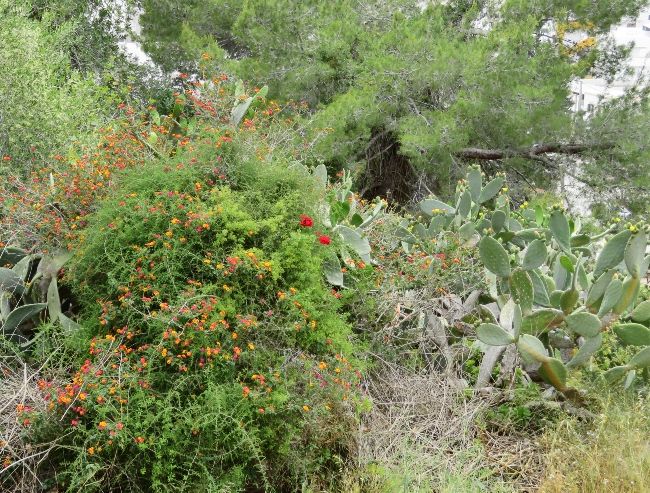 Maybe part of the reason is where it fell on our Disney TransAtlantic Cruise. The day before, we had visited Mijas and Malaga. The following day, we would dock in Barcelona. Those amazing destinations are hard to match.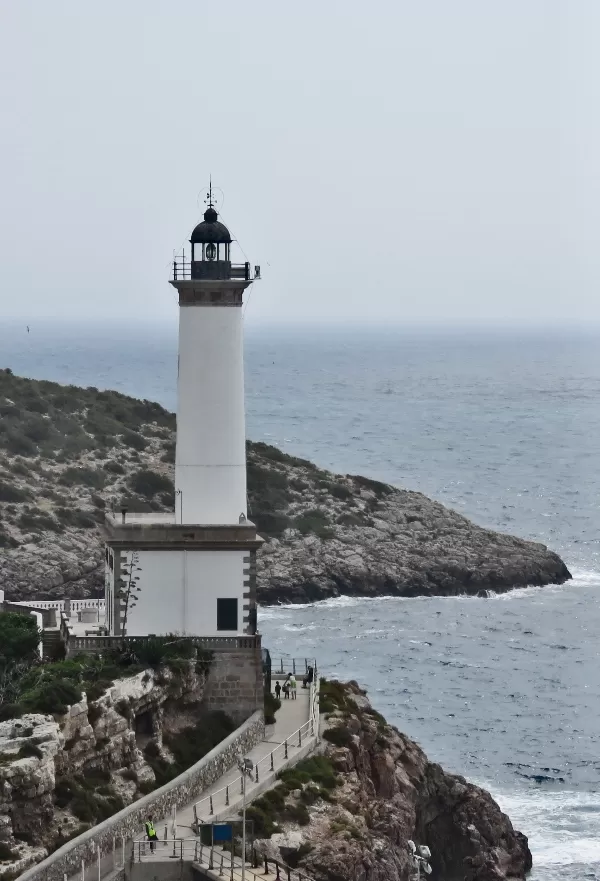 Still, as I flip through my photos of Ibiza, I am reminded of how picturesque much of the island is. My ambivalence surprises me.
Ibiza Tourists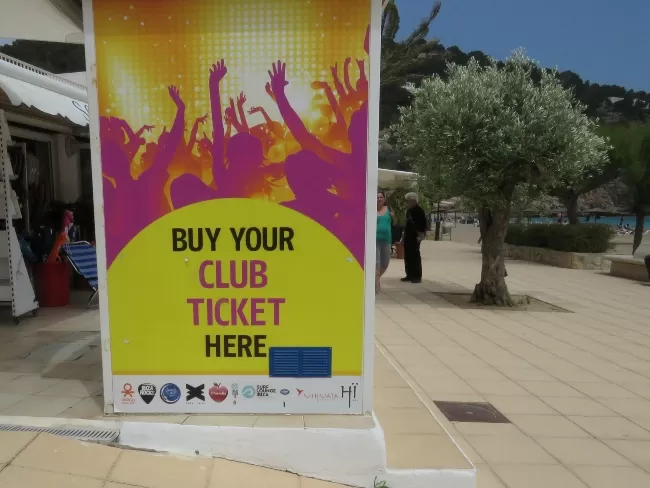 Ibiza is known for three types of travelers. First, since the 1970s, hippies have communed here. They sell handmade and imported wares each week at an open air market. Second, young party goers flock to Ibiza in the summer. Clubs charge up to 100 euros to dance the night away with world famous DJs. Lastly, wealthy Northern Europeans and Middle Easterners fill vacation property. Our tour guide reported that a Saudi family had rented an entire floor of a 5-star hotel partially owned by Robert de Niro for the summer.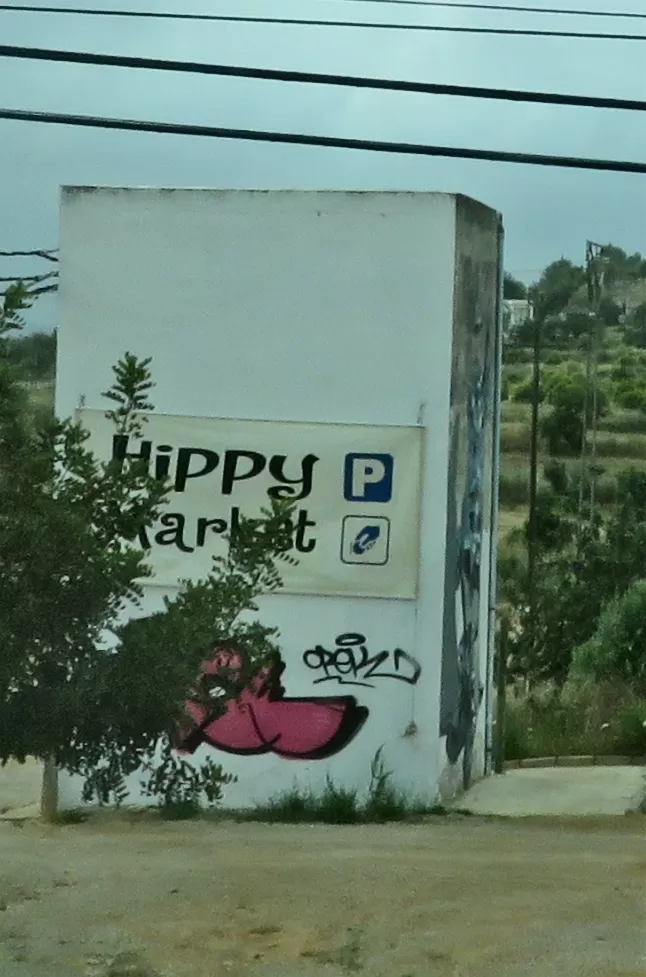 None of these demographics fit us, nor many of our fellow cruisers. The clubbing scene may have interested me while in my early 20s, but probably not. Even it if had though, the Disney Magic left dock at 7 p.m., long before the clubs open their doors.
Tour Options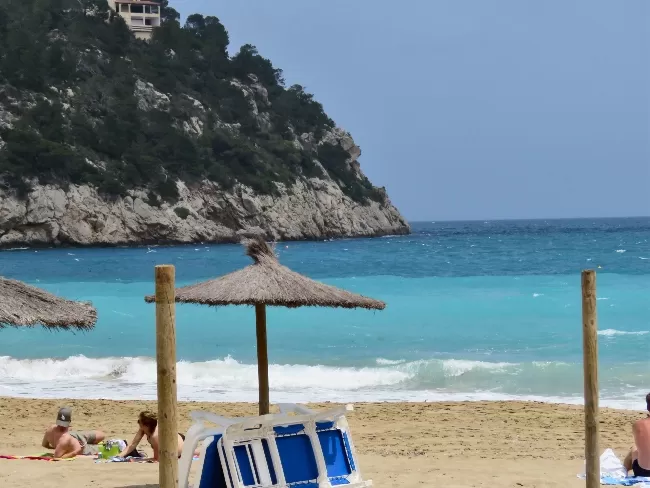 Cruise passengers had four main tour options. Some explored Ibiza Pueblo on foot with groups or on their own. Others headed straight to a beach. A tour of the southern part of the island passed beaches and salt flats. We chose to take a tour of the more rural northern island. Many passengers actually remained aboard the ship to enjoy the last full day of the cruise.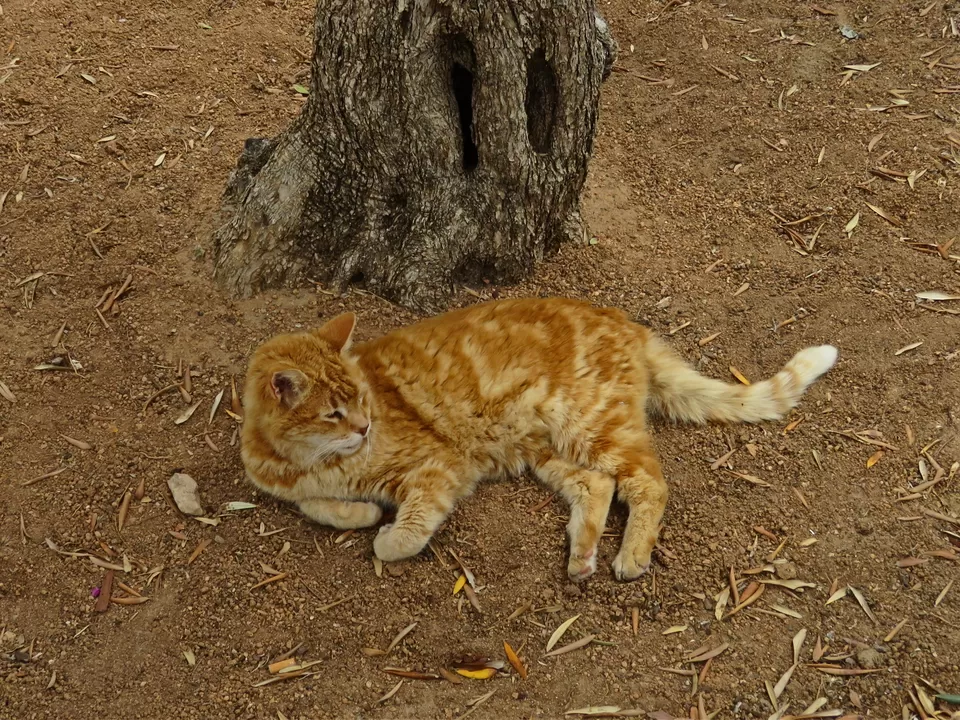 People who toured the town or laid on the beaches got what they wanted. We spoke with several couples who took the southern tour. They were all very disappointed. Although most of the group was older, the energetic, young tour guide spent most of her time talking about the infamous Ibiza clubbing scene.
Our Tour of Northern Ibiza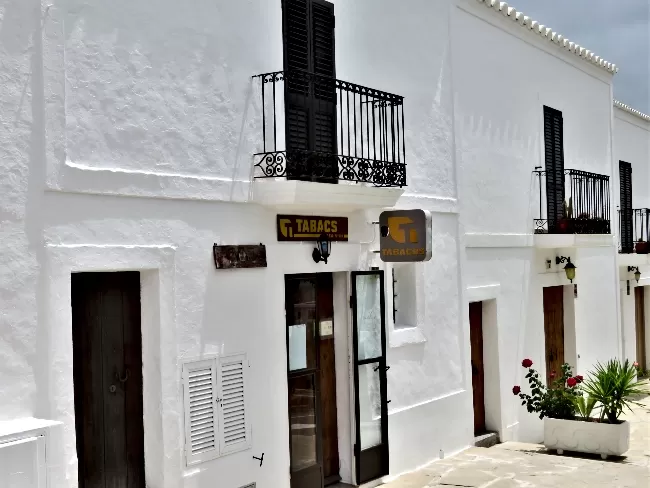 We boarded a bus at the port and departed northbound to hills. The landscape was arid and rocky. We passed through several, small towns; each with a small chapel, a handful of shops and restaurants, and few houses, all clad in white.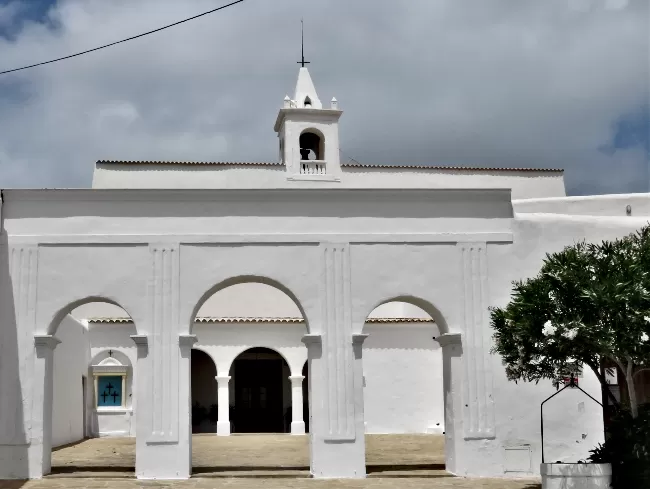 Our first of three stops was in one of these towns, our guide's hometown. We walked up a white-washed street of small shops to the town chapel.
We were told that the layout for this church was similar to those in most of the small villages. The church was simple, charming, and peaceful.
A Sad Modern History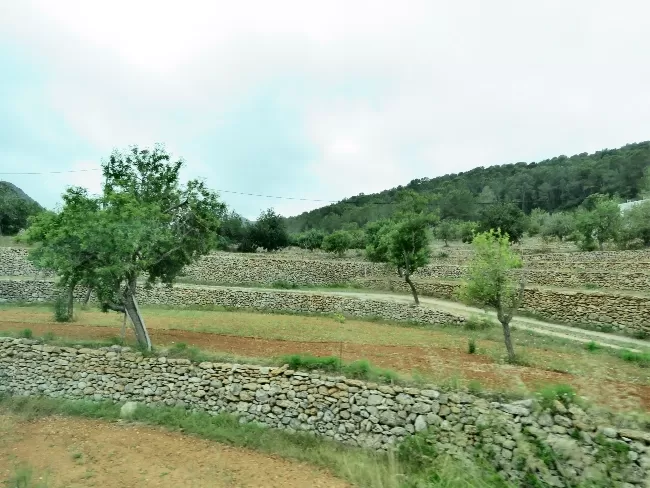 As we drove to our second stop, Cala de Sant Vicent, we noticed a strange landscape. Empty, weed-covered terraces lined the rocky hills. Our guide explained how this came to be.
For centuries, poor farmers tried to eek out an existence from the rocky soil. Over the years, they constructed terraces from rocks to make more arable land and prevent erosion. In the mid 1900s, northern Europeans discovered the scenic beaches and cheap land. Then, the hippies came. Many locals abandoned their farms for jobs in construction and tourism.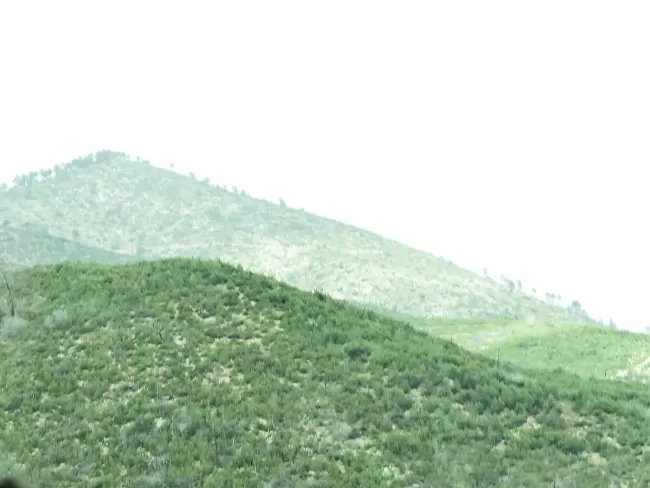 The terraced farms were transformed into a vast forrest. Then, in 2011, a great wildfire devastated the region. The fires left the land barren and scrub covered as we see today.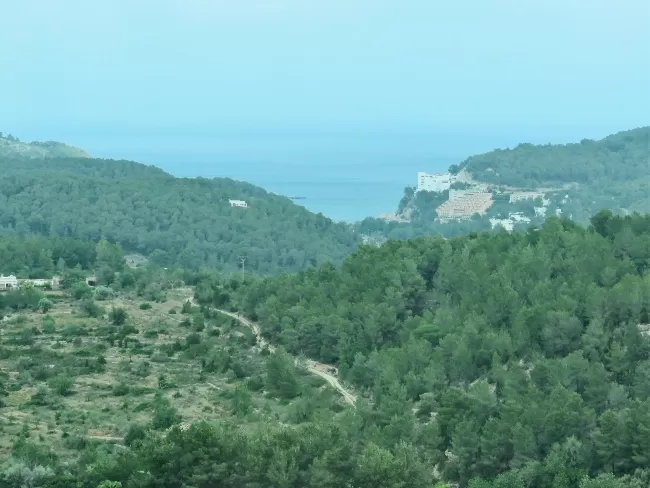 Over the decades, Ibiza has become an increasingly popular tourist destination. At least 3.2 million people visited in 2017. Northern Europeans buy condos, farm houses, and apartments for summer homes. Our guide told us that a small farm house now sells for over a million euros and a 1 bedroom apartment 1/4 million. Many locals struggle due to the high cost of living.
Cala de Sant Vicent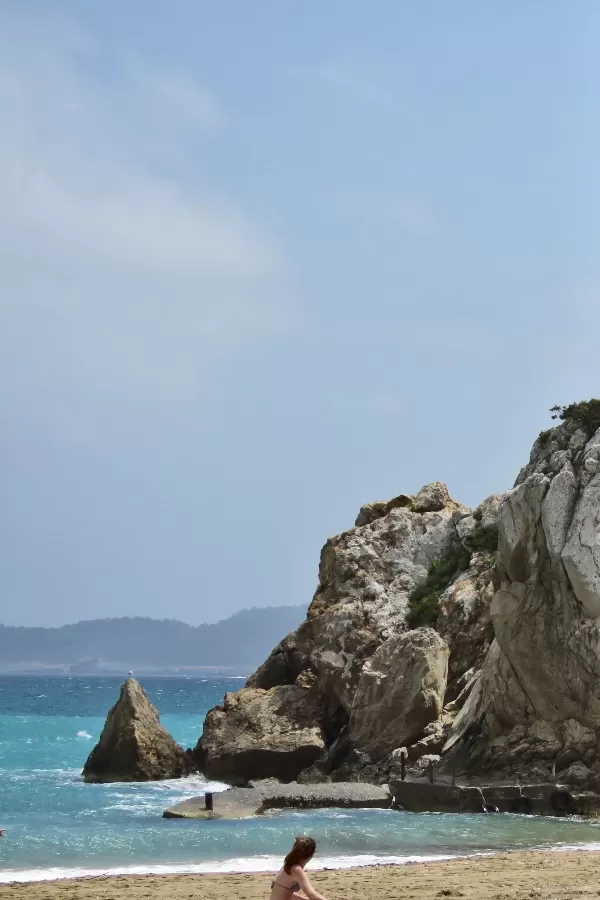 Our second stop allowed us to explore Cala de Sant Vicent, a beautiful , small beach in a protected cove, lined with modern hotels.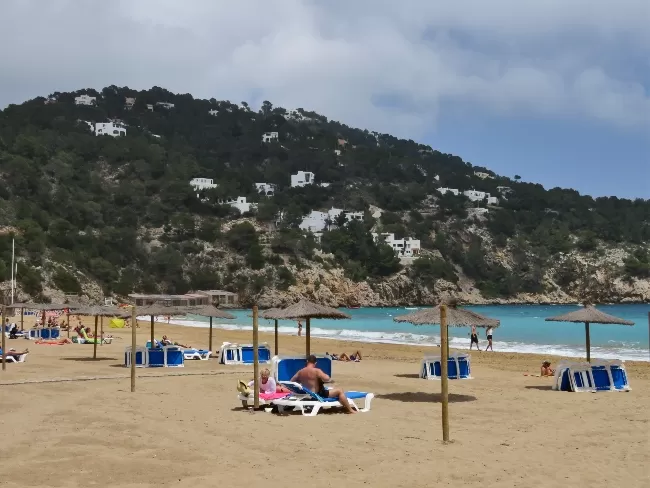 The setting was stunning. I can certainly understand why someone would want to have a beach holiday here and why we stopped. I took a nice walk along the promenade while enjoying the scenery.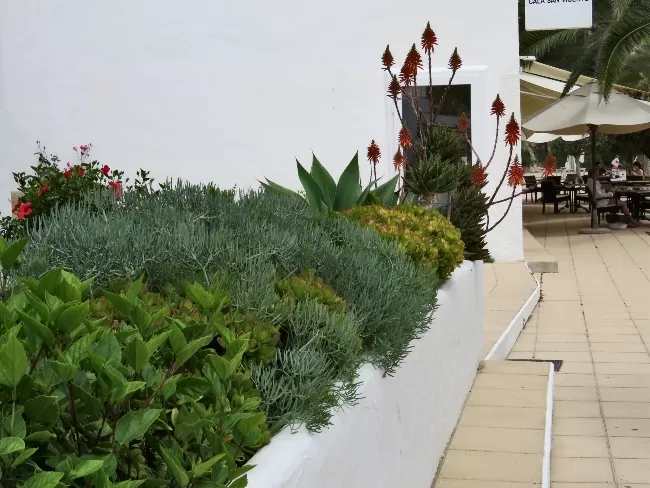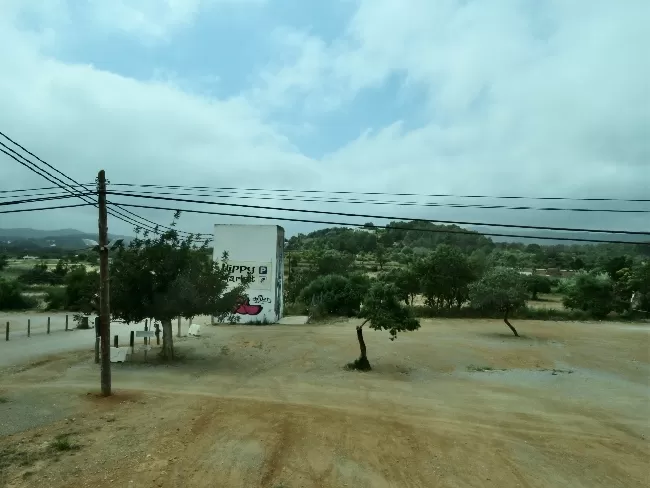 The Hippy Market lies about half way between Cala de Sant Vicent and our next stop, Santa Eularia. The market opens only on Wednesdays. We were passing through on a Thursday, I believe (the days run together!). I have seen it on TV, but would have liked to have seen it in person.
Santa Eularia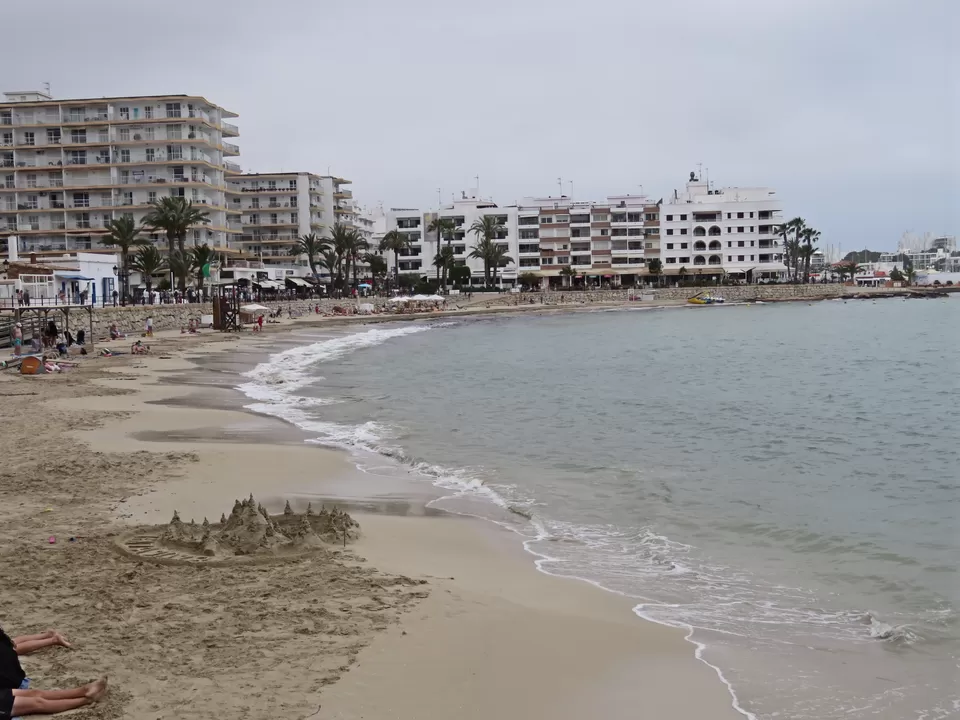 We were given about an hour to roam Santa Eularia.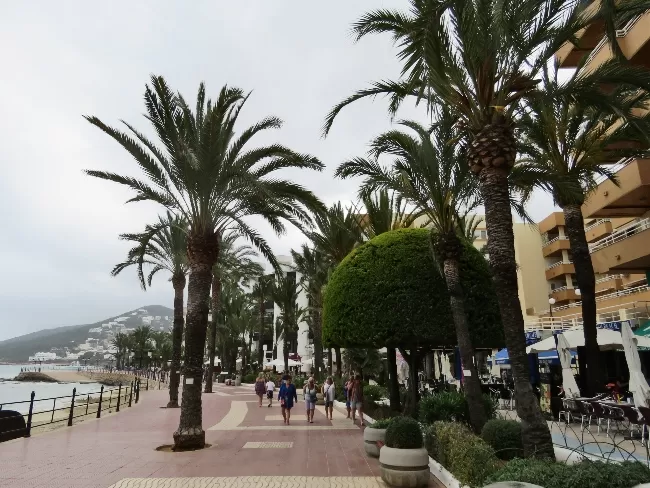 A paved beach front promenade provided a nice stroll and views. The promenade was lined with shops, restaurants, and hotels. The setting was again quite beautiful.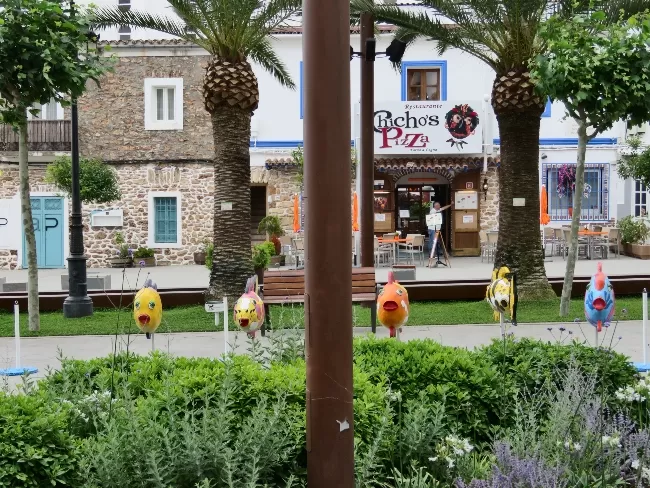 Santa Eularia is clean, nicely landscaped, and quite touristy. There are several streets with shops and restaurants to explore. The shops ranged from high end to exceedingly tacky.
Impressions
The Good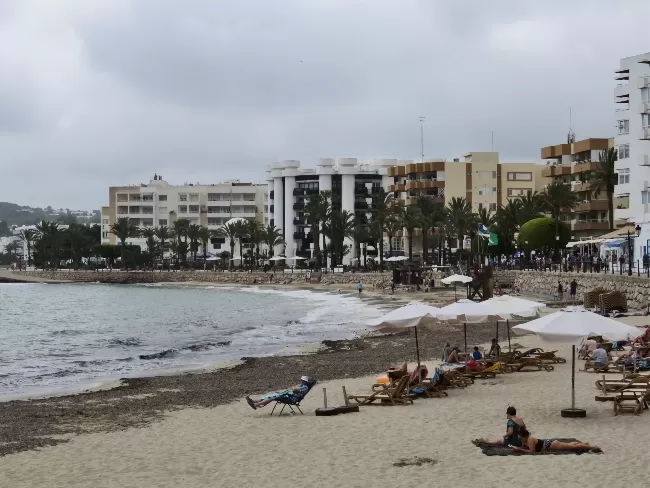 Ibiza boasts multiple beautiful beaches and vistas. Friendly people, Spanish food and culture await.
Young party goers can find the world's top DJs here. Tourism helps bring jobs and money to the island
The Not as Good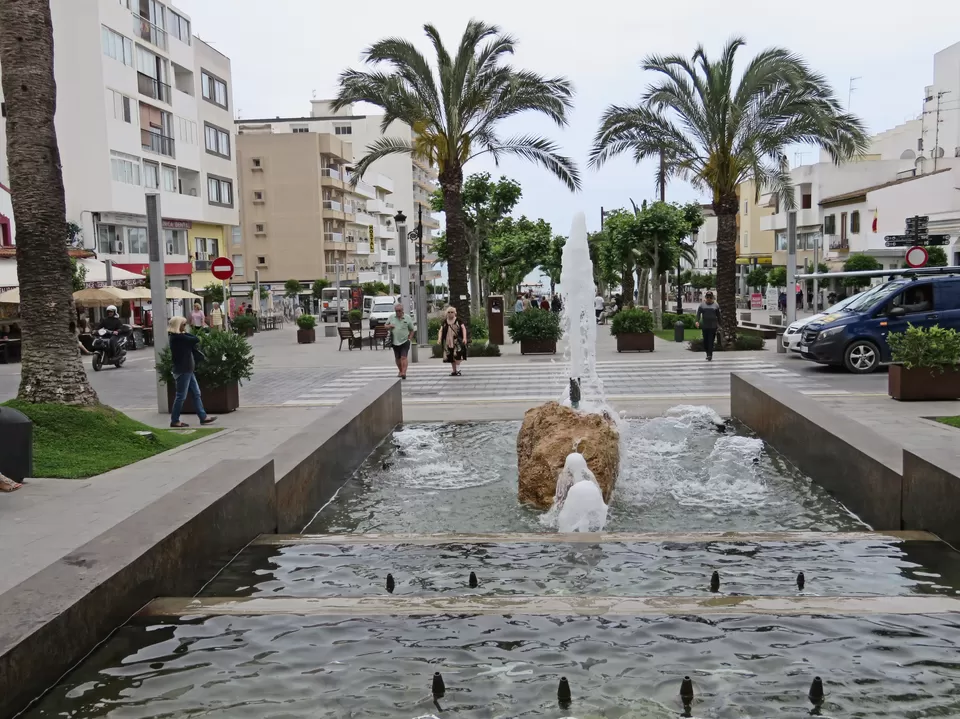 If you are not a beach lover or you prefer to sleep during the night, then Ibiza is not geared for you. This is especially true for cruise passengers.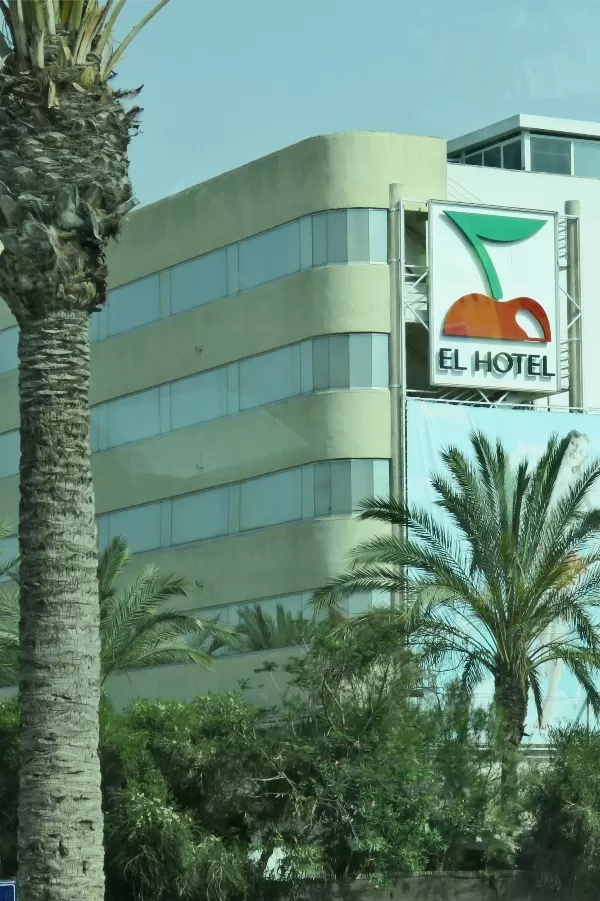 Almost everything looks and feels touristy. I know. That is quite ironic coming from a cruise traveler. Allow me to explain. Touristy is fine if I am going to Walt Disney World or to Destin for a beach vacation. My favorite cruise stops, though, take me to places with rich history like Rome or Florence, with amazing architecture like Barcelona or Lisbon, or with spectacular natural beauty like Martinique or Alaska. While these places may be touristy, they have so much more to offer.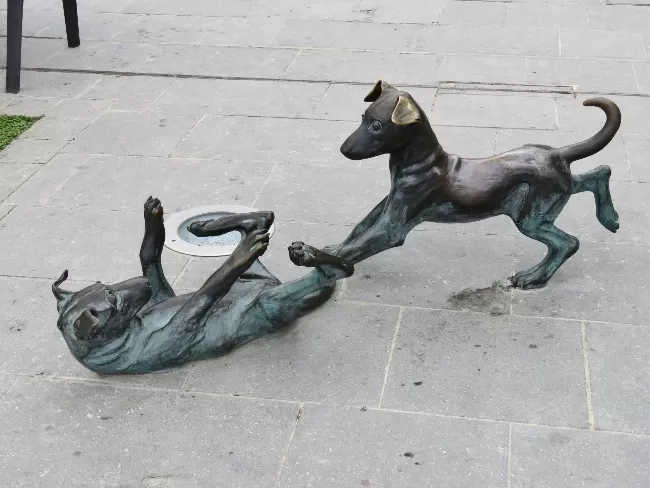 As described above, the negative impacts of tourism are felt heavily on Ibiza, too. This perspective does dampen the joy of travel, but needs to be discussed.
Conclusion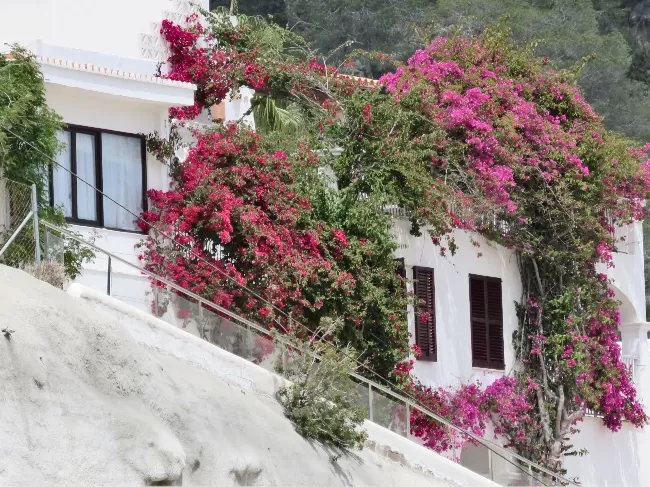 For the right person, Ibiza can be a dream destination. We are not among those people. Ibiza, Spain is not one of our favorite cruise ports. While I am glad that I had a chance to visit, I have no desire to return.