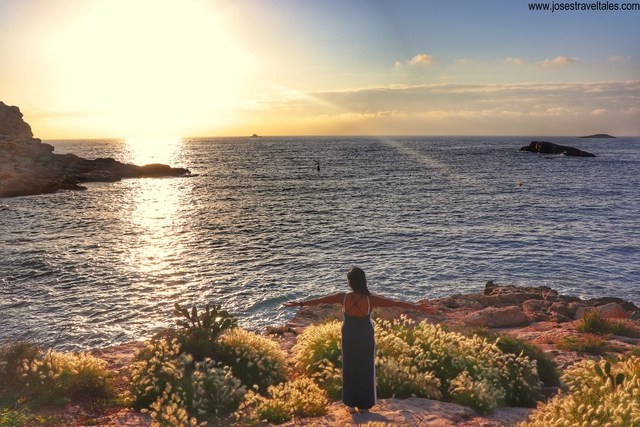 How many of you remember the song We're going to Ibiza by Vengaboys? This album was such a hit among the 90's crowd. Ibiza has been on my wish list ever since then. Hence 19 years later, I packed my bags and left on a short vacation to Ibiza (also known as Eivissa) -an incredibly beautiful Island tucked in the Mediterranean Sea off the eastern coast of Spain. Ibiza is a paradise for party lovers and is the perfect holiday destination if you fancy wild nightlife, hippy vibes and beach vacations. Ibiza is very touristy and hence its mood fluctuates with seasons. During summer, it is jam packed with tourists from all parts of the world and during the colder months the Island is almost dead and non-existent. If you are into parties and want to experience the nightlife that Ibiza has to offer then the best time to travel to Ibiza is from May until September/ October. The Ibiza summer season begins with opening parties in May and continues through till mid October when the majority of clubs close. However, if your motive is to see the places in Ibiza, then you might as well plan for a trip in the off- season. Visiting Ibiza in the off-season is a great idea cause your holiday gets more budget friendly and you are also able to have a relaxing holiday- free from all the noise and crowd that is at its peak in the summer months. Read on to know how to enjoy a relatively tourist-free holiday in Ibiza during the off -season and also to find out what are the best places to visit in Ibiza.
When is the off-season in Ibiza?
The off- season in Ibiza is from mid October to May and this is when you will find most of the happening clubs and popular restaurants closed. The water will be chill and it is not a great time to take a dip in the beach but hey there is still so much you can do that we highly recommend you go there if you are ever planning a trip during the colder months. During the off-season, there are several organized walks and cycling tours that happen which enables you to unravel a different side of Ibiza. Our trip happened in the mid of November and we still did a lot in Ibiza.
Cheap Flights to Ibiza
We trust Ryan Airways and Vueling for good and cheap deals on flight across Europe. The only problem with these flights is that they have a restriction on the baggage limit and many a times their flights get delayed. If these two are okay with you then book your tickets right away! We got a good deal on Vueling and flew from Barcelona to Ibiza. The flying time was 55 minutes.
How to go from the Airport to Ibiza?
One useful tip here is to avoid taking the taxi as they are ridiculously expensive. Instead look out for the Number 10 Bus which will take you from the Airport to Ibiza town for € 3.40 one-way. Tickets can be purchased once you board the bus.
Getting around Ibiza- Options and the Best Way
Our initial plan was to rely solely on public transport and use the buses to explore the whole Island. Later we realized it is not a good idea as the frequency of buses are very low during off season in Ibiza and it becomes practically impossible to move around to explore all the touristic spots and beaches on all sides of the island. Also all the top places to visit in Ibiza are pretty widespread so talking a bus from A to B and then B to C was not feasible. We ruled out walking all together as it was practically impossible to walk from town to town. So we settled in for a rental car. We hired a car from Avant Car and it was the best decision ever. We feel that driving around Ibiza is the best way to see the Island. The best thing about car journeys is that you will always come across interesting sites where you can make pit stops for a quick break. Another option you can consider is biking around. Scooters and bikes are easily available for rent at cheap prices.
Where to stay in Ibiza town?
We stayed in Hotel Central Playa in Ibiza town and booked our accommodation through Booking.com the rooms were spacious, clean, well maintained and great value for money. We would definitely recommend this hotel for your stay in Ibiza. The best thing about this hotel was its location. It is barely a kilometer from the historic Ibiza Town.
What are the things to do in Ibiza in the off-season? / Visiting Ibiza in the off-season
These are some of the things we did during our trip to Ibiza in November.
Visit a Hippy Market
Unleash the inner hippy in you by visiting the world famous artisan markets of Ibiza. These markets have been operating since the 1970s by the hippy community and are popular till today. They offer mainly artisan products such as clothes, jewelry, accessories, pottery, leather goods, essential oils, soaps and cosmetics. These Ibizan markets are a must visit just to see how colorful and happy the whole environment is . The vibes you get here are terrific and should not be missed at any cost. Most of these markets serve food and drinks and also have live music and performances to keep the crowd entertained. Some of these markets happen open only in the summer season, others all year round. There are way too many Hippy Markets in Ibiza and you must try to visit at-least one during your stay there. We highly recommend you shop for souvenirs to take back home from one of these markets. The original and biggest of all markets is the Punta Arabí Hippy Market on Wednesdays in Es Caná. Yet another market worth visiting is the Las Dalias Hippy Market on Saturdays in San Carlos. In addition to these, there are also regular flee markets like Mercadillo Sant Jordi selling second home goods and vintage items. Go visit and you will love it.
Cova de Can Marca Caves
This is a must visit when in Ibiza .Cova de Can Marçà is located in the north of the island in Port de Sant Miquel which is about 20 km from Eivissa. Upon reaching the first viewpoint, you will be greeted with a fabulous panoramic view over the whole of the bay of the Puerto San Miguel, with the Murada Island in the background. The Can Marca Caves are said to be over a 100,000 years old and has suffered ice ages and tropical heat waves. The cavity known as Can Marca was founded by smugglers and sailors , who used it for hiding their loot such as tobacco, alcohol etc. At the moment, the cave is almost fossilized, except for the deepest galleries, where the dripping still forms stalactites. There is a guided tour which happens in English and Spanish and each tour lasts for about 30 minutes. The guide takes you inside the cave and explains about its history and formations. Cova de Can Marca is open all year round. During winter the timings are 11 AM TO 17.30 PM and during summer the timings are 10.30 AM TO 20.00 PM. It is not necessary to make a reservation in advance. The tickets for entry to the cave can be purchased at the cafe situated right next to the cave entrance. Entry to the Can Marca Caves cost 11 Euros per adult. We really enjoyed the light and music show inside the caves. During summer, the caves will be packed with plenty of tourists and then the whole crowd would be divided into different groups to be taken in turns. We didn't have to go through any extra waiting period/ hassle as we went during the Off- Season. We liked how the group was very small and the tour was conducted at a relaxed pace. If you have mobility issues then we ask you to skip these caves as there are plenty of steps to climb. This site is not wheel chair friendly.
Stonehenge Ibiza and the secret doors of Cala Llentia
Any of you have visited the original Stonehenge that is situated at Wiltshire, England? It has been our long time plan to make a visit to England to see this popular prehistoric monument. Since our trip to England will have to wait, we decided to visit Ibiza's Stonehenge! We put Cala Llentia on our GPS and the route was clear and straightforward. Once we got there, we parked our cars and walked barely a few meters and what we saw in front of us were- 13 monolithic columns located on the edge of a cliff facing the ocean. This monument is called Time and Space and was the brainchild of world renowned Australian Artist Andrew Rogers. Apparently the tallest of the columns was built in the center of the circle and is topped with 23-carat gold, which glitters when the sun shines bright. I also read somewhere that the monument became popular after the Artist was fined a heavy amount for building this sculpture without prior permission. To be honest, more than the sculpture what we enjoyed was the beautiful view surrounding it. The scenery was beyond beautiful and we felt our journey to Cala Llentia was totally justified. Another attraction we enjoyed were the two ancient doors with intricate wooden carving and detailing. We enjoyed taking some photographs at this spot.
Walk the White villages of Dalt Vila
The beautiful Old Town is perfect in all ways- antique homes, cobbled streets and white washed walls everywhere. Dalt Vila is extremely dreamy and is for sure an instagram worthy spot in Ibiza. We went crazy clicking and couldn't contain our excitement when we saw the white town. In the Dalt Vila you will find many interesting places such as cafes, tiny bars and quaint boutique shops . Make sure to wear comfortable shoes to enjoy the Old Town as there is a bit of walking to do. Also while you are in Dalt Vila, you must visit the Catedral de Eivissa (Ibiza Cathedral) and the Castel de Eivissa. The Ibiza Cathedral is also known as The Cathedral of Our Lady of the Snows and is the main Cathedral in the City of Ibiza. The cathedral has free admission and is done up in a Gothic style with stunning interiors. The Cathedral as such is small but it has a very soothing atmosphere. If you want to participate in the Holy Mass then make sure to be there at 10:30 AM on Sunday. Right outside the Cathedral you will find a Tourist Information center where you can pick up some Ibiza Travel Guide books / City maps to help you navigate through the city.
Watch the Sunset at San Antonio
If you are wondering where to watch the Sunset in Ibiza then we recommend you go to San Antonio. Its a great spot to experience a magical sunset and chill by the sea listening to the waves hitting the rocks. We drove down just in time to witness a beautiful sun down. The colors were beautiful and surely made our holiday even better. If you like to chill out at a restaurant with some food and drinks then we recommend you the Golden Buddha Restaurant. Two other options include Cafe Mambo and Cafe del Mar.
Take a Stroll on the beach
How can you visit Ibiza and not go to the beach? Even though the water was too cold for a dip, we still made it to the beach. We loved spending time strolling around the beautiful promenade. Beach of Figueretas is very popular amongst tourists due to its easy accessibility. If you are game for a walk then you can walk from Figueretas to Playa d'en Bossa.
The above itinerary is perfect for a weekend getaway to Ibiza. However if you plan to stay there for longer then you must consider adding the below places to your list.
Festival Club
A super cool amphitheater for performance , art and so on. It has seen celebrities such as Bob Marley play there. The Club was operational only for two summers after which it got closed down and remains unopened till date. You will be astounded to see funky and cool graffiti on concrete ruins making it look uber cool and stylish.
The Lost City of Atlantis
What was a quarry once upon a time is now considered as a secret and hidden gem of Ibiza. If you wish to explore the Atlantis, then we recommend you get in touch with the Facebook group called Walking Ibiza. They conduct tours and excursions on a regular basis. If you are a nature enthusiast then you will love the Atlantis due to its striking rock formations.
Formentera
It is the smallest of Spain's Balearic islands in the Mediterranean Sea and is very popular amongst the tourists for its beautiful clean blue waters and white sand. There are several ferries that operate from Ibiza town to Formentera on a daily basis. If you are looking for an economical option then we recommend Aqua Bus Ferry Boats. The ride is cheaper but takes longer time. Ibiza to Formentera easily qualifies for a popular day-trip destination.
Sunset Ashram
If you are looking for more options to soak in some fabulous views of the sunset overlooking the beach then Sunset Ashram at Sant Josep de Sa Talaia is the place to be. However we have to warn you that the restaurant is super pricey and the place is very touristy.
Es Vedra
A stunning rock island made of limestone. Es Vedra is very popular for several reasons. Apparently it is the third most magnetic spot on Earth (after the north pole and the Bermuda Triangle). It is a very popular sunset spot and due to its beauty it is often called as one of the wonders of Ibiza.
Sa Caleta Fisherman's Huts
It is the perfect place to witness and experience an important part of Ibiza's culture- Fishing. It cant get more authentic and real than this. Make a trip to Sa Caleta if you are a cuture vulture. This place will not disappoint.
We hope you enjoyed this post on Visiting Ibiza in the off-season. Most of the above recommendations are all free things to do in Ibiza and can be enjoyed by people of all ages. Follow us on Instagram, Facebook and Twitter too to stay updated on our posts.
This is a travel and food blog by Vini & Jose, a fun indian couple who are absoloute travel junkies. They have visited 27 countries so far and look forward to creating many more memories across the globe. Through this space ,they would like to share their travel stories and adventures with the rest of the world and also inspire their readers to set out and explore those paths less travelled.