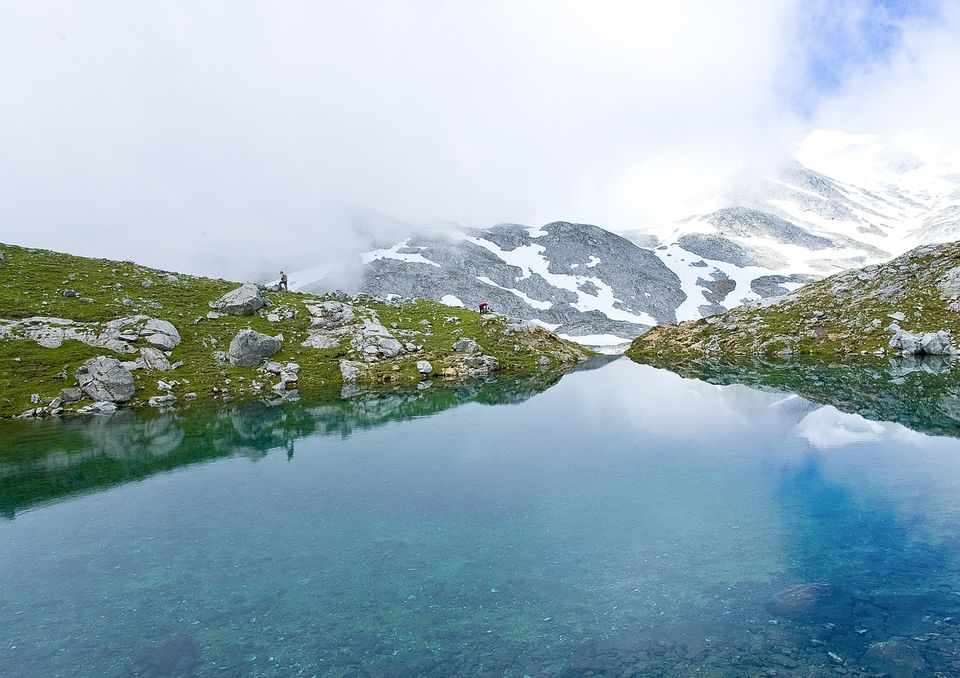 Think of Spain for a moment. What comes to your mind? Zindagi Na Milegi Dobara, Gaudi's Barcelona, palaces and plazas of Madrid, La Tomatina and the beaches of San Sebastian. But, have you heard of Parque Nacional de los Picos de Europa?
The Picos de Europa National Park, located in the north, is Spain's first national park. It was declared UNESCO Biosphere Reserve in 2002. Three giant massifs dominate the landscape - Andara massif, Urrieles massif and Cornión massif. The highest peak of the park, Torrecerredo (2,646 metres), lies in the Urrieles massif.
But, it is not all mountains, peaks and massifs. Four pristine rivers flow through deep ravines and canyons of the park. Cattle graze on green pasturelands in the midst of the imposing limestone peaks. The national park also contains hill forests, beech forests, oak groves and heathland. Idyllic lakes dot the park with Covadonga Lakes being the most famous. It snows in the winters and it is possible to find snowfields year-around. And, mother nature rounded things up by placing beautiful beaches nearby.
The best way to explore the national park is via trekking. There are 36 well-marked trails for self-guided treks. The treks vary in difficulty and are categorized as short routes, long routes and high mountain routes. Some of the treks require a high degree of physical fitness. The Cares Route, Covadonga Lakes, Ordiales, Vega de Ario trails are best to witness stunning mountain scenery and lakes of the park. If you want to experience the beauty of the forests then pick one of the following trails - Horcados Rojos, Puertos de Áliva, Hayedo de las Ilces or Brez-Canal.
Free guided tours (3-4 hours) in Spanish are also provided by national park guides. The tour difficulty is easy to medium and has a group size of maximum 20 people per guide. These tours only take place from Monday to Friday during July, August and September.
The free guided tour from Asturias covers one of the following trails - Covadonga Lakes, Jaedu el Osu, Majada del Toyeyu or La Caballar.
The free guided tour from Liébana covers one of the following trails - Minas de Altaiz, Monte Quebres, Peña Oviedo, La Peñuca or Sierra de Bejes.
The free guided tour from León covers one of the following trails - Chorco de Los Lobos, Llarellampo, El Odrón, Félix de Martino or Colladín Redondo.
Check out the official national park page for information regarding the guided tours.
Where to stay in the national park
There are mountain shelters within the park that are open from April to December. If you wish to stay in one then you should reserve well in advance. More information regarding shelter reservation can be found here. Camping is allowed in the authorised campsites only. You can also camp near the mountain shelters if they are full. You can also camp in the fields of nearby villages after obtaining permission from the locals.
Visa
Indian citizens need a Schengen visa to visit Spain. The visa costs ₹4559 + service charge and the minimum processing time is 15 days. For more information check here.
When to go
The best time to visit Parque Nacional de los Picos de Europa is from June to August when the temperature ranges between 11 to 26 Celsius. Rainfall is also scanty during these months.
Getting there
By air: Bilbao (216km) is the nearest international airport with flights from India. A round-trip flight from Delhi to Bilbao costs ₹39,000. You can hire a taxi or catch a bus from Bilbao to the national park.
Accommodation
Refugio La Ardilla Real (₹1,176 in dorm), Rural El Molino (₹4,703 double).
Have you trekked in the Picos de Europa National Park or anywhere else in Europe? Write your own travelogue and share it with millions of other travellers. And subscribe to Tripoto Youtube Channel for stunning videos.