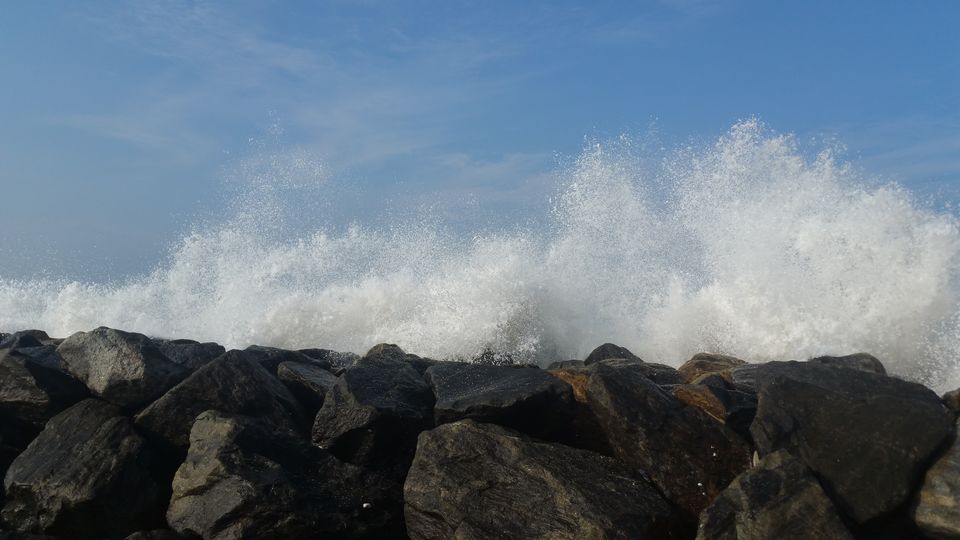 Sri Lanka, a country of surprises and variety you will not find anywhere else.
A never-ending stretch of pristine white sand beaches with heart pumping water sports. Lush tropical forests and mountains covered with sprawling tea estates. Ancient world heritage sites popularly known for Buddhist culture and art. Plenty of wildlife and turtle hatcheries. Friendly locals you could ever hope to meet plus delicious food made with an aroma of spices you will not find elsewhere. Sri Lanka is a complete package that will suit every kind of tourist.
For me, it was a short trip with family with a plan to cover Colombo and Kandy. We wanted to explore the place at our pace. Hence, we wanted to book the trip through someone who can take us around while we relax sitting in the back seat. We came across a trip planner, Mr. Nilantha who is a local and is known for organizing customized trips based on your requirements. So, we took a chance and got the complete trip booked through him. It was for the first time that I got myself such a planned trip.
We landed in Colombo and Nilantha was right there to pick us. He had arranged a AC car spacious enough for just the 3 of us. We picked a local SIM card and we headed to his hotel Coconut Bay, which is in Kalutara, a town which is an hour drive from airport.
Hotel Coconut Bay, Kalutara
Nilantha is someone who wears a permanent smile and is filled with energy who will take that extra step to ensure your comfort. A humble family who lost their home in the disastrous Tsumani that washed away lakhs of lives in Sri Lanka. Withstanding the loss, Nilantha struggled for months for his livelihood and managed to re-build his house and a small hotel on his property.
The hotel Coconut Bay is just about 20 meters from the beach. The hotel building from the outside looks very ordinary and may not impress you instantly, but you will be pleasantly surprised by the rooms and everything about it – the size, cleanliness and the beach view from every room which is so rare!
It is the perfect place with perfect ambiance and perfect food. Imagine a private breakfast table set for you right in front of the beach, where you can enjoy the delicious menu amidst cool morning breeze. The owners have taken extra care in crafting a menu suiting all taste buds. While in Sri Lanka, you cannot miss the famous Rice & Curry. Being a vegetarian, I thoroughly enjoyed the unique spices and taste of the curries. Nilantha is also a certified massage therapist and knowledgeable about the famous gem stones. He can take you to some genuine stores and spas offering the best value for money and genuine products. Otherwise, it is usually easy get duped by fake jewelry salesmen.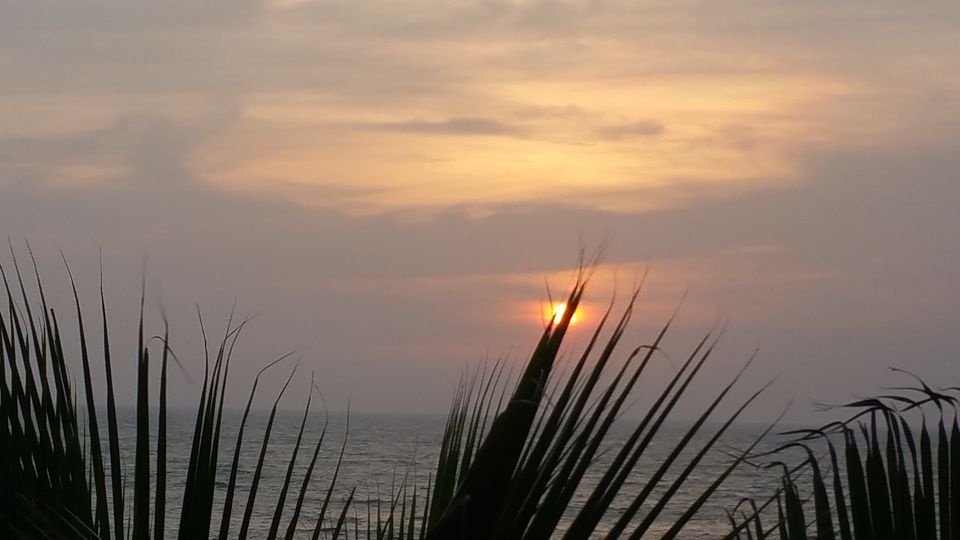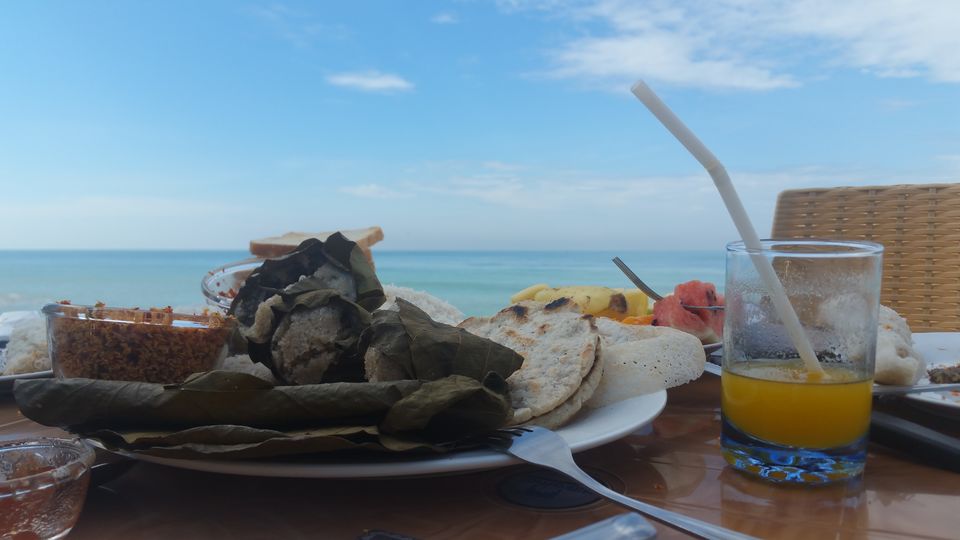 It's the ideal spot for complete wind down. The best part of this location is the beach which is so isolated with no noise and crowd turning it into a an experience of a private beach. And yes, the mesmerizing sunset views you will get from every room in the hotel! You can contact Nilantha here at his phone no: +94 777428025 and email: ukd.nilantha@yahoo.com.
While in Colombo, it is necessary to visit Ashokaramaya and Gangaramaya temples – both are ancient Buddhist temples known for its unique architecture.
While in Colombo, it is necessary to visit Ashokaramaya and Gangaramaya temples – both are ancient Buddhist temples known for its unique architecture.
# 1 Asokaramaya Temple
Built during 1870, Asokaramaya is a Buddhist temple, located in Kalutara town. Most of the temples in Sri Lanka are replete with Buddha relics and statues. The walls of the temple are adorned with intricate paintings and murals of that time.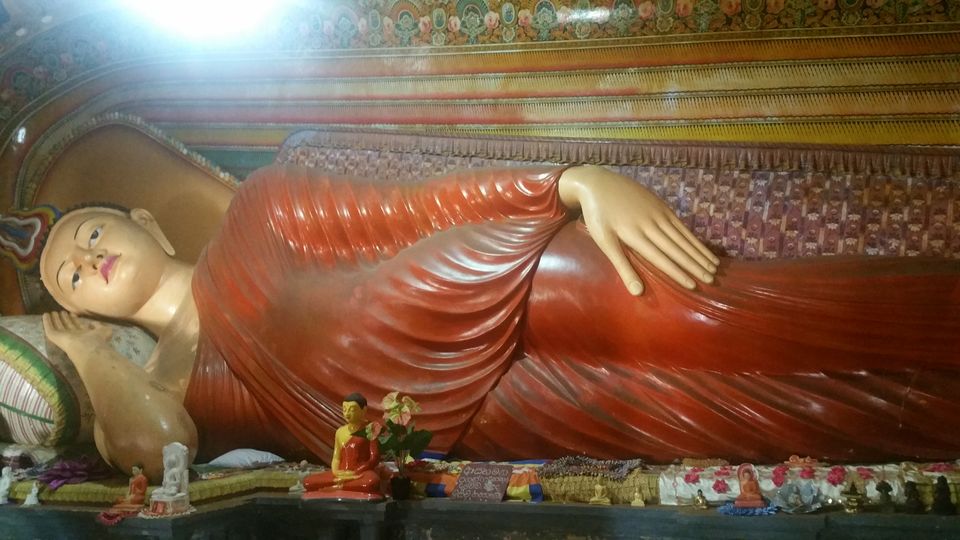 # 2 Gangaramaya Temple
Gangaramaya temple is the second most important temples in Sri Lanka. It is a beautifully located temple on Beira Lake on one side and statues of Buddha surrounding the temple inside. There is a huge Buddha statue inside the main sanctuary. The temple is known for its unique architecture where you will find unusual blend of architectural styles including Sri Lankan, Indian, Thai and Chinese. One should not miss the museum in Gangaramaya Temple. The museum is replete with several halls and house rare collection of artefacts made with wood, ivory and stones. The relic chamber of course has relics of the Buddha.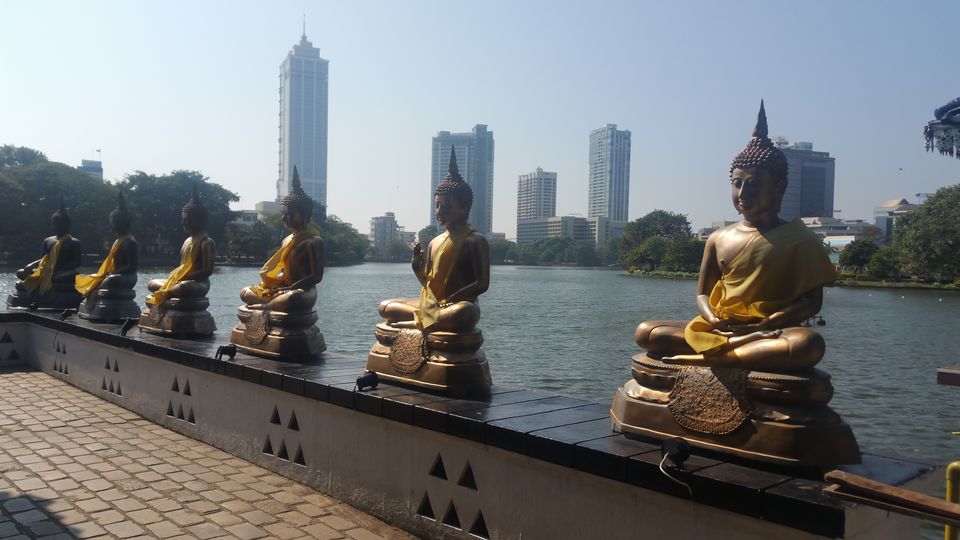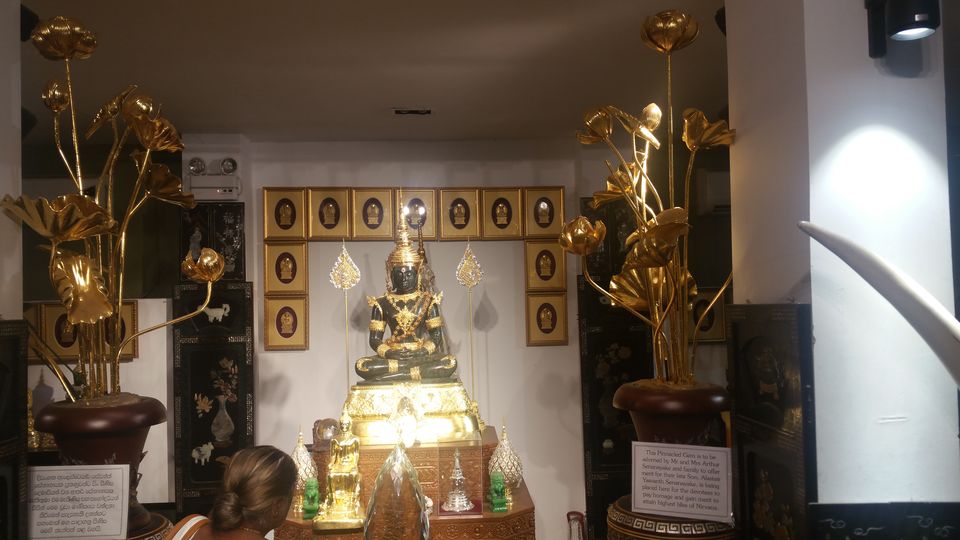 # 3 Whale watching in Bentota
Whale watching is an experience in itself. If you are lucky you will spot dolphins and whales. Unfortunately, commercialization and hordes of ships makes it uncomfortable for the sea animals to spring up. So, you can just maybe go for the ride just to enjoy the deep blue waters. As you sail through the waters, watch the beautiful Benthara lighthouse surrounded by tall coconut trees.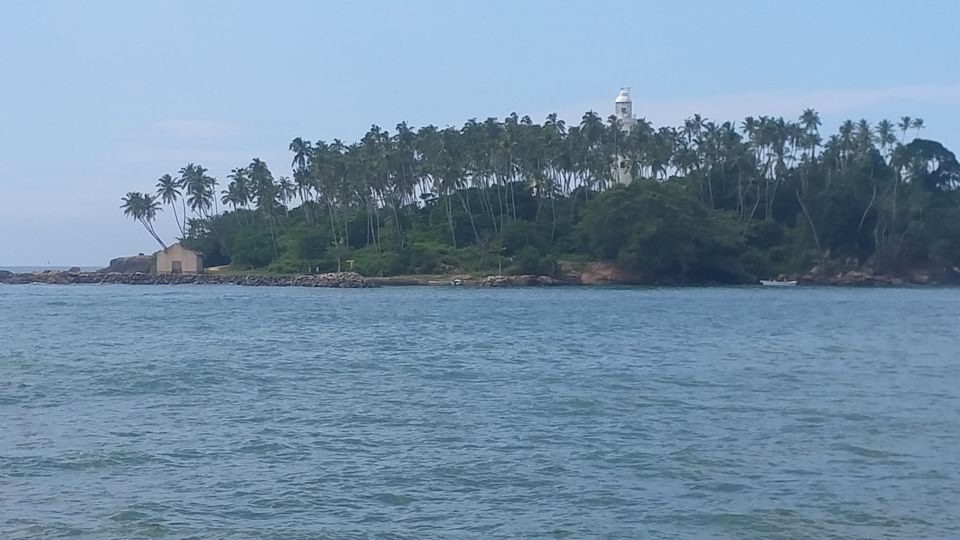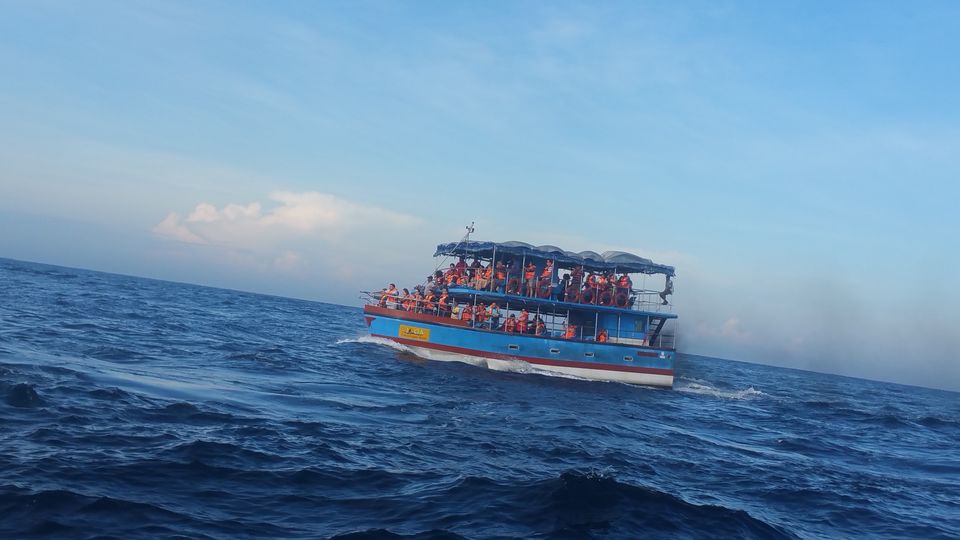 # 4 Boat ride in Bentota river through mangrove trails
Its one of the most beautiful mangrove trails I have seen. Surrounded by wild mangrove forest, the boat takes you through the lanes of river. You are sure to spot a few crocodiles and wildlife as you pass. We were lucky to spot a few of them including baby crocs. As we skimmed through the river, it started pouring in which made it feel like some sort of Amazon experience! The sound and sight of raindrops falling on the water with mangroves around was quite a wild thing.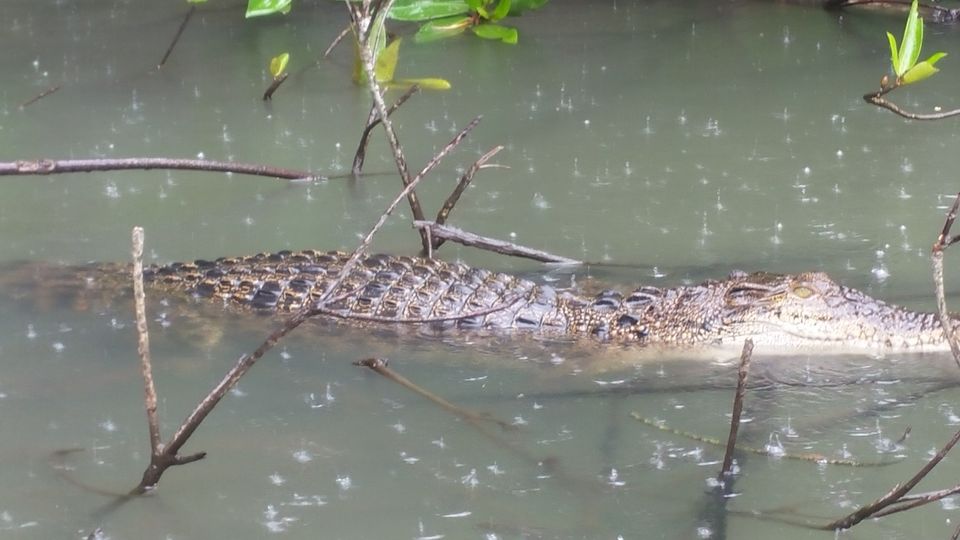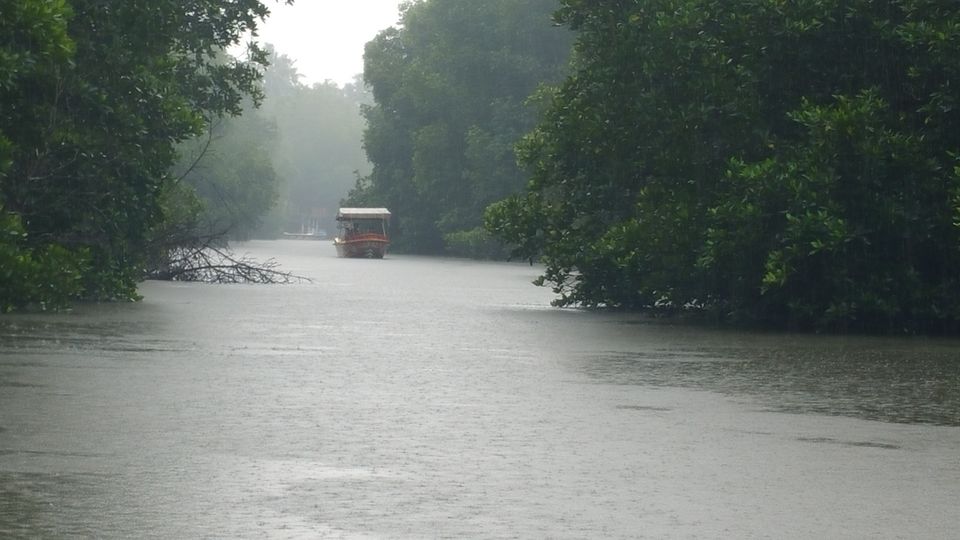 # 5 Galle fort
Galle is a beautiful Dutch town in the southern coast of Sri Lanka. Cobbled streets, tiny cafes, shops selling local artefacts and souvenirs – will certainly remind you of Europe. We took a walk around the Galle fort, which is a UNESCO heritage site. You cannot miss the lighthouse standing tall. Easily you can spend a day in Galle exploring the town and Dutch architecture at leisure.
# 6 Hikkaduwa beach
If you like clean and isolated beaches, then they have to be the Sri Lankan beaches. Drive across the coastline with sparkling clean roads with restaurants and cafés around calls for a romance. In spite of being the most popular beaches, I was surprised by the cleanliness and maintenance. You must give it to them for the dedication and way the government has taken it up! It is a heaven for those who enjoy surfing and water sports. You can even learn scuba diving if you are interested. All through the coastline, you will sight traditional stilt fishermen in their popular stance doing their job. It has now become so commercial that the wives of fishermen wait for people to come and get paid to capture the pictures of fishermen in their unique posture! You should certainly buy a souvenir of a stilt fisherman as a memory.
# 7 Turtle hatchery, Kosgoda
Sri Lanka is known for turtle population. The turtle hatcheries work on conserving turtles. Most of the newborn turtles won't make it to sea as they get gobbled by fish, birds and sadly by humans for their treat. In order to preserve the turtles and hatch them, the turtle hatcheries on the coast around Bentota and Kosgoda claim to protect sea turtle eggs and provide shelter where they incubate the eggs. The baby turtles stay in tanks for a while and are then released in the sea in night.
Colombo has lot more to it. Since we just had 2 days, we decided to leave the rest for the next visit!
Spice gardens, temples, tuk-tuk, waterfalls, antique shops, jewellery stores specialised in jems are some of the things you should not miss while you are in the city.
It's the people of Sri Lanka that make it the place it is – warm and welcoming. Never you will feel you are in a foreign land because of the warmth showered by the people. You can smell and feel the influence of Buddhism that clearly reflects in people in their conduct. Inspite of what Tsunami did to the lives of people in Sri Lanka, I feel it's their strong religious belief that has given them the strength and courage to withstand and held them together. Something that I learned from Sri Lanka! No matter what happens, stick to your beliefs and be grounded. This shall too pass.
Whether it is the ancient architecture of Buddhist temples, tropical jungle safaris, pristine white sand beaches, lush green tea estates, Sri Lanka has it all. Most importantly, it the people that definitely calls you back! Sri Lanka really is a land of contrasts.
My recommendation is to have a minimum of 1 week each devoted to cover the North and Central regions. And one week to cover the South region.
In my next blog, I have shared experience of my stay in Kandy, the mystical hill country of Sri Lanka.
Until next time!