How many times do you get a chance to travel internationally ? Well, at least not that much to an middle class Indian like me ????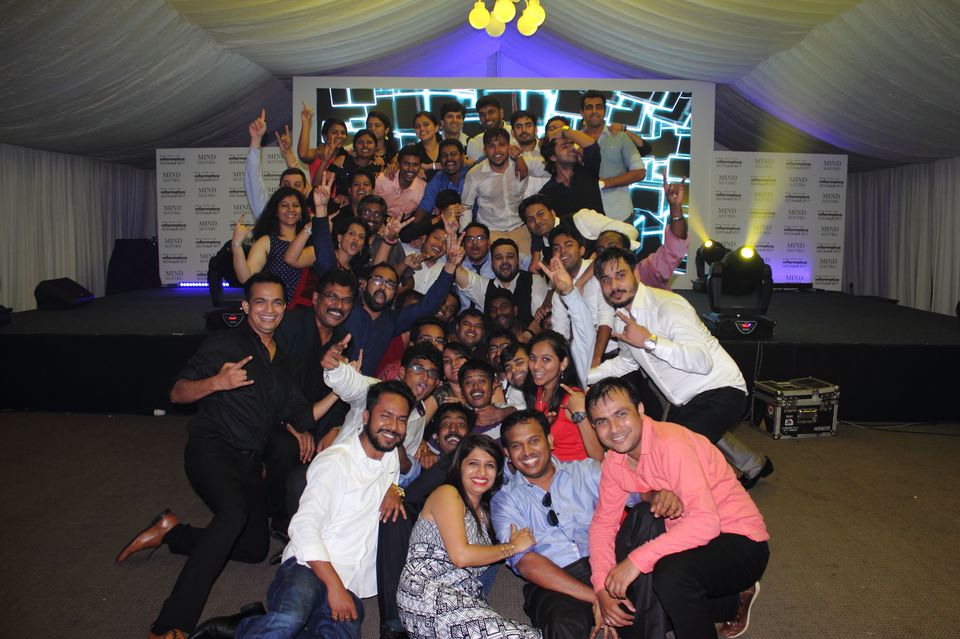 I have read somewhere that young Indians are the most travel-deprived lot and that is true in many sense. We all have it in us to wayfaring and yet miss to take that one substantial step towards it, showing the company how much we love it and even going to an extent of making our company's CEO precarious and edgy with his job title.
Why am i enlightened and sound like a monk ?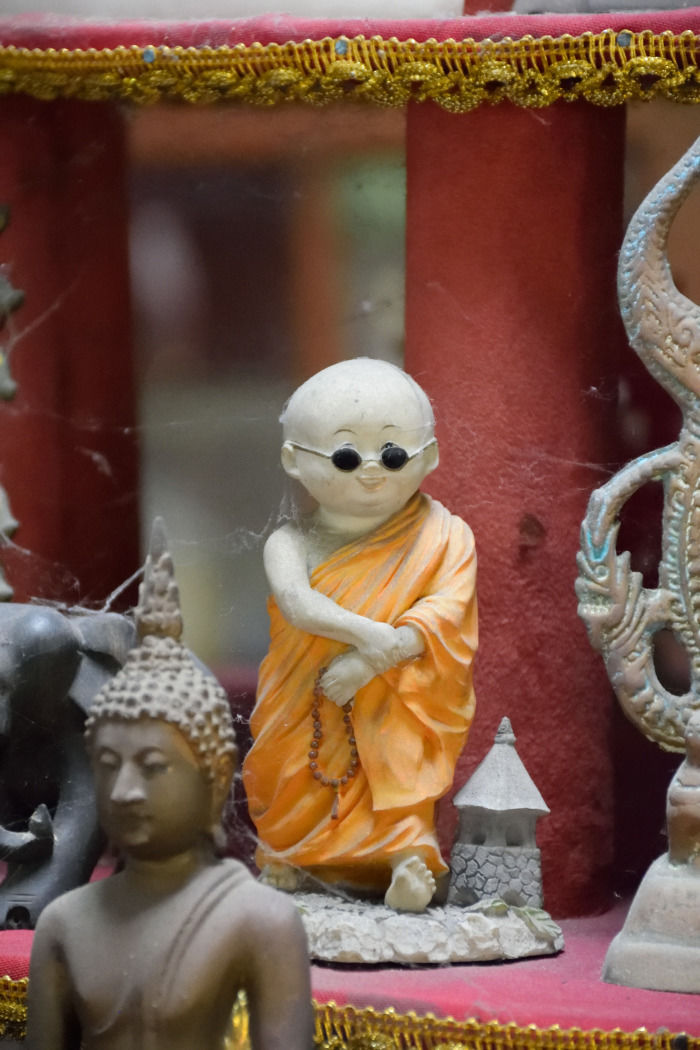 Okay, let me get straight to the point. I am all awakened by this thought and equally thrilled just by hearing that I am getting a chance to travel to this South-Asian Buddhist Island (Okay, an Hindu Ruler named Ashoka who later converted himself to Buddhism and then carved his Buddhist identity all over this tropical island) but still i got to give some Buddhist Yen touches in this article. The euphoria however was that we are all going for a trip in company's expense (I know you all crave for this, but just that little coy to accept it - Yeah, I get it :D).
It was a constricted weekend trip from Bengaluru and we started from our journey on Friday night. Both the airports (Bangalore and Colombo) had a queer co-incidence of five hour check-in time owing to its revamp and we all indubitably know the time we should be starting to the airport from the office (we joked how a day is lost thanks to the Bangalore traffic!!!).
I always feel connected to this piece of land and the culture. Sri Lanka is a land of vibrant culture, a fusion of race and ethnicity, constantly battling itself between modernism and conservatism, flourishes mainly on tourism and with all one's heart derives pride with its easy going and warm people.
Few Selfies and Free WiFi's were the norm and that was how the day turned out to be.We finally boarded the flight around Sat 12:40 AM. It was a tolerable 90 minute flight and we reached the Bandaranaike International Airport around the wee hours. We were then escorted to the Taj Samudra Hotel in a cushy private bus.
I had a tug-of-war with my sleep as I do not want to miss what's in store for us. I refused to close my eyes in the bus even though it is as early as 02:00 AM. I wanted to see how Sri Lanka is and what better chance than to gaze, sitting in the window seat and trying to capture and process every detail in my head.
This is my first luxury hotel experience and to spice it up, things became aces. My room was not available at the moment i checked in and they offered me a suite room. I couldn't believe my luck and I happily accepted the offer cosily and I headed straight to slumber.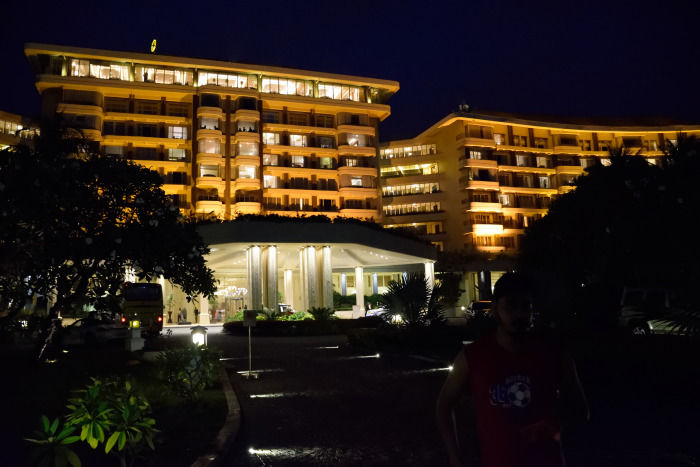 With what I had seen, the roads are not wide but is free from traffic. It is well planned and the roads are almost straight and not as serpentine as in India.It is a relatively clean country with good roads (I am sure about the rest, but at least in Colombo). Its commercial establishments and housing structures are akin to India. We had a warm welcome at Taj Samudra.
I knew we did have a tight schedule and barely had time to explore. But little did i know that there are not much variety in Colombo.
We had a nice sumptuous breakfast at Taj and headed our way out around 10. We first visited Galle Face Beach which is right opposite our hotel. It was a bright and a sunny day (exactly as how they start the commentary in a cricket test match) and I was so much home (nostalgic of my Chennai Beaches and weather) and not quite understanding why others were constantly complaining about the sun.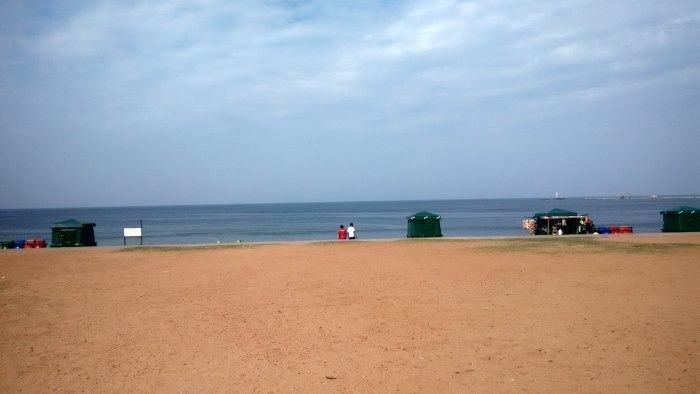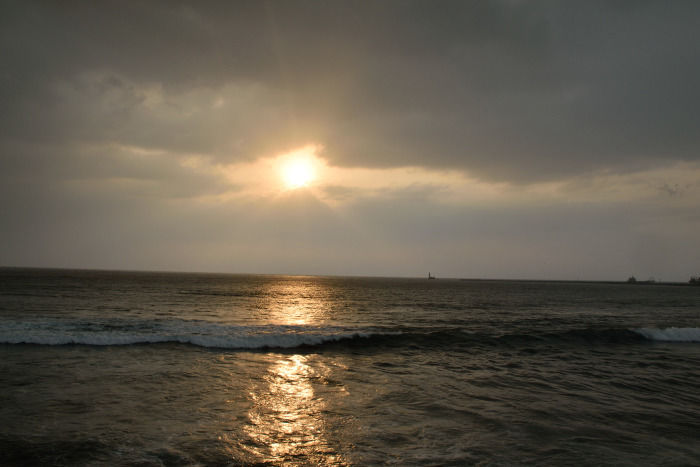 We were then outside our hotel and were busy negotiating with an Tuk-Tuk guy and I tried my luck talking in Tamil. To my surprise, the auto driver agreed to guide us the city tour with half the cost - just because I am from India and I spoke in Tamil. I was little hesitant with the generous offer and was not comfortable riding a Tuk-Tuk in an unfamiliar city fear of getting ransacked popping in my mind, after all we are all biased with prejudice and took an Uber ride (who took 200 LKR) to the Gangaramaya Buddhist Temple patting myself on my back having taken a safer option.
There were constructions all along (with high rise buildings) and luxury hotels. Colombo is an aspiring global city with almost 5 million people. It was just a ten minute ride to the Gangaramaya temple and the journey was beautiful with colonial age buildings adding that extra bit of flavor. Right from the airport, Buddha is almost everywhere and welcomes us with his enchanting looks.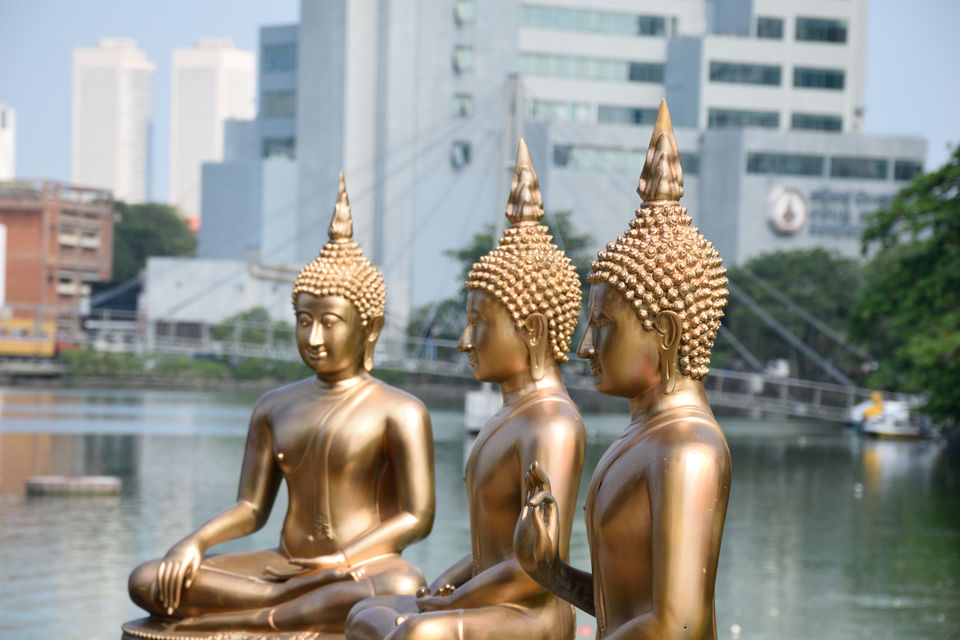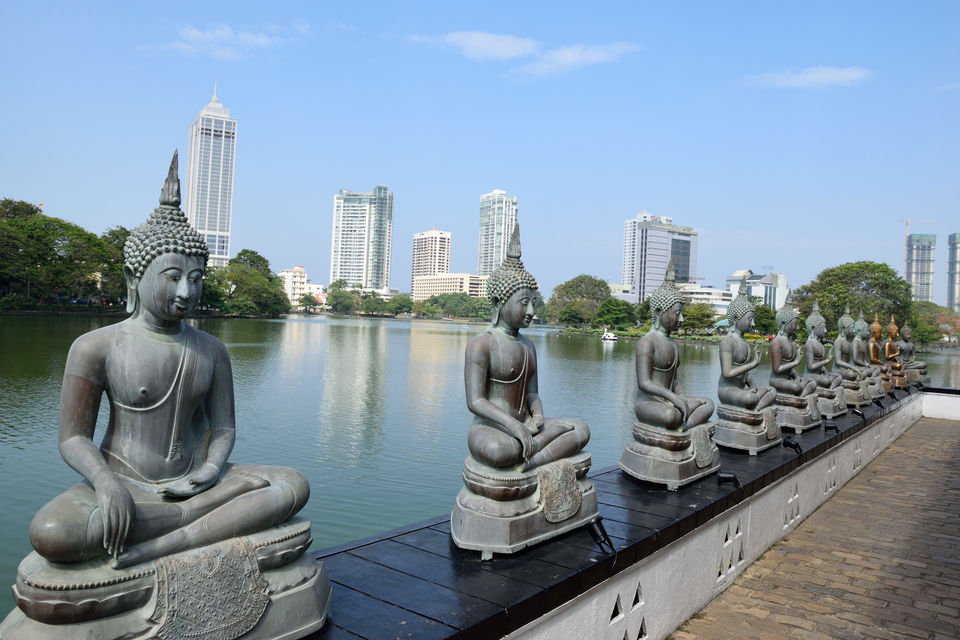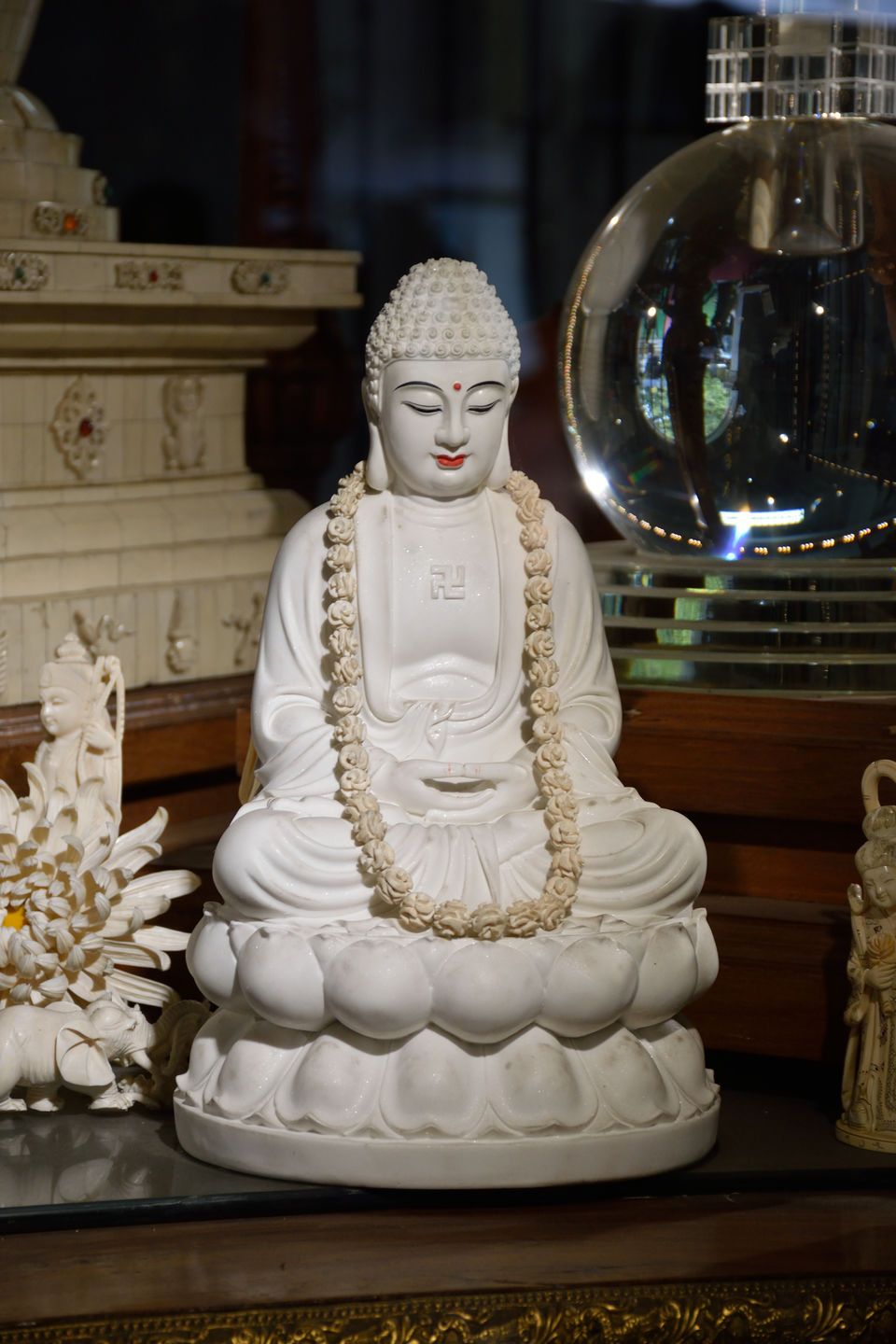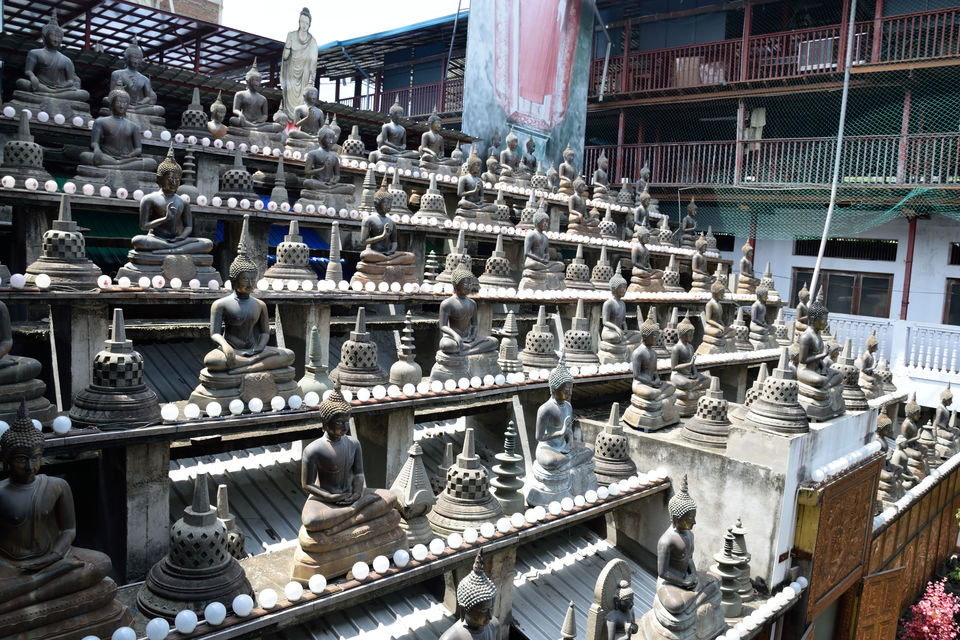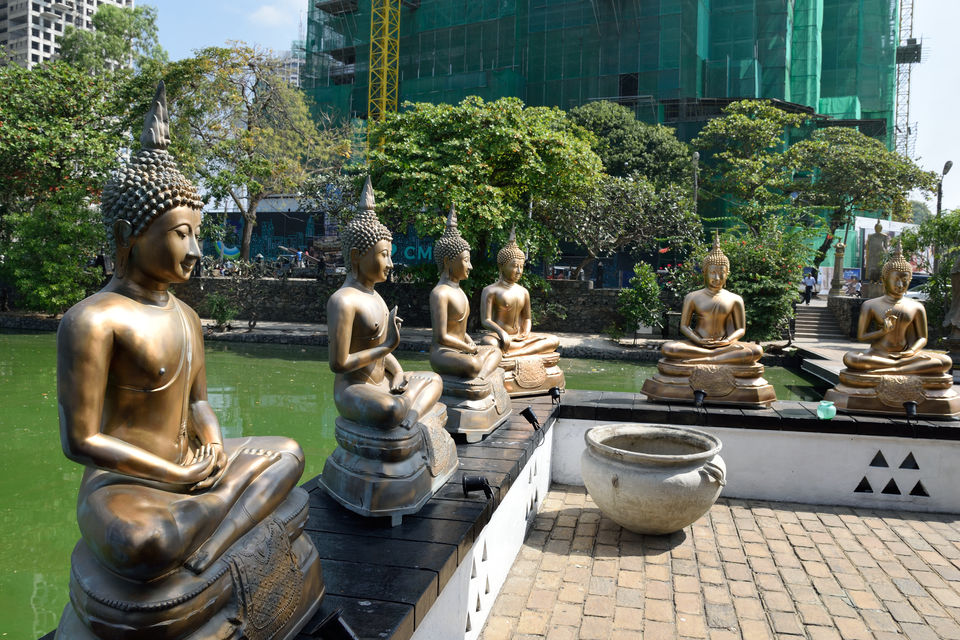 The entry ticket to the temple costs 300 LKR which includes (Gangaramaya Temple and Seema Malaka temple and the Park). We were posing for pics with Buddha and heard the locals suggesting us not to show our back to Buddha. The irony however is Buddha is present on all 8 sides and I cannot avoid showing my back and yet tried hard respecting their beliefs and dancing our way outside which might have looked funny to the on-goers.
We then visited the Seema Malaka temple which is situated inside the lake. The lake is polluted but the architecture and the statues were nothing short of brilliance. We could also enjoy a beautiful coast line view and a flurry of high rise buildings. It is mostly an assertion of economic race between China and India, both trying to establish their soft power over Sri Lanka.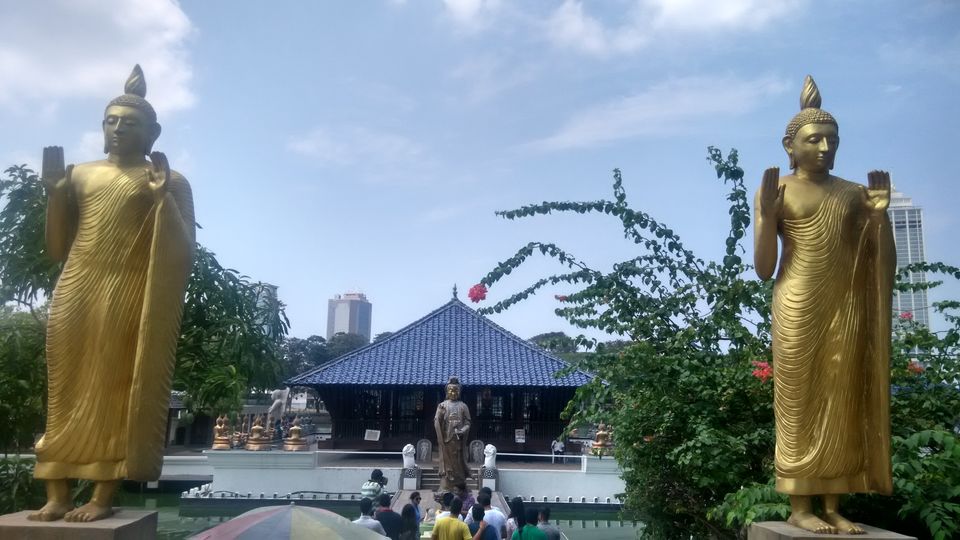 There is Pettah Floating Market and Gems Market, which I could not visit much because of the lack of time. It was around 1 clock in the afternoon and we had a official conference to attend. I had to come back to Taj and this time I made sure to correct my previous mistake. I hired a local auto guy. As soon as he heard us talking in Tamil, his eyes lit up and said he was very happy to meet us and escorted us back to the hotel. Even through the war is over and the nation is now peaceful, there is a visible grief among Sinhalese and Tamils and rightly so with the amount of human rights violations in the name of Civil War.
I made up my mind to visit the missing puzzles in my next visit. Viharamahadevi Park, National Museum of Colombo, National Zoo, Colombo Deutsch Museum, Couple of Casinos, Ponnambaleshwar Temple, and some other churches and mosques were on my itinerary and most importantly wanted to explore the Eastern and Nothern provinces of Sri Lanka.
After all the conference and Gala night at Taj Samudra, we packed our bags and headed to Bentota on a Sunday early morning, which is touted as the best water sport destination in Sri Lanka. It was a two hour drive from Colombo. We could literally experience the changes around us - with the city madness leaving behind and the rustic country charm creeping in, I know we are all for a treat.
We reached Palapittya and headed to Cinnamon Island via a ferry. Madu River was enchanting and it reminded me of my trips to the Kerala backwaters. The scene was no different either. We traversed the Mangrove swamps shaping the whole journey surreal. One amusing point in the boat ride was when we literally had to dodge the bridges each time the boat passes it. Some of the clicks were from my friends, and i hope they don't mind publishing some of their wonderful pics.
It was a quiet 20 minutes to the Cinnamon Island. We were shown how Cinnamon sticks were made in Sri Lanka and it was an interesting session for me to understand how it was all hand made with so much ease and perfection. Sri Lanka is an biggest exporter of Cinnamon and the best in-class cinnamon are exported while the third class products are consumed by the local market.
We then had our lunch at Golden Grill Restaurant en-route Bentota, which is again so Indian. We then reached the much hyped Bentota water sports club. I must say it had few little options to try (Jet Skiing, Banana Ride, Tube Ride) and I never thought twice to experience these rides.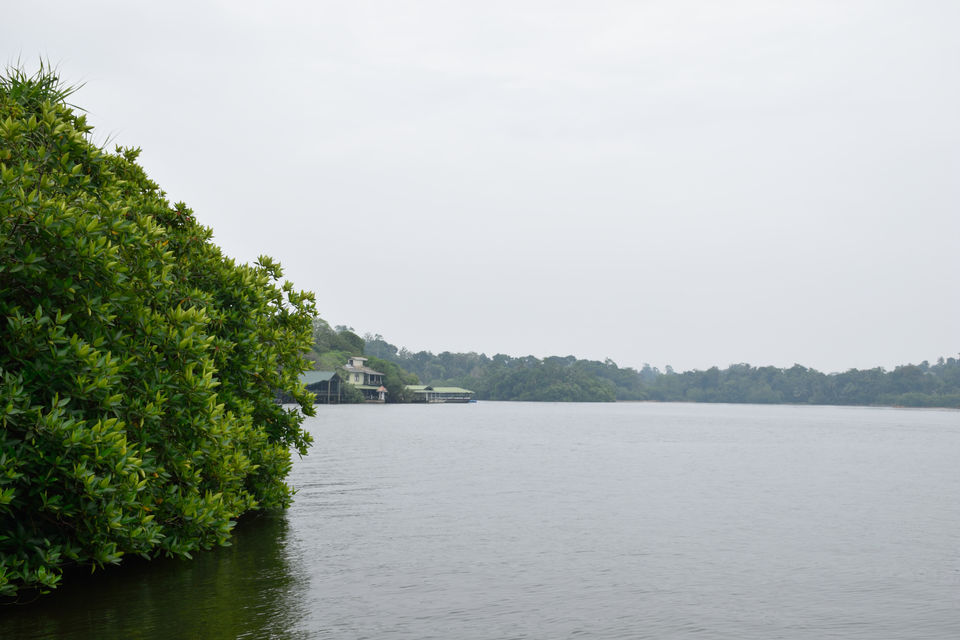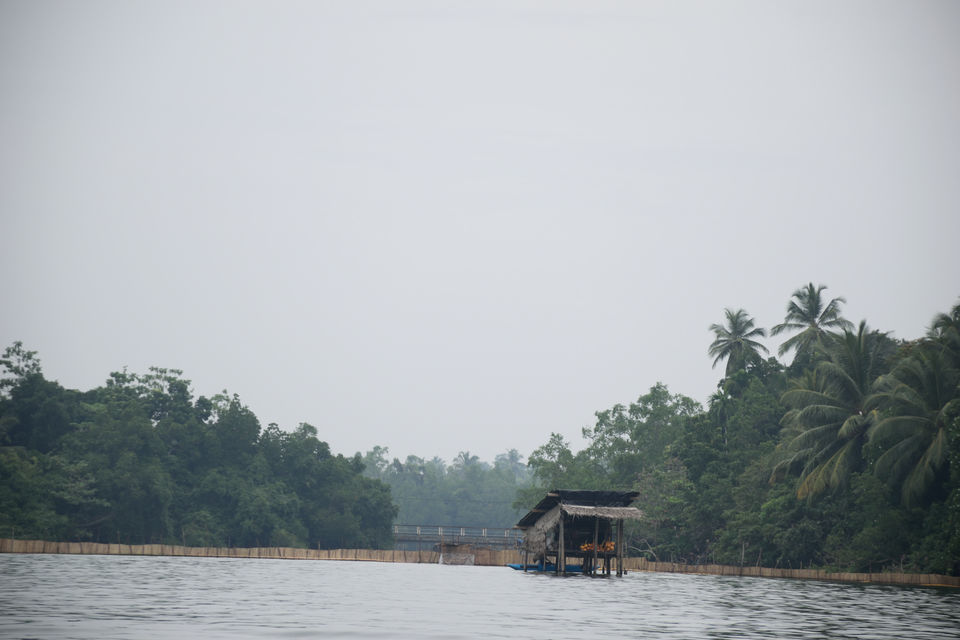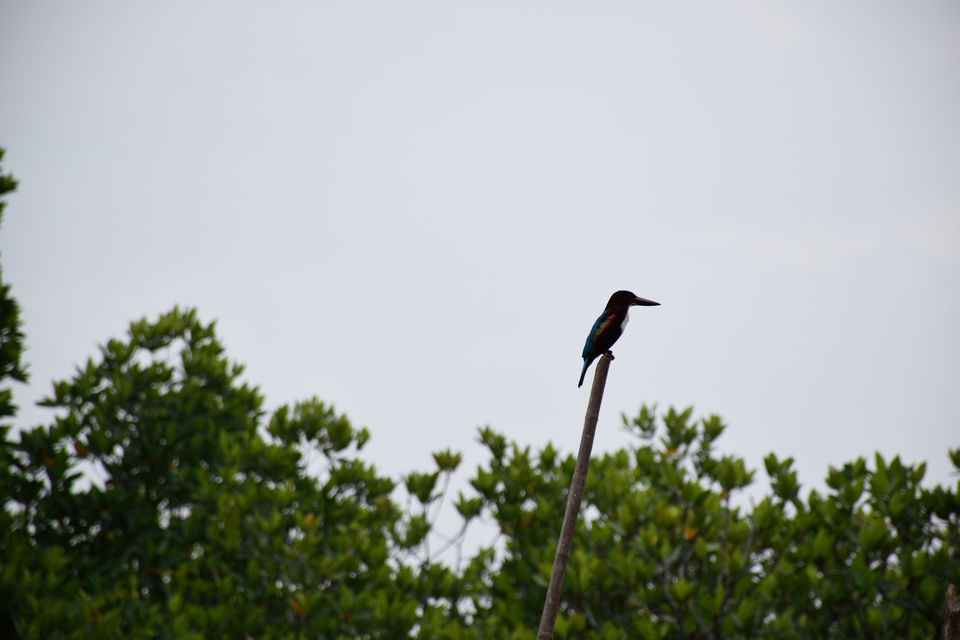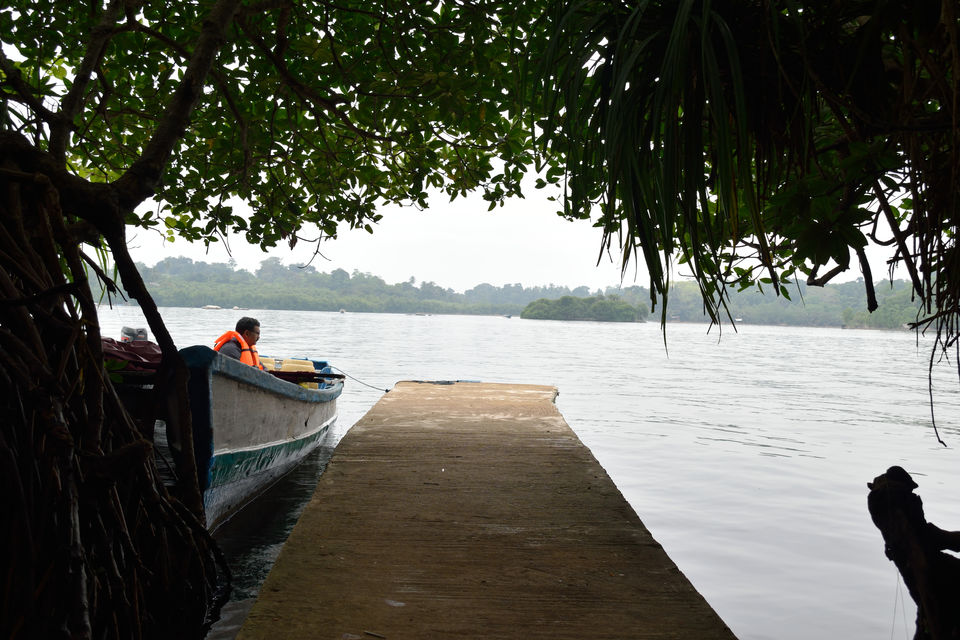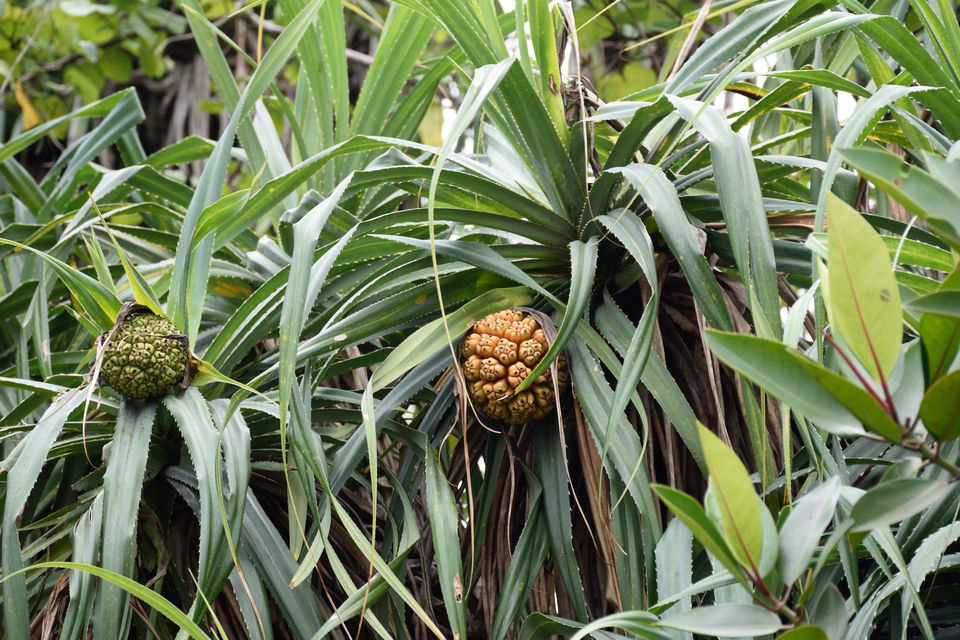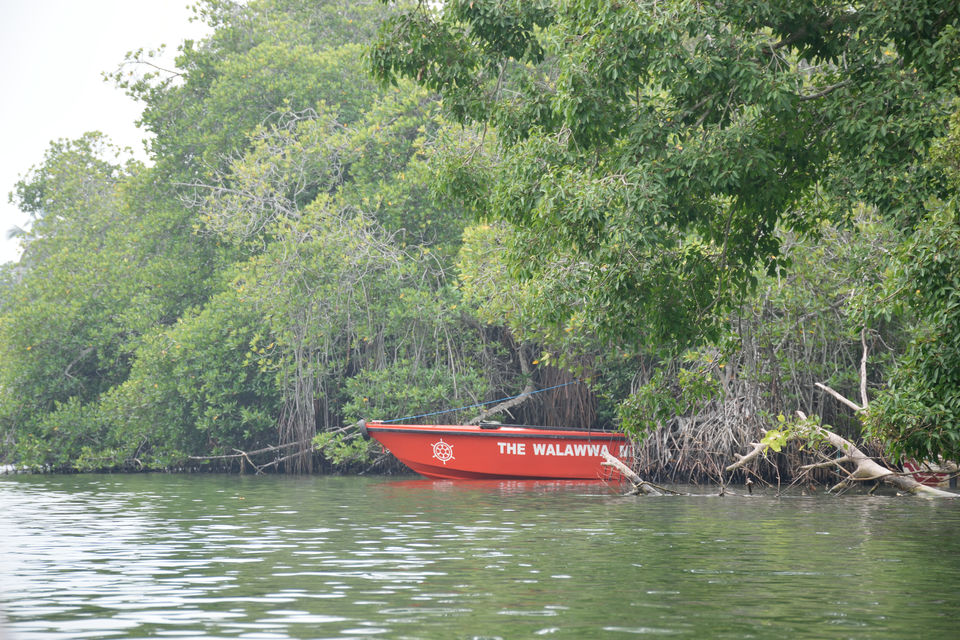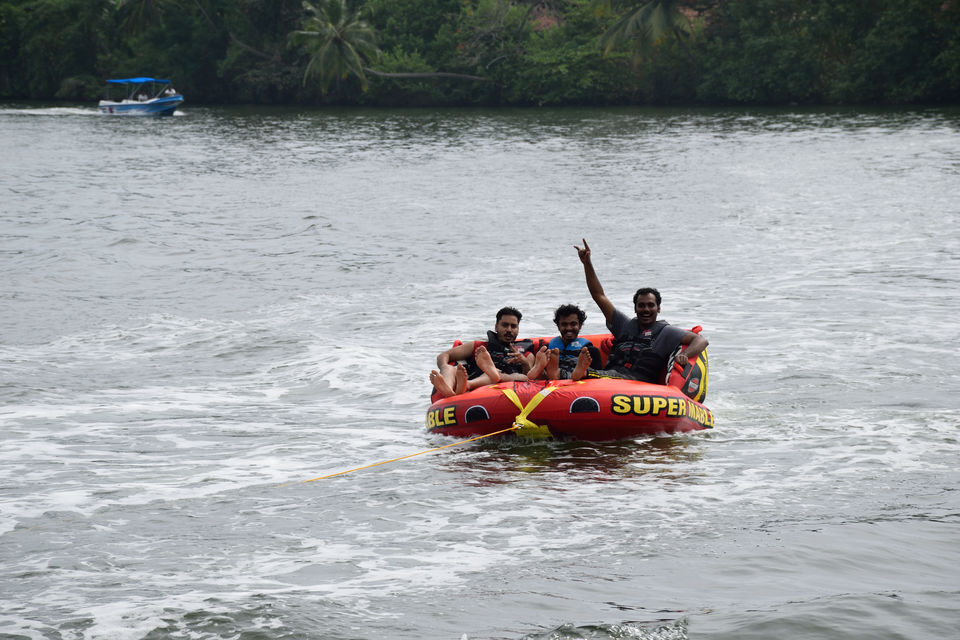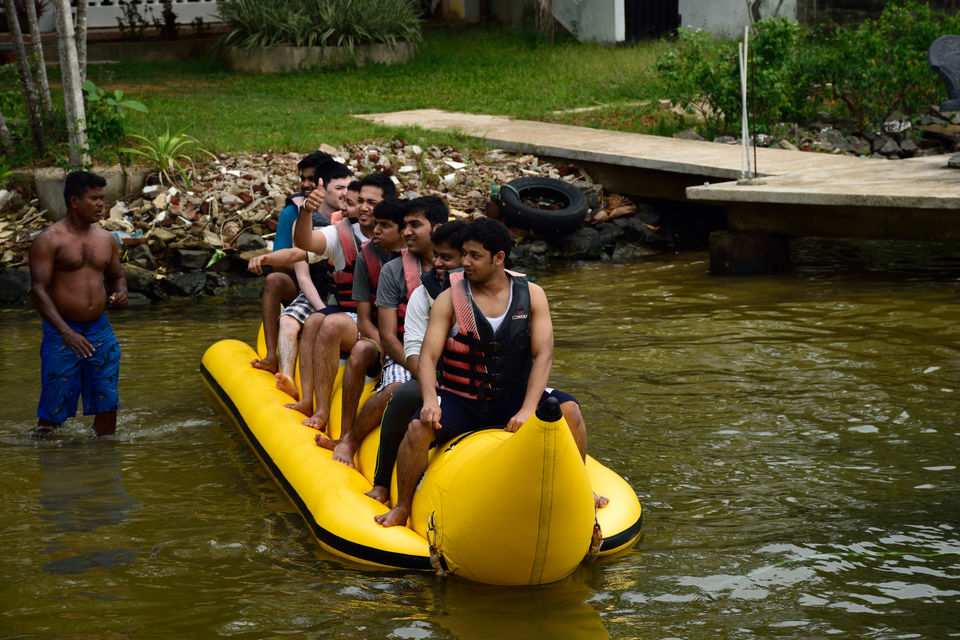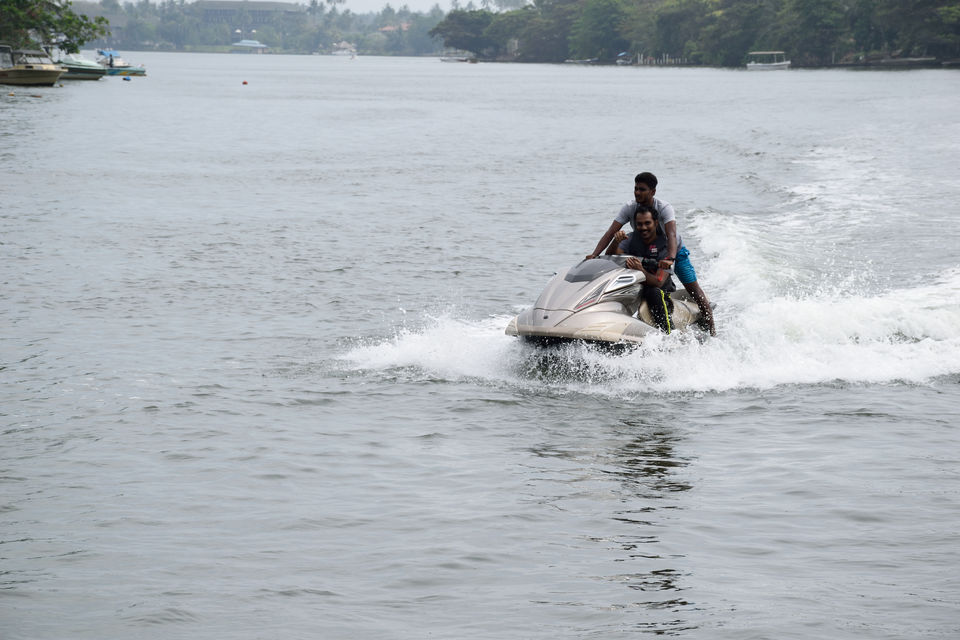 We then went to Kosgada Turtle Conservation Project where we i saw the mighty Olive Ridley Turtles (which is there only at Srilanka and the Eastern Coast of India (Tamil Nadu, Andhra Pradesh and Orissa) for the first time in my life. I have heard about a similar conservation in Chennai around their breeding season but never got a chance to see it. There are so little turtles left and preserving is an absolute necessity. There are Green Turtles, Loggerheads, Hawksbill's and Leatherback to name a few. All of them are endangered species and are at an brink of extinction.
After a brief turtle study, we headed to the beach. The sand was pristine and the weather was perfect. It was quite a dream to be in that kind of a location. I was rendered speechless and was quick to settle at one empty portion, with my mind still as a clear water and was so sitting in peace.
We then followed it up with a stop to the local market in the middle of the highway to buy souvenirs and to do a bit of shopping. Once again the guide was reminding us for an early check-in and we had to start early to reach the Bandaranaike International Airport.
The willingness of the company to sponsor such a high paying trip and to top it all, being as one family irrespective of the position one holds is highly appreciable. The highlight of the tour was that we all went as a group of 190 people and returned as a family of one. We started and returned as INFA GCS.
Cheers and happy travelling,
Wanderer.
This post was originally published on Rajesh Bucket List.