In the past few decades, the hospitality industry has taken decisive steps towards promoting ecotourism in various parts of the world. From conscious practices in waste management to entire lodges made of recycled material, eco lodges have emerged as an inspiring trend.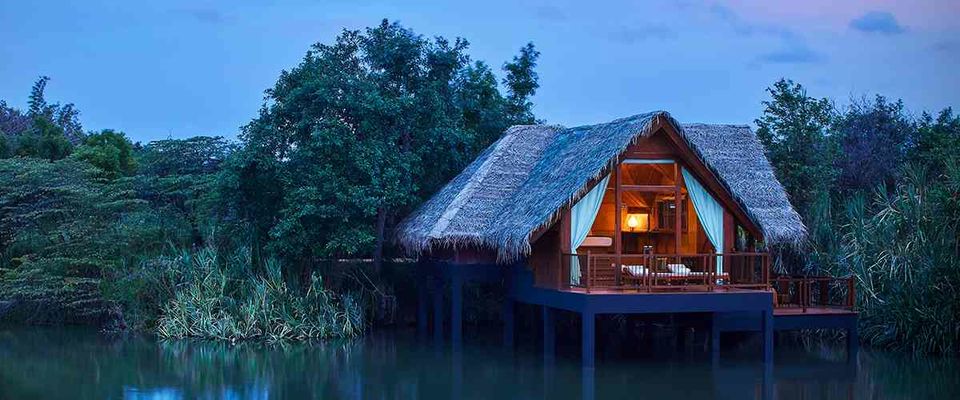 Pioneering this green initiative in Sri Lanka is a luxury lodge of Jetwing Hotels, Vil Uyana. The creation of this property has transformed a massive piece of barren land into a manmade wetland sustaining the dwindling bird and wildlife population of the area. The patch that was once a victim of slash-and-burn agriculture is now an award-winning luxury eco lodge inhabiting guests and rare wildlife species such as the gray slender loris. The profits of Vil Uyana are used in nurturing the area back to nature and adapting more practices that help in reducing the carbon footprint of the resort.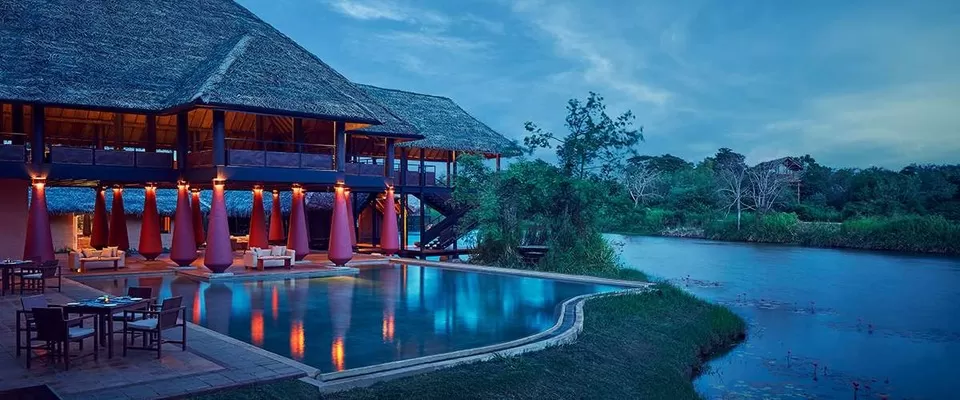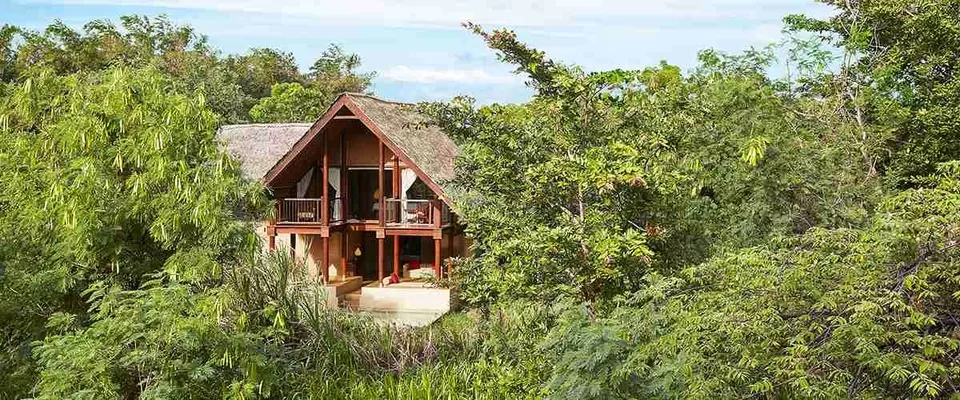 Situated a few minutes away from the UNESCO World Heritage Site of the Sigiriya Rock Fortress, Vil Uyana has 36 villas or 'dwellings' built in the environs of paddy, forest, water, marsh and garden. You can pick to stay in either a villa in the paddy fields or a stilt house on the manmade lake. Though the comforts offered at Vil Uyana are state of the art, their ambition is to provide an atmosphere of rural simplicity.
A night at Vil Uyana, one of the world's best ecolodges (as stated by National Geographic), also gives you the opportunity to share a habitat of 28 acres with 36 species of butterflies, 120 species of birds and over 20 species of mammals; making it the ultimate luxurious getaway for nature lovers.
Where
The Jetwing Vil Uyana ecolodge is 163km from Colombo and 15km from the nearest town, Dambulla.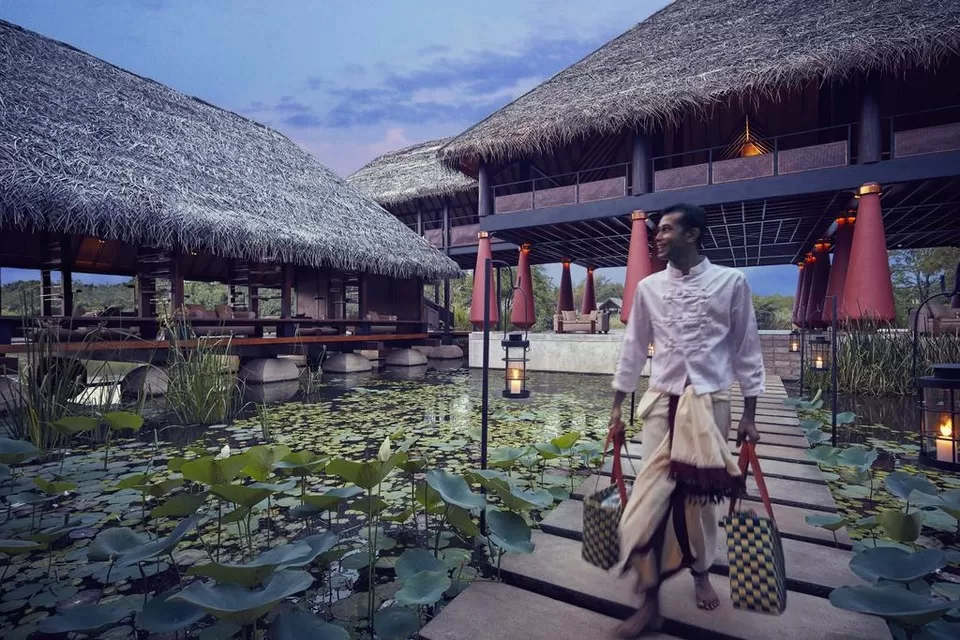 How to reach
Flights from Chennai to Colombo start at Rs 10,050. Click here to select your preferred airport and dates.
The route to Dambulla from Colombo is well travelled and even the local train goes till Habarana, which is 18km from the resort. The closest bus station from Vila Uyana is 4km away. While you can reach the resort by yourself, it is always preferred to have the resort arrange transportation. Vil Uyana provides shuttle and transportation options, at an extra cost.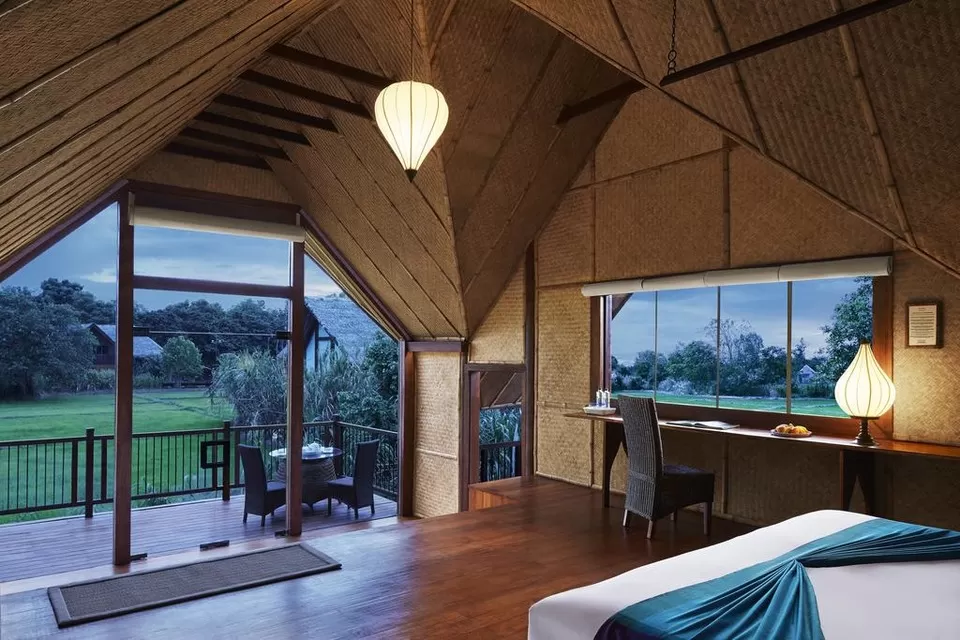 Ideal for
Nature-loving couples who travel luxuriously, but consciously.
Price
There are five types of villas or dwellings available at the Vil Uyana. Take a pick based on your budget and location preferences. The rates mentioned are for one person's stay. Double occupancy will cost approximately 16% more.
Garden dwelling: Even the most basic accommodation option at Vila Uyana offers the best of comfort, modern amenities and nature. The dwelling can accommodate upto three people (charges extra).
Price per night: Rs 18,445 (including only breakfast) and Rs 21,476 (including all meals)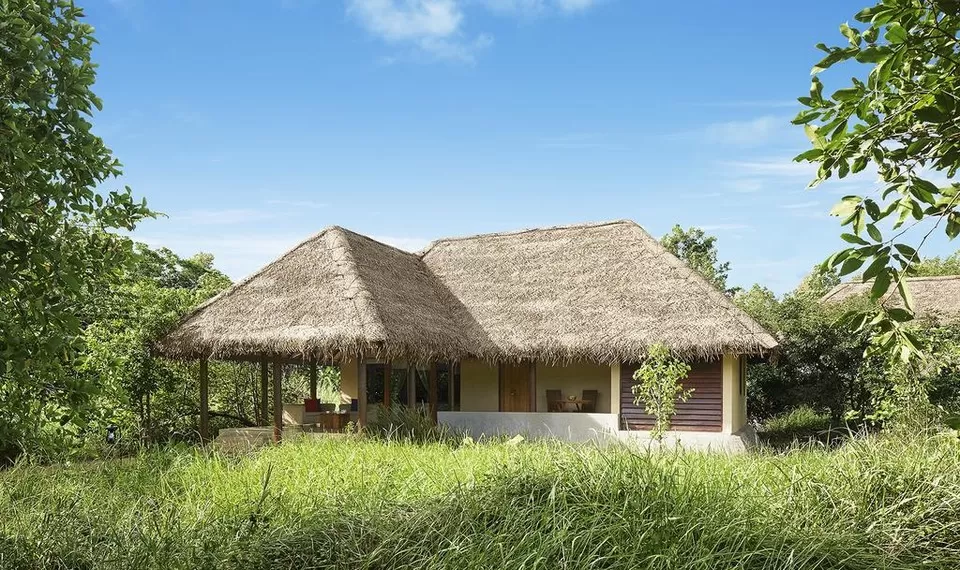 Marsh dwelling without pool: Built on stilts over manmade marshland, this dwelling makes the guest feel at one with nature.
Price per night: Rs 19,928 (including only breakfast) and Rs 22,960 (including all meals)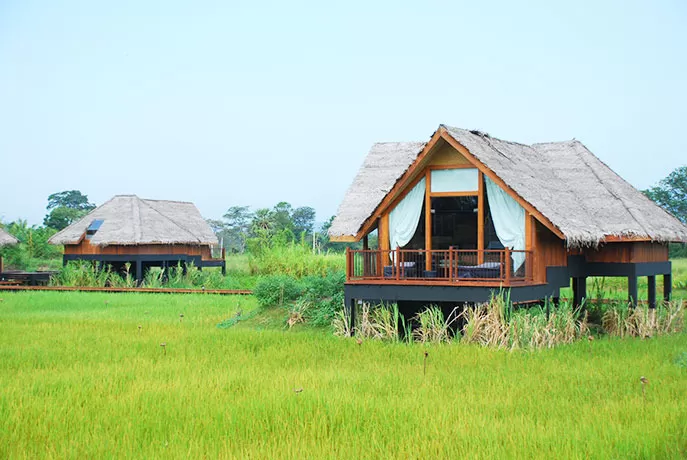 Water dwelling: This beautiful dwelling is constructed on the reed beds and lake marsh of the nature reserve, providing a magical view to wake up to.
Price per night: Rs 22,400 (including only breakfast) and Rs 25,475 (including all meals)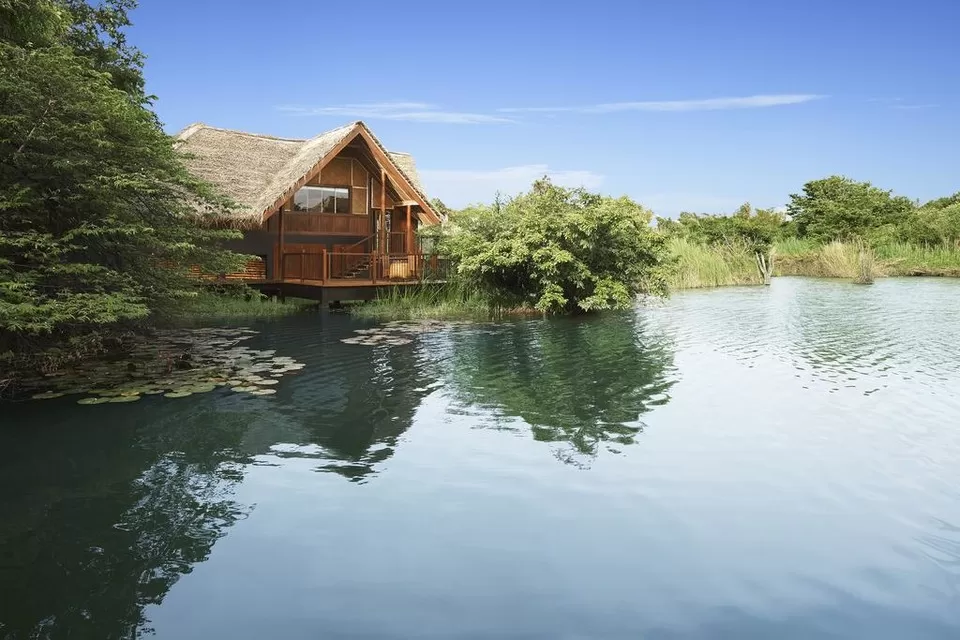 Marsh dwelling with pool: In this dwelling on the marsh, you also get a private plunge pool!
Price per night: Rs 22,400 (including only breakfast) and Rs 25,475 (including all meals)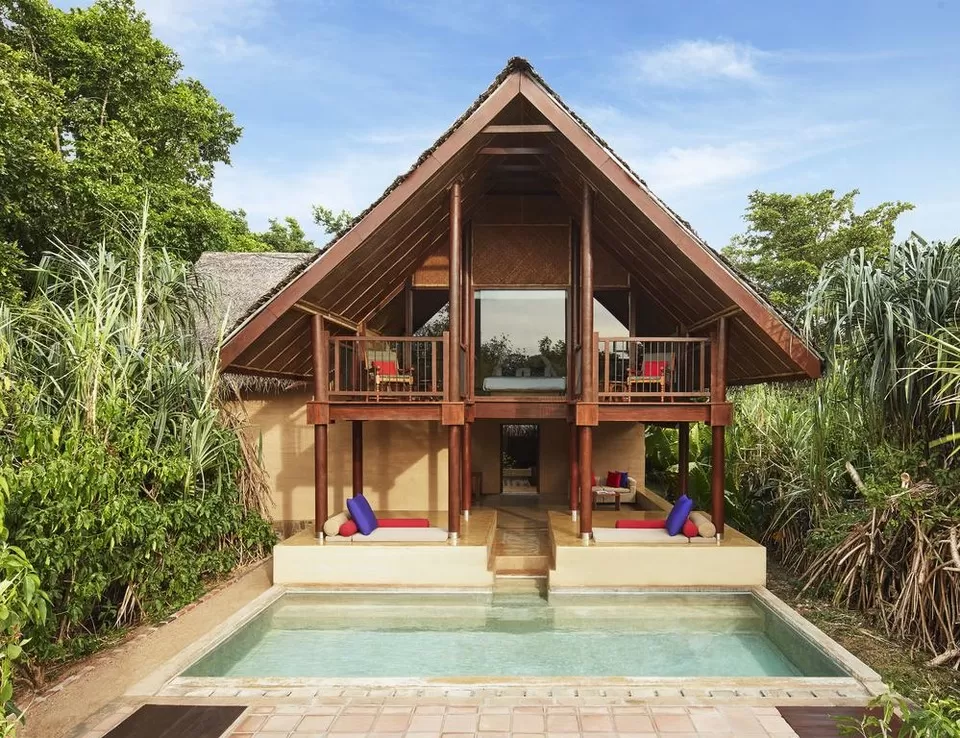 Forest dwelling: The most luxurious and indulgent dwelling in Vil Uyana is made of natural and unprocessed materials such as mud and stone. The dwelling is two stories high and can accommodate upto four people.
Price per night: Rs 25,930 (including only breakfast) and Rs 29,000 (including all meals)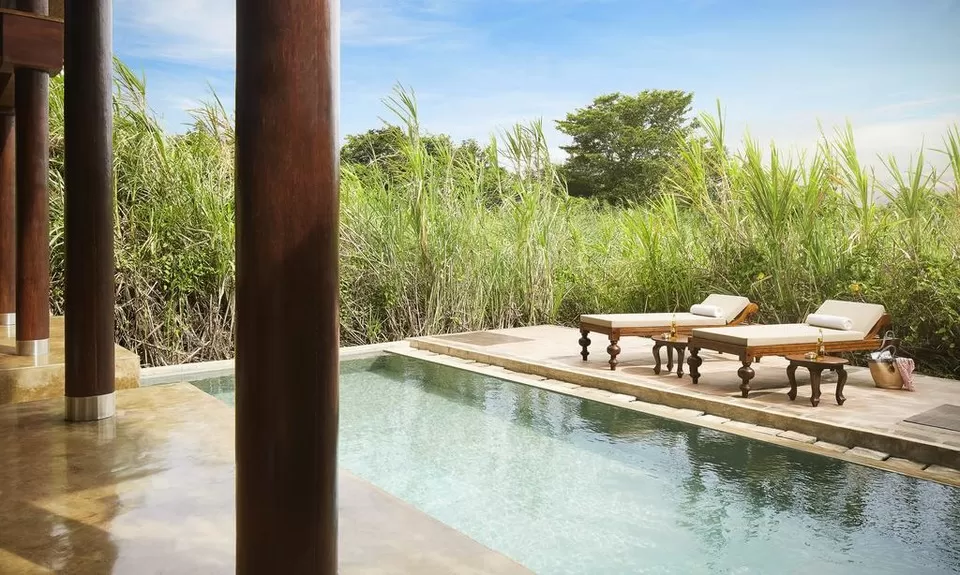 Discounts: If you book 60 days prior to the date of arrival then you can get 10% off the mentioned price! And if you book 90 days prior to the date of arrival, then you can get 15% off! The stay period is valid from 1st December 2016 to 31st October 2017 on all properties.
Experiences offered
Spa treatments: Jetwing Vil Uyana is renowned for exceptional spa treatments and services that range from massages to detox programmes and facials to body scrubs. To find out more about the spa treatments at Vil Uyana visit this page.
Loris watch/night trail: On this night trail, you set out on a guided tour of the nearby jungles to spot the Loris, a nocturnal primate found only in India, Sri Lanka and Southeast Asia.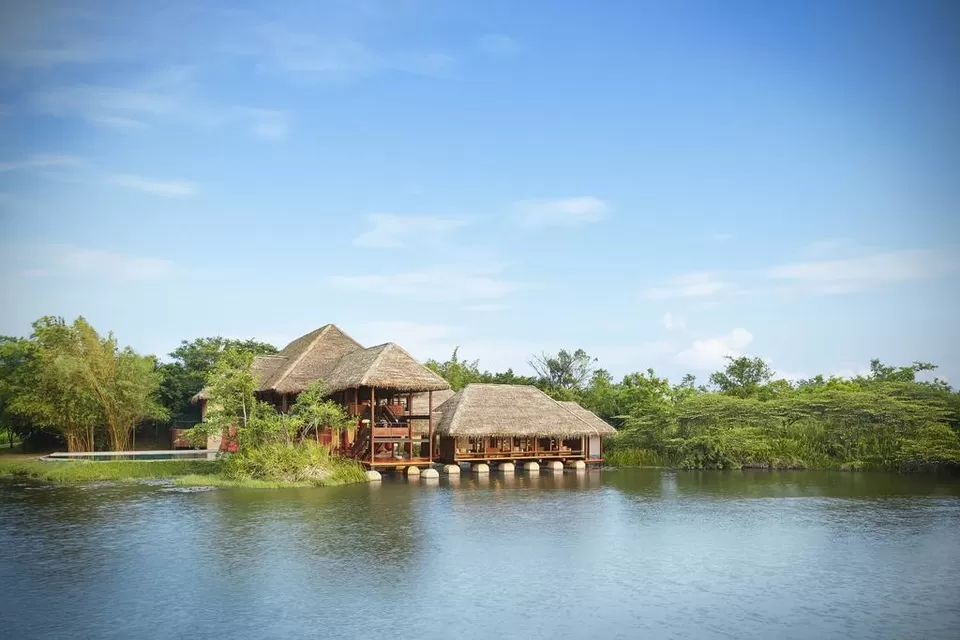 Wildlife watching within the premises: The manmade eco-reserve spread across 28 acres is home to a fascinating biodiversity of wildlife and birds that can be observed just by a stroll across the property. Starting at 7am, guests can explore the premises of Vil Uyana with an in-house naturalist for approximately 1.5 hours.
Visiting the Sigiriya World Heritage Site: The proximity of Vil Uyana to Sigiriya or 'Lion Mountain' adds another feather to its hat. Built in 5th BCE by King Kasyapa, this rock fortress is a pinnacle of stealth and architecture. Since the main site is at the top of the massive rock, the tour lasts for around 4 hours.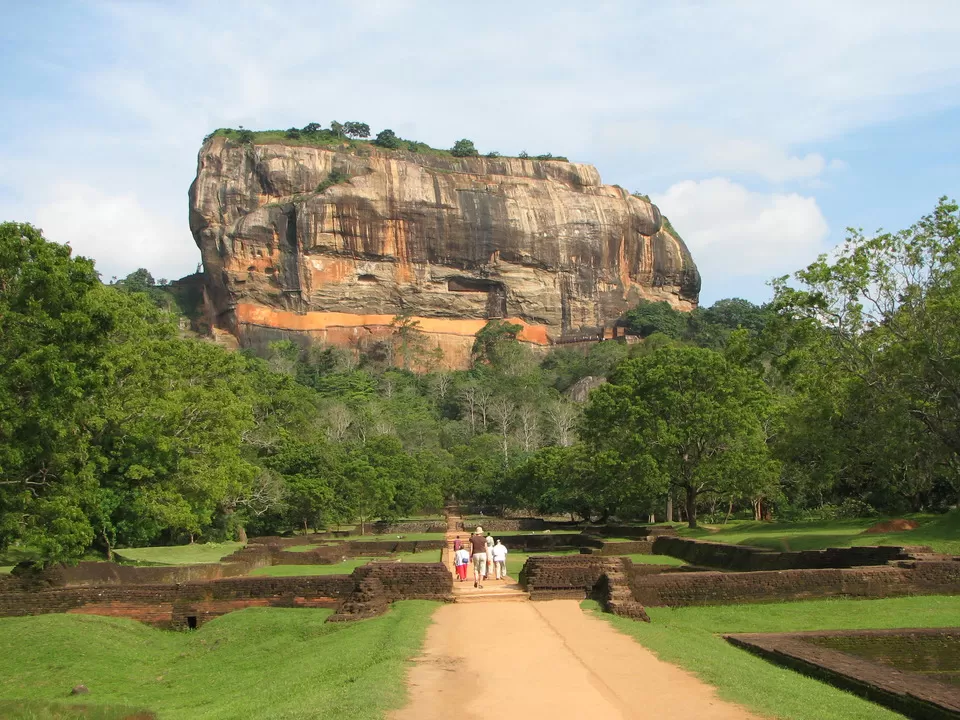 Elephant gathering: Considered one of the most magical wildlife spectacles, the 'Elephant Gathering' (when herds of wild elephants gather around a water reservoir during summer) can be observed at the Minneriya National Park. Located in the Dry Zone of Sri Lanka, the excursion starts from near the Minneriya Tank and lasts for five hours. A naturalist from the resort will accompany you throughout the safari.
To find out more about the experiences offered by Vil Uyana, visit this page.